Quick Analysis
Pros
Delivers good WiFi stability across a broad area.
Utilizes beamforming to deliver a strong and reliable signal.
Very simple to setup and configure
Can share connection without giving away password.
Cons
Lack of multiple units means positioning is very important.
Only three wired Ethernet ports.
Quite expensive compared to a traditional router.
When it comes to providing WiFi for the whole family or office, you need something consistent. Any WiFi router can claim that it will be able to beam strong WiFi signals across the state. But few WiFi routers can actually deliver on the promise of whole-home WiFi strength. Even though WiFi has become ubiquitous in recent years, it still takes time and research to find good systems.
What you really need is a whole-home mesh WiFi system. These systems use centralized routers and satellite units to deliver WiFi across broader areas. Such a setup will enable you to enjoy WiFi from any part of your home. Even better whole-home mesh systems will let multiple devices benefit from the same network without slowing anything down.
With all this in mind, how does the Netgear Nighthawk Mk 62 Whole Home Mesh WiFi System achieve these goals? We intend to find out through our in-depth examination of its strengths and possible weaknesses. In this review, we'll dive deep into the Mk 62 and discover how it performs under pressure and what it can provide to you and your family. Scroll down to see what we discovered!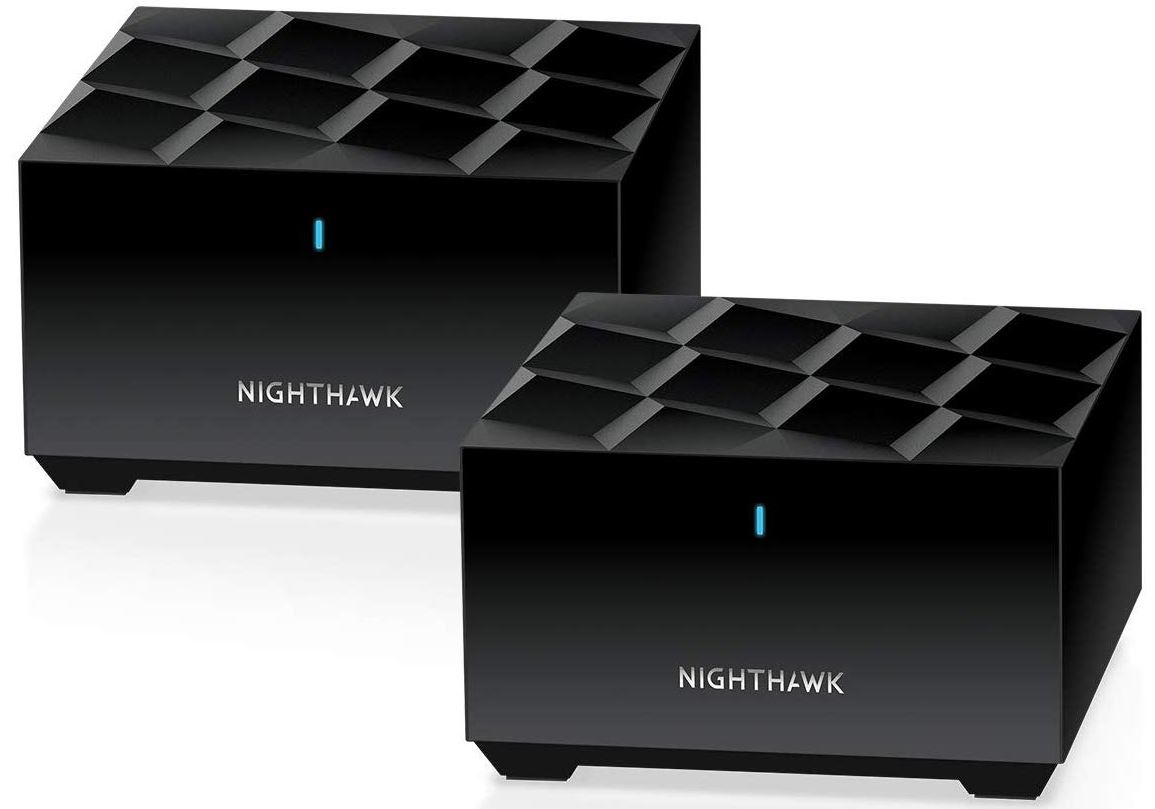 WiFi Mesh System and Coverage
The Netgear Nighthawk Mk 62 seems to be quite capable of delivering high-speed WiFi throughout your entire home. Let's first describe what a WiFi mesh system is.
To deliver WiFi to devices across your home, you first need a router. That router, which is the larger of the two blocky units offered with this kit, connects to the Internet first. That main router can then transmit WiFi to one or more satellite devices. That's what the second blocky unit in this kit is for. It's a powerful satellite unit all by itself. Unlike many other WiFi mesh satellites, it can provide WiFi coverage of about the same size as the main router.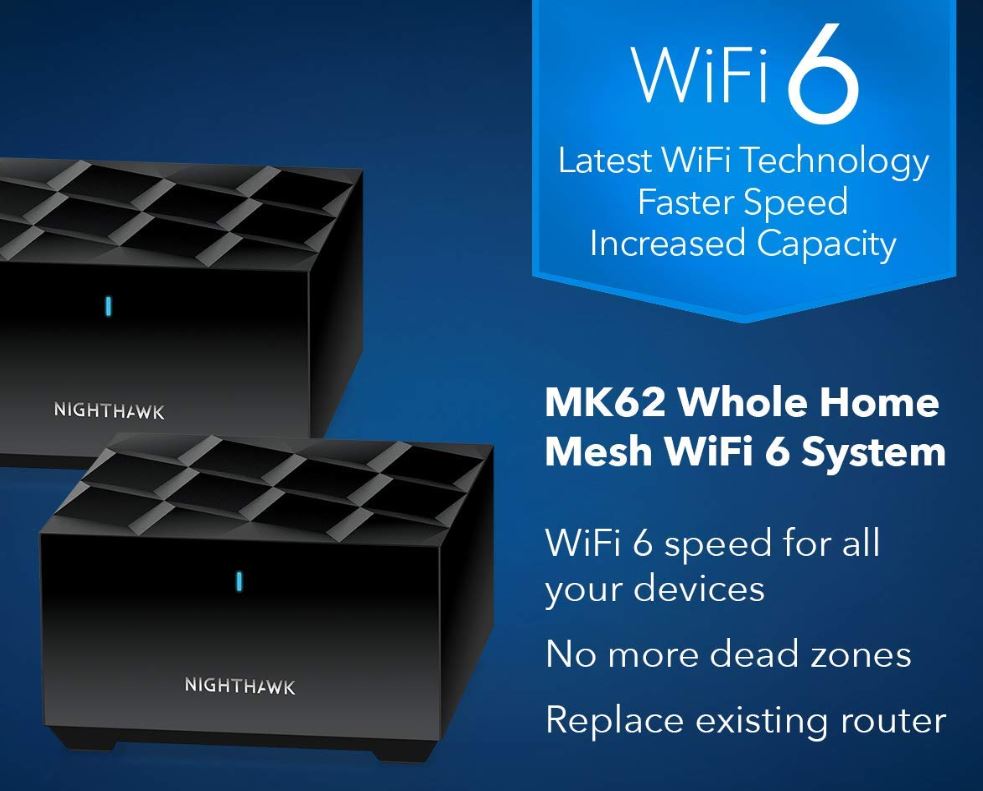 When combined, both units can project WiFi 6 coverage up to 3000 ft.². That's perfect for many modern homes, even on the larger side of things. So this WiFi system is already looking great for families or for small offices. The mesh WiFi network is so comprehensive that you shouldn't find any dead zones within the 3000 ft.². It's doubly effective because it even works on multiple floors. So it's a great system for multi-story houses.
WiFi Speed and Capacity
WiFi 6 coverage is among the faster types of systems you can find on the market. It can provide lightning-fast speed to multiple devices at the same time. This WiFi system uses four powerful streams simultaneously.
Each stream can deliver up to 8 GB of download speeds over 25 devices. This is enough speed to consistently stream your favorite shows or games in HD quality without suffering stuttering. While things might get a little slow if you truly try to press the 25-device maximum, it's still quite excellent for most families. After all, who really uses 25 devices at the same time? Even if you split between multiple TV screens and smartphones/computers, you're looking at 10 devices maximum for single-family. For WiFi coverage of this degree, the Mk62 does a phenomenal job.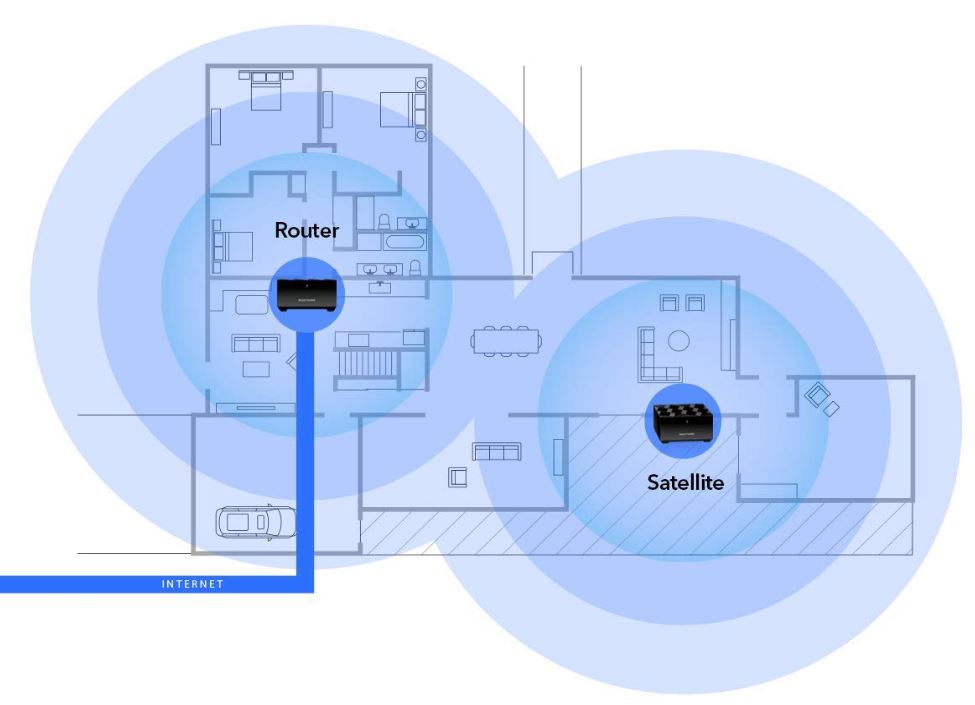 Of course, this mesh system works with all Internet providers. You can quickly replace your standard WiFi router with the main unit of this kit. However, it doesn't come with your own cable satellite fiber DSL or other Internet connectivity necessities. As an example, you'll need a separate modem or gateway. So we'd recommend saving the ones you already have from your current router to use with this one.
Wired Connectivity
Once you've set up the system, you'll find 2 Gigabit Ethernet ports located on the back of the main router device. This allows you to form wired Internet connections with computers or game consoles straight to your network. It's a great solution for download-heavy streams or to ensure maximum multiplayer gaming consistency. On the back of the main router, you'll also find the primary synch button. This is what you'll press to combine the satellite and router together.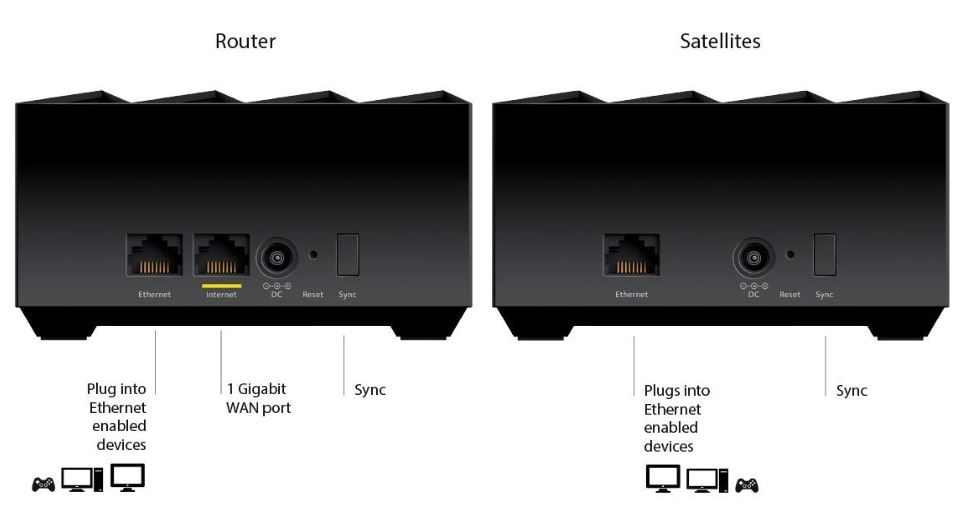 You may need to hold it for a few seconds. But in the end, the units should find one another and forge a good connection. This connection ought to be stable even if you decide to move the satellite unit. So you won't need to necessarily re-sync if you tinker with the exact positioning.
You can further find an additional gigabit ethernet port on the back of the satellite unit. This makes three ethernet ports total for wired connectivity. You'll have to plan out your layout carefully since the satellite unit allows for one less wired connection than the main router. Still, it's nice that it does allow some wired connectivity at all.
Advanced Tech and Functions
Both units are loaded with advanced WiFi technology. The system utilized MU-MIMO Smart Connect tech to provide enhanced system stability. To get into the specifics, this WiFi router can utilize beamforming technology for multiple devices simultaneously. Beamforming is a newer WiFi development that turns traditional WiFi broadcasting on its head.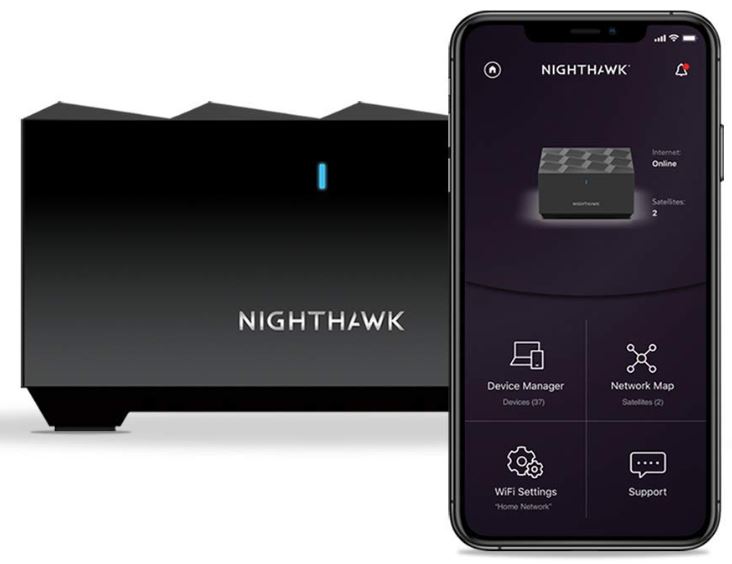 With normal WiFi systems, the signal is broadcast in a wide arc that just happens to hit the targeted devices. WiFi that's transmitted via beamforming is projected in a centralized arc. This results in a much more steady and powerful signal to the target devices. Since the Mk62 can do this with multiple devices at the same time, it just goes to show how advanced the unit really is. This beamforming capability also ensures that you'll be able to seamlessly go from room to room without losing your WiFi connectivity.
You can also unify all of these WiFi connections under a single WiFi network name. This both helps with security and prevents people from reloading off your WiFi connection. If you do decide to be generous, the router is equipped with a guest WiFi network functionality. This lets you share your Internet access with your friends and family without giving them your secret password. As you can imagine, this is a really helpful feature if you're setting up a house of college students or roommates. But it's also helpful if you plan to use this for smaller offices or private businesses.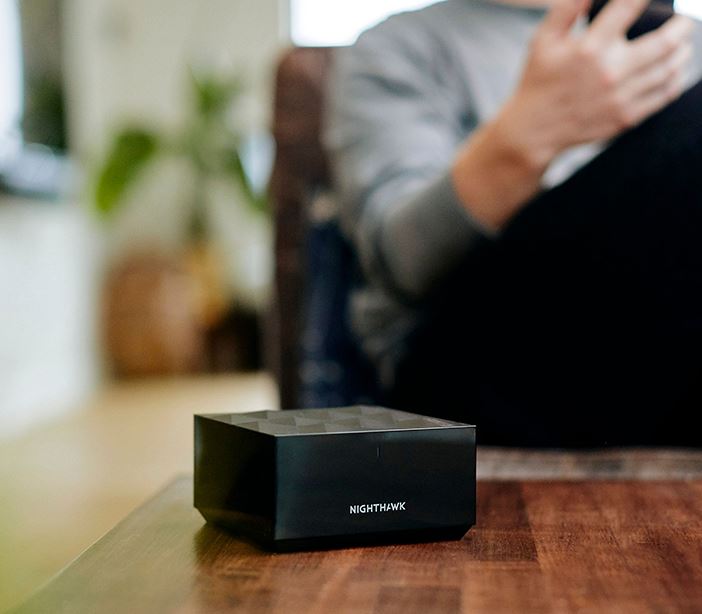 Setup
Altogether, it'll probably only take you 5 to 10 minutes to set up both the main router and the satellite unit. The main router can be initialized and hooked up to the Internet via a hard cable in just seconds. After turning it on, you'll be able to connect a primary device to the main router and make sure the connection is stable. Synching the satellite unit to the router is as easy as holding the button once the satellite is turned on properly.
You may need to move the satellite and a router around to find the optimal coverage orientation. This is a standard chore that most people who use mesh systems are used to. But the Mk62's version of this process is particularly smooth. This is in part thanks to the proprietary Nighthawk app. It'll help you locate the satellite and help you control both units from your smartphone. You can run diagnostics and even get analytics about your WiFi network to the same application. It's an excellent digital tool that you can always use to check the status and speed of your network. Finally, it's a great way to get tech support if you need to troubleshoot the mesh network at any time.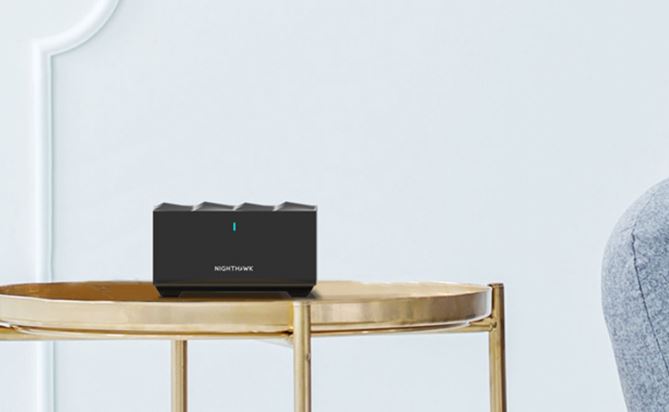 Final Verdict
Overall, the Netgear Nighthawk Mk 62 Whole Home Mesh WiFi System delivers on the promise of a consistent signal across the whole Home. Although it only uses two units compared to many other mesh systems, it manages to provide stable WiFi across 3000 ft.². We were especially impressed at how it didn't create any dead zones in corners or rooms farther from the main router. We also really liked the ability to use solid Ethernet cables for wired connectivity when necessary.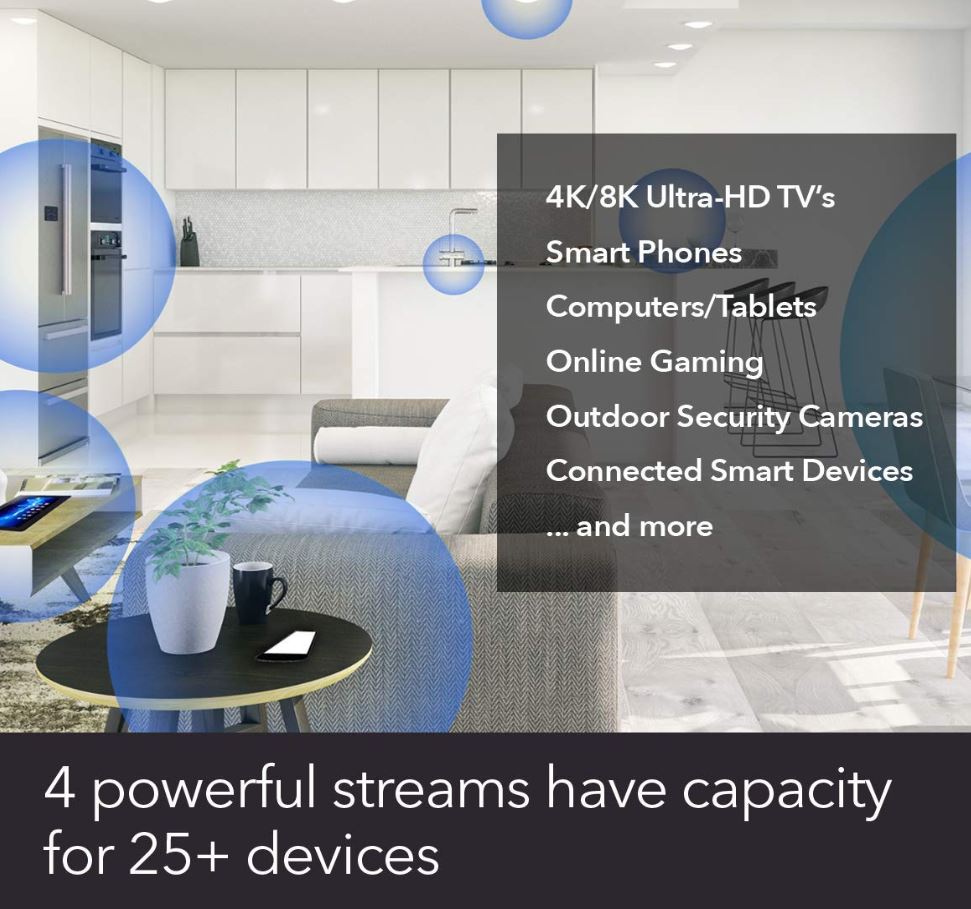 Setting up both units is incredibly easy, even if you aren't a tech-head. Most importantly, this system makes use of modern beamforming technology. As a result, a WiFi connection you create with this system is far more certain to last and provide great download speeds.