Full tower cases aren't the only option when building a gaming PC thanks to the advent of mid-tower cases. The differences appear minor, but more and more gamers are flocking to mid-tower cases because they can allow you to use most of the same components you would enjoy with a full tower gaming build without taking up quite as much space for costing quite as much money. Smaller, sleeker, quieter machines are the name of the game in this day and age. So it's no surprise that the market is now saturated with high-quality cases of this type.
So what are the best mid-tower PC gaming cases? For starters, you'll want to find something that has the cooling capacity to rival a full tower PC gaming case. Just because these cases are smaller doesn't mean that they don't need to pay attention to cooling power; many of their components can run just as hot as their larger counterparts. You'll also want to find something that is easy to organize when it comes to cables, as well as a case that offers excellent space on the interior.
Power, cooling, and space without compromising the smaller size. It sounds like a tall order. Luckily for you, we've already found the best mid-tower PC gaming cases on the market. We'll examine each one individually to determine their strengths before comparing them at the end. Let's begin!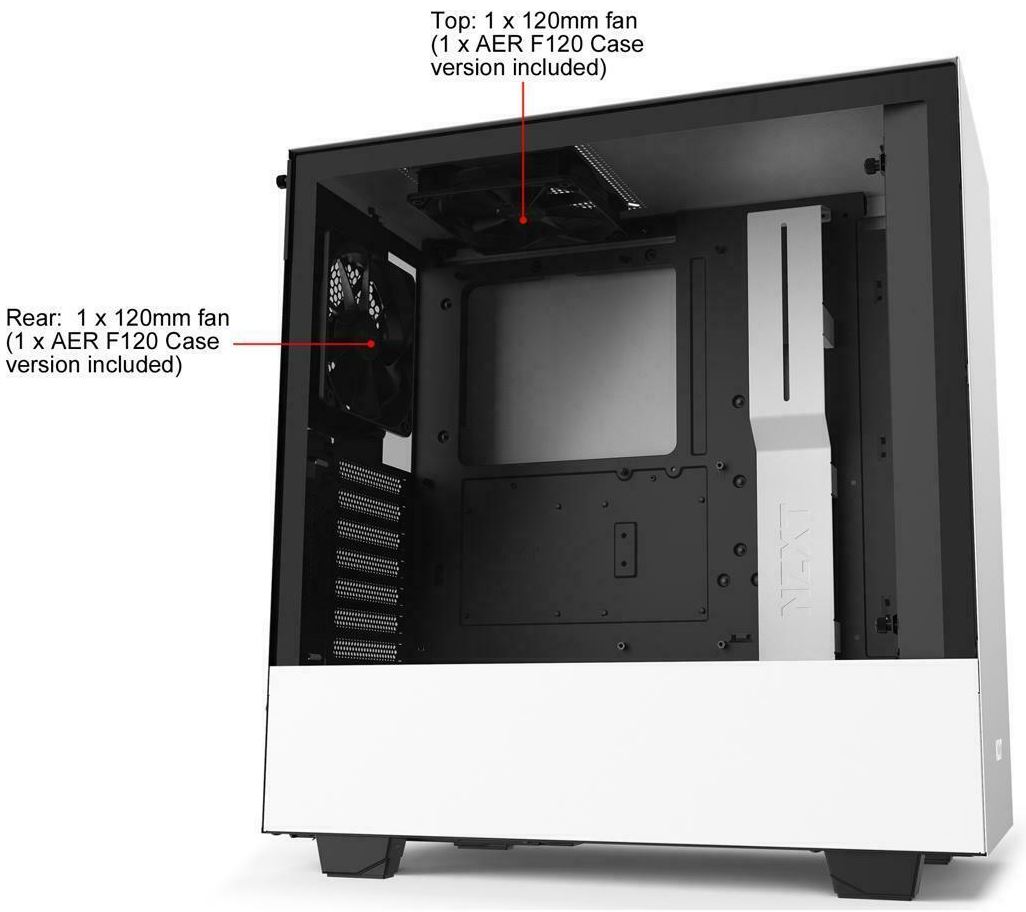 NXHT H510 Compact ATX Mid-Tower PC Gaming Case
The NXHT H510 Mid-Tower PC Gaming Case is an extremely streamlined case that's both aesthetically pleasing and incredibly functional. It allows you to build an ATX-motherboard PC without taking up lots of space and ensuring terrific performance at the same time. It weighs 6.6 kg and measures in at 16.9" x 8.3" x 18.1" with a sleek black and white color and a tempered glass side panel. This side panel only needs a single screw for installation, so opening up the panel to tinker with your build is easier than ever.
This case is built for serious gamers, and it shows. It's been well engineered to maximize potential airflow, with an excellent front mesh panel design and several fan filters included out of the box. These filters are easily removable so you can clean them in just moments. A single back and front fan are included in the purchase, with space support for an additional front fan and an additional top fan; all of these can be 120 mm at minimum. But that's not all when it comes to cooling. This case has a removable radiator mounting bracket that'll allow you to easily install several cooling radiators. The case has room for two 140 mm and a single 140 mm radiator in total. Its removability is a great point, as well. If you're confident about the other systems' abilities to keep your components cool, you can remove the mounting bracket and make room for other things. More customization options are always appreciated for custom PC builds, so we're pleased to see this functionality.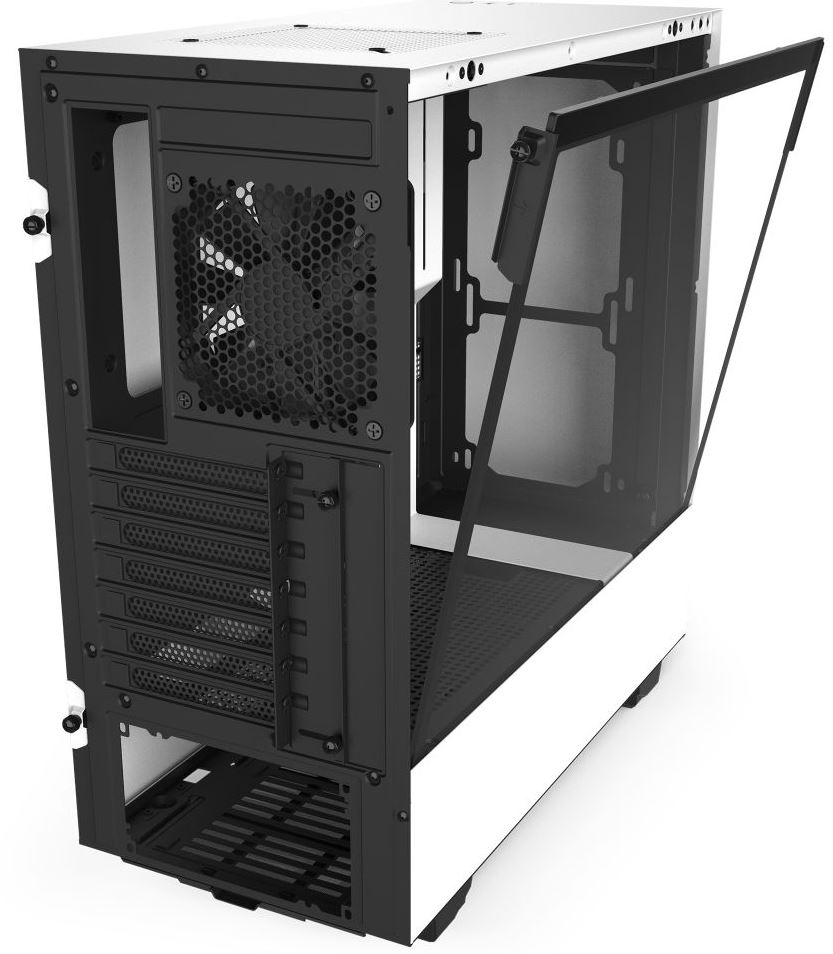 The H510's aesthetic is extraordinarily minimalist, and this aesthetic hides its available I/O ports well. All told, it has a single USB 3.1 port for both Gen 2 Type-C and Gen 1 Type-A devices, respectively, along with a headset audio jack. All of these ports are great for gamers who want to use other gaming devices, like top-tier keyboards or gaming mice, to enhance their experience. The USB-C connector on the front panel can also make it a snap to connect your smartphone or an external storage device to the PC, both of which can let the PC work for photo or video sharing or for improving your gaming experience via an external SSD.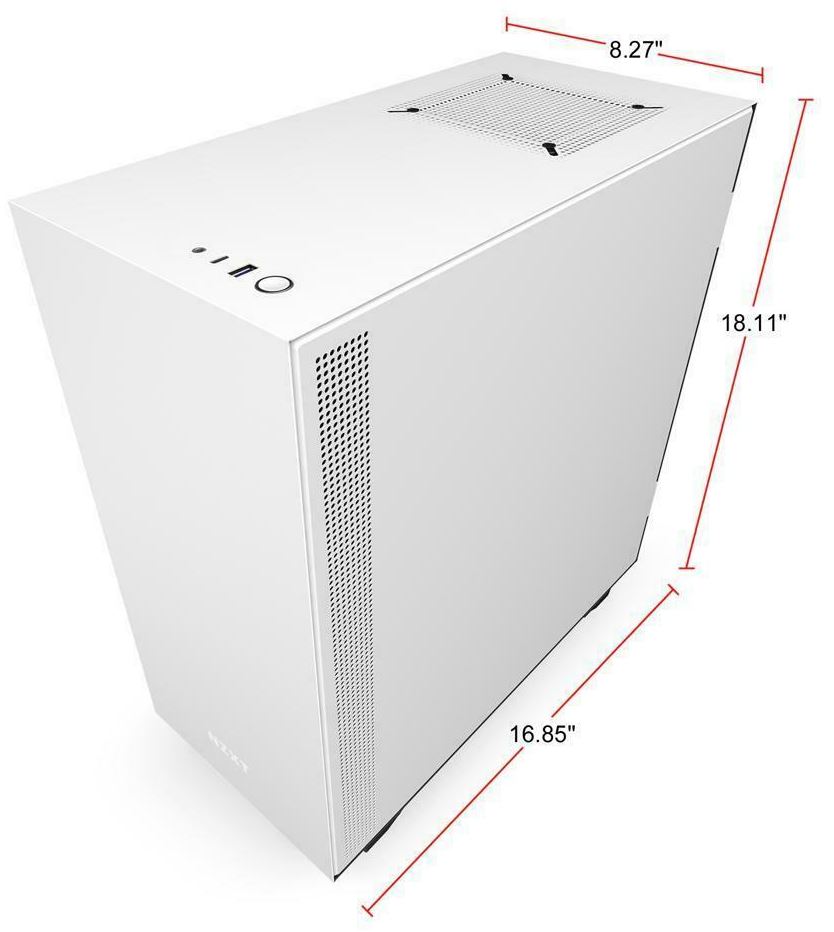 Cables and Motherboard Compatibility
The H510 comes built with phenomenal motherboard compatibility and cable management systems. In fact, it benefits from a patented cable management kit that includes preinstalled channels on the interior of the case plus several straps that come with the purchase. Combined, these make organizing your components' cables extremely easy and intuitive.
When it comes to motherboards, this case can quite comfortably fit ATX, micro-ATX and mini-ITX motherboards while still having enough room for several drive bays. Hard drive sizes available include three 2.5-inch and 3.5-inch bays depending on your organizational preferences. This promotes gaming PC customization and will allow you to fine-tune your storage and processing capabilities.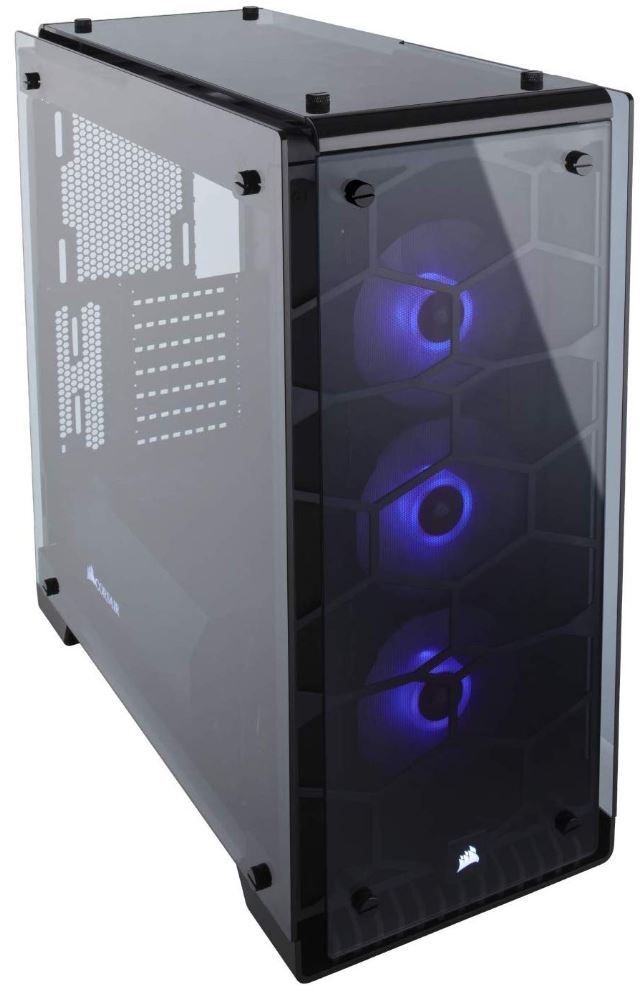 Corsair Crystal 570X RGB Mid-Tower Case
The Corsair Crystal 570X RGB Mid-Tower Case is an aesthetically dazzling piece of equipment, featuring four tempered glass panels along the front, top, and sides of the case. Not only do these give you a front-row seat into the inner workings of your latest build, but they also allow you to appreciate the RBG LED fans that blast cool air through the build's inner workings. This is truly spectacular when it illuminates a darkened gaming room, matching the flashes and fireworks on screen. There's even an RGB controller on the top of the case for you to dim or brighten the lights depending on your preferences.
The 4 mm thick tempered glass provides excellent protection and allows you to install everything without needing lots of tools. This design also facilitates three-point dust filter access; in essence, cleaning out the dust filters just takes a few seconds compared to many other bulkier Mid-Tower cases. The cost of all this brilliance is weight: the case measures in at 24.03 pounds. Still, it's hard to argue with how awesome it looks when all the cylinders are firing.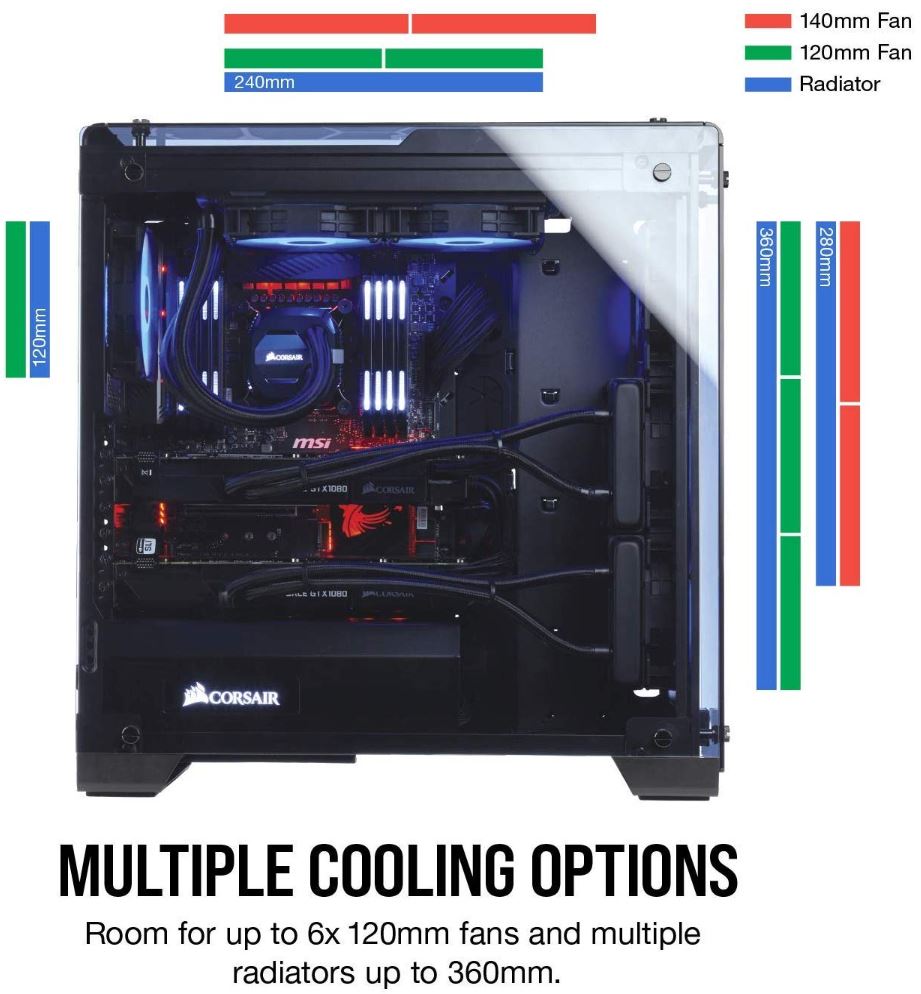 This case is a great choice for gamers beyond its basic aesthetics, however. The front panel provides easy access to a high-speed USB 3.0 port, perfect for combining with your smartphone or other gaming-friendly devices. It has room for six fans, with removable fan trays at the front and top of the chassis. Removing these can give you extra mounting space for other cooling systems or for additional room for components. But out of the box, you'll get to enjoy the three included fans that come with the purchase. Each fan runs of 1400 RPM and does so in an extraordinarily quiet fashion. Gamers and their families will love this aspect, as they won't have to listen to the PC drone on as it works overtime to handle excellent graphical fidelity.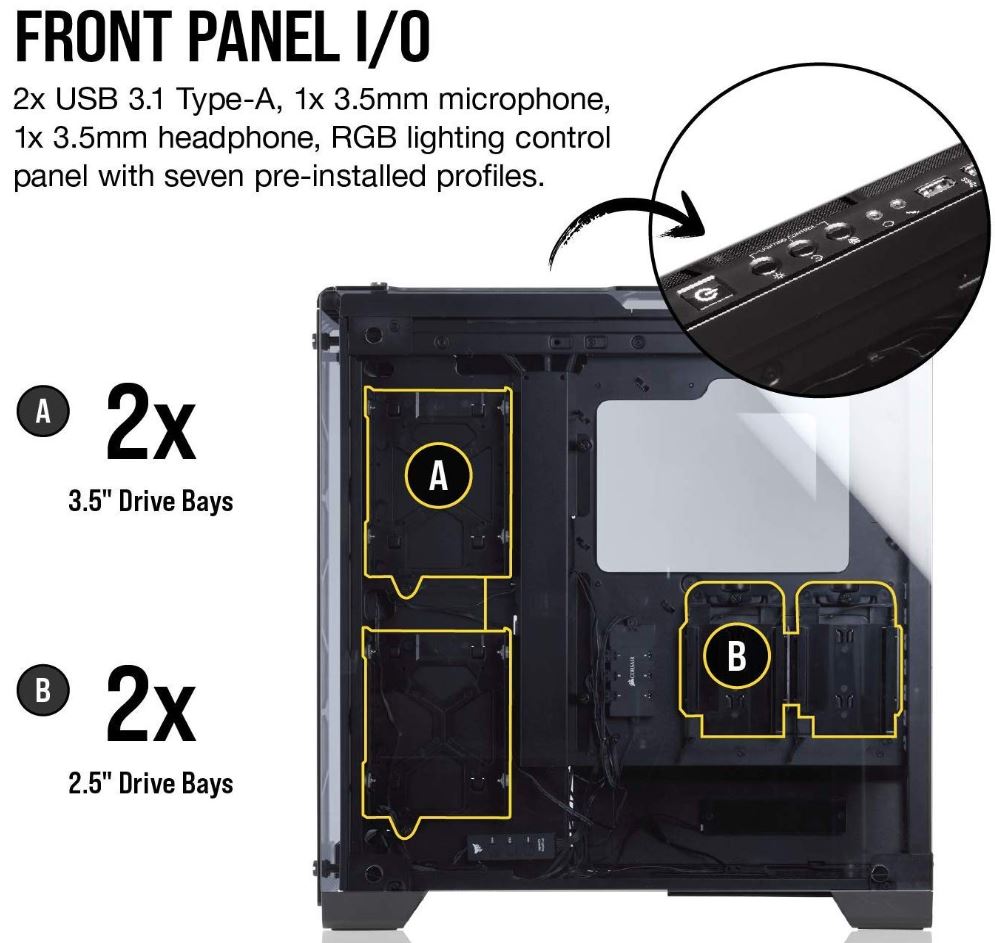 Cables and Motherboard Compatibility
The 570X is a mid-tower case specifically designed for ATX motherboards, though it can accommodate smaller motherboards with a little finagling of the interior components. That being said, it's cable routing channels, which are integrated into the main chassis, are designed for motherboards of this size. They include Velcro cable straps see you can organize even thicker and more unwieldy cables. The routing channels are sturdy and end next to hard ports. Even complex setups will benefit from the management system in this case. It's even more flexible than you might first think, too, since you can remove the fan trays we mentioned earlier.
The drive cages are positioned out of the path of cool air from the front intake fans and other high-temperature components. This promotes excellent airflow throughout the entirety of the case. The case can accommodate 3.5-inch or 2.5-inch drive bays (two each) while still having plenty of room for extra tinkering and further customization of your set up. All in all, this case presents one of the cleanest overall outlines for an ATX PC you can find on the market.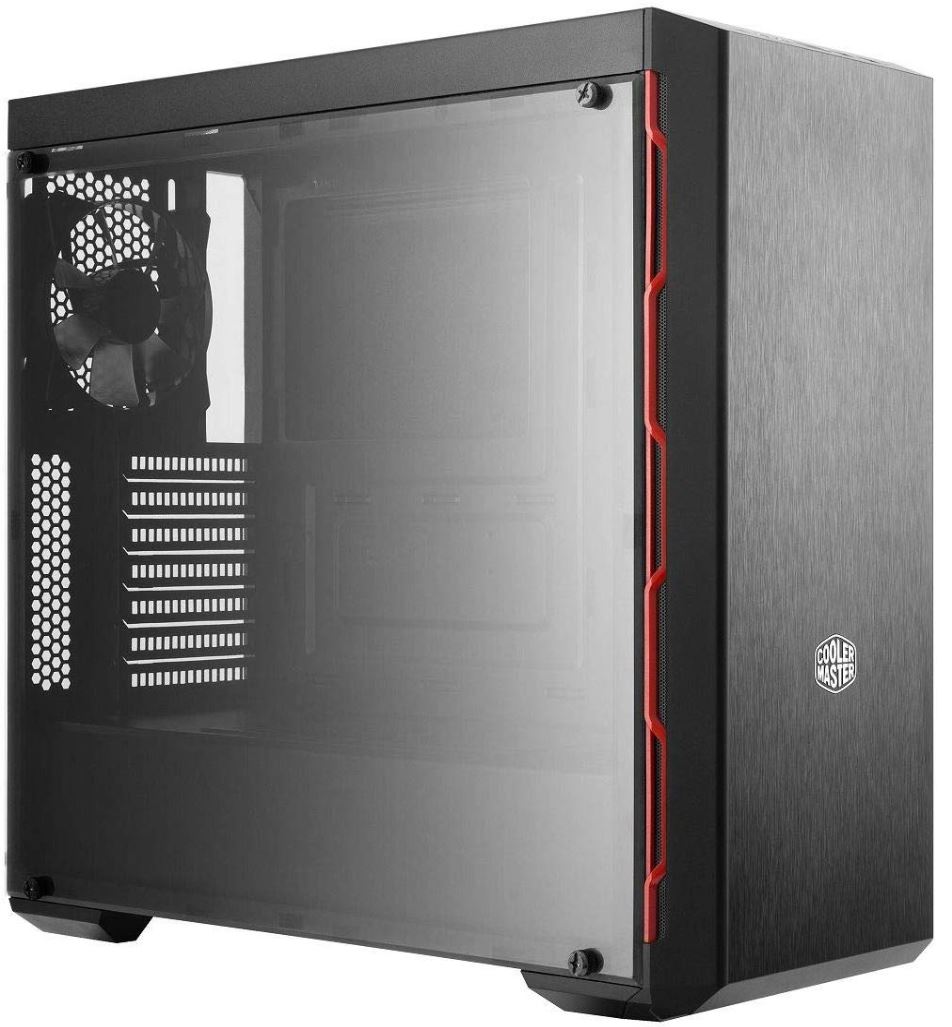 Cooler Master MasterBox MB600L ATX Mid-Tower Case
The Cooler Master MasterBox MB600L ATX Mid-Tower Case features a modern and sleek design with excellent coloring: a red side trim and an acrylic side panel help this case to stand out from the rest of the pack. The rest of the case enjoys a black coating and PSU cover for added durability. The acrylic side panel can be installed with four included screws, but unscrewing two of them allows you easy access to the inner workings of your build as well as a clear view of your internal components. As a whole unit, the MasterBox weighs 11.1 pounds. This is a bit lighter than you might expect given its larger appearance, but it'll make things easy to move as a plus side.
On the inside, you'll find that the MasterBox has a huge amount of space to allow for maximum customization. There's enough room to support radiators up to 360 mm high. Radiators can be a great choice either for general cooling or for high-powered gaming builds. All in all, there's space and mounting spots for both a front and rear radiator. Fan support is included, too; you'll be able to comfortably fit up to two front fans up to 140 mm and a single rear fan up to 120 mm. Said back fan is already included with the purchase, so you won't need to necessarily add more cooling systems right off the bat.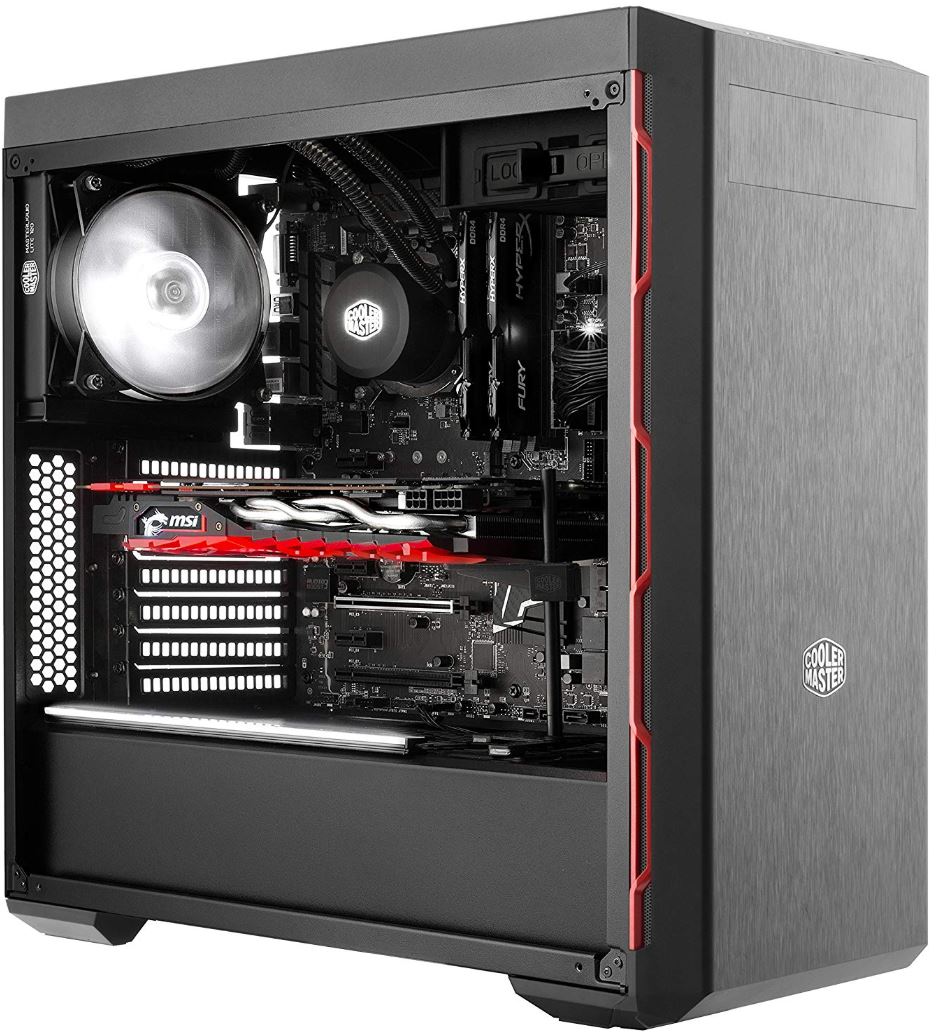 Back to the top, you'll find an elegant and simplistic organization of I/O ports, including two USB 3.0 ports and an included audio and microphone port on the other side of the main power button.
Cables and Motherboard Compatibility
The real value of the MasterBox comes from the spacious interior an excellent cable management system. There's obviously enough space to fully welcome an ATX-sized motherboard or below with ease. It can ultimately squeeze in a massive 5.25-inch hard drive, or alternatively work with twin 2.5-inch or 3.5-inch drive bays. This provides computer builders with lots of flexibility in terms of how the build ultimately ends up. An additional drive bay for an SSD is hidden within the vast cavern of its interior.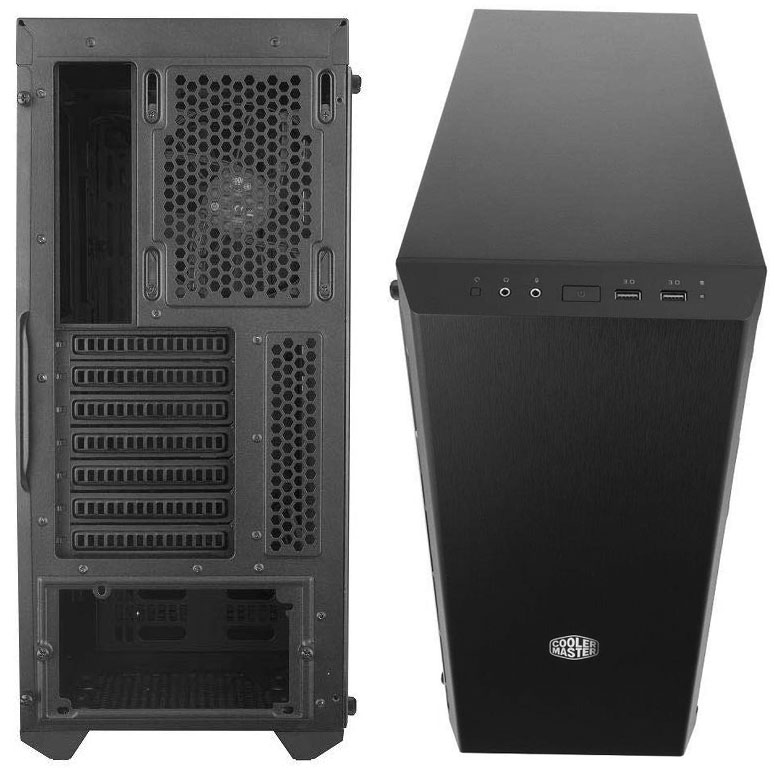 This case is truly excellent for supporting even higher-end graphics cards. There's enough room for cards up to 400 mm, which are among the widest you can purchase. It's no wonder that there's so much space inside this case with its excellent cable management options. Indeed, those who use this case will find it incredibly easy to wrangle their cables into an organized set. While it doesn't come with Velcro straps, it does come with several mounting lines so you can quickly set up your cables with a minimum of effort and confusion.
Final Verdict
Now that you've seen what each of these gaming cases can offer, you're probably wondering which one you should choose. Let's consider them carefully. The NXHT H510 Mid-Tower PC Gaming Case has several strengths, but its major advantages are its ability to fit multiple sizes of motherboard and its patented cable management system. The latter aspect is truly phenomenal and makes setting up even a complicated build much easier to deal with. The tempered glass side panel integrated into the chassis is another nice touch. This case is a great choice for gamers that like to tinker with their builds or PC fanatics who are concerned about cooling. With this case, you'll never wonder if your components will overheat.
Meanwhile, the Corsair Crystal 570X RGB Mid-Tower Case proves its own value thanks to its electric RGB LED fan system. It's easily one of the most impressive looking cases on the market. It also features an excellent cable management system and plenty of slots for hard drives for storage solutions. This case should be the case of choice for PC builders who want their next computer to dazzle both in terms of performance and aesthetic quality. You can even alter the LED light intensity! How cool is that?
Lastly, let's consider the Cooler Master MasterBox MB600L ATX Mid-Tower Case. Though this is a mid-tower case, it has an interior that is spacious enough to challenge even larger full tower cases in terms of its compatible components and hard drive bay options. The hidden SSD drive slot and excellent cooling options make this a phenomenal choice when putting together a custom game PC that has the engine power to match larger builds without taking up quite as much space. Gamers that want lots of opportunities to boost their PC's power will want to check this case out, for sure.