If wireless charging is a good idea in your house, it's an even better idea in your car. Because life is easier when you're not worried about having the right cords, and not dealing with the clutter of those cords around you. Especially inside of a vehicle.
Fortunately, the idea of wireless charging is attractive enough that there are actually a number of pretty good wireless car charger mounts on the market. Finding the right one really is just about balancing the sort of features you're looking to find.
Choosing the Best Wireless Car Charger Mounts
Nobody wants to hang something ugly in their car. But what you consider ugly, and how much you really care about style, that's something that's entirely a personal decision. Apart from personal decisions, there are a number of more concrete concerns that should cross your mind. For instance, the general build quality of the charger, the charging speeds you can access, the compatibility with your devices, and so forth.
Aesthetic & Installation Options
You're going to put the charger in your car. So the first thing to ask is, do you take any pride in your car looking nice? If so, then you probably place at least a little value on the aesthetic of the charger, too. If you could care less, then the average charger is probably going to cut it. They all tend to have a minimalistic, dark design that doesn't tend to draw attention.
Apart from style, it's worth asking if you can you quickly add or remove the car charger. For instance, suppose you happen to park inside of a bad neighborhood. Is it possible to quickly remove the charger and throw it in your glovebox? What about taking it from one vehicle to the next? Some chargers tend to use semi-permanent installations, while others can be moved with ease.
Charging Speed
Fortunately, charging speed isn't something you have to worry about too much. When you're using a powerful Samsung smartphone, you probably want a charger than can accommodate the 10W recharge speeds supported by those devices. When you're using an iPhone, you're probably looking for a 7.5W charger. And for older generations and other types of devices, a simple 5W charge is usually what you're after.
But for the most part, almost any modern wireless charger should be able to support all three. As long as you're not picking through dated equipment, you really shouldn't encounter issues pertaining to charging speed.
Compatibility Issues
Similar can be said about compatibility. If your smartphone wasn't made to charge wirelessly, then putting it on a wireless charger isn't going to do anything for you. But assuming you've got support for those features, you generally don't have to pay much attention to compatibility issues. With a handful of exceptions.
More specifically, your Qi devices ought to have no problem working with a Qi charger. So if you're trying to charge a Qi device, ensure you're using a Qi charger. And if you're trying to charge a device that uses some other format, be sure to pursue that format. Though at the moment, the Qi format is far and away the most ubiquitous approach to wireless charging, inside and outside of cars.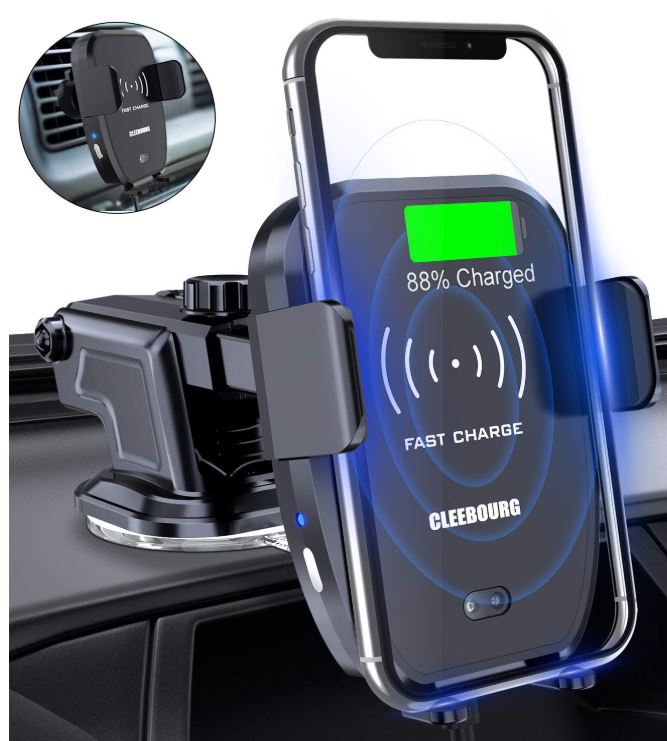 CLEEBOURG Wireless Car Charger Mount
When the average person goes looking for a car charger mount, they're looking for a few basic things. A good way to think about the Cleebourg charger is that it's pretty close to everything that the average person might look to find. From its fairly straightforward design to the breezy installation process, there's nothing about this charger that feels slow or cumbersome. Especially not the charge speeds.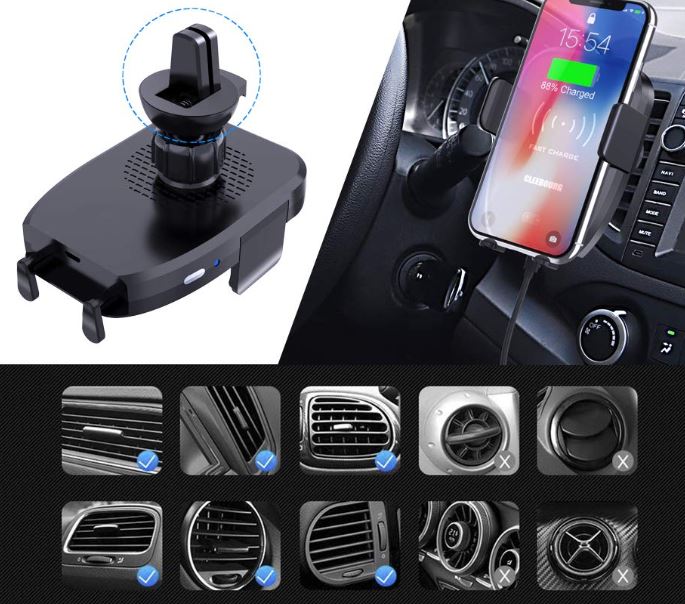 Build & Design
The Cleebourg Wireless Car Charger measures about 5.6 x 5.3 x 2.7, and weighs about 10 ounces. Most of its size relates to the extension of its clamping arms, intended to hold your phone. The fixture which holds the device to your dashboard is actually pretty small, having a diameter of about 3".
Similar to just about any Qi charger, this unit powers up your stuff with the aid of infrared induction. For charging speeds, you'll find the output power for this charger is 7.5W/10 W/5W. The input range is 5V/2A, or 9V/1.67A. That provides a charging efficiency around 76% when compared to a wired connection, which works out to be about as good as any indoor version of a wireless charger.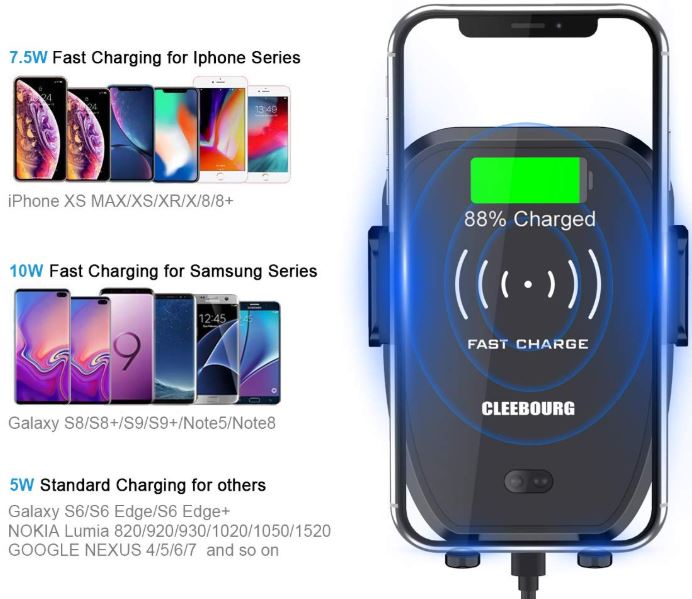 As you can tell from looking at it, two clamping arms are used to keep your phone firmly gripped by the charger. Placing the phone within 4" of the charger allows the infrared sensor to communicate with the charger that it needs to start operating. Once your smartphone has been recharged, just touch the button on the side of the LED indicator, and it will release the clamps.
This charger can be installed in two different ways. An air vent method or a suction cup method. The two in one mount stand can also be used as either a windshield or a dashboard charging platform. The suction cup was made rather specifically for sticking to windshields, so it provides a tight seal against glass. The suction pad doesn't stick well when you're dealing with a dirty surface, you may need to wash and dry your windshield before placement.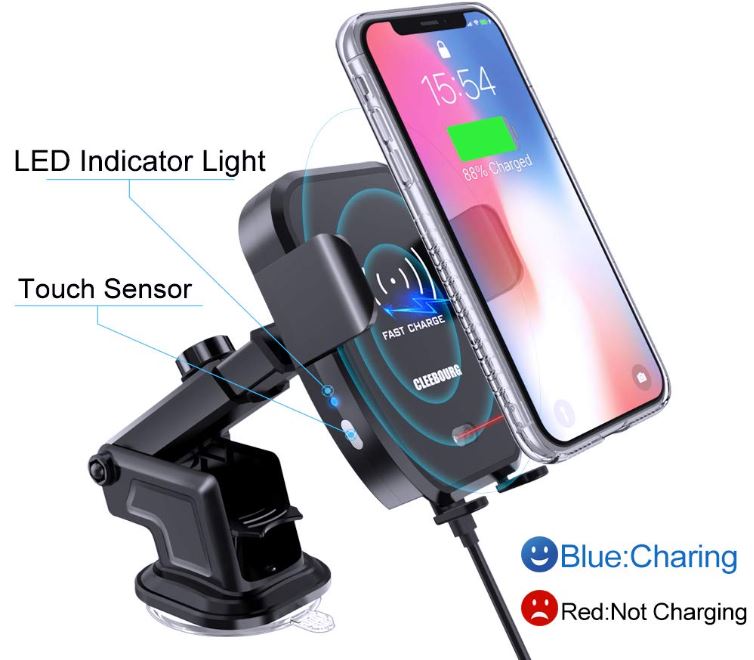 Other Considerations
Though you'll get faster charge speeds without a case, you can keep your case on as long as it's thinner than 5mm. If it's thicker than that, you'll have to take it off. It also does not support a magnetic or metal cases, as you would expect from any similar charger.
With respect to its compatibility, the Cleebourg Wireless Car Charger Mount was made to support all QI enabled devices. That includes a wide range of devices, from Samsung smartphones to the common iPhone.
Cleebourg includes the car charger, a suction cup, air vent clamp, 3ft USB cable, and a user manual. The user manual isn't terribly useful, as long as you're not trying to install the mount in some kind of unintended way. And the USB cable looks pretty cheap, but that's really a minor complaint given the overall cost to performance ratio of this particular kit.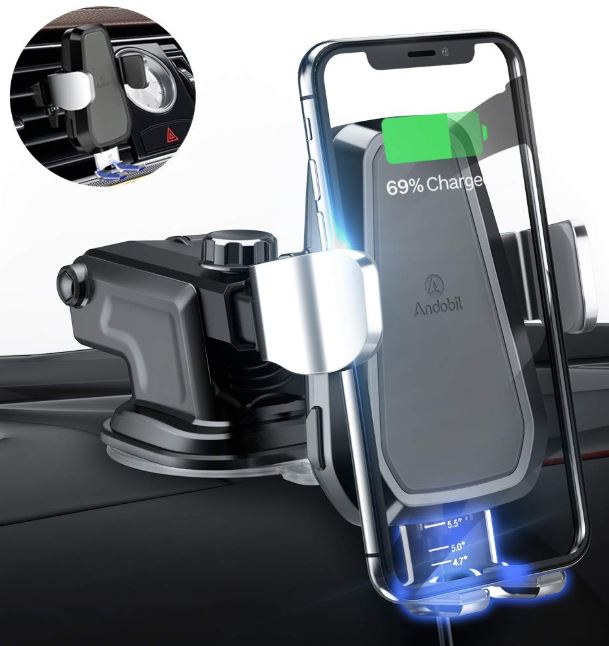 Andobil Wireless Car Charger Mount
What separates the Andobil mount from similar chargers is really the quality of its construction. Sure, at the end of the day, this charger is going to do the same thing as other devices. But it does so with a little more emphasis on style, as you can tell from the inclusion of metal parts.
Of course, style doesn't stand on its own. The Andobil Wireless Car Charger Mount was made to support the fastest wireless charging speeds that are currently in popular use. And it manages to deliver them with an installation process that's about as simple as placing a sticker.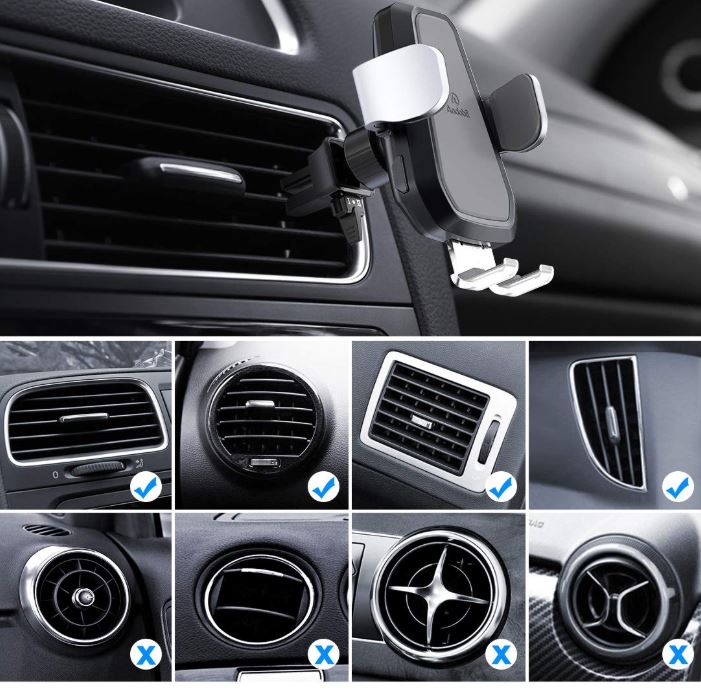 Build & Design
This charger measures 4.7 x 3.3 x 2.7 inches, and it weighs about five ounces. In most ways, it's almost identical to the Cleebourg Car Charger Mount. From a physical standpoint, they're about equally easy to install. They're about the same size, though the Andobil charger is slightly more compact.
And they provide around the same speed when it comes to recharging stuff. That includes an ability to handle 10W Samsung phones, 7.5W iPhones, and standard 5W charging for everybody else. Though it's worth pointing out this car charger mount does not have support for Google Pixel devices.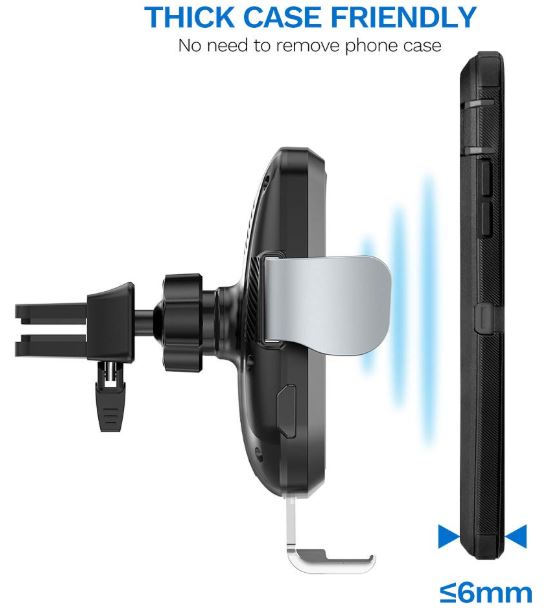 The bottom side of the mount has an adjustable tray, which serves to hold up the base of your phone while charging. That is also where the charging coil is located for helping recharge your battery. And like similar car charger mounts, the Andobil makes use of a tap and release case lock that keeps everything simple.
When it's finished charging, just tap the button on the charger, and your phone will be released. There's no need to bother with attaching cables or otherwise finding a special positioning for the charger. Once it's locked in, it's locked in.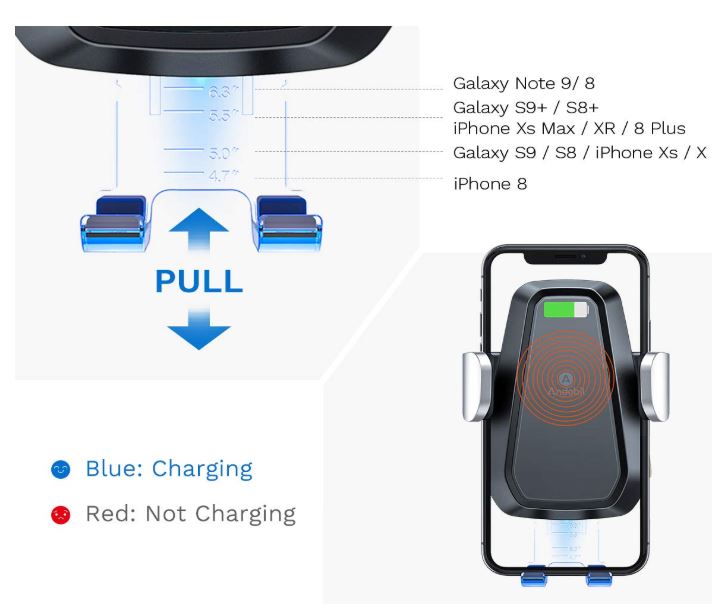 Other Considerations
This charger was built to be friendly with thicker cases. Which is to say the mounting station will hold phones that have ticker cases. But if you're going well over 6mm for case thickness, then you're going to have to pop it off. The base will shine blue when it's charging, and swap over to red when it's no longer charging.
The Andobil Wireless Car Charger includes an air vent clip, dashboard mount, 4.9ft micro USB cable, user manual, and a one-year warranty. Pretty much everything you need to get started. Though the USB cable isn't braided with nylon, instead using a simple black jacket, so you might consider replacing it if you're really concerned with style.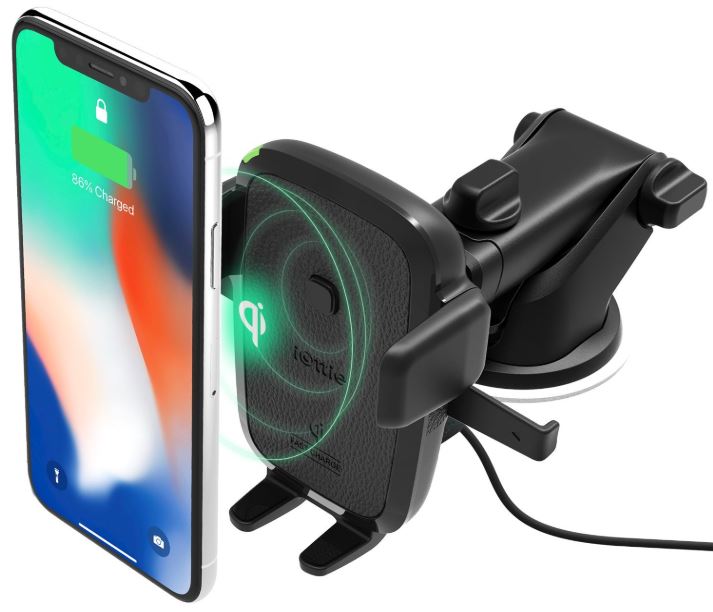 iOttie Easy One Touch Wireless Car Charger Mount
From a superficial point of view, this charger looks about the same as any other. It's almost a clone of the Cleebourg charger, in more ways than one. But if you look closely, you'll find this car charger mount was actually made not only to charge your stuff, but help present it in a better way.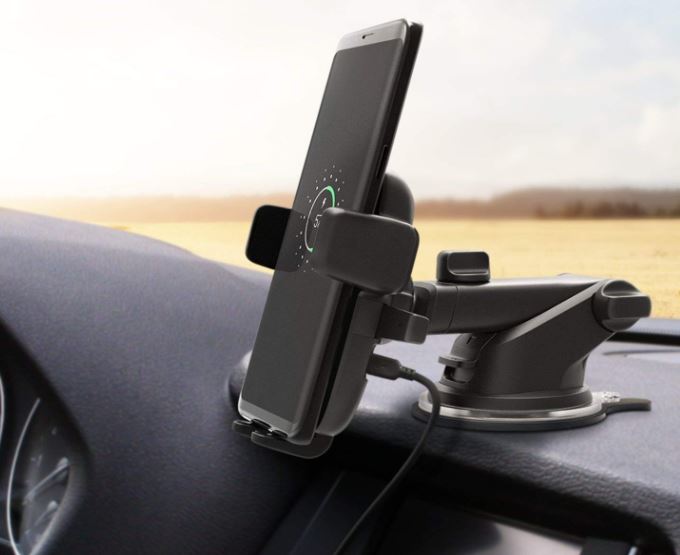 Build & Design
The iOttie Easy One Touch Wireless Car Charger Mount measures 3.9 x 3.2 x 5.1 inches, and weighs about half a pound. Similar to many other car charger mounts, it takes advantage of Qi wireless charging for some of the fastest wireless charging you can get. Whether you're running a 5W phone or a 10W phone, you're covered.
And the iOttie Easy One Touch uses a very similar locking mechanism to the other chargers on this list. Their universal mounting mechanism was made to accommodate cases and phones anywhere between 2.3" and 3.5". That basically means smartphones and small tablets have no problem connecting with the charger.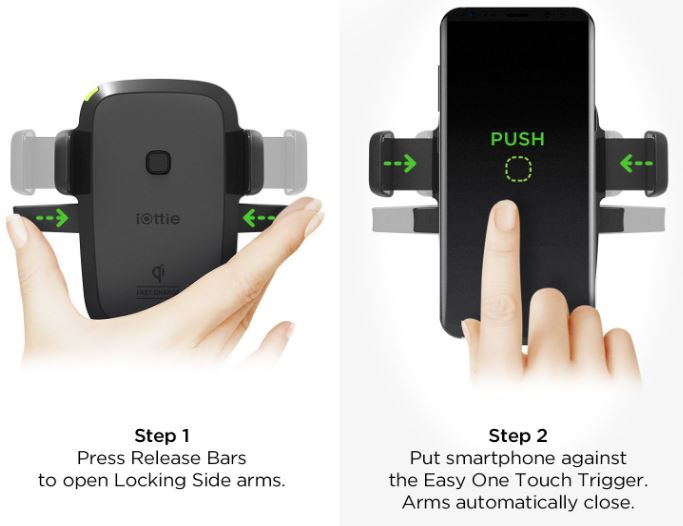 But even more pertinently, the base of the charger can be extended 4.9" – 8.3" to bring your screen a bit closer to you. That's really the defining feature here – screen accessibility. The base also allows you to pivot in a wide 225° range from your starting position. It's great for getting more optimal viewing positions, and that can be necessary for moments when you're using your phone as a map and GPS.
Other Considerations
Similar to the other car charger mounts on this list, the installation is pretty smooth because the base makes use of a strong suction cup to help attach itself to your vehicle. But that does mean you might need to clean off the surface you want to stick against in order to make things go smoothly.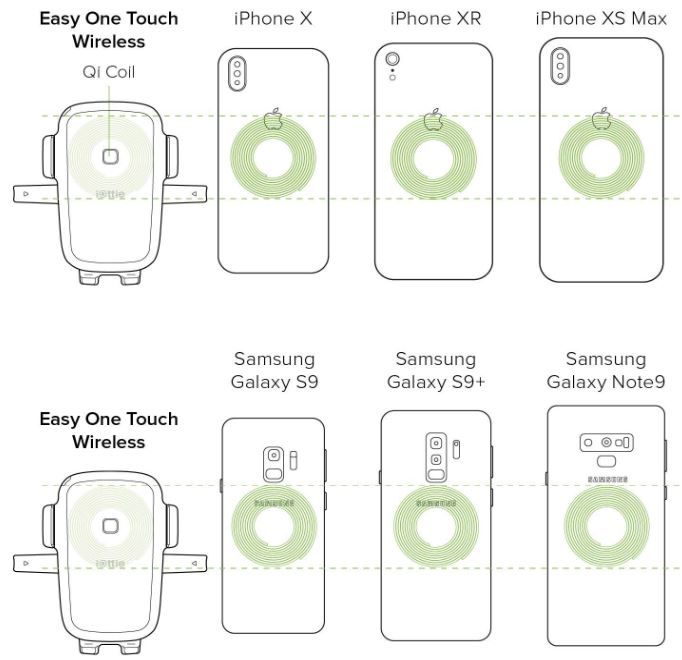 The sole exception is when you're working around leather. You'll have a tricky time sticking this kind of suction cup to a leather surface because it's simply too breathable. If you've got leather interior on your dashboard, you'll want to use a windshield installation instead. Apart from that, iOttie includes a one-year warranty with their charging kit.
Choosing Between 3 of the Best Wireless Car Charger Mounts
Are you looking for something straightforward, simple, and cost effective? Then you're probably looking for the Cleebourg Wireless Car Charger Mount. It's constructed reasonably well, it charges reasonably well, and it won't endanger your phone. It's not the most stylish or capable charger on the market, but it can definitely recharge your devices in a speedy manner.
The iOttie Easy One Touch is a good choice for someone who's interested in extending the visibility of their screen while it's on the mount. You would want to follow local laws in relation to viewing screens in your vehicle, and you'd want to drive safely and never become distracted by the screen. But used responsibly, this charger can do much more than help recharge your stuff. More than being merely a charger, it's a highly effective mounting station.
Finally, the Andobil Wireless Car Charger Mount is a good choice for someone who's interested in style. In terms of its functionality, it performs about the same as the Cleebourg Wireless Car Charger Mount. But these types of chargers tend to have a cheap and non-distinctive look about them. The Andobil charger and its metallic holding station gives off more of a high-end vibe.