Whether you're working out or live an active lifestyle, taking your music along with you can make a huge difference in your overall enjoyment. Listening to your favorite artists can help you work out harder and train better. In fact, studies have been shown that working out while listening to your favorite songs can drastically improve mental endurance and overall stamina.
If you've done a bit of searching for a nice pair of wireless Bluetooth headphones to buy, you may have come across the AYL QY8 Bluetooth Headphones. Now let's be honest, you probably haven't heard of AYL before, but don't let that fool you because these in-ear sport earbuds pack an impressive amount of quality with an incredible amount of value.
Note: At no extra cost to you, we may earn a commission for purchases using our links. Learn more.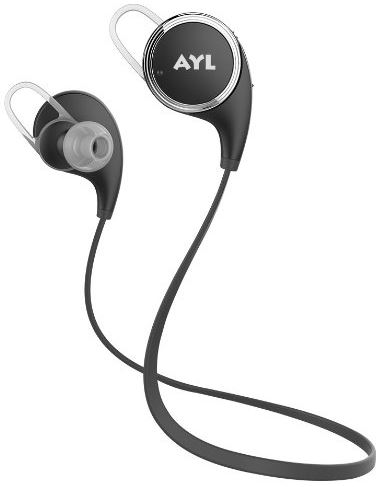 Sound Quality
Utilizing the latest Bluetooth 4.1 and EDR APT-X audio decoding technology, the sound quality and overall performance is top notch. Now it's hard to describe sound via text, but we'll do our best. The quality of sound is truly superb and very similar to that of Sony or Panasonic headphones that we've tested in the past. The highs sound perfectly on par, and the lows are deep and burly. With a thorough test of them, we never experienced any distortion or ugly sounds, everything seemed to be right on key with how they were advertised.
It's quite apparent that AYL took fine detail into account when they crafted the way that they sound. They've integrated their very own CVC 6.0 Digital Noise Reduction Technology that does a great job keeping grey noise and unwanted distractions from ruining your listening experience. It uses an intelligent algorithm to filter out ambient noise and output a clearer sound with more vibrance.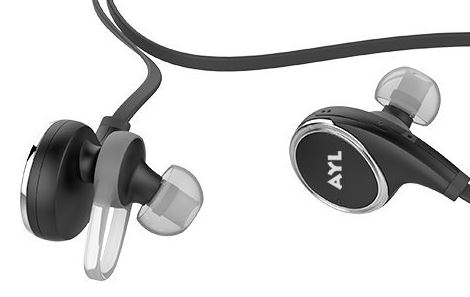 Wireless Distance
Thanks to the latest Bluetooth 4.1 technology, a wireless connection can be achieved with any device from up to 10 meters or around 33 feet away. This is plenty of range that gives a great amount of flexibility to move around without losing reception. What's unique about the AYL QY8's is their ability to pair with any two Bluetooth devices at the same time. At first thought this may not sound very useful, but it can definitely come in handy. You may want to listen to the playlist on your smartphone, but you want to play a video game on your tablet.
Comfort and Fit
At first we were a bit worried that the fit was going to seem a bit uncomfortable or clunky. To our surprise, we experience the exact opposite. They come included with six earbuds and six earhooks (3 pairs) so you can achieve a proper fit that stays on snug and doesn't let loose. Within a matter of minutes we found the right size and haven't had the need to adjust them since then. The earcups fit smoothly into the ear canal while the hooks gently grasp on to the ear. Since they're soft to the touch and quite pliable, they fit in nicely without any sharp pressure points. Even when jogging on the treadmill and during a quick mountain bike race, they didn't come loose and stayed right where we needed them to.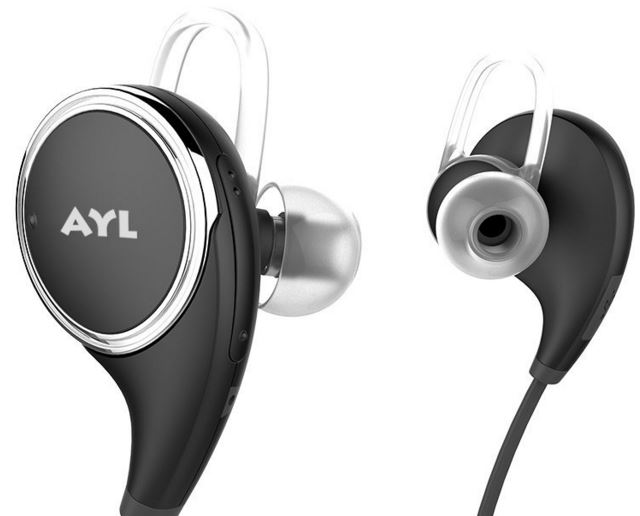 Taking Calls
Since a lot of people use their smartphone as a music source, you'll often experience times when you're getting a call while listening to music at the gym or during your workout. AYL integrated a small microphone into the design in order to take a call without the need to take them off. All you need to do is press a small button on the side and it will automatically pause your music and connect the call through the headphones. When you hang up, the music will resume where you left it.
Functionality
Located in a discreet and accessible position are a few buttons that perform a variety of useful functions. With these external buttons you can adjust the volume, select songs, skip and shuffle through tracks, and control your call on the telephone.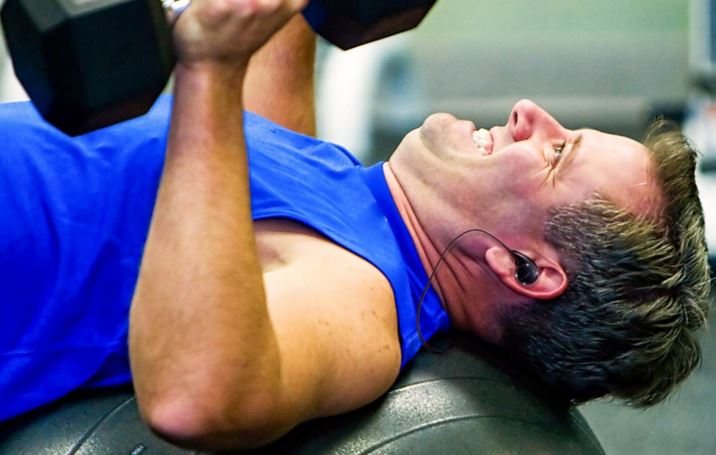 Compatibility
The AYL QY8 Bluetooth Headphones work well with a variety of audio sources. Whether you have a tablet, notebook, smartphone, or mp3 player, as long as it has Bluetooth connectivity, you should have no trouble with pairing. Speaking of pairing, it can be achieve in as little as one minute since all you'll need to do is go to your settings and select "Bluetooth" to see a list of available connections. If you have the headphones turned on, you should see them appear on the list of available devices to pair with.
Battery Life
Inside is a polymer 80 mAh rechargeable battery that provides up to 7 hours of continuous listening or talk time on a single charge. Additionally, they can standby for up to 175 hours with an incredible amount of efficiency. With the included USB charger cable, a full charge can be achieved in a matter of an hour or two. And since it's a USB charger, you can plug it into your laptop, desktop computer, or power outlet and keep it charged and ready for the next time you want to use them.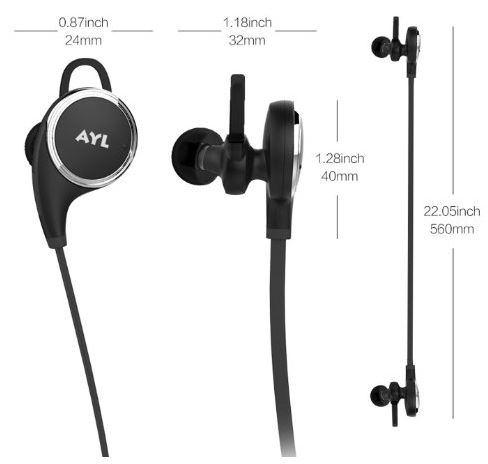 Final Thoughts
After two weeks of testing out the AYL QY8 Bluetooth Headphones, we think it's safe to say that they should definitely be taking into consideration if you're looking for a high quality pair of sport earbuds that are excellent for working out. We must admit, when it comes to audio and headphones in particular, we can be quite picky about them. To our surprise, the AYL QY8's exceeded our expectations and fit the bill in both high quality performance and overall total value. For under $30, you really can't go wrong.
Please consider sharing:
Note: At no extra cost to you, we may earn a commission for purchases using our links. Learn more.