Quick Analysis
Pros
Powerful suction on both carpet and hard floors.
Large-sized dust-hopper.
Rugged and durable design.
Can control with remote, app or voice.
Cons
No app-enabled no-go zones.
Somewhat short battery life if running suction at full power.
When you think of smart gadgets, you probably think of nifty Bluetooth devices, TVs, and smartphones. All of these can add a lot of pleasure and enjoyment to your life. But one thing you probably don't think about often is your vacuum cleaner. This is understandable. After all, a vacuum cleaner is hardly a "sexy" household accessory. You don't show it off like you show off your TV or your smartphone. It's just a utilitarian tool that either gets the job done or it doesn't. As a result, your vacuum cleaner can become out of sight, out of mind.
This is a shame, because there are many quality smart vacuums on the market. On the one hand, that's a good thing, because you've got plenty of options. On the other hand, having too many options can make it hard to decide. How do you know which robotic vacuums are good, and which ones to avoid? One way is to choose a reliable manufacturer.
Bagotte is one of the more reliable vacuum manufacturers on the market. Today, we're going to review their BG800 Robotic Vacuum Cleaner. The BG800 is a new and improved version of Bagotte's BG700. We already liked the original, so we were excited to see what Bagotte built into their improved version. So, is it worth your money? Or should you take a hard pass? We're about to take a good, hard look, and see what it brings to the table. Let's find out if the BG800 is worth its salt!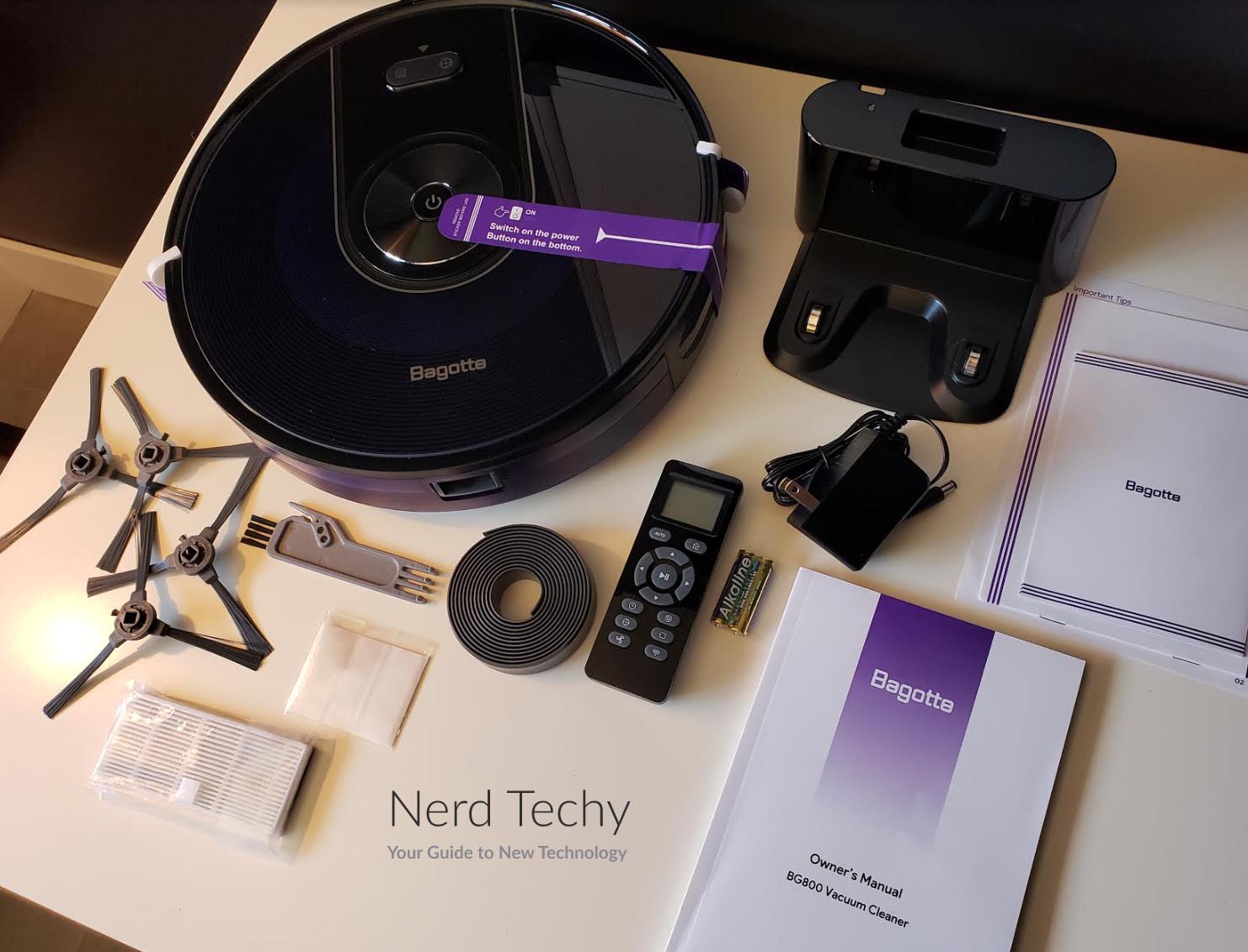 Design and Construction
Like most robotic vacuums, the Bagotte BG800 Robotic Vacuum Cleaner has a two-part design. The main unit is a round, Roomba-shaped vacuum cleaner. However, it also includes a docking station that recharges the battery. The vacuum itself is attractive to look at, with a glossy black case. The sides and bottom, as well as the bulk of the frame are constructed from black ABS plastic. However, the top is reinforced, with a tempered glass top plate that's very durable. The glass is also easier to keep clean than plastic, so your vacuum won't be an eyesore while it's running.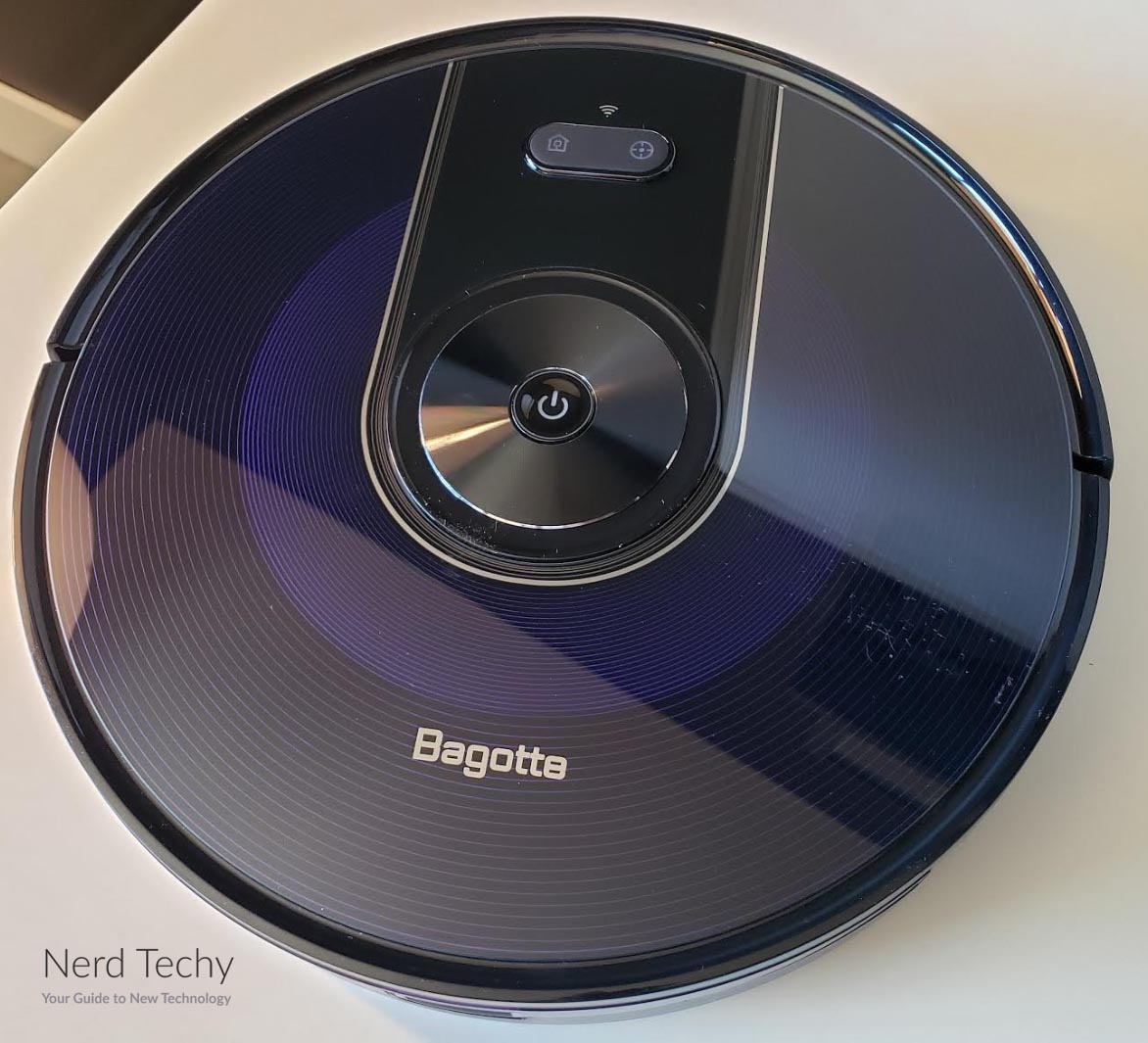 Beneath the tempered glass top, you'll find a set of touch controls that make operation easy. Smack in the center, there's a power button for manual operation. Towards the front, there's a home button, which will send your vacuum back to the docking station. Next to the home button, there's a secondary button that starts a cleaning cycle. In front of both of those, you'll see a blue WiFi light that lets you know when your vacuum is connected. On the front, there's a small WPS button next to the charging port. This allows you to effortlessly pair your vacuum with just about any modern router.
In the back half of the BG800, you'll find a 600ml dust hopper. This offers a ton of capacity, enough to clean for two hours or more without emptying your hopper. Compared to the average robot vacuum's 500ml capacity, this is plenty of space. Emptying the hopper is easy. Just push the release tab, pull it out, and dump it into your trash can. Slide it back into place, and you're ready to get back to cleaning. This makes for very easy operation, since you won't have to spend a bunch of time tending your dust hopper.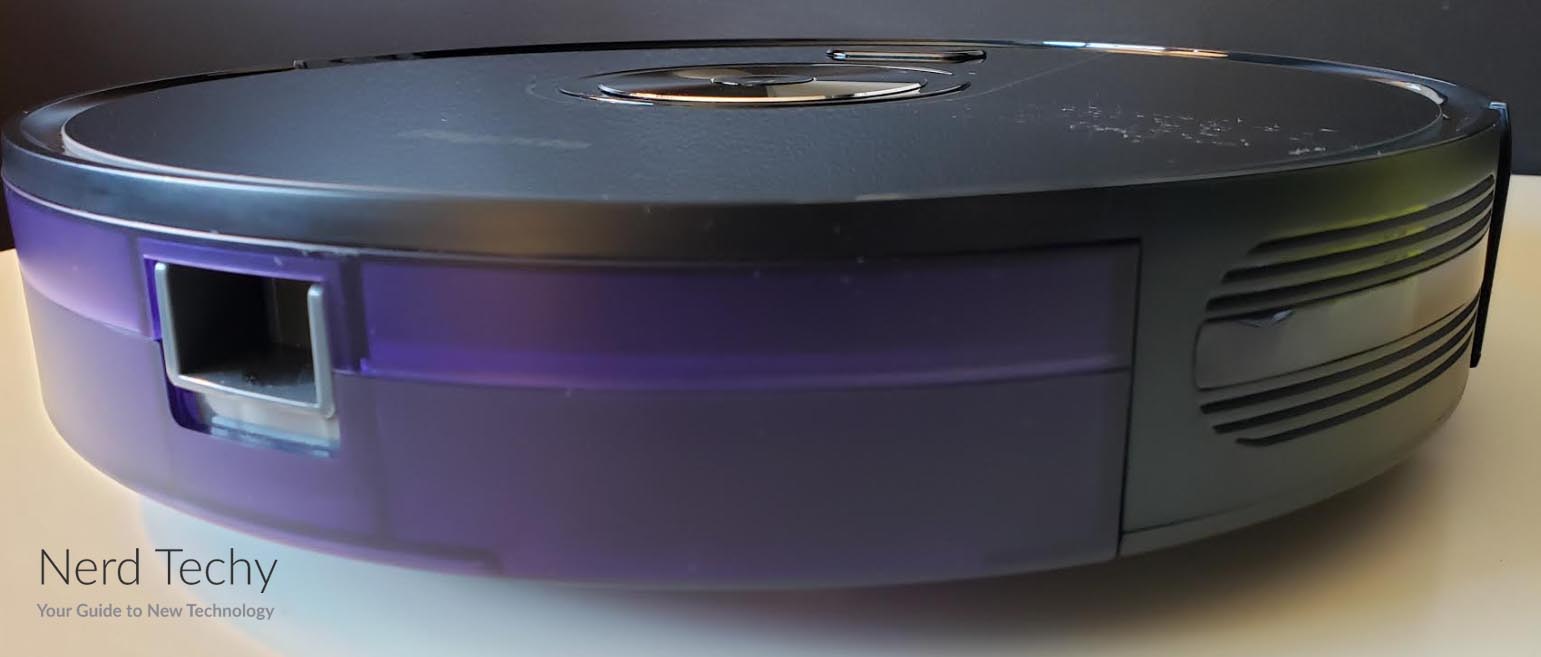 The overall dimensions of the BG800 are 13 inches in diameter and 2.7 inches thick. At this size, it can go just about anywhere. It can fit under dressers, under kitchen cabinet lips, and under most sofas and other furniture. As a result, you won't just be cleaning the visible areas of your floor. You'll be cleaning the areas that are all too often out of sight and out of mind.
On the bottom of the BG800, there's a set of highly flexible wheels. These wheels can rotate 360 degrees, allowing for excellent navigability. The BG800 will easily navigate over carpets and thresholds, and can easily hug the wall tightly while going around corners.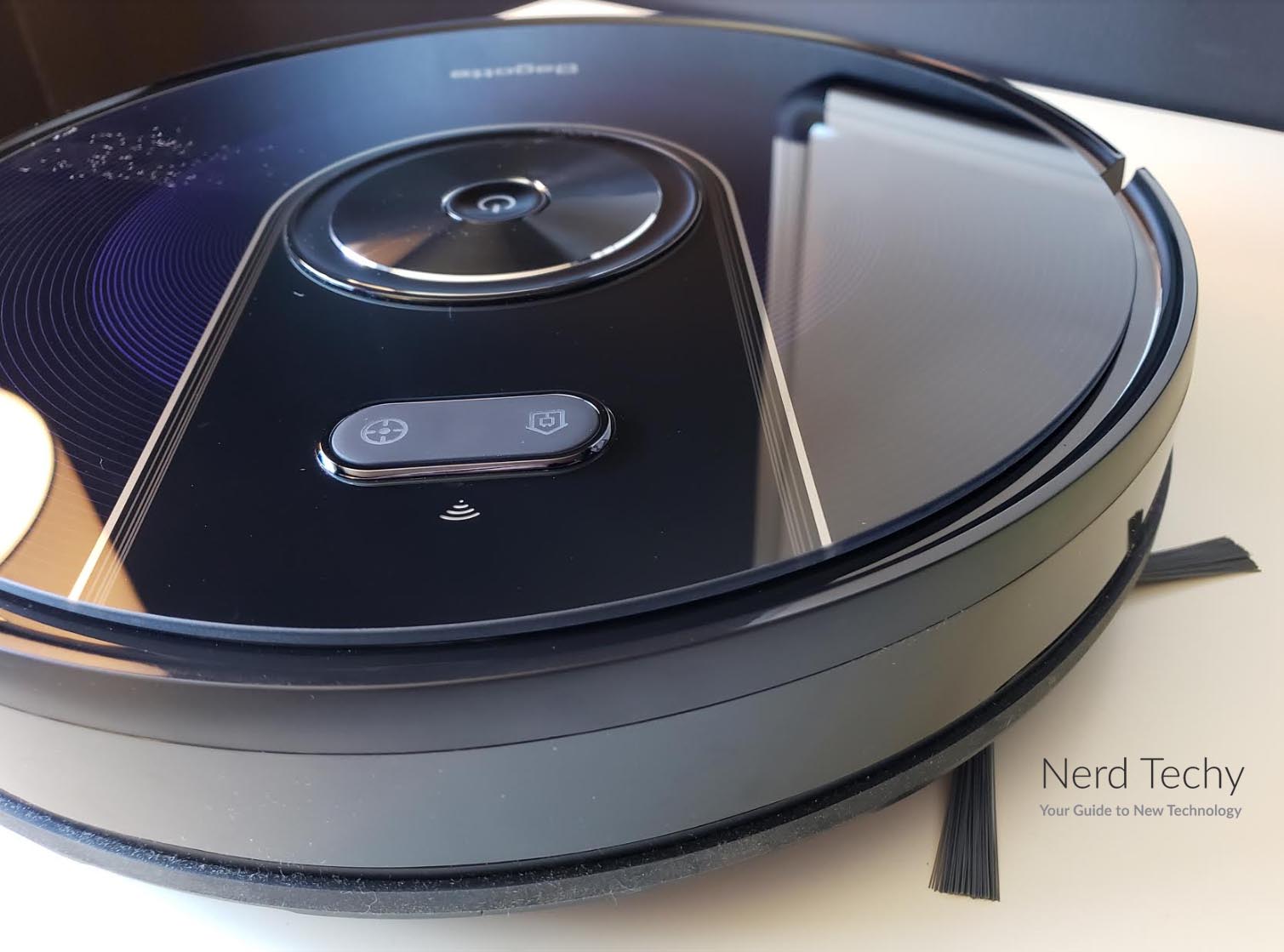 Along with the vacuum itself, you also get a six-foot strip of magnetic tape. This tape can be cut into as many pieces as you need, although it's generally best for two doorways. When properly placed, the magnetic tape will keep the vacuum from leaving areas you want it to clean. It also has a low enough profile that tripping is not a danger.
The docking station has a small form factor that keeps it discreetly tucked against your wall. It's less than an inch thick, so it won't protrude too far. It's just over three inches high, and sports a blue LED light that blinks while the vacuum is charging. When the light turns solid blue, you'll know that your BG800 is ready to go again.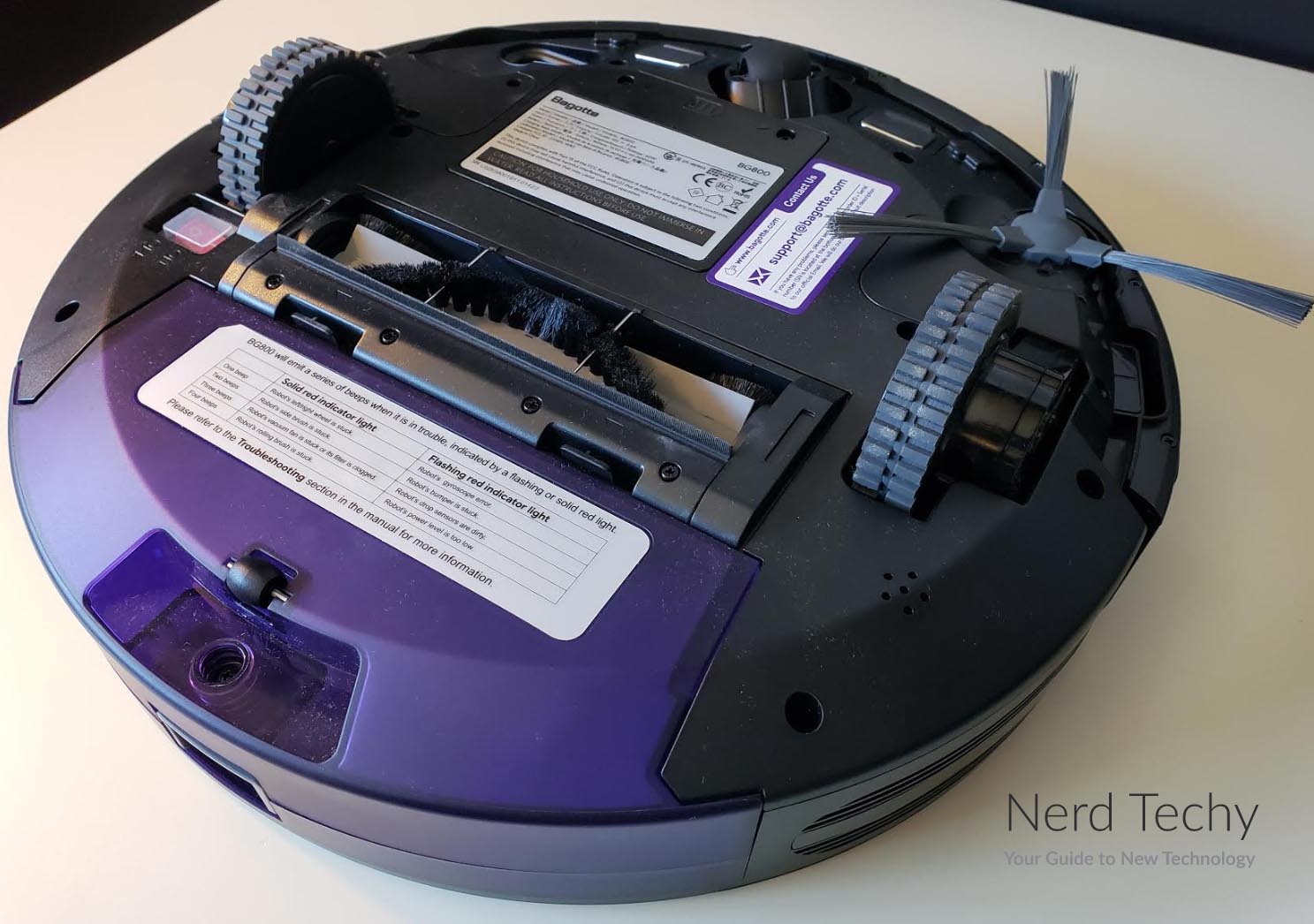 Of course, the BG800 is brand new, so it's a little bit pricey. If you want a similar design at a lower price, consider the Amarey A980 Robotic Vacuum Cleaner. In most respects, it's a comparable vacuum. That said, at 500ml, the dust hopper is slightly smaller. You also don't get any zone control, so it will vacuum your entire floor whether or not you want it to.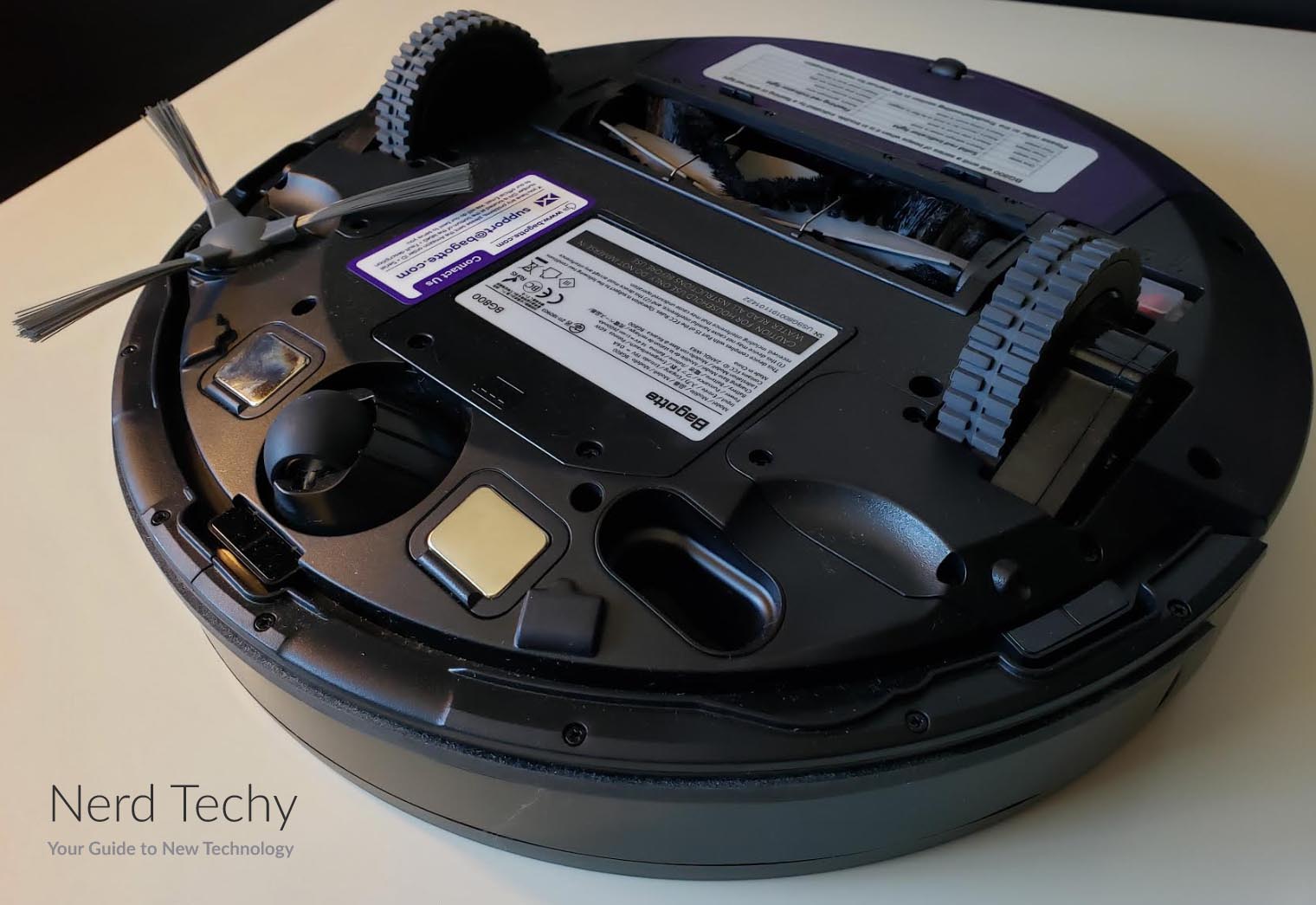 Vacuum Performance
The Bagotte BG800 has a total suction power of 2,200 Pascals. This is less powerful than most upright vacuums, but more powerful than most robotic vacuums. Your average robotic vacuum has about 1,400 Pascals of suction power, or about 50 percent less. As a result, the BG800 is exceptionally powerful, and suitable for larger messes. For example, you can clean heavily-soiled carpets, even ones with a very deep pile. You can also clean spilled rice and other big, heavy-duty messes.
The BG800 moves in a simple back and forth pattern, similar to how you would vacuum a floor manually. This makes it significantly more efficient than your average robot vacuum, which tend to move in random patterns. You can get more work done in less time, saving both time and energy. You get additional energy savings thanks to the BG800's automatic suction adjustment. When it's running on a hard surface like tile, it will automatically run on low suction. When it moves onto a carpet, the suction will automatically turn up to maximum. As a result, you get just the right amount of suction for your needs, without wasting battery power.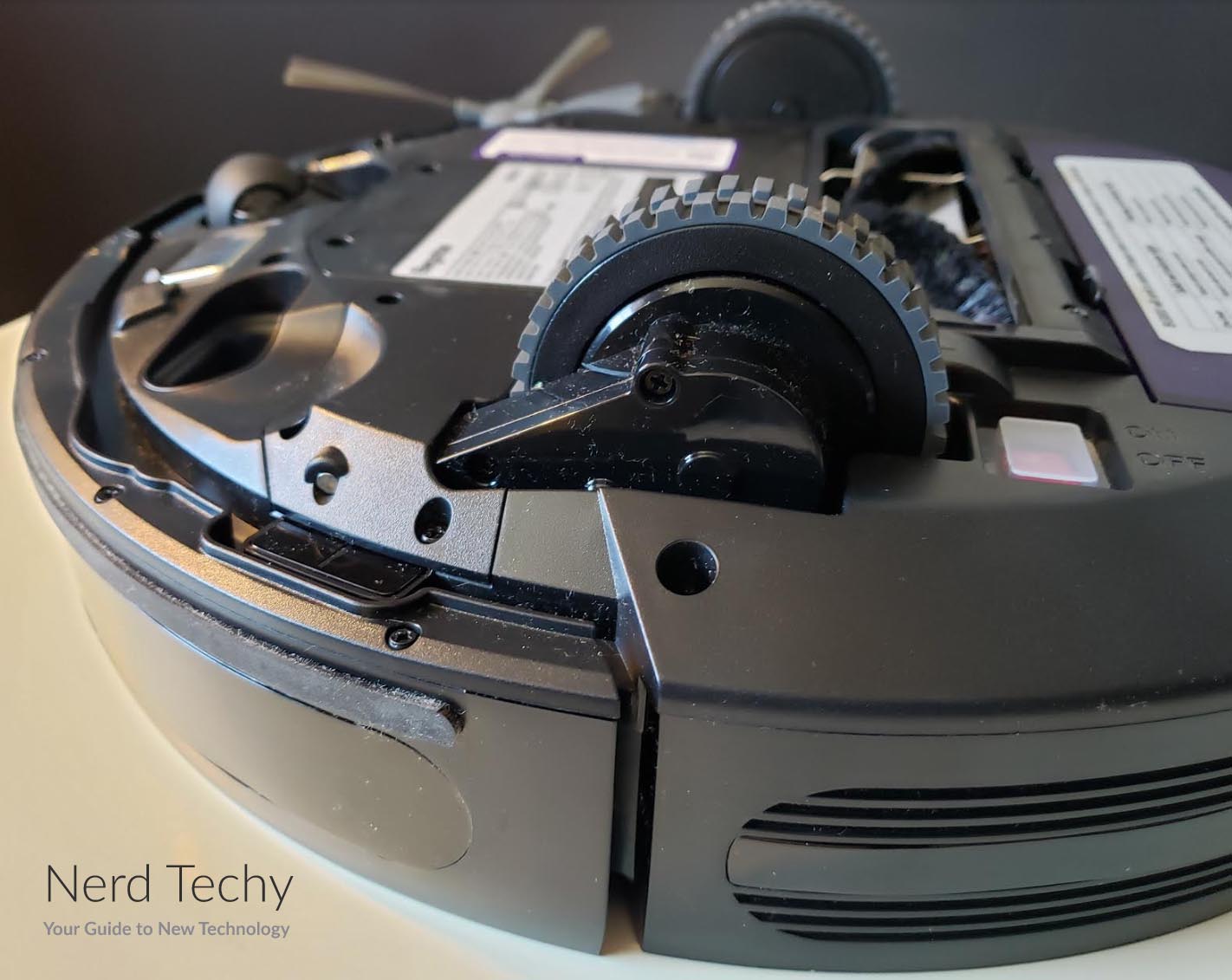 Your exact battery life is going to depend on your vacuum's power setting. In low suction mode, it will operate for about 100 minutes before needing a recharge. In maximum suction mode, you'll get about 40 minutes of use. On the one hand, this is a bit disappointing, since most robot vacuums run for about 2 hours per charge. On the other hand, it's to be expected given the powerful motor. The noise will similarly depend on the power setting. On low mode, the BG800 produces 55dB of noise, about equivalent to a normal conversation. Bagotte does not provide a decibel rating for maximum power mode. Suffice it to say that it's a bit louder, about the same as a small upright vacuum.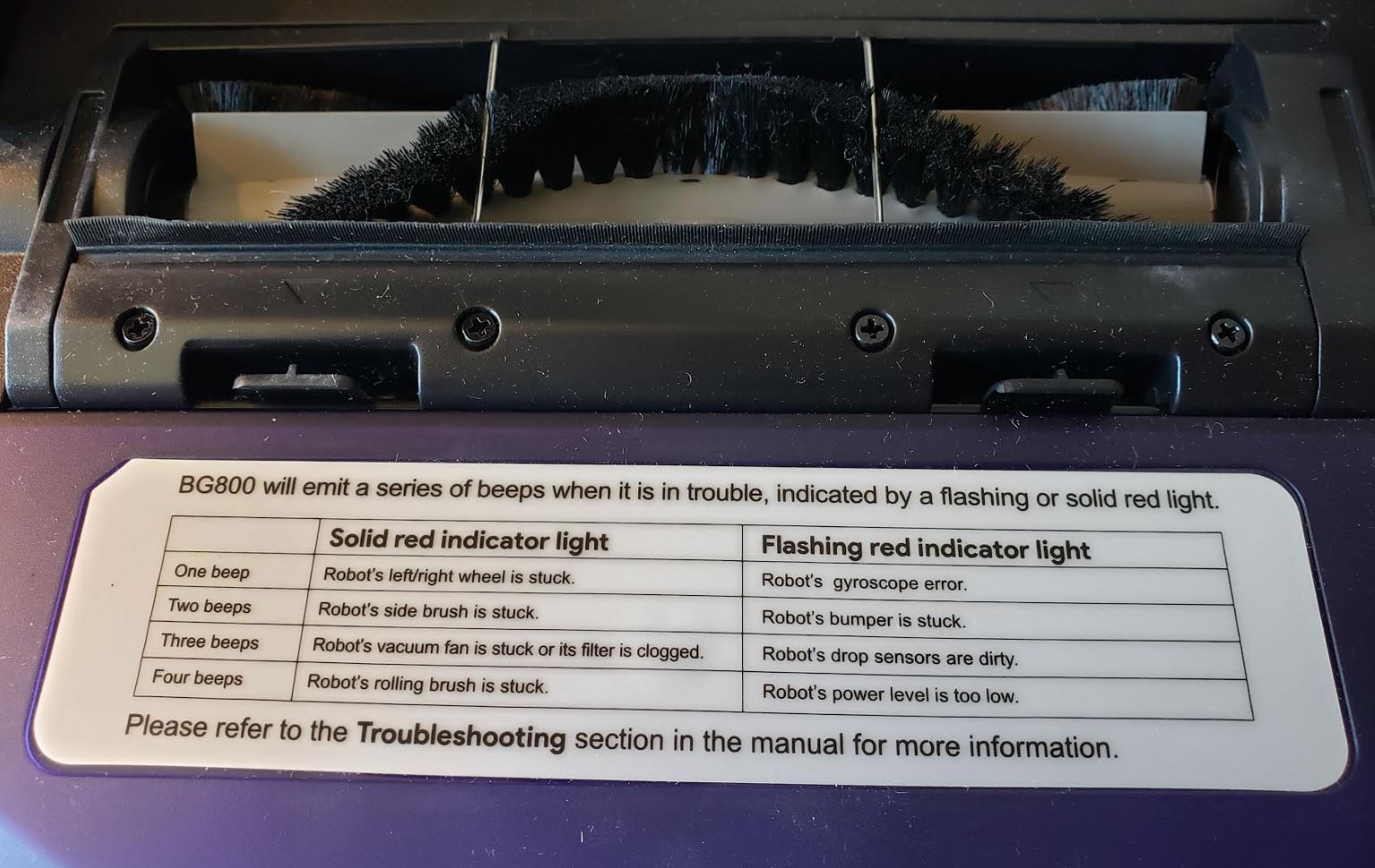 Setup and Use
There are three ways of controlling your Bagotte BG800. The first, and most straightforward method, is simply to use the controls on top of the unit. However, this method is somewhat limited. You can basically start and stop the vacuum, and that's about it.
For more refined control, you'll want to install the Bagotte app on your phone. This will allow you to perform a variety of different functions. For example, you can switch between different cleaning modes. You can use the default, or "Auto" mode that we already mentioned. You can switch to a random pattern, although we're not sure why you'd want to do that. You can even set your vacuum to clean edges or for spot cleaning. Keep in mind that for spot cleaning, you'll need to manually position your vacuum before you start. You can also manually set the suction level. If your carpets are typically only lightly soiled, you can permanently set the power to low to save on batteries.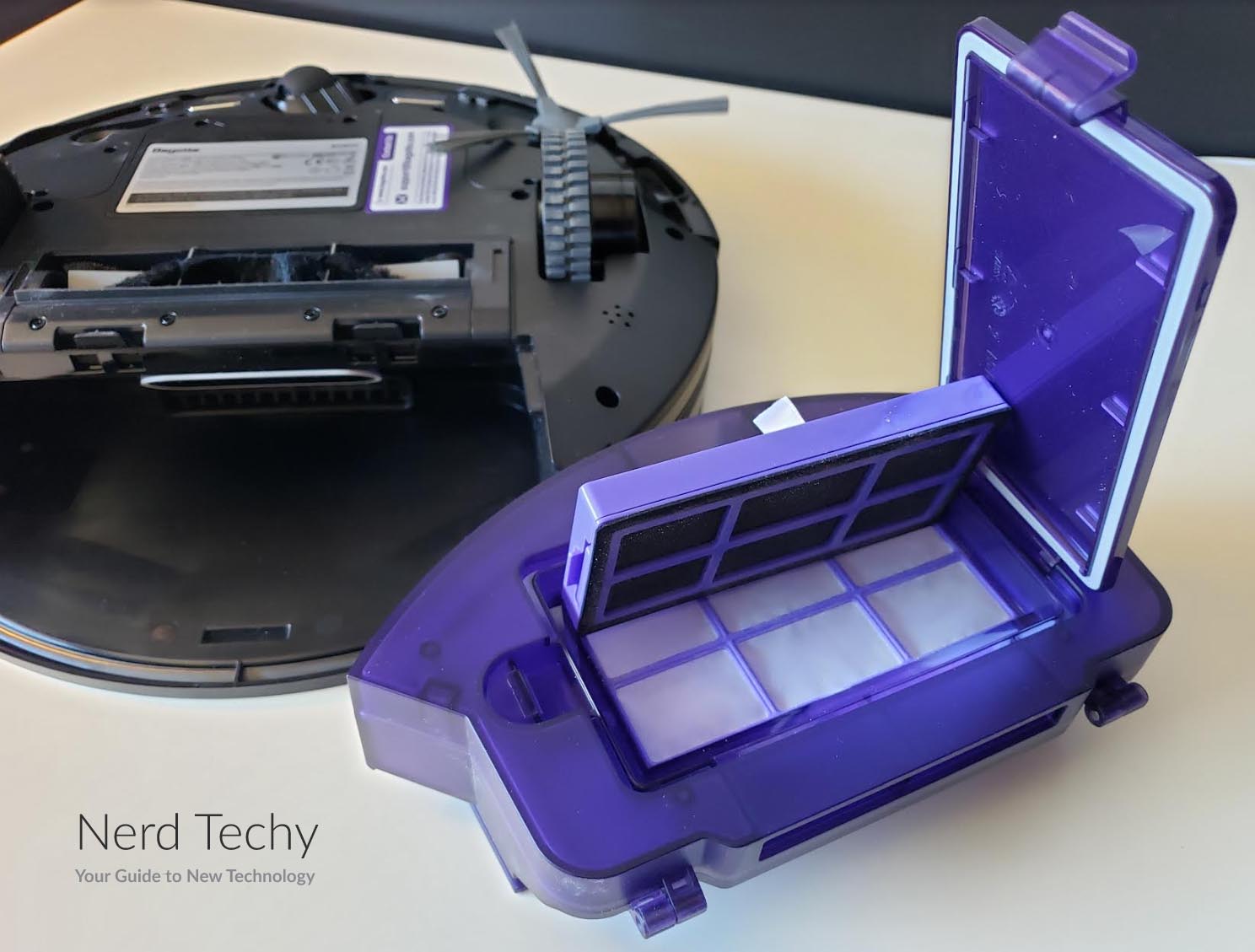 In addition, the app allows you to set a seven-day cleaning schedule. With a separate schedule for each day, you can customize cleaning to suit your personal lifestyle. You can also monitor the battery status from within the app, and send the vacuum home if needed. With voice control, you can operate your BG800 with Amazon Alexa or Google Assistant. This allows for hands-free control, and offers all the same options as the Bagotte app.
Keep in mind that app and voice assistant control require a wireless connection. The BG800 will only connect to your router's 2.4 GHz frequency, not its 5 GHz frequency. This is because the 2.4 GHz frequency offers a faster, more powerful signal. On the downside, the 2.4 GHz frequency also has a shorter range than the 5 GHz signal. Depending on your router placement, this may or may not be an issue.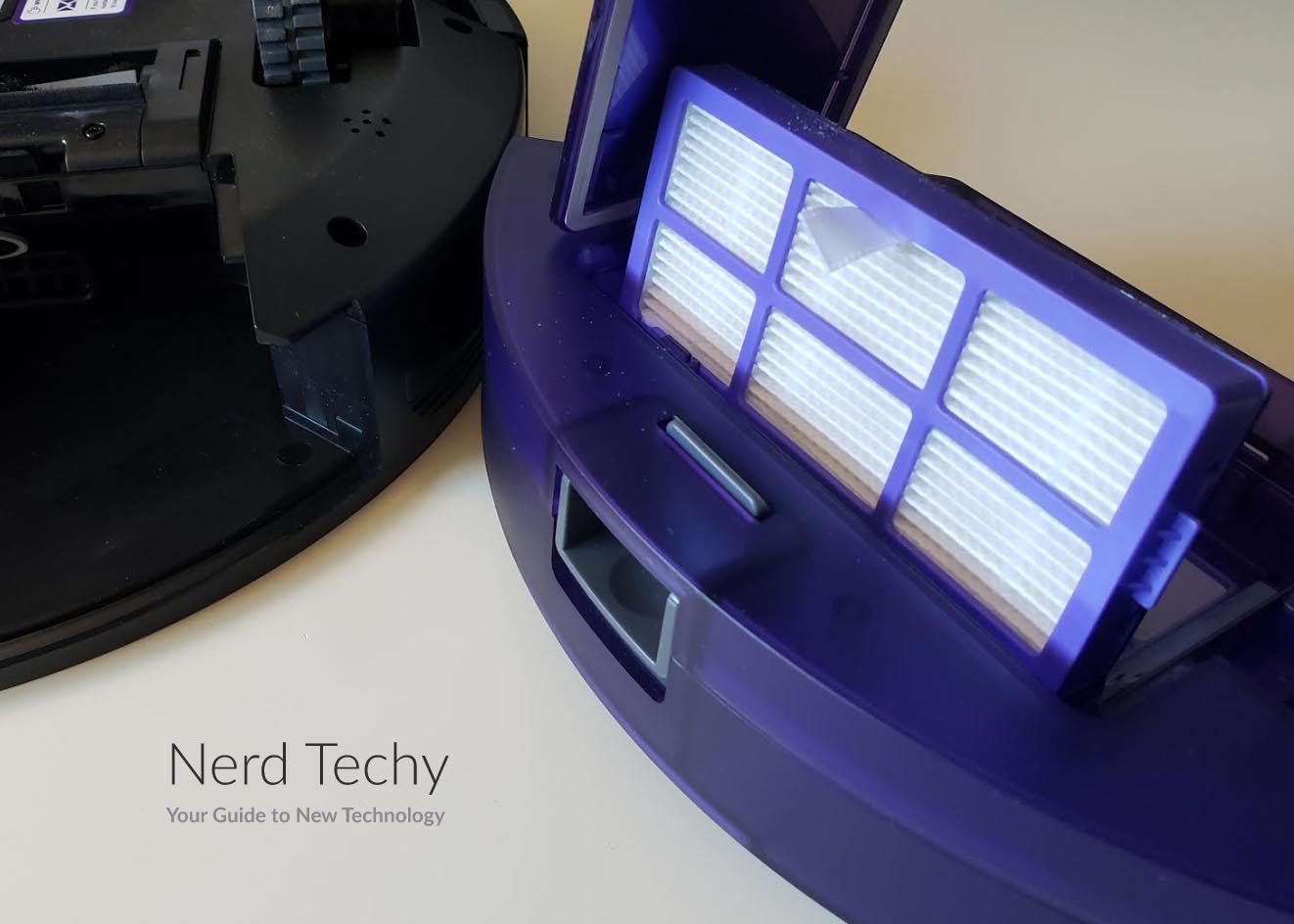 When it's in operation, the BG800 will remain inside the boundaries set by your magnetic tape. However, if you want it to clean your entire home, that's not a problem. It has 14 built-in infrared sensors, which allow it to avoid obstacles. It will avoid table legs, stairs, and other obstructions that might otherwise cause damage.
Final Verdict
So, is the Bagotte BG800 worth your money? For most purposes, we'll answer with a resounding yes. The battery life is somewhat limited, but that's our only major complaint. And given the exceptional power of the motor, it's understandable. The slim profile is very well designed, since it's able to navigate just about anywhere. Moreover, the app control offers plenty of features. You can control the suction power, as well as the vacuum pattern. The voice control options are a great added value, allowing for hands-free operation. And with a large dust hopper, it's easy to maintain and keep clean.
Meet Derek, "TechGuru," a 34-year-old technology enthusiast with a deep passion for tech innovations. With extensive experience, he specializes in gaming hardware and software, and has expertise in gadgets, custom PCs, and audio.
Besides writing about tech and reviewing new products, Derek enjoys traveling, hiking, and photography. Committed to keeping up with the latest industry trends, he aims to guide readers in making informed tech decisions.