When it comes to your home's indoor air quality, there's plenty of reason to be concerned. Dust, pollen, mold spores, smoke, and chemical contaminants can build up in the air. When this happens, even otherwise-healthy people can start experiencing hay fever. If you already suffer from asthma or allergies, this kind of build-up can only make things worse.
One of the worst air quality offenders is humidity. Obviously, you don't want your air so dry that your nose and lips get cracked. But too much humidity creates a perfect environment for all kinds of mold and mildew. This is especially true in poorly-ventilated spaces. Bathrooms and basements are the worst offenders, but most houses have at least one poorly-vented room.
This isn't just about allergies, either. For one thing, mold and mildew are smelly. When your shower stall is covered in mildew, the entire room will smell musty. The same goes for moldy basements. For another thing, some molds, such as black mold, can actually be deadly. If black mold gets into your walls, you'll have to temporarily move out while the issue is addressed. Not to mention, you're looking at thousands of dollars or more in remediation costs.
A good dehumidifier can help you avoid these problems. By proactively removing moisture from the air, you can stop mold and mildew before they start. Of course, there are plenty of different options, and not all of them are equally well-designed. So it pays to shop around, and look at different choices.
Vellgoo DryBox 2000
We're about to review the Vellgoo DryBox 2000. This is a compact, tabletop-sized dehumidifier that's designed for single rooms. It's made to be easy to install, as well as easy to transport from room to room as needed. It's also quiet and affordable, both of which are great features in their own right.
That said, there are a number of other factors we'll need to consider. We'll talk about the machine's total capacity, and how much water it can extract from your air. We'll look at the control scheme, and how easy it is to operate. In addition, we'll also discuss how the dehumidifier is set up, and how it's drained. After taking all of those things into account, we'll summarize what we've learned. Let's begin!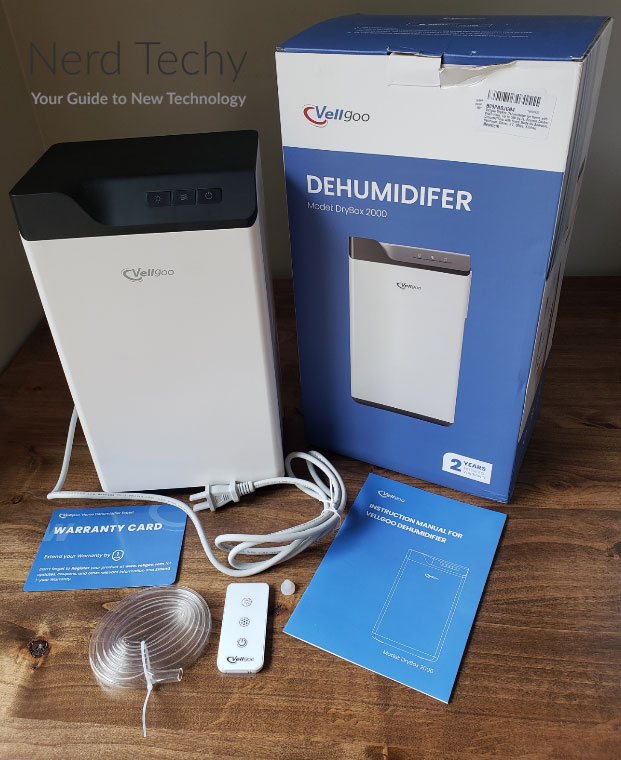 Overall Design
The Vellgoo DryBox 2000 has a white plastic housing, with an easy-to-clean matte finish. The top and bottom panels are made from a similar black matte material. The look is plain and unobtrusive, and blends in well to any environment. The only visible branding is the word "Vellgoo," stamped in black near the top of the front panel. And while the material isn't exactly bulletproof, it's tough enough to do the job. We didn't have any concerns about durability.
The sides are both vented, with vertical intake louvers on the top portions. The back outflow vent is much larger, since it handles the entire outflow. As a result of this design, the back and sides of the housing should be kept reasonably clear. If they're blocked, you're not going to be getting optimal performance.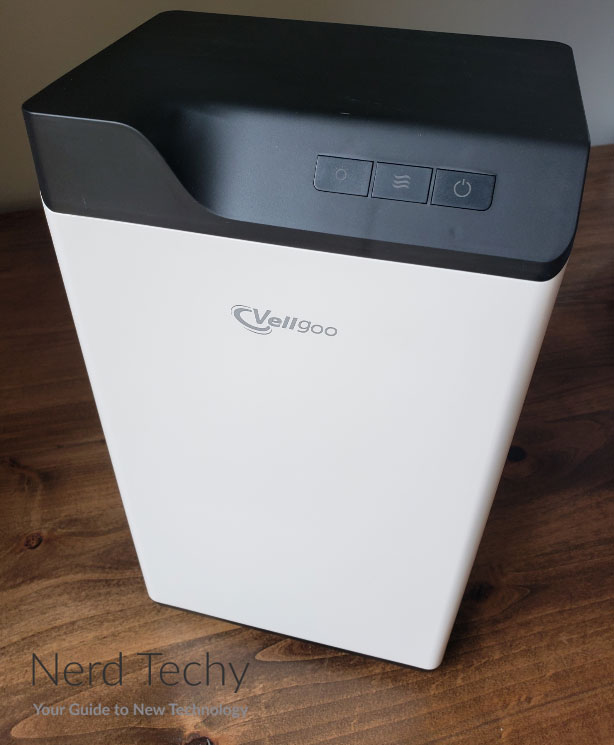 This isn't some huge machine that weighs 50 pounds and needs to be carried with both arms. The overall size of the housing is 13.89 inches high, 7.85 inches wide, and 5.5 inches deep. This makes it small enough to keep almost anywhere, even on your bathroom counter. And at only 5.5 pounds, it's light enough to easily carry from room to room. In fact, this is one of the smallest, most portable dehumidifiers you'll find anywhere in the world.
Setup and Maintenance
Setting up the DryBox 2000 is pretty straightforward. Set it on a flat, level surface, plug it in, and turn it on. It will immediately start running and removing moisture from the air. You don't have to worry about any complex installation or setup procedures.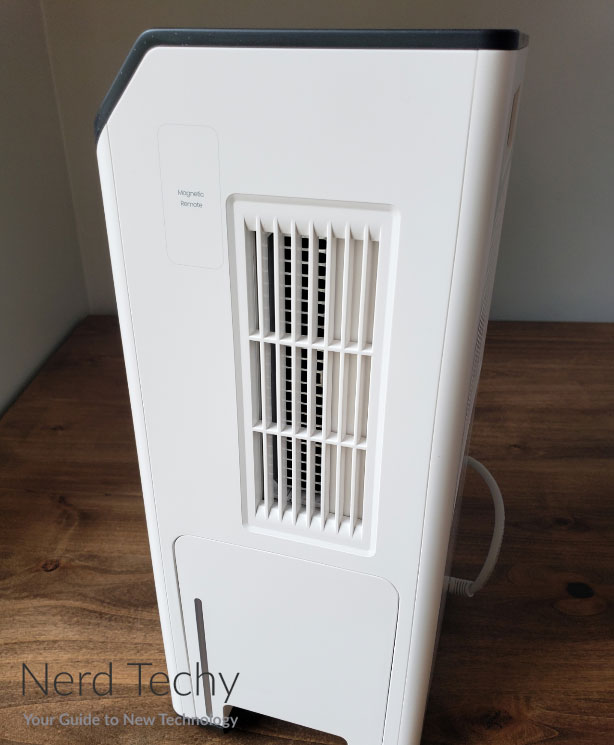 That said, the water is going to need to have somewhere to go. There are two different ways of going about this. To begin with, there's a built-in reservoir, which can be emptied when it gets full. In addition, you can connect a drainage hose for maintenance-free operation.
The tank is built into the right side of the housing, and has a capacity of 64 ounces. That's only half a gallon, or four pints, so it's not really all that much space. But considering how small the machine is, it actually occupies a substantial portion of the total volume.
Use code "DRYBOXX1" for a 5% discount when you order the DryBox 2000 on Amazon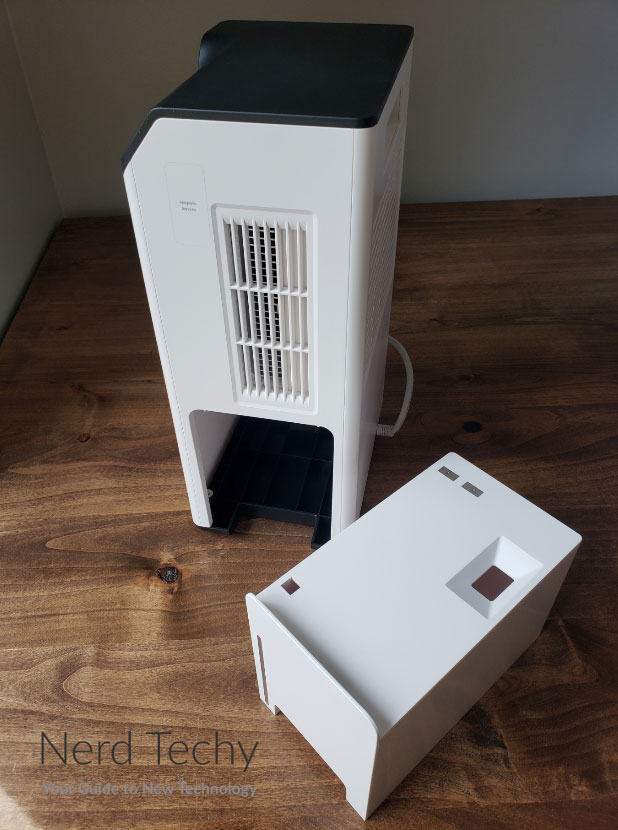 There's a blue vertical indicator bar towards the front of the tank, which shows the current fill level. It lights up whenever the dehumidifier is active, and turns red when the reservoir is full. At that point, the system will shut off until it's emptied. Just pull the reservoir out like a drawer and dump it in your sink. Slide it back into place, and you'll be back in business.
The hose connection is located on the right side of the housing, in a cutout underneath the reservoir. It connects to a clear hose, which is 4.92 feet long, and included in the kit. This isn't a traditional garden hose connection, but it's great for such a small application. Plug in the hose, and water will automatically drain as the machine runs. Of course, placement is key. If you're not keeping the dehumidifier next to a sink, you'll need to use the reservoir.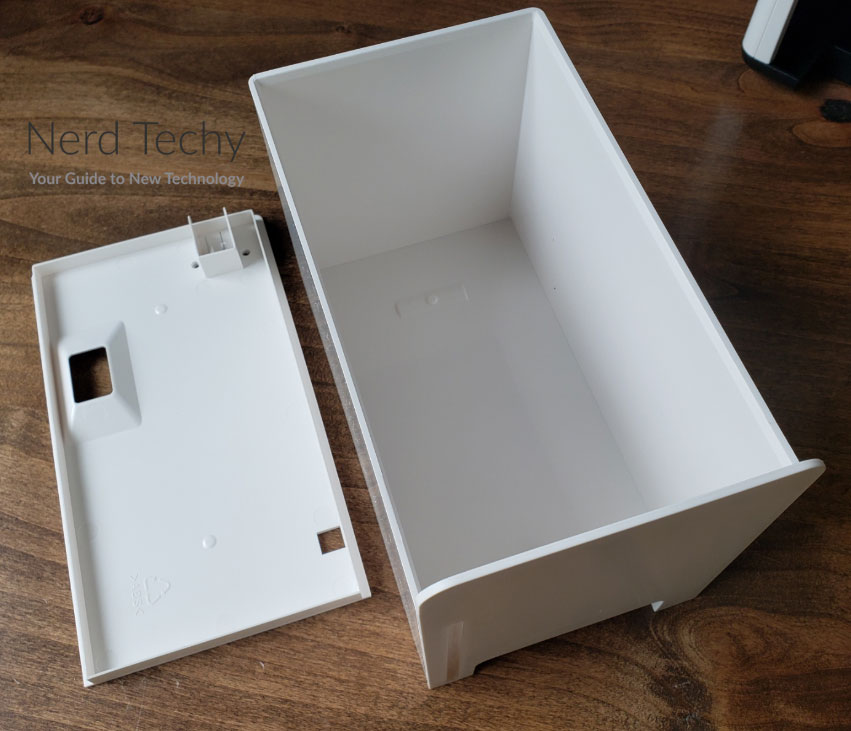 Controls
There are two ways to control this dehumidifier: the on-board control buttons, and the remote control. The remote is small and handheld, made from a glossy white plastic. It can actually mount to the side of the dehumidifier housing, so it doesn't get lost. Keep in mind that it's line-of-sight only, though; it won't work from the next room over. The on-board controls are mounted on an angled panel on the front of the top housing.
Both the remote and the on-board controls have three buttons. The controls on the top panel are big, solid buttons, with excellent tactile response. The ones on the remote are soft touch buttons, which are very responsive, but provide poor tactile response. Regardless, both the on-board controls and the remote perform the same three basic functions.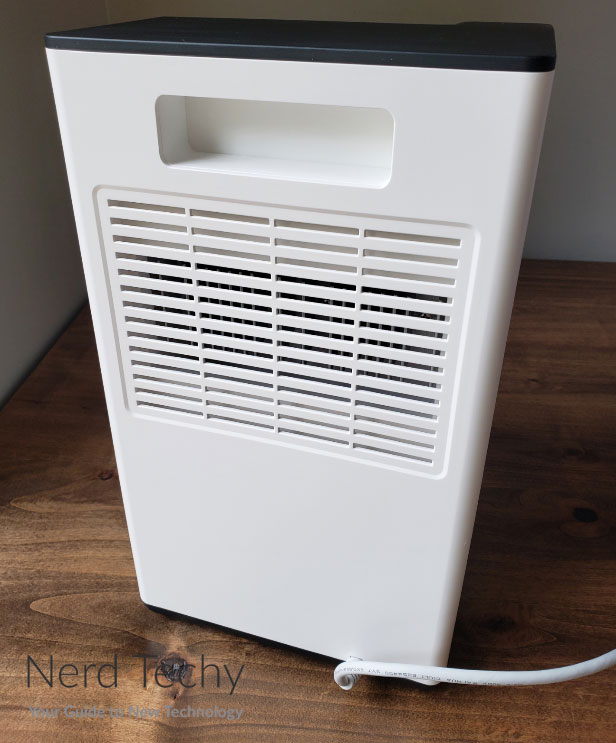 To begin with, there's a power button, which turns the motor on and off. Next, there's a fan speed button, to control the power level. There are three levels in total, with the lowest level producing less than 35dB of sound. That's quite literally whisper-quiet, so you'll only hear a soft rush of air.
Even on the highest setting, the volume isn't any louder than a small oscillating fan. In all probability, you'll want to use this setting most of the time. The last button turns the LED lighting on and off, which can be useful for use in the bedroom. That way, you won't have any bright LEDs keeping you up at night.
Dehumidifier Performance
So, how well does the Vellgoo DryBox 2000 perform? As with any dehumidifier, the performance will depend on the ambient relative humidity. The more humid it is, the more efficient it will be. Conversely, the less humid it gets, the less moisture it will remove per hour.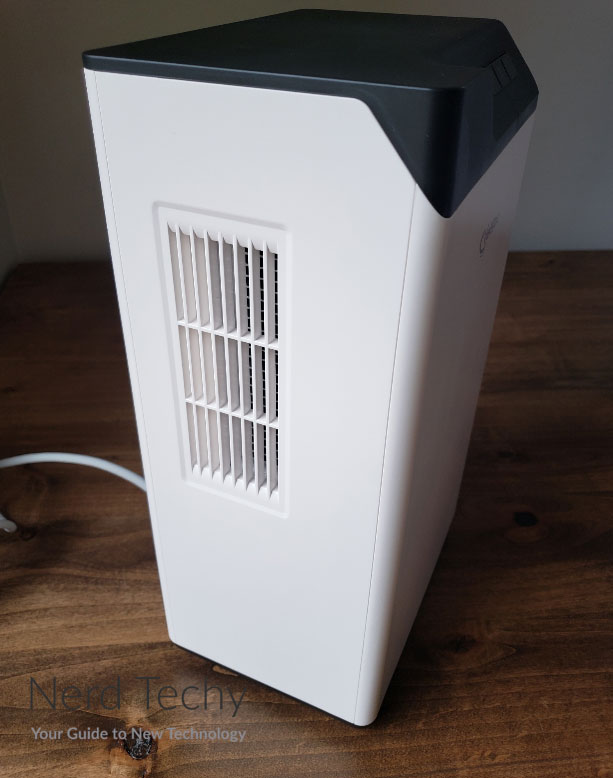 This dehumidifier is rated to remove up to 26 ounces of water per day. That rating assumes a temperature of 86 degrees, and a relative humidity of 80%. Even under those optimal conditions, you're looking at less than 2 pints of day of water removal.
In other words, this is a very low-powered dehumidifier. If you're trying to dry out a large area, it's not going to be very successful. That said, it's a great choice for small spaces like bathrooms, storage rooms, and utility closets. Vellgoo rates it for 580 square feet of coverage, and the fan is technically powerful enough to handle that. But based on the water removal rate, we wouldn't recommend pushing it that far.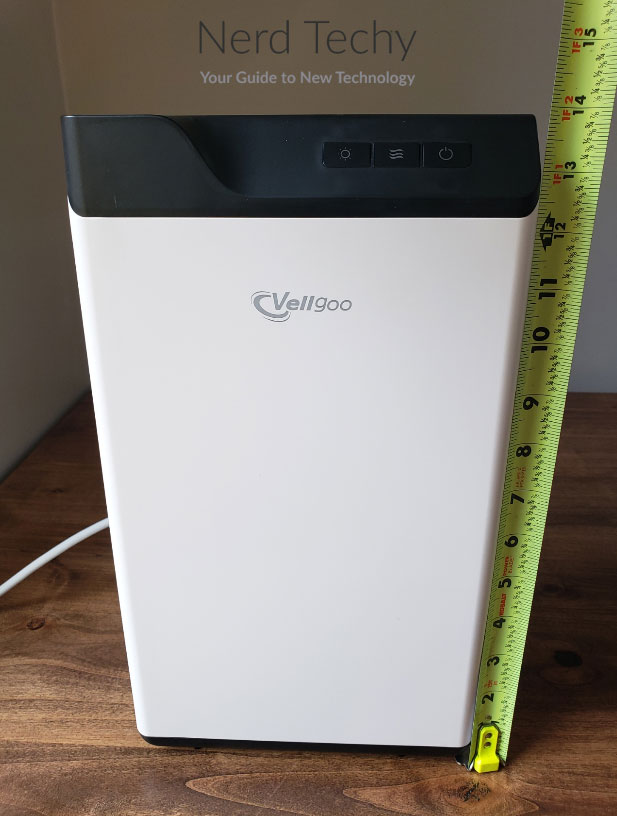 If you need to dry out a larger area, there are plenty of bigger, more powerful options. The Vellgoo DryTank 3000 is an excellent example. It might be bigger and bulkier, but it can extract up to 52 pints of water per day.
The Drybox 2000 might be small, but it can work in a variety of conditions. To begin with, it can operate between 50 and 122 degrees Fahrenheit. That's a wider range than you'll need in almost any house. And under optimal conditions, it can reduce 80% humidity all the way down to 40%. This will keep your space nice and dry, so you don't have to worry about mold.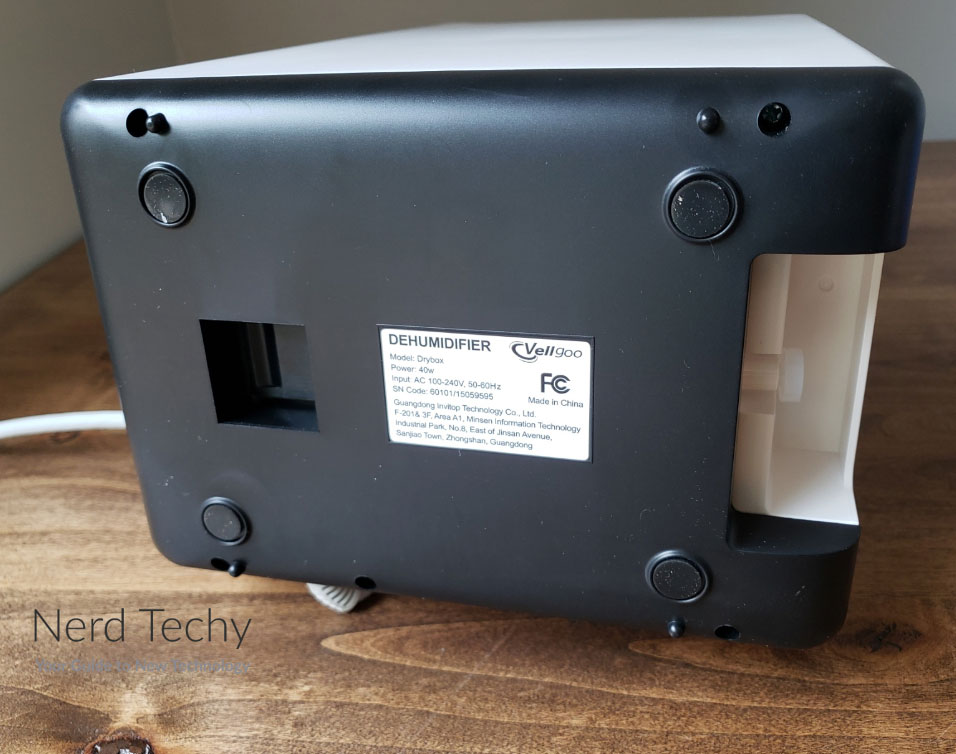 Use code "DRYBOXX1" for a 5% discount when you order the DryBox 2000 on Amazon
Extra Features
Before we wrap up, we should talk about a couple of extra features this device offers. For one thing, it has an automatic shutoff mechanism. When the reservoir gets full, it trips a switch that shuts off the fan. If you left the power on and went on a road trip, you don't have to worry about your room flooding.
For another thing, it has an automatic defrost mechanism. This can be useful if it's being used in a space that's not climate controlled. Under those conditions, frost and ice can build up on the condensation plates. When the machine is turned on and there's frost inside, it will defrost before it tries to start dehumidifying.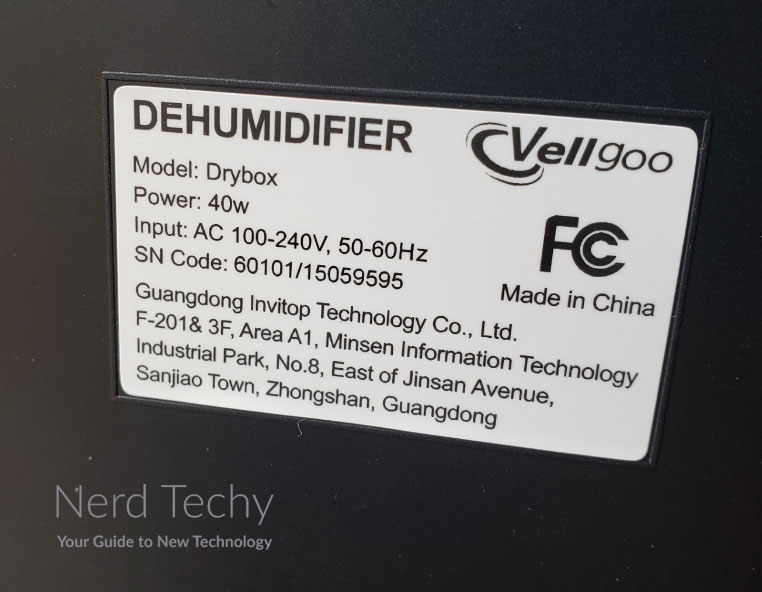 But what if you want a more versatile dehumidifier? In that case, consider the Honeywell MN4HFS9. It's much pricier than the DryBox 2000, and it's significantly bulkier. But it also has multiple operating modes for a variety of circumstances. In addition to working as a dehumidifier, it has air conditioner, space heater, and fan modes.
Final Verdict
The Vellgoo DryBox 2000 is a great little dehumidifier that's easy to set up and operate. It's not suitable for large spaces, but it's the perfect choice for single rooms. It takes up very little space, and has a hose drainage option just like a full-sized system. It's also whisper quiet, so it's ideal for bedrooms as well. As long as you don't need a ton of coverage, this is an excellent dehumidifier.