With each passing year, we rely on electronic devices more than ever. Smartphones, tablets, and laptops, for example, are all staples of modern life. Most people would no sooner leave home without their smartphone than go out without bringing any keys.
And who can blame them? Besides calling and texting, your phone has all kinds of useful apps. You can use it to move money from one bank account to another. You can search the web, order food, and get directions. And that's just one device. Tablets and other electronics also have their own unique applications.
This gets complicated when you're on the road, and for two different reasons. To begin with, you want to make sure your phone keeps a full charge. But you may also have devices like GPS systems or dash cams that require a 12-volt automotive outlet. Some newer cars have started to compensate by adding additional outlets. But what if your car doesn't have enough? In that case, you might find yourself stuck making hard decisions about what to plug in.
As an alternative, you can use a cigarette lighter splitter. This gives you two or even more ports to plug your devices into. In many cases, you'll also get USB ports and other useful extras. With the right splitter, you can plug in your phone, your GPS, and all your other electronics.
Choosing the Best 12v Cigarette Lighter Splitter
Today, we're going to review four of the best 12v cigarette lighter splitters on the market. All four of these options will at least give you a second power socket. But they also have significant differences. They provide different wattages, and those with USB ports have different port configurations.
To find out which one is the best, we'll have to dig deeper, and look at all of their features. We'll have to examine the physical construction, and how they're engineered. We'll need to discuss any relevant safety protections, so you know how safe your devices are. Once you understand all of these factors, you'll have plenty of information to make an informed decision. Let's get started!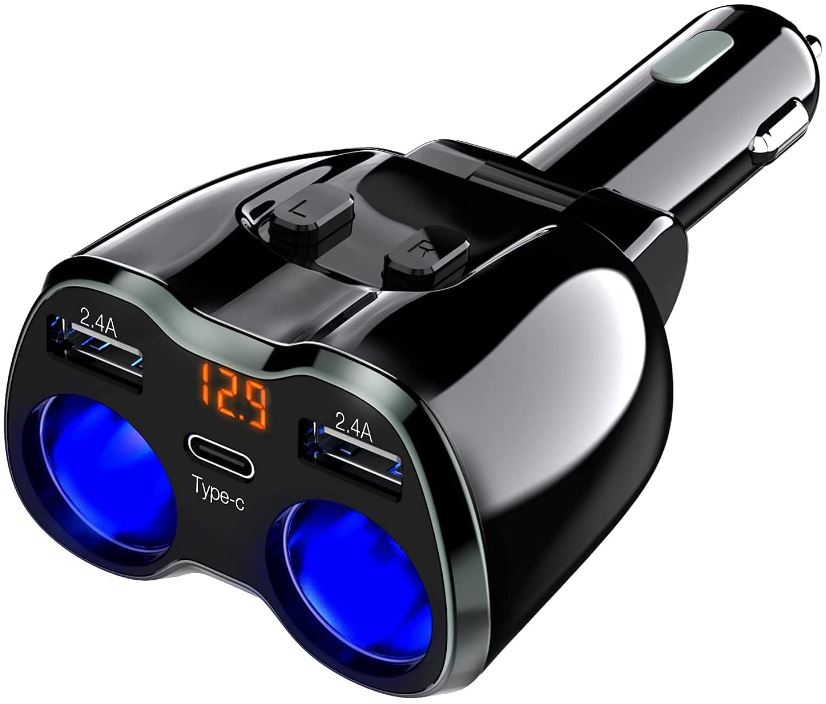 Best Overall: Otium Cigarette Lighter Splitter
Otium is an electronics company with a wide variety of offerings. Not that long ago, we reviewed the Otium Bluetooth Headphones, and we were reasonably impressed. So when we were looking for a 12-volt cigarette outlet splitter, it made sense to give theirs a try.
In terms of physical design, the Otium Cigarette Lighter Spliter is deceptively simple. It has a black, high-gloss plastic housing, with a flared design. The plug portion is sturdy, with little rubber bumpers that help keep it stable. The upper portion is flared, with a wide, flat front surface and room for two DC power sockets.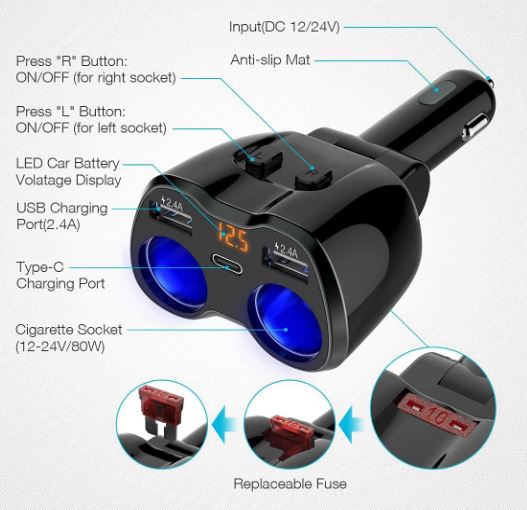 On this front surface, you'll find more than just the two 12-volt sockets. Directly above each of them is a single USB Type-A port, with backlighting to help you find the tabs. In the middle, there's a USB Type-C port, with a little LCD display above it. This display shows the current voltage that the splitter is receiving from the car's battery.
On top of the housing, above each outlet, there's an "L" and an "R" button. These turn off the left and right outlets respectively, which can help you to save power. Another thing we liked about the design is that the upper housing and the plug are hinged. If your cigarette lighter is in an awkward location, you can pivot the plugs to get a better fit.
Charging Capacity
The Otium splitter can accept standard automotive power between 12 and 24 volts. This makes it suitable not just for cars, but for boats and even RVs. Anywhere you find a cigarette lighter-style socket, you'll be able to plug it in.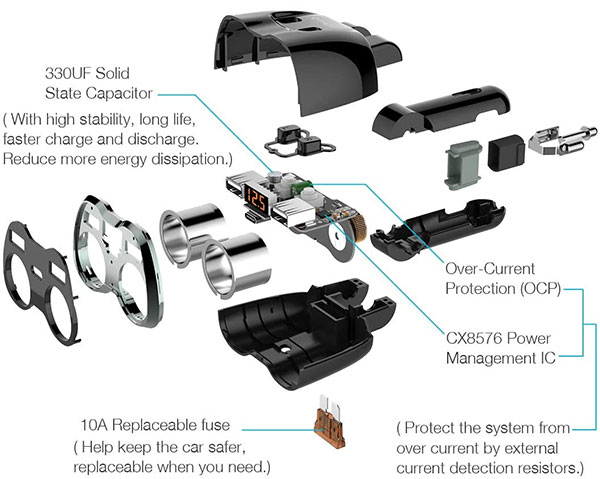 The total charging capacity is 80 watts between the two DC sockets. You can charge any phone at the same time as you run a GPS or dash cam. You won't be able to fast charge a laptop, but that's not really what this splitter is designed for. For pretty much any other purpose, you'll have plenty of juice.
The two USB Type-A ports each provide a standard 12 watts of power. Here, you can charge most smartphones and tablets. You'll get the same performance you're used to getting from a run-of-the-mill USB port.
The Type-C port is a bit more disappointing. When most people think of USB Type-C, they think of fast charging. At a bare minimum, Type-C ports typically provide at least 12 watts of power. This one only provides 7.5 watts, which is a bizarre decision. You can still charge your phone with it, but it will take longer than it would with ordinary USB.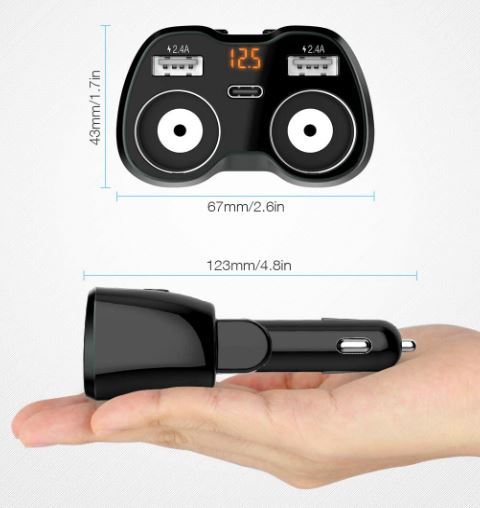 Otium has built several safety protections into the circuitry, beginning with temperature protection. If the splitter starts getting too hot, it will automatically shut off. There are also protections against overload, over-current, and over voltage. And short-circuit protection keeps you safe in the event that one of your cables gets damaged.
In addition to all that, there's a removable, replaceable fuse at the bottom of the housing. This is a standard fuse you can buy at any auto shop, and it's cheap and easy to replace. If there's a power surge, far better to replace a fuse than to replace all your devices.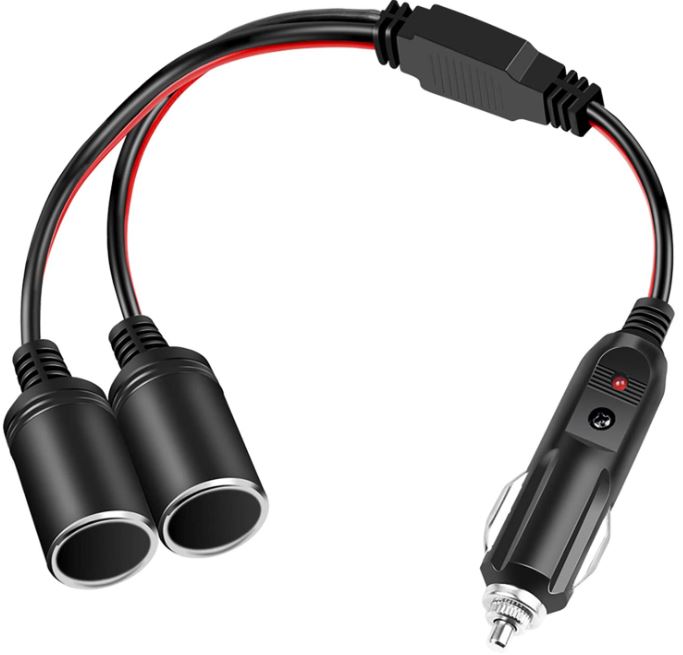 Best Alternative: Electop 1 to 2 Car Cigarette Lighter Splitter
The Electop 1 to 2 Car Cigarette Lighter Splitter is a straightforward splitter without any frills. On one end, there's a black plastic plug that inserts into your car's outlet. The plug is big and beefy, with springy contacts that give a good fit in any power socket. At the top of the barrel-shaped portion is a textured, flattened portion that serves as a grip. In this area, you'll also see a red LED indicator that lights up when there's an active power connection.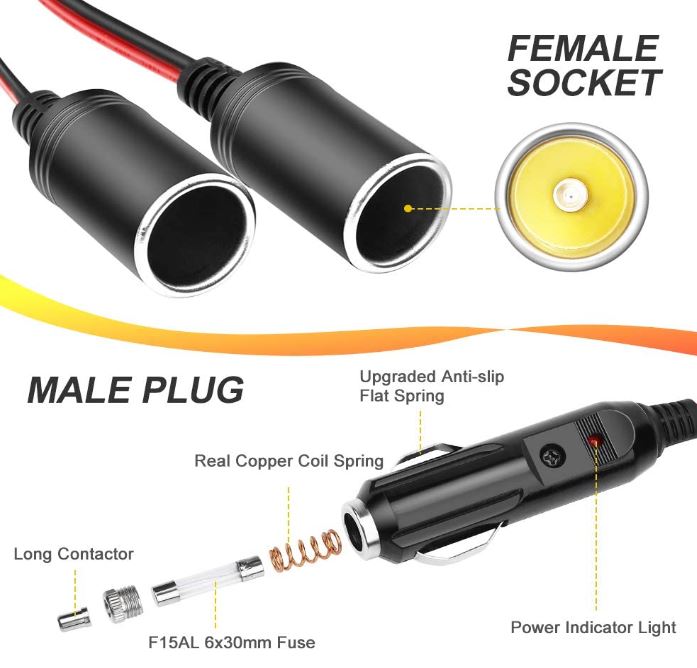 The top of the grip tapers to meet a tough, 16-gauge wire with thick insulation. The base of the wire is reinforced with flexible rubber, which helps to keep it from getting damaged. These wires have a total length of 10 inches, and there's a little black plastic splitter partway down. Two separate wire pairs extend from this splitter, and each one terminates in a DC power socket. The sockets are well-engineered, with sturdy metal insides and rugged plastic shells.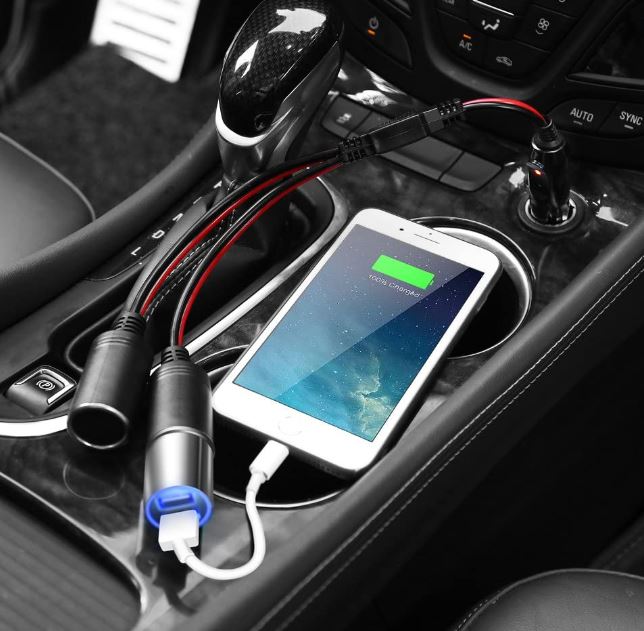 Charging Capacity
This splitter works in any DC power system, with 12- to 24-volt batteries. It's capable of providing 150 watts of total power, which is shared between the two sockets. This is an impressive amount of total power, even at 75 watts per socket. You can run anything that runs on your standard cigarette outlet, including GPS devices.
Because of its barebones design, the Electop splitter doesn't have as many smart safety features. However, there's a replaceable fuse on the inside of the plug itself. This is a standard glass fuse, and can be replaced for mere pennies if need be.
Best Runner-Up: YANTU 3-Socket Cigarette Lighter Splitter
The YANTU 3-Socket Cigarette Lighter Splitter consists of a black plastic plug and a larger charging module. The plug itself is very compact, and sits almost flush to your outlet. The top is flat, with a red-on-black LED display that shows your current incoming voltage.
A cord protrudes from the side of the plug, and extends 2.3 feet to the charging module. The module is black, with a flat profile and rounded sides. At the front of these sides, blue LED bands wrap part of the way around. These light up when the splitter is plugged in, so you know when you're actually receiving power.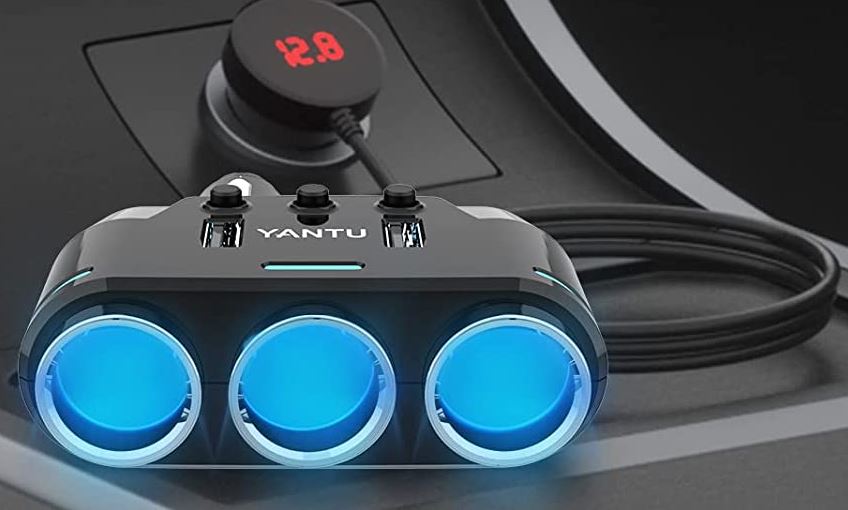 On the front of the module, the three DC power sockets are arranged in a row. On top of the housing, there's a pair of USB Type-A ports to either side, with an LED bar in the middle. Behind, this, there's a row of three control buttons, which activate the individual DC sockets.
YANTU backs all of this with a two-year manufacturer's warranty. This ensures that you're protected from any premature failures.
Charging Capacity
The DC power sockets on this splitter share 100 watts of total maximum power. If you're only using one device, you'll have plenty of juice. With two or more, you may have issues with higher-powered devices. But things like GPS units and dash cams will still run just fine, even if you're using all three sockets.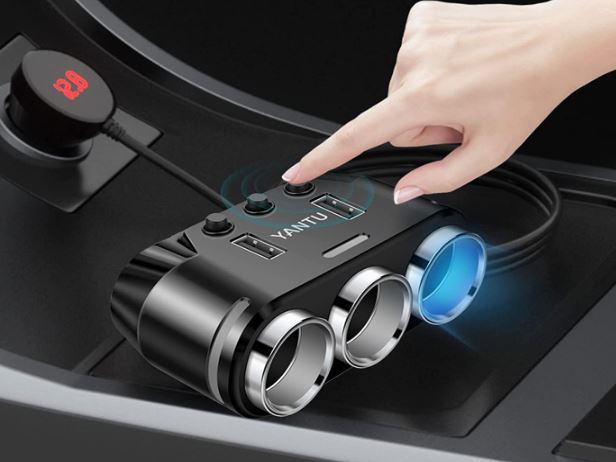 The two USB Type-A ports share 3.1 amps of total output. This works out to a maximum of 15 watts per port, if you're only using a single port. If you're using both ports, that drops to 7.5 watts, which is less impressive. Even so, you'll be able to keep your phone charged while you're on the road. Just don't expect any fast charging capability.
This splitter has all the safety protections you'd expect from a full-featured device. The circuitry protects against over-current, over-voltage, and short-circuit. There's also a built-in circuit breaker in the plug. To reset it, just wait 15 seconds, then push the metal contact at the tip.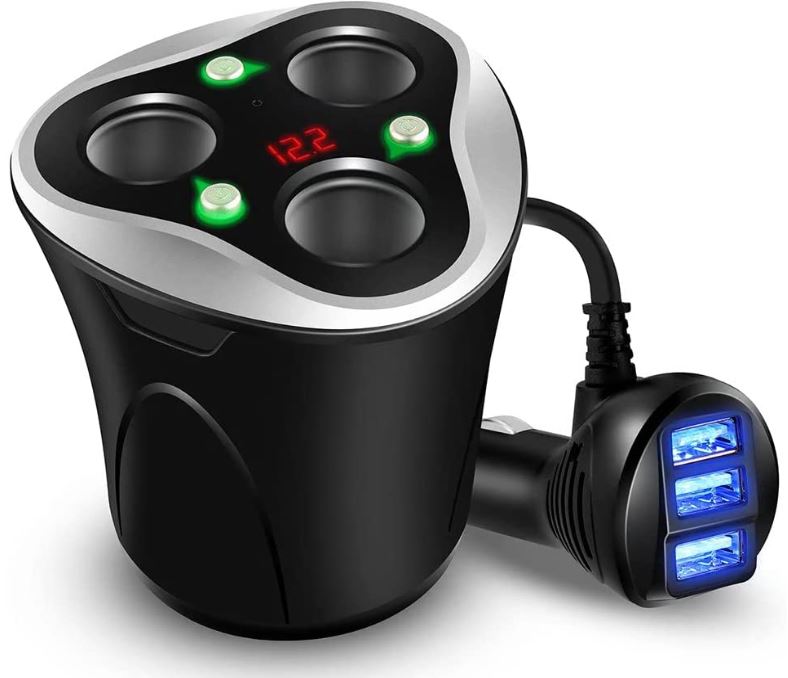 Best 2nd Alternative: Skyocean 3 Socket Cigarette Lighter Splitter
The Skyocean 3 Socket Cigarette Lighter Splitter is similar to the YANTU splitter in some respects. It has a single DC plug, which connects to a module with three sockets. But this is as far as the comparison goes. Instead of a flat module, this one is roughly cylindrical. It has a tapered profile, designed to fit most cupholders, and is constructed from durable ABS plastic.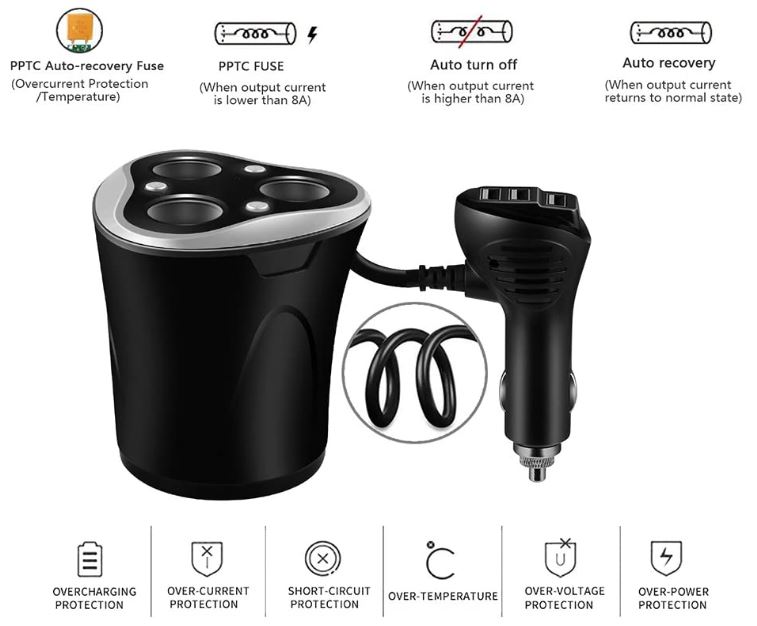 Each DC socket has its own separate power button, with little indicator lights for each. They're arranged in a triangle, with an LCD display in the center. This shows you the amount of voltage coming in from the car battery.
On the back of the plug, you'll find a row of three USB Type-A ports in a tight cluster. These ports are blue backlit, which makes it easy to see how the tabs are oriented.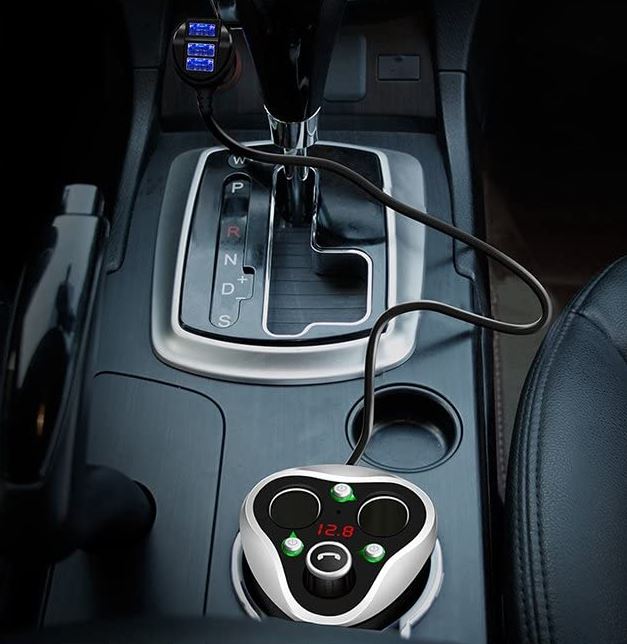 Charging Capacity
The three DC sockets each deliver up to 40 watts each, with a maximum total of 120 watts. That's enough to run most automotive devices without running out of juice. The three USB ports are respectably powerful, and can deliver up to 15 watts apiece. You can get a fast charge on your iPhone or Android, albeit not as fast as from some dedicated fast chargers.
Better yet, the Skyocean splitter can accept up to 40 volts of input. This makes it suitable for use on buses and other platforms with very high-voltage batteries. Built-in protective systems keep you safe from over-current, over-voltage, and short circuits. There's also a 7-amp fuse, which can be replaced easily enough if it blows.
Final Verdict
As you can see, each of these 12-volt cigarette lighter splitters has something to offer. But which is the ideal choice to meet your unique needs? Let's go over what we've discussed.
We began by reviewing the Otium Cigarette Lighter Splitter. This is a straightforward splitter with two DC ports and a decent capability for USB charging. The Type-C port is a bit underwhelming. But the swiveling design and compact size alone make it an excellent choice. It also has plenty of safety features.
The Electop 1 to 2 Car Cigarette Lighter Splitter is the most barebones of the bunch. It's a simple 1-to-2 splitter, with two DC sockets. However, because the sockets are on a 10-inch lead cable, you get some flexibility with regard to placement. If you want a reliable splitter without a lot of frills, you're looking at it.
The YANTU 3-Socket Cigarette Lighter Splitter provides three DC sockets, along with two USB Type-A ports. Because all the ports or on the same module, it's easy to stretch them anywhere you want to.
The Skyocean 3 Socket Cigarette Lighter Splitter has a unique, innovative layout. With three DC sockets in your cupholder, you'll have plenty of versatility. Meanwhile, the USB Type-A ports provide plenty of power for phones and tablets.
Meet Derek, "TechGuru," a 34-year-old technology enthusiast with a deep passion for tech innovations. With extensive experience, he specializes in gaming hardware and software, and has expertise in gadgets, custom PCs, and audio.
Besides writing about tech and reviewing new products, Derek enjoys traveling, hiking, and photography. Committed to keeping up with the latest industry trends, he aims to guide readers in making informed tech decisions.