Finding an affordable pair of headphones is easy. But if you're looking for an affordable pair of headphones that can withstand high intensity physical activity, that's a little more challenging. If you add great sound into the mix, you've narrowed down the market to a select few models.
Otium is one of the few brands that can fulfill all of these requirements. You won't find their products in stores, but their online-only distribution chain helps keep costs low. We've already looked at a few models and found their performance to be above average. Their latest model is designed to be ergonomic enough to use in the gym, yet comfortable enough to take on a run. Can these inexpensive headphones hold up to all the hype? We went hands-on to find out.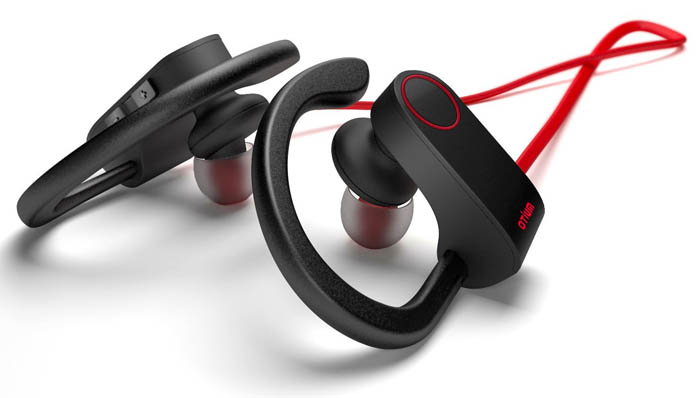 What's in The Box
We were a little surprised at the quality of packaging provided with the Otium Bluetooth Headphones. Usually, affordable consumer electronics keep everything as simple as possible, but Otium provides a lot of value. After opening the stylish box, you'll find a hard case attached to a loop and a clip. The case features a zipper to keep everything sealed up, and provides an inset tray that the headphones fit nicely into.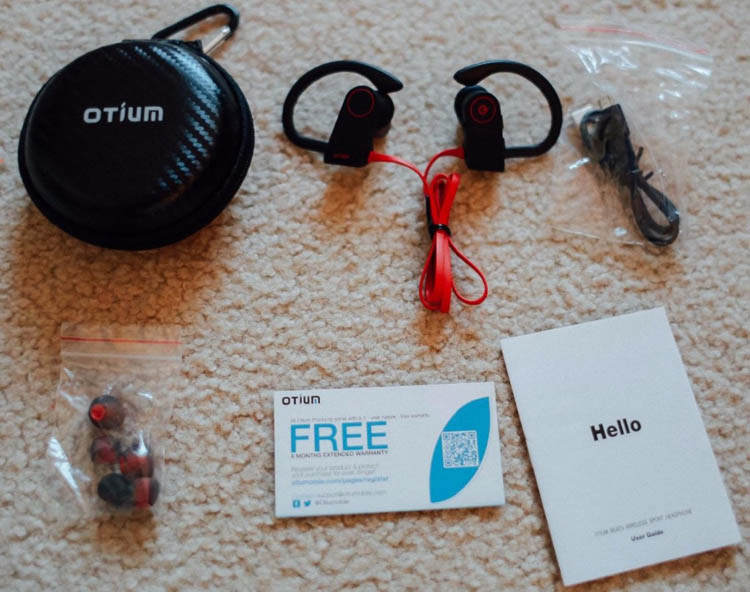 The case is a little large to fit in your pocket. If it wasn't for the clip, we'd consider that to be an inconvenience. But the advantage of this design is that the wire won't get all tangled up while in storage, and the clip makes it easy to attach to your backpack, luggage, or to simply stash it in your car.
Design
From a visual standpoint, these headphone maintain a sleek and modern appearance. There are more compact options on the market, but Otium did a great job of working with what they've got. The flat enclosures attached to the earpieces are highlighted with bright red screen printing, matching the flat wire. If you're looking for something a little simpler, an all-black model is available as well.
When worn, these earbuds don't feel all that bulky. The enclosure looks similar to a hands-free headset, and has a fairly sporty look. The flat cable tucks against your neck, and the ear hook is hidden behind your ear. Overall, the design of these earbuds is competitive with smaller options available.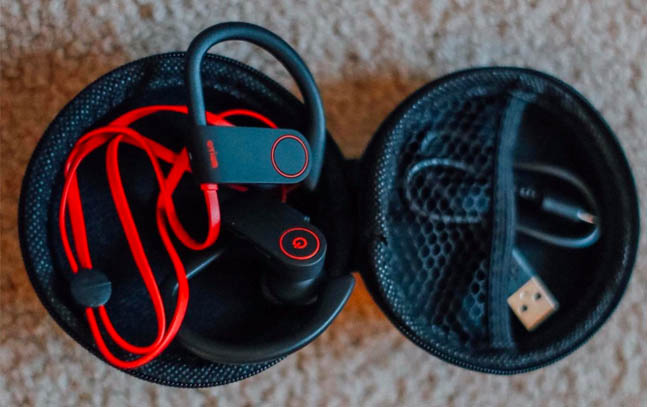 Ergonomics
These clip-on earbuds means that you'll be sacrificing portability and weight, but the advantage is ergonomics. The process of putting them on is a little different than you'd expect. First, you tip the headphones down and place the end of the ear clip against the upper cartilage of your ear. Then you rotate the earbuds counterclockwise, sliding the clips into place.
Eventually, you'll feel the main lobe of the earclip make even contact against the top of your ear. Cumulatively, the earbuds now have a lot of pressure holding them in place. Because this pressure is spread out over a long distance, they don't feel tight or painful. They're incredibly comfortable to wear, yet they won't shift when you've moving around.
The primary disadvantage of this design is that the size of your ear can drastically affect comfort. To compensate for this, Otium provides three sets of earclips and three sets of earpieces. For most consumers, this provides enough selection to ensure that everyone can obtain a comfortable fit. That being said, we wouldn't recommend these headphones for children. If you have large ears and often have trouble getting a comfortable fit, we could see these causing problems.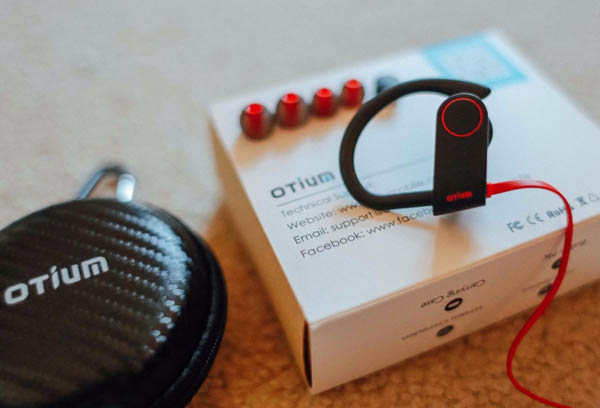 Durability
If you're simply sitting down and enjoying a movie in the comfort of your home, the durability of your headphones isn't a major concern. But when you're outside getting some exercise, you want a pair of earbuds that can be pushed as hard as you push yourself.
This requires two things. First, you can't have them falling apart when jarred or snagged on something. Next, you need some water resistance. Some headphones are waterproof enough that you can take them in the pool. This is ideal for some, but overkill for others. Otium's earbuds are somewhere in the middle. They've got an IPX rating of 7. They'll definitely be protected from sweat exposure, and they could definitely last through a rainy run. You'll want to keep them from getting fully submerged and limit your time in the rain. But the waterproofing is more than adequate for the needs of most consumers, providing pretty good value for the money.
Another key advantage with these headphones is the cable. Instead of the round wire used on some, these feature a flat wire. This has a much higher tensile strength, so it won't break if you accidentally snag the wire. That being said, the wire sits on the back of your neck. It's not too long, so the chances of it getting snagged are fairly low.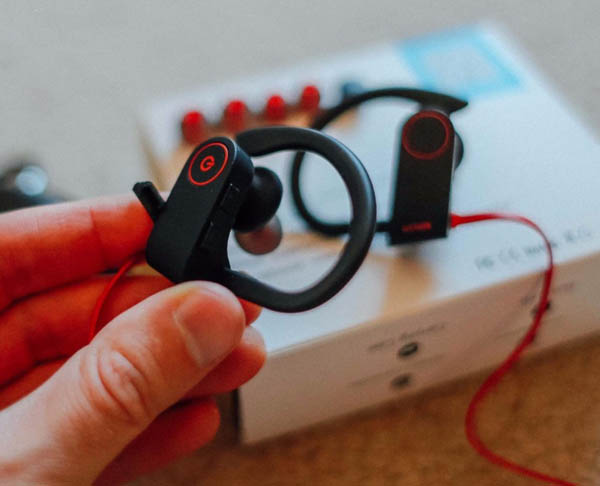 Sound Quality
When you're to run a six minute mile, you'll need an energetic playlist to keep you pushing. This is exactly the kind of music these headphones are designed for. The bass is best described as explosive, and provides the powerful energy you need to keep your motivation high.
The treble and midrange is acceptable for the price range, but it's pretty obvious that Otium was focused on creating a powerful low-end. They'll be enjoyable for any bass driven music.
They're still suitable for listening to acoustic music, but they aren't as impressive. The volume is adequate and the sound is undistorted, but the detail leaves a little to be desired.
If you're going to be using your earbuds in a noisy environment, the active noise cancellation will be a life saver. They use CVC 6.0 – a popular standard that can be found in many high end earbuds. This uses the microphone to measure outside noise, cancelling it out with an equal and opposite reaction from the driver. Even when walking into a busy subway station, these earbuds provided us with a silent backdrop to our favorite songs.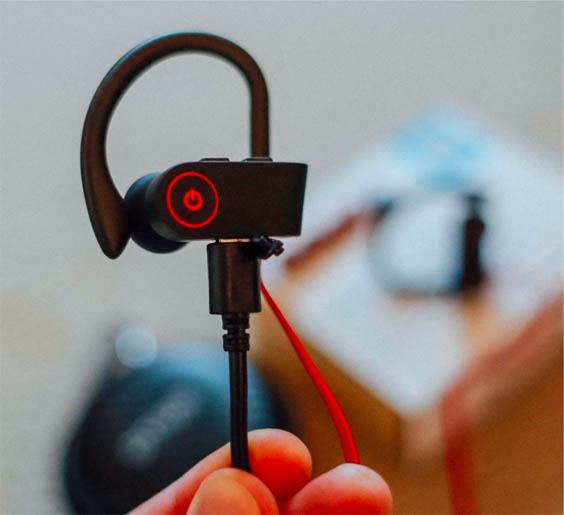 Functionality
Even if a pair of headphones is comfortable and sounds great, having to make compromises on basic functionality can be a deal breaker. In most areas, we found Otium's earbuds more than adequate.
For us, battery life is the biggest priority. With these earbuds we were able to get 8 hours of continuous usage. This is competitive with other models, and more than adequate for most uses. But if you need something that last a long time, there are models that perform better.
If you need to make hands-free calls, Otium provides all the hardware you need to do so. The microphone performed well, and our callers could hear us loud and clear. One of the things we liked about this feature was that they give you a notification tone when a call is coming in. Other headphones might cut your music off and play back your ringtone. With this, you just hear an intermittent beep – just like call waiting. If you're not able to take the call, you'll still be able to enjoy your music.
Disadvantages
There are a few buttons on the side of the right earbud that allow you to play, pause, and skip tracks. The largest button (located on the side) is used to answer calls. This one is easy to access, but the others were too small. When we were wearing the earbuds, we found it challenging to skip tracks. In most cases, we found it easier just to pull out our phone.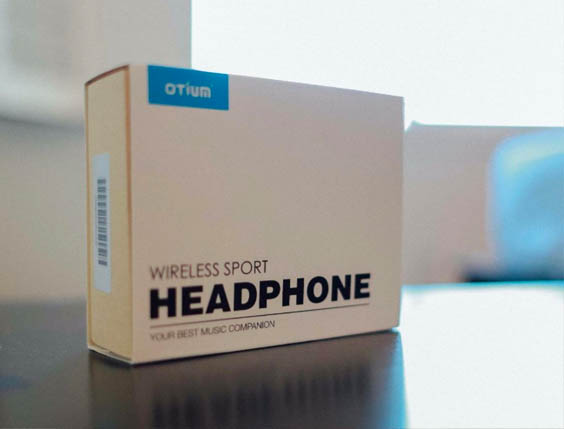 Final Verdict
If you're looking for an affordable pair of earbuds to wear while in the gym, the Otium Bluetooth Headphones are a great choice. The ear clips make them a little larger and heavier than some portable models, but this allows them to sit securely on your head no matter how much you're moving around. Combined with the IPX7 for waterproofing, you can be confident that they'll outlast any other earbud in this price range.
We'd recommend these earbuds to anyone who is active, and likes bass-heavy music. Their performance is well above average in these conditions, making them an excellent bargain.
If you like to listen to mellower music, you'll probably find the sound quality to be a little sub-par. Additionally, the wire that runs behind your neck may frustrate some consumers. If this is the case, we'd recommend that you check out the LiteXim TW-18. These headphones are completely wireless, and feature a sound signature that is a little more balanced. They do cost a little more, but if sound quality is important to you, you'll find the invest is worthwhile.