Since it was first released, wireless networking technology has gone through some major changes. The last few years in particular has seen particularly high growth. The advent of whole-home WiFi systems has been made possible by this technological advancement, but this more of an effect than a cause.
The incentive for growth is simple. The way we use the internet has changed. Previously, any application where the quality of an internet connection was important has relied on wireless networking. From commercial servers to streaming to gaming, an Ethernet cable was the only thing you needed to get a high quality connection. Today, WiFi systems are capable of multi-gigabit throughput. Additionally, we constantly rely on these connections to take advantage of many modern life conveniences. From smart homes to simple communication, having your network connection go down can be a major inconvenience.
Mesh networking technology has put an end to flakey network connections. It's done away with the point to point connections produced by a standard router, and enabled consumers to enjoy a reliable network connection across their entire property. In this review, we'll be taking a look at the ASUS Lyra Home WiFi System. Although it's not the first mesh networking system available, it's been designed by a company that has a proven track record in consumer electronics. Does this package offer value you can't find in other routers? Or is this simply a "me too" product designed to help ASUS keep up with their competitors? We went hands-on to find out.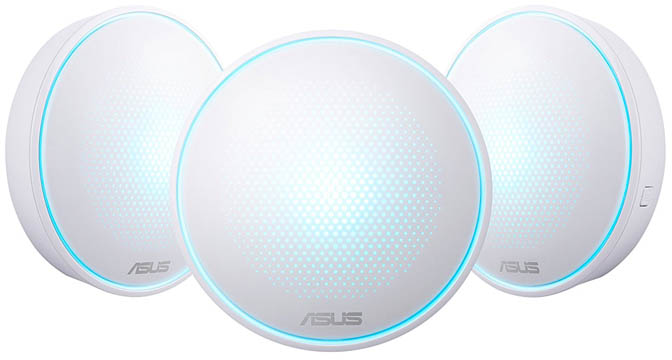 First Look
From the packaging alone, you can tell that this isn't your ordinary router. It comes in a very large box, featuring a photo of the three Lyra routers inside. All three of the components of the Lyra system are identical. Other models opted for a base station and repeater combination, but this design offers a lot more flexibility. The rest of the packaging is fairly sparse. There are three power supplies, and a small getting started manual.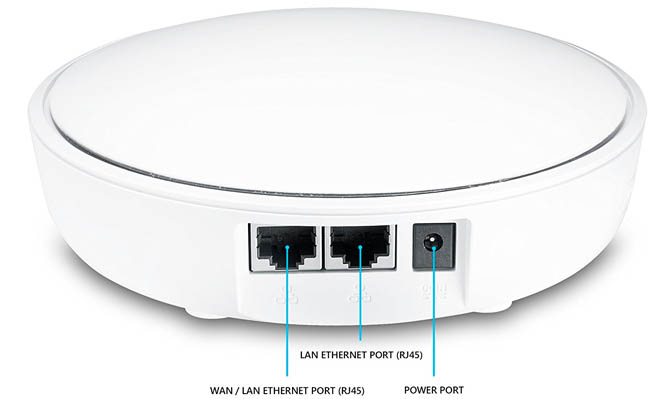 Hardware
There are many mesh network systems out there. Only by comparing them are you able to find the best one for your home. The first thing we looked at are the specifications.
All of the client facing networking is handled by a quad core Qualcomm chipset. This chipset is commonly found in consumer routers, and provides 802.11ac connectivity across the 2.4 and 5 GHz channels. What's interesting is that specific chipset used is only rated for AC1200 (1267 Mbps) while the Lyra is rated for AC2200. While their rating isn't incorrect, consumers will only have access to 1267 Mbps of theoretical bandwidth. The missing 800 Mbps of bandwidth is provided by a second chipset, and is used exclusively for internal communication between the Lyra units.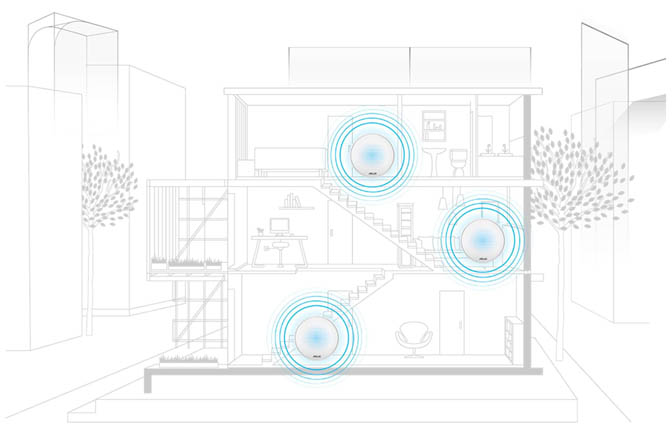 A backhaul channel is an important part of any mesh networking system. Consider this: you are connected to the Lyra closest to you, while your modem is connected to another Lyra. If you're downloading a file at 100 Mbps, your Lyra then has to rebroadcast your signal to the station that's connected to a modem. Because there are two hops to get to the router, your 100 Mbps download has used up 200 Mbps of total bandwidth.
Having a backhaul channel ensures that all internal communication is done over its private internal network, keeping the client facing network free for your use. Both chipsets share 265 Mb of ram – plenty for a router – and 128 MB of flash storage is provided for firmware.
Setup Procedure & Control Panel
Creating an interface for a router can be challenging. Mesh networking systems are commonly sold to enthusiasts – requiring powerful configuration panels and control over advanced features. Another major market segment is consumers with large homes. This group doesn't necessarily want to have access to lots of features, instead preferring a simple and easy to understand way to get their router setup.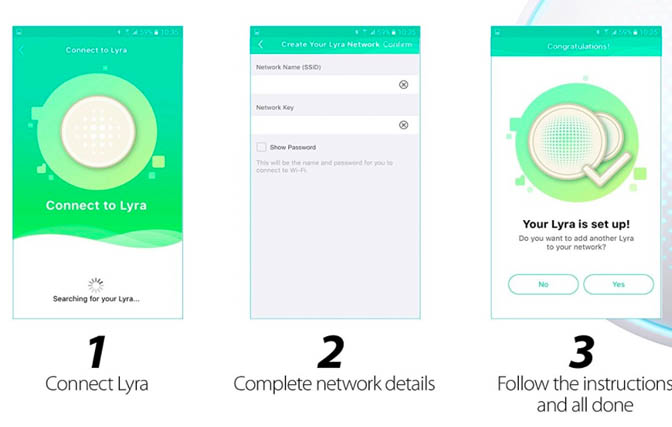 ASUS did a pretty good job of meeting the needs of both markets. Setup is done by downloading the free app. The app walks you through the entire setup procedure step by step. The first thing you do is take your first Lyra unit and plug it into your modem, then connect power. Once done, your phone will search for it while it connects. You'll be asked to name your network, and label the room where you placed the Lyra.
Next, you take a second unit and place it somewhere in your home. After connecting it to the power, you press the "Sync" button on the back. The app will then detect it, allowing you to once again select the location of the unit. It will tell you how good the signal is. If it's poor, you can walk around with the router until you find a better location for it.
Once the setup procedure is completed you'll use the app to access the control panel. For those of you who like to tinker, this is the interface you'll want to become familiar with. It allows you to control traffic, prioritizing or limiting certain types of connections. You can setup a password-less guest network, setting restrictions on it. There is another interface for parental controls, allowing you to set specific devices that can only access specific types of content. The panel is very easy to use, but still has the features that enthusiasts want.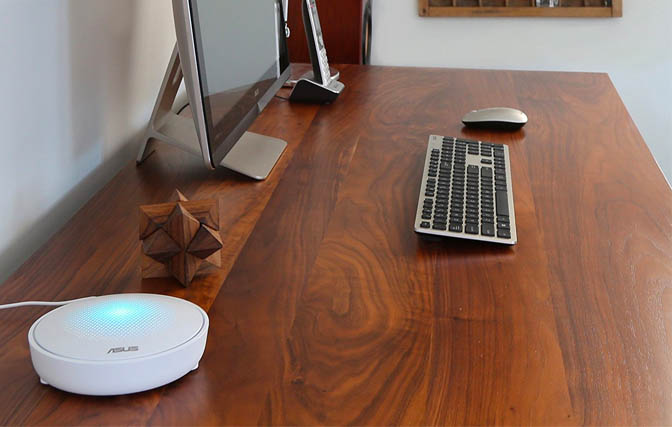 Speed
We already know the theoretical throughput of this system, but that can change quite a bit in the real world. Our first test was done using a Macbook. This computer is compatible with 802.11ac, so it can use both the 2.4 and 5 GHz frequencies. The best download speed we got was 273 Mbps. This speed was attainable in the same room as the Lyra connected directly to the modem. When we were in the same room as a peripheral Lyra, our download speed was 209 Mbps. When at the far end of the home in a room without a Lyra, we'd get 187 Mbps.
While these speeds are quite a bit lower than the maximum theoretical download speed, they're pretty much in line with what you'll find in other models. If you use your internet connection primarily for downloading from the internet, this is more than adequate. Consumer internet connections rarely exceed 100 Mbps, and even in the far reaches of your house you'll be able to take full advantage of these speeds.
One feature that will help maintain speeds is MIMO. This stands for multiple input, multiple output. In essence, this means that each Lyra unit broadcasts two separate networks. Let's say, for example, you had two clients connected to a router that didn't support MIMO. If the router capped out at 100 Mbps, then the two clients could download a maxmimum of 50 Mbps each. With MIMO, you can have two units using the full capabilities of each router. If you had four devices, each device would get half of the available bandwidth.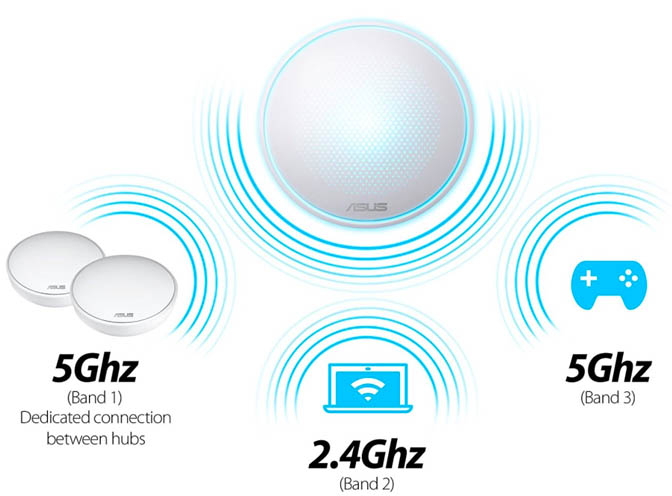 Range
Overall, the Lyra can comfortable cover an area of 4000 square feet. This range can vary depending on the layout of your house. A multi-story home might get a little less, but if a lot of your coverage is outdoors you'll see a higher range.
Beamforming helps make this possible. The way beamforming works is by using a number of antennas broadcasting a single connection. If a client is located in a specific direction, the router can reduce the range in one direction, improving the range towards your client.
The Lyra doesn't have beamforming for end-user clients. It only provides it for the internal backhaul channel. The end result is that you have a lot more flexibility on where you place the Lyra. Other systems require you to walk around and find the ideal spot. With the Lyra, you can simply place each unit in the room where you'll have the most users, and you can be pretty confident that it will work well.
Disadvantages
The one downside to the Lyra is that the bandwidth tends to vary quite a bit depending on distance and obstructions. In our tests, the difference was approaching 50%. For most standard homes, you can expect your results to be in the range we described. But if you're in a particularly large home or one with concrete walls, you may see different results.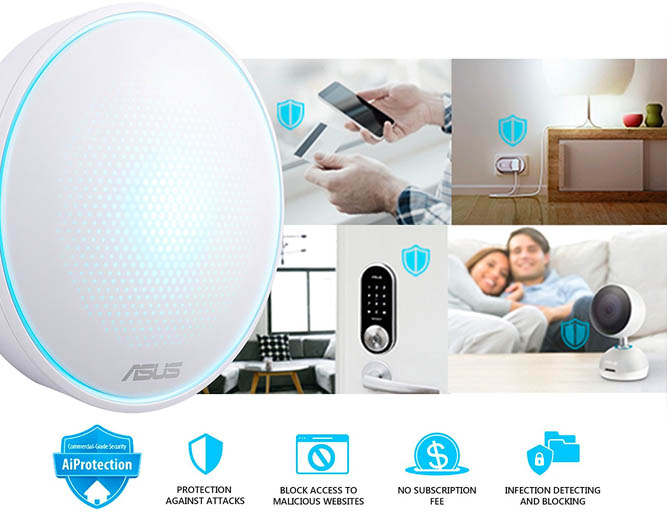 Final Verdict
Overall, the ASUS Lyra is a very competent whole-home WiFi system. The bandwidth is excellent, and the setup procedure is easy.
The key advantage that the Lyra has is the advanced options. If you're the type that wants to set up custom access requirements, traffic shaping, or use custom DNS settings, then this is the router you'll want. Many other models are simplified, reducing available functionality.
If you're just looking for a way to cover a large area, you might not find this router to be that much better than other models. You certainly won't be disappointed with it, but it may be worthwhile to look at other options to see if one has a feature you'd prefer. We recently did a roundup of the best whole-home mesh WiFi systems, so you can refer to this list if you want to see what else is out there.