Wireless networking technology has continued to improve over the years, especially with regards to bandwidth. What was considered a powerful wireless connection in 2006 is now only a tiny fraction of what even the most basic routers now come standard with.
But there is one area where routers have improved much more slowly – range. Sure, each new generation may allow you to squeeze a few extra meters out of your connection, but the bandwidth and ping times at the end of its range are often abysmal. For many consumers, the problem isn't just distance. It's obstructions. When you're sitting far away from your router, it's likely that the signal is travelling through several walls. If you're in an apartment building or loft, your walls are likely built to be much thicker than the typical home. The result is disappointing wireless performance, even when you buy a high-performance router.
We first took a look at the Orbi a few months ago. At the time, they were offering a truly unique system what wasn't particularly common in the market. They would divide up the WiFi signal between two different base stations, allowing your computers to connect to the one that provided the best signal. From our tests, the technology was groundbreaking. Sure, this is something that's been possible with a couple of Linux routers and a little technical know-how, but the systems were often found to be flakey and complicated to set up. But today, there are several vendors offering their own version of the home WiFi systems that promise ease of use, and high performance networking for a reasonable price.
With so many options on the market, we've decided to revisit the topic. First, we're going to take a quick look at the three best WiFi systems on the market. Then, we'll put them to the test and see which one performs better.
Netgear Orbi
We've always been a fan of Netgear products. We've been a user for a long time, and almost all of our 'best of' networking articles have had at least one Netgear solution. In fact, we've already reviewed the Netgear Orbi towards the end of the summer. Today, we'll be doing more of a comparison to see how it stacks up against the competition.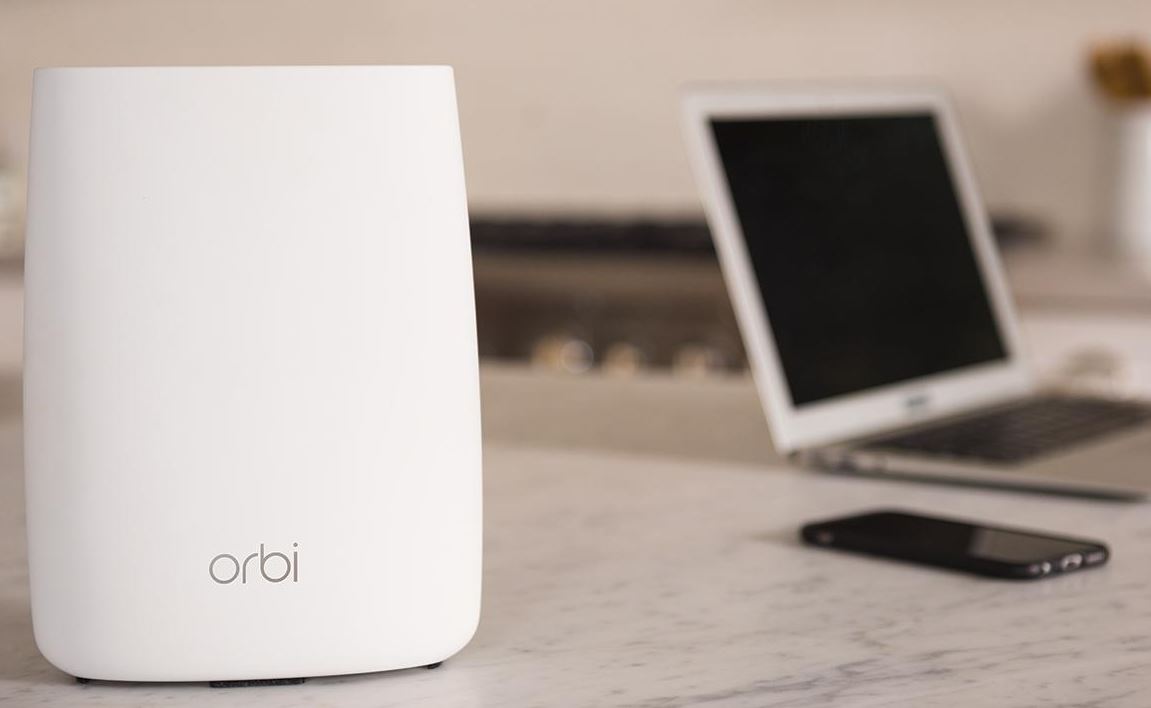 Connectivity
Orbi's base station is pretty straightforward. It has a wired Ethernet port that is used to connect to your modem, and a separate Gigabit Ethernet port array that can be used to hook up another local device. On the extender, there's another three Gigabit Ethernet ports. If you've got something like an IPTV (cable) box that doesn't have wireless, you should place the extender there. It can also be used with a gaming console or PC where you want to avoid the overhead of wireless networking.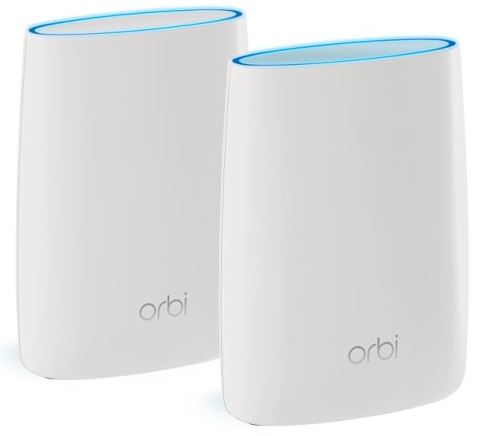 Going through Orbi's extender won't be quite as fast as a dedicated wired connection, but it will have marginally improved ping times from a standard Wi-Fi connection. Nothing that standard users would notice, but gamers specifically might want this feature.
It also includes two USB 2.0 ports (one on each device) that can be used to connect an external storage device. This creates a NAS drive, or networked storage that you can access from any computer. This is fine for basic file sharing, but USB 2.0 is likely too restrictive to take advantage of streaming 4K video. This feature wasn't completely rolled out when it launched, so if you don't see it, make sure you do an update.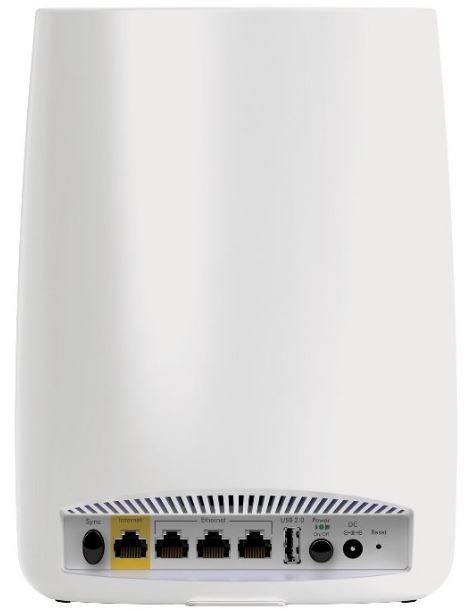 Technology
Orbi uses 802.11ac wireless technology, broadcasting on both the 2.4Ghz and 5Ghz band. Communication between the base station and the extender is using a proprietary system. While your devices can't connect to it directly, this gives Orbi the ability to get a good connection in areas where you wouldn't normally be able to.
It uses something called "mesh networking." You only see one network from your computer, but Orbi will automatically broadcast from whichever device has the best signal. It also supports MU-MIMO technology, which stands for multiple user, multiple input, multiple output. When you're connected to Orbi, you technically have your own connection which won't be interfered with by other network users.
Another feature Orbi has is traffic shaping. It automatically changes the bandwidth so that everyone can get their fair share of the network. If one users download is preventing any other traffic from going through, the router will throttle the download in order to speed up everyone else's connection.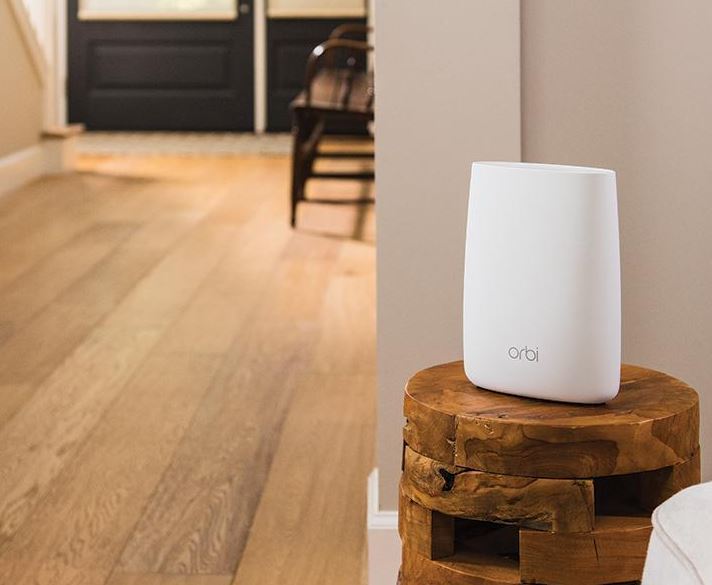 Setup
Orbi is one of the easiest networking systems to set up. The top of the extender has a blue LED ring that can change colors depending on its environment. Once you've plugged in the base station, you simply walk around your house with the extender until you find a good spot to place it. As long as you've got a strong connection, the ring will stay blue. If it's running at reduced speed, the ring will turn amber. Red indicates that the connection is too poor.
Google Wi-Fi System
If you haven't heard of Google, you probably aren't concerned about your internet speed. If there is any company that knows networking, it's Google. We couldn't wait to try out their Wi-Fi system.
Connectivity
The Google Wi-Fi System is very much a purist product. It's attractively designed cylinders have nothing more than an LED indicator ring and a power cord. The base station has two Ethernet ports hidden on the bottom. One is to connect your WAN cable, the other can be used for another wired device.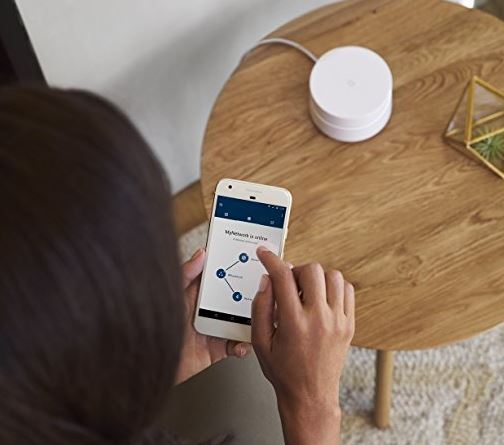 Technology
Google is also taking advantage of mesh technology, adding in an advanced networking management software that selects the best channel. It runs on 802.11ac, but you won't necessarily be splitting your connection between the 2.4Ghz and 5Ghz channels. Instead, Google chooses the best channel for you based on your signal quality and bandwidth allocation. If you start downloading a lot of files, it might spread you out across multiple channels. But if you're just browsing the web you'll likely only be on one.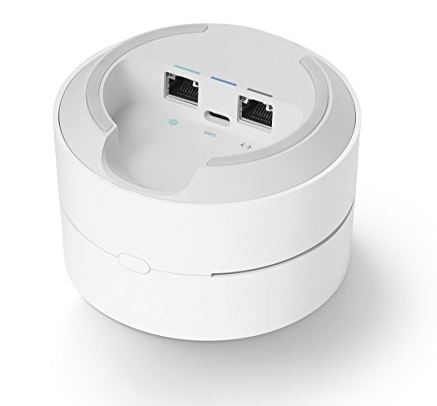 Setup
Google's system is also incredibly easy to set up, although it requires a little more involvement. You have to download the free Wi-Fi app from the Google play store, or the app store if you're on iOS. It will then take you through the setup process step by step. You can choose your networks name and password, and enter a password. If you like, there are plenty of advanced settings available to you. Then, you have to walk around the house with one of the extenders, and your phone will tell you the best place to put it. Alternately, if you already know where there is a dead spot, you can just place an extender there, quickly check the signal strength, and move on.
There isn't a whole lot to Google's system, so the real test will be when we compare it against the others.
Eero Home Wi-Fi System
Eero's solution is another on that we've taken a look at quite some time ago. We found it to be a high-quality solution, although it's gone through several software updates since then. We're excited to see how it improves, and its performance against several of the newer systems.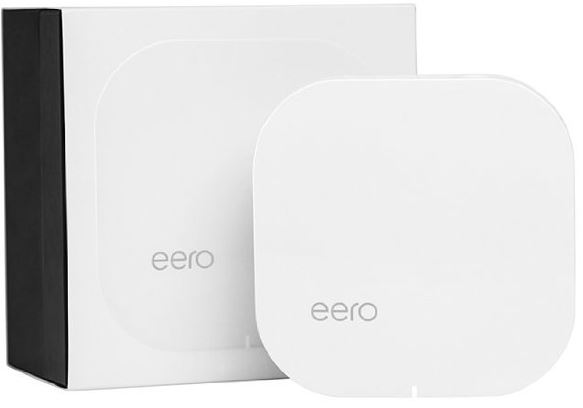 Connectivity
Eero is another device that keeps it simple, with only three ports on the back of it. You've got the standard WAN port to connect to your modem, as well as a USB 2.0 port which can provide both network connectivity and local storage. But where Eero sets itself apart is with Bluetooth. No other home Wi-Fi system offers Bluetooth networking, so you'll never be without a connection, no matter the circumstances.

Technology
Unlike the other two solutions, Eero uses point to point networking. This lets you lock onto a certain router, giving you better network stability in certain networking situations. It also supports the latest 802.11ac networking, allowing you to divide your connection up between the 2.4 and 5Ghz channels. This system makes it superior for high bandwidth applications.
But it's not the bandwidth that makes Eero stand out. It's the advanced parental controls and security that set it apart from the crowd. It's incredibly easy to use management interface can be accessed from any browser. This lets you set controls about who is allowed on your network, and at what times. You can see which websites your children frequent, and set filters that block the things you don't want them to see. It's also a very hands-off system. You can get weekly digests showing who's had access to your network – something you'll appreciate if you're concerned about hackers getting into your network.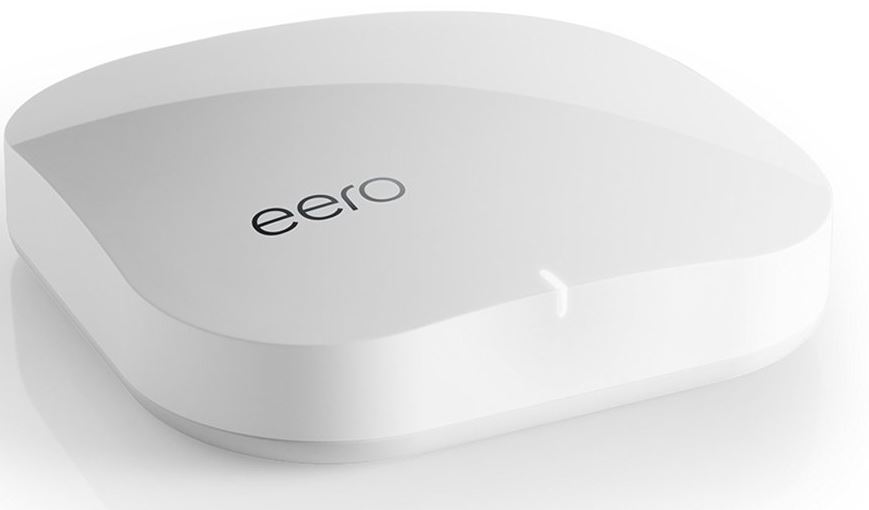 Setup
Eero is very easy to configure. Setting it up is very similar to Google's Wireless networking system, as you need to download their application. However, the interface is much more straightforward. It skips over all the technical details, allowing you to get up and running in a matter of minutes. Doesn't have the same system as the other two, so you just place the extender wherever you think your network performance is the worst.
Portal Smart Gigabit Home Wi-Fi System
The Portal WiFi System was another device that launched this last summer, providing consumers with another unique way to access the internet at home. But Portal is much more than just a simple Wi-Fi extender. It's got its own unique communication technology that takes this system to the next level.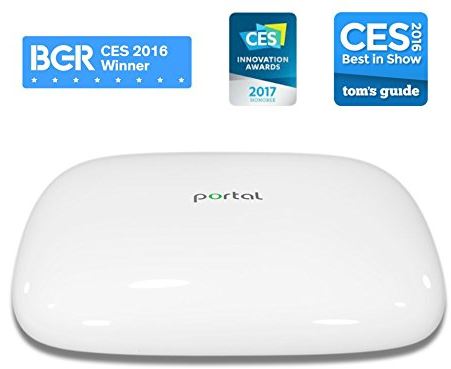 Connectivity
The Portal WiFi System has a full suite of connectivity options on the back of the base station. Aside from the WAN and power ports, it's got 5 full duplex gigabit Ethernet ports allowing you to send a maximum of 2Gbps of data over a single port. It's also got two USB ports that can be used for USB communication or external storage. When a thumb drive or external hard drive is connected, it will operate as NAS. This allows you to access the data from any computer on the network.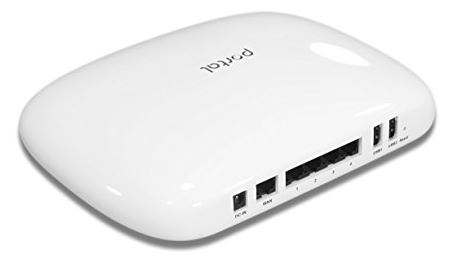 Technology
The stand-out feature of the Portal WiFi System is the Proprietary Wi-Fi spectrum. Typical routers are only able to access one sixth of the total spectrum, but Portal can access the entire thing. It refers to this section of the spectrum as "FastLanes", and it stays true to this name. Between the base station and the secondary connection points, the speeds travel a longer distance at higher speeds than any other router on the market.
Used in combination with a "rolling code" technology that automatically changes the Wi-Fi access password on a scheduled basis. This means that the network is almost impossible to hack, keeping your data secure.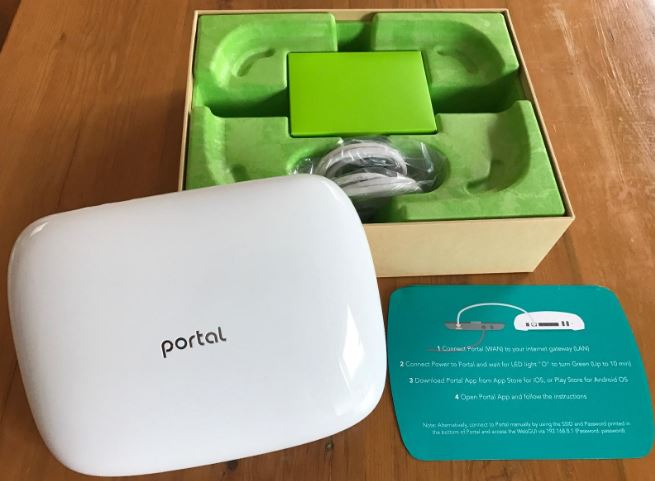 Setup
The setup procedure with Portal isn't the easiest on the market, but it does carefully walk you through all of the necessary steps. You might have to briefly consult the manual, but we feel that even those who are not technically inclined will be able to configure this router with ease.
AmpliFi WiFi System
The AmpliFi WiFi System is another unique way of using mesh networking technology to reduce the problems caused by having too many wireless networks in a densely-populated area. This system is designed to be powerful, and yet still easy to set up.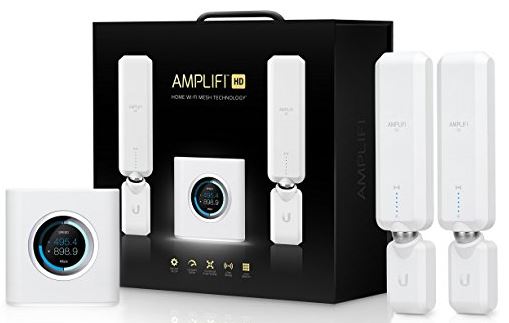 Connectivity
One of the ways they've simplified the setup procedure is by keeping the design of the base station simple. It's got an easy to use touchscreen display on the face that lets you control all the settings, allowing all the communication to be handled through a single WAN port. We do wish that there was the handy USB ports that can allow the network to be used as NAS storage, but 90% of users will appreciate the simplicity.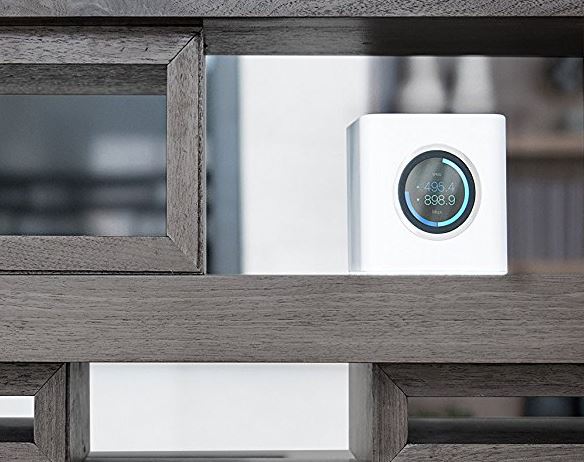 Technology
The foundation of this router is mesh networking. There is a private connection from the base station to each of the extenders, which then operate as their own independent routers. This allows for a total bandwidth of up to 5.25 Gbps. You'll notice that this is much higher than any other router on our list. In reality, this is because you're really using five separate wireless networks, each with their own dedicated bandwidth allocation.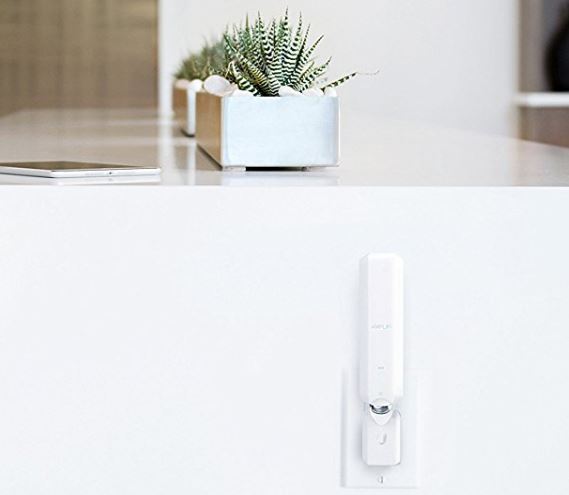 Setup
This is one of the easiest home Wi-Fi systems both to use and to configure. Once you plug in the base station and connect your modem, getting it up and running is a simple procedure. All you have to do is walk around the house with the extenders, plugging them into outlets where you feel that your connectivity is poor. The LED lights on the face will light up to tell you how strong the connection is with the base station. As long as you've got at least a few bars, your network is operational.
Moving forward, you'll be able to take a quick glance at the included display to see how your network is performing. The large blue rings show you the total bandwidth that's currently in use on your network, and the total bandwidth available to all of your extenders.
The Speed Test – All Systems Compared
So, which one is the best? We'll let the numbers decide. We set up all three systems is a large, 3500 square foot home. Eero advertises 3000 square feet of coverage with their three pack, Google advertises 4500 feet for three, and Orbi claims they can cover 4000 square feet with only two. Now these systems aren't going to suddenly stop working once you cross the threshold. They'll slowly lose speed, and eventually start to suffer from stuttering and signal drop offs. So we'll be watching for this in our test.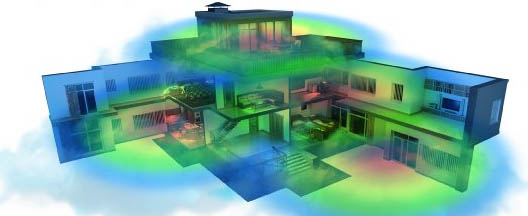 First Test
The first test was designed to determine the maximum throughput of the router itself. We tested all three systems through the LAN port to see what the potential was. Google came out on top with a total speed of 567 Mbps, followed by Orbi at 515 Mbps. The Amplifi and Portal were neck and neck, coming in at 495 and 509 Mpbs respectively. Eero was the worst of the bunch, only managing 467 Mbps. However, all three of them are much faster than even the best internet connections on the market, so in a wired application they should perform well.
Second Test
Next, we tested them on the other side of the house. This signal was going through a few walls and covering a great deal of distance, so this metric should represent what the average consumer is going to see over Wi-Fi. Once again, Google came out on top with 240 Mbps of bandwidth. The Portal WiFi System was sneaking up behind 229 Mbps, while the Amplifi came in at 205. Orbi managed just over 200 Mbps, and Eero struggled with 50 Mbps. However, none of the routers suffered any packet loss, so we'd consider the connection quite stable.
Third Test
Finally, the ultimate test. We went to the upper floor, as far away from the router as possible. Given the size of the house, this is going to be a worst-case scenario for most customers. As we expected, Google's system performed the best with an impressive 80 Mbps of bandwidth. Orbi came in around 66 Mbps, although the connection was still very stable. The Amplifi was also a strong contender, providing a stable connection at 60 Mbps. The last successful system was Eero, puttered along at 53 Mbps, with one brief moment where the signal dropped off. While the Portal WiFi System held up very well in our other tests, we couldn't get a stable signal at this distance.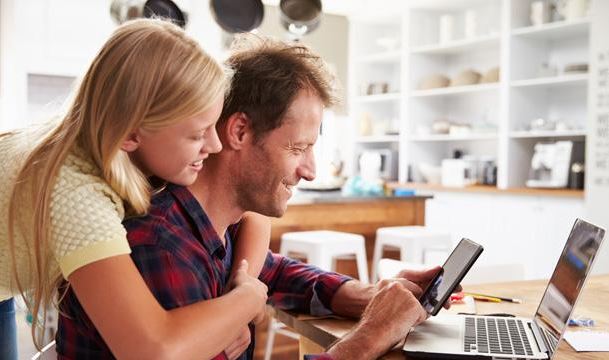 Which Whole Home Wi-Fi System Should I Buy?
So, which one is best for you? On paper, it looks like Google's system performed the best. But there is a few things you need to understand about these numbers.
The Google Wi-Fi System was designed for bandwidth. Users who want the best possible performance at all times should definitely consider this model.
The AmpliFi provided the most stable connection throughout our tests. This system is recommended for anyone who wants a simple, easy to use WiFi range extender. This model is our top recommendation for most consumers, since the ease of use doesn't require any sacrifice in power.
The Netgear Orbi didn't perform quite as well, but that may be by design. Remember, Orbi has load balancing built in. It's designed to prevent one single connection from using all of the bandwidth, so everyone can enjoy a good connection. If you've got one high bandwidth user, this might not be the best choice. But with a lot of people online at the same time, it's the superior option.
The Portal WiFi System is another great option, provided you live in a smaller home. While this model doesn't have the largest range, it does have some advanced encryption technology that keeps your network safe. If you're suffering from poor signal quality because of thick walls, such as the ones used in large condo buildings, this system will help keep your signal strong at all times.
Finally, the Eero Home Wi-Fi System scored the worst in the tests, but we were testing it over a very long range. Even at its worst, 50 Megabits is more than most internet connections. The only people who would notice an performance impact are the ones who are accessing locally shared files. For anyone else, Eero is an excellent option.
No matter which system you choose, remember that a high quality WiFi system is only one part of the puzzle. If you're on cable internet, you'll want to make sure you're using an upgraded modem. For more information, check out our review of the best cable modems on the market.