When it comes to running a home office, an all-in-one printer is a key ingredient. These handy little devices help you take care of all your office needs, including printing, scanning, copying, and in some cases faxing.
The problem with these printers is the price. If you don't look around, you could easily spend hundreds of dollars on a fairly basic unit. Alternately, you can go for the economical option. But many users find that the cheap or inexpensive printers suck ink like it's going out of style, or provide a disappointing experience. But HP is a well-established printer manufacturer, offering everything from the high cost professional models to the affordable ones. On paper, the new OfficeJet 3833 looks like the perfect choice for an office on a budget. But in order to determine if it could live up to the hype, we had to try it for ourselves.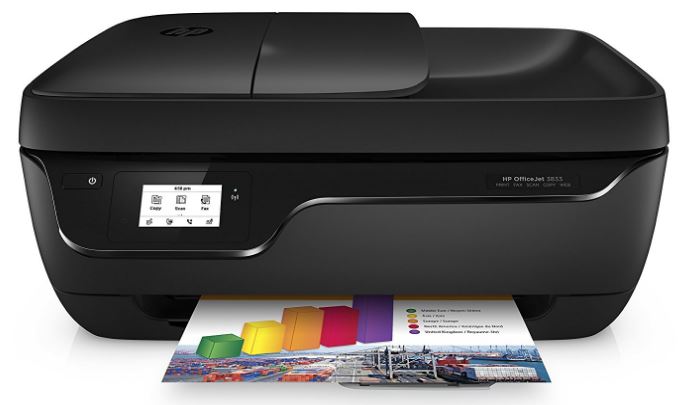 First Look
Designed primarily for students, HP didn't put a lot of time into making the OfficeJet 3833 All-in-One Printer look unnecessarily flashy. That being said, it's still intelligently laid out an easy to use. The LCD display is designed much like the Kindle Paper White, using a black-light along with black pixels. This makes it very easy to see, even in bright light. Each side of the display is completed with touch buttons, making it easy to access important settings.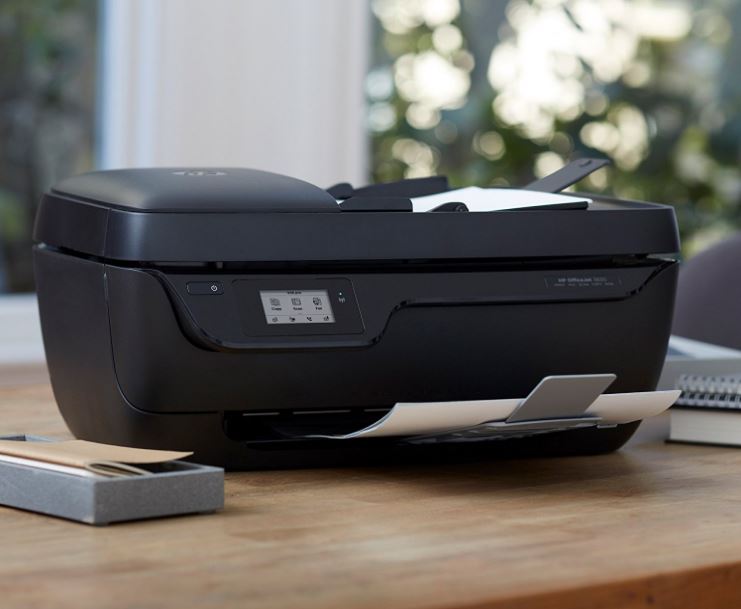 The printer is reasonably sized for the price, coming in a bit larger than more expensive models. This is accentuated by the light curves on top, which is a little unusual compared to the sharp edges of most modern printers. But when something is priced this low, it's really the performance that can make it stand out. We'll have to put it to the test to determine if this is a reasonable purchase.
Connectivity
On the back of the printer, you'll notice a single USB port and a power outlet. You can easily connect to this printer using the standard USB type B cable, we'd suggest taking advantage of the easy to use wireless connectivity. If you own a smartphone or tablet, you can install the HP ePrint application and print documents from local storage, or from the web. This makes the printer fully compatible with both iOS and Android devices. But you're not forced to use the HP ePrint app, it's also compatible with Apple AirPrint or Wireless Direct Printing from a PC.
Cost of Ownership
If you're searching for a printer on a budget, it's important to look at more than just the purchase price. Every time you hit that print button, expensive ink is being used. Generally, the rule of thumb is that the less you pay for the printer, the more you pay for the ink. Fortunately, this isn't true with the moderately priced OfficeJet 3833.
If you're buying the cartridges directly, you're looking at about 6 cents per page for black and white, or 13 cents for color. This prices are pretty reasonable, and are certainly in line with what you'd expect from some $100+ printers. But HP has a unique option that can help you keep these costs low. Their "Instant Ink" service allows you to sign up for ink on a subscription.
After you register through their site, the print driver will keep track of your ink levels. When you start to run low, they'll order a new set and have them shipped right to you. In exchange for your ongoing business, they'll cut the costs of your ink by a large margin. After their discounts, you'll be able to print for about 3 cents per page, which is among the best in this price bracket.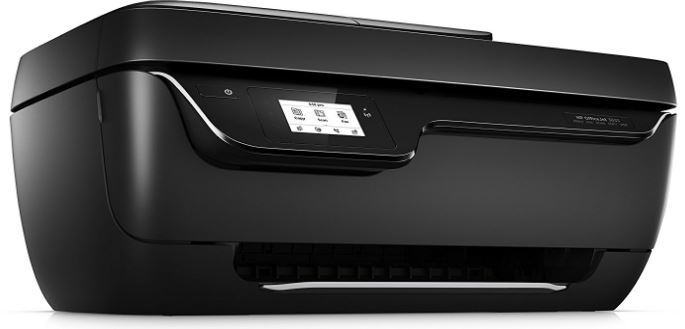 Quality
Right behind the front panel is a flap that folds down. Underneath, you'll find the two cartridges. They zip out on a little motorized tray that allows you easy access to it. There are two cartridges that are loaded into the printer, a tri-color one and a black one. This makes replacing the ink quite simple, since you're not worrying about dealing with 5 or 6 cartridges that are used in other printers.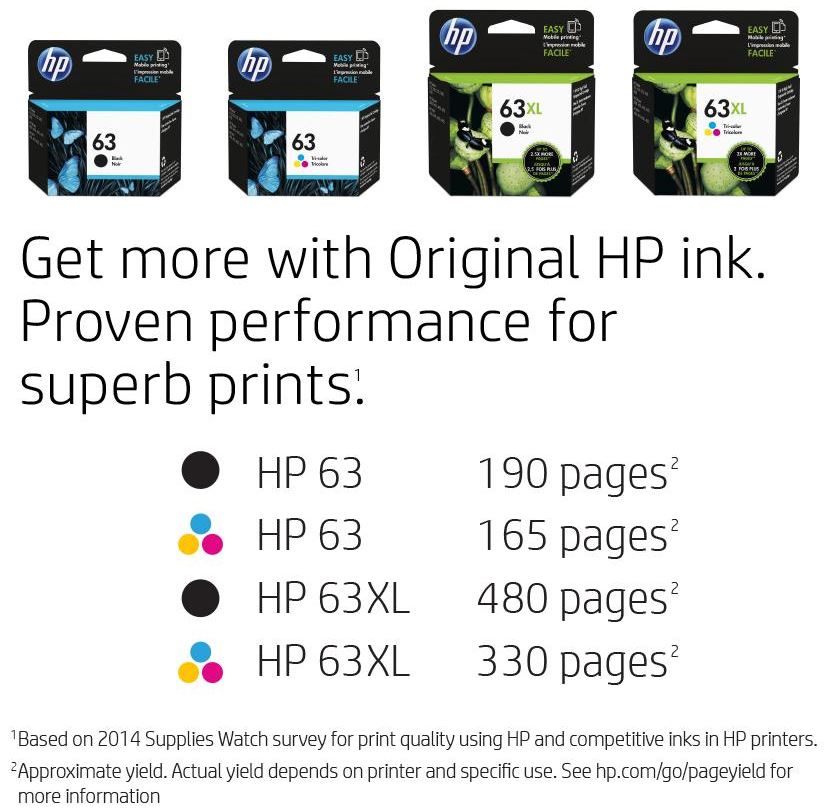 HP's bright inks do a great job at creating vibrant, enjoyable photos. The colors come out looking sharp and even. We're used to seeing banding and distortion at this price range, which really reduces the functionality of the printer. But with the HP OfficeJet 3833, images come out looking totally crisp and even. This makes them great for printing graphics on a presentation, or even for enjoyable photos. If you're printing pictures off of your smartphone or compact digital camera, you'll find the quality more than adequate. If you're using a SLR or high end (15 MP +) camera, you might want to consider something a little higher like a dedicated color photo printer.
Most users are going to be using this printer for text, and that's one of the areas it really excels in. Text comes out laser sharp and pitch black, thanks to the high-end inks used in this printer.
The built-in scanner is also very sharp, capable of scanning images at up to 1200 DPI. Most mid-range scanners only offer up to 600 DPI, so 1200 is very impressive. This means that it's suitable for both images and documents, so you don't have to make any sacrifices when choosing an affordable all-in-one printer.
There is very little quality loss when copying, since both the printer itself and the scanner are well designed. Unfortunately, faxes aren't going to be the same level of quality. Due to technical limitations, faxes are capped at 300 DPI black and white. We found that the printer was pretty good at adjusting the contrast so that even graphical documents were faxed correctly, but this is true of almost ever modern printer we've used.
Speed
This isn't the fastest printer on the market, averaging about 6 pages per minute in color and 8.5 pages per minute in black and white. For low volume use, this is acceptable. But we'd recommend a faster model if you're printing hundreds of pages every week.
Disadvantages
We were impressed with this printer for the price, but that's the key phrase. It's decent, but not the best. One of the most prominent disadvantages is that it doesn't support duplex printing. Some printers allow you to print one side of a page, flip all your sheets over, and print the back. Others flip the sheet for you. This one does neither. If you want double sided sheets, you'll have to print all the odd sheets, then do it again printing only the even ones. It can be a little tricky. Additionally, the three-color cartridges aren't the most efficient use of ink. If you run out of one color, you'll have to change the entire cartridge.
Is The OfficeJet 3833 Right For Me?
If you're looking for an affordable printer, scanner, copier, and fax, then the HP OfficeJet 3833 All-in-One is the cheapest option we'd recommend. At their worst, the features can be described as good enough. Photos look alright, especially when you buy the proper photo papers. You can certainly get better, but you won't need it unless you're using a high-end camera.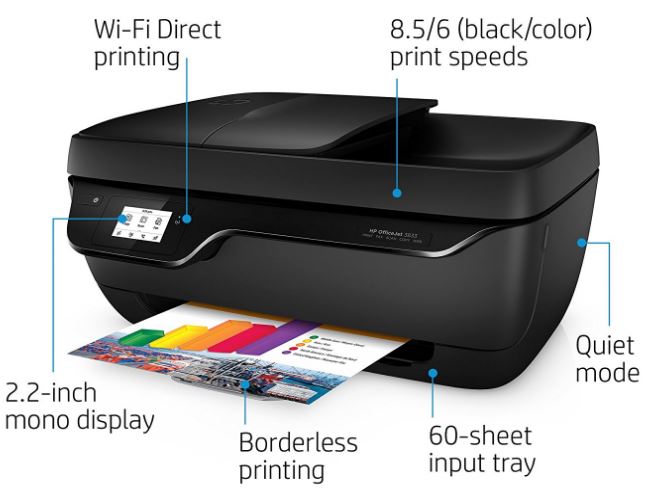 Other features are, surprisingly, more than good enough. The 1200 DPI scanner is pretty high quality, and we'd even recommend it for scanning photos. The copier works quickly, giving you a great looking image without much extra work.
While this is a great printer for almost all students or casual users, it won't be enough for everyone. This printer can only handle your standard 8.5" x 11" pages. If you want something larger, you're going to have to look at a large format printer.
Another consideration is the capacity of the printer. The OfficeJet 3833 is great for low volume print jobs, but if you're planning on printing a lot you will need something with higher capacity. For color, the OfficeJet Pro 7740 is a great option. Alternatively, the Canon imageCLASS LBP253DW is a great laser printer. It only does black and white, but the print costs are a fraction of what you'd get with inkjet printers.
No matter which route you decide to go, there are plenty of printers on the market designed to suit any business need. The choice can seem challenging at first, but printers aren't a subjective purchase. There is a pretty clear line between good and bad. If you're unsure, keep checking back with our reviews. We'll help you understand the differences between printers to pick the one that's right for your needs. And if your needs are an inexpensive printer that gets the job done, you can't go wrong with the HP OfficeJet 3833.