We've already taken a look at a wide range of home security cameras. Some of them are easy to set up, composing one part of a whole-house automation system. Others are incredibly adaptable but require a little technical know-how in order to set them up. The newly released Reolink C2 appears to be a unique balance between the two. In fact, we were lucky enough to receive a C2 to try out, test and review for ourselves. It's got plenty of great features we don't often come across, so we had to go hands-on and see how it performs in the real world.
First Look
Upon opening up the Reolink C2, we were surprised at how well designed the camera is. It's got a circular design, and has two little antennas that stick out the back. In a way, it almost looks like a little robot. But this isn't just for looks. The camera is designed in this way so that it can adapt to your exact needs. The upper part of the camera rotates 355 degrees – almost the entire way around. The circular portion that houses the lens can tilt 105 degrees, giving you the ability to look up and down. But that's not all, the lens itself can zoom in and out as well. While the camera is quite attractive at first, we've quickly come to realize that every part of the device serves an important purpose. In our opinion, this is the best balance between form and function.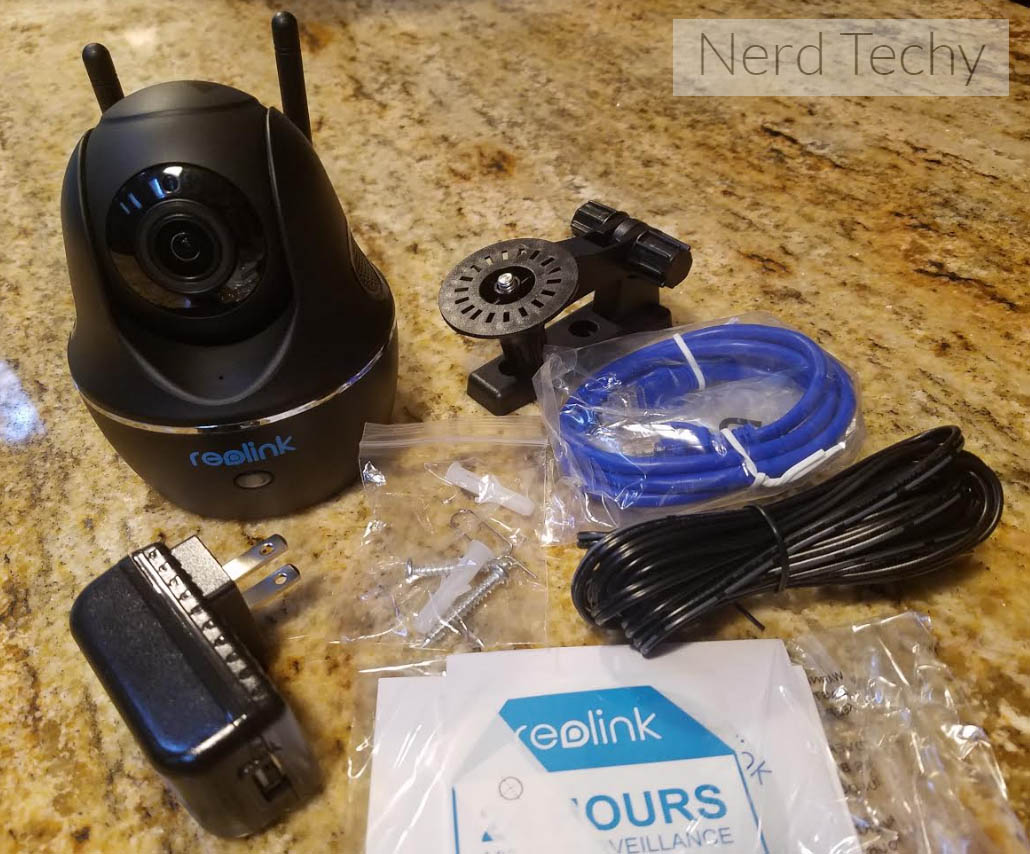 What's in The Box
When you buy a Reolink C2 you're not just getting a camera. You're also getting everything that you need to get your home security system running. The basics include the USB charging cable and power adapter. It's a standard Micro-USB cable, so even if you lose or damage it you'll always be able to find a replacement for a couple of dollars. You also get a 1 meter CAT5 network cable in case you're going to use a wired network instead of the built-in wireless.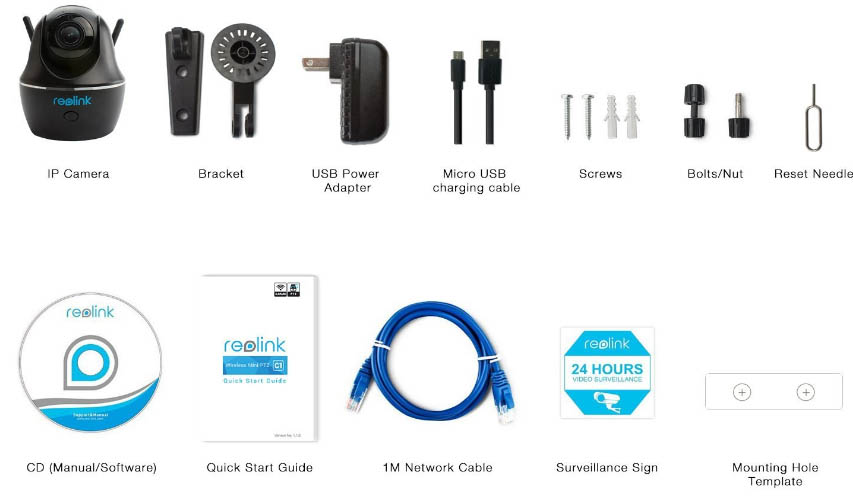 A reset needle is included, which is very similar to the keys used to change the sim card. But perhaps our favorite inclusion in the kit is the mounting hardware. You get screws, nuts, bolts, a bracket, and everything you need to get this camera mounted up exactly where you want it. The kit is so inclusive that it even includes a mounting hole template. In reality, this is nothing more than a marked piece of paper, but you wouldn't believe how much time it saves you. Ever struggle to hold something up while guesstimating where you need to drill holes? You won't have to any longer. Just hold the template up to the wall, pop a couple holes in the wall, and you're ready to mount.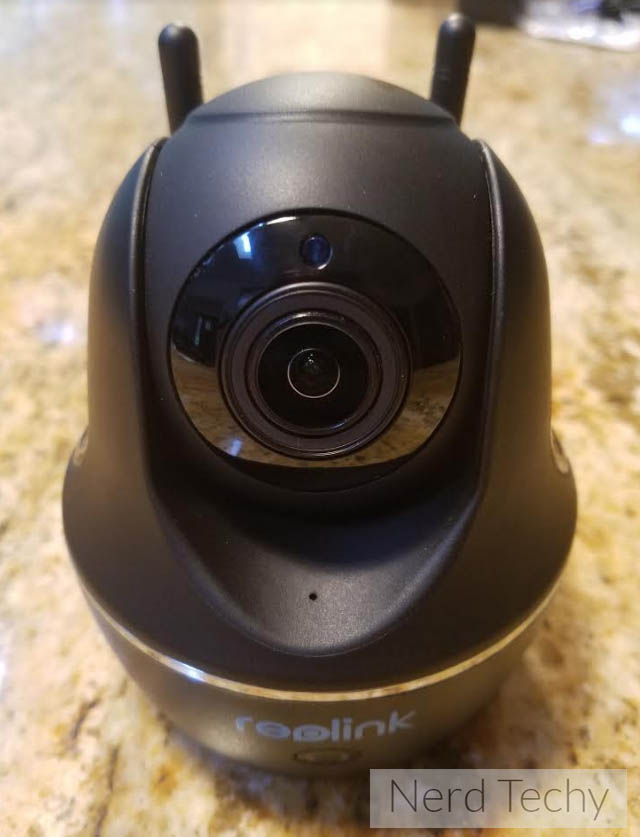 Connectivity
If you've upgrading an existing IP camera, you can easily replace it with the C2 and connect it via Ethernet. But most users will be more interested in using their home Wi-Fi network. Wi-Fi cameras alone are a relatively new concept, but the C2 takes this to the next level. It's got dual band technology, allowing it communicate on both the 2.4 GHZ and the 5.8 GHZ channels. This isn't your typical 802.11ac connection, this is a fully fledged 2T 2R MIMO system. For the non-technical, this translates into four separate bands of communication.
In a way, it's like four isolated networks, two of which are for sending data and two of which are for receiving it. For you, this means that this camera is something you can rely on. Even if somebody else is viewing it remotely, you'll still be able to log on and live stream your video without any slowdown, dropouts, or video stuttering.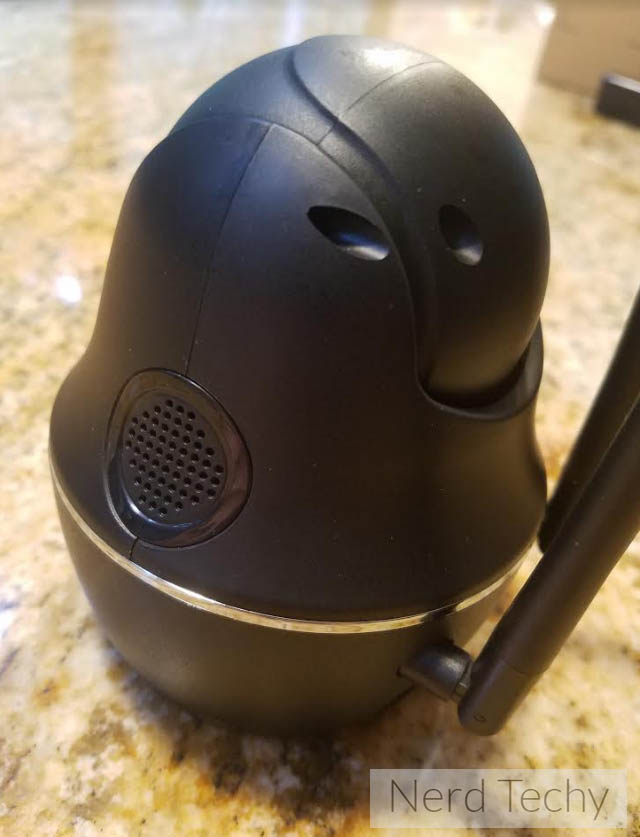 Video Resolution
Most of the cameras we're used to reviewing have either 1080p or 720p video. In fact, many of them technically provide you with a 720p video, but the actual sensor is a much lower resolution. The C2 comes with an impressive 1440p resolution. But we want to be clear how impressive this is in reality. The image is literally crystal clear. In fact, if you're playing it back on a phone or standard laptop, you're probably not even able to see all the detail this camera can capture. Unless you're using the incredible Samsung CF 791, you're probably going to see some loss.
The benefit of this is that you're able to zoom into the image and still get a full 1080p display. Generally, people have their cameras zoomed out to cover a large area. But if an incident occurs, you'll be glad for the extra resolution. We found that even zooming in by 50% provides an image clear enough to make out fine details, and this isn't something we can say about many cameras.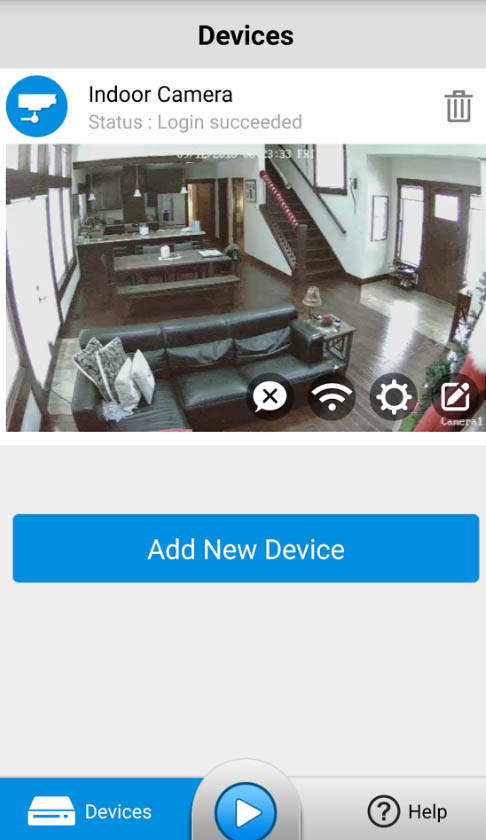 Image Quality
Resolution is only one part of the puzzle. There is much more that goes into a high-quality image than just the number of pixels. To illustrate this point, just take a look at mid-range cameras from the late 2000s. They might have the same resolution as modern cameras, but it's clear that even the photos taken by our smartphones are lightyears ahead.
When we're reviewing the image quality of any device, we're looking for a few key elements. We're looking at noise and sensitivity. We want to see that an image appears smooth and free of grain and distortion. We want to see this in all lighting conditions, even the evening. In this regard, the Reolink C2 impressed us in every way. The image quality is in line with what you'd get from any mid-range video camera, and we have absolutely no complaints.
However, do keep in mind that in order to view the stream via your smartphone or tablet, the data is compressed and minimized. This means that you won't see the true 1440p clarity unless you view the recorded file. But don't worry – every surveillance camera utilizes compression in order to enable live viewing. It's the only possible way that you can view the stream in real-time.
Night Vision
The Reolink C2 works great in the daytime, but it still performs well at night. It's got 24 individual infrared LEDs that provide it with images up to 65 feet away. If you haven't used infrared night vision before, we'll explain how it works. Infrared light is invisible to the human eye, but with a special image sensor it can be detected by the camera. In essence, it's like a giant spotlight that cannot be seen by people. This makes the camera discreet, allows it to use very little power, and of course provide a night vision experience comparable with the top end cameras.
We tested out the advertised 65 foot range and found it to be a pretty realistic, accurate representation of the night vision abilities that the C2 has. Of course the actual environment you're in may affect it, but in most scenarios, the camera has no trouble illuminating up to 65 feet in total darkness.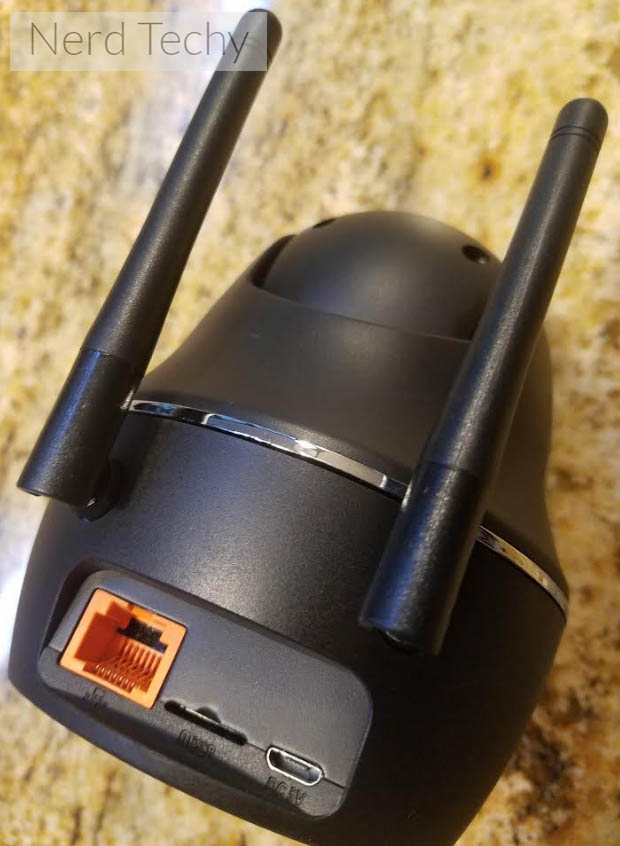 Zoom & Rotation
The lens itself is capable of viewing ranges from 36 degrees to 100 degrees. For reference, your eye naturally has a 50-degree field of view. 36 degrees is zoomed in nearly 50%, and 100 degrees is about as far as you can zoom out before things start to get that 'fisheye' look where everything is bent looking. In our opinion, 100 degrees is a great compromise. You still get to see a very large area, which roughly equates to four times what you'd be able to see with your own eyes. If you want to zoom in a little more, you can use the near-360 degree rotation to look around. This can be done remotely, which we'll get into shortly.
Essentially, the combination of rotation, zoom, and tilt allows you to see any part of the room you want, making it perfect for an indoor camera.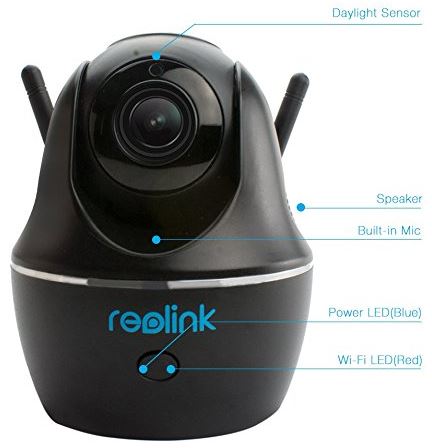 Remote Access
The main benefit of a wireless security camera is that you can access it from anywhere in the world. Once it's connected to your wireless network, you can stream it from a Mac, PC, iPhone, or Android device. Setting it up is very simple, all you have to do is go to the app store and download their free application. From that point, you can just tap a single icon and see your video stream in real time. The app gives you the ability to control the position of the camera, so you can zoom in on any little detail you want.
If you're not using a mobile device, you can still access the video feed from the web browser. The camera is connected to Reolink's servers, so you'll be able to live stream easily.
The browser also gives you notifications via email anytime motion is detected. You'll have access to either the recording of the motion, or you can swap to the video feed in real time.
Another feature included with remote access is the ability to have a two-way discussion. The camera has both speakers and a microphone on board, so you can hear what's going on. When you tap the speech button, you can speak into the microphone and everyone in the room will be able to hear. This is a great way to talk to your elders, children, or even just to let your pet know that you're there.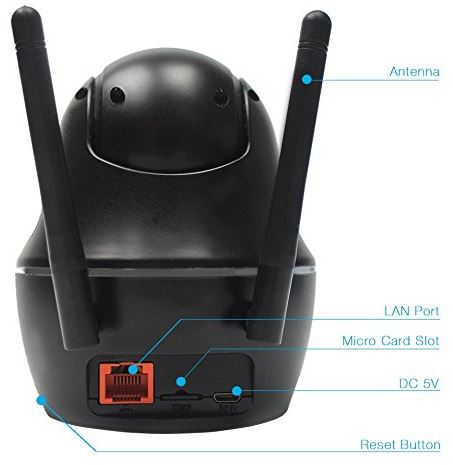 Disadvantages
For the price, this camera is an incredible value. But it's only suitable for use as an indoor camera. You could probably get away with using it on a deck in a covered area, or even the entrance to your house. But the night vision isn't really suitable for very long distances, and the camera isn't weather sealed.
Is the Reolink C2 Right for Me?
If you're looking for a suitable indoor camera to keep your house secure, you can't do better than the Reolink C2. It's the most adaptable camera on the market, and has some of the best remote access software we've used. It's easy to set up, and Reolink's remote servers handle most of the heavy lifting.
The only disadvantage for the camera is that it's only suitable for an indoor application. If you need something for the outdoors, you might prefer something like the Canary Flex. But you'll have to pay a bit of a premium for that model. Unless you absolutely need it, the Reolink C2 is one of the best deals on the market.