Vellgoo DryTank 3000
Pros
Collects up to 52 pints per day.
Relatively portable with built-in wheels to move around.
Silent full tank alert.
Can drain through hose attachment.
Controls are very easy to learn.
Cons
Relatively small tank capacity.
Non-standard hose connection.
Nobody wants to breathe damp, musty air. For one thing, it can make you feel sticky, and it's uncomfortable to breathe. For another thing, it creates prime conditions for mold, mildew, and other nasty things.
If that's not enough, it means it takes longer for water in the environment to evaporate. If there's condensation building up, it will eventually start dripping. But under certain conditions, a bit of humidity is inevitable. For example, basements are notorious for allowing moisture inside. When that happens, the air becomes humid and swampy. This is not healthy for you or your house.
There are many ways to prevent indoor moisture. Good sealing and weatherproofing are the first things that come to mind. But when you still need to dry things out, a good dehumidifier is an essential tool. Dehumidifiers work on the same basic principle as an air conditioner.
Using a condenser, they cool the air as it passes through. This raises the air's saturation point, and condensation forms on the coils. The condensation is then collected, and the dryer air flows back into the room. Unlike an air conditioner, however, the heat from the compressor remains in the room. In other words, it doesn't cool the space down, just make it dryer.
Vellgoo DryTank 3000
Today, we're going to review the Vellgoo DryTank 3000 Dehumidifier. The DryTank 3000 is a compact dehumidifier that has an imposing amount of power. It can remove 52 pints of moisture a day from your air, more than we expected for the size. It's easy to move from room to room, and it can drain through or a hose or collect the water in a reservoir.
But those are just a couple of things we'll need to look at in order to give it a proper evaluation. We'll have to talk about the control scheme, and how it's operated. We'll have to talk about how easy it is to empty, and how well put together it is. Let's take a closer look at this machine, and learn everything we need to know.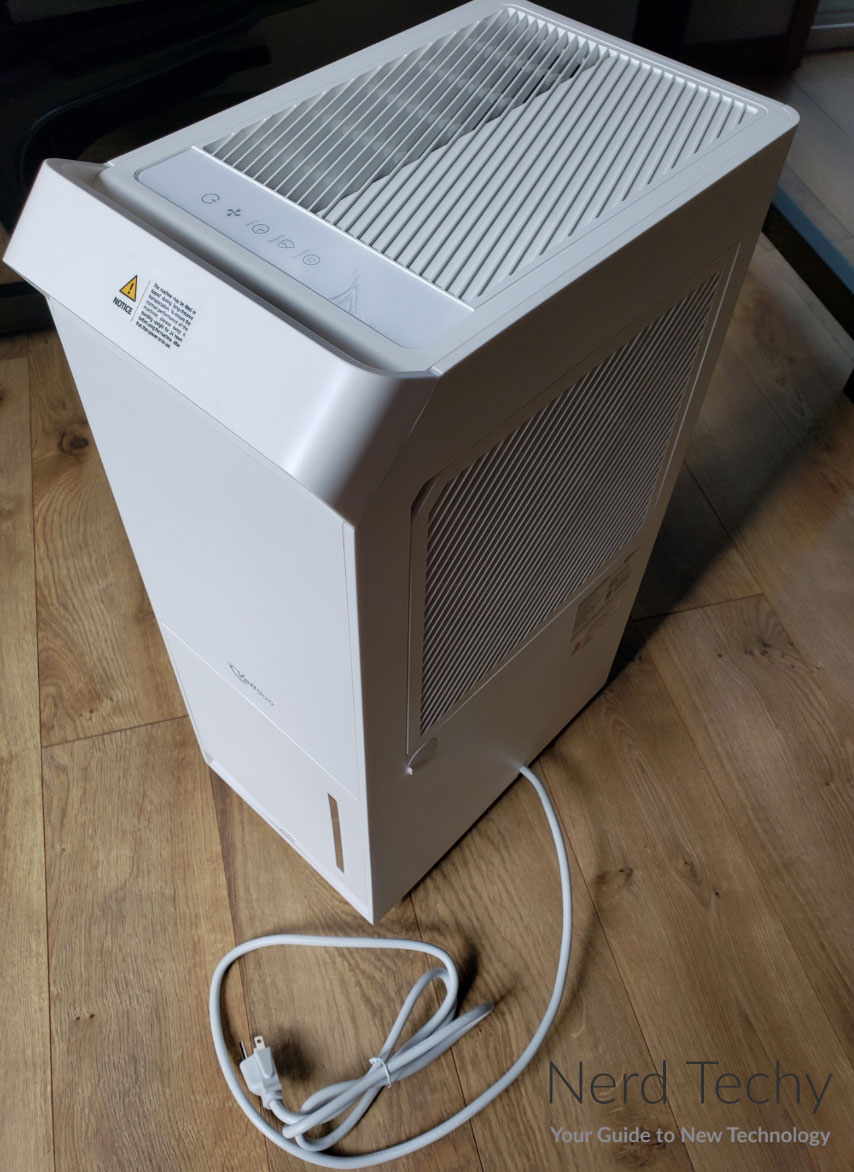 Overall Design
The Vellgoo DryTank 3000 Dehumidifier has a glossy white housing. It's rectangular in shape, with a tall, narrow profile. The height is just over 24 inches, with a depth of 14.38 inches and a width of 8.64.
Despite the small form factor, it's deceptively hefty, tipping the scales at 36 pounds empty. Then again, it's a compressor-driven device, so it's bound to carry a little bit of weight. The shape is mostly regular, with the exception of a handle on the front edge. The corners are sharp and angular, which gives it a futuristic appearance.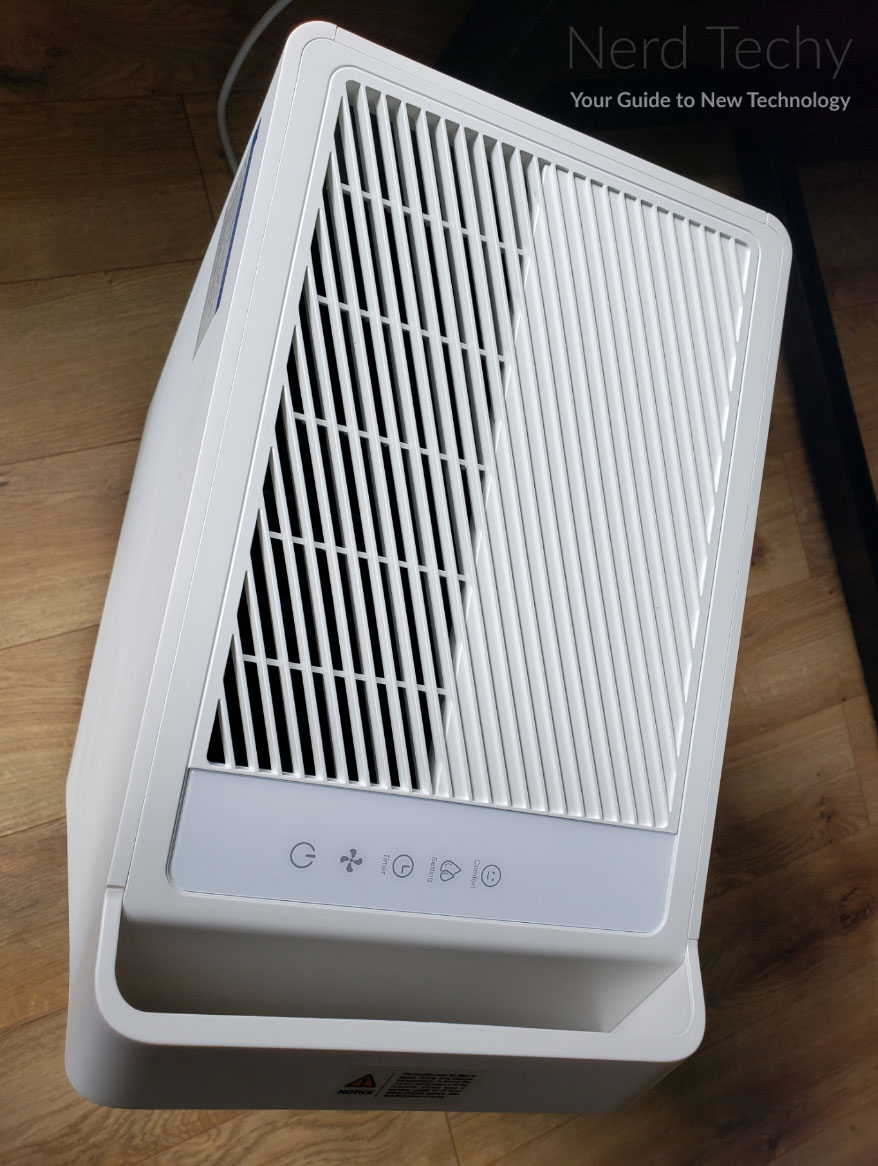 The exception to this is a handle on the top forward edge. It juts out and towards you, which makes it easy to grip. This, combined with a set of four black casters on the bottom, makes it easy to move around. The casters rotate 360 degrees, so it's simple to move the machine in any direction. You can roll it from room to room, which is great if you're trying to dry out a larger floor plan.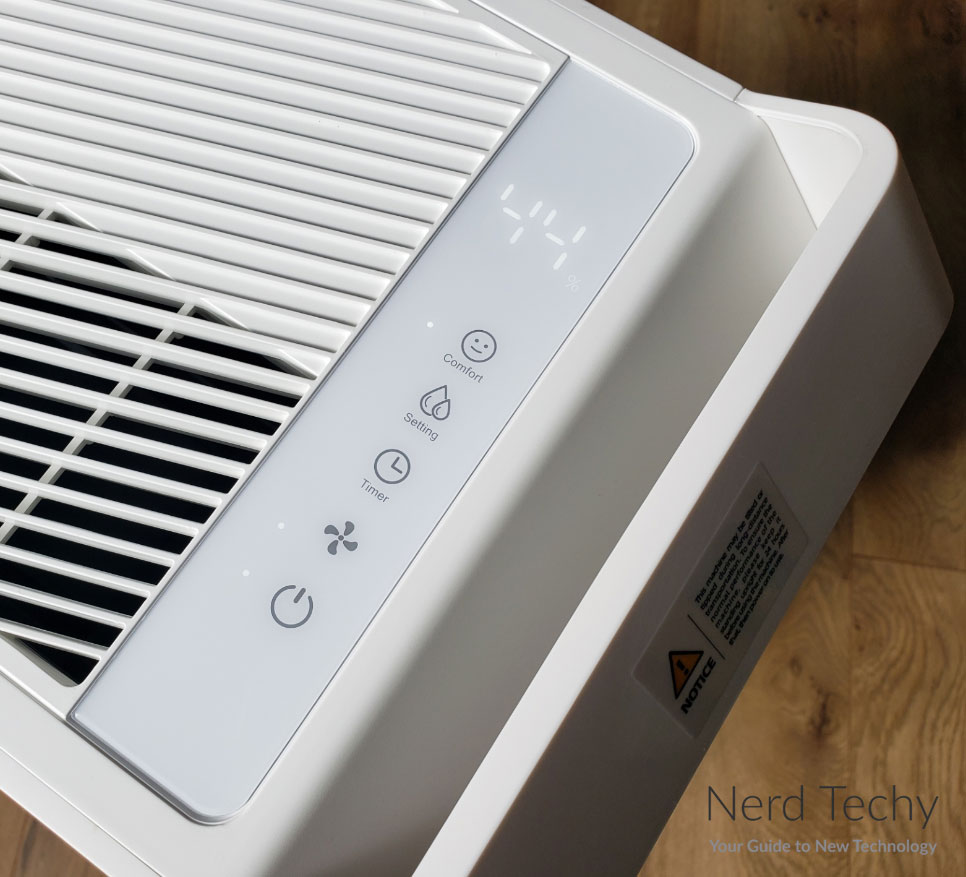 The intake vent is rectangular, and is located on the back of the housing. For this reason, it's important not to position the dehumidifier with its back against a wall. This is good advice anyway, since you'll get better air circulation in the middle of the room. The outflow vent is located on the top, and takes up most of the top of the housing. The soft touch controls are located on a narrow band across the front of the top, just behind the handle.
Use code "PF9RRAWL" for a discount when you order the Vellgoo DryTank 3000 on Amazon.
To operate the unit, just turn it on, and let the water drain. It has a bucket in the bottom half of the housing, which is accessible from the front. There's a slot at the bottom where you can reach in and pull it out. Once it's out, you'll find a carry handle molded into the top.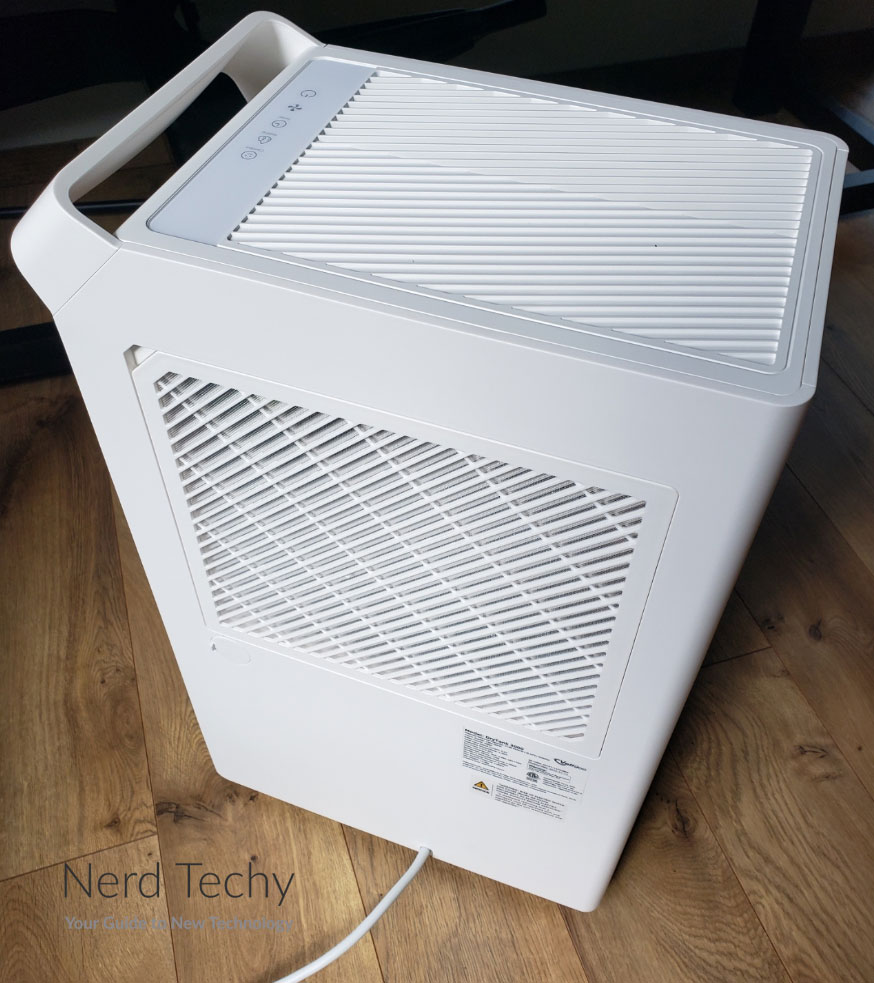 Alternatively, you can use the drain hose. The hose measures just over 6 ½ feet long, and it plugs into an internal connector. The internal design is meant to prevent leaking, and it does a pretty good job. Unfortunately, this means there's no male-threaded hose connector on the back. If you want to use a different, longer hose, you'll be fresh out of luck.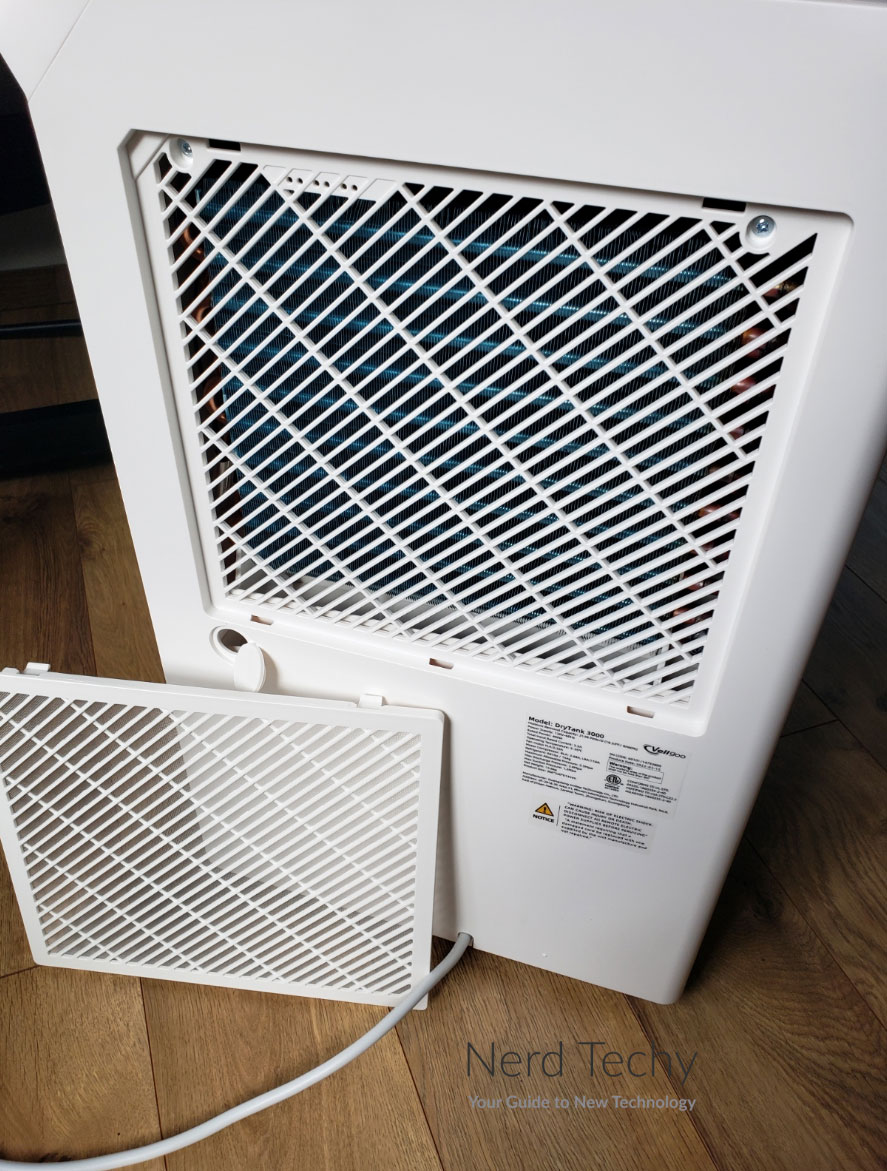 Out of the box, the Vellgoo dehumidifier comes with a 12-month manufacturer's warranty. This will ensure that you're protected from any potential damages. Better yet, you can extend that warranty for an additional year. All you have to do is go to Vellgoo.com and fill out a registration.
Sometimes, you don't need to dehumidify an entire house, or even a whole room. What if you just need to keep a cabinet or safe dry? In that case, consider the Afloia Mini Dehumidifier. It's a small cylindrical device with silica gel pellets that absorb the moisture from the air.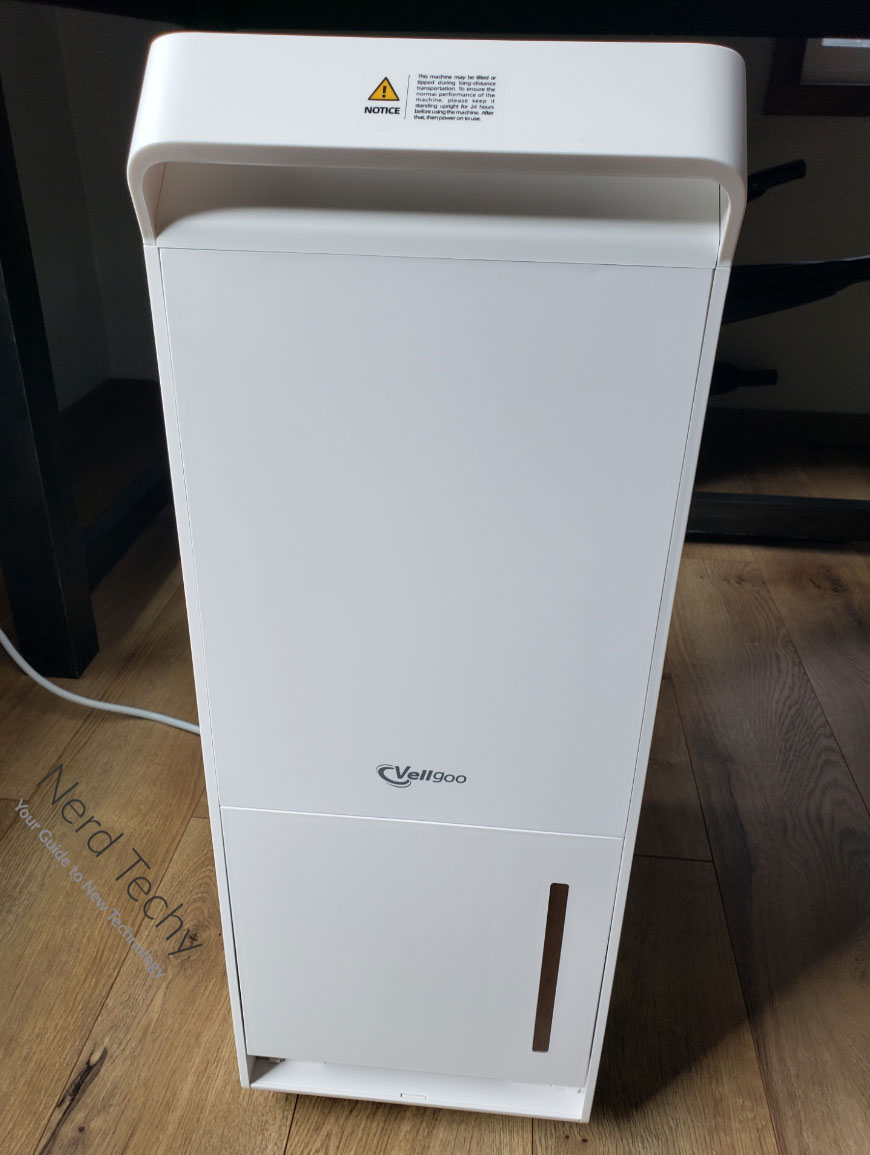 Performance & Features
So, how well does the Vellgoo DryTank 3000 perform? In terms of overall dehumidification power, it can remove up to 52 pints of water from your air per day. That's 7.8 gallons, or about average for a full-sized dehumidifier, but it's impressively high for the size. The DryTank 3000 is able to do this thanks to high-quality copper heat exchange tubes, which are exceptionally efficient.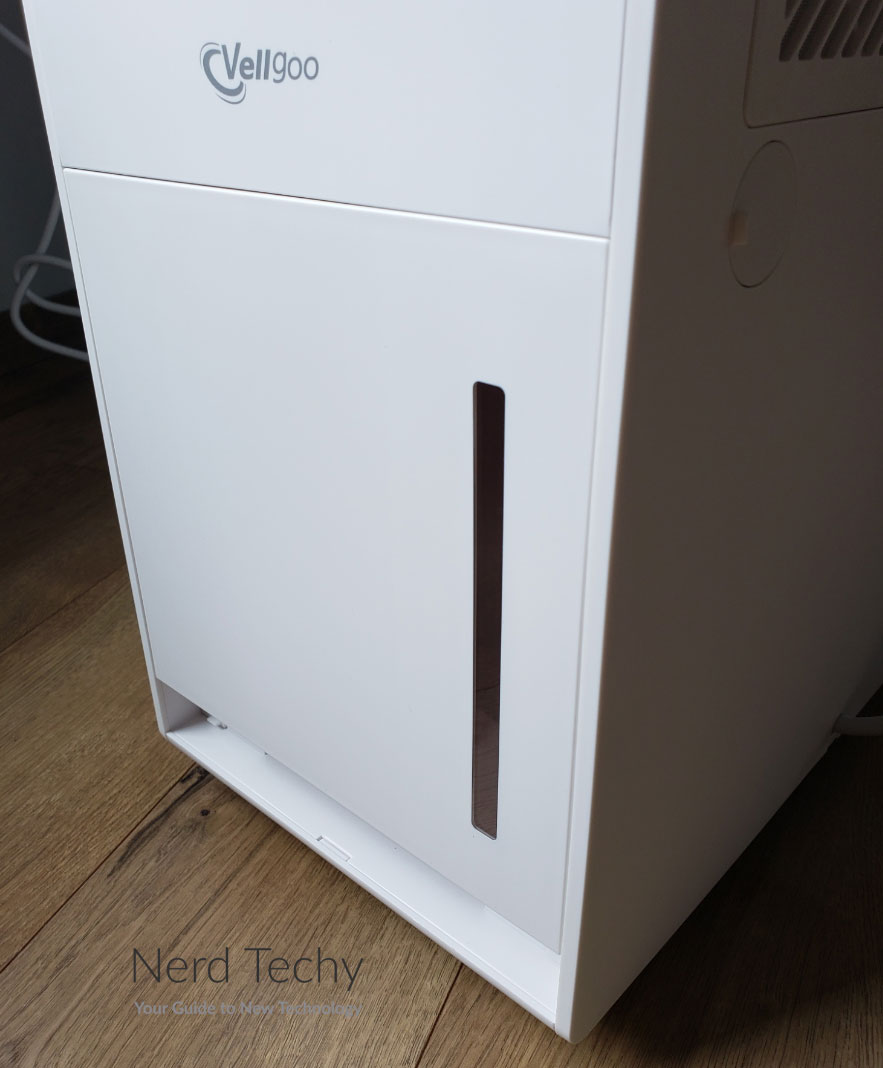 Keep in mind that this efficiency will depend on how high the humidity already is. The higher the humidity, the faster water will condense when the air passes over the coils. In total, you can set the desired humidity between 40% and 80%. When the humidity comes down to that level, the compressor will automatically shut off.
This dehumidifier can cover an area as large as 4,500 square feet. That's much larger than most residential homes, so it's more than enough for most people's needs. You could even use it to dehumidify a mid-sized office space. That said, this will also impact the DryTank's efficiency. The larger the space, the harder it will work to keep the humidity at your desired level. Even so, you'll have enough power for wet basements and other similar situations.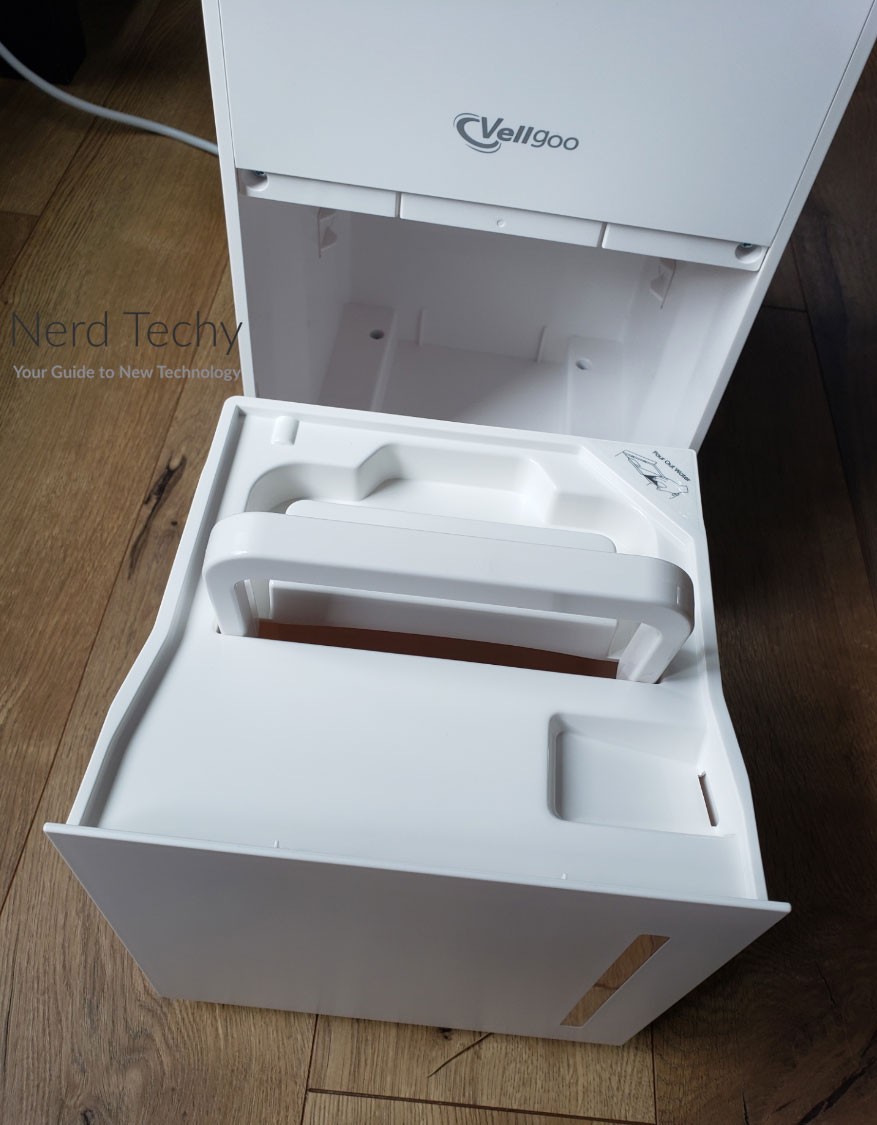 If you don't need to cover that much area, consider a mini desktop humidifier. These are small enough to carry around with you, and are designed for a single room. Needless to say, they don't have nearly as much power. But if you don't need the power to begin with, that's not really an issue.
The DryTank 3000's tank has a capacity of 1.14 gallons. When compared to similarly-powered dehumidifiers, this is a bit low. But this is a necessary side effect of the small size. If you want a bigger tank, you need a larger overall unit.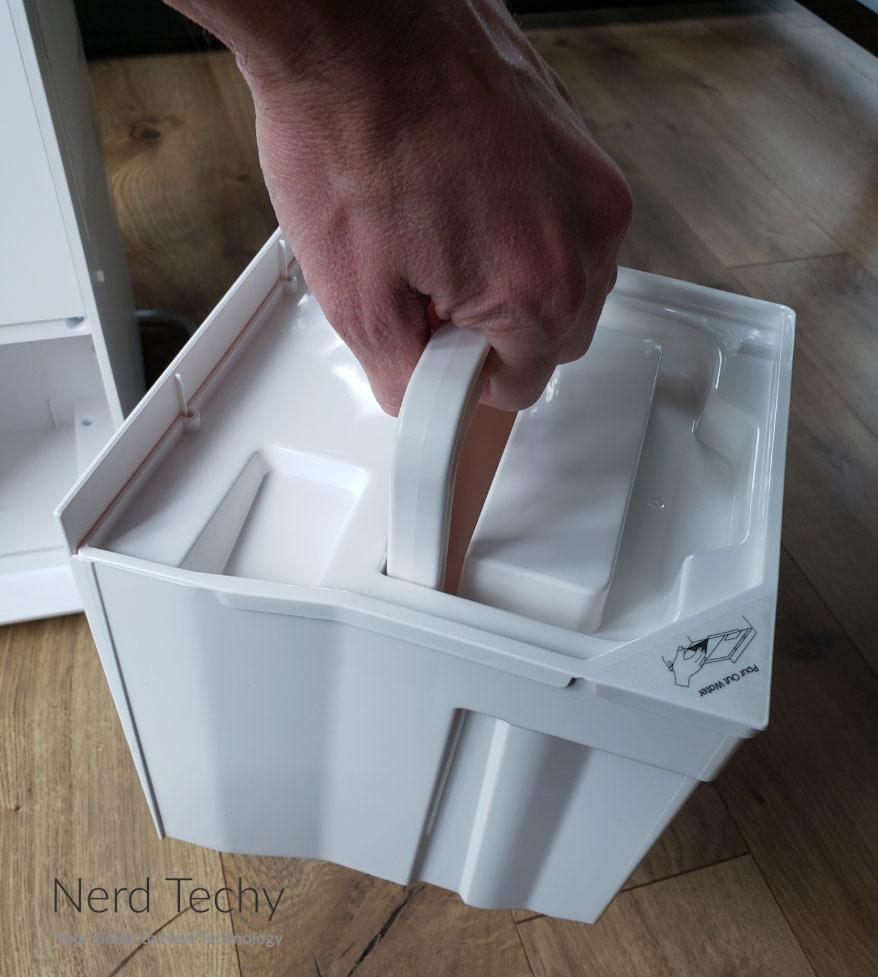 For this reason, you'll need to keep an eye on the tank. There's actually a little alert button on the control panel that lights up when it's at capacity. At that point, the compressor will cut out on its own, until you've emptied the tank. There's no audible alert, which is both a blessing and a curse. On the plus side, it won't wake you up in the middle of the night when you're trying to sleep. On the down side, it's not going to grab your attention.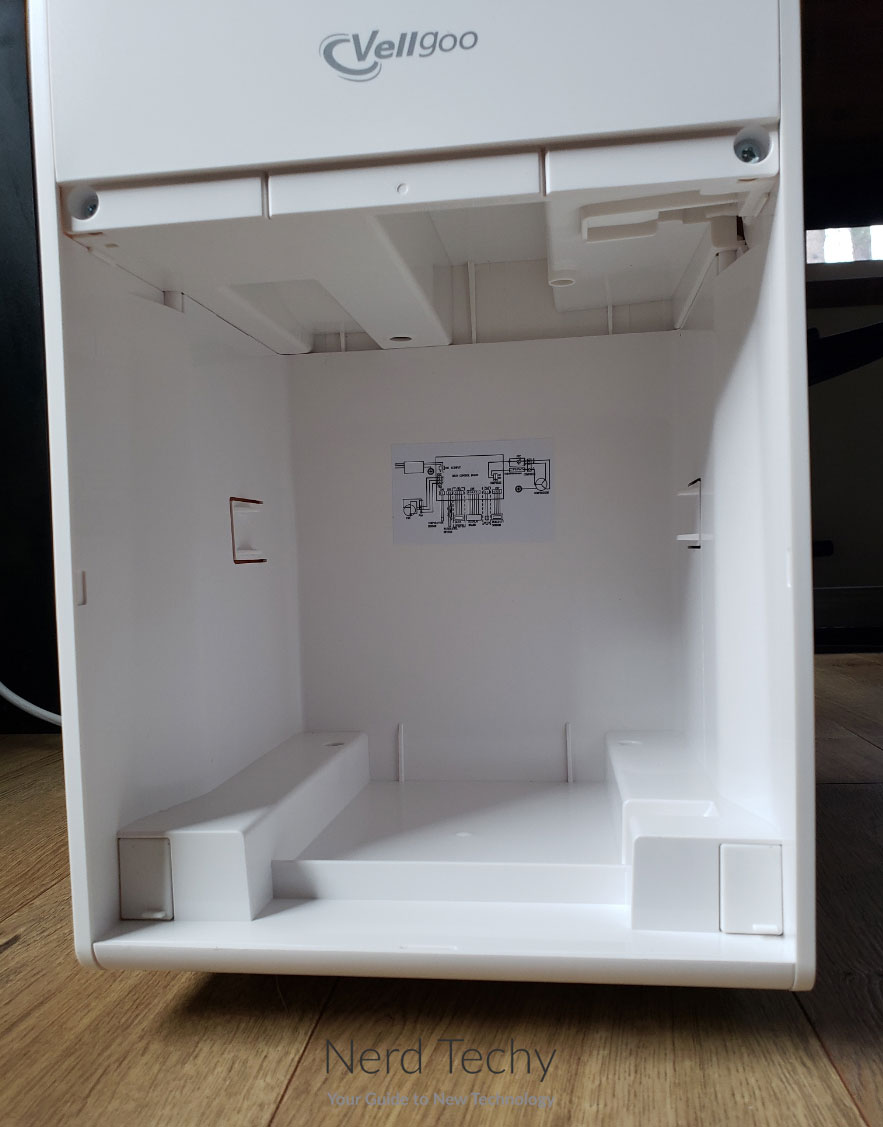 The compressor is very quiet. Even at the highest setting, it only puts out around 45dB of sound. That's not exactly silent, but it's just slightly louder than a whisper. It's actually somewhat soothing, which is better than the rumbling sound you get from some dehumidifiers.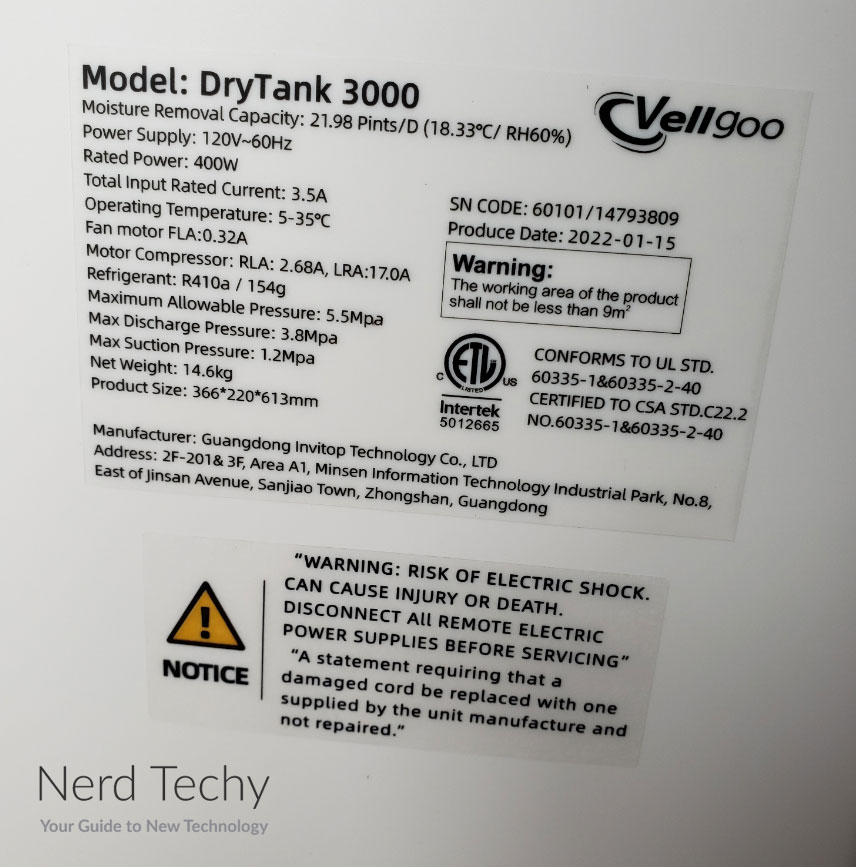 Controls & Maintenance
Using the Vellgoo DryTank 3000 is pretty simple. On the control panel, the power button is located to the left. The next button controls the fan speed. When you first turn the unit on, it will default to the lowest setting. Simply tap the button to rotate through the three speeds. A little row of indicator lights to the side of the button will keep you notified of the fan speed.
By default, there humidifier will run continuously as long as it's powered on. But if you press the raindrop button, you'll be able to choose between two other modes. First, you can run it in a timed mode. Press the timer button, and a set of LED numbers to the right of the display will show the current setting. You can use the left and right arrow buttons to add or subtract hours from the timer. Leave it alone for a second, and the setting will lock.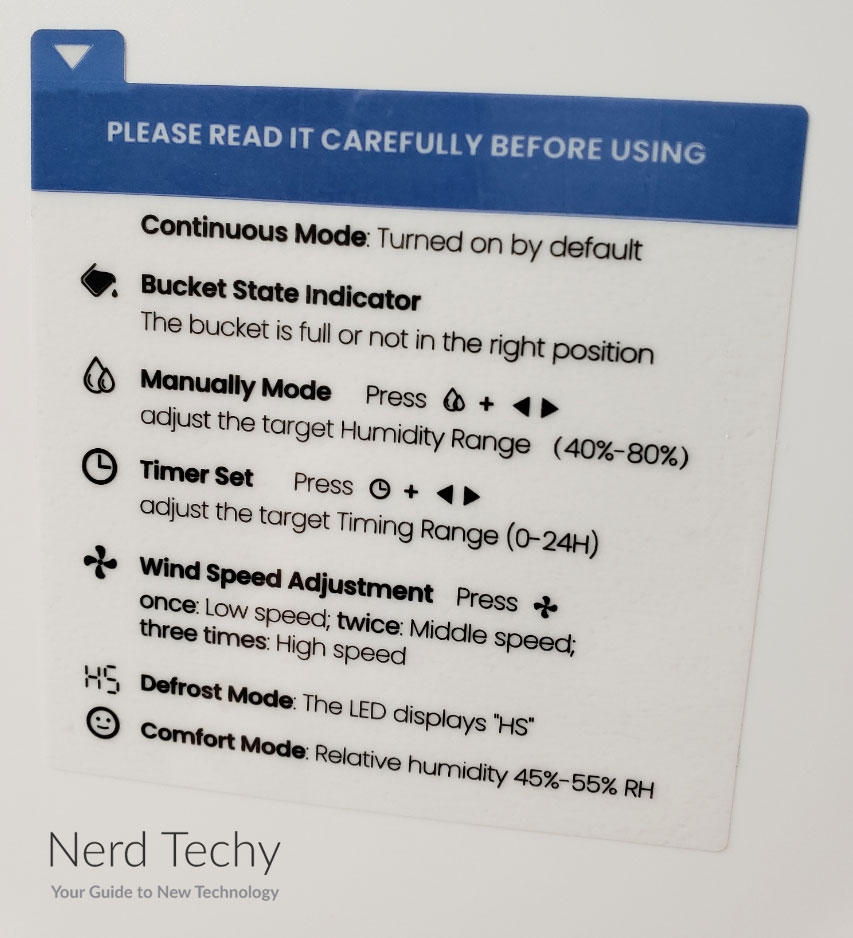 Alternatively, you can press the raindrop button to set the desired humidity. Again, use the arrow buttons to adjust your settings, and wait for a second to let them lock in. By default, the digital display will show the humidity level, even when the timer is running. This makes it easy to keep track of.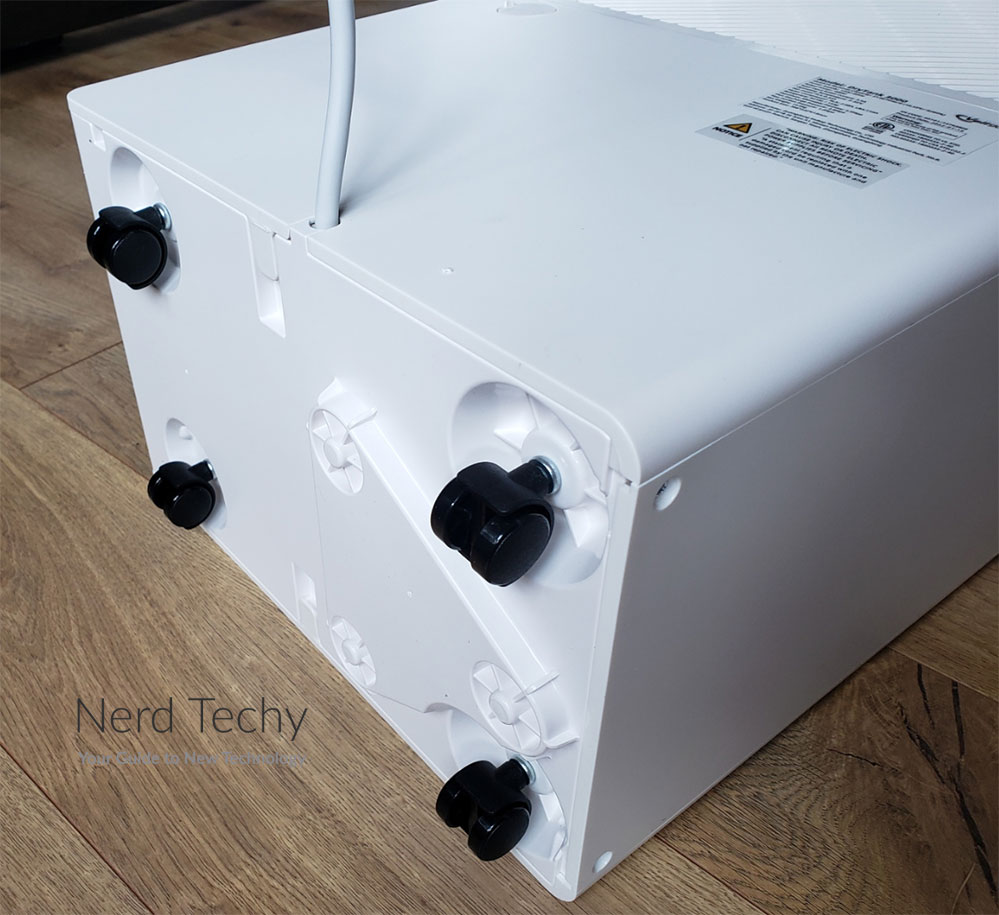 Other than emptying the tank, there's really not much maintenance required. However, there's an intake filter that should be cleaned about once a month. All you have to do is wipe it down with a cloth and run it under cold water. Let it dry for a bit, put it back in, and you're ready to go again.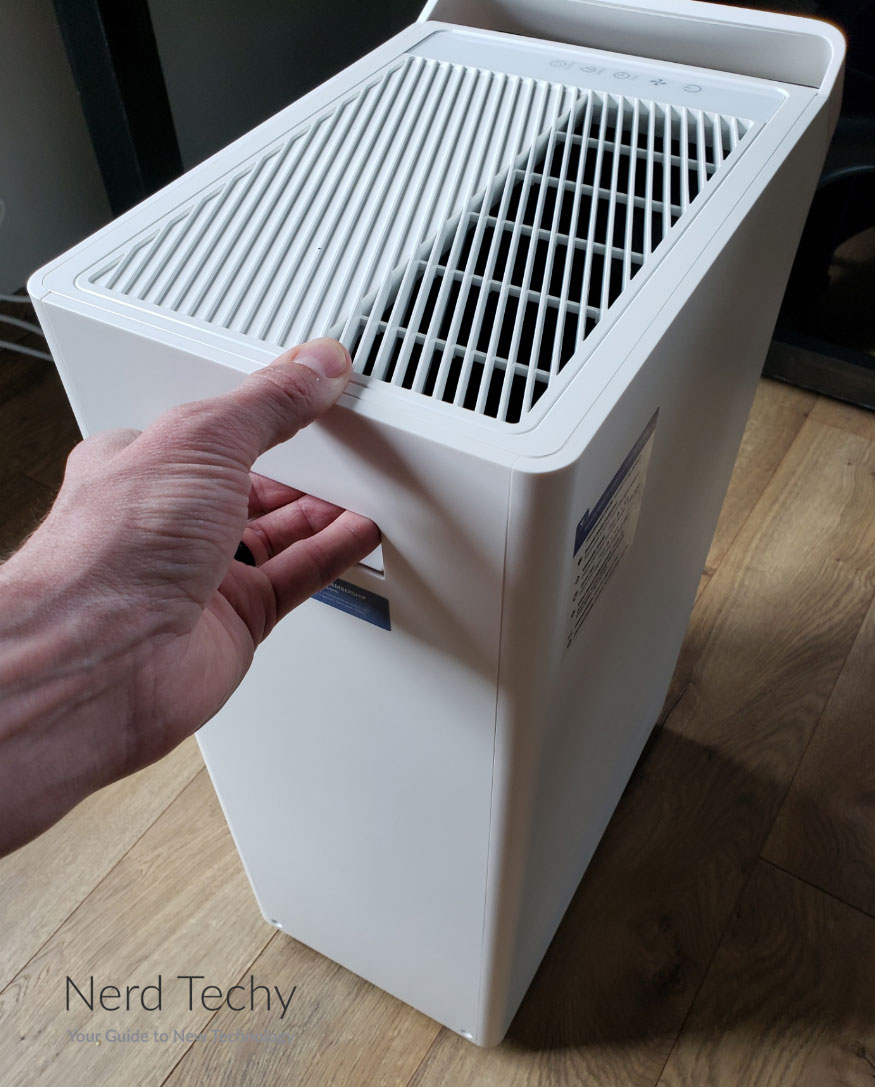 Final Verdict
So, is the Vellgoo DryTank 3000 Dehumidifier the right choice for you? As is often the case, a lot depends on what you need. Since you can't use a different hose, it can't be drained to anywhere further than 6 ½ feet away. This does limit your applications somewhat.
Don't forget to use the code "PF9RRAWL" for a discount when you order the Vellgoo DryTank 3000 on Amazon.
If you don't mind the short hose and small reservoir, there's a lot else to like. That said, it's rare to see a dehumidifier so powerful and yet so compact. You can treat large volumes of air, and cover The controls are easy to use, as well as intuitive. You can set the humidity through a wide range, or run the machine on a timer. Not only that, but it's easy to move around, with a convenient handle and 360-degree casters. For the most part, we were very pleased.