evowera Planck O1
Pros
Very effective cleaning and smart app features.
Vivid full color screen with easy navigation.
Fully waterproof and sealed tightly.
Wireless charging is incredibly fast.
Accepts the use of other branded brush heads.
Cons
No option to manually charge with a standard charging cable.
Smooth finish is slightly slippery when wet.
No travel pouch or case included.
Taking care of your oral health is incredibly important. Everybody knows this. However, it's surprising how many people are still resorting to a standard, mechanical toothbrush. Rather than manually scrubbing your teeth and gums, an electric toothbrush offers a vast improvement. Not only do they tend to more-effectively remove plaque and tartar build-up, they're often much more enjoyable to use.
That said, not all electric toothbrushes are created equally. Often retailing from $10 to over $200, needless to say, there's quite a range of options to choose from. If you're like most, you're going to want an electric toothbrush that's well-made. Not only do pricier "sonic" toothbrushes tend to perform better, they're typically available with some very interesting and useful features.
evowera planck O1
Take the evowera planck O1, for example. It's a new-release sonic toothbrush that boasts a huge assortment of top of the line "smart" features.
Although on paper it's much more expensive than the competition, there's good reason for this. Simply put, the planck O1 is built to impress. With smart connectivity, wireless charging, a full color screen and a variety of cleaning modes, it's go a lot going for it.
However, does this state of the art sonic toothbrush really provide all the benefits it promises? Is it really as good as it looks? Luckily, we were sent a free sample directly from evowera.
Today, we're going to take a deep dive, test it out and thoroughly analyze it for quality and performance. We'll test each feature and report on our findings. First, we'll begin with unboxing the toothbrush. Next, we'll put it to use and in the end, ultimately determine if it's worth the relatively high price-tag. Let's get right into it.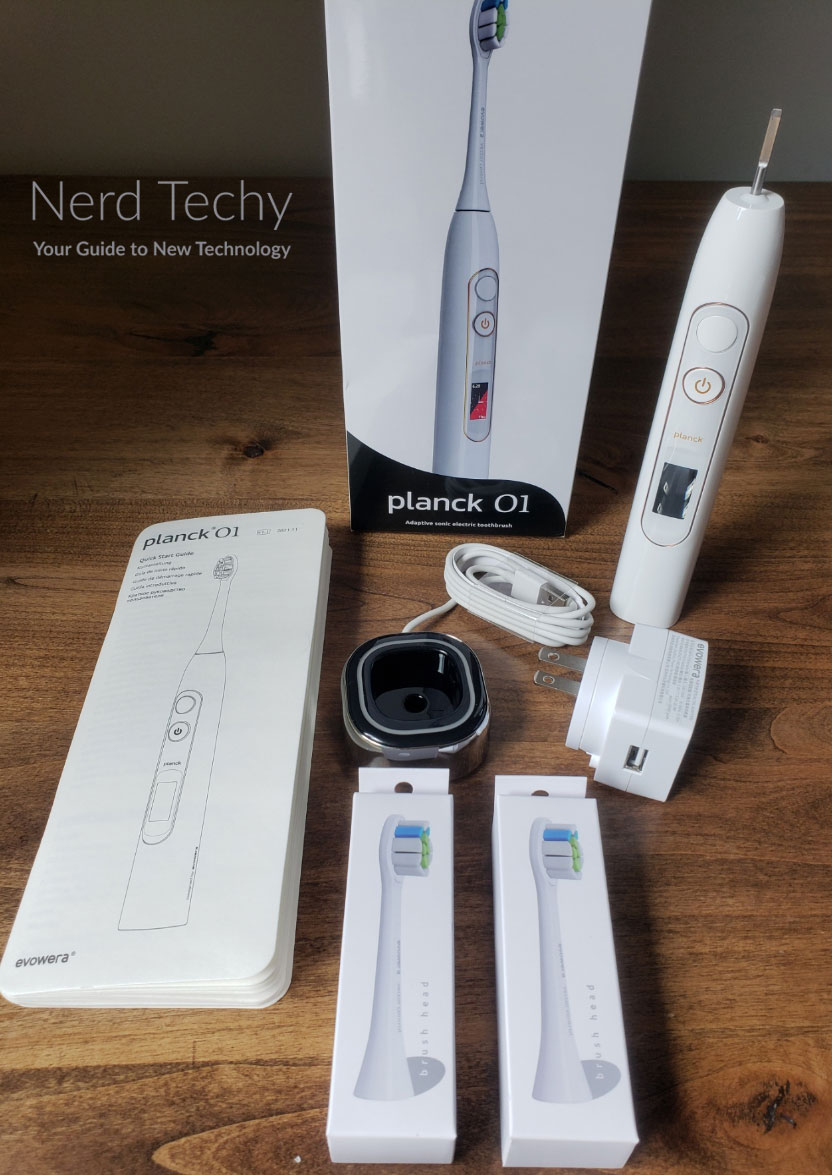 Unboxing & First Look
Within about 2 days we were excited to receive the evowera planck O1 from Amazon. Upon unboxing, we found everything neatly packed within in a very organized manner. First, you get the planck O1 along with two brush heads. Packed separately is the wireless charger with an AC adapter and the USB cable already attached. In addition, there's a lengthy user manual along with information about the included 2 year warranty.
From the moment you take the toothbrush out, you're in for a treat. While picking it up for the first time, you'll immediately notice the smooth glossy finish. While it doesn't exactly offer an improved grip, it's the perfect size for holding in your hand. In addition, the smooth finish means water and toothpaste will clean-off quite easily.
The first thing we noticed is the small color screen. Situated roughly in the middle of the front panel, it's accompanied by two large buttons towards the top, and centered in a bronze-like frame.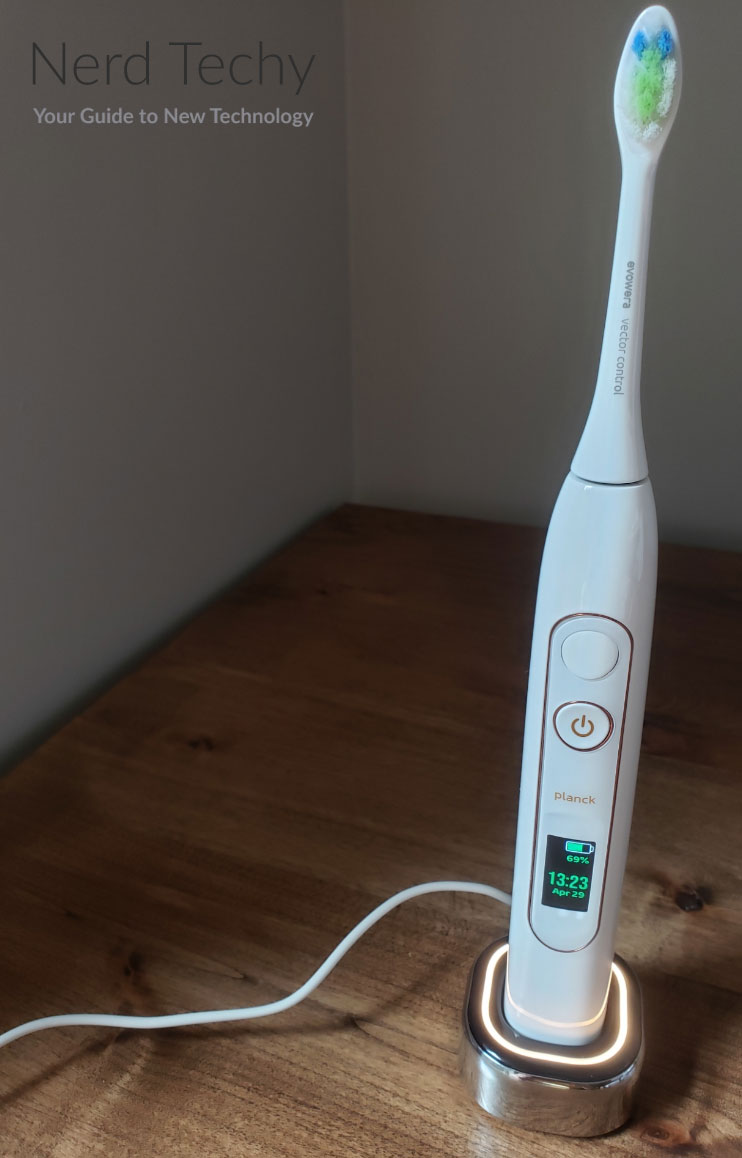 To get started, first, press the power button with your thumb. It'll wake the screen up and ask you to choose between English or Chinese. Use the buttons to scroll up/down and enter your selection. Next, it'll ask you if you'd like to opt for beginner mode. We choose not to, but it's up to you. After that, it'll prompt you to download the evowera app on your smartphone or tablet. Proceed to do so by either scanning the provided QR code or simply searching "evowera" in the Apple iOS or Google Play store. Once you find it, download and install it.
Registering your toothbrush through the app is simple. Either use your email or phone and verify it with the code that they send you. After that, make sure Bluetooth is activated on your smartphone or tablet and the app will proceed to connect to the planck O1. From here, you're ready to start using it.
The App
Although you're not necessarily required to use the evowera app, it's highly recommended. After all, it offers the best and only way to see detailed analytics of your oral health. Notably, it'll intelligently record every brushing session and track history, performance and a wide range of other statistics.
In addition, it'll even tell you the remaining brush head lifespan, plaque accumulation info and other facts. Best of all, it displays an easy to read chart that displays distinct information in regards to your brushing duration, coverage, amplitude deviation, time intervals and brushing force.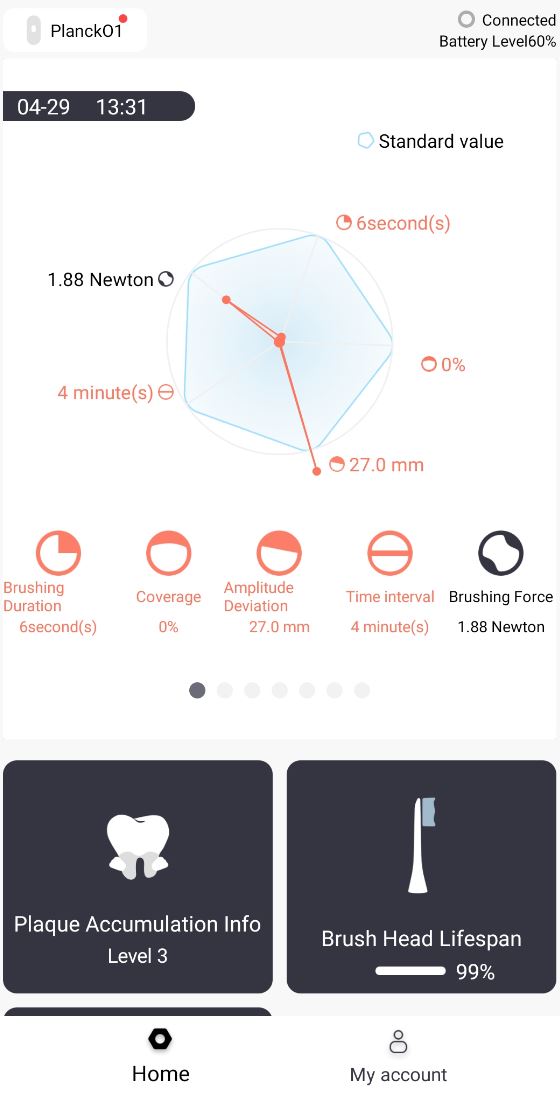 Realistically, the app works very well. It doesn't seem to be buggy or problematic with communicating with the planck O1 toothbrush. After several brushing sessions, the app will automatically update with recent information. Over the course of time, the analytics give you a clear understanding of areas you need to improve or ease-up on.
By enabling you the add all of your preferences, the app is even able to inform the toothbrush to lower its power output in specific areas of your mouth. For those with sensitivity, this is a god-send. Unlike other toothbrushes, the planck O1 has three built-in gyroscopes, three linear accelerometers and a micro computing unit that work together to intelligently understand exactly where it's at in your mouth. Therefore, it'll automatically avoid sensitive areas by letting up on the power output and delivering light scrubbing to any problem-areas.
Full Color Screen
One of our favorite features that we noticed first was the sharp, full color display. It gives you a clear and precise way to operate the toothbrush, even without the app.
Immediately when you "wake-up" the toothbrush and press the power button, a clock and day of week will appear. Next, press the top-button and you're then able to choose one of the many precise modes. Select from therapy, white, clean, comfort, sensitive and adaptive.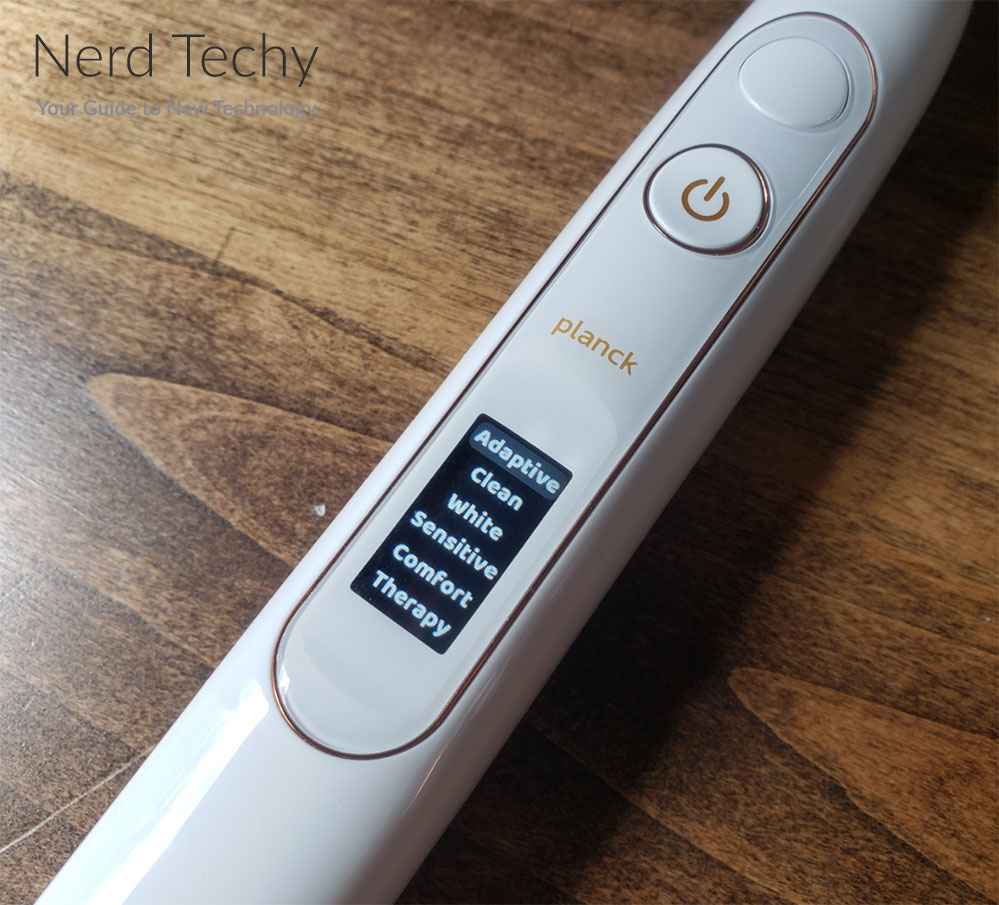 Regardless of the specific mode you choose, each one varies slightly to adjust the way it cleans. Therefore, certain modes such as sensitive or therapy will perform lighter vibration whereas clean and white will offer more intense effects that specialize in different ways.
Our favorite mode is adaptive. By recording your brushing pattern and style, it takes several factors into consideration and creates its own unique profile based on your specific use. Over the course of time, it'll make brushing a custom-like experience.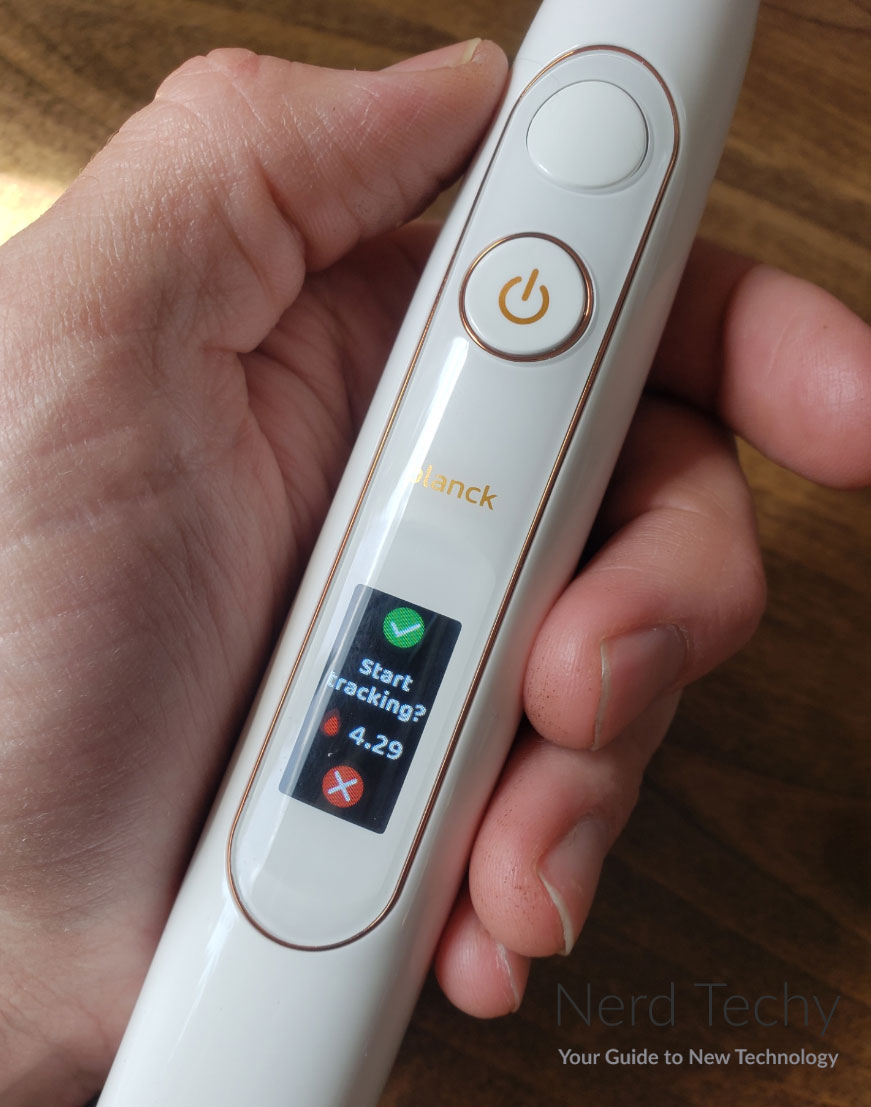 Once you've selected a mode, press the power button and a timer will begin to count-up for two minutes. From here, you're able to manually adjust the intensity by pressing and holding the top-button. Once the two minutes are up, it'll complete the session and forward all of the relative data to the app. Additionally, it'll let you toggle through two other screens.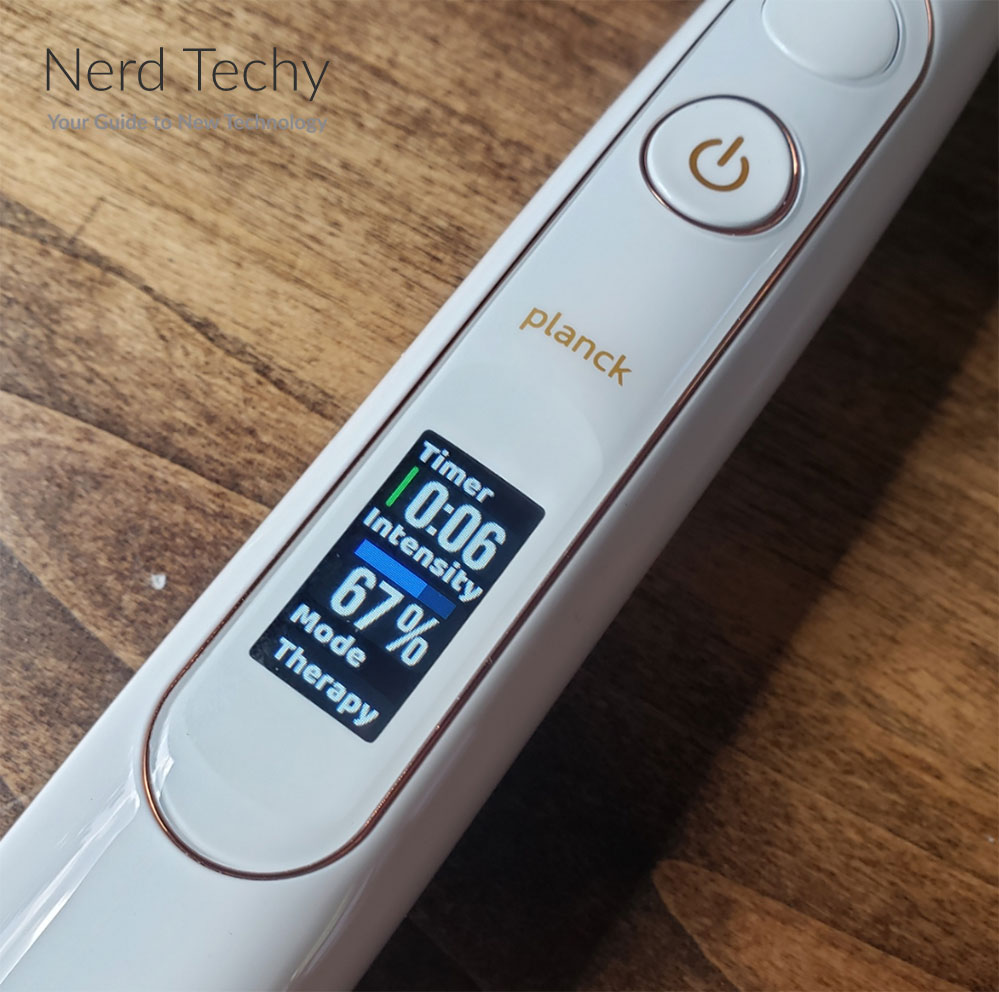 The first screen displays a chart that clearly indicates the coverage, duration and strength of your completed brushing session. Below this is a display of the remaining battery life and brush head. Next, you can proceed to the final screen. This shows a map of your teeth and indicates areas that you missed with different colors. All white areas are successfully clean while any areas with yellow are considered missed spots where you may want to brush again.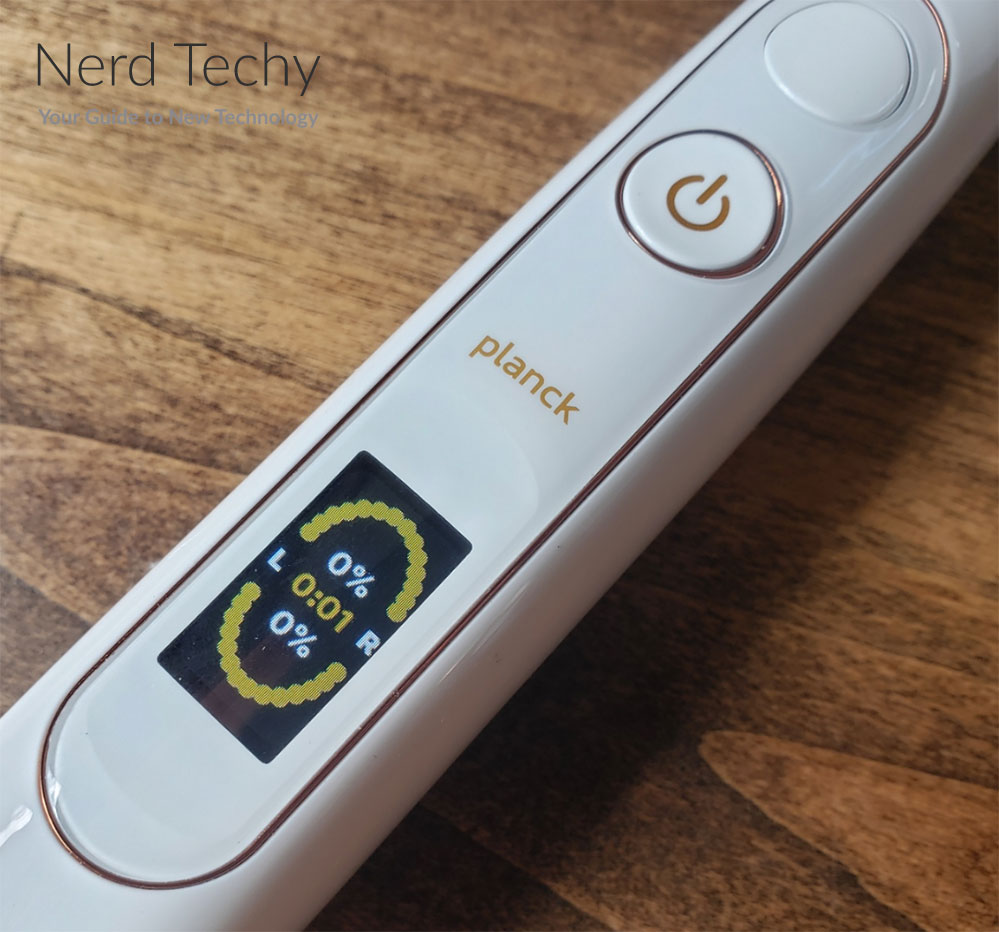 The screen is a nice touch. It's easy to maneuver around without any confusion or added bloat. It appears vivid, beautifully colorful and very sharp, without any blur. All in all, there's a lot to love about the small screen built into the front of the toothbrush.
Power and Noise Level
The evowera planck O1 is equipped with a specialized PMSSM, also known as a permanent magnetic synchronous servo motor. This is an industry-level motor that delivers an outstanding 42,000 RPMs at a noise level of 48 decibels. Simply put, it's incredibly powerful yet relatively quiet.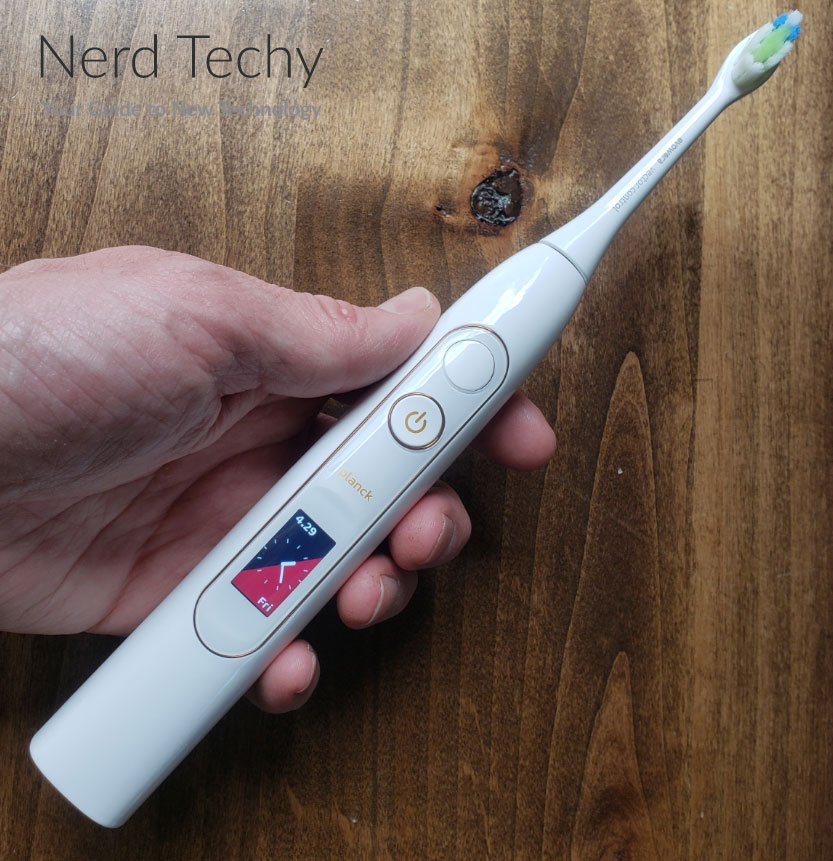 Because the motor uses an advanced servo motor, you're getting the best of both worlds. In fact, it's said to be 30% more efficient than any other basic electric toothbrush while delivering a 33% improvement on battery efficiency and longevity. The result is quiet cleaning that's longer lasting and better performing than other options.
We found the noise to be surprisingly low. In reality, it's even a bit quieter than the name-brand Sonicare electric toothbrush we used to use in the past. While using it, there's only a slight humming with a consistent vibration that doesn't seem to skip a beat.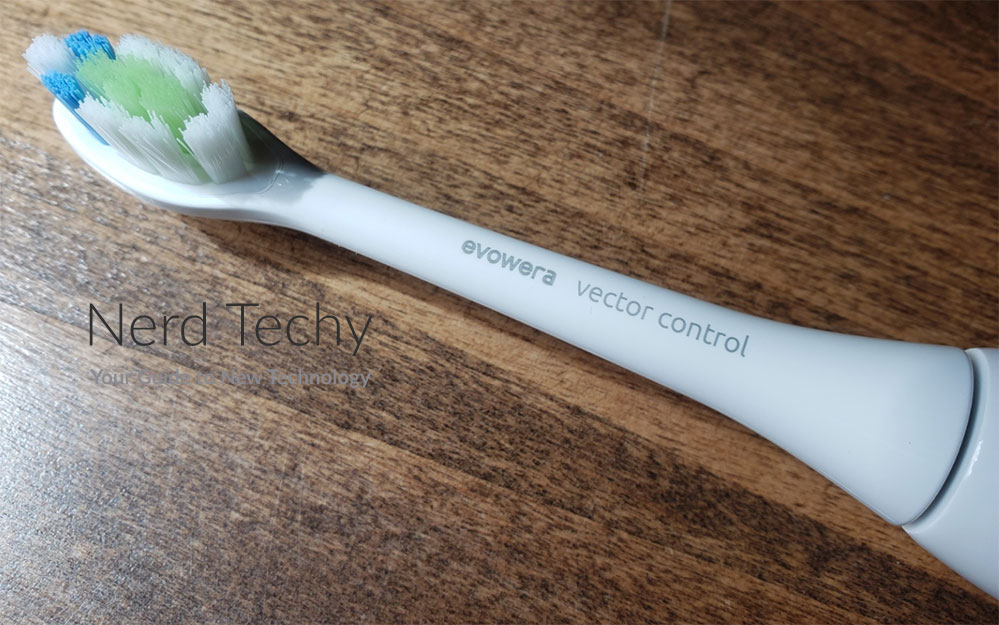 Brush Heads
Packed in the box are a total of two brush heads. Each one is of the same variety, but both are comprised with specifically designed details. Most importantly, the bristles are made from DuPont branded materials which have been proven for decades as the top-choice for safety and reliability. They're oriented in a way that's been thoughtfully planned and engineered.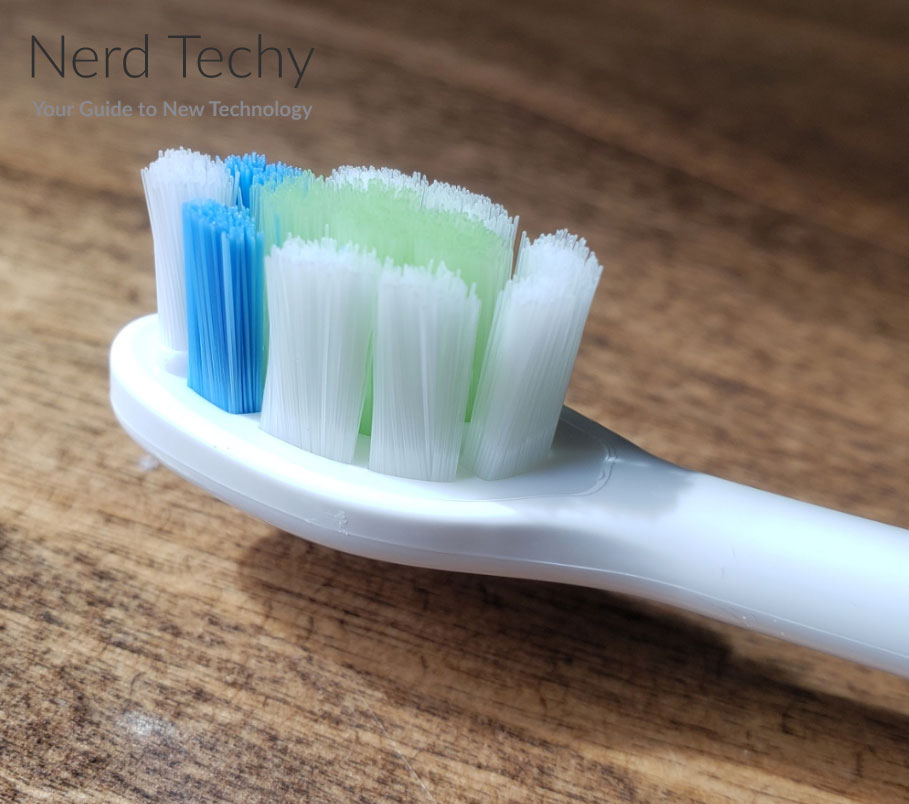 In fact, each bristle is individually polished, densely packed and cut in a manner that promotes gentle abrasion. The nylon material is soft to the touch and each end is smoothly cut. As a result, the end of each bristle is finely terminated down to a microscopic level where it appears uniform in both size, shape and length.
Best of all, each brush head has its very own built-in NFC tag that identifies individual users and creates an accurate estimate on the remaining brush head service life. Based on brush strength and frequency, it'll notify you within the app when it's time to change-out your brush head.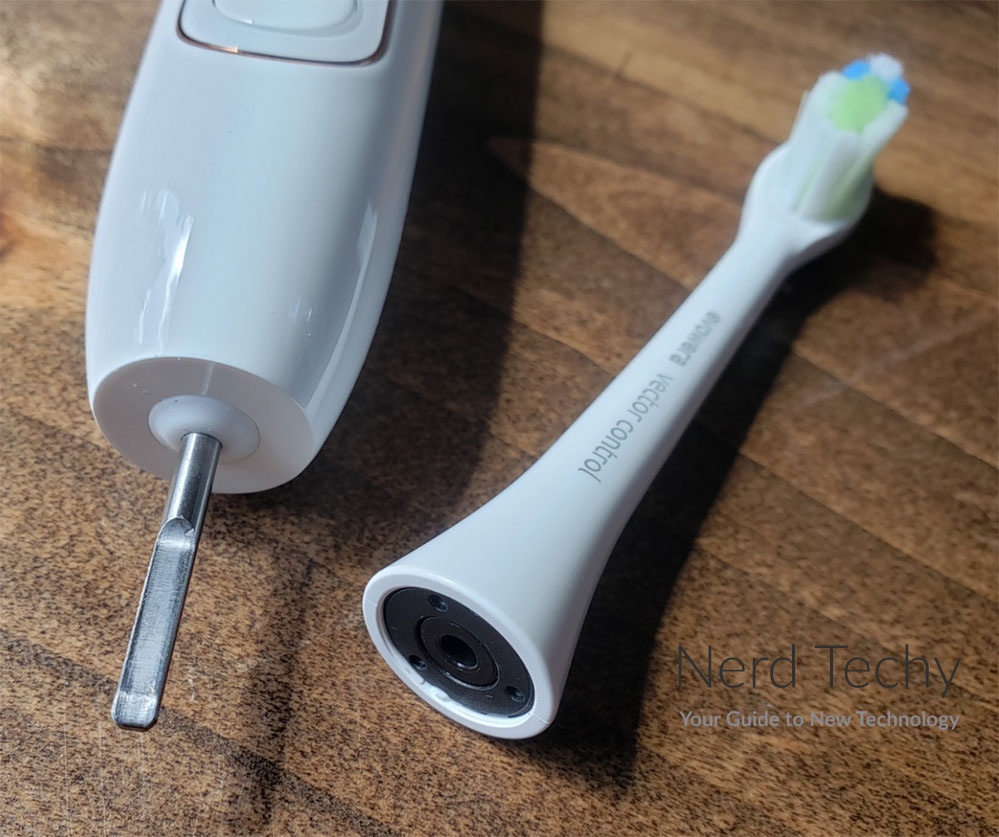 In addition, the design of each brush head is universal. That said, you're able to use other, off-branded brush heads if you desire. You're not stuck with being forced to re-order specific brush heads that only work with this specific brand and model.
Charging and Battery Life
Internally, the evowera Planck O1 is equipped with dual rechargeable battery cells. Although it's not replaceable or even accessible, it boasts 2,080 mAh of total power capacity. This is a fairly large battery that's said to offer 28 days of consistent use on a single charge. While this estimate is based on two brushing sessions per day, it's only an estimate. Realistically, the actual duration of the battery depends on several factors including but not limited to cleaning mode, intensity, brush time, and ambient temperature.
In our testing, we have been using it for a week without the charger and it's only dropped about 20% of the total battery life. Simply put, we're right on track with the 28 day estimated battery life. We have been using it to brush twice per day, with two minutes for each session.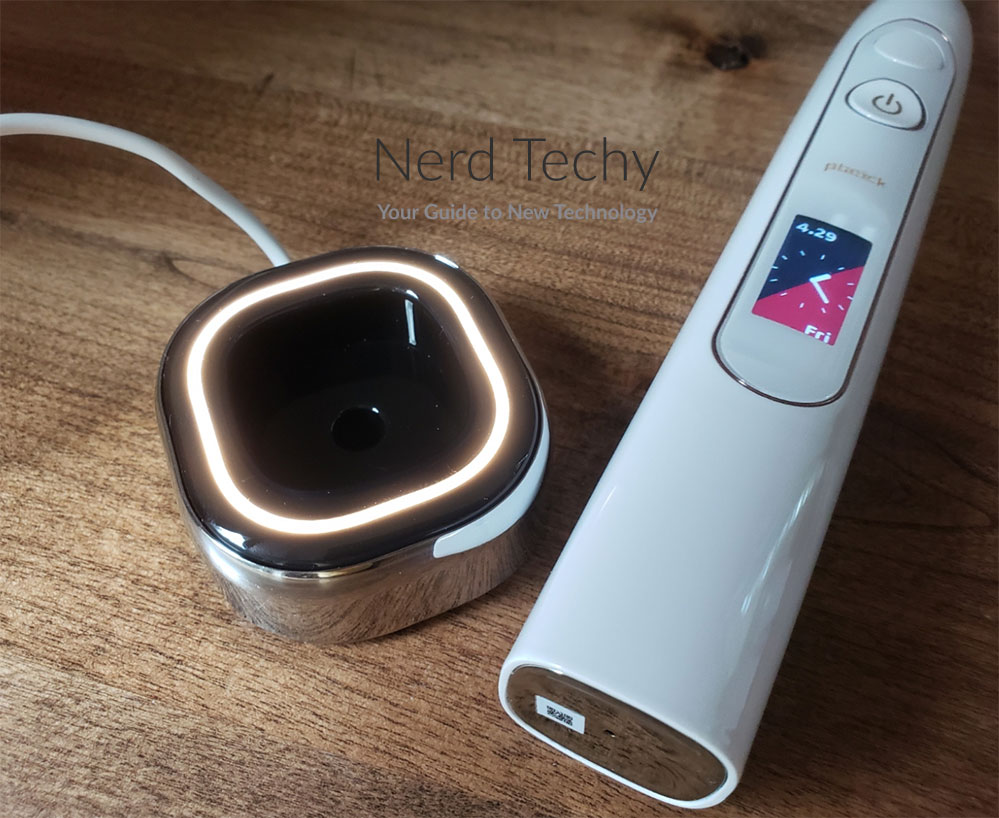 Charging the Planck O1 is quite simple. Using the provided wireless charger, it acts as a dock for automatically keeping your toothbrush's internal battery topped off at all times. When the toothbrush is nestled in the charging cradle, it also offers a stable resting place while it's not in use.
Charge times using the provided wireless charger are incredibly quick. After resting on the charger for just 3.5 hours, it's able to fully charge the Planck O1 from 0% to 100% capacity. That's incredibly fast and very efficient.
Charging automatically occurs every time you place it on the wireless charger. That said, if you use the charger every day and night, you'll literally never need to worry about it randomly running out of battery. And while the charger is relatively portable and small, there's no other way to charge the toothbrush.
In fact, you cannot manually plug-in a USB cable, you're forced to use the wireless charger. While it's compatible with virtually every and any other Qi wireless charger you may already own, we think it would have been nice to have the option to plug-in a USB cable if we desired to do so. Either way, it's not a huge issue for most, but we thought it was worth mentioning.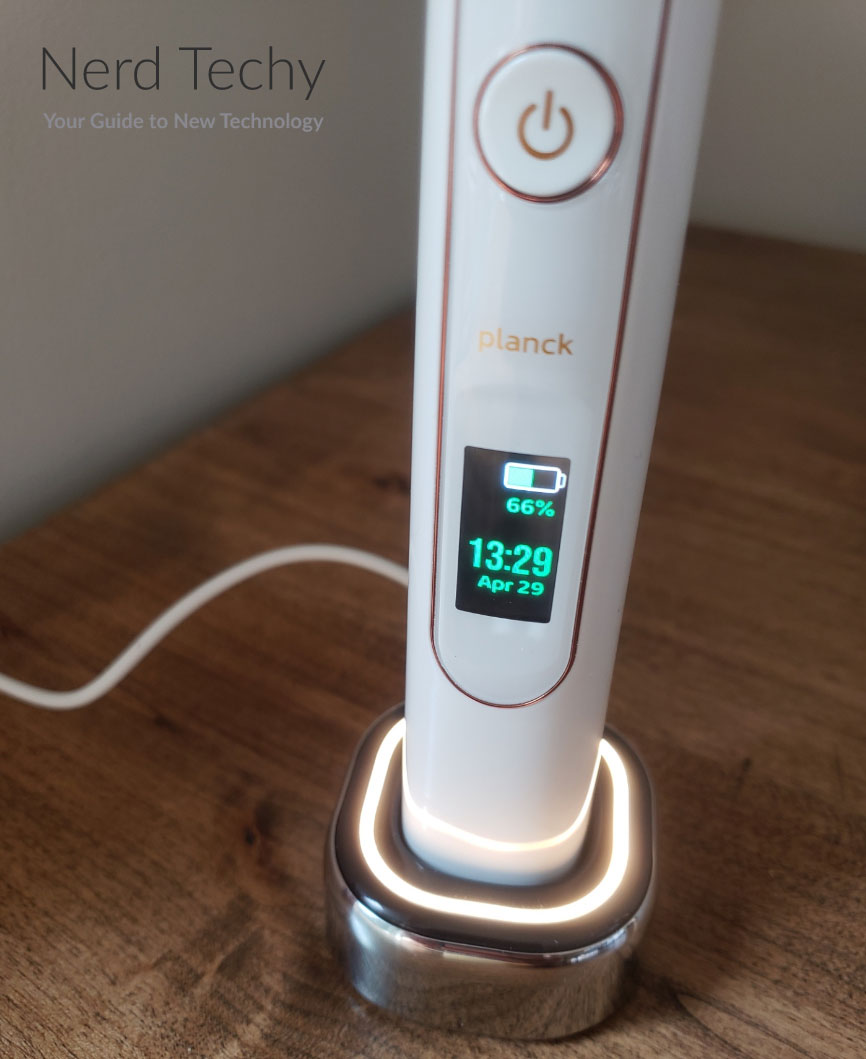 Durability
The evowera Planck O1 has an IPX7 waterproof rating. Ultimately, this means it can be completely submerged in up to 1 meter of water for 30 minutes. While you'll likely never need to use it underwater, it's nice to see that it's tightly sealed. Simply put, there's no chance of water or moisture ever posing a real threat to the integrity and longevity of the toothbrush. You can freely use it under your faucet or even in the shower without worry.
As we mentioned earlier, the exterior of the O1 is very smooth to the touch. Because of this, it naturally repels and wicks away beads of water. Although this isn't really a necessity due to its hermetically sealed design, it offers a nice feel that we really enjoy. In fact, it emits a high-quality presence that should definitely be a standard at this price-point.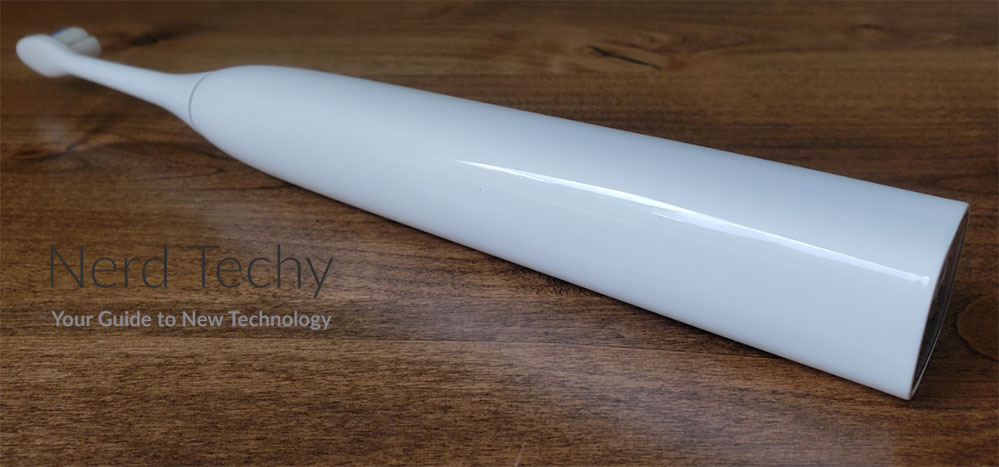 Final Thoughts
All in all, the evowera Planck O1 is an excellent choice. Throughout our testing and real-world use, we truly wouldn't hesitate to recommend it to anyone looking for a top of the line electric toothbrush. It has just about every feature we could ever wish for and some new-to-us features that we now couldn't live without.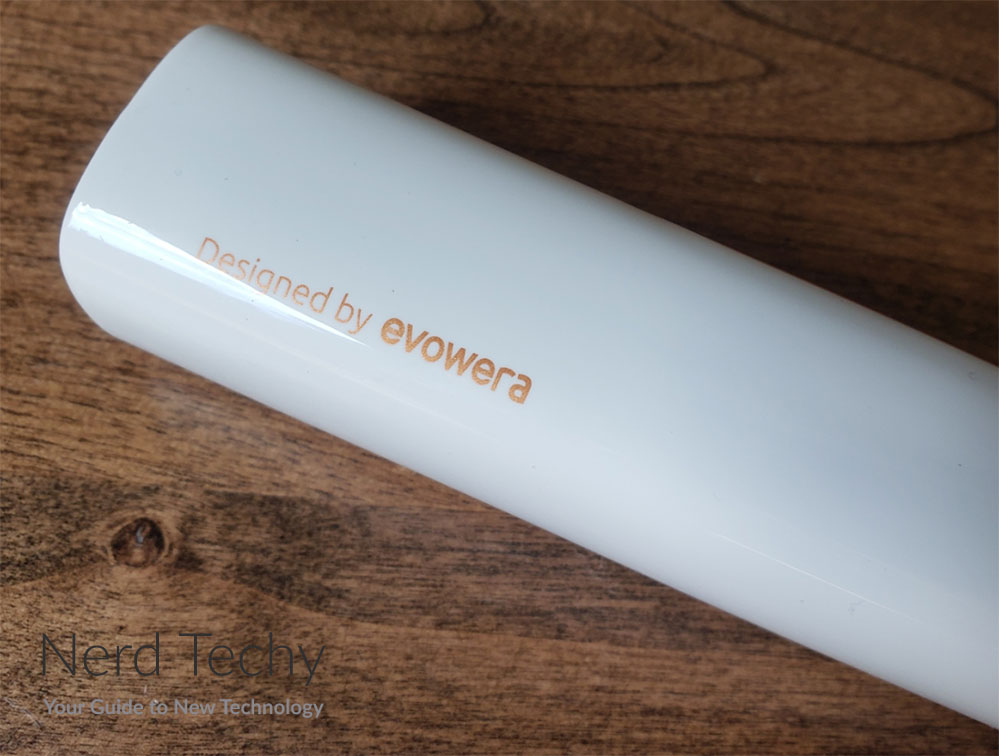 It's designed well and built to near perfection. While it doesn't allow for manual cable-attached charging, the included wireless charger is a nice addition. It offers fast charge times and a simple way to keep it upright while not in use. We admit, it would have been nice for a travel case or pouch to be included, but it's not that big of issue.
At first, the app connectivity may seem unnecessary, but once you start using it on a daily basis, you're likely going to find enjoyment with it, as well. Unlike other app-connected "smart" devices, the evowera app actually works exactly as intended. The brush history and adaptive control are nice features to have. In addition, its ability to intelligently map your mouth is super interesting.
Meet Derek, "TechGuru," a 34-year-old technology enthusiast with a deep passion for tech innovations. With extensive experience, he specializes in gaming hardware and software, and has expertise in gadgets, custom PCs, and audio.
Besides writing about tech and reviewing new products, Derek enjoys traveling, hiking, and photography. Committed to keeping up with the latest industry trends, he aims to guide readers in making informed tech decisions.