When it's cold outside and your heat is running at full blast, you'll start to feel dried out. That's because of something called relative humidity. Basically, the warmer air is, the more moisture it can hold. When the air gets cooler, it can't hold as much. That's why it can get foggy when the temperature suddenly drops. All the moisture in the air has nowhere to go. So it hangs around as fog until it settles or the air warms up again. The opposite happens when cold air is heated. Even if it's fully saturated with moisture, it will come out of your heater feeling dry. That's why it's easy to get dehydrated during the winter. Breathe too much dry air, and your nose can get dry and cracked, and you can get a sore throat.
If you'd rather not suffer through the winter, you'll need to get a humidifier. That way, you can keep your air from getting too dried out, and keep your nose and throat happy. But what is it that makes one humidifier better than another? There are plenty of things to consider. But probably the most important thing to think about is the total output. Basically, how much water can the humidifier put out, and how long does it last for? The larger the humidifier, generally speaking, the larger an area it can manage. A smaller humidifier, on the other hand, will tend to be more convenient and easier to use. Which one is best will depend on your situation.
We're about to review three of the best mini desktop humidifiers available today. These might not be the most powerful humidifiers, but they make up for it in size and convenience. First off, we'll look at the Toosci Mini Humidifier. This is a compact, 400ml humidifier with multiple color-changing light modes. Next, we'll check out the SmartDevil Small Humidifier. This is a mid-sized, 500ml humidifier that's available in multiple color options. Then, we'll examine the GENIANI ERIE Portable Cool Mist Humidifier. This is a tiny, cupholder-sized humidifier with a smaller, 250ml capacity. Which one is the right choice for you? To answer that question, we'll have to take a much closer look at all three of our options. Once we've taken a closer look, we'll be able to render a fair verdict. Let's get started!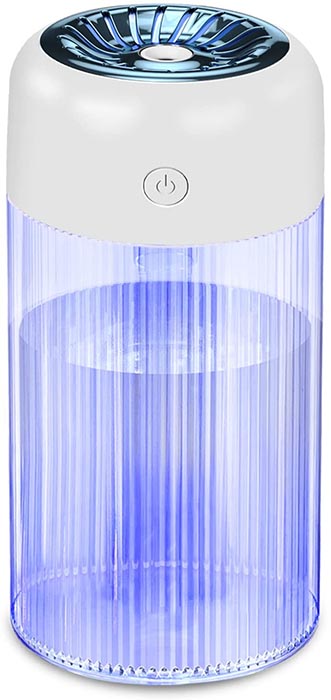 Toosci Mini Humidifier
The Toosci Mini Humidifier consists mostly of a large, transparent water tank. The entire unit measures 6.1 inches high, with a diameter of a mere three inches. The lower, tank portion has ribbed sides, which makes it easy to grip, even when it's damp. The bottom is completely flat, so it sits nicely on any surface. The top inch and a half or so of the housing is white in color, with an easy-to-clean matte finish. There's a power button on the front, which is used to control the humidifier. The sides curve gently up towards the top, where you'll see the diffuser. It's styled to look like a big fan, but the mist only actually comes out from the hole in the center.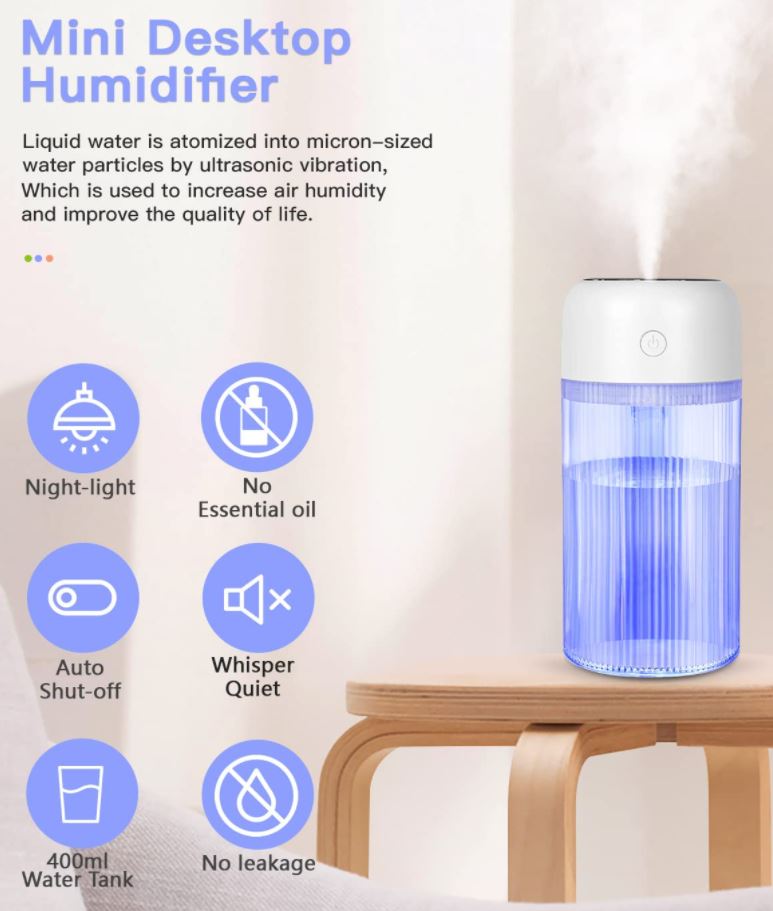 The bottom of the white housing has a built-in LED light, that shines down into the reservoir. This light lets you keep track of how much water is remaining, even in the dark. By pressing and holding the power button, you can cycle through seven different colors. In addition to the default blue, it can be red, orange, yellow, green, pink, or purple. This is pleasant and attractive, and honestly a nice touch of style!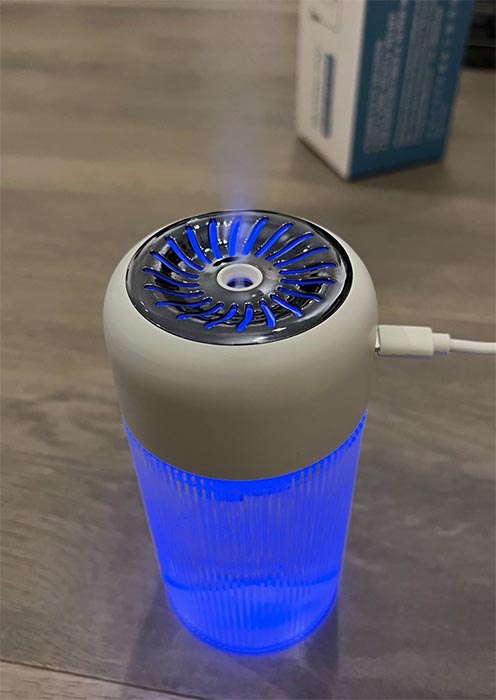 This humidifier runs on ordinary 5-volt USB power. This means it can be powered by any USB port. You can even run it from a laptop or USB power bank if you so desire. There's a USB to USB Type-C cable included for this purpose, although it's fairly short.
Performance and Extra Features
The Toosci humidifier is an ultrasonic humidifier. This means it uses ultra-high frequency sound waves to agitate the water. As water enters the aerator, these sound waves cause it to aerosolize. It then sprays out into the air, and spreads throughout your room. The process is very quiet, with a maximum of 20 decibels. To put that in perspective, normal human breathing is around 10 to 20 decibels. So you're looking at a very quiet humidifier.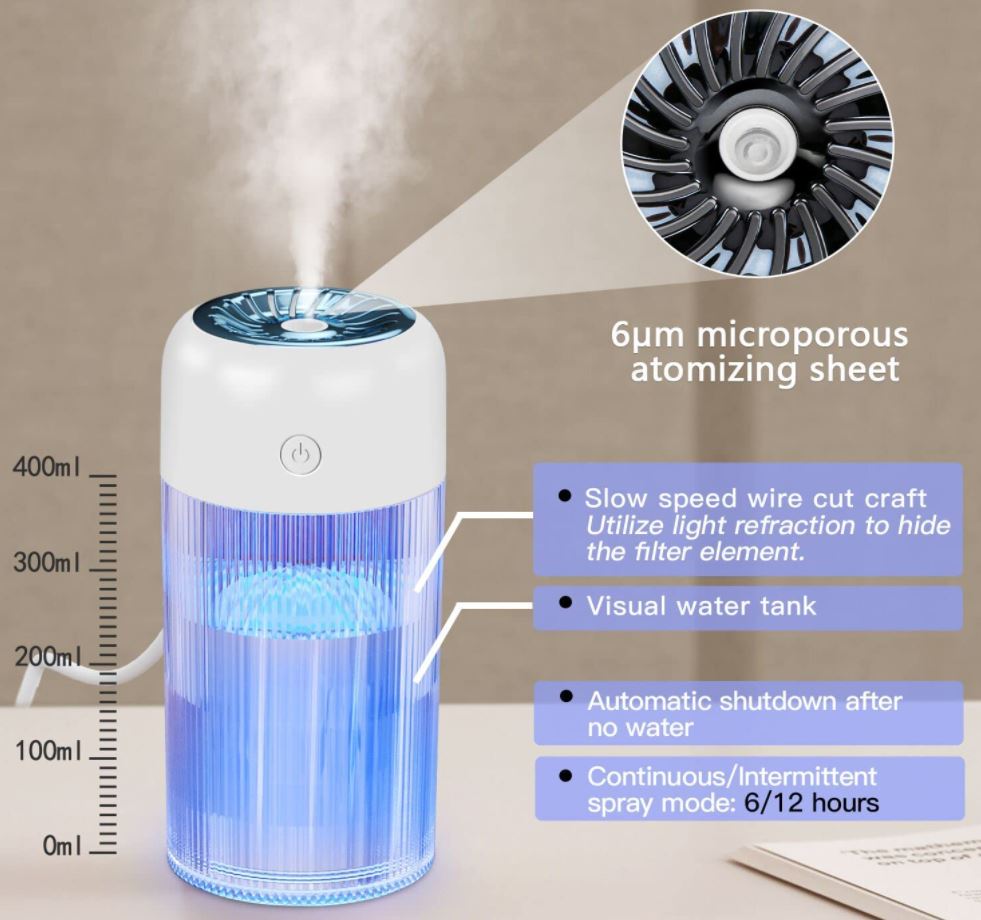 This machine has two different operating modes: continuous and intermittent. Both modes work about as you might expect. Continuous mode releases a constant, uninterrupted spray of vapor. Intermittent mode, on the other hand, releases periodic bursts of mist. In continuous mode, the 400ml reservoir will be good for about six hours of operation. In intermittent mode, that doubles to approximately 12 hours.
To keep you from running the reservoir die, there's a timer that will automatically shut off the humidifier. This sounds great in theory, but the implementation is a bit weird. When you're in continuous mode, the timer will shut off the motor after four hours. In intermittent mode, it will run for eight hours. At that point, the humidifier will shut down, and you'll have to restart it manually. But if you do this, the timer will run for another four our eight hours respectively, which would be too long. In practice, you'll want to refill the reservoir at this point if you're not babysitting it.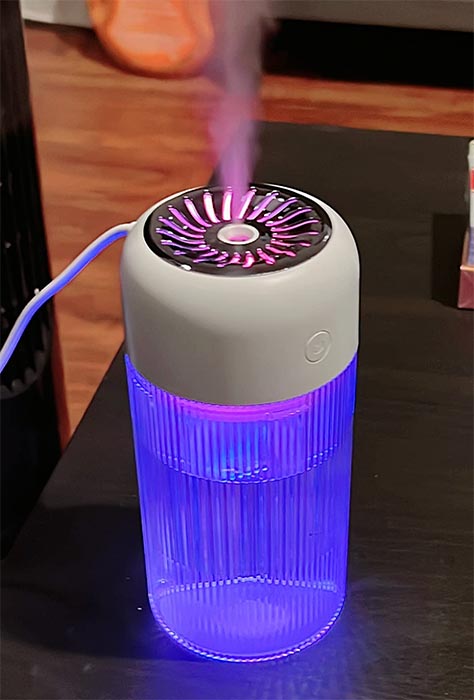 In the middle of the reservoir, hanging down from the top, there's a stiff cotton wick element. Before powering the humidifier on, it's essential to wet the element down completely, and let it get soaked. You can use the same filter element for dozens of uses, but eventually it will need to be replaced. You'll know it's time when it's turned completely yellow.
If it's not clear by now, we're talking about humidifiers. These are designed to increase the amount of moisture in the air. But what if you want to dry the air out? In that case, the Afloia Mini Dehumidifier. It's marketed for gun safes, but it's also great for bureaus, closets, and other small storage spaces.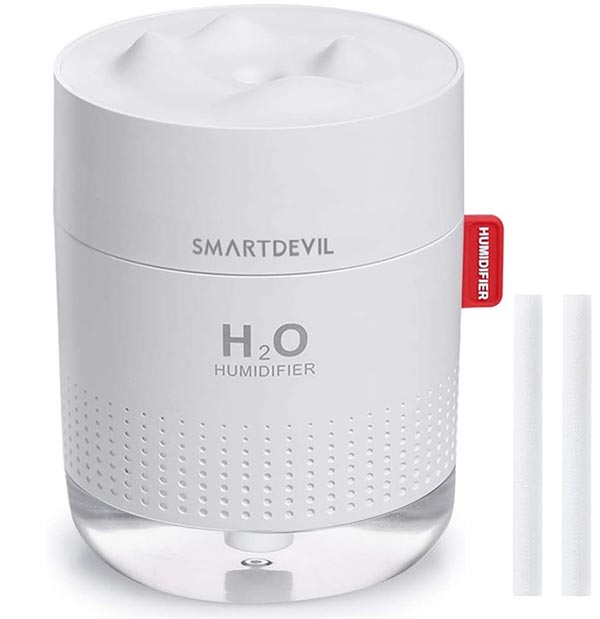 SmartDevil Small Humidifier
The SmartDevil Small Humidifier has a little bit more traditional of an appearance. While the reservoir is still visible, you can only see the bottom inch or so. That's enough to know it's getting empty, which is all you really need. The rest of the cylindrical housing has a solid matte appearance, with dimpled sides for added grip. You can choose between five different colors: white, grey, pink, and light or dark blue. All versions of the words "SmartDevil H2O Humidifier" printed on the front in light grey. The overall size of the housing is 3.74 inches in diameter and 5.08 high. So despite being the largest of our three choices, the footprint is reasonably small.
This humidifier has a light function, much like the last one. However, this is a soft white light, rather than a colored one, and it shines from the top of the housing. It's meant to act as a night light, and it works well as such. Alternatively, you can set it to breathing mode, and it will fade in and out. But most importantly, the light can be operated independently of the humidifier function. This means you can turn it off at night, so it won't keep you awake. And if you want to use it as a night light but not a humidifier, you can do that, too.
The SmartDevil has a Micro USB power supply, rather than USB Type-C. But other than that, it works the same way. You plug the short cord into any USB outlet, and you're ready to go.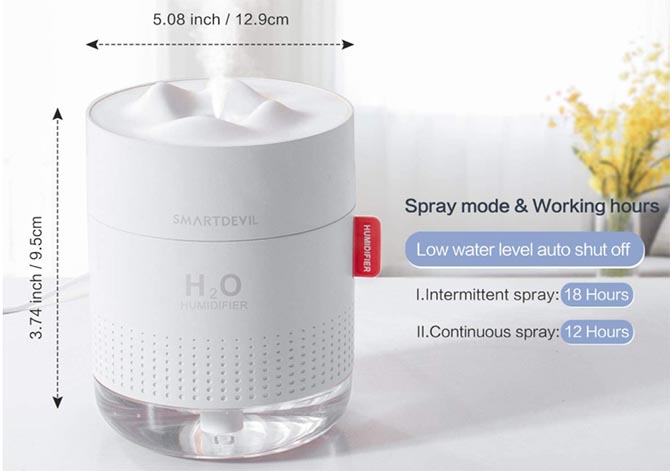 Performance and Extra Features
Like the Toosci humidifier, the SmartDevil is ultrasonic. It uses high-frequency sound waves to help aerosolize the water. It also works in much the same way, with continuous and intermittent operating modes. That said, it has a larger capacity, with a 500ml reservoir. This gives it enough water for 12 hours of operation in continuous mode, or 18 hours in intermittent mode. Operation is relatively quiet, with a maximum noise level of only 30dB. That's not as quiet as the Toosci, but it's close. And as an added bonus, there's a level sensor in the reservoir. So instead of a safety shutoff timer, it's based on the actual amount of water remaining.
This humidifier has a cotton core, which needs to be soaked before you can safely use the humidifier. It will need to be replaced, but you won't have to buy extras right away. The kit includes an extra core, so you get a bit more longevity.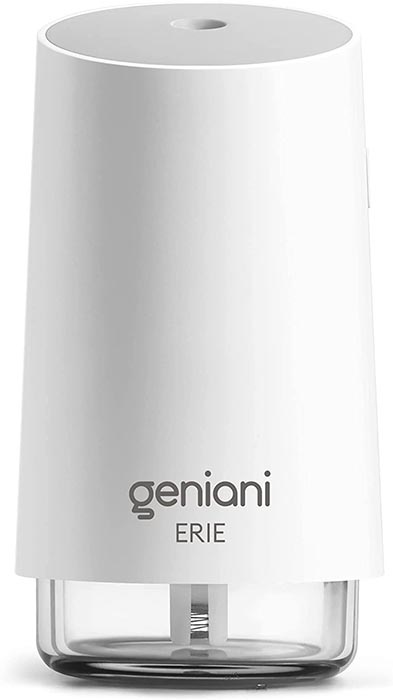 GENIANI ERIE Portable Cool Mist Humidifier
The GENIANI ERIE Portable Cool Mist Humidifier is meant to go where other humidifiers can't. At about the size of a water bottle, it's designed to sit in your car's cupholder. This makes it great for cold winter drives. It even comes with a 3-foot USB cord, which lets you reach from your cupholder to your power port. The housing is available in white or black, and has a transparent bottom. It's ever so slightly tapered, with a wide base and a narrower, slanted top.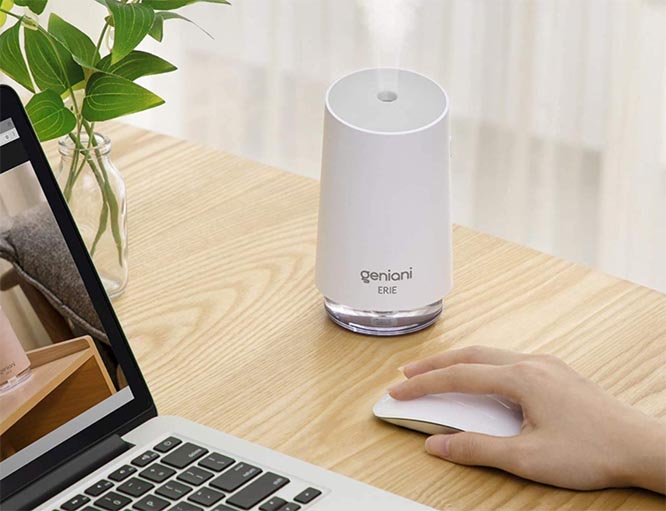 There's a white light inside, which illuminates the tank. The power button is located on the side, and activates both the light and the humidifier function. Press it once, and the light will come on. Press it again, and the mist will start. A third press will turn the light off, but leave the mist on. Pressing the button yet again will turn the whole machine off. If anything fails, you'll be covered by GENIANI's 12-month manufacturer's warranty.
Performance and Extra Features
This is yet another ultrasonic humidifier, with continuous and intermittent operating modes. Because of the small size, the tank is correspondingly small, at only 250ml. This is enough for four hours of continuous operation, or eight hours in intermittent mode. Surprisingly, despite its size, it's actually the loudest of the three. Although at a maximum of only 38 decibels, it's still just a quiet whir. On the plus side, the safety shutoff feature is based on a water level sensor, like the SmartDevil's. That means you can take full advantage of the entire tank.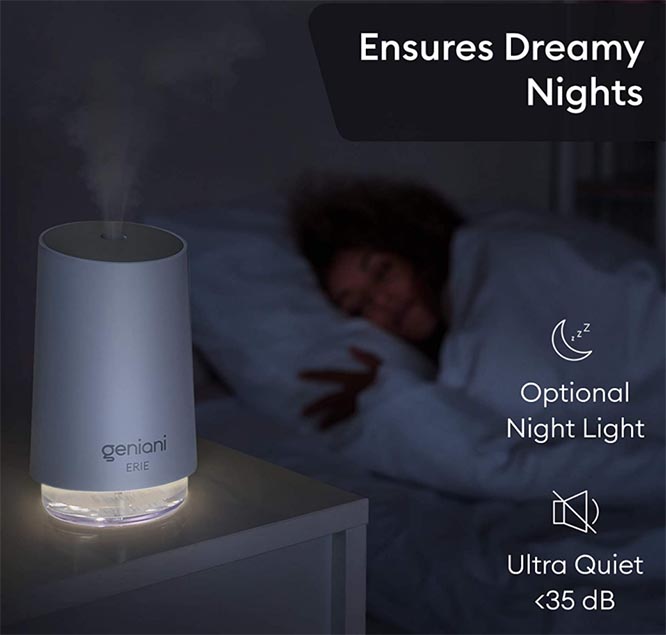 One thing all of these humidifiers have in common is that they don't have any extra air treatment options. If you want to freshen the air while you humidify, take a look at the Levoit Dual 100. It's a high-quality mini humidifier with a built-in essential oil diffuser.
Final Verdict
So, which one of these dehumidifiers is the best of the bunch? Let's go over what we've learned. We started out by reviewing the Toosci Mini Humidifier. This has an attractive LED light, as well as a respectable 400ml capacity. We love to way it looks and have been very happy with its performance.
The SmartDevil Small Humidifier is the beefiest and longest lasting. This is as much power as you can expect from a USB-powered machine Of course, it's still fairly compact, and suitable for a single room. The reservoir sensor is also a nice touch. You can safely let the humidifier run until it's empty, and it will be just fine.
The GENIANI ERIE Portable Cool Mist Humidifier, on the other hand, is the most portable. With only 250ml capacity, it's not going to run all night. But it's great for using in your car, or for humidifying a small cubicle. And just like the SmartDevil, it has an intelligent safety cutoff, so you can't accidentally burn it out.