Bagotte BS900
Pros
Powerful, 25KPa maximum suction.
Interchangeable roller barrels for carpets and hardwoods.
Lightweight and easy to handle.
Built-in HEPA filter.
Cons
Battery life is not very long at full power.
Does not include a mini roller.
When most people think about the latest technological advances, they think about "smart" technology. This is understandable. Processing power, machine learning, and wireless technology have been advancing in leaps and bounds. As a result, our homes are now full of connected, automated devices. These areas of technology are also the most exciting to most people. Everyone loves automation, since it saves them time. And if the new technology is anything related to entertainment, it's understandable why people get excited. Who doesn't want a better TV, sound system, or game console?
But there has also been another, quieter technological revolution: smaller, more powerful batteries. The most visible example is Tesla, a company that wouldn't exist if it weren't for their advanced battery technology. But better batteries have been improving other gadgets as well. Think of your average smartphone. It does way more work than a phone from the 1990s, but the battery lasts several times as long. More powerful batteries have also allowed for more powerful battery-operated devices, like robot vacuums.
Today, we'll be reviewing the Bagotte BS900 8-in-1 Cordless Vacuum. This vacuum isn't robotic, but it does provide a whopping 25,000Pa of suction power. That's more than most upright vacuums, enough to clean up serious messes. But just because it's powerful doesn't mean it's the ideal cordless vacuum. To find out how well it performs, we'll need to look at all aspects of its design. We'll consider the construction materials, the accessories, and how it's operated. We'll also take a look at the battery power, as well as the design at the filtration system. At that point, we'll have a complete enough picture to render our final verdict.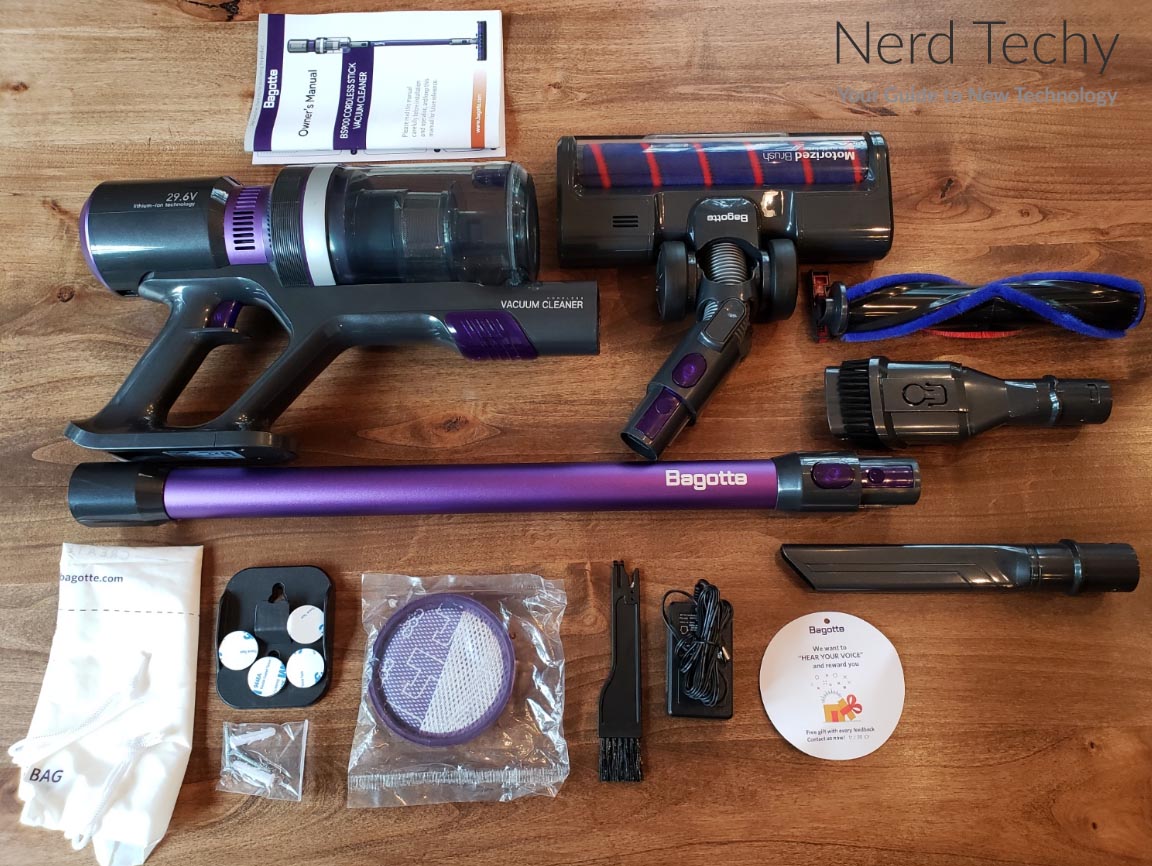 Physical Design
The Bagotte BS900 (Amazon Discount Code: 9QJLDRG4) is built with the same general configuration as most stick vacuums. It consists of a motor housing with a grip, a dust bin, and a removable extension tube for your attachments. The grip is a pistol grip, much like a power drill. This makes it comfortable to hold, even while you're operating the vacuum for an extended period. This grip, along with the rest of the housing, is constructed from black ABS plastic, with a smooth, matte finish. Above the grip, the battery, motor, and dust bin are positioned from back to front in a single cylinder. The dust bin portion of the cylinder is transparent, which makes it easy to see when it's getting full.
The overall weight of the vacuum is 2.84 pounds, with most of that located towards the back. The positioning of the battery and motor are such that the balance is excellent in any scenario. One thing we appreciated was the fact that the battery is on the top back instead of the bottom. This makes the vacuum easier to manage when you're holding it overhead. It's ideal for cleaning curtains, the tops of cabinets, and other high-up objects.
The controls are straightforward and easy to understand. On the back of the housing, you'll find a single grey button that controls the motor speed. It has two halves, with a "+" and "-" sign respectively. Above this button, there are three blue LEDs. These illuminate based on the power level. So the leftmost LED lights up on the first setting, the left two illuminate on the second setting, and so on. To turn the vacuum on, you need to pull in the trigger. It's easy to pull, but there's no way to lock it in place. You have to hold it down the entire time you're vacuuming. This shouldn't be an issue for most people. But if you have arthritis or another grip-related issue, you might have difficulty vacuuming for long periods.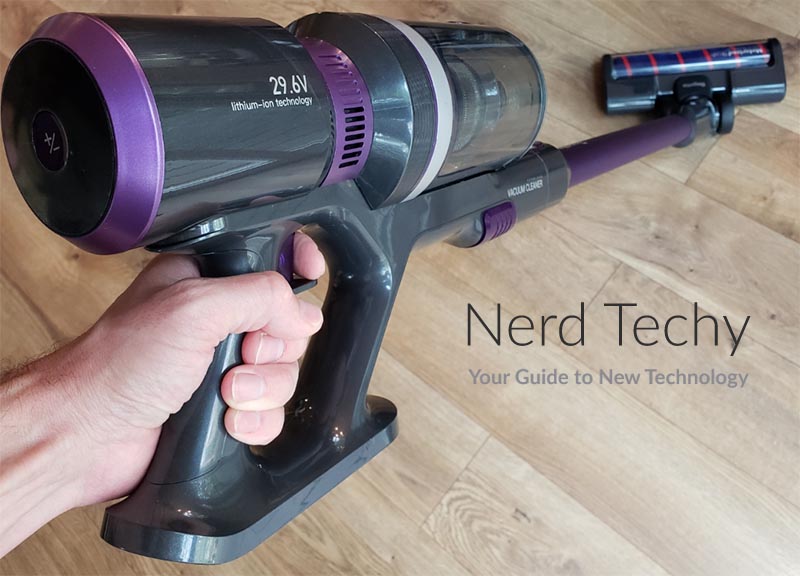 The dust bin has a capacity of 0.6 liters, which is reasonably large. Most stick vacuums have a capacity of between 0.5 and 0.6 liters, so you're at the high end of normal. In addition, it's easy to dump out without making a mess. Instead of removing it, you simply open a latch and dump it into the trash. That said, it can be completely removed when you need to access the filter.
Along with the vacuum and the attachments, you also get a charging base, complete with mounting hardware. You attach the base to your wall, plug it into a power outlet, and your vacuum charges as it hangs. We would have liked to see some kind of storage option for accessories. However, storage is a common issue with stick vacuums, and the base is otherwise well designed.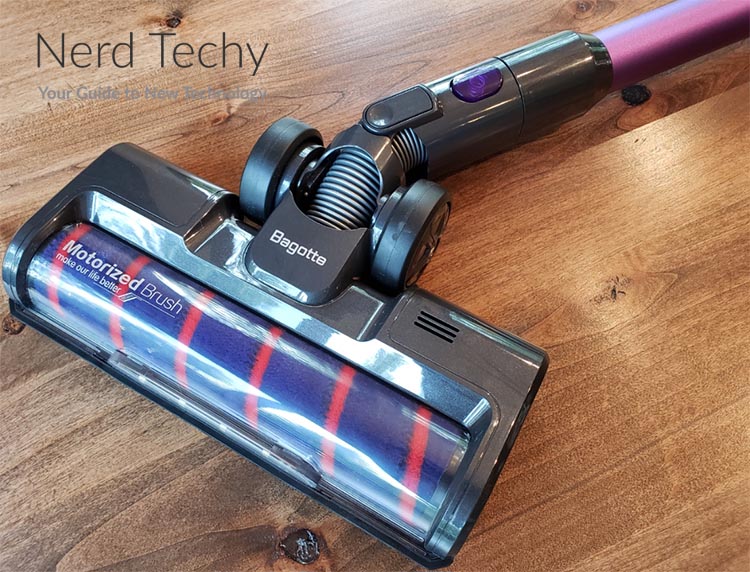 Cleaning & Accessories
As we've already mentioned, the BS900 has three different power levels. The most powerful of these provides 25,000Pa (Pascals) of suction. That's about 25% more than the average upright, wall outlet-powered vacuum. It's enough to clean heavily soiled carpets, dense pile carpets, and chunky messes on solid floors. For less demanding tasks, the minimum setting pulls at a modest 7,000Pa. That's not enough for heavy-duty messes. But it's enough for light cleaning. It's also ideal for delicate surfaces like curtains, where a powerful setting might cause damage.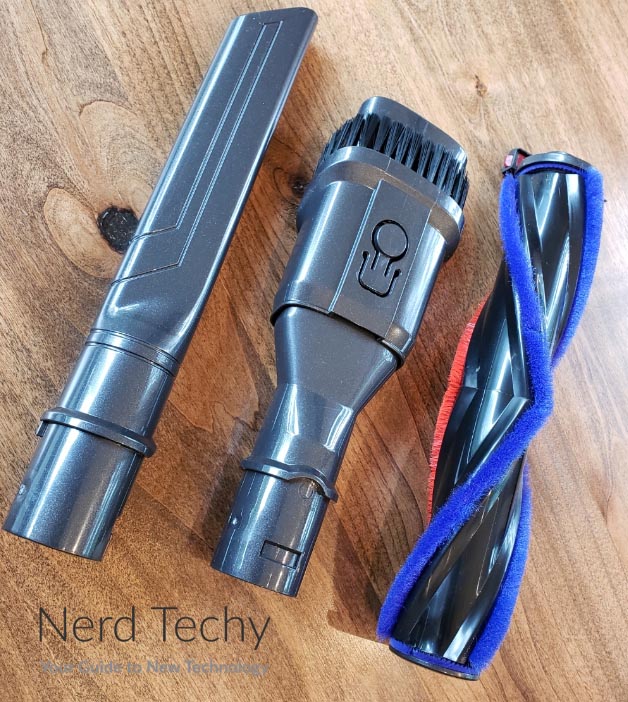 Now, you might think that a more powerful setting is generally better. But that's not always the case. For one thing, more powerful settings are significantly louder. If you're worried about waking up a sleeping baby, the medium setting will be preferable to the maximum. Along the same lines, more powerful settings also drain your battery faster. Instead of shooting for the highest setting, consider using the lowest setting that's appropriate for the job. You'll get better performance.
The most impressive thing about the BS900 isn't its motor, as powerful as that is. It's the roller attachment, which is very well engineered. To begin with, it sports a bright LED on the front, so you can see under sofas, shelves, and other obstructions. It's also very flexible, with a flexible hose in the neck that won't snap or leak. But most impressively, there are not one but two barrels. One is a standard, brush-style barrel for cleaning carpets. The other, however, is more like a soft paint roller. It's for cleaning hardwood floors, so you don't scratch your finish with a brush.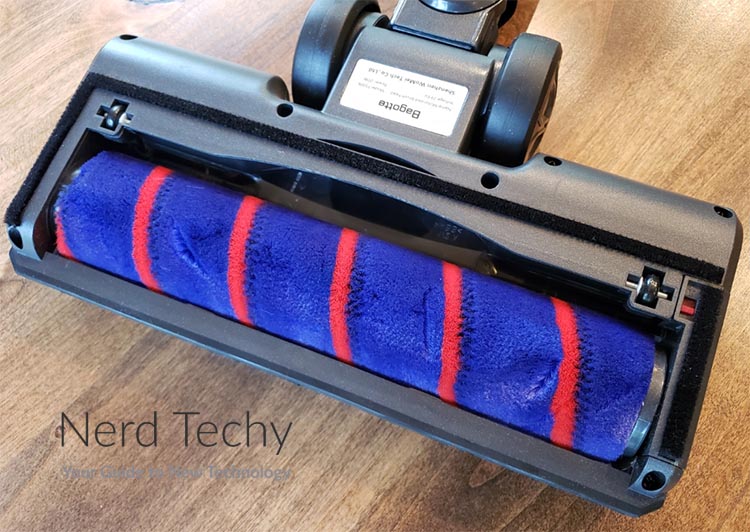 The next attachment is a brush tool for delicate surfaces. The brush helps to diffuse the suction, so it won't pull on curtains or lightweight fabric. Alongside the brush tool, you'll find a crevice tool. This is a standard, flat plastic tube that you can insert into hard to reach places. There's one on every vacuum, and they're all more or less the same. One thing we didn't find was a small roller. This was disappointing, since it makes the BS900 less suitable for automotive use.
Other than a smaller roller, the only thing this vacuum is missing is the ability to clean your house automatically. If you want a robot vacuum, consider the Bagotte BG700 instead. This Roomba-style device will clean your floor on a schedule, albeit with only 15,000Pa of suction.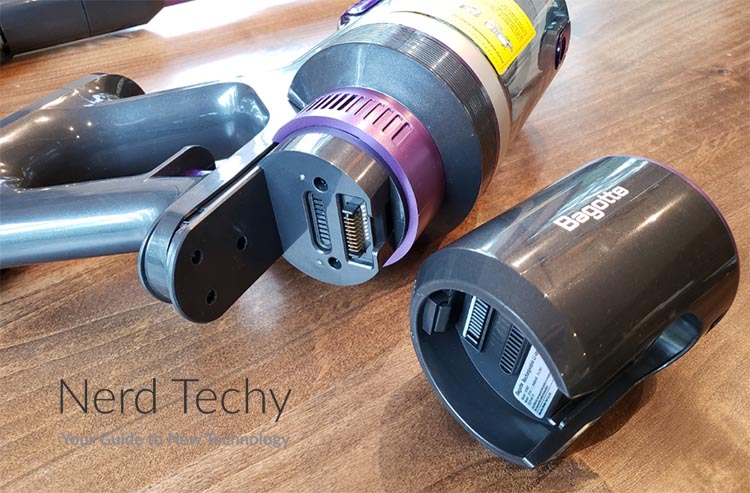 Battery & Filter
The BS900 boasts a 2,000mAh internal battery, which can be fully charged in about two to three hours. The maximum run time is advertised at just under an hour, and that's accurate. However, the 55-minute rating assumes you're running the vacuum at the lowest speed. At maximum power, you'll only get about 15 minutes of use. This is enough for quickly cleaning a bad mess or vacuuming a single room. But if you have a large area that requires heavy vacuuming, you'll have to stop in the middle and recharge.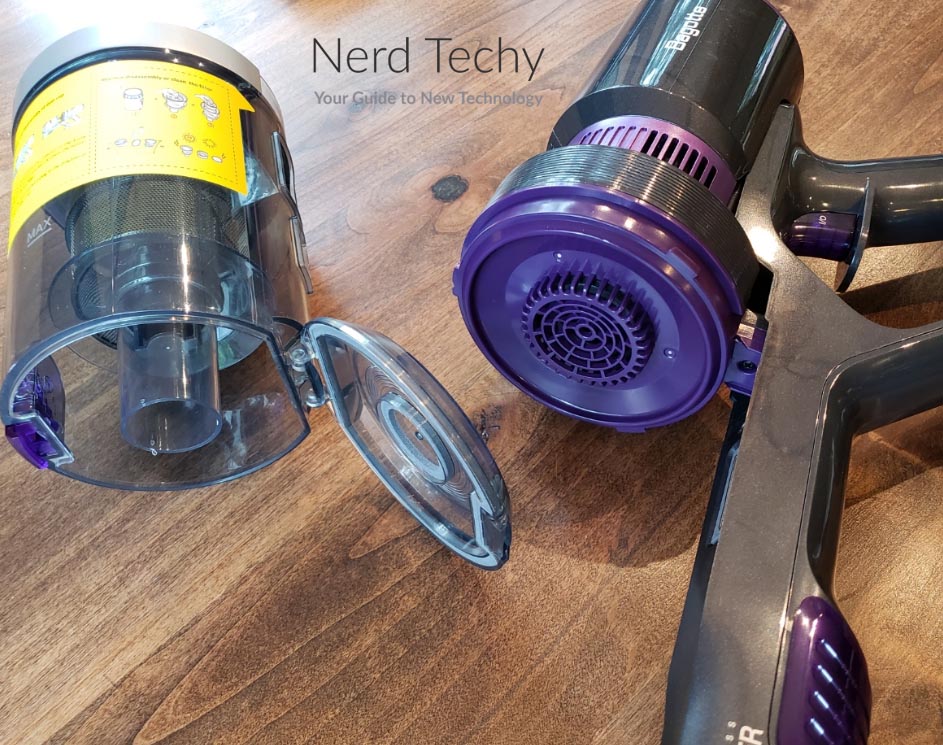 The filter utilizes three stages to remove dust and other contaminants from your air. The first is the dust canister itself. Because of its cyclonic design, larger debris and dust particles are pushed to the outside by centrifugal force.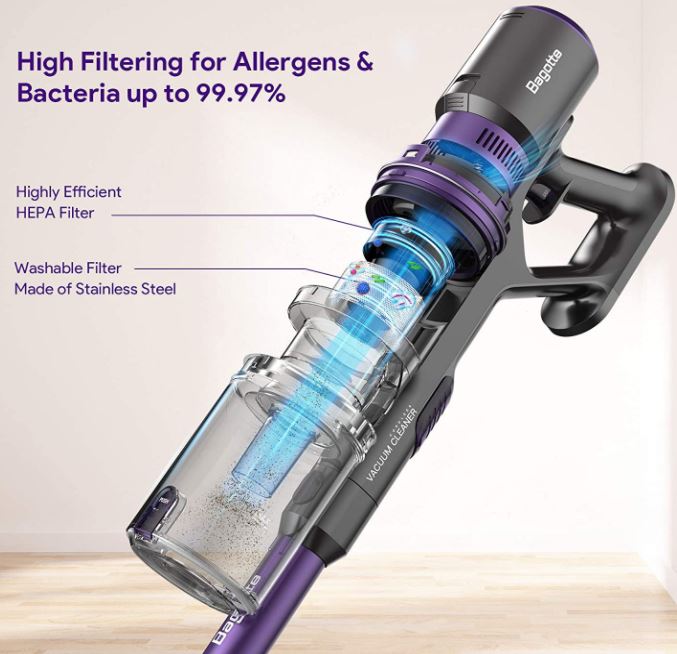 This debris is not at risk of getting into the air, but you don't want it clogging up the actual filter system. The air is then sucked from the dust bin up into a secondary cylinder with a steel mesh filter. This is an ultrafine mesh that removes even very fine dust particles from your air. It's also removable, washable, and infinitely removable. When it gets clogged with dust, just take it out, wash it off, and let it air dry. After a couple hours, it will be ready to use again.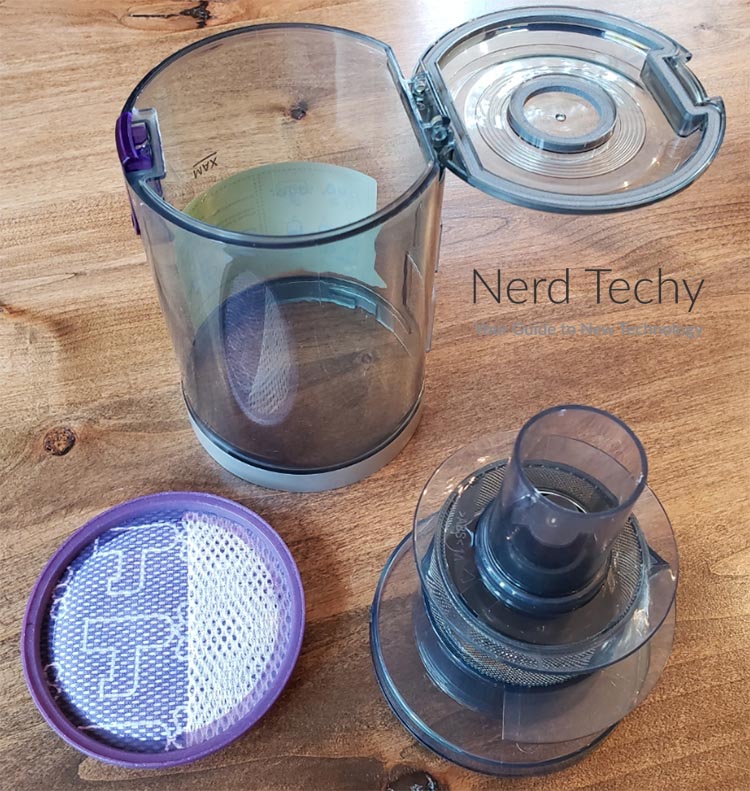 Beneath the steel mesh filter, you'll find an accordion-style HEPA filter. This is a true HEPA filter, which means it filters out 99.97 percent of particles smaller than 0.3 microns. This includes not just dust, but also pollen, mold spores, and many types of bacteria. It's the same as the HEPA filters you'd find in an air purifier or similar device. Like other vacuum filters, though, this one will need to be changed periodically. The replacements won't break the bank, but it's still something you need to keep in mind. You'll also want to make double sure you never run the vacuum without the steel mesh filter. If you do, the HEPA filter is going to get clogged in a hurry.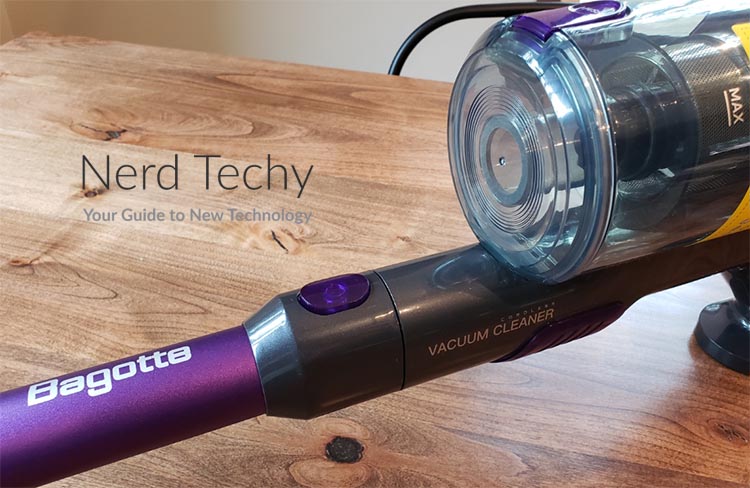 Final Verdict
As you can see, the Bagotte BS900 8-in-1 Cordless Vacuum is one of the better stick vacuums on the market. (Don't forget to us the Amazon Discount Code: 9QJLDRG4). This is in large part thanks to its power. At 25,000Pa, the maximum setting is strong enough to clean up virtually any mess. Of course, this comes with a downside. Despite its powerful battery, the BS900 will only last about 15 minutes at maximum power.
That said, the longer-lasting medium setting is sufficient for most tasks. Moreover, the vacuum includes interchangeable roller barrels. This innovative design allows you to choose an ultra-soft brush for hardwoods, a feature we really liked. In addition to that, the overall design is well thought out and put together. The balance is excellent, so you can clean overhead with ease. Even the dust bin is a cut above average, both generously sized and easy to empty.