In today's world, the harmonization of vintage charm and modern technology can often present challenges. One such challenge is the integration of older two-pronged outlets with today's three-pronged electronic devices.
As houses age and technology advances, the need for safe and effective adapters grows, ensuring that the devices we rely on daily are powered without compromising safety or functionality.
Today, we're going to introduce the best 2 prong to 3 prong outlet adapters. These make the fusion of old and new seamless and secure. Let's get right into it.
Key Takeaways:
#1 – JACKYLED 2 to 3 Prong Outlet Adapter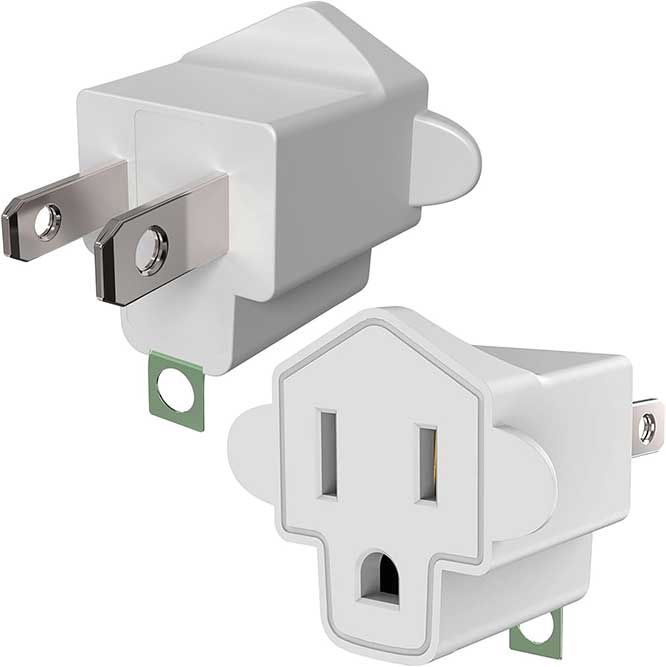 Key Takeaways:
Available in a 2, 4, 6, 8, or 10 pack.
125V/15A, 1875W maximum.
Comes in either black or white.
ETL listed.
Equipped with a small metal grounding tab.
During our quest to find the simplest and most dependable outlet adapter, we stumbled upon the JACKYLED 2 to 3 Prong Outlet Adapter. It's safe to say that it didn't disappoint.
First and foremost, the packaging options are consumer-friendly. Whether you need a pair for your bedroom or multiple for an older vacation home, the availability in 2, 4, 6, 8, and even a 10-pack ensured we had plenty of adapters on hand.
The added choice between black and white variants was a subtle touch, but a welcome one, allowing us to match the adapter with the aesthetics of our room.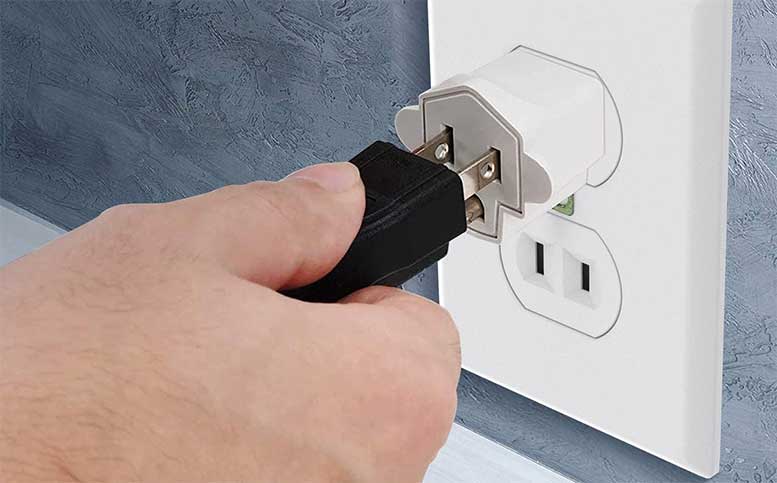 Safety, a paramount concern when dealing with electrical devices, was clearly a priority in JACKYLED's design. The outlet adapter is constructed from fire-proof PBT material, which gave us peace of mind, especially knowing its resistance to temperatures up to 392 degrees Fahrenheit. Even during prolonged usage with our heavier-duty appliances, the adapter remained cool to the touch.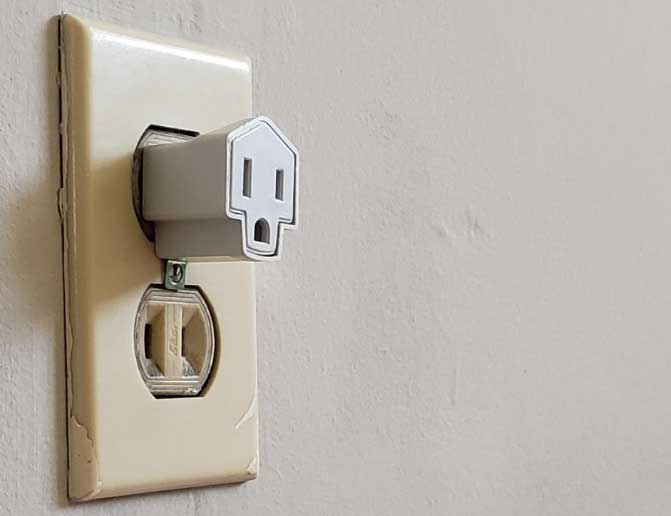 Its suitability for 125V/15A with a 1875W maximum meant that it could handle a good range of our home devices from PCs to space heaters.
The small metal grounding tab was a thoughtful addition, offering an extra layer of security. By attaching the adapter firmly to the wall outlet with the provided screw, it ensured that it wouldn't accidentally get yanked out or come loose.
Lastly, the ETL listing for safety was the cherry on top. For those unfamiliar, the ETL mark is proof that the product has been tested and meets established safety standards, which certainly added an extra layer of trust in the product.
#2 – EyGde 2 Prong Power Strip Surge Protector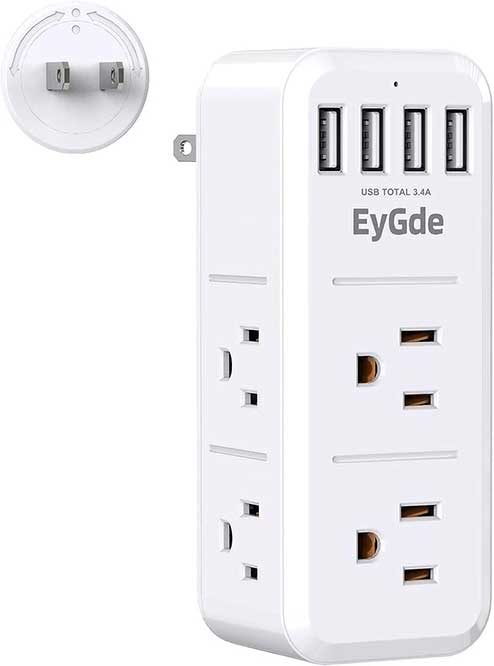 Key Takeaways:
Includes six 3-prong outlets and 4 USB-A charging ports.
Provides 1700J surge protections.
125V/10A, 2500W maximum.
180-degree fully rotatable design.
In a digital age dominated by a plethora of devices and gadgets, the need for versatile power solutions is ever-present. After using the EyGde 2 Prong Power Strip Surge Protector, it's evident that it isn't just another brick in the wall of power solutions – it's a step ahead.
The 10-in-1 design was the primary draw. The six 3-prong outlets provided ample space for several of our devices, and the 125V/10A and 2500W rating meant it could handle a good chunk of our power demands.
Best of all, the inclusion of 4 USB-A ports on the front-top side made charging our smartphones, tablets, and other USB-powered devices a breeze. No more hunting for individual wall adapters!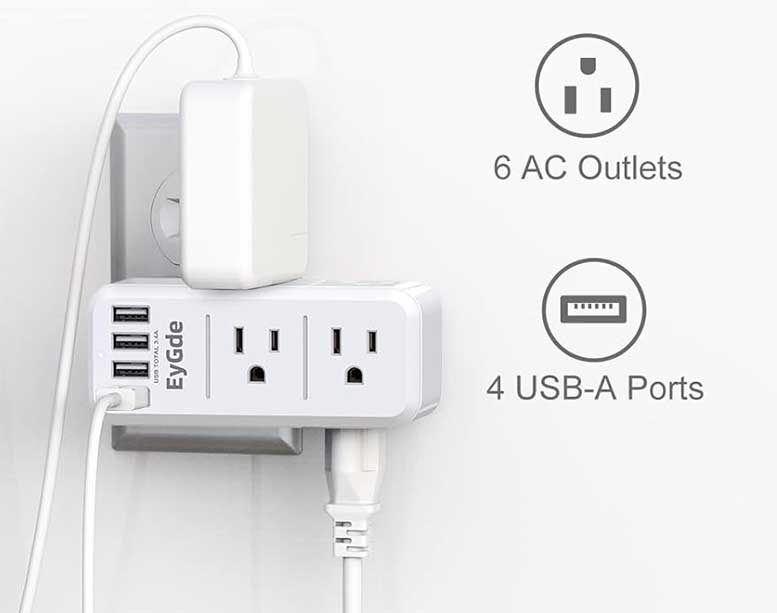 Safety, of course, is never a compromise. The 1700J Surge protection gave us peace of mind every time we plugged in a device. Knowing that our gadgets were shielded from unexpected power surges was incredibly reassuring, especially when dealing with pricier electronics.
A notable feature was its 180-degree rotatable design. The ability to twist and turn it was handy, especially in those awkward and tight spots where traditional power strips just wouldn't fit. Given its compact dimensions – standing at just 4.9″ tall and 2″ in both width and depth – and its lightweight build of 6.5 ounces, it was surprisingly unobtrusive, even when loaded with plugged-in devices.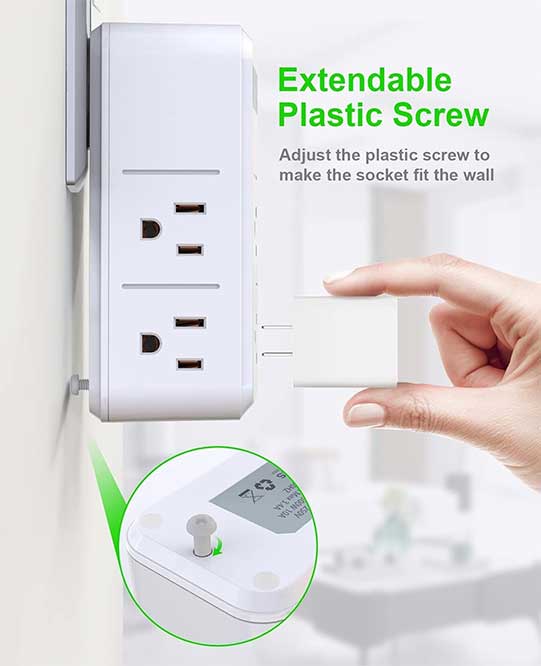 The unique addition of an extendable plastic screw on the back is worth mentioning. Once screwed against the wall, the power strip sat flush, clean, and straight. This minimized any flexing and, from an aesthetic point of view, just looked neater.
The 18-month replacement guarantee was the final touch that cemented our trust. It's not every day that you come across a brand willing to stand so firmly behind its product. It's a testament to EyGde's confidence in its power strip's durability and performance.
#3 – NTONPOWER 2 to 3 Prong Power Strip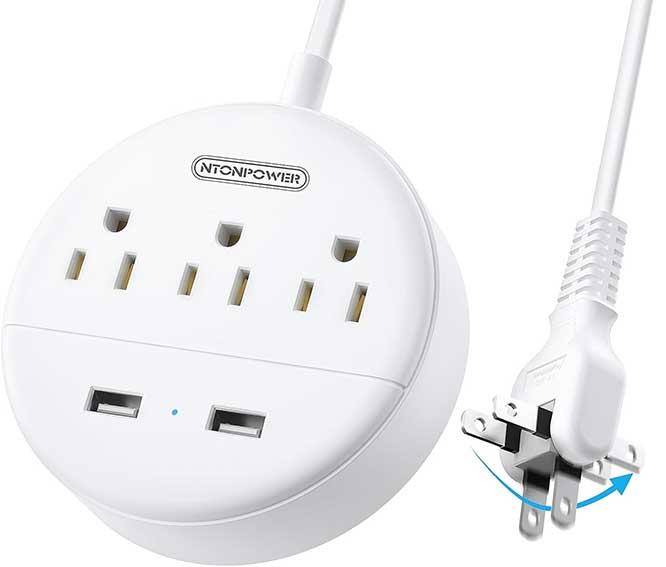 Key Takeaways:
Offers three 3-prong outlets and two USB charging ports.
Supports up to 1875W at 125V/15A.
FCC certified and ETL listed.
Two-prongs rotate for slim space saving.
Available in 5′, 10′ and 15′ lengths.
Fireproof materials resistant to temps as high as 1382 degrees Fahrenheit.
After getting our hands on the NTONPOWER 2 to 3 Prong Power Strip, we quickly realized its merits in terms of functionality and design.
The NTONPOWER boasts three 3-prong outlets, accommodating most of our devices simultaneously. With a capacity to manage 1875W at 125V/15A, it easily met our daily power needs. The additional inclusion of two USB charging ports was quite handy for our smartphones and other USB-enabled devices, delivering a modest 2.4A/12W maximum output.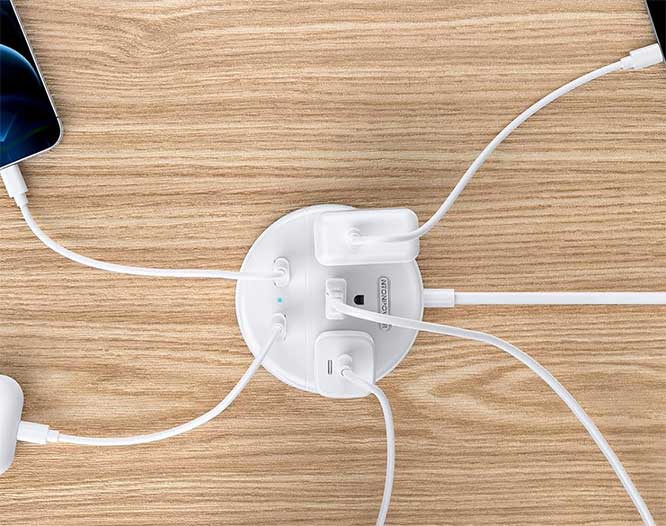 One of the standout features was the flexibility in cord lengths. Depending on one's room configuration and accessibility to wall outlets, the option of a 5′, 10′, or 15′ cord is thoughtful and accommodative of various scenarios. This allowed for optimal positioning, whether it was on our workstation or in the living room.
Its compact design, measuring 4.02″ in diameter and only 1.18″ thick, made it both unobtrusive and aesthetically pleasing.
The fireproof material composition, capable of withstanding temperatures up to an impressive 1382 degrees Fahrenheit, added an essential layer of safety that provided peace of mind during prolonged use. We were reassured to know that the power strip is both FCC certified and ETL listed certifications that speak to its safety and quality standards.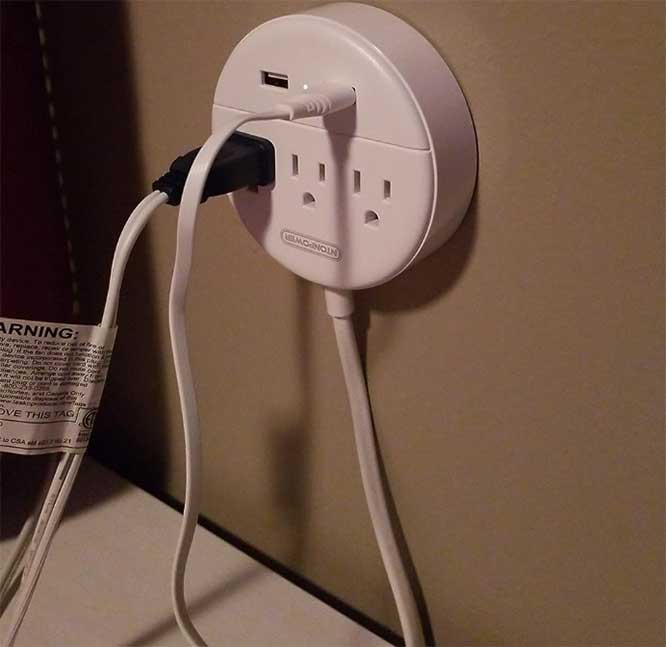 One particularly innovative feature was the two-prong plug's ability to rotate inward or outward. This slim profile design proved especially useful for plugging in behind furniture without causing any obtrusive bulges.
Also, the ability to mount it to a wall with a screw-hole on the back was a neat addition. However, if drilling into the wall wasn't appealing, the included adhesive stickers for non-permanent mounting offered a convenient alternative that's non-commiting.
#4 – LENCENT 3 Prong to 2 Prong Polarized Grounding Adapter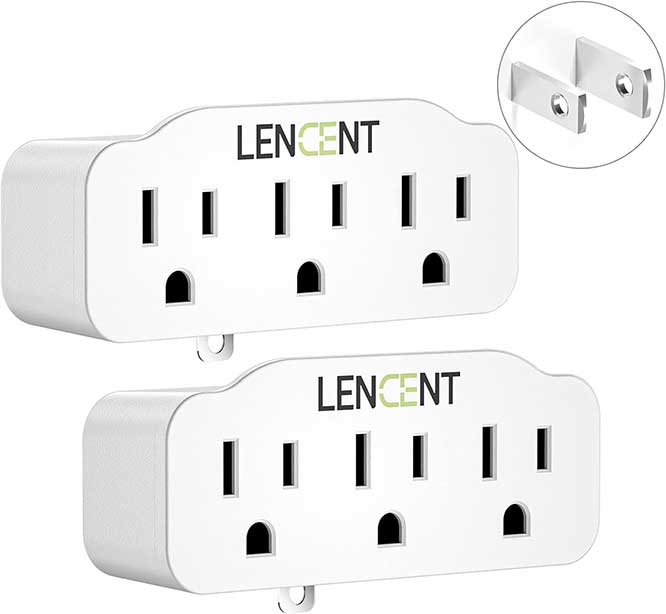 Key Takeaways:
Provides three 3-prong outlets.
Polarized for safety.
Measures 3.8″ wide, 1″ deep and 1.8″ tall.
Max capacity of 1875W at 125V/15A.
Certified by the FCC and CE-listed.
Resistant to temperatures up to 1382 degrees Fahrenheit.
Having tried the LENCENT 3 Prong to 2 Prong Polarized Grounding Adapter, it's clear that it serves as a brilliant answer to bridging the gap between older two-prong outlets and modern three-prong devices.
At first glance, the LENCENT adapter's capacity to transform a single 2-prong outlet into three side-by-side 3-prong outlets was a highlight. This proved incredibly useful in spaces where outlet availability was limited.
Being sold in a two-pack, we found it a value proposition, catering to multiple rooms with a single purchase. Although only available in a white colorway, its neutral hue seamlessly blended with most decors, ensuring aesthetics weren't compromised.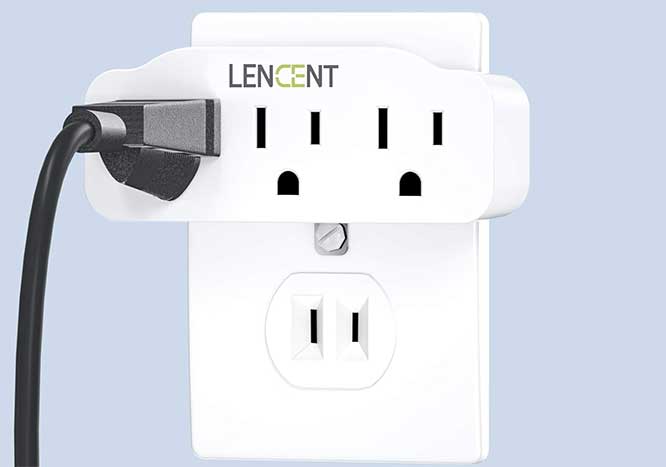 Size-wise, the adapter was well thought out. Measuring 3.8″ in width, 1″ in depth, and 1.8″ in height, it was compact, yet spacious enough to accommodate large AC adapters plugged in concurrently. This thoughtful design allowed for easy simultaneous charging of various devices, an often overlooked feature in many adapters.
The built-in metal grounding pin was a standout feature. Not only did it fit snugly into the existing outlet, but the provision of a screw ensured that the adapter was grounded properly, offering an added layer of safety. This also ensured the adapter stayed stable and didn't wobble or come loose during use.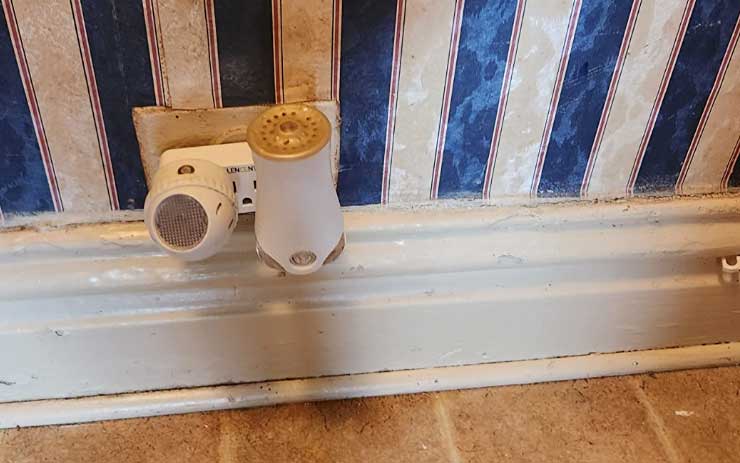 With a maximum capacity of 1875W at 125V/15A, the LENCENT adapter capably managed our regular electronic load. Its certifications by the FCC and being CE-listed further attested to its safety and adherence to quality standards.
Not to mention, the flame-retardant material of the adapter was yet another commendable safety feature. Knowing it can withstand temperatures up to 1382 degrees Fahrenheit offered an additional peace of mind, particularly during prolonged use or when charging high-powered devices.
#5 – ROOTOMA 2 Prong to 3 Prong Outlet Adapter Extension Cord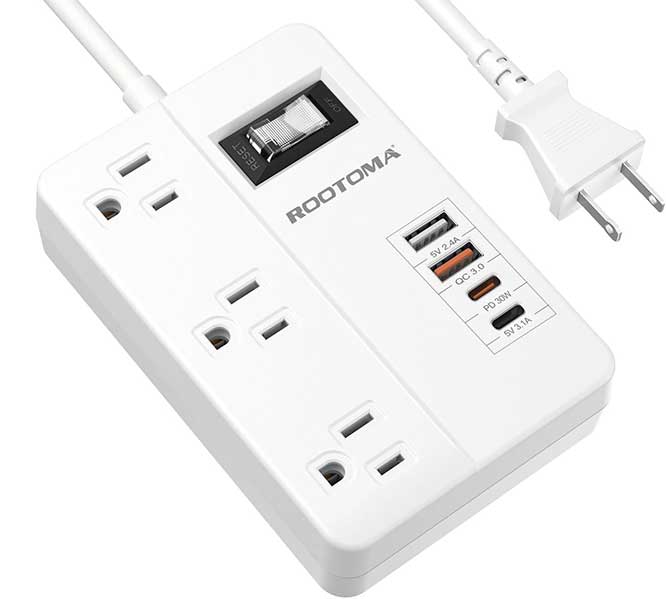 Key Takeaways:
7-in-1 design provides three 3-prong outlets and multiple USB ports
Supports a max of 1625W at 125V/13A.
Etension cord measures 4′ long.
Built-in rocker switch for master power control.
Among the multitude of adapters we've tried, the ROOTOMA 2 Prong to 3 Prong Outlet Adapter Extension Cord stood out in more ways than one.
To begin with, the unique design was both innovative and practical. Three 3-prong outlets addressed the demands of most standard devices, but it was the diverse USB offerings that caught our attention.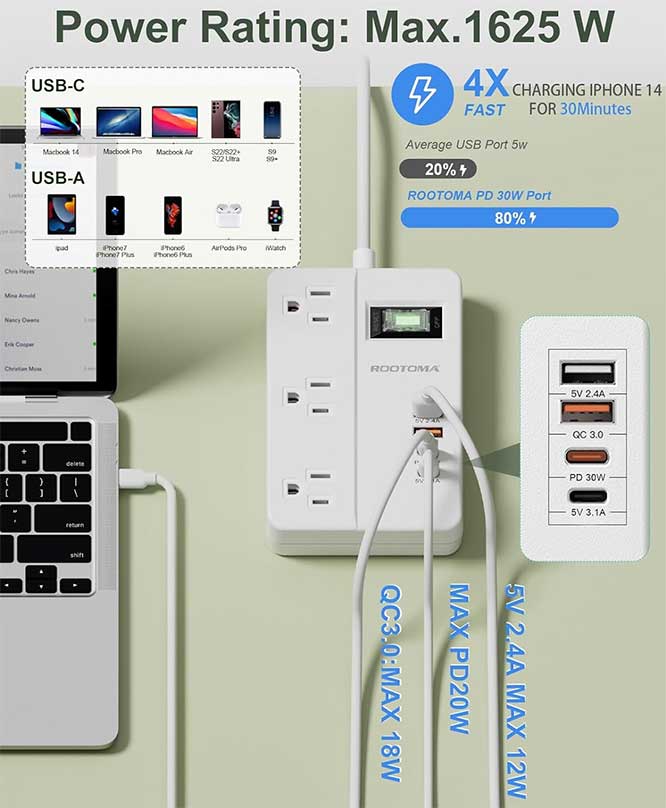 With a standard 5V/2.4A USB-A port, a QC 3.0 USB-A port, a 5V/3.1A USB-C port, and a PowerDelivery 30W USB-C port, our charging possibilities seemed limitless. We found our devices charging faster, especially with the PowerDelivery port, making it incredibly handy for devices like laptops and other high-powered electronics.
The 4-foot extension cord was a sweet spot between portability and convenience. Whether it was set up on a workstation or used in the living room, the length was just right to keep our devices within reach while being connected.
One feature we found particularly useful was the built-in rocker switch. Being able to have master power control meant we could easily turn off all connected devices at once, helping with power conservation and ensuring safety when not in use.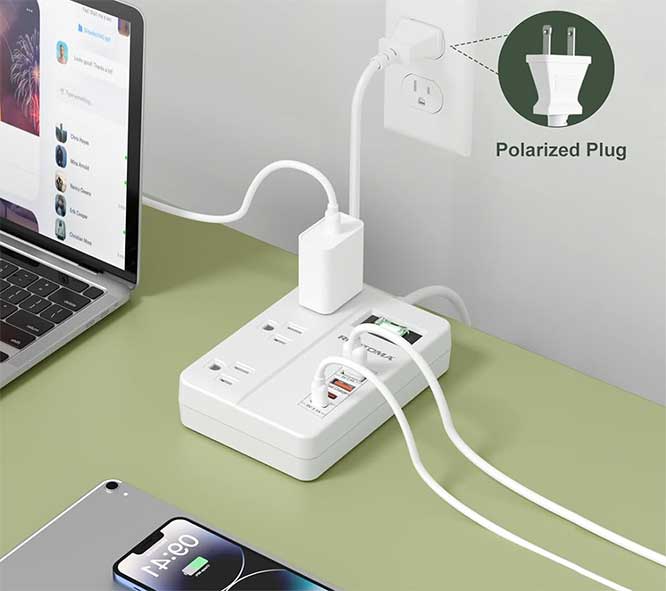 The assurance of a 12-month warranty period further solidified our confidence in the product. It's always reassuring to know a company stands by its product, ready to address any potential issues.
Aesthetically, while the adapter comes only in white, its minimalist design ensured it blended seamlessly with our decor. The absence of alternative colorways was hardly a concern given its sleek and unobtrusive design.
2-Prong to 3-Prong Outlet Adapters FAQs
Is it safe to use a 2-prong to 3-prong adapter?
When used correctly and for the right applications, these adapters can be safe. However, some may not provide grounding, which can be a safety feature in many devices. Always ensure the adapter's metal grounding tab is secured to the outlet cover screw for added safety.
Why do some devices have 3 prongs instead of 2?
The third prong is a grounding prong, which provides an additional safety mechanism by directing any extra electricity into the earth, reducing the risk of electrical shock.
Can using an adapter affect the performance of my device?
The adapter won't affect the performance of your device in terms of power delivery. However, if the device requires grounding for certain functionalities or safety, those aspects might be compromised.
How do I know if my device requires grounding?
Devices that have a metal exterior or are used in wet environments often require grounding. You can also refer to the device's manual or manufacturer's recommendations.
Can I use an extension cord with a 2-prong to 3-prong adapter?
Yes, you can, but it's crucial to ensure that the total load (amperage and wattage) of all devices plugged into the extension cord doesn't exceed its or the adapter's specifications.
Meet Derek, "TechGuru," a 34-year-old technology enthusiast with a deep passion for tech innovations. With extensive experience, he specializes in gaming hardware and software, and has expertise in gadgets, custom PCs, and audio.
Besides writing about tech and reviewing new products, Derek enjoys traveling, hiking, and photography. Committed to keeping up with the latest industry trends, he aims to guide readers in making informed tech decisions.