In the digital age, our desks are often overrun with tangled cables from various devices, turning organized spaces into cluttered messes. This not only disrupts aesthetics but can impact productivity.
Thankfully, under-desk cable management trays are here to save the day. These tools keep wires neatly tucked away, ensuring a clean and efficient workspace. In this article, we'll spotlight the best cable trays to help you maintain a clutter-free desk.
Key Takeaways:
#1 – REFLYING Under Desk Cable Management Tray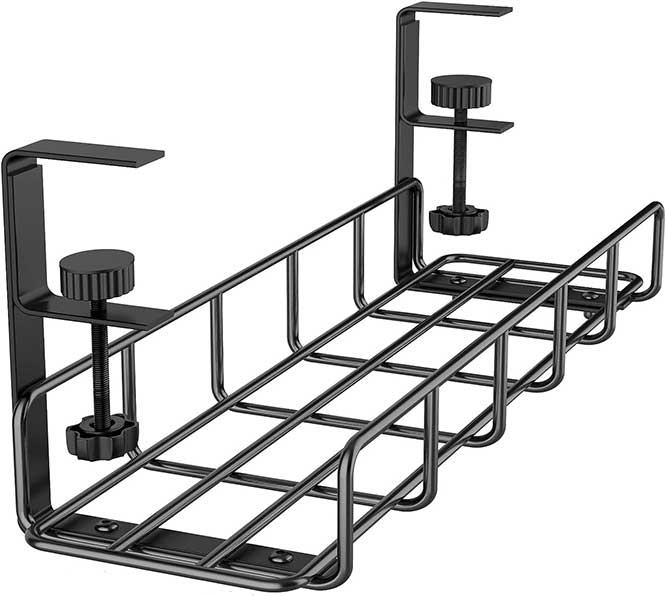 Key Takeaways:
Easy clamp-on design.
Measures 15.7″ wide, 6.3″ tall and 5.5″ deep.
Comprised of powder coated steel.
Mesh design resists dust and improves airflow.
Having personally used the REFLYING Under Desk Cable Management Tray, we can confidently say that it's one of those unsung heroes in the realm of desk organization. One of the key aspects that caught our attention initially was its easy-to-attach clamping mechanism. Whether your desk is as thin as 0.4 inches or as thick as 1.6 inches, the tray seamlessly clamps onto the back with minimal hassle.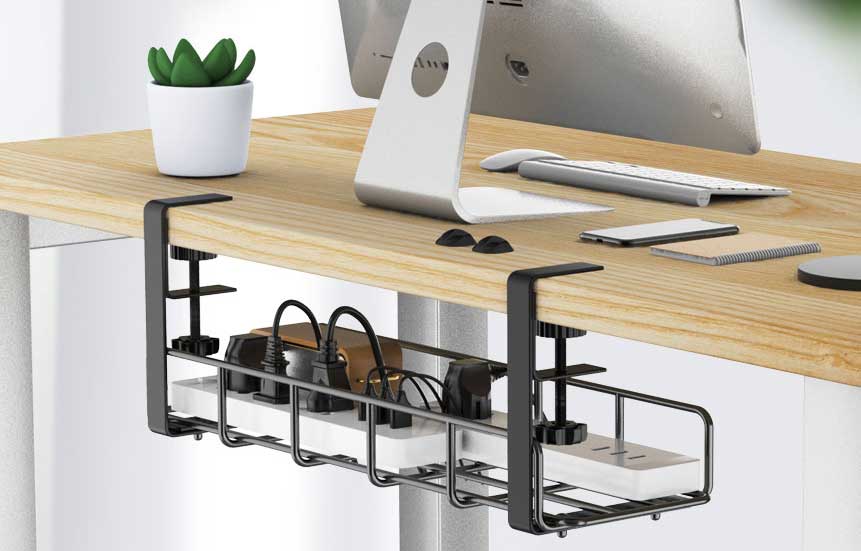 The tray itself boasts an all-metal design, with a sleek black powder-coated carbon steel finish. Not only does this give it a premium and robust feel, but it also ensures the tray will stand the test of time. Measuring at 15.7 inches wide, 6.3 inches tall, and 5.5 inches deep, it's the perfect size for most surge protectors or power adapters without taking up excessive space underneath the desk.
Best of all, the design isn't just about aesthetics and durability; the thoughtfully spaced gaps ensure both dust prevention and adequate airflow, addressing concerns about potential overheating of the stored electronic devices.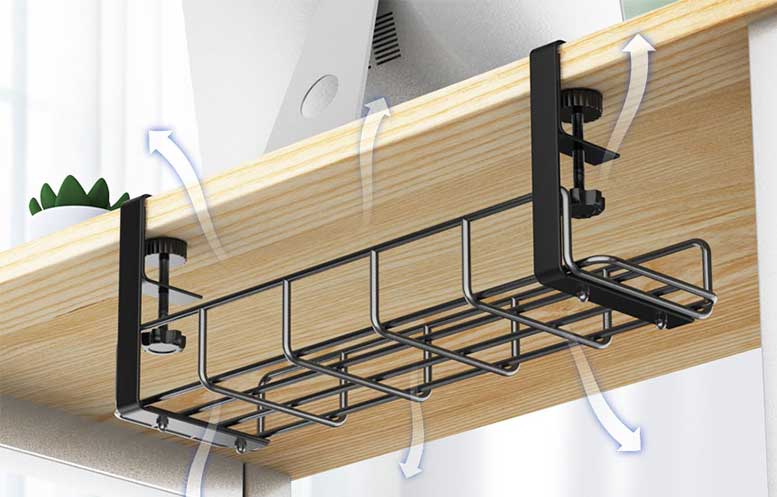 Simplicity and sturdiness are often two opposing qualities, but the REFLYING tray manages to marry them with aplomb. There's no unnecessary embellishment; it's straightforward and does its job with an elegant efficiency. The tray's substantial build ensures that even when fully loaded, there's no wobbling or instability.
In our experience, this product has been an excellent addition to our home office workspace, neatly tucking away all my cables and power bricks while also providing easy access when needed. Best of all, the manufacturer even includes a few cable straps and fasteners for added organization.
#2 – VIVO Under Desk Cable Management Tray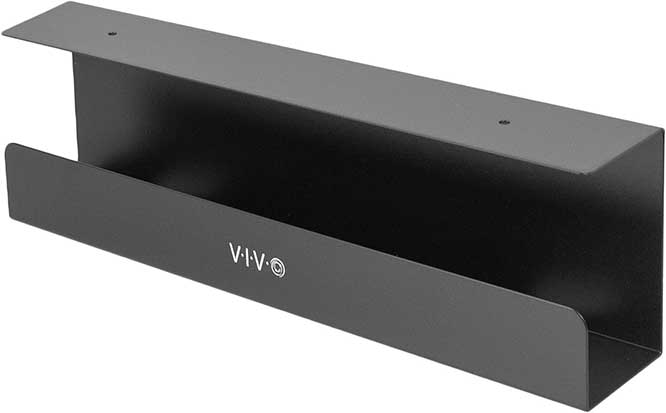 Key Takeaways:
Spacious and sleek design measuring 16.5″ wide, 4.5″ tall and 3″ deep.
All metal construction for long lasting durability.
Requires two screws for installation.
Two bottom-facing holes for cord routing.
The VIVO Under Desk Cable Management Tray stands as a testament to both form and function. Having had the opportunity to use it ourselves, we can vouch for its efficiency. Crafted entirely from metal, the tray feels robust and built to last. The design is sleek and slim, which might lead one to underestimate its capacity.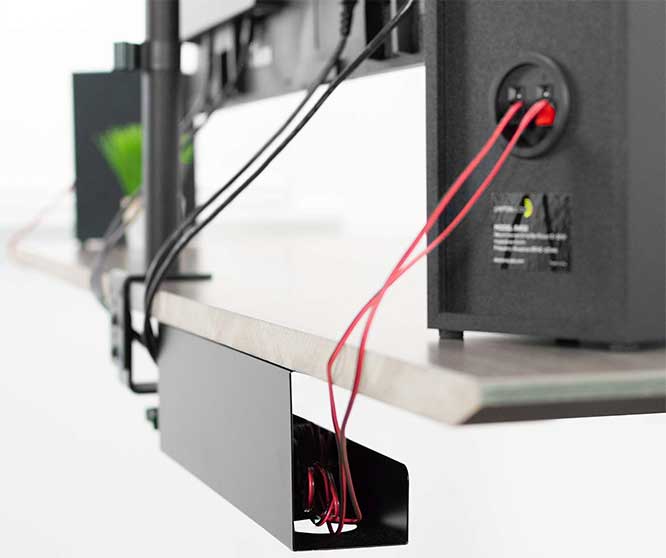 However, once installed and utilized, its spaciousness becomes evident. At 16.5 inches wide, 4.5 inches tall, and 3 inches deep, it comfortably accommodates a plethora of cables and power bricks, ensuring a clean workspace above.
One of the appealing facets of the VIVO tray is its versatility in color options. Available in both white and black, it's easy to select the variant that best aligns with the aesthetic of one's workspace. The tray's partially closed design is a thoughtful touch, shielding the stored items from plain view while still allowing easy access when needed. This ensures that while your workspace remains tidy, functionality isn't compromised.
Installation requires a bit of commitment due to the need for drilling. However, the inclusion of two screws with the package makes the process straightforward. This affixing method guarantees stability, especially given that each shelf can bear up to 11 lbs.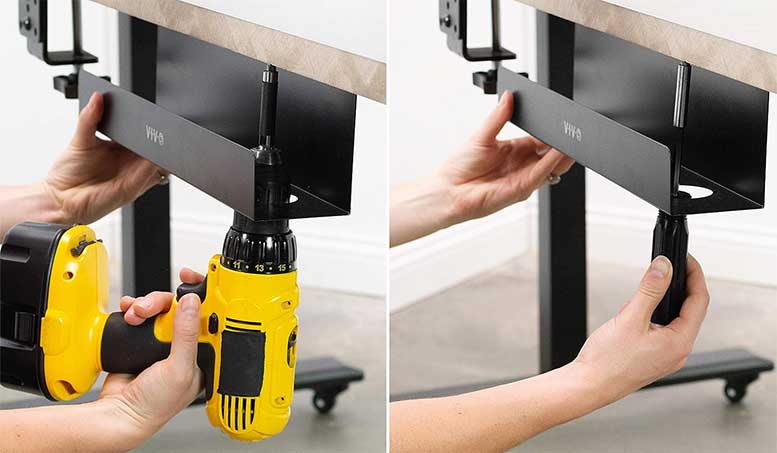 The two bottom-facing holes on each tray showcase the brand's attention to detail. These holes are perfect for neatly routing cords, maintaining the organized look and feel that the product promises.
Overall, the VIVO Under Desk Cable Management Tray offers ample storage solutions for even the most tech-savvy users. Its blend of aesthetics, durability, and practicality makes it an indispensable addition to any modern workspace.
#3 – YECAYE Cable Raceway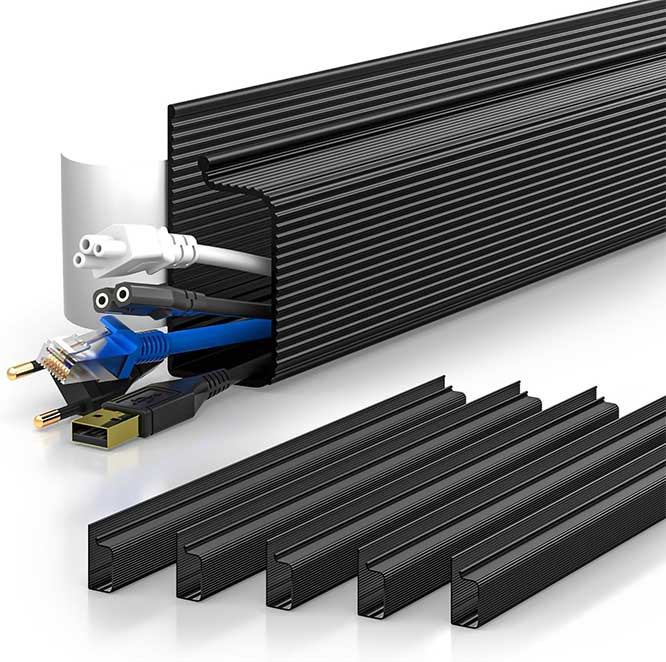 Key Takeaways:
Unique J-Channel design with ample flexibility.
Sold in a 6 pack – each measures 15.7″ wide, 1.94″ tall and 0.99″ deep.
Constructed from PVC which can be cut to any precise length.
Stick and peel adhesive backing – no tools required.
The YECAYE Cable Raceway offers an ingenious solution to the age-old problem of tangled and unsightly cables. Our personal experience with this product has been nothing short of transformative.
Its unique J channel shape with rounded edges immediately sets it apart from more traditional cable management systems. This design ensures that cables are not only concealed but also easily accessible when the need arises. The rounded edges provide an added touch of sophistication while making sure that the edges don't damage any cords.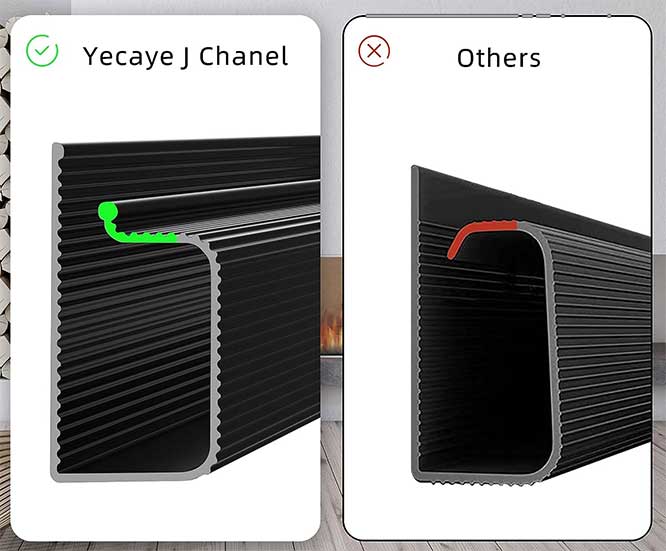 The installation process is refreshingly simple, courtesy of the pre-installed stick and peel adhesive. Simply put, there's no need to fumble with tools or screws, which can be a particular advantage for spaces where drilling might not be an option.
Sold in a pack of six, each raceway measures 15.7 inches in width, 1.94 inches in height, and 0.99 inches in depth. The 0.3-inch cable opening may seem modest, but it has been meticulously designed to provide the right balance of flexibility without compromising its integrity. This means even if you have a few thicker cables or power cords, they can be comfortably housed without the risk of the raceway breaking.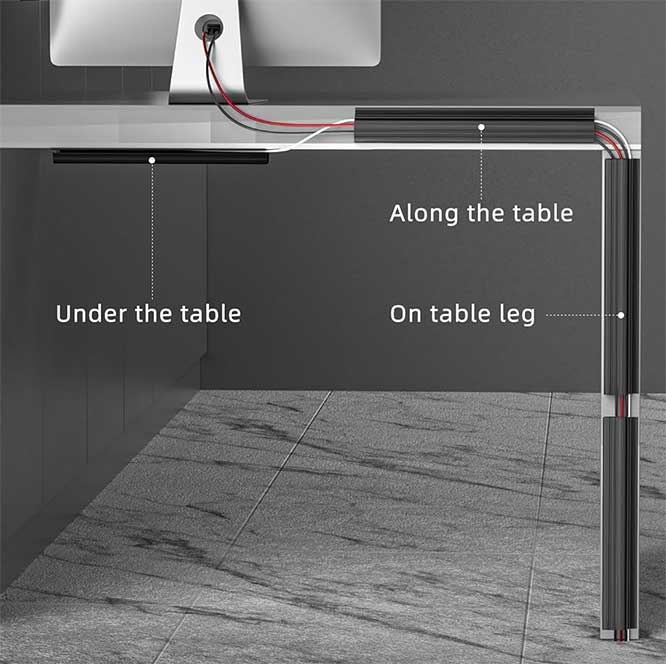 Crafted from 1.2mm thick PVC, the YECAYE Cable Raceway stands out for its durability. Available in both black and white, it caters to a broad spectrum of aesthetics, ensuring a neat fit for diverse interior styles.
An added advantage is the ease with which it can be cut to the desired length. This is particularly beneficial when dealing with uneven or irregular spaces, as one can customize the raceway for a snug fit.
#4 – VIDOR Under Desk Cable Management Tray

Key Takeaways:
All metal, steel construction.
Measures 17″ wide, 4.8″ deep and 5″ tall.
Only available in black.
Installs via screws OR adhesive sticky-back, with both options included.
The VIDOR Under Desk Cable Management Tray is another excellent option.. It's a refreshing solution, especially when comparing it to similar products, like the VIVO tray we introduced above. However, the VIDOR boasts a slightly wider opening, which we found to be a subtle but crucial difference. This allowed for easier cable routing and greater flexibility, especially when dealing with bulky power bricks and adapters.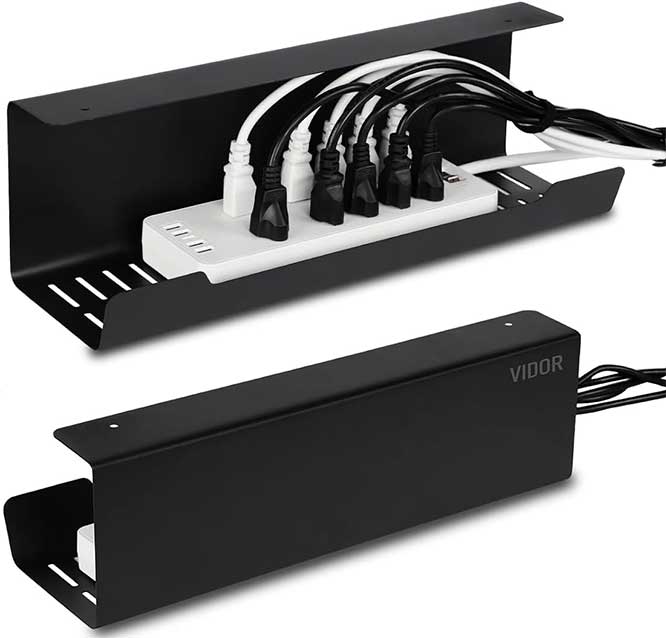 The tray's dimensions, being 17 inches wide, 4.8 inches deep, and 5 inches tall, offered a decent capacity without taking up too much space under our desk. The black color gives it a sleek and unobtrusive appearance that seamlessly blends with most desk designs. While unavailable in any other colorways, the black appearance does blend-in nicely.
The design consideration of the base is commendable. There are several slits that not only facilitate ample airflow, minimizing overheating risks for devices and chargers stored within, but also enables easier arrangement of cords and cables.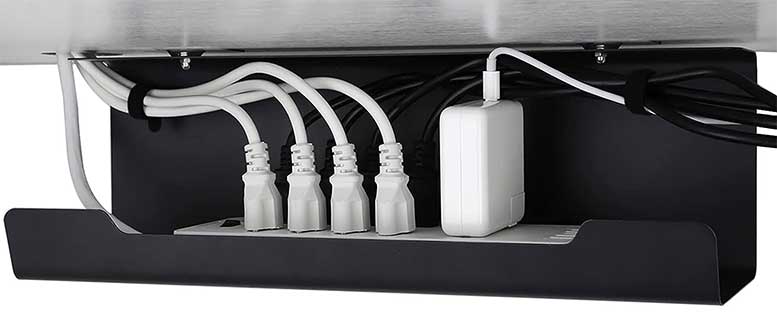 What impressed us further was the dual installation option. For those who prefer a more permanent setup, the inclusion of 6 screws with washers is perfect. But for those who are hesitant about drilling into their desks, or those who might want to shift the tray's position later, the adhesive stick and peel backing is a game-changer. It's noteworthy that both the screwdriver and 6 adhesive stickers are included in the package, providing the user with everything needed for a hassle-free installation.
#5 – Cinati Under Desk Cable Management Tray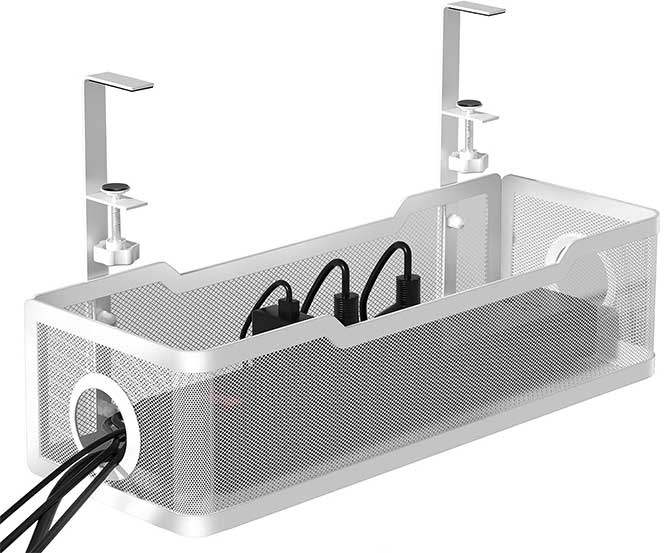 Key Takeaways:
All metal construction with a mesh-style basket.
Measures 13.4″ wide, 4.6″ deep and 3.1″ tall.
Clamps to desks between 0.4″ and 2.4″ thick.
Two large cable routing holes on each end.
Having integrated the Cinati Under Desk Cable Management Tray into our workspace, we immediately noticed the significant upgrade in organization and aesthetics. What truly set the Cinati apart, especially when drawing comparisons with other models like the REFLYING, is its clamp-on design.
The hassle of dealing with screws or the unpredictability of adhesive is completely eliminated. The straightforward clamp mechanism makes installation a breeze, and also offers the flexibility of easy repositioning should the need arise.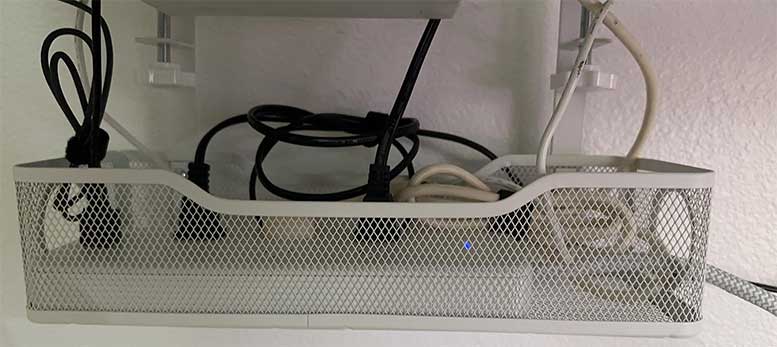 The basket-style construction, featuring an all-metal mesh exterior, is not only sturdy but also provides a visually appealing texture that complements both modern and traditional desks. In addition, the large cord routing holes at either end of the tray are ideally sized, allowing you to easily route multiple cables through without any tugging or pulling. This design consideration ensures that cable management is not only efficient but also neat and streamlined.
We appreciated the color options, with both white and black colorways catering to different aesthetic preferences. The dimensions, with a width of 13.4 inches, depth of 4.6 inches, and height of 3.1 inches, make it versatile enough for various desk setups while still providing ample space for most cable management needs.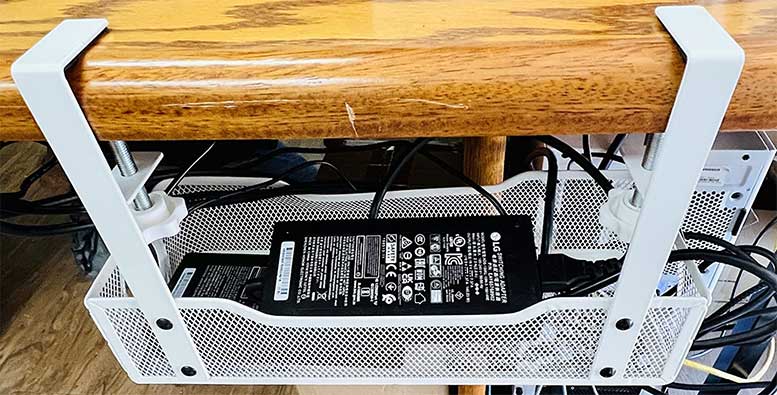 The clamping range is another significant plus, accommodating desks with a thickness ranging from 0.4″ up to 2.4″. This broad range ensures compatibility with an extensive array of desks, be it thin glass tops or thicker wooden ones. Not to mention, it's a much wider range than the REFLYING.
Lastly, Cinati's thoughtfulness in including 4 cable clips and 6 cable ties was a delightful bonus. These additions further enhance most cable management goals, ensuring that cords remain tidy, secured, and out of sight.
#6 – COYETH Under Desk Cable Management Tray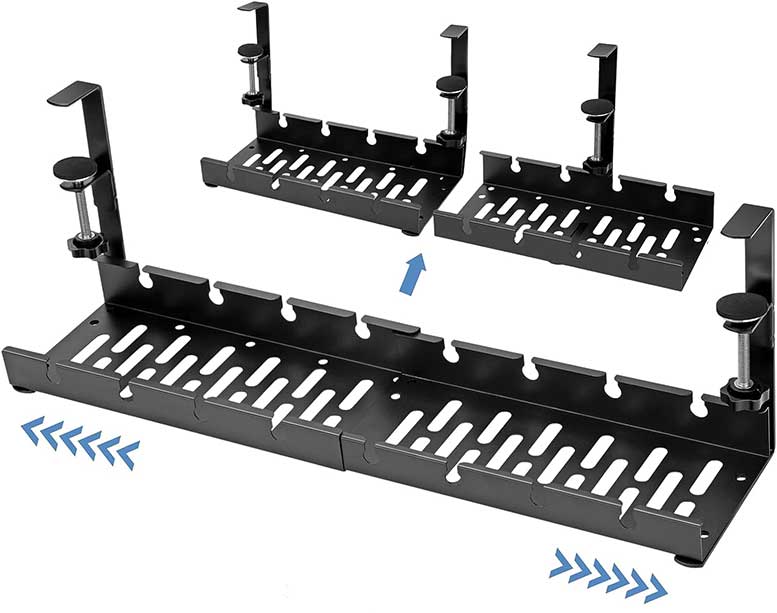 Key Takeaways:
Adjustable width between 11.2″ and 21.7″
Measures 4.7″ deep and up to 7.5″ tall.
Supports up to 22 lbs.
Several notched cord routing indentations along its width.
Looking for another unique option? Look no further than the COYETH Under Desk Cable Management Tray. One of the standout features is its unique retractable design. This level of adjustability, allowing for a width that ranges between 11.2″ and an impressive 21.7″, offers unprecedented flexibility. In addition, it measures 4.7″ deep and up to 7.5″ tall. Regardless of whether we're managing a few cables from a laptop setup or a slew of cords from a multi-monitor, multi-device workstation, this tray can adapt seamlessly.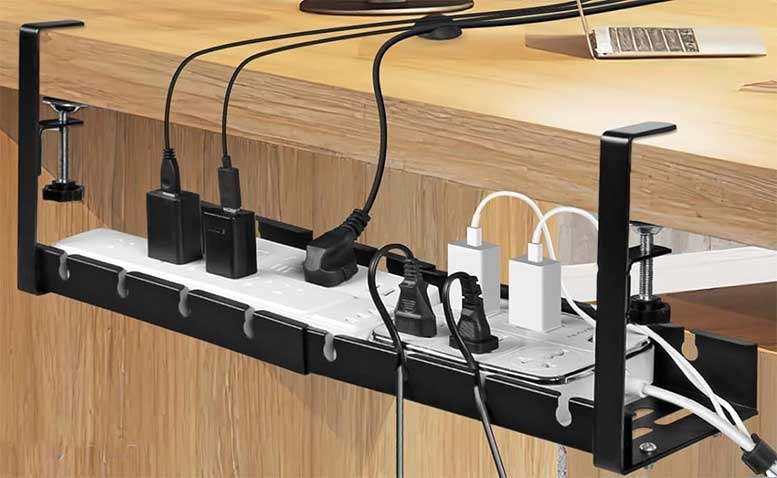 The clamp-on feature, which bypasses the need for screws or adhesive, is another huge advantage. The installation process was not only quick but also free from the mess or permanence of other fixing methods. The broad compatibility range, fitting desks as thin as 0.4″ and as thick as 2.4″, means the COYETH is suitable for an extensive variety of tables.
Practicality is further highlighted through the multiple notches present along the tray's length. This facilitates organized and tidy routing of cords, making it simple to plug and unplug devices as needed. With the ability to support up to 22 lbs., the tray handled even our heavier power strips and multiple adapters with ease.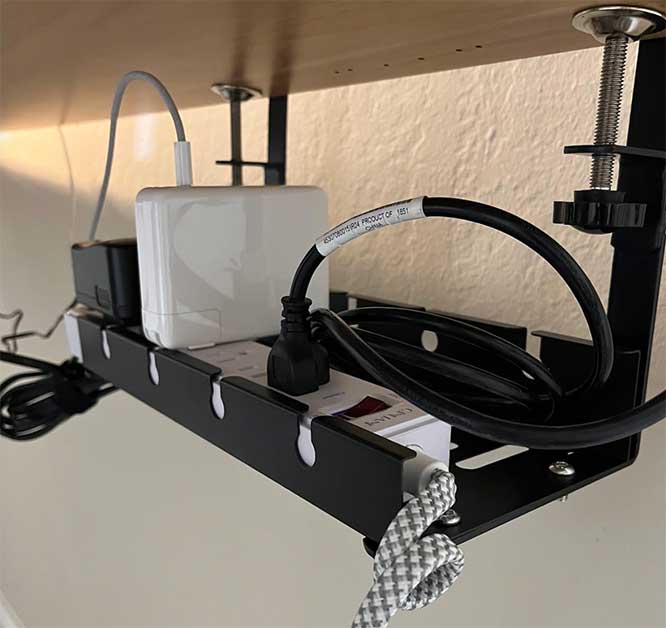 Airflow is another key concern that COYETH has addressed. The tray's design includes several holes that ensure devices remain cool, and the placement is such that dust accumulation is minimized. This is vital for power bricks or any other devices that might typically emit heat.
The all-metal construction exudes durability. Its sturdy feel assures longevity, and the black finish not only looks sleek but also blends well with most desk designs, making it unobtrusive and highly attractive.
Under Desk Cable Management Trays FAQs
What is an under desk cable management tray?
An under desk cable management tray is a device or accessory that is attached under a desk to help organize and manage cables, power strips, and adapters, keeping them off the floor for a tidier workspace. They promote a clean and organized workspace.
How are these trays typically installed?
Many can be clamped onto the desk without requiring screws or adhesive, while others may come with screws or adhesive strips for installation. Depending on your scenario, look for the installation method that you're most comfortable with.
Do I need special tools to install a cable management tray?
This depends on the type of tray. Clamp-on designs usually don't require tools, while those that need screws might require a screwdriver or drill. Always check the manufacturer's instructions.
Is airflow a consideration with these trays?
Yes. Many come with a design that promotes airflow, often through holes or mesh designs, to prevent devices like power bricks from overheating. This is a good idea if you plan on using a lot of cables/adapters in a single tray.
Are these trays compatible with all desk types?
Most are designed to fit a wide range of desk thicknesses, typically between 0.4″ and 2.4″. However, it's essential to check compatibility before purchase. For all of the clamp-on style trays, we've included specs on this.
How do I clean and maintain my cable management tray?
Regularly dusting the tray and occasionally wiping it down with a damp cloth should suffice for most trays. As a best practice, ensure that all electronic devices are unplugged before cleaning.
Can I use multiple trays for a single desk setup?
Absolutely! Depending on your cable management needs and the number of devices, you might benefit from using multiple trays. Some, like the YECAYE, can even be cut to a precise length.
Is it difficult to add or remove cables once they're organized in the tray?
Not typically. Most are designed for ease of access, allowing you to add or remove cables or power adapters as needed. Some even include notches or openings specifically for this exact purpose.
Meet Derek, "TechGuru," a 34-year-old technology enthusiast with a deep passion for tech innovations. With extensive experience, he specializes in gaming hardware and software, and has expertise in gadgets, custom PCs, and audio.
Besides writing about tech and reviewing new products, Derek enjoys traveling, hiking, and photography. Committed to keeping up with the latest industry trends, he aims to guide readers in making informed tech decisions.