In the modern workspace, managing multiple computers or devices through a single set of monitors, keyboards, and mice has become an absolute necessity for many. The advent of KVM (Keyboard, Video, Mouse) switches has drastically simplified this task. Among the myriad of choices available, those that support triple monitor setups have become increasingly popular.
In today's article, we've rounded up four exceptional KVM switches, each catering to triple monitor configurations. Here's a brief overview of our top picks:
Read on as we dissect each pick's features. We'll also explore any potential drawbacks to help you discover which one might be the perfect fit for your needs.
TESmart 4 Port Triple Monitor KVM Switch

Key Takeaways:
Handles three 4K60Hz displays efficiently
Three USB 3.0 ports; two can charge
Integrated microphone and L/R audio
Stable LAN port for network connectivity
Potential keyboard software compatibility issues
When entering the realm of KVM switches, the TESmart 4 Port Triple Monitor KVM Switch immediately stands out. It's especially appealing to those in need of managing multiple desktops or laptops on triple monitors. A notable feature is its ability to efficiently handle three 4K60Hz displays, ensuring clarity and high-resolution visuals. Perfect for work, video streaming, or even immersive gaming, this unit supports resolutions up to 3840 x 2160 at 60hz.

Diving deeper into its offerings, it comes equipped with three USB 3.0 ports, one of which is the much sought-after USB C. The other two can charge devices. This added versatility is crucial for those juggling printers, USB headsets, and even jump drives. An integrated microphone and L/R audio output is a new addition, improving overall audio functionality. In terms of connectivity, it excels with a new LAN port, ensuring that all four connected computers maintain a stable network connection via RJ45, boasting speeds up to 100 Mbps.
This guarantees that even if you're multitasking across multiple systems, there's no compromise on internet speed. Setting up was fairly straightforward. The LCD visual display simplifies the setup process, and given the package comes with all necessary HDMI and USB cables, there's little left to the imagination. Moreover, it offers three switching modes – keyboard hotkeys, front panel buttons, and an IR remote, providing flexibility based on user preference.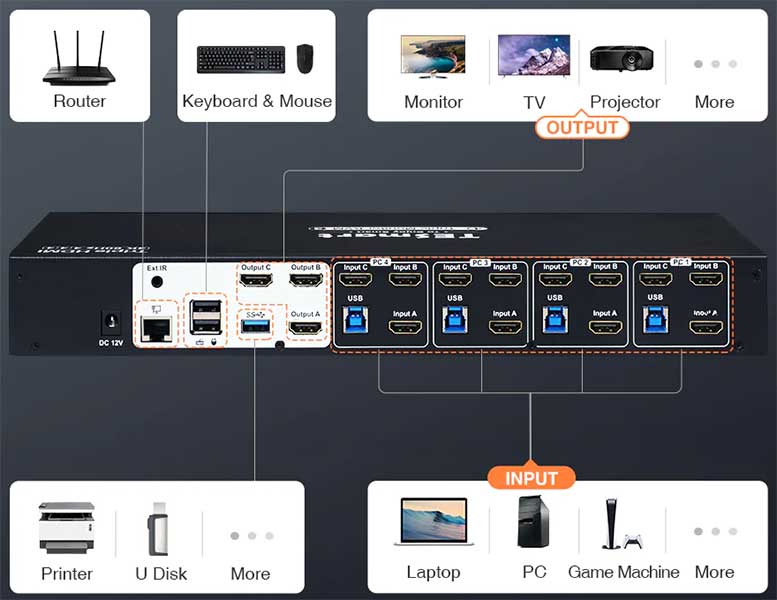 Measuring 14″ wide, 6″ deep and 1.9″ tall, and weighing in at 3lbs. 2oz, it's an acceptable size with a nice amount of heft. In addition, the comprehensiveness of the package is clear. It contains everything from the main KVM switch and power adapter to HDMI cables and a user manual. However, users should be aware of potential compatibility issues with certain keyboard software. The device's emulation programming might conflict with software like Logitech Options or Corsair iCUE. Yet, this isn't a deal-breaker, as using the KVM's USB 3.0 port is a suggested workaround.
Terived Triple Monitor KVM Switch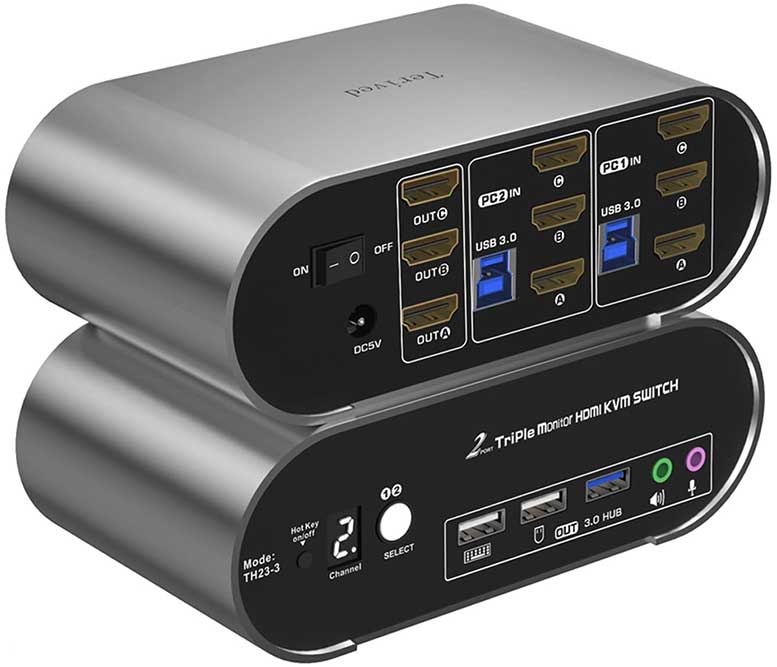 Key Takeaways:
Durable aluminum alloy shell
Bright digital display
Seamless hotkey transitions
Supports up to 4K@60Hz HDR10
Some keyboards might face hotkey issues
Stepping into the expansive realm of multi-monitor setups, the Terived KVM switch truly stands out. Spanning 10.83 x 6.54 x 3.43 inches and weighing in at 2.43 pounds, it possesses both sleek aesthetics and robust functionality. A sturdy aluminum alloy shell wraps the unit. Beyond its premium appearance, this choice of material ensures commendable drop resistance and is both lightweight and corrosion-resistant. It's evident that the manufacturers prioritized durability and a high-end feel.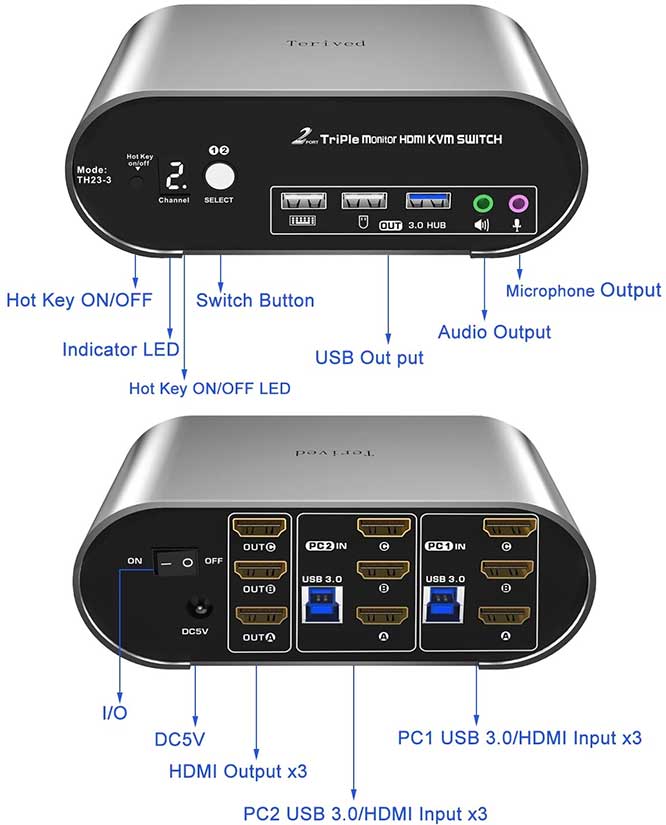 This switch showcases a digital display. It's a simple yet impactful feature that easily sets it apart. Unlike a basic LED light, this display is brightly lit, allowing users to discern the current channel, even in dimly lit environments. Functionality isn't compromised, either. Boasting the capability to control 2 HDMI-interfaced computers with a single keyboard, mouse, and three HDMI monitors, the unit optimizes the workspace like a charm.
Moreover, the inclusion of USB 3.0 ensures rapid data transfer speeds – up to 10 times faster than its predecessor, USB 2.0. With the evolving demands of high-definition visuals, this switch supports a range of resolutions from 480i to an impressive 4K@60Hz RGB 4:4:4 HDR10. Such versatility ensures compatibility across numerous platforms, including Windows, Linux, and Mac. Another appealing feature is the hotkey functionality.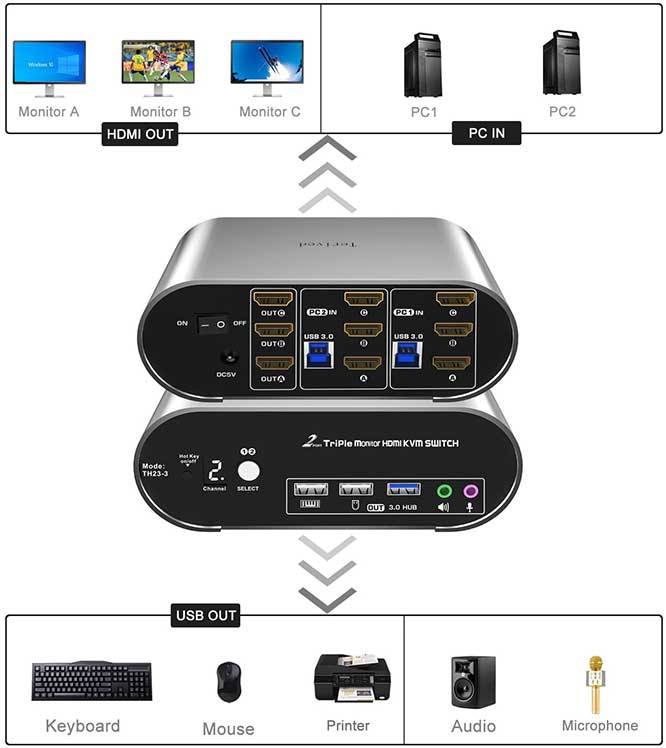 If you're one to disdain repeatedly pressing manual switches, this KVM allows for a more seamless transition between interfaces. Whether you're a keyboard aficionado or a mouse maestro, hotkey options are available for both. However, users should be aware of certain intricacies. While the switch mandates three HDMI outputs for each computer, some external factors might require additional adapters or cables.
For instance, those using specific graphic cards should connect via their card's HDMI ports for optimal performance. Additionally, a minute portion of keyboards might encounter issues with the hotkey software due to transfer rate limitations. But worry not; Terived provides an intuitive solution to bypass this compatibility issue.
CKLau Triple Monitor KVM Switch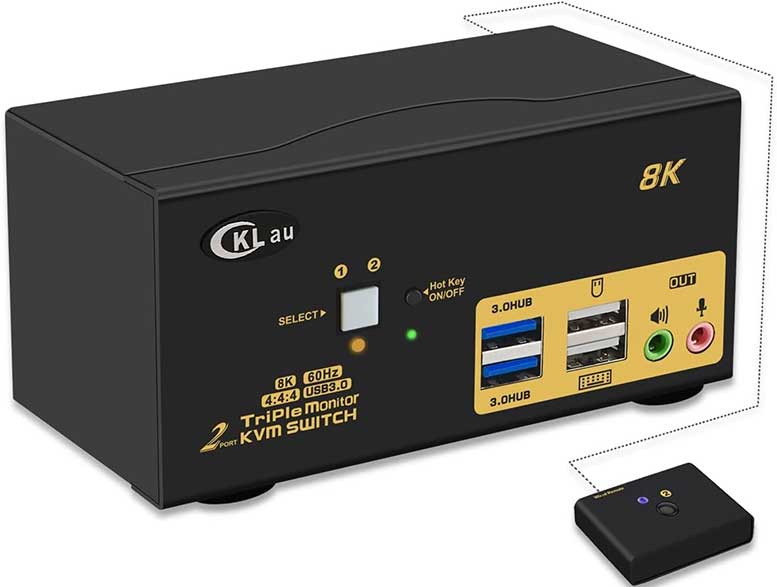 Key Takeaways:
Supports 8K@60Hz and 4K@144Hz
Versatile switching methods
Certified HDMI adopter
Compact and lightweight design
Potential syncing problems for some users
For those seeking an efficient way to share a set of keyboard, mouse, three monitors, and peripherals between two computers, the CKLau Triple Monitor KVM Switch offers a rather commendable solution. Measuring a compact 5.12 x 2.95 x 2.48 inches and weighing 3.41 pounds, this unit fits easily into most setups without occupying much space. Perhaps its most impressive feature is its capability to support HDMI 2.1, promising an 8K@60Hz and 4K@144Hz performance.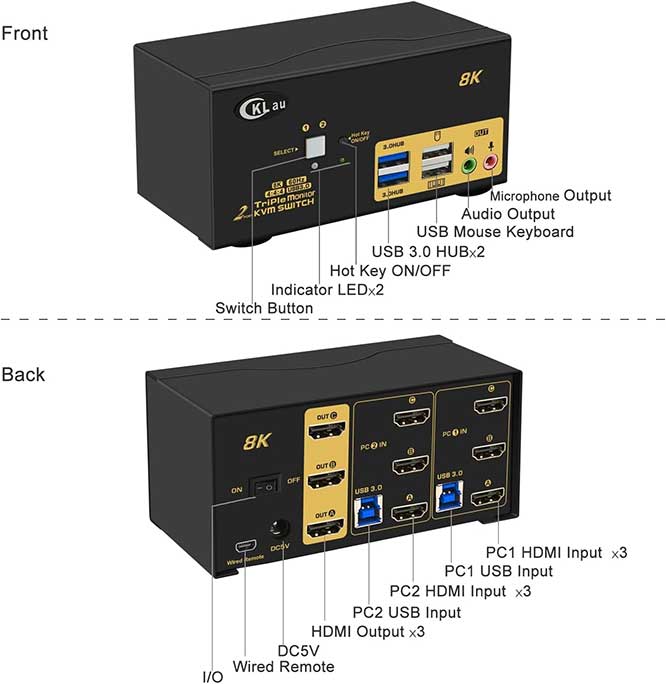 This ensures that users get a crisp and smooth image quality. It's also equipped with HDCP 2.2 and HDR 10. Additionally, the device is certified by HDMI, a testimony to its exceptional image processing and transmission ability. The flexibility it offers is notable, too. Whether you're using Windows, Linux, or Mac, the CKLau switch operates seamlessly. It supports a wide range of resolutions, catering to different user needs.
Furthermore, it's versatile in terms of switching between the two computers, offering methods like keyboard hotkeys, mouse clicks, manual buttons, and a wired remote push-button. In our testing, switching using the built-in USB3 hub was swift and effective. There were no drop issues, a common annoyance with some other switches. However, it's essential to note that while it can push 8K, there can be syncing hitches if there's a significant difference in the bandwidth required by the two video cards being used.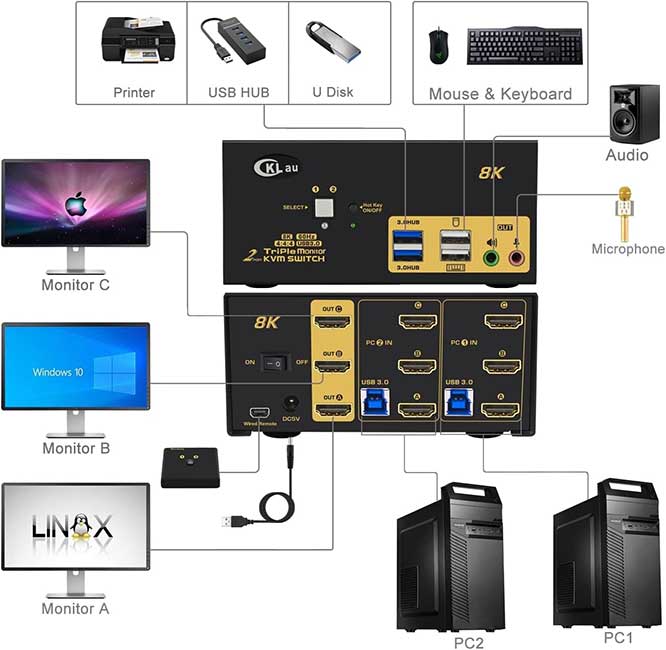 We did notice forced resync when changing resolutions or refresh rates. This might be more of an issue with particular hardware combinations rather than the device itself, but it's something you should be aware of. In all, the CKLau Triple Monitor KVM Switch delivers mostly as promised. It's a robust solution for those who need a triple monitor setup shared between two computers, with a few considerations to bear in mind for optimal performance.
Yeemie Pro Triple Monitor KVM Switch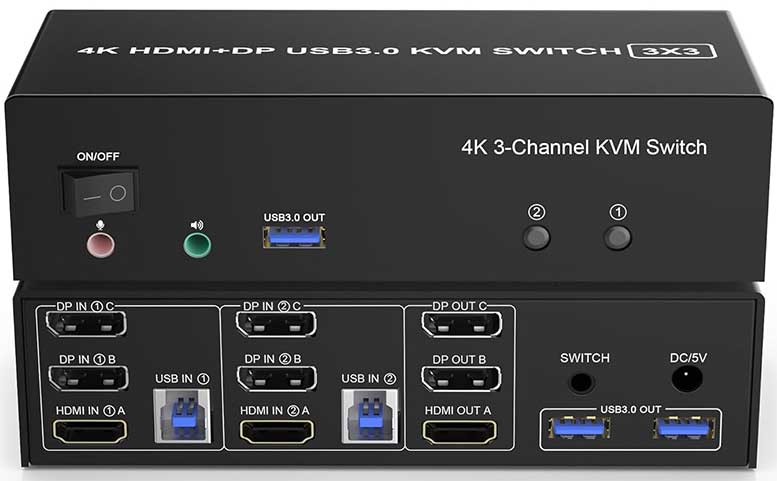 Key Takeaways:
Supports 4K@60Hz across 3 monitors
Two efficient switching modes
3 versatile USB 3.0 ports
Quiet audio jack output
Clean design minimizes cable clutter
If you're a newcomer to the world of KVM switches, there's no question that it can be a bit intimidating. Thankfully, options like Yeemie Pro's Triple Monitor KVM Switch make things more accessible. This unit caught our eye due to its feature-rich capabilities. It's designed to enable two computers or laptops to share one set of keyboard, mouse, and three monitors. And it promises seamless extended or mirrored display functionality, which we put to the test.
The unit has impressive support for resolutions up to 4K@60Hz, assuming both the computer's graphics card and monitor support it. In our tests, transitioning between screens was near-instantaneous, though the OS did take a few seconds to fully adjust. At 9.21 x 6.77 x 2.2 inches and weighing 1.41 pounds, it's a reasonably compact device constructed from polycarbonate. It feels durable but is lightweight enough that, with multiple cables, it has a tendency to tip backward. A little modification with adhesive feet might be a DIY fix for this.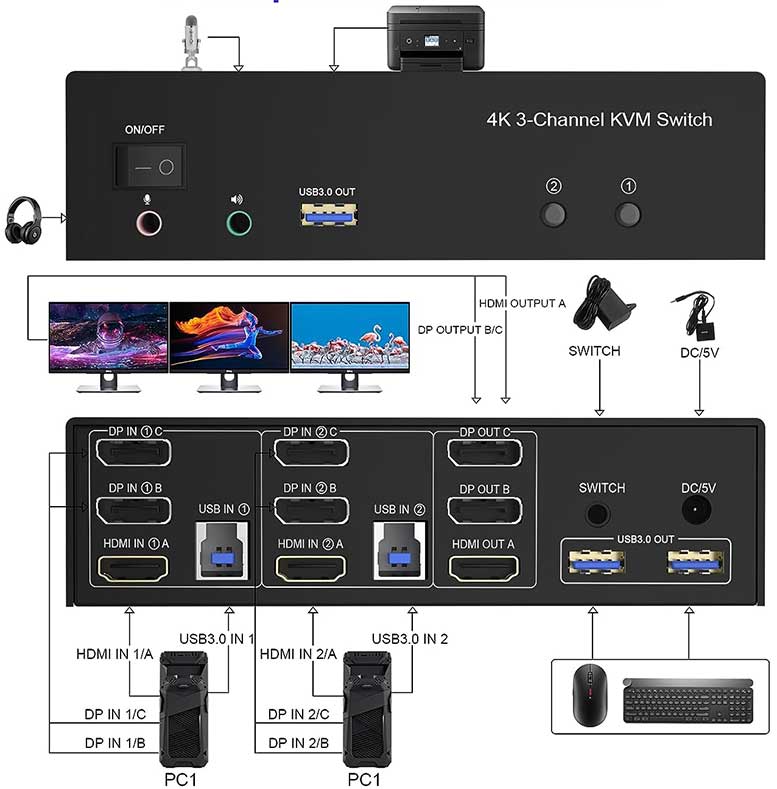 Switching between computers is made easy with two modes: the built-in button on the unit and a wired remote controller, giving flexibility in various setups. The added 3 USB 3.0 ports are versatile, effectively recognizing keyboards, mice, and other peripherals. A small gripe we had was with the front audio jack. While functional, the output was notably quiet. This might affect those using it for calls or media consumption.
One of the device's aesthetic pluses is its design. Ports that need HDMI/DisplayPort/USB cable connections are neatly hidden at the back, preventing any desk clutter. Plus, the switch has a clean, unobtrusive design. In the box, the package includes the KVM switch itself, a user manual, a power adapter, and a switch button cable. All essentials to get started.
KVM Switch for Triple Monitors FAQs
What is a KVM switch for triple monitors?
It's a specialized switch that allows users to control multiple computers using one set of keyboard, mouse, and three monitors. It's an efficient solution for multitasking and optimizing workspace setups. There are numerous applications for this setup, from writing and coding to gaming and editing. Whether you're a hobbyist or professional, a KVM can potentially make your life exponentially easier and more streamlined.
Do all KVM switches support high resolutions like 4K and 8K?
Not all, no. However, many modern switches, especially those designed for triple monitors, support resolutions like 4K, and some even go as high as 8K. As such, you'll definitely want to check the product specifications before making your final purchase.
Are there any compatibility issues with using KVM switches?
Some KVM switches may have compatibility issues, yes. But such issues mostly have to do with certain keyboard or mouse software. Additionally, there might be syncing hitches with certain video card combinations or resolution changes. It's advisable to read product reviews and specifications to ensure compatibility with your setup.
Can I use a KVM switch with different operating systems simultaneously?
Yes, many KVM switches are designed to work seamlessly across multiple operating systems, including Windows, Linux, and Mac. However, always ensure to check the product description for any specific compatibility mentions.
Do KVM switches introduce any lag or delay while switching between computers?
Most high-quality KVM switches offer near-instantaneous switching between connected systems. However, your operating system may take a few seconds to adjust settings like resolution. While most users don't experience significant lag, the exact performance can vary based on the KVM model and the hardware in use.
How do I power a KVM switch?
KVM switches typically come with their own power adapters, ensuring stable and consistent performance. Some might even draw power from the connected devices via USB. It's crucial to check the product's power requirements to ensure it aligns with your setup and workspace.
Final Thoughts
After a comprehensive review of these four KVM switches, it's evident that each one brings a unique set of features to the computer desk. The TESmart 4 Port Triple Monitor KVM Switch impresses with its integrated microphone and stable LAN port, making it ideal for those who prioritize network connectivity. The Terived KVM switch, with its aluminum alloy shell and digital display, beautifully blends aesthetics with functionality.
CKLau's offering stands out with its high-resolution support of up to 8K@60Hz, catering to users in need of top-tier visuals. Meanwhile, the Yeemie Pro Triple Monitor KVM Switch charms with its clean design, aiming to minimize desk clutter. Ultimately, the best KVM switch for you will depend on your specific requirements, and we're confident that one of these top-tier options will meet your needs.
Meet Derek, "TechGuru," a 34-year-old technology enthusiast with a deep passion for tech innovations. With extensive experience, he specializes in gaming hardware and software, and has expertise in gadgets, custom PCs, and audio.
Besides writing about tech and reviewing new products, Derek enjoys traveling, hiking, and photography. Committed to keeping up with the latest industry trends, he aims to guide readers in making informed tech decisions.