Whether you're making cupcakes to share with the office, or you're baking a cake for a birthday party, you always want your work to look its best. And fortunately, you don't need to attend an art school to learn how to make baked goods artistic. If you've ever been to a store that sells cakes, you've probably seen plenty of delicious designs with with graphics printed directly onto the icing. Creating those graphics by hand wouldn't just require a master artist, it would take hours of effort.
How does it all work? Edible ink printers use ink cartridges which are filled with food-grade ink, which was specially constructed to have the right viscosity for an inkjet printer. Like with any other print job, that ink is sent through the printer and ejected onto paper. Except with an edible ink printer, you use an edible paper appropriate to whatever type of baking you're doing. Many kinds of edible papers exist, but frosting sheets are among the most commonly used.
After you've got some printed frosting sheets in hand, all you've got to do is lay them on a well-frosted cake. The printed sheets quickly absorb into the cake's frosting, leaving behind the image you've chosen to print in full vibrant color. Essentially any photo or graphic you can get your hands on can be printed, and the process rarely becomes more involved than printing a page and sticking it on. There aren't any hidden extra steps, and there's no need for any special cake-printing software.
Edible cartridges work almost exactly the same way as ordinary inkjet printer cartridges. You install them in the same way you would ordinary ink, your printer's ink sensors work the same way they would with ordinary ink. And like with ordinary ink, many types of cartridges are capable of being refilled, which can save you money if you end up doing tons of prints. If you've ever printed something before, then you already have all the skills you need to make your pastries look like they've come from a local bakery.
Choosing an Edible Printer
Choosing an edible printer is largely the same as choosing an ordinary printer. In fact, nearly all edible printers are regular printers which have been redesigned to handle edible inks. The features which matter most involve reliability, maintenance needs, wireless connectivity, and all the other things that you expect modern printers to do. But there are also some aspects of choosing a printer you don't have to concern yourself with. For example, unless you're planning on printing dozens of cakes every day, you probably don't need to be overly concerned with the print speed.
When you're purchasing a niche product, like an edible ink printer, you're going to end up encountering unfamiliar brands. Unfortunately, off-brand technology tends to be extremely hit and miss. It's like gambling with your purchase – you might find a great deal, or you might end up with junk. That can be problematic because one of the best ways to guarantee you're getting what you pay for is selecting a reliable brand.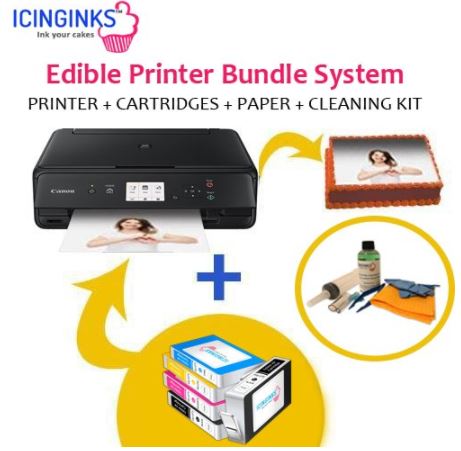 Icinginks Latest Edible Printer Bundle
If you've never heard of Icinginks before, don't panic. Their edible printer is actually a Canon TS5020 that's been modified for edible inks. And the TS5020 has all the things you'd expect from a modern Cannon printer. That includes Wi-Fi support, a USB port, an SD port, and essentially every other connection you can imagine. It even supports AirPrint, Google Cloud Print, and other common cloud printing services. Regardless of the type of ink coming out of it, the TS5020 is a powerful printer.
The Icinginks bundle is well suited for fondant paper, wafer paper, icing sheets, chocolate transfer sheets, edible pizza sheets, and frosting sheets. They're also compatible with rice paper, sugar sheets, transfer sheets. You may have noticed that none if these sheets are particularly thick. If you plan on using thicker sheets, you'll have a difficult time getting them through the TS5020. But given that thinner sheets like those supported are far more common, the Icinginks Edible Printer should satisfy everyone except those with the most obscure demands.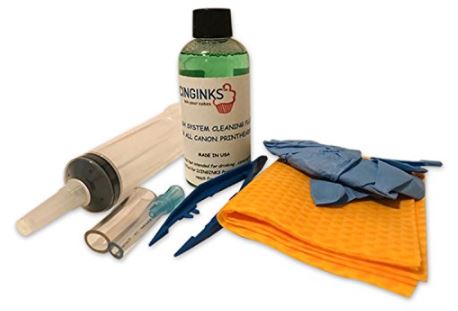 Icinginks edible redesign has a 9 page per minute speed, which is relatively quick and won't leave you waiting around if you plan on doing a large batch of cupcakes. And the maximum print size is 8.5" x 11.7", which is slightly longer than an ordinary sheet of printer paper. For the purposes of virtually all cakes, that should prove to be enough space with only one print. But if you're designing a particularly large cake, you may end up needing to break the print job into two parts.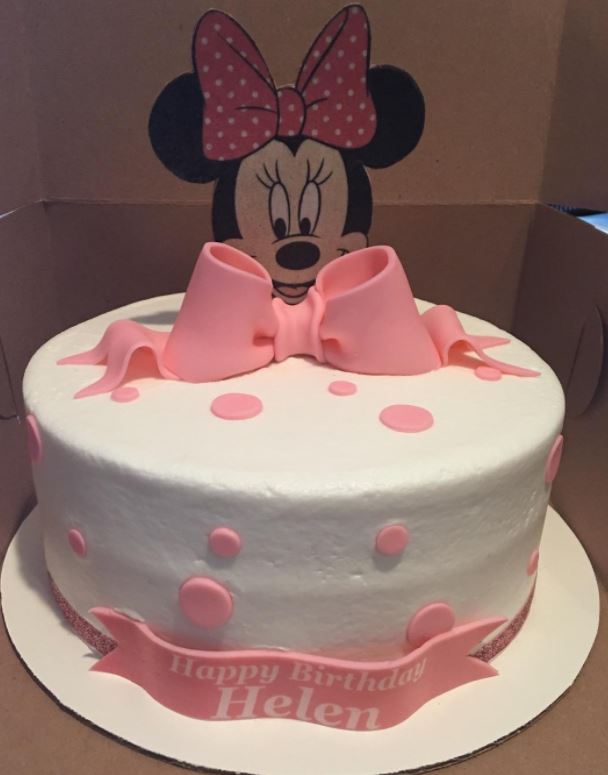 Build and Design
After modification, this printer weighs nearly 14 pounds. The 18 x 14.6 x 5.9-inch body of the printer is roughly the same size of any other ordinary home office printer. One of the reasons Icinginks selected the TS5020 for their edible redesign is most likely because it's a printer with a top-load and bottom-feed design that's optimal for printing images. And the bed scanner can help you capture hard copies of images and digitize them for cake prints, so even hard-copies of content aren't out of reach for cake prints.
The Icinginks kit includes five refillable edible XL cartridges, which are all filled with edible ink. Each kit is composed of includes two black cartridges, one yellow, one cyan, and one magenta. The supported cartridges are Canon CLI-271, PG-270 cartridges, which are generally sold in a set of five. Additionally, you get a printer-head cleaning kit, which can help you remove the food ink from print heads should they become jammed.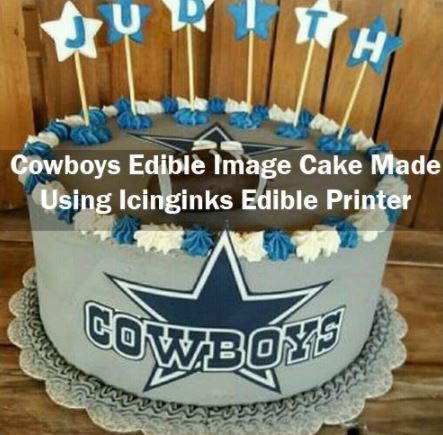 Other Considerations
This printer works equally well with Windows and Mac OS. Icinginks includes a 30-day refund policy, if you're not satisfied with the printer you can send it back. It includes a one-year warranty, which is essentially only long enough to protect you from a manufacturer's defect. And the included lifetime tech support is a nice bonus. You may have noticed that the ink cartridges they use aren't classic colors for ink cartridges. Consequently, when you do your first prints, you'll have to make some adjustments to get the colors adjusted where you want them. Reds in particular may look awkward before adjustment.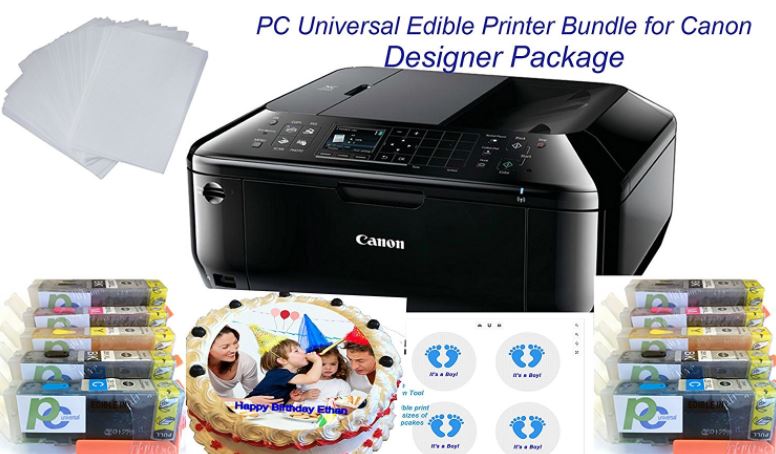 PC Universal Edible Printer Bundle
PC Universal is another company that has taken a Canon printer and modified it for edible inks. In this case, the original printer is a Canon MX922. And like any modern Canon printer, the MX922 lives up to a reasonably high technical standard, including a high resolution 9600 x 2400 DPI color output. It has support for all the same cloud services you'll see on modern printers, including the illustrious Google Cloud Print. As far as color printers go, the MX922 is one of Canon's better designs, so it's clear to see why PC Universal used it.
This package is intended to include everything you need to get started with printing designs on cakes. It includes two complete sets of XL edible ink cartridges, for a total of 10 cartridges. It also comes with 20 edible wafer papers, and 10 edible frosting sheets of assorted size. And PC Universal includes one year of free use for their graphic design program, helping you share, design, and print your creations.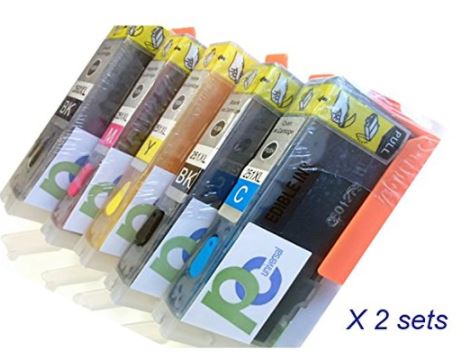 Build and Design
Although it uses a relatively ordinary 19.4 x 15.6 x 9.1-inch build, this beast weighs nearly 26-pounds. Like with most printers of this size, it has a standard range of print-jobs that doesn't extend beyond the size of an ordinary sheet of paper. It's not equipped to print off super-massive reams of paper, but with the common print sizes you'll be running into for cakes, you'll never have an issue.
And much like the TS5020, the MX922 used by PC Universal is another fairly impressive color printer. It has the same slew of connectivity options and features. But unlike the TS5020, the MX922 was originally built with a heavy emphasis on color image printing. That's directly related to its high resolution color output, and its exceptionally strong 2400×4800 DPI scanner.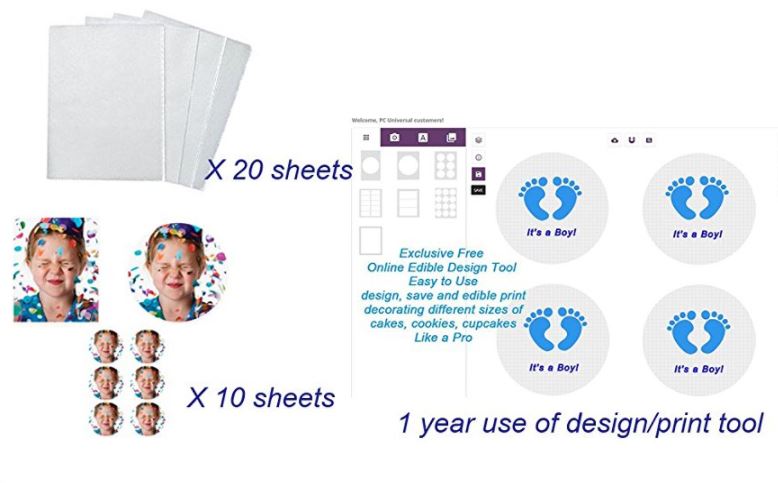 Other Considerations
PC Universal includes a one year limited warranty, and one year of phone support. The only noticeable weakness of this printer is the color print speed, which is roughly 6.4 pages per minute. That's only a minor problem for someone doing edible prints, but for a printer specially designed for color, it's hard not to notice to speed.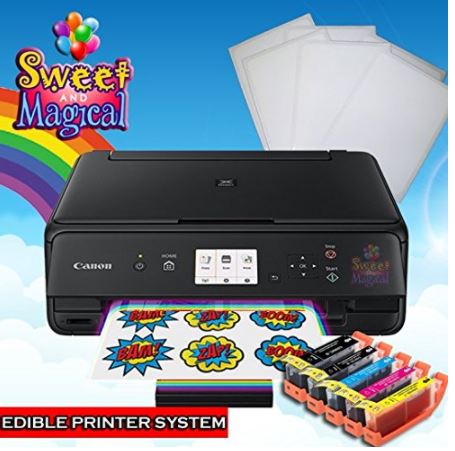 Sweet & Magicl Edible Printer Bundle
Sweet & Magicl is yet another example of a brand that's rebuilt a Canon printer to be compatible with edible inks. In this case, it's the same extremely well-rounded TS5020 used by Icinginks. Consequently, this printer has essentially all of the same features you've already heard about from the Icinginks kit. That includes features like Wi-Fi support, USB and SD-card connectivity, and the same extensive array of options for cloud connectivity.
Build and Design
Like with Icinginks design, here you're looking at the same 14-pound build, and the same unassuming build that looks much like an ordinary printer. And like with their design, this TS5020 uses the same top-load and bottom-feed build that's optimal for printing images. Their bed scanner is equally impressive. The TS5020 is an impressive printer, so it's no wonder why multiple brands would flock to it for an edible redesign. But if you've seen one TS5020, you've seen them all.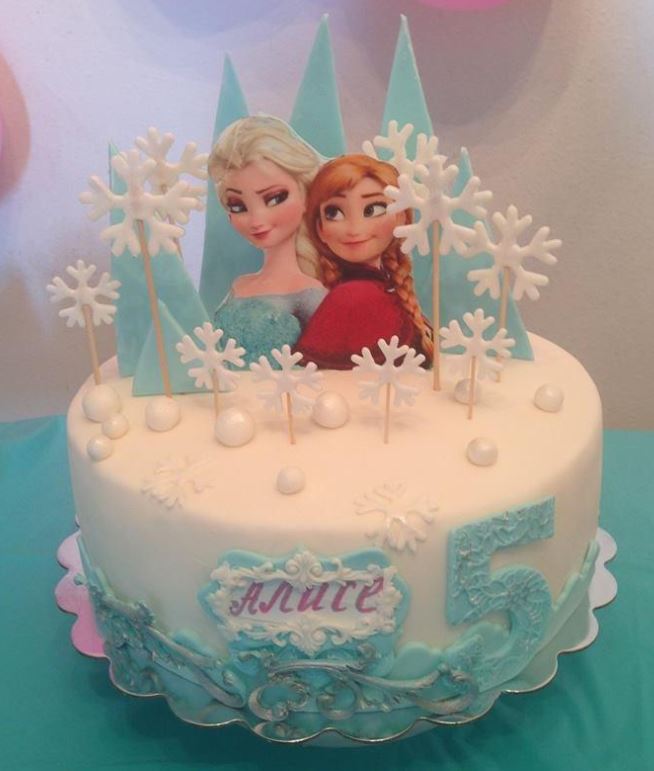 Other Considerations
This kit includes one full set of edible ink cartridges to help you get started. You can use edible inks from any manufacturer that creates CLI-271 and PG-270 cartridges, including those manufactured by Icinginks. The Sweet & Magicl kit also includes one set of six edible papers. Although that's not exactly a stockpile, it's more than enough to help you get your printer calibrated to having the right colors.
Choosing Between 3 Edible Ink Printers
Icinginks and Sweet & Magicl both use a Canon TS5020 as the basis for their edible ink modification, and both include a bundle of extras to help them stand out. Sweet & Magicl is a good choice for someone who's looking for an inexpensive way to dip their toe into edible printing. It's great if you're looking to print cakes for family birthday parties or similar events, but not necessarily looking to open a cake shop. Although it uses the same Canon TS5020 as Icinginks, it contains fewer extras and is consequently less expensive.
What sets Icinginks apart from Sweet & Magicl is the merit of included extras. The Icinginks kit includes a full extra replacement set of edible XL cartridges, and a handy print head cleaning kit that can help you take on print jams. If you're not printing edible designs that often, you may find the edible ink may get jammed from extended use or long periods of inactivity. Being able to solve the problem with minimal time and effort is a convenience that's hard to overlook.
Finally, the PC Universal edible printer is a bit different. It's based on Canon's MX922, which has an impressive high-resolution scanner. It's a device that's equipped to handle almost anything within the space of color printing. Unfortunately, the supported 250/251 XL cartridges aren't refillable. If you plan on doing huge quantities of printing, PC Universal won't be an economic choice, and you'll want to try one of the edible ink TS5020's instead.
But where the TS5020 begins to choke on thick pasty papers, the MX922 will hold up considerably better. And PC Universal includes a dozen edible sheets, as well as two full sets of edible inks. It's the most inclusive bundle on this list, making it a great choice for anyone looking to get everything they need to start from one place.