If you want to go all-out for a party, there are any number of things you can do. You can buy a pinata for the kids. You can mix up some top-notch margaritas for the adults. And everybody loves a piece of cake, especially one that's personalized. When you think of edible ink printers, you probably think about something at a professional bakery. You go to your local supermarket, submit a picture or choose from a catalogue, and they make it for you.
This is a great way to get a beautiful, personalized cake, but it leaves a lot to be desired. You can't use grandma's traditional recipe. Instead, you're limited to whatever chocolate or yellow cake the bakery has to offer. You can also print a wider variety of images. Many images are protected by copyright, and some bakeries won't deal with them. But if you're printing yourself, there's no reason the cake can't have a football team logo on it, for example.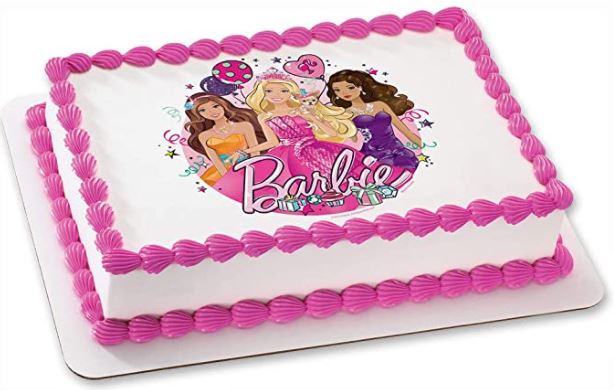 If making your own edible ink cake sounds daunting, don't worry; it's not that complicated. All you need are three different things: a printer, some edible ink, and some edible paper. We'll review the Canon PIXMA TS5020 printer, the Canon 4-Color Value Pack ink, and the Oasis Supply 100-Piece Paper Pack. We'll talk you through using each one, and explain how they work. If you just want an all-in-one kit, we'll also review the Mobile Deals Edible Printer Bundle. Ready to dig in? Just follow our guide, and printing with edible ink will be a piece of cake!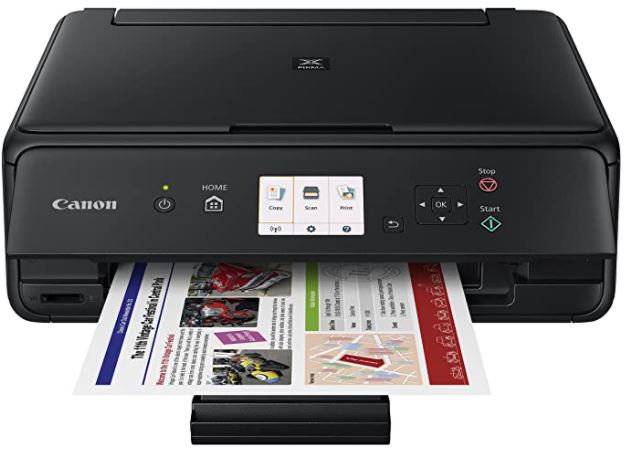 Step One – The Printer: Canon PIXMA TS5020
Before you do anything else, you're going to need an edible ink printer. Now, you might be picturing some big, complex, industrial machine, but that's far from the truth. While bakeries might use heavier-duty printers than home users, there's no need for massive equipment. In fact, most home edible ink printers are just variants on already-existing models. If you think about it, this makes a lot of sense from a cost perspective. Edible ink is a niche application, while ordinary ink printing is fairly common. If a manufacturer can modify an existing model, that's way cheaper than building a new printer from scratch.
The most important aspect of an edible ink printer is that it needs to be able to handle edible ink. Edible ink is thicker than regular ink, and can't fit through the tiny holes in normal print heads. An edible ink printer is engineered with larger holes in the print heads. To allow for this thicker ink. Edible ink printers also need to be able to handle edible ink paper, which is more brittle than normal paper.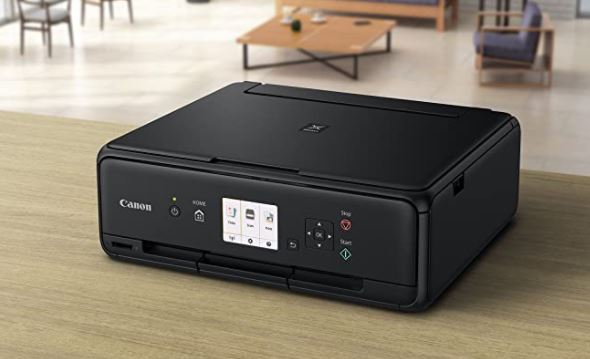 Other than that, the printer operation is more or less the same. You choose a file to print, size it the way you like, and print. You can print from any device, although compatibility will obviously depend on the printer. Because of this universal design, it's easy to print pretty much anything you like. Whether it's a family photo, a favorite sports team, or a beloved superhero, everything is on the table. Of course, you may run into some limitations regarding image size. If you want to cover a huge sheet cake, for example, you'll need to break the image up into chunks. Still, it's easy enough to make this work if you get creative. If you want to get even more detailed, you can add some frosting details or rosettes.
The Canon PIXMA TS5020 is an excellent choice for anyone who wants a good edible ink printer. Canon is known for their reliable office printers, and the TS5020 is a variant on one of those. It's designed to handle paper up to legal size, which is 8 ½ x 14 inches. That's sufficient for just about any homemade cake. As we said, you might need to do some patching together for very large cakes. But you're probably not making a sheet cake in your kitchen.
The printer measures 20 inches wide, 16 inches deep, and 7 inches tall. This makes it compact enough to position on your kitchen counter without taking up a ton of space. At 20 pounds, it's also reasonably lightweight and easy to pack away when it's not in use. Ink cartridges are included, with enough capacity to print about 50 sheets. Your exact performance will depend on how dense your printing is.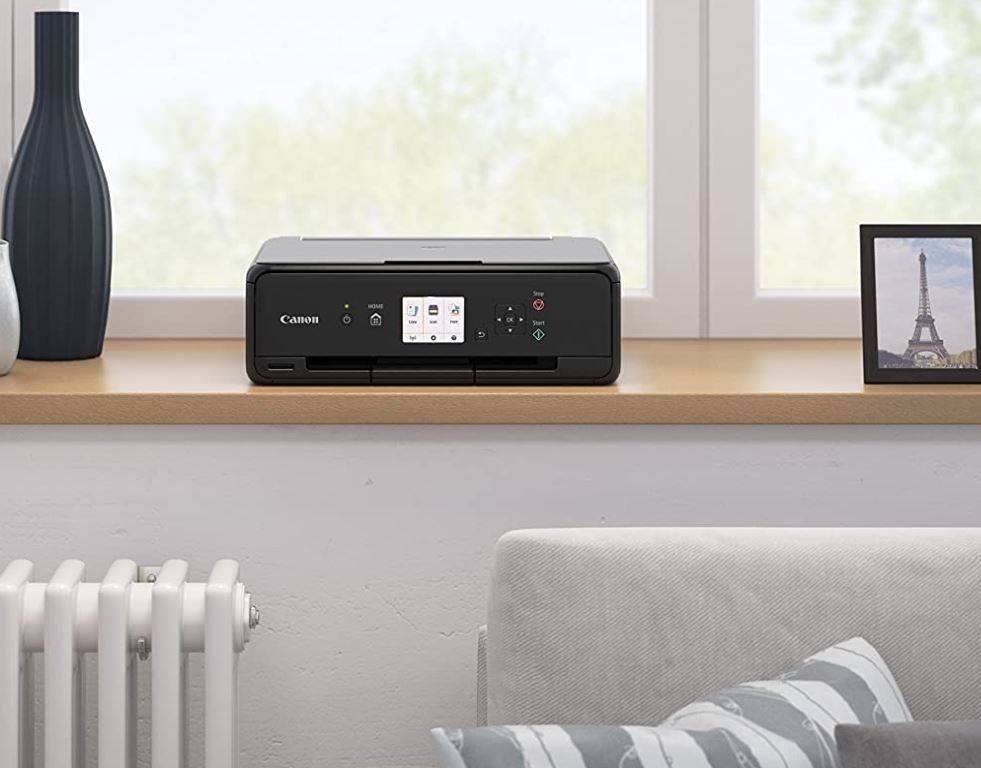 The printer housing is constructed from black ABS plastic, with an easy-to-use display panel. The PIXMA TS5020 will accept inputs from a PC via USB or WiFi. In addition, you can print from your smartphone from the AirPrint app, which is free on iOS and Android. If those options don't appeal to you, you can also print from an SD card. Use images from a digital camera, or even from an action cam. On top of all that, there's a built-in scanner. So you can transfer images easily from non-edible paper to edible paper.
One thing to be aware of with any edible ink printer is that the ink will tend to flow slowly over time. As this happens, the print heads can become clogged. When this happens, you'll end up having to perform a lengthy, aggravating cleaning. To prevent this, you should run an edible ink printer at least once every two weeks. This can get wasteful if you're using ordinary edible ink cartridges. In order to save precious ink, Canon includes a special cleaning cartridge and kit in the PIXMA TS5020 package. Use this, and save the actual ink for when it counts. Similarly, you can use cheap, non-edible paper for cleaning, since nobody's going to eat your cleaning sheet.
The PIXMA TS5020 comes protected by a one-year manufacturer's warranty. If there are any defects, you'll receive a full refund or a replacement. Not only that, but Canon's customer support team is based in the US, which makes them easy to contact.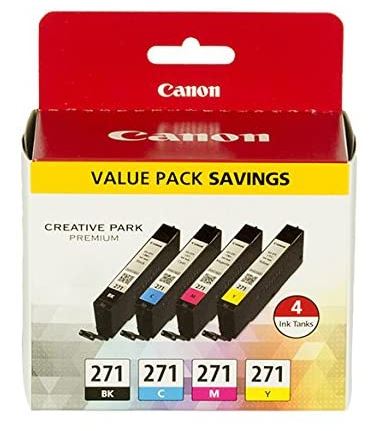 Step Two – The Ink: Canon 4-Color Value Pack
Edible printer ink works much the same way as ordinary printer ink. It comes in cartridges, and some are replaceable while others are refillable. The main difference, as with the printers, is that they're made to work with thicker, more viscous edible ink. This means larger openings and a food-safe design.
In the case of the Canon PIXMA TS5020, the cartridges are standardized. In addition to the TS5020, they work with several other Canon printers, including the MG6821, MG6822, MG5722, and MG5721. Because of this wide compatibility, you can count on these cartridges to be available for a while. The 4-Color Value Pack includes black, magenta, cyan, and yellow cartridges. It's everything you need to get started. Individual colors are also available separately, so you can replace cartridges as needed.
Along with the cartridges, you get an access code for Creative Park Premium. This is an online service with a number of free images and patterns. It's not much help if you already had something specific in mind. But it's a good source of inspiration and general resources.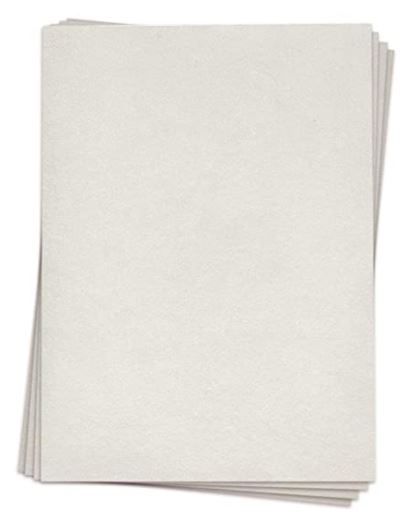 Step Three – Edible Wafer Paper: Oasis Supply 100-Piece Paper Pack
Similarly to edible ink and regular ink, edible printer paper is a lot like regular paper. At first glance, it even looks the same, if a bit sheer. But because it's part of a cake, it also needs to be safe to eat. Complicating this is that you don't just want it to be safe. You also want it to taste good, and to not interfere with the texture of the cake. To top it all off, it has to survive a trip through the printer. Those are a lot of requirements, especially if you want something you can afford in quantity!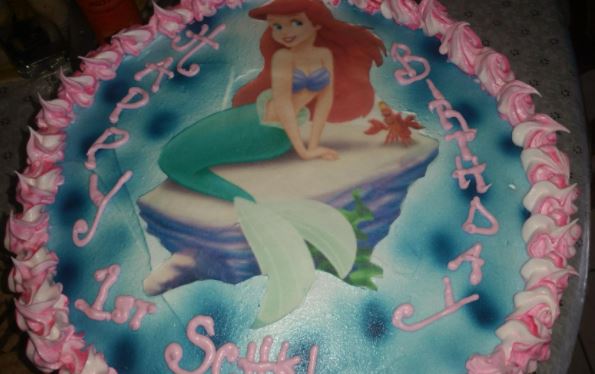 Part of this is solved by the design of a good edible ink printer. Printers like the PIXMA TS5020 are made with gentler rollers and feeders that are specifically engineered for edible paper. In other words, if you put edible paper through an ordinary printer, it's going to shred. Keep in mind that it's normal for some paper to chip during shipment. But if you get a bunch of broken pages, something has gone terribly wrong.
Thankfully, edible ink paper isn't as expensive as you might think. It costs more than ordinary paper, but it's made of ordinary, everyday ingredients, not anything exotic. For instance, the Oasis Supply 100-Piece Paper Pack is made of potato starch, water, and vegetable oil. That's not only safe to eat, but it's essentially odorless and tasteless. Throw a sheet on top of some frosting, and you'll never even taste it. It also cuts easily with a knife, so serving is as simple as possible. The Oasis Supply paper is also available in 20-packs, if you're just doing a single cake or two. Alternatively, you could order a 200-pack if you're intending on heavy use.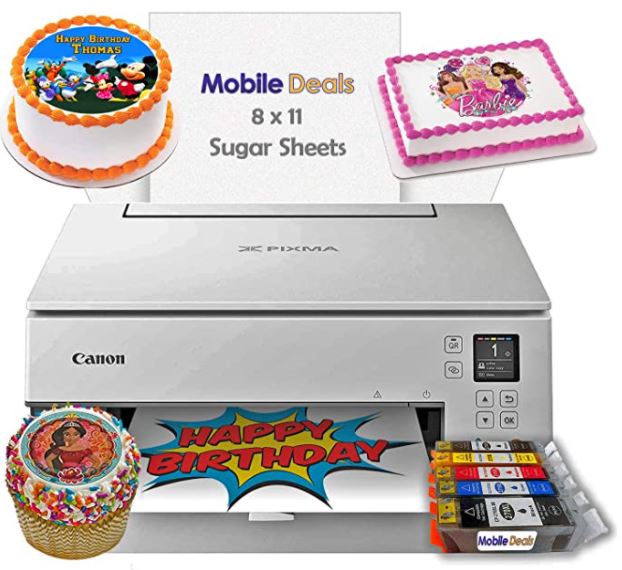 Alternatively, Buy a Bundle: Mobile Deals Edible Printer Bundle
So, you can buy your own printer, ink, and paper. This allows you to mix and max options to get exactly what you need. However, it can also be a bit daunting. As an alternative, many manufacturers offer complete edible ink kits with everything you need to get started. Perhaps the best of these is the Mobile Deals Tasty Treats and Birthday Cake Topper Image Printer Bundle. It's not as full-featured as what you can get from ordering all the parts separately. But it's a fantastic way to get started with printing your own edible ink cakes. If you like what you see, you can always buy more paper, or upgrade to equipment you like better.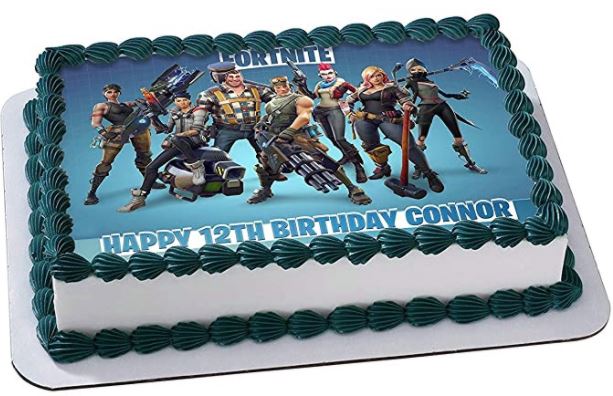 The heart of the kit is a Canon TS6020 printer. Like the TS5020, the TS6020 is a modified office printer, reengineered for edible ink. Other than that, it looks like a normal office printer, with a control panel on the front right. It's made of ABS plastic, and has a mid-sized profile that fits well on most counters. Like the TS5020, the TS6020 will support paper of up to legal size, or 8 ½ x 14 inches. There's also a built-in scanner, as well as a one-year warranty.
Along with the printer itself, you get CMYK edible ink cartridges and an extra black cartridge. There's also a set of six sheets of edible paper, with 20 sugar wafer sheets. These are enough to get you through at least a handful of birthday parties.
The TS6020 will print from Windows or Mac without any trouble, over USB or WiFi. However, there's no smartphone app. As a result, smartphone support can vary from model to model, and even between operating system versions.
Final Verdict
As you can see, just about anybody can make their own edible ink cake. If it seems complicated, that's just because bakeries have years of experience. The equipment itself is relatively affordable and nondescript. Take the Canon PIXMA TS5020. It's a great edible ink printer that does everything you need. But to all outward appearances, it looks like an ordinary office printer. Similarly, the accessories are easy to obtain. The Canon 4-Color Value Pack and Oasis Supply 100-Piece Paper Pack are both in wide use. Both perform very well, and are virtually guaranteed to be in use for a long time.
Alternatively, you could skip all that and use the Mobile Deals Edible Printer Bundle. You won't get the same versatility as you will by building your own printing kit. However, you'll have everything you need to get started, and you won't have to worry about compatibility. It's not an ideal choice for someone who intends on doing a whole lot of printing. That said, it's great if you just want to get your feet wet. But regardless of whether you order a complete kit or build your own, the process is easy. Just choose your image, position it on the page, and print. Everything else comes down to your skills in the kitchen.
Was this helpful? Please consider sharing: