To many of us, scrolling down your Facebook Feed is a great way to see what your friends and family are up to. But you may have noticed Reels appearing more often than you'd like. Is there a way to remove reels altogether from your Facebook Feed?
TL;DR – There is no way to permanently remove Reels from your Facebook feed. You can only temporarily disable them by clicking the three small dots in the right-corner and selecting "Hide." However, this will not turn them off completely as it will only slightly lessen the frequency in which they are shown.
Why Can't I Permanently Remove Facebook Reels?
As of October 2023, Facebook does not allow any users to permanently remove Reels from their feed. You cannot permanently remove Suggested Reels from appearing since the platform has seen huge success in showing them since originally introducing them in September 2021.
If you're a Facebook user, you might as well get used to seeing them. To many, they are annoying as they are often distracting, repetitive, and uninteresting. Although there have been several rumors and deceptive YouTube videos published that promise the ability to disable reels, these are simply click-bait.
Temporarily Hide Reels from Facebook Feed
Although there is no way to completely remove reels from your Facebook feed, there is an easy way to discourage them from appearing.
1. Scroll down your feed until you see a group of Suggested Reels.
2. Locate the three tiny dots in the upper right-hand corner and select "Hide, see fewer posts like this."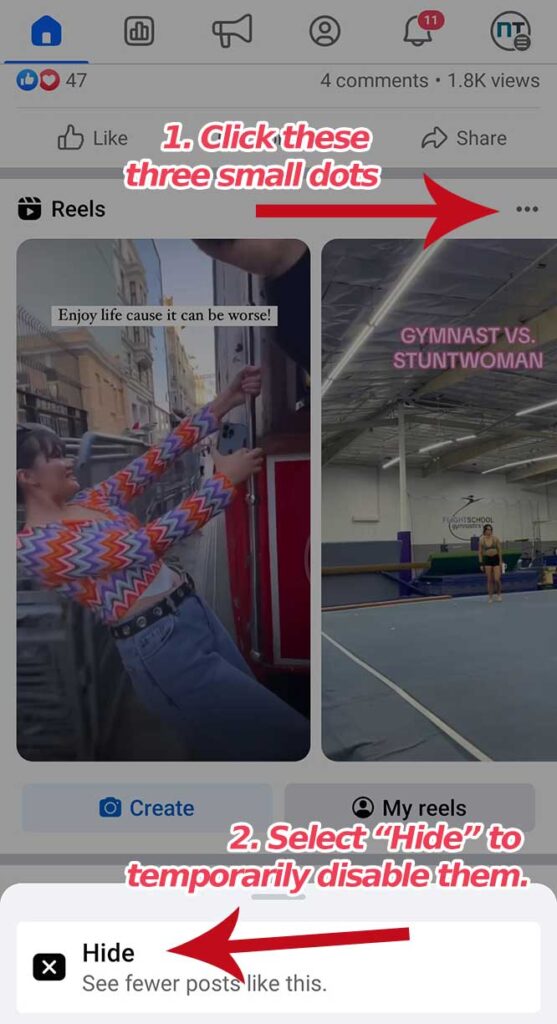 3. Facebook will then replace the Suggested Reels with a variety of Facebook pages to follow that the app thinks that you may find interesting.
4. This will temporarily lessen the amount that reels are shown. However, once you exit the Facebook app and/or clear your phone's cache, it will continue to suggest Reels on your feed.
How to See More-Relevant Reels
If you've noticed that your Suggested Reels are not relevant to your interests, you can assist Facebook's algorithm to tailor them better to your needs.
1. Start by viewing your Suggested Reels. If the Reel you're viewing is something you like or dislike, let Facebook know. Click the three small dots in the bottom right corner.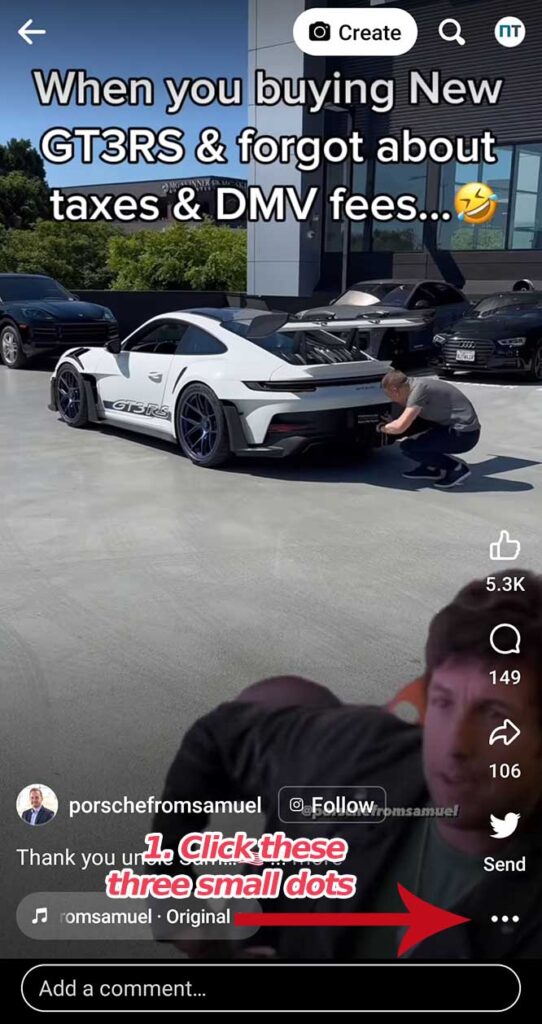 2. Select either "Show more" or "Show less" when the menu pops up. You can also select "Hide reel" to see fewer reels like this.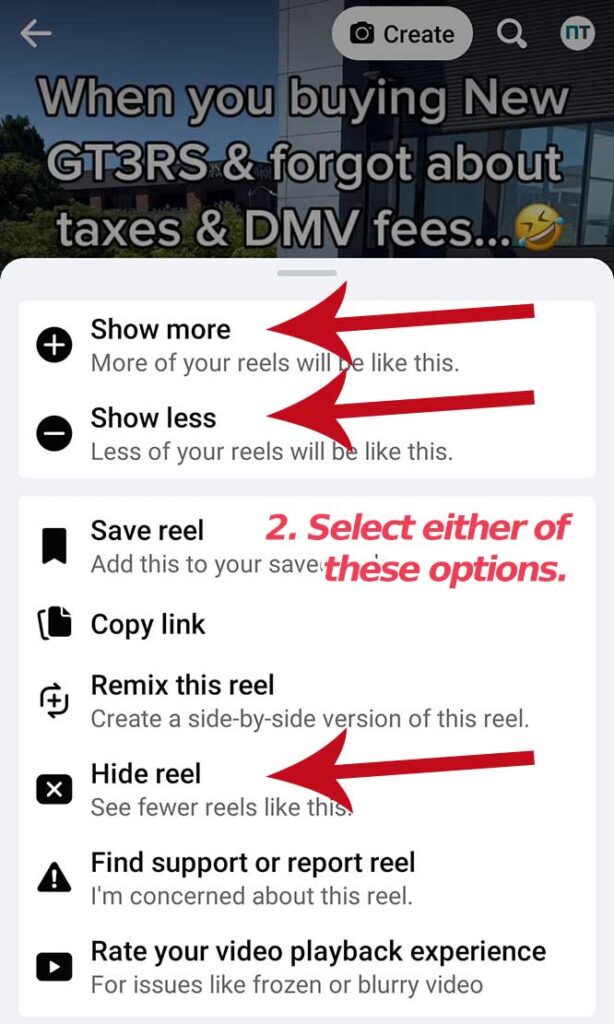 3. Repeat this process as much as you can. This will inform Facebook precisely what kind of content you're actually interested in.
Why Does Facebook Show Reels?
Facebook introduced Reels as a way to compete with other popular short-form video platforms like Instagram (which is also owned by Facebook), TikTok, and others. Here are several reasons why Facebook started showing Reels:
User Engagement: Short-form videos have become extremely popular on social media platforms due to their engaging nature. By offering Reels, Facebook aims to keep users engaged and spend more time on the platform.
Competitive Landscape: TikTok, in particular, gained immense popularity for its short video format. Facebook introduced Reels to compete with TikTok and retain users who might be drawn to other platforms.
Content Variety: Facebook wanted to diversify the types of content available on its platform. Reels provide a new and creative way for users to share their stories, creativity, and experiences.
Monetization: Short videos, including Reels, offer opportunities for advertising and monetization. Facebook can integrate ads into the Reels experience, potentially generating revenue both for creators and the platform itself.
Attracting Creators: By providing a platform for short videos, Facebook can attract content creators and influencers who specialize in this format, thereby increasing its appeal to a wider audience.
Algorithmic Engagement: Facebook's algorithm uses user data and engagement patterns to surface content that users are likely to enjoy. Reels can be a part of this algorithm, showing users videos that align with their interests and engagement history.
Facebook Reels FAQs
What are Facebook Reels?
Facebook Reels are short-form videos that allow users to create and share entertaining video content on their profiles or in dedicated Reels sections. They are typically 15-60 seconds in length and can be directly imported from TikTok and other short-form video platforms.
Why do I keep seeing irrelevant Facebook Reels?
You may see Reels that seem to appear random or off-topic because you have shown interest by stopping your scrolling or clicking on a similar reel in the past. The Suggested Reel may also be similar to a page you follow, a previous reel you have fully watched, shared, or liked.
How can I start seeing Suggested Reels that are more-relevant?
You can start seeing more-relevant Suggested Reels by purposely viewing, liking and/or sharing reels that you're actually interested in. Facebook will use this engagement data to better-tailor the Suggested Reels that it automatically shows you as you scroll down.
How does Facebook determine which Reels to show in my feed?
Facebook uses its algorithm to show Reels in your feed based on your interests, engagement history, and other factors. The algorithm aims to show you content that is relevant to you.
How do I create a Facebook Reel?
To create a Facebook Reel, open the Facebook app, go to the camera feature, and select "Reels." From there, you can record or upload short videos, add effects, text, and music, and then share them.
Who can see my Facebook Reels?
The visibility of your Facebook Reels depends on your privacy settings. You can choose to make them public, share them with your friends, or restrict the audience to a custom group.
Meet Derek, "TechGuru," a 34-year-old technology enthusiast with a deep passion for tech innovations. With extensive experience, he specializes in gaming hardware and software, and has expertise in gadgets, custom PCs, and audio.
Besides writing about tech and reviewing new products, Derek enjoys traveling, hiking, and photography. Committed to keeping up with the latest industry trends, he aims to guide readers in making informed tech decisions.