Remote work has increased the need for online meetings. Some of them can be done via a normal phone call, but many people prefer a video meeting where you can still meet "face to face". If you're looking to elevate your online video meeting setup on a budget, then you might want to check out some of the best affordable 2K HD webcams on the market.
Why would I want a 2K HD Webcam?
There are lots of reasons to want a 2K HD webcam. One of the main ones is to upgrade your video quality so people on the other end of your meeting have a clearer picture of you. Nothing is more distracting than terrible videos for these kinds of meetings. You'll stand out more when using something high-quality. 2K resolution is in a good spot of being better than the standard 720p or 1080p options on the market. Additionally, the resolution it records in is viewable on many different computers, whereas 4K isn't as common.
What should I consider when looking for a 2K HD Webcam?
There are many different factors to consider when looking for the best budget 2K HD webcam. Options like how big they are and their overall aesthetic is important to make sure they blend in well with your setup. Picture quality and clarity are also important. Just because they are all 2K doesn't mean the picture is going to be as nice between the various options available. Some even have microphones included, so making sure the audio quality is good is also important.
Do I have to use the included microphone?
Nope! You can certainly still use your computer's standard microphone or even a separate microphone entirely. However, some of these webcams have really great audio capabilities, so you might want to use them if it's better than the alternatives you already have.
Best Overall: EMEET C960 2K HD Webcam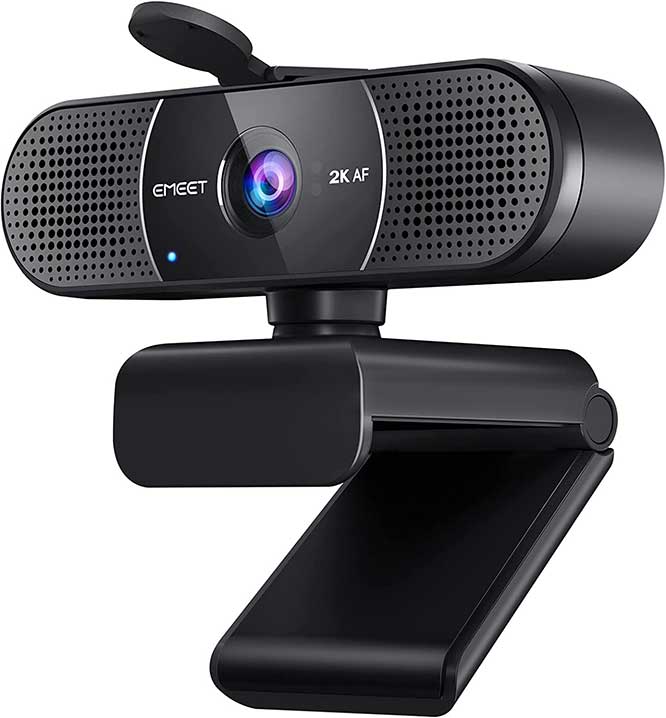 Key Features:
76-degree field of view
30 frames per second
Included removable privacy cover
The EMEET C960 is one of the best overall 2K HD webcams on the market. It has an average size as far as external webcams go and is all black in color to help it blend in with your monitor(s). Under the webcam is an adjustable hook stand that makes it easy to set it up where you want it for optimal viewing angles. There's also a removable privacy cover in case you want to cover the camera while not in use.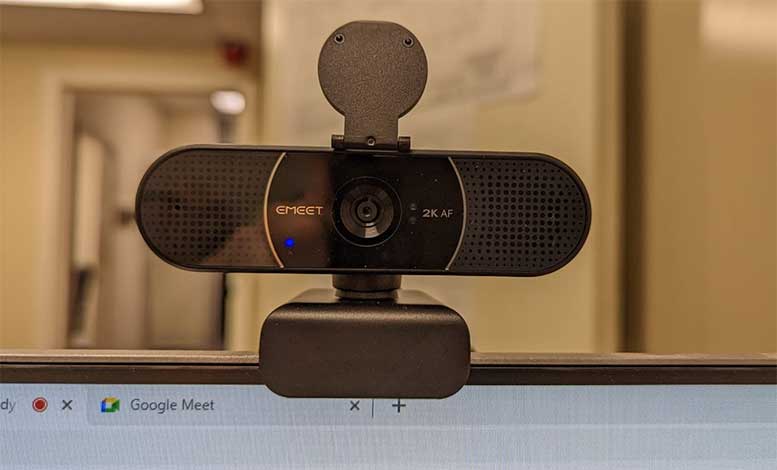 The C960 has a super sharp and crystal-clear picture to make you look your best for online meetings. It records video in 30 frames per second to give an even better picture. In addition, you can customize the overall look via the EMEETLINK software. Settings such as brightness, contrast, sharpness, saturation, and white balance are all editable. Another great picture feature is the autofocus, which keeps the camera focused on you at all times.
As for audio, the C960 does come equipped with dual microphones. These provide noise-free audio input with the help of an included noise-reduction chip. This helps to take any background noise from your home or office and remove it before it gets sent through to the rest of your meeting.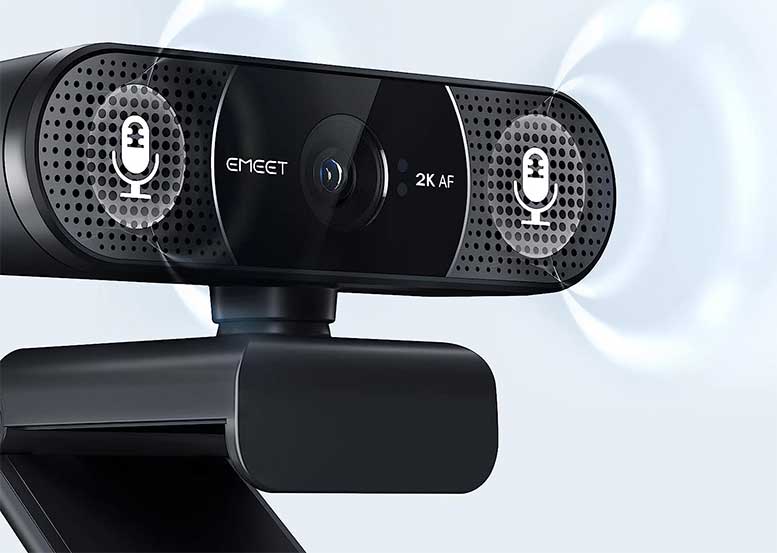 One additional feature is customizable positioning. The base used to attach to your monitor can swivel up to 180 degrees. The actual camera head itself can spring around 360 degrees to point wherever you need it. Finally, the head can also tilt up and down 8 degrees for further customization.
Pros:
Customizable positioning angles
Custom video quality settings
Dual microphones with noise-canceling technology
Cons:
Some reviewers note difficulty using a green screen
Best Alternative: HiLook U14P 2K HD Webcam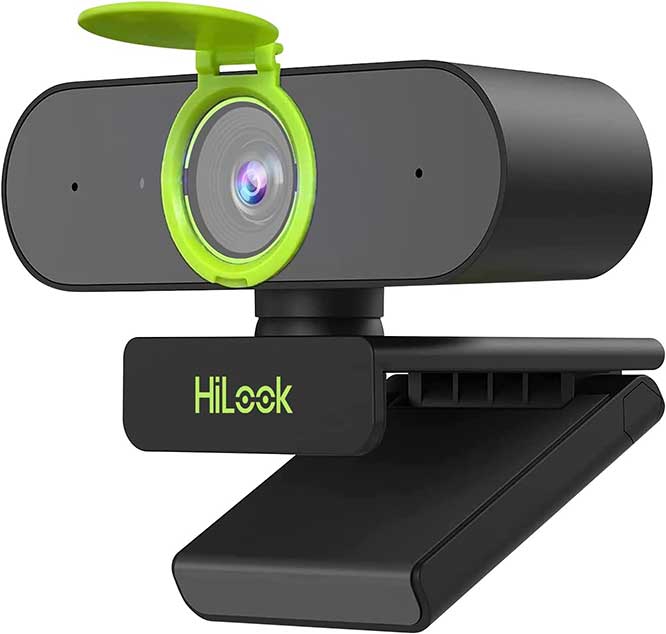 Key Features:
88-degree field of view
30 frames per second
Smart noise reduction microphone
The HiLook U14P 2K HD Webcam has a sleek design with some great features. This webcam is available in either black or white, each having a small amount of lime green accents. The stand has the same design as the EMEET, and it also has a privacy cover.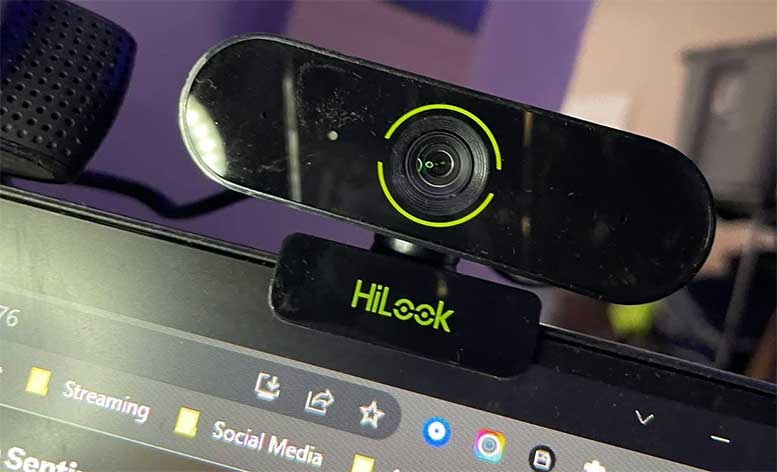 The U14P utilized a 4MP high-resolution camera to provide high-quality 2K video. It also has an autofocus feature to make sure it's clearly showing you or any objects you put in front of it. When used in low-light conditions, this webcam will auto-correct to make sure you can still be seen clearly. The camera has a wide-angle lens to cover 88 degrees in front of it. This is perfect for both meetings with just yourself or a few participants in one room.
Similar to the EMEET, this webcam has a built-in microphone. This microphone is paired with an intelligent algorithm to provide noise reduction while in use. This removes background noises via the algorithm rather than a cover.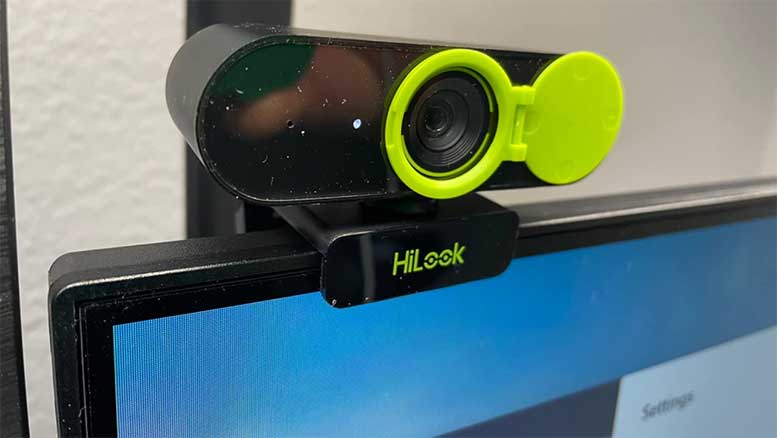 One of the best extra features of the U14P is the supporting HIKIN software. This allows you to take complete control of your webcam. Settings such as brightness, contrast, definition, saturation, and exposure can all be set with it. Best of all, it can zoom in on the camera to help focus on only you. This eliminates any issues with the wide-angle lens if you don't want to show off that much of your surroundings. Please note the software is only available on Windows and won't work on Mac devices.
Pros:
Wide angle lens
Noise suppressing microphone
Low-light auto-correcting
Cons:
The software is not compatible with Mac
Best Field of View: Anker PowerConf C200 2K Webcam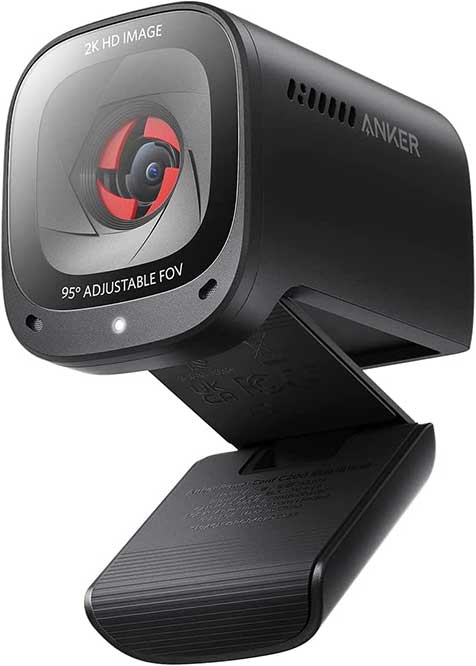 Key Features:
Field of view: 95-degree field of view
Built-in privacy cover
Low light mode
The Anker PowerConf C200 2K Webcam is one of the most impressive options at this price point. It has a different design than a standard webcam, opting for a square look instead. It still has a stand under it to easily attach to your monitor, and it also has a place to screw in a tripod instead. The privacy cover is built into the body of the webcam and is a red color so you can easily see when it's closed.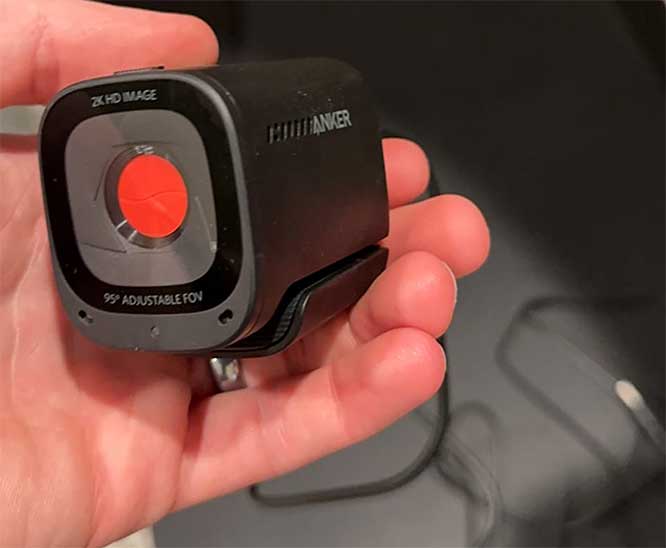 The C200 uses multiple built-in sensors to enhance the video depending on your surroundings and lighting conditions. This makes you always look as good as possible no matter where you are. Additionally, it has an adjustable field of view. You can choose either 65 degrees, 78 degrees, or 95 degrees, depending on how much you need to show in your meeting.
There are two built-in stereo microphones on the front of the webcam that provide high-quality sound for your meetings. They also pair with AI technology to easily pick out your voice, enhance it, and remove any background noise in the room you're in. Your colleagues won't have any issues hearing you through these microphones.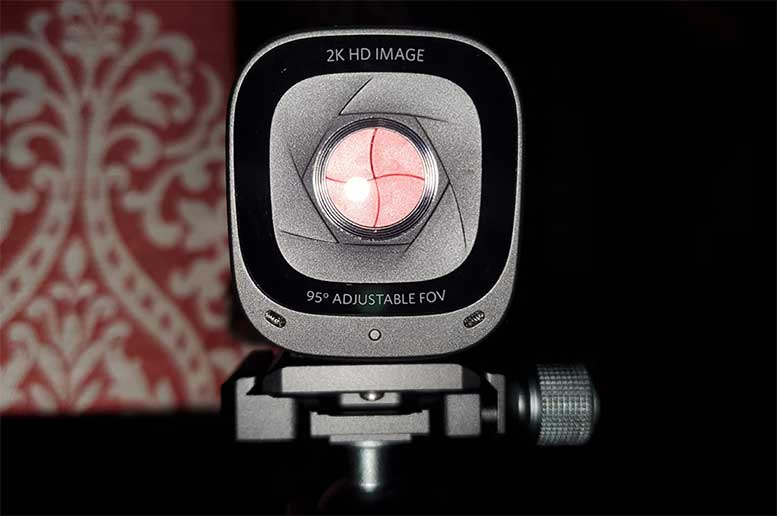 One great feature of the C200 is the additional AnkerWork Software. Similar to the U14P, you can use this software to customize your video settings, like brightness and saturation. You can also customize various audio settings, as well as which field of view angle you want it set to.
Pros:
95-degree field of view
Various mounting options
Built-in red lens cover
Cons:
Some users note the colors aren't shown very well on video
Best Budget: AIRHUG 2K Webcam
Key Features:
71-degree field of view
30 frames per second
5MP camera
The AIRHUG 2K Webcam is one of the best budget options on our budget list of options. It follows a regular webcam design with a normal monitor stand. What's more; it can be screwed onto a tripod similar to the Anker. There is also a built-in privacy cover that is easily controlled by a wheel on top of the device. Overall, the look of this webcam is professional and non-descript in its black colorway.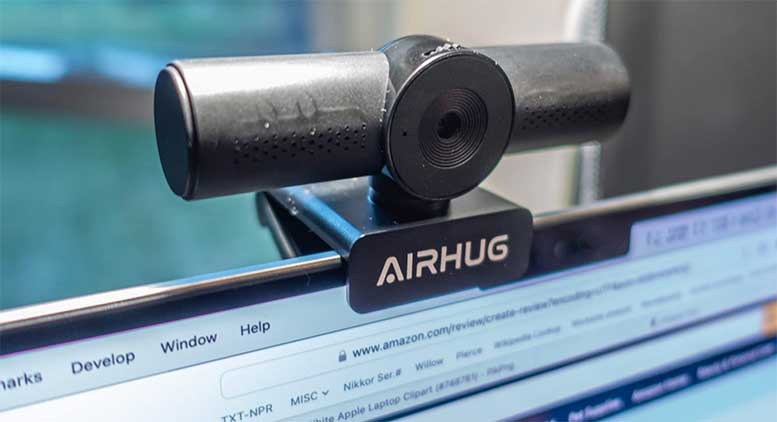 The AIRHUG has a 5MP camera that can capture video in a 71-degree field of view. One of the better features of the camera is its auto-focus capabilities, which focus on you or an object in only .5 seconds after it sees it. In addition, it uses color correction technology to enhance your appearance even in low-light conditions.
For audio, the AIRHUG uses dual microphones on either side of the camera. Each microphone has active noise cancellation to focus solely on your voice and block out the rest. Each microphone works together to provide optimal sound quality to the person or people on the other side of your meeting. They can pick up your voice from up to 6.5 feet away. However, some users note that the audio quality isn't that great, so proceed with caution.

One great extra feature of the AIRHUG is the plug-and-play ability. Rather than having to find some drivers online and install additional software of firmware to operate, this camera simply needs to be plugged in, and it's ready to go. Using the included 1.5-meter USB cable and mount, you can get it set up in minutes.
Pros:
Plug and play ready
Dual microphones with noise canceling
Fast autofocus
Cons:
Some users note it has poor audio quality
Best with Extra Lighting: Aluratek 2K HD Ring Light Webcam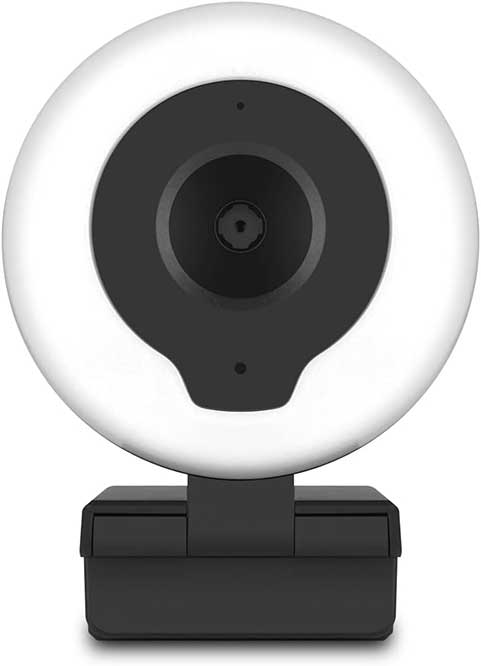 Key Features:
63-degree field of view
The camera tilts up to 90 degrees
Included ring light built-in
The Alureatek 2K HD Ring Light Webcam is one of the most unique webcams on our list. It's a circular design with the camera in the middle. Surrounding the camera is a ring light. There's also an adjustable mount that can either adjust and placed on your monitor or screwed into a tripod. One area it differs from other options is the lack of a privacy screen. There isn't one included, so you'll have to tilt it away or make your own if you want the camera to be blocked while not in use.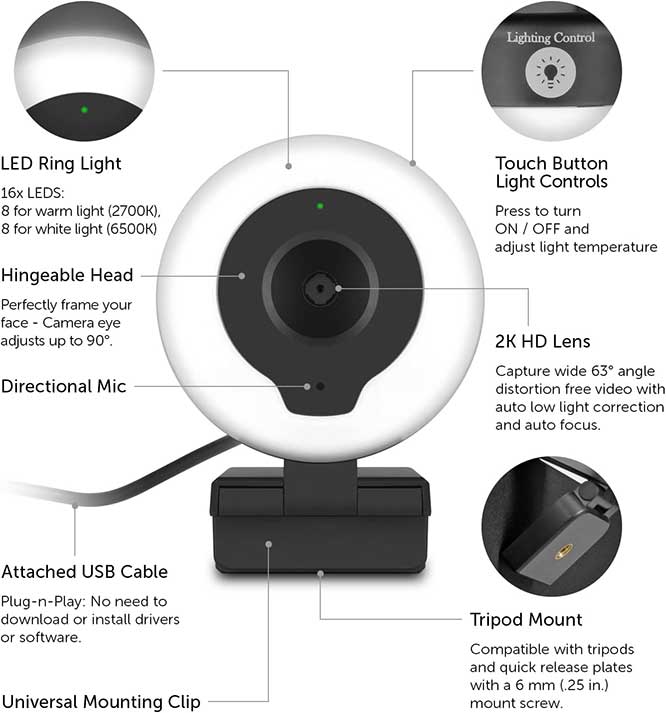 The Aluratek has some video features in common with other webcams on this list. There is an auto-focus feature that works similarly to the option from Anker. Additionally, the field of view on this webcam is 63 degrees. The camera can also tilt up and down a total of 90 degrees for even more control of what it shows in meetings. There is also automatic low light correction. This adjusts the color settings to make you look natural in lower-light scenarios.
The front of the Aluratek has a built-in microphone for your audio needs. However, there is no mention of noise-canceling technology, so you'll want to use it in a low-noise environment. If you do choose to use the microphone, it is directional, so it will also have to point at you in order to capture sound the best.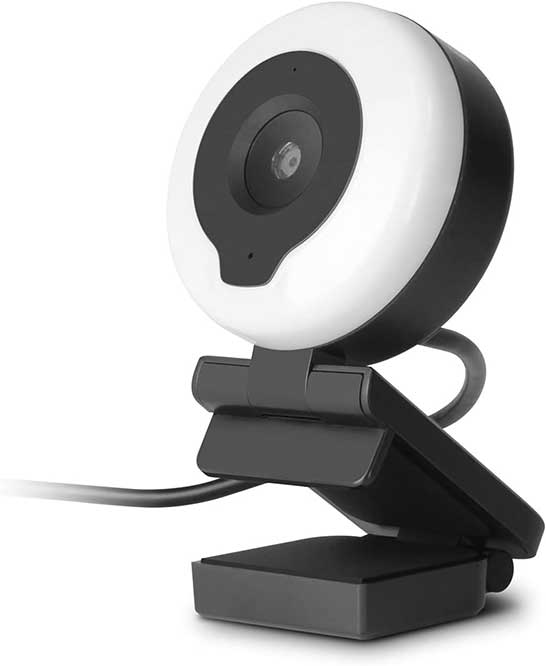 The coolest extra feature on the Aluratek is the built-in ring light. This is perfect for getting professional-looking lighting on yourself and your surroundings. There are controls to customize both the brightness and the color of the light. You can choose between warm or cool lighting depending on the surrounding lighting and your preferences.
Pros:
Ring light included
Automatic low light correction
Cons: