Welcome to the enlightening world of smart home lighting, where convenience meets style. Today, we're focusing on a crucial element of smart home décor – the 6-inch Smart WiFi Canless Recessed LED Lighting.
These fixtures are not just a means to banish shadows; they're an integral part of home automation, offering both functional illumination and ambiance creation.
Whether you're orchestrating a tranquil retreat or a vibrant party scene, these smart lights adjust to your needs with just a tap or a voice command.
In this comparative guide, we've put four leading products under the spotlight to help you navigate your options. From seamless installation to the symphony of colors, let's find the perfect lighting solution that speaks to your home's needs.
| | | | | |
| --- | --- | --- | --- | --- |
| Brand | Installation & Design | Control & Connectivity | Unique Features | Potential Drawbacks |
| Rollin Light | Easy installation, slim profile | Voice control, all-in-one group control | Energy-efficient LEDs, customizable brightness and color temperature | Occasional need for command repetition |
| Lumary | Easy installation, sturdy aluminum, ultra-thin profile | Voice and app control, multi-user sharing, scheduling | Music sync, multi-color and temperature range, memory function | App complexity for some users |
| ChangM | Easy installation with junction box, slim design | Voice control (Alexa), app control with Bluetooth mesh 5.0, group control | Syncs with music, DIY scene function, IP44-rated | Exclusive to Alexa, single device control limitation |
| deerdance | Ultra-thin, easy installation, no hub required | Smart app and voice control (Alexa, Google), customizable scheduling | 16 million colors, music sync | Some memory function issues, occasional color recall error |
Now that you have a general idea of what to expect, join us below for our in-depth reviews of each lighting option and find the perfect fit for your needs.
1. Rollin Light Smart Recessed Lighting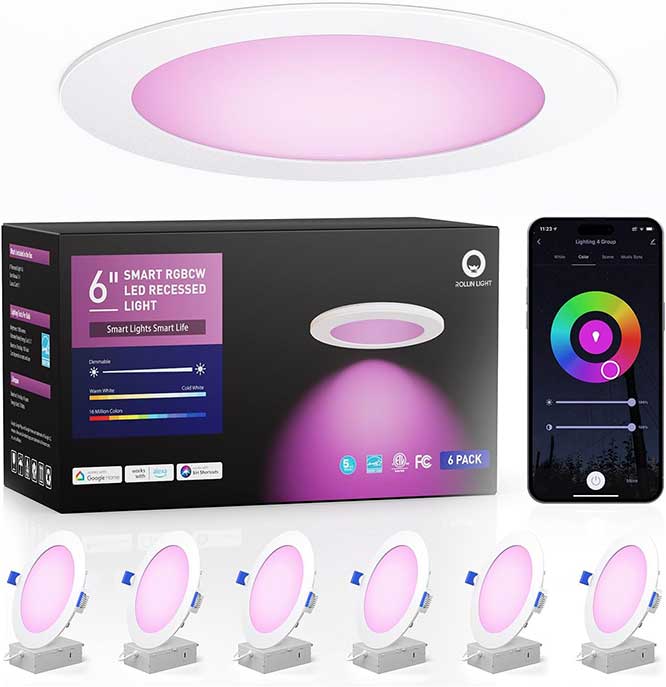 Key Takeaways:
Easy installation and slim profile
Customizable brightness and color temperature
Hands-free voice control
Energy-efficient and cost-saving
Requires occasional command repetition
When it comes to upgrading your home lighting, the Rollin Light Smart Recessed Lighting package is a noteworthy contender.
In our test environment, the ease of installation stood out – no wrestling with complex wiring or bulky hardware. Each unit of this 6-inch, ultra-thin LED light snugly fits into the ceiling, boasting a minimalistic depth of just 0.63 inches, which is perfect for sleek modern interiors.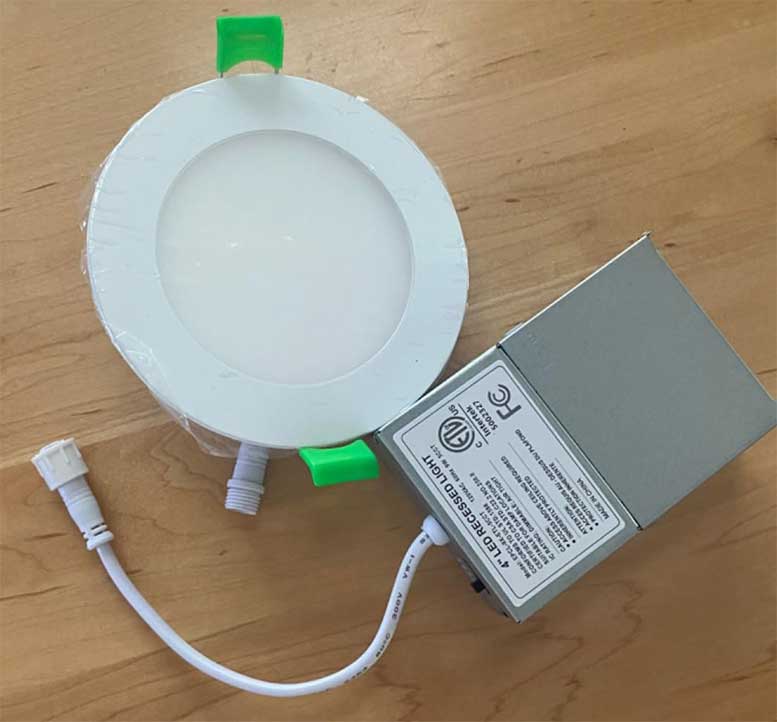 Performance-wise, these lights are not just about illumination; they are about customization. Through the companion app, tweaking brightness from a gentle 1% glow to a full 1100 lumen output is effortless, and adjusting color temperature between a cozy 2700K and a crisp 6500K is intuitive. This flexibility proved to be a boon, enabling us to shift from a productive, bright workspace ambiance to a warm, relaxing hue at the tap of a screen.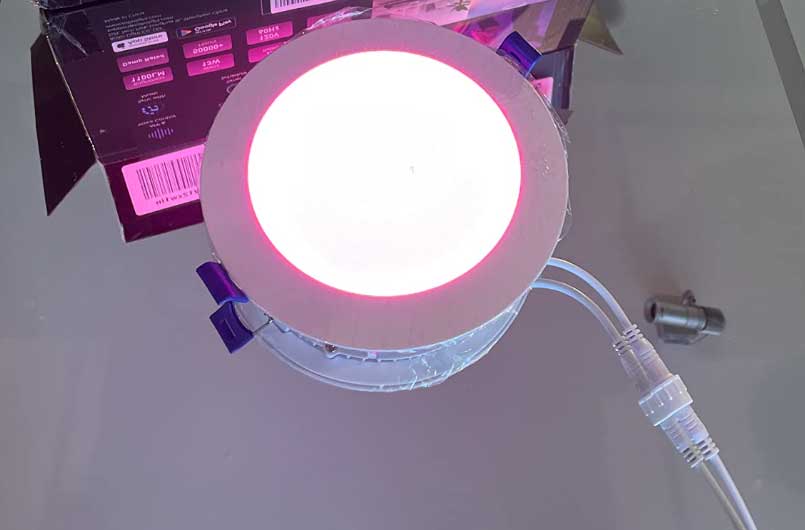 Voice control compatibility with Alexa, Google Assistant, and Siri was a highlight, providing the convenience of hands-free adjustments. However, it's worth noting that occasionally, we had to repeat commands – a minor hiccup in an otherwise seamless experience.
With energy efficiency in mind, these lights are a green choice. The LED technology is a stark contrast to the energy consumption of traditional incandescent bulbs, making it eco-friendlier and kind on your electricity bill.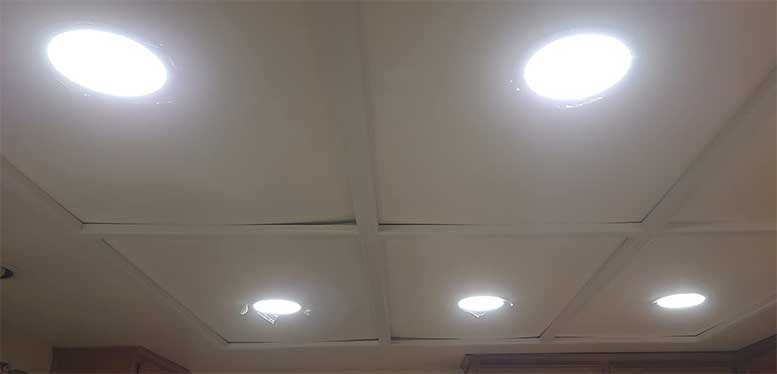 The All-In-One Group Control feature is a standout, allowing for collective or room-specific light adjustments. This was particularly useful in synchronizing the lighting ambiance across multiple rooms. During testing, grouping lights was straightforward, enhancing the device's practicality.
Finally, the lights' build quality exudes durability. Their solid construction, backed by a 5-year warranty and an impressive 50,000-hour lifespan, speaks to the product's longevity, suggesting that they won't be needing replacements anytime soon.
2. Lumary Smart Recessed Lighting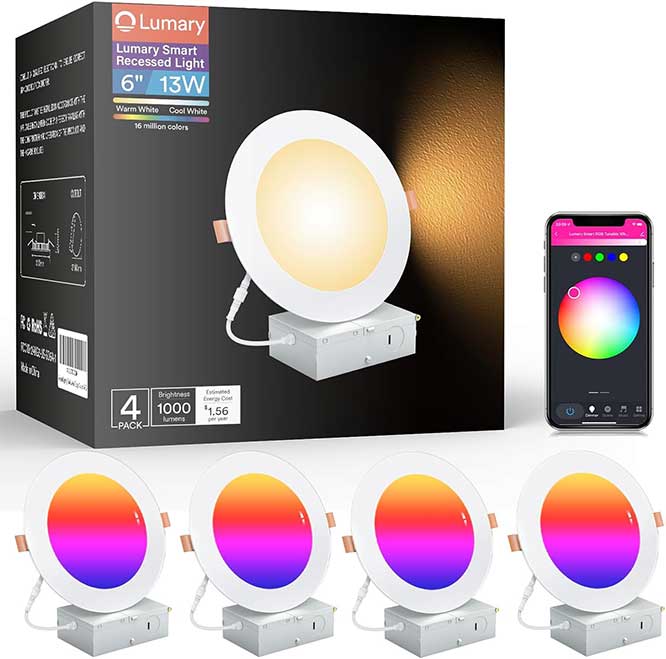 Key Takeaways:
Syncs with music
Voice and app control
Multi-color & temperature range
Memory function included
App complexity for some
Lumary's 6-inch Smart WiFi Canless Recessed LED Lighting offers a modern flush mount solution for indoor lighting needs, presenting an amalgamation of style and smart technology.
With a contemporary design and a body of sturdy aluminum, these circular lights fit seamlessly into ceilings thanks to their ultra-thin profile and manageable dimensions of 7.13 inches in length, 5.91 inches in width, and a height of 7.68 inches, weighing a modest 2.77 pounds each.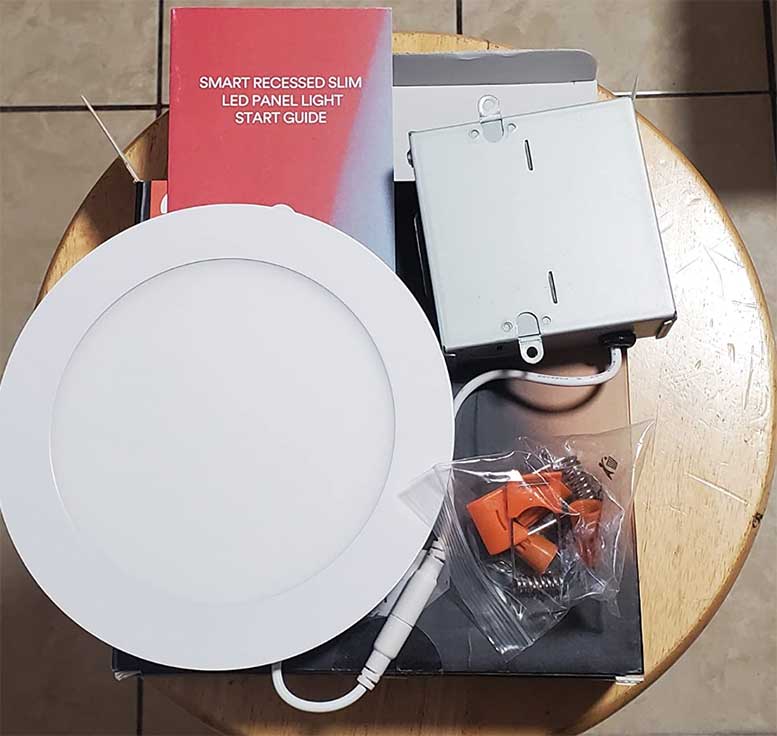 Initial setup is user-friendly, allowing for a stress-free installation process even when encountering unexpected structural elements like rafters. The inclusion of a junction box and a straightforward wiring system contributes to its ease of installation.
Performance-wise, the unit shines with a suite of intelligent features. The lights boast an impressive array of colors, from warm to cool whites adjustable from 2700K to 6500K, and RGBWW, enabling personalization of ambiance in any room.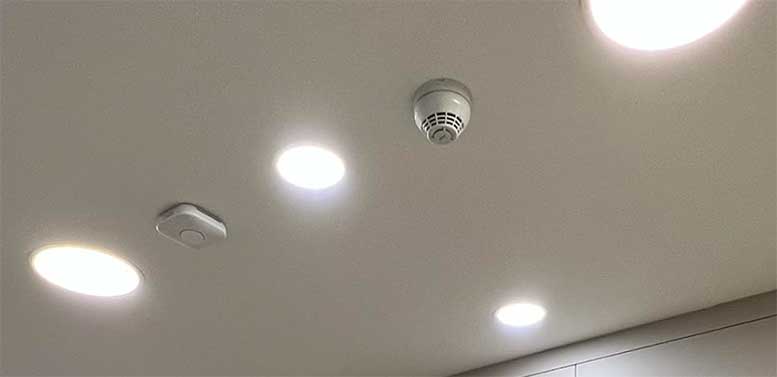 Adjustments are a breeze, with a brightness range of 1-100% and the ability to sync with music or game sounds for a dynamic audio-visual experience, though this function relies solely on app integration with no internal microphone or speaker.
Control is multifaceted: voice commands through Alexa or Google Assistant, an intuitive app that requires a slight learning curve, and remote management capabilities are all at the user's fingertips.
The scheduling functionality ensures that the lights operate on your timeline, adding a layer of convenience and efficiency. While a tech-savvy user would appreciate the intricate control the app provides, others may find it slightly complex at first. Yet, the investment in learning pays off with a granular level of control over your home's lighting, which can be shared among multiple users.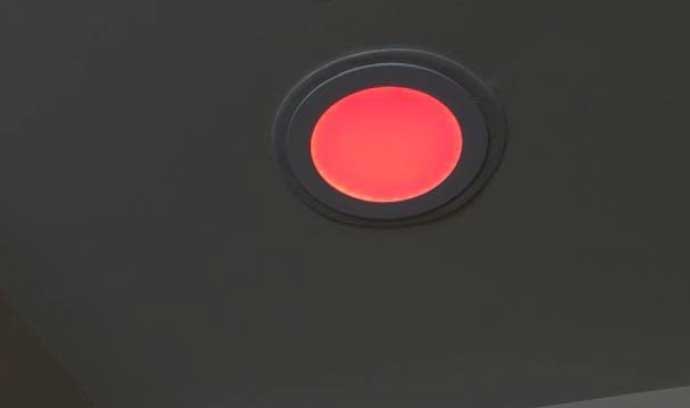 The smart features extend to group management, enabling synchronization across different rooms, an advantage when seeking to create a cohesive lighting scheme throughout the home. The memory function is a thoughtful addition, recalling the last settings to avoid the need for reconfiguration upon each use.
Bottom line, Lumary's lighting solution offers sophistication and convenience, though it warrants a patience period for those new to smart home devices.
3. ChangM Smart Recessed Lighting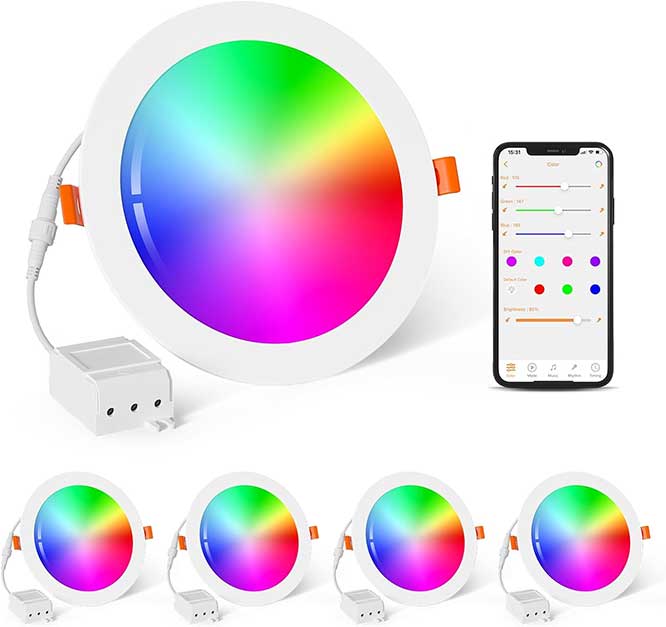 Key Takeaways:
Voice control via Alexa
App control with Bluetooth Mesh 5.0
Syncs with music
Easy installation with junction box
Exclusive to Alexa, one device control
The ChangM Smart Recessed Lighting stands out in the modern home lighting arena with its blend of functionality and sleek design. A simple voice command to Alexa can spring these lights to life, offering hands-free convenience that's become almost essential in today's smart homes.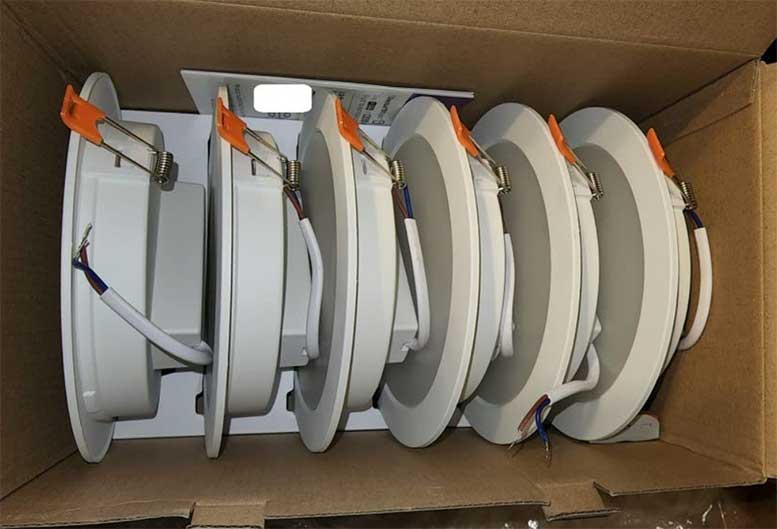 During our tests, the seamless integration with Alexa proved to be a highlight – adjusting both brightness levels from 1% to 100% and cycling through a spectrum of 16 million colors was effortlessly intuitive.
Beyond voice control, the ChangM lights shine with their app-based capabilities. The BRmesh app, which taps into Bluetooth 5.0 technology, affords a stable connection devoid of the common pitfalls associated with WiFi-dependent devices.
A particular feature that impressed us was the group control function. This allows for a harmonized lighting experience across multiple rooms or even the entire house, making it incredibly convenient when setting scenes for different occasions.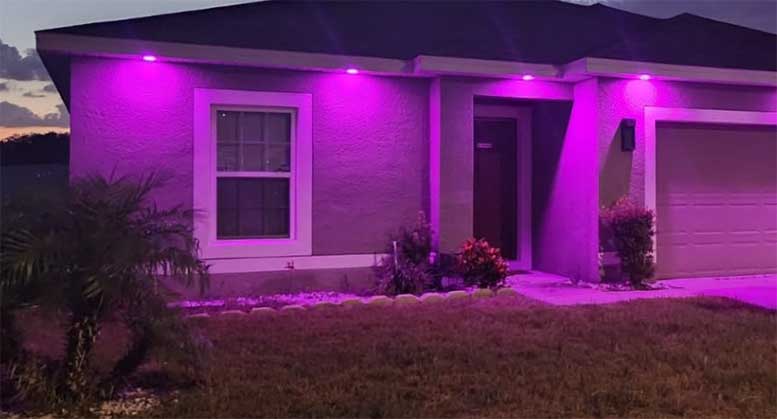 Speaking of scenes, the DIY Scene function is a game-changer. It's more than a gimmick, with 21 preset modes that are a breeze to activate and four additional custom slots for your own creations. Party planners would be thrilled to know that the lights can sync to music, pulsing in tandem with the beats for an immersive audio-visual experience.
Installation was straightforward. Each unit includes a junction box and relies on spring clips for secure ceiling attachment. Durability is addressed with a thickened material design that counters the common issue of spring breakage during installation.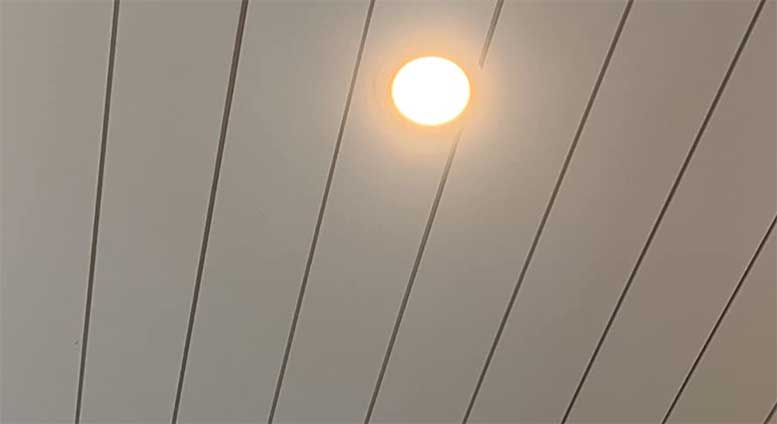 Weighing a modest 2.09 pounds and measuring 7.58 x 6.55 x 9.98 inches, these lights are conveniently sized for various spaces, be it the kitchen or the bathroom, thanks to their IP44 rating for damp locations.
While they're loaded with features, a potential downside is their exclusive compatibility with Alexa. This leaves some users of other smart systems with no option but to look elsewhere. Also, the limitation to one controlling device might be a setback for households with multiple users.
4. deerdance Smart Recessed Lighting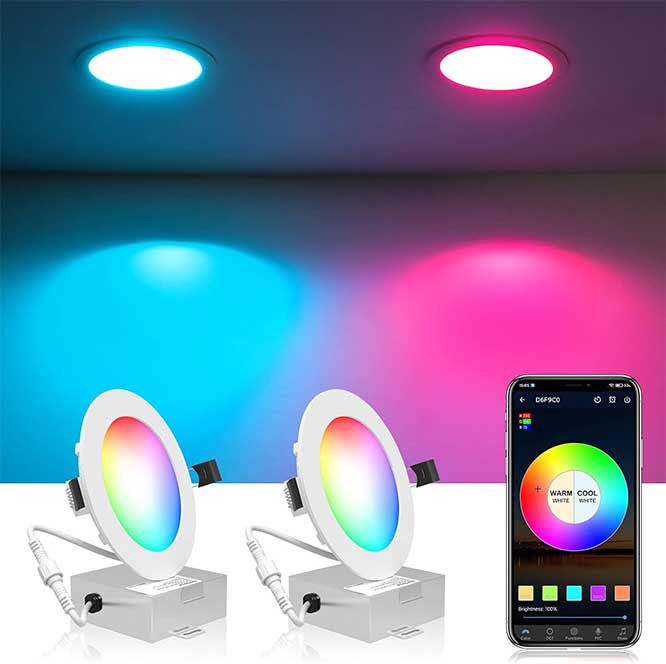 Key Takeaways:
Ultra-thin, easy installation
Smart app and voice control
16 million colors, music sync
Customizable scheduling
Some memory function issues
Upon integrating the deerdance Smart Recessed Lighting into a living space, the upgrade from standard lighting to this intelligent system is quite pronounced.
The unit's slim design, needing just 2 inches of ceiling space, allows for a swift installation process that doesn't call for a bulky hub or intricate wiring, simplifying what could otherwise be a complex task.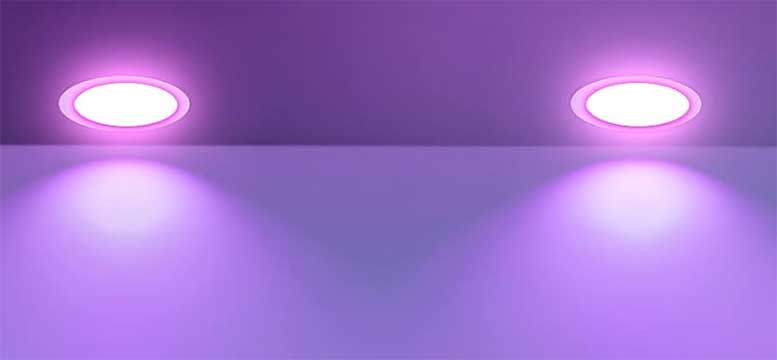 The versatility of this lighting system is a standout feature. With a spectrum of 16 million colors, it effortlessly matches any mood or occasion. Whether it's a serene, warm glow at 2700K for a quiet dinner or a cooler, invigorating 5700K for work focus, the LEDs deliver with precision.
The color adjustments and dimming capabilities, all controllable from 0% to 100% brightness, cater to diverse needs, from creating ambiance for a movie night to illuminating a workspace.
Control of the device via the Magic Home Pro App is intuitive, offering not just personalization but also the convenience of setting schedules, a beneficial feature for energy conservation and security.
Voice control through Alexa or Google Assistant adds another layer of user-friendliness, responding to verbal commands for those times when your smartphone is out of reach.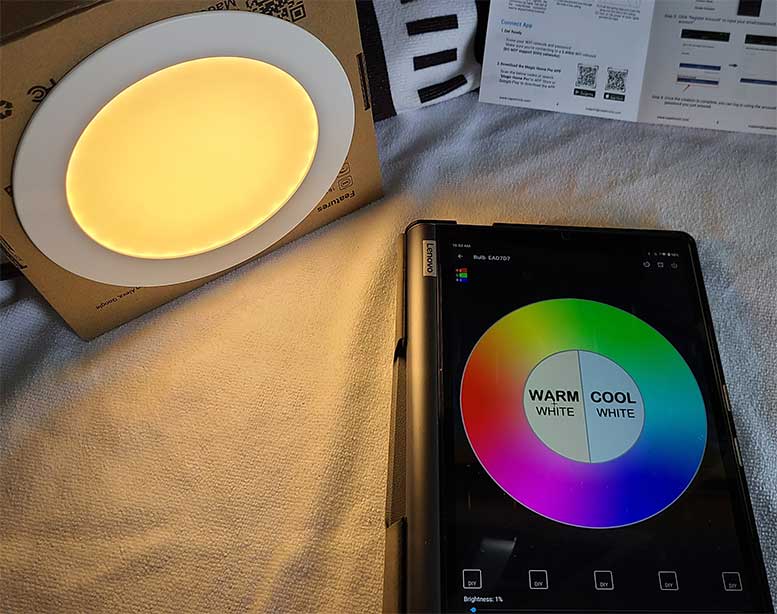 The Music Sync feature, which allows the lights to change in harmony with music or game sounds, is a clever touch for entertainment, although its responsiveness and range of dynamic modes can vary.
Group control is a practical function for managing multiple lights seamlessly, but the device's memory occasionally falters, not always recalling the last set color accurately, as noted with a shift to blue instead of the intended cool white.
With a manageable weight of 2.14 pounds and dimensions of 6.81 x 6.81 x 1.3 inches, the deerdance Smart Recessed Lighting integrates well into various room types, contributing to its adaptability as a modern lighting solution.
Smart WiFi Canless Recessed LED Lighting FAQs
What are the benefits of installing them?
Smart WiFi Canless Recessed LED Lighting offers a plethora of advantages. These include the ability to customize brightness and color, convenient app and voice control for adjusting settings, energy savings compared to traditional lighting options, and a modern, clean look that seamlessly blends with your ceiling.
How does voice control work with these smart lights?
Voice control functionality allows you to operate your smart lights hands-free through integration with smart assistants like Alexa, Google Assistant, and Siri. You can turn the lights on or off, adjust brightness, change colors, and even set scenes or schedules using simple voice commands.
Can I control Smart WiFi Canless Recessed LED Lights when I'm away from home?
Yes, as long as you have an internet connection, you can control your smart lights from anywhere. This is done through the lighting system's app on your smartphone, which communicates with your lights via WiFi, allowing for remote management of your home's lighting.
Do WiFi Canless Recessed LED Lights require a hub?
This depends on the brand and model of the smart lights. Some may require a central hub to connect to your WiFi network, while others can connect directly without the need for an additional device. It's important to check the specifications of the lights you are considering for purchase.
Are Smart WiFi Canless Recessed LED Lights difficult to install?
Many of these lights are designed with ease of installation in mind. They often come with a junction box and use simple clip systems for secure attachment to the ceiling. However, if you are not familiar with electrical installations, it is recommended to seek professional assistance to ensure safe and correct installation.
Final Thoughts
In the realm of smart lighting, there's a spectrum of options, each with its own flair.
The Rollin Light Smart Recessed Lighting offers a solid balance between functionality and energy efficiency, while the Lumary Smart Recessed Lighting brings the beat of your playlist into the color scheme of your home.
ChangM's option delights with its strong Bluetooth connectivity and dynamic scene creation, and deerdance rounds off the selection with a rich palette of colors at your command.
As we dim the lights on this comparison, remember that your choice of smart lighting should align with not only your aesthetic preference but also the practicality of installation, control flexibility, and compatibility with your existing smart home ecosystem.
Meet Derek, "TechGuru," a 34-year-old technology enthusiast with a deep passion for tech innovations. With extensive experience, he specializes in gaming hardware and software, and has expertise in gadgets, custom PCs, and audio.
Besides writing about tech and reviewing new products, Derek enjoys traveling, hiking, and photography. Committed to keeping up with the latest industry trends, he aims to guide readers in making informed tech decisions.