Overall Design -

8.5/10

Cleaning Effectiveness -

8.5/10

Ease of Use -

8.5/10

Battery Life -

9/10
Summary
The Dreametech R20 Cordless Vacuum Cleaner promises a lot and delivers on most. Whether you're concerned about pet hair, deep-seated dirt, or just regular cleaning, this machine seems up to the task. A worthy consideration for those seeking a reliable cordless vacuum cleaner. The build quality is commendable, as is the overall performance in terms of suction, usability and effectiveness. A winner in our opinion.
Pros
Impressive battery life
Intelligent Dirt Detection feature
Highly versatile attachments
User-friendly LED Display
Cons
Handle not comfortable for larger hands
Operation sound could be improved
The Dreametech R20 Cordless Vacuum Cleaner is not just another hapless entry in the crowded market of cordless cleaners.
With features catering to modern-day cleaning needs, it brings a lot to the table and then some. Here's what we discovered during our hands-on testing of this handheld vacuum cleaner.
What's in the Box?
Upon unboxing the Dreametech R20, here's what you can expect to find inside:
Dreametech R20 Main Body: The primary unit that houses the motor and the dust cup.
Extension Rod: Useful for reaching higher areas or extending the range of your vacuum.
Multi-Surface Brush: A versatile brush designed for various surfaces.
Soft Roller Brush: Ideal for delicate surfaces to ensure no scratches or damages.
Motorized Mini Brush: Optimized for efficient cleaning, especially on fabrics and furniture.
Wide Combination Tool: Provides a broader cleaning path for efficient coverage.
Flexible Combination Tool: A flexible tool to reach tricky spots and corners.
Flexible Adapter: Allows for better angles during cleaning, ensuring you don't miss any spots.
2-in-1 Charging & Storage Mount: A dual-purpose mount for charging and storing the unit.
Charger: To power up the device.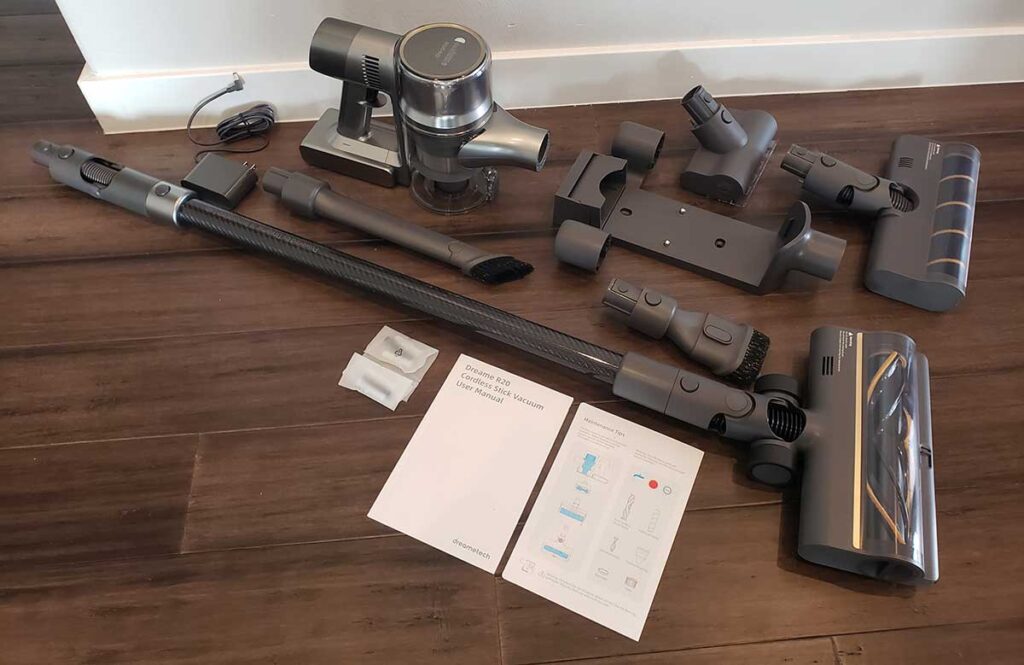 You also get a handy user manual and mounting template sticker. The detailed instructions walk you through how to use the vacuum while the sticker guides you during the wall mount setup. Below, we discuss the setup process for getting up and running.
Getting It Set Up
Setting up the Dreametech R20 is straightforward. Depending on the accessory or tool you're aiming to use, the assembly involves combining 2 or 3 parts.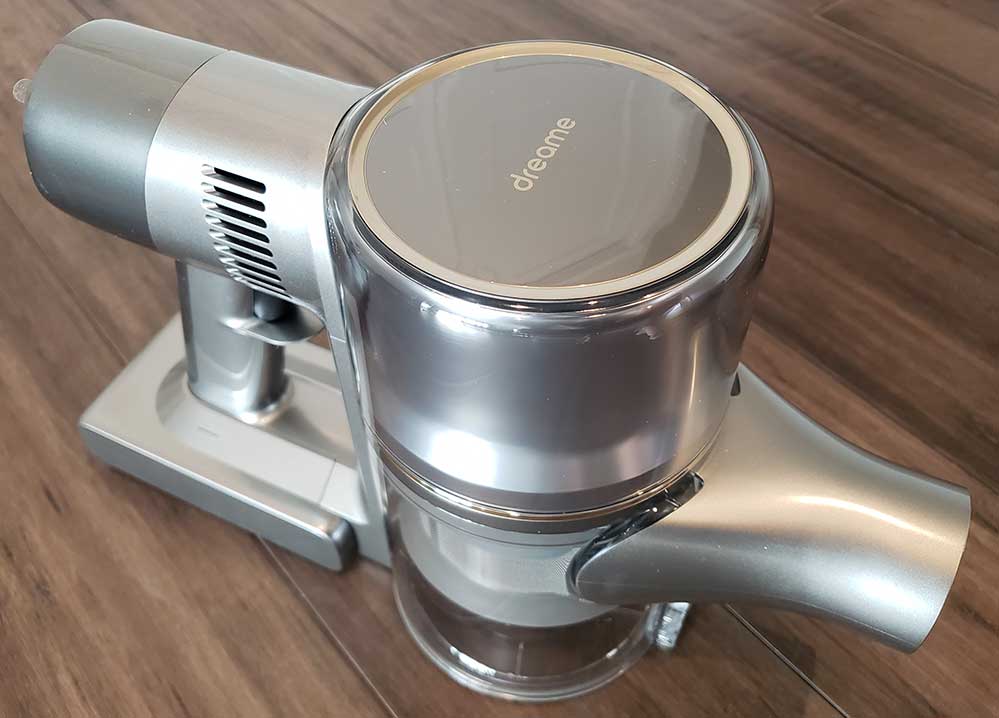 Each piece seamlessly snaps into place, ensuring a secure fit with a satisfying click. And if you need to switch or remove any part, a simple press of a button releases the latch, making it a breeze.
It's worth noting that the 2-in-1 charging and storage mount requires wall installation, so ensure you pick a suitable spot and have the necessary tools for drilling.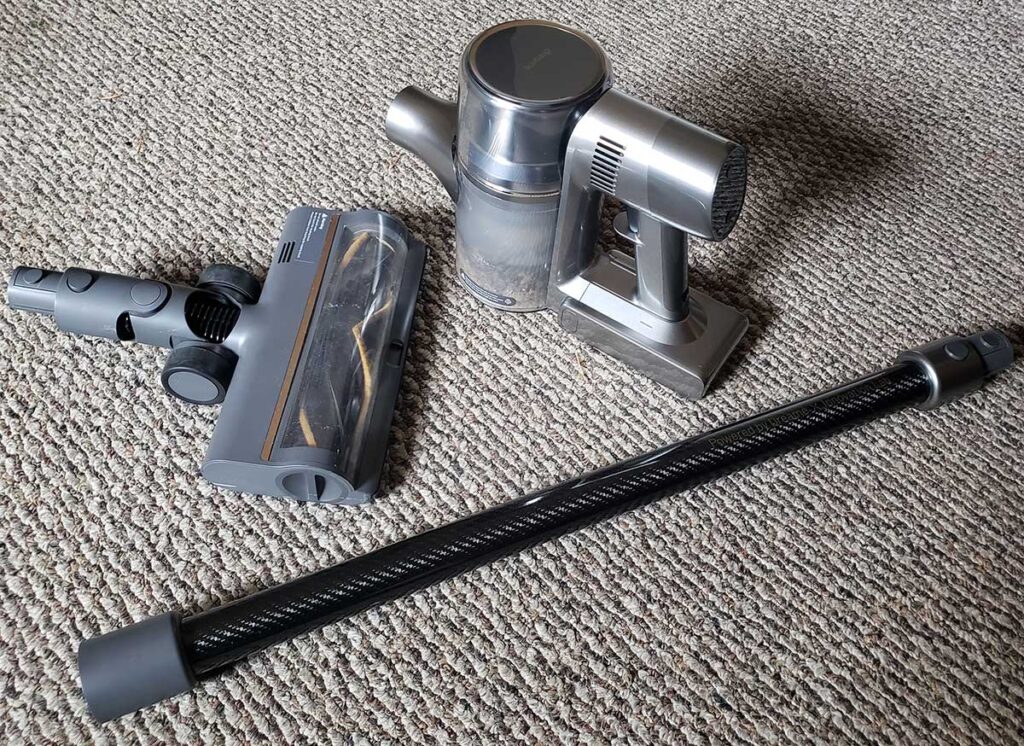 Key Features
The unit boasts Powerful Suction, ensuring that dirt, dust, and even stubborn pet hair stand no chance against its 190AW power. With an impressive runtime, it's prepared for extended cleaning sessions.
The Dual Brush Head is specially designed to pivot into every nook and cranny, ensuring efficient cleaning across varied surfaces.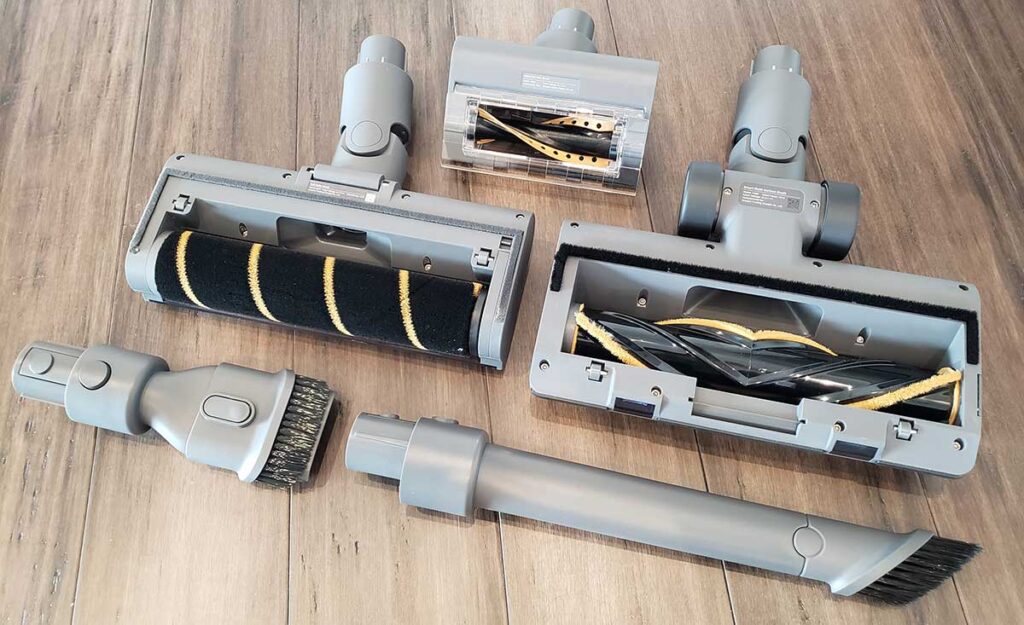 Furthermore, the unit comes equipped with Intelligent Cleaning, ensuring that the suction adjusts based on the dirt detected.
And with the plethora of Accessories provided, every corner of your house can experience a thorough cleanse.
Performance and Reliability
We subjected the R20 to a gauntlet of tests to measure its deep cleaning prowess across a variety of surfaces like carpets, hardwood, and upholstery.
Its built-in LED Dust Detection system turned out to be an eye-opener, especially in low-light areas. It illuminated particles of dirt we would've otherwise missed, adding a new level of precision to our cleaning tasks.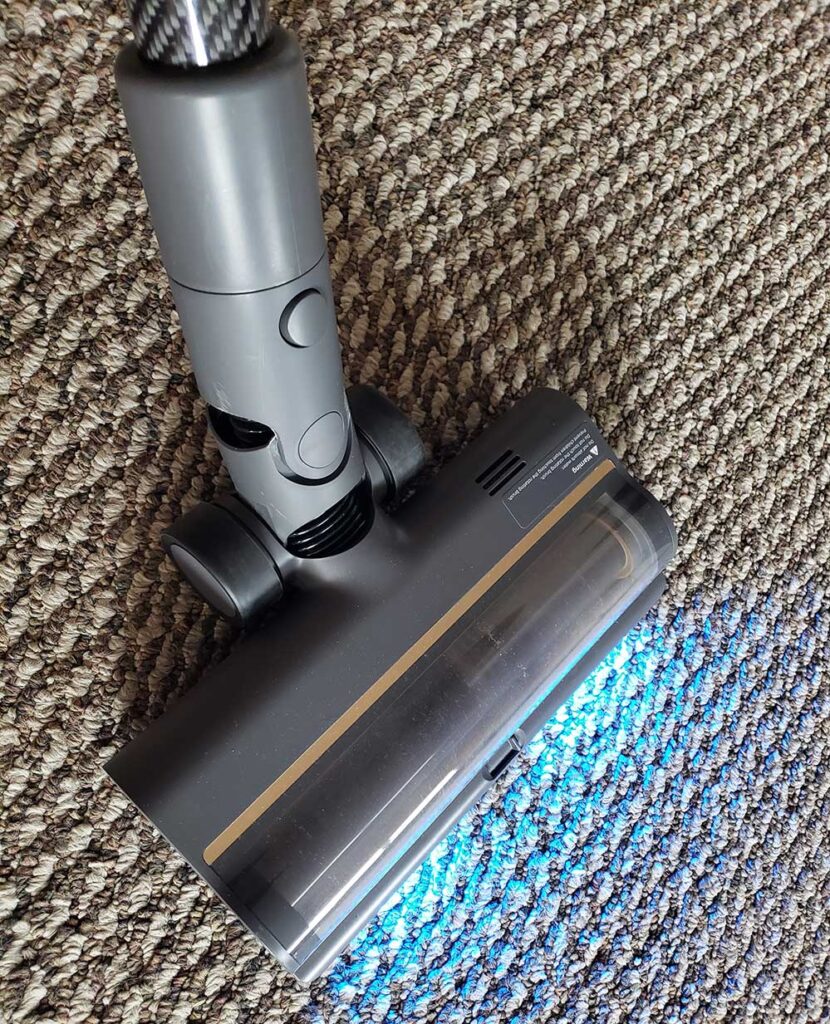 Five-Layer Filtration System
Now, let's talk about air quality. The Five-Layer Filtration System did more than just give floors a makeover; it practically staged an intervention on the air itself. The air we breathed felt purer and less stuffy, a welcome respite for anyone with allergies or respiratory issues.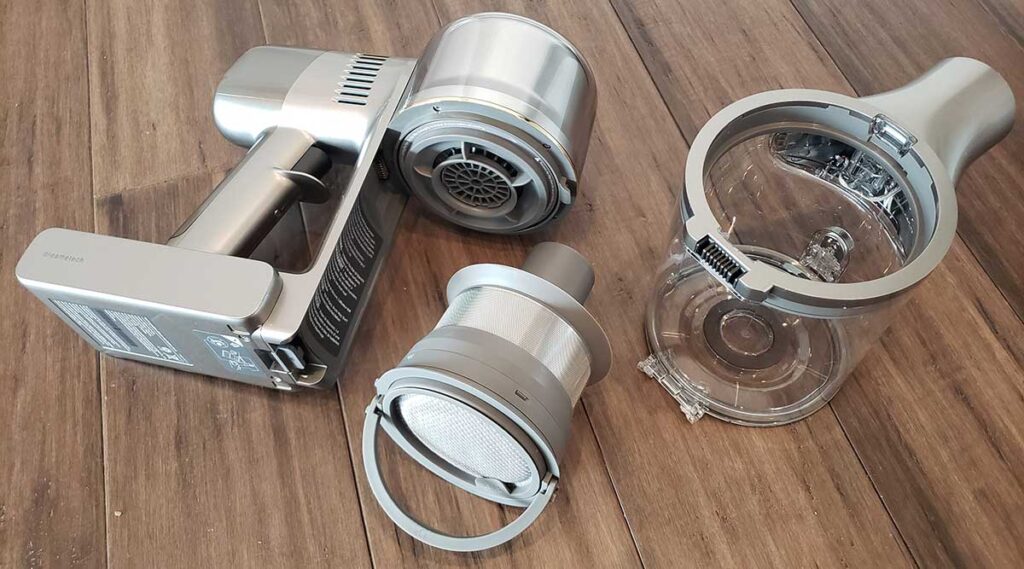 Our Testing Methods
To gauge performance, we put the vac through multiple scenarios:
Longevity Test: We used the electronic lock for continuous cleaning and assessed the level of finger fatigue. Spoiler: minimal fatigue.
Brush Test: We used both the multi-surface and soft roller brushes on different surfaces. The multi-surface brush worked wonders on both hardwood floors and medium-pile carpets, while the soft roller brush was effective on hard flooring.
Maneuverability Test: With its flexible pipe, we tested its maneuverability around tight corners and tricky angles. No complaints there.
Filter Maintenance: After some heavy-duty cleaning, we removed and washed the filter to check for usability. It was as good as new post-cleaning.
Attachment Utility: We switched between the five different attachments to evaluate their efficacy on various surfaces and particle sizes.
User Experience: Ease of Use and Comfort
Let's transition from performance bells and whistles to something equally important: user experience. After all, what good is a high-performing vacuum cleaner if using it feels like navigating a maze?
Luckily, it doesn't skimp on ergonomics or ease of use, making it a comfortable unit to operate, regardless of how extensive your cleaning tasks are. And at just 10.14 pounds, almost anyone can handle it without feeling weighed down.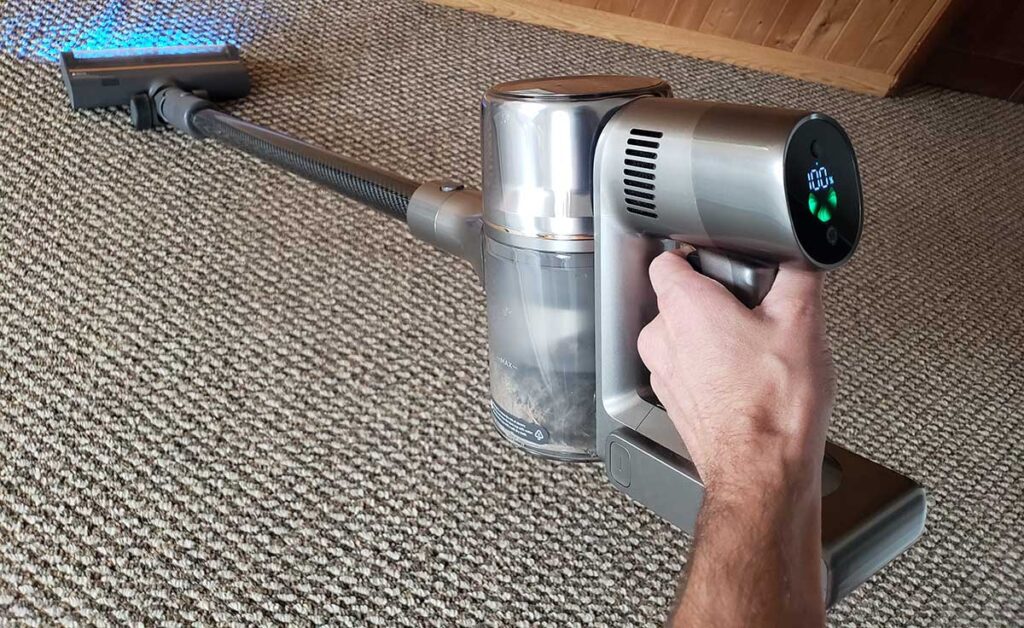 In its completed form, it measures 13 x 5.6 x 33.2 inches. It's a well-balanced unit that takes up minimal space for a well-rounded user experience.
Maintenance is a breeze, as well. From the washable components to the LED Display that provides real-time updates, it's evident that user convenience was a priority in its design.
The 0.6L Dust Cup proved adequate for a single cleaning session in medium-sized living spaces, and emptying it was a hassle-free experience.
Single Trigger-Style Button and LED Screen
Operating the device is pretty straightforward. The main body features a single trigger-style button for powering on and off.
The LED screen gives real-time updates on battery levels, cleaning modes, and any system alerts. The screen is more than just a pretty interface; it's a quick way to understand what the vacuum is up to.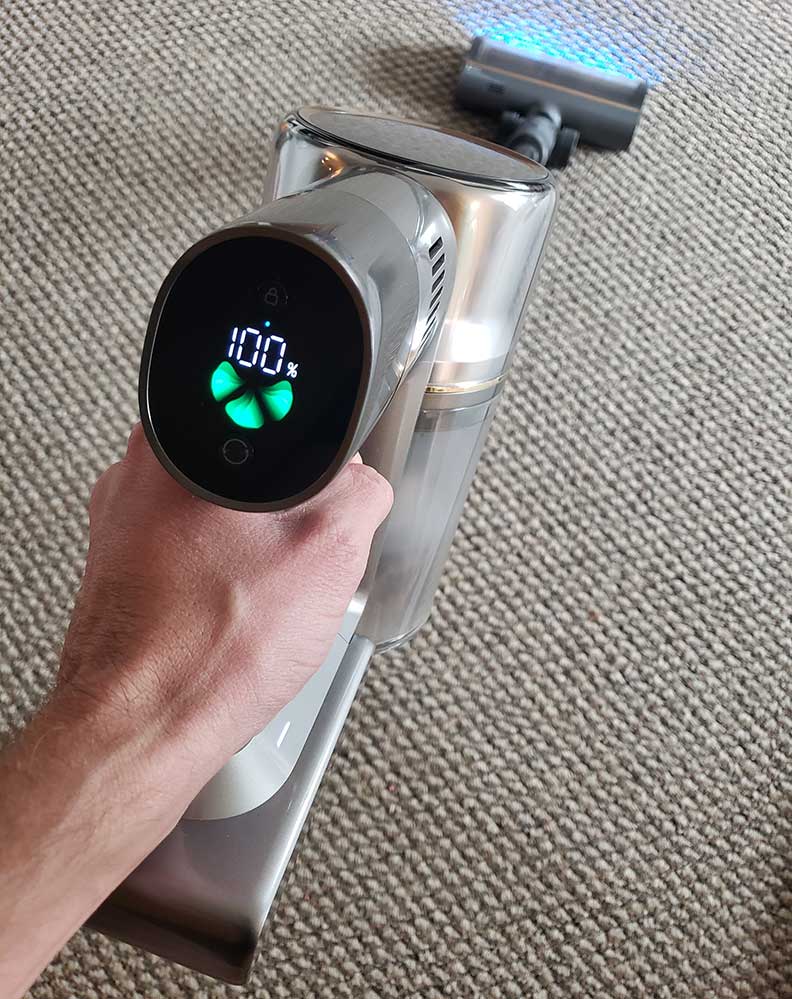 Electronic Lock
The electronic lock is a welcome feature for those who dislike the idea of holding the power button throughout their cleaning escapade. Activate the lock and clean to your heart's content without tiring out your finger.
Ergonomic Design
The slanting handle design allows for a more natural wrist position. If you have larger hands, though, it might be a bit of a squeeze to fit all four fingers comfortably under the button.
Attachments: Tools of the Trade
OK, we've covered how the unit performs and how easy it is to operate, but let's not forget the attachments. These are the tools that take the R20 from good to great, enabling it to tackle a range of tasks.
They say variety is the spice of life, and this vac offers a full spice rack of brush heads and adapters for your cleaning sessions.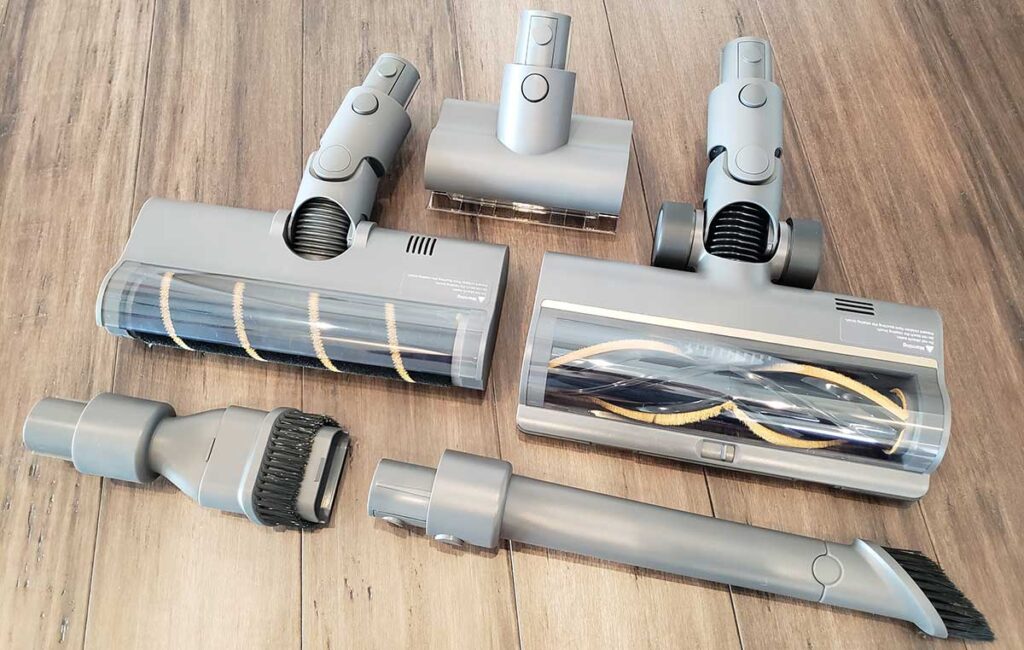 Brush Heads
The Multi-Surface Brush is suitable for most floor types, while the Mini Motorized Brush is perfect for fabric upholstery.
What's more, you get a total of five distinct brush heads. Each is designed for a specific task, making the cleaning process more efficient.
Flexible Adapter
The Flexible Adapter offers a degree of maneuverability that's nothing short of transformative. It lets you clean under the furniture without the gymnastics, an often overlooked yet crucial area.
The varied attachments further validate its status as a versatile and efficient cleaning unit. Whether it's the day-to-day dust or those tricky, hard-to-reach spots, the suite of brush heads and the ever-handy Flexible Adapter have got you covered. Stick around as we shift gears to explore other impressive features.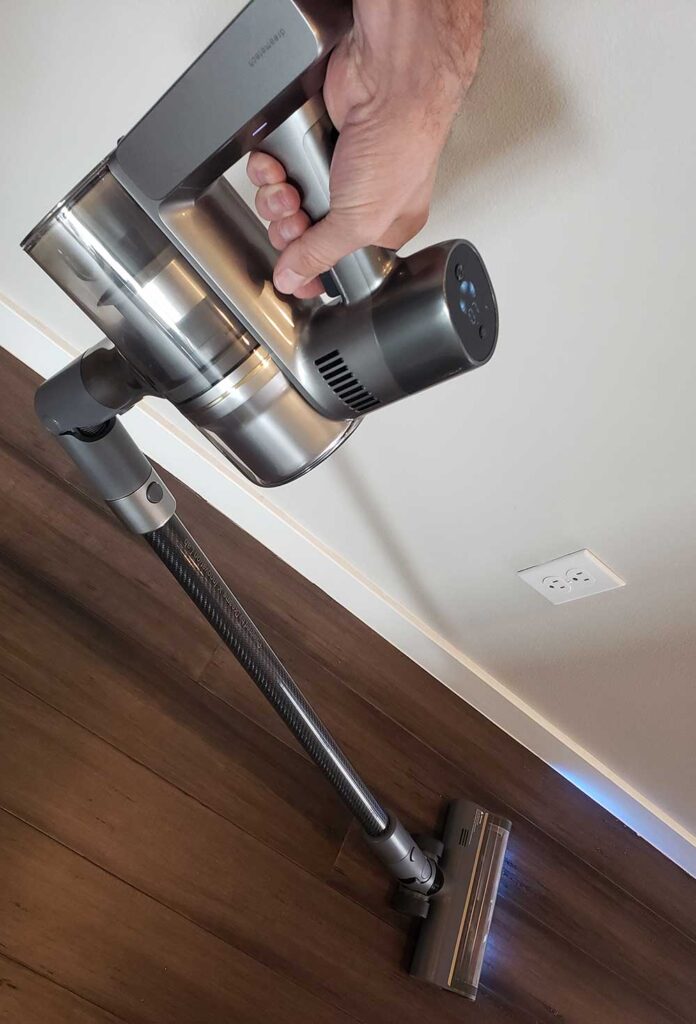 Intelligent Dirt Detection
The crux of the Intelligent Dirt Detection technology lies in its ability to recognize dirt at the micron level. This gives the vacuum cleaner an edge in identifying not just the obvious chunks of dust but also the minute particles that often evade the naked eye.
Essentially, this vacuum cleaner is equipped with the sensory prowess to evaluate the cleaning landscape down to a microscopic scale.
Auto-Adjust Suction
Not all dirt is created equal, and the Intelligent Dirt Detection knows this all too well. It takes into account the type and amount of dirt on a surface and dynamically adjusts the suction power.
You're not just cleaning; you're cleaning optimally. This capability comes in handy when transitioning from hardwood floors to plush carpets, where the dust-to-fiber ratio can fluctuate.
User Experience Insight
You may think your regular cleaning efforts have kept your home pristine. That was our initial thought until the blue LED of the Dreametech vacuum illuminated our desktop.
It highlighted the amount of undetectable dust lying around, prompting a reevaluation of what we considered "clean."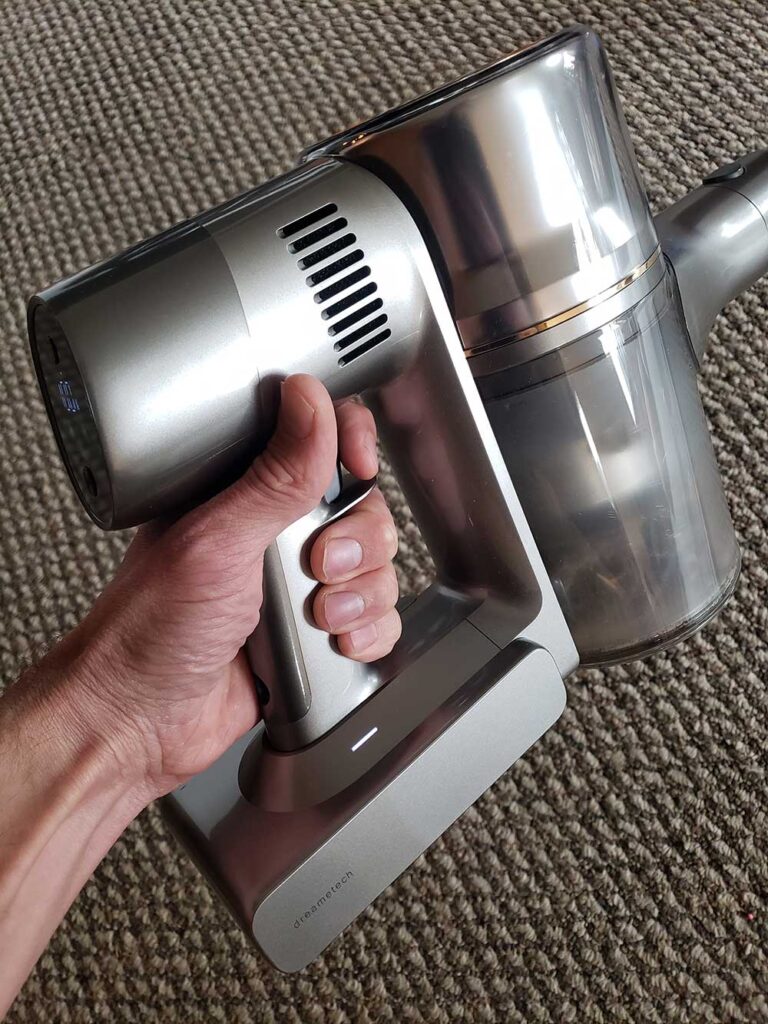 Versatility and Power
Strong suction is one of its standout features. It has the muscle to clean carpets as efficiently as it does hard floors.
It also boasts a full arsenal of brushes that make it easy to clean everything from your sofa to your bedding.
Premium Build and Pet-Friendly
From a build perspective, this vacuum cleaner isn't just about functionality; it's also about form. Made of carbon fiber, the device has a chic, premium look while also being lightweight and durable.
For pet owners, the good news continues. It does a stellar job in picking up pet hair, making it a household essential for cat and dog parents.
Noise Comparison
If the sound of a vacuum cleaner buzzing in your ear gives you pause, worry not. Users who have experienced both the Dreametech and the Dyson V8 report that the noise levels are comparable. Meaning your eardrums won't have to bear an audio assault while you clean.
The Intelligent Dirt Detection technology in the Dreametech R20 is more than just a buzzword. It's a pivotal feature that takes the guesswork out of cleaning.
With micro-level detection, adaptive suction, and an array of user-friendly touches, it's no hyperbole to say this technology elevates the entire cleaning experience. Stay tuned as we dig into more features that make this vacuum cleaner the complete package.
Battery Life
The Dreametech R20 has endurance. Rated to last a solid 90 minutes on a single charge (in the lowest setting), this vacuum cleaner ensures you won't be left in the lurch mid-cleaning. Given that most of us don't clock more than an hour for a cleaning session, 90 minutes is often more than sufficient.
In reality, we achieved a 50 minute runtime when it was in auto mode. In turbo mode, it lasted around 20 minutes. While this isn't quite as promising as the specs, it's still sufficient in most scenarios.
When stacked up against its predecessor, the R10, and the popular Dyson V12, the R20 steals the spotlight. It offers similar cleaning time, positioning itself as a long-lasting contender in the battery department.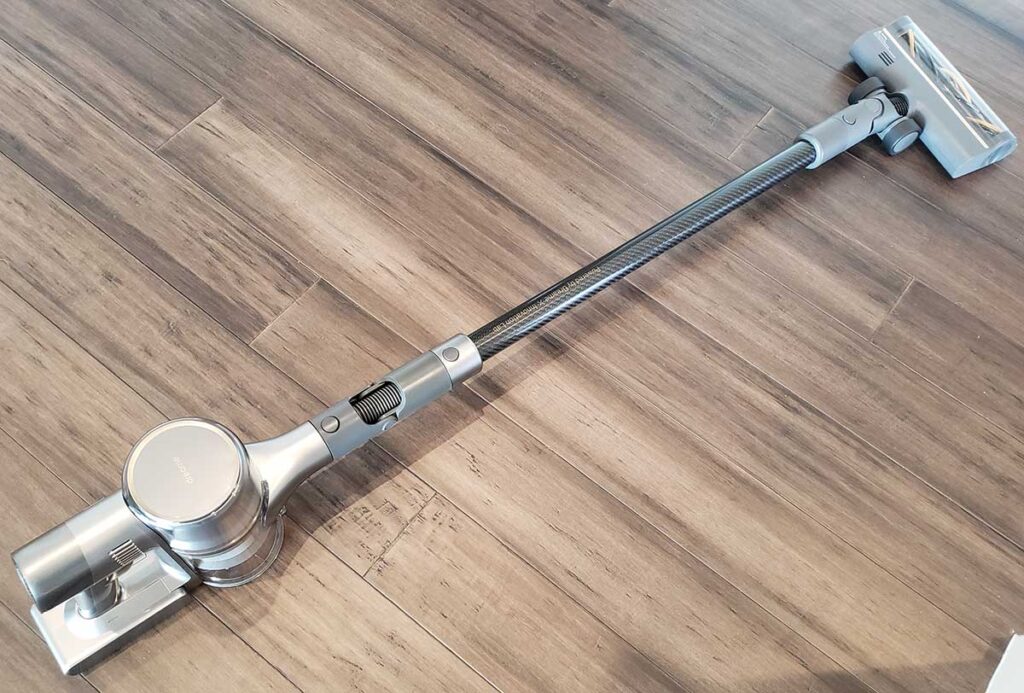 Final Verdict
The Dreametech R20 Cordless Vacuum Cleaner promises a lot and delivers on most. Whether you're concerned about pet hair, deep-seated dirt, or just regular cleaning, this machine seems up to the task.
A worthy consideration for those seeking a reliable cordless vacuum cleaner. The build quality is commendable, as is the overall performance in terms of suction, usability and effectiveness. A winner in our opinion.
Meet Derek, "TechGuru," a 34-year-old technology enthusiast with a deep passion for tech innovations. With extensive experience, he specializes in gaming hardware and software, and has expertise in gadgets, custom PCs, and audio.
Besides writing about tech and reviewing new products, Derek enjoys traveling, hiking, and photography. Committed to keeping up with the latest industry trends, he aims to guide readers in making informed tech decisions.