Finding a quality keyboard can be a challenge. The market is saturated with a lot of subpar options – units that fail to deliver a true-to-life piano experience.
For optimal realism, you need to look for 88-key weighted keyboards. And that's precisely what we're sharing with you today.
We researched and reviewed the top four best 88-key weighted keyboards to help you determine the best one for your needs. Each of our entries offers unique features that cater to a wide range of needs and preferences:
Let's dive into our detailed reviews of these exceptional instruments to help you make an informed decision on which one best suits your needs and preferences.
YAMAHA P71 88-Key Weighted Action Digital Piano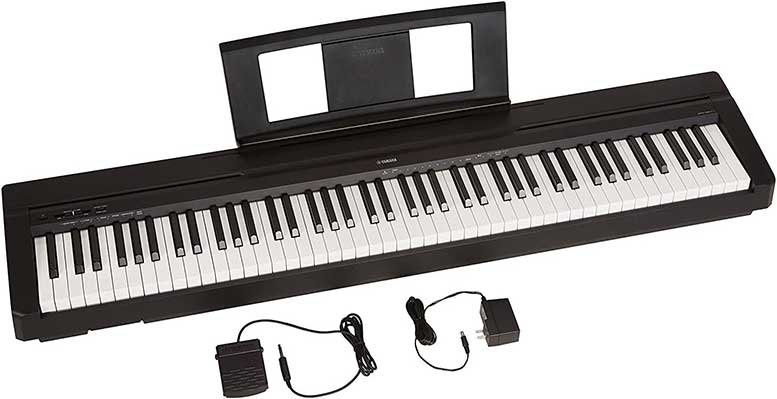 Key features:
88 fully-weighted piano style keys
10 different voices, including Yamaha grand pianos
Dual mode for combining voices
Slim, stylish design and lightweight
The Yamaha P71 is an Amazon-exclusive digital piano that expertly blends style and performance, offering an exceptional playing experience for musicians at any level. With 88 fully-weighted keys, this device accurately simulates the feel of an acoustic piano, making it a fantastic choice for both beginners and experienced players.
In our testing, we were particularly impressed with the 10 different voices, which include digitally sampled tones from real Yamaha acoustic grand pianos. Although limited, this feature allowed us to experiment with a variety of sounds and styles, greatly enhancing our overall playing experience.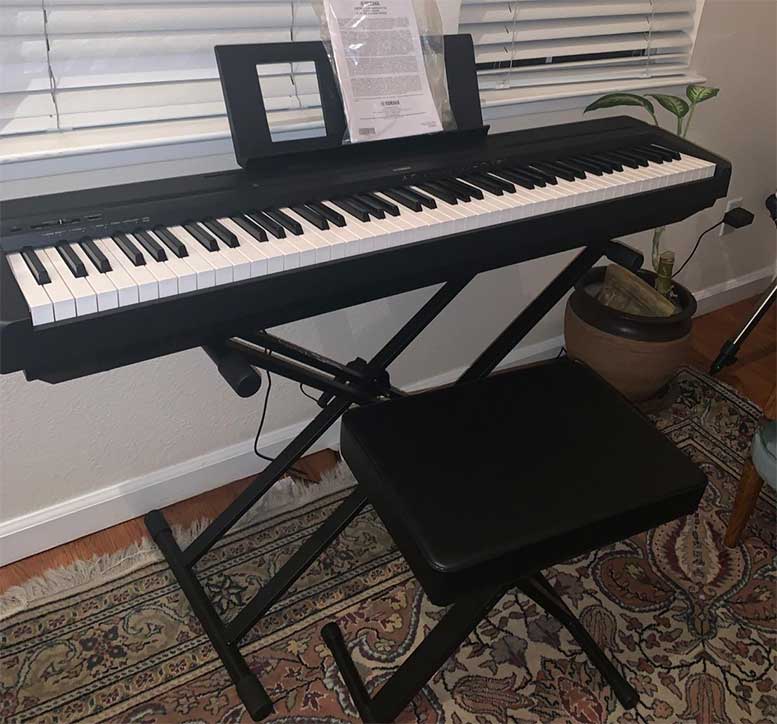 We also appreciated the dual-mode function, which lets you combine two voices, such as piano and strings, for a unique and inspiring sound. The slim and stylish design of this digital piano is another standout aspect.
Measuring just 52.25 x 11.5 x 6 inches and weighing a mere 25 pounds, it's both compact and portable, making it perfect for small spaces or musicians on the go. The black color adds a touch of elegance, while the included sustain pedal and power adapter ensure that you have everything you need to start playing right away.
Connectivity-wise, it offers both auxiliary and USB options, allowing you to connect it to various devices and expand your music-making possibilities. With an easy-to-use interface, you can access the piano's features and functions effortlessly, whether you're practicing at home or performing on stage.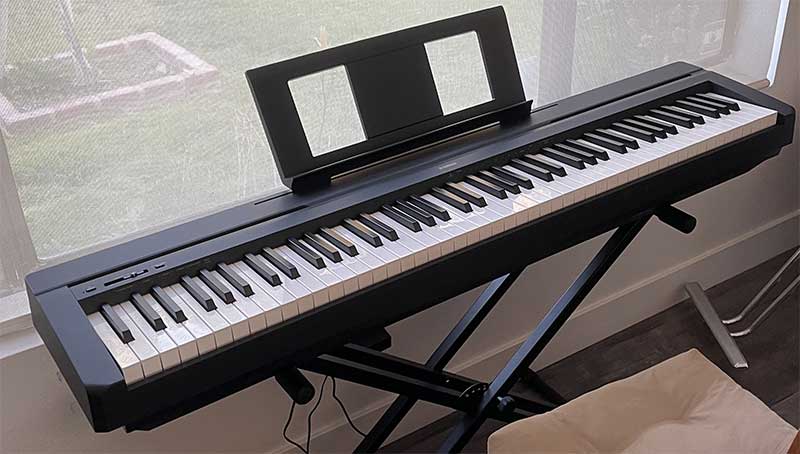 One potential downside is the limited voice selection compared to other digital pianos. However, the P71's available voices are high-quality and provide a versatile range for most players. Additionally, while the unit doesn't have built-in speakers, external speakers or headphones can be easily connected for optimal sound quality.
The blend of authentic piano feel, portability, and versatile features make it an ideal choice for musicians looking to expand their playing experience without sacrificing quality or space. Its connectivity options and dual mode function further contribute to its appeal, making it a worthy investment for any musician's collection.
Yamaha's P71 digital piano delivers an outstanding playing experience in a compact, stylish design. With its fully-weighted keys, variety of voices, and user-friendly interface, it's an excellent addition for musicians of all levels who seek a high-quality, space-saving instrument.
What we liked:
Authentic acoustic piano feel
Compact and portable design
Versatile connectivity options
Easy-to-use interface
What we didn't like:
Limited voice selection
No built-in speakers
Starfavor Digital Piano 88 Key Weighted Keyboard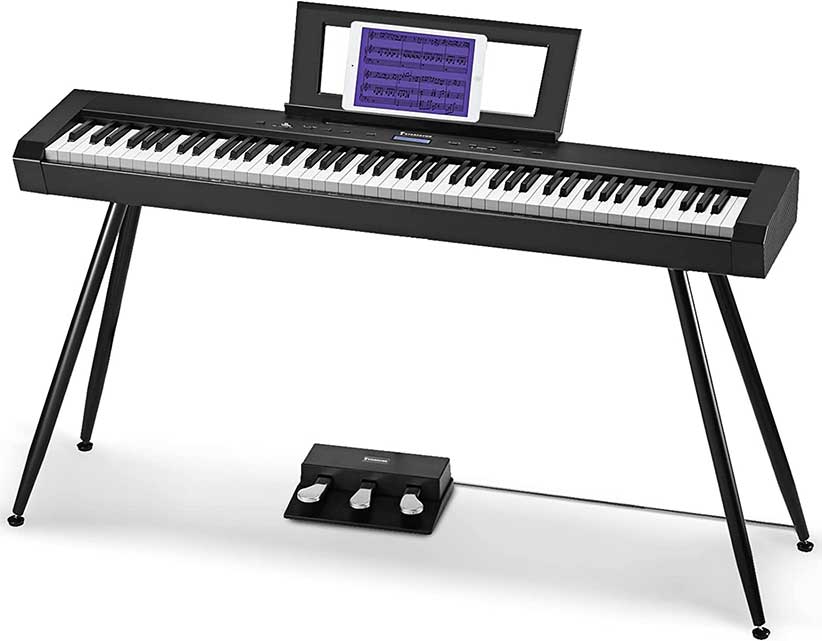 Key features:
88 full-size graded hammer action keys
238 preset timbres, 200 rhythms
Flexible USB-MIDI and Bluetooth connectivity
SMS intelligent sampling, 128 polyphonic voices
The Starfavor SP-20 Digital Piano stands out as an exceptional option for those seeking a realistic playing experience. Equipped with 88 full-size, graded hammer action keys, this unit closely simulates the feel of a grand piano, so it serves both professionals and beginners really well.
Sensitive keys provide real-time feedback and comfortable performance, and they're a must for anyone who wants to experience true-to-life playing. With dimensions of 52.64 x 12.36 x 29.82 inches and a weight of 47.6 pounds, it has a nice compact build that should blend well with any space.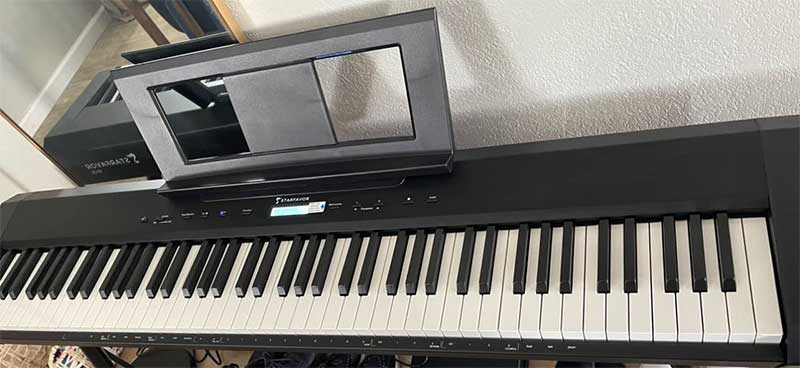 If you want a keyboard that has an impressive range of functions, you'll definitely want to check out the SP-20. It boasts 238 preset timbres, two keyboard modes, and 200 rhythms. As such, players have the opportunity to practice and perform like professionals. The automatic chords add an extra layer of intelligent depth, resulting in a more engaging and immersive experience. In terms of connectivity, the SP-20 piano keyboard offers flexibility and convenience.
Users can easily connect to music software or piano apps through USB-MIDI or Bluetooth MIDI. You can even stream music via Bluetooth, which is a really welcome addition. This is an excellent feature to help enhance practice sessions.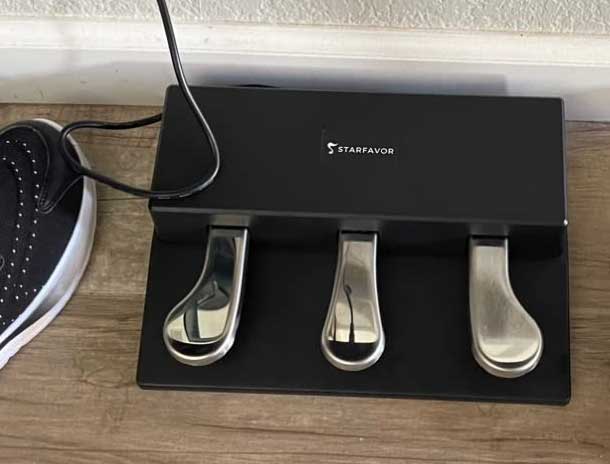 Sound quality is a crucial aspect of any digital piano, and the SP-20 excels in this regard. The SMS intelligent sampling and processing system delivers a vivid, rich piano sound capable of supporting up to 128 polyphonic voices. This results in a natural and flowing music experience, allowing you to lose yourself in the beauty of the instrument.
Additional features include touch-sensitive keys, a digital display, a headphone jack, and microphone input, providing further versatility for various playing situations. The built-in 3-pedal system mimics a real piano experience, contributing to the authenticity of the instrument.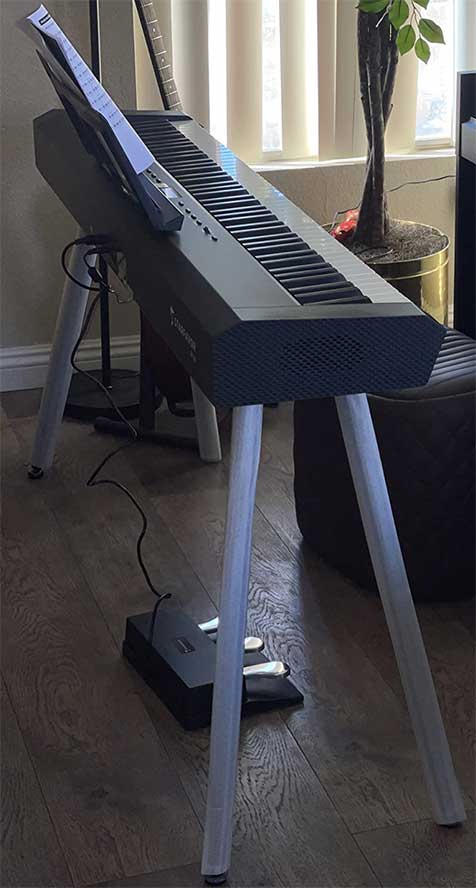 To complete the package, the unit boasts a CyberPunk-inspired matte black carbon fiber finish and a sturdy metal design, ensuring both durability and reliability. In essence, the Starfavor SP-20 Digital Piano provides an outstanding combination of features, performance, and aesthetics, making it an excellent choice for any aspiring pianist.
What we liked:
Realistic piano playing experience
Compact and stylish design
Rich and natural sound quality
Supports wireless audio play
What we didn't like:
May be too heavy for some
No built-in speakers mentioned
Donner DEP-20 Portable 88 Key Weighted Keyboard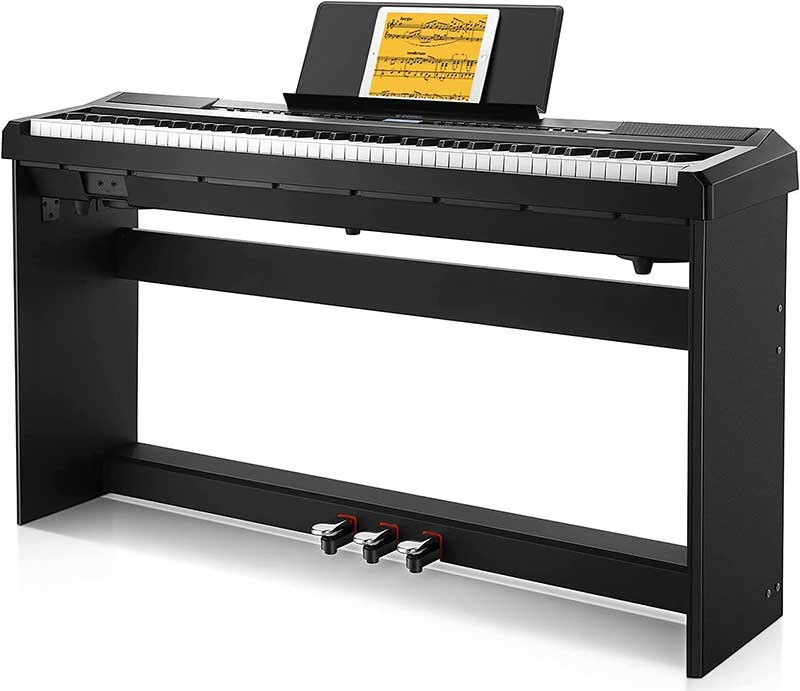 Key features:
88 full-sized weighted keys
238 tones and 128 polyphony
Dual-tone mode and control panel
Backlit LCD screen, MIDI, MP3 player
The Donner DEP-20 is a fantastic option for those starting their musical journey. This 88-key full-size weighted keyboard simulates a realistic playing experience with its adjustable touch response, making it perfect for beginners.
Weighing in at 24.75 kilograms and measuring 54.72 x 18.5 x 11.42 inches, the unit is conveniently portable for easy transportation while maintaining a sleek and attractive design. There is an impressive variety of tones – 238, to be exact. These include both popular and obscure instruments. Additionally, there is a 128-note max polyphony, ensuring that players can easily distinguish individual tones in various musical arrangements, whether playing solo or in a group setting.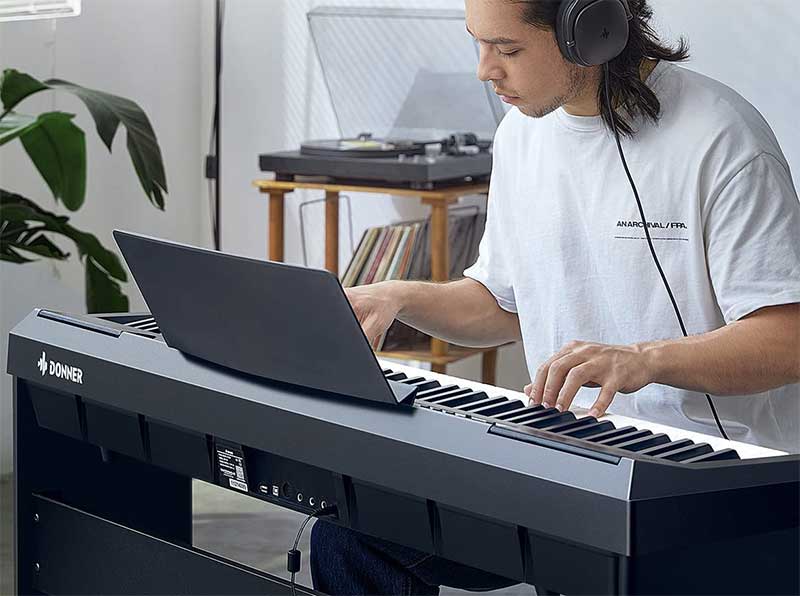 The double keyboard and control panel are accessible and versatile, enabling a dual-tone mode that combines two voices, like piano and drum, for a unique and inspiring musical experience. The panel also incorporates sustain and triangle pedals, as well as audio inputs and outputs for seamless music arrangement and ensemble performances, catering to various musical styles and preferences. A backlit LCD screen simplifies chord name and notation display, making it easier for beginners to understand and follow along with the music.
The MIDI recording mode and MP3 player functionality further enhance the device's multimedia capabilities, allowing for easy recording and playback of performances. The DEP-20 also features two 25-watt amplifiers, delivering rich and immersive sound quality suitable for both practice and performance sessions. It's a highly serviceable tool for learning, practicing, and creating your own music.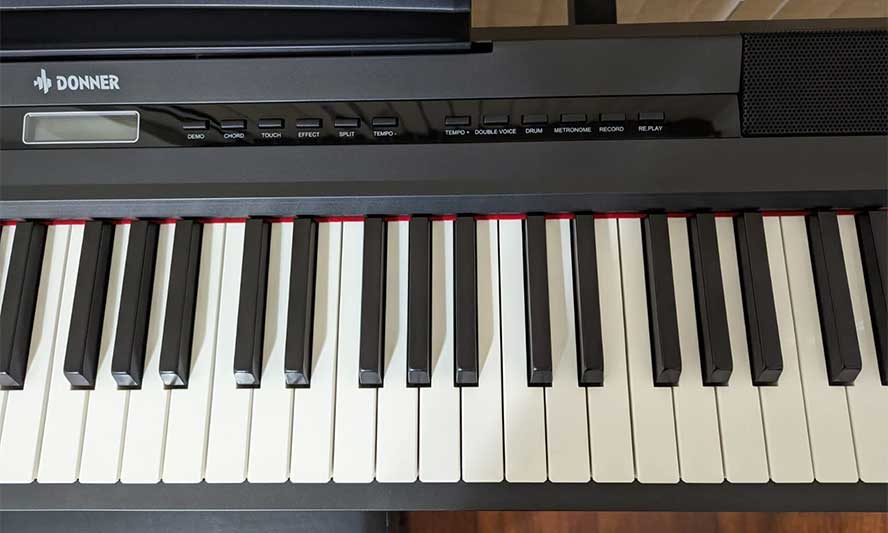 It performed consistently well across various genres and difficulty levels, demonstrating its adaptability to different musical styles. Its user-friendly design, combined with its wide array of features, makes it an invaluable addition to any aspiring musician's toolkit. Our main gripe is in the keyboard's construction. Overall, it's well done. But the space directly below the keys is too thick. It feels uncomfortable on your thighs at times, especially if you have long legs. Were the stand adjustable, this would be a non-issue.
Setup and disassembly are both straightforward, however, and it works well if you have limited space or need to transport your instrument frequently. The included stand and 3-pedal unit add to its value and functionality, ensuring a complete and enjoyable playing experience.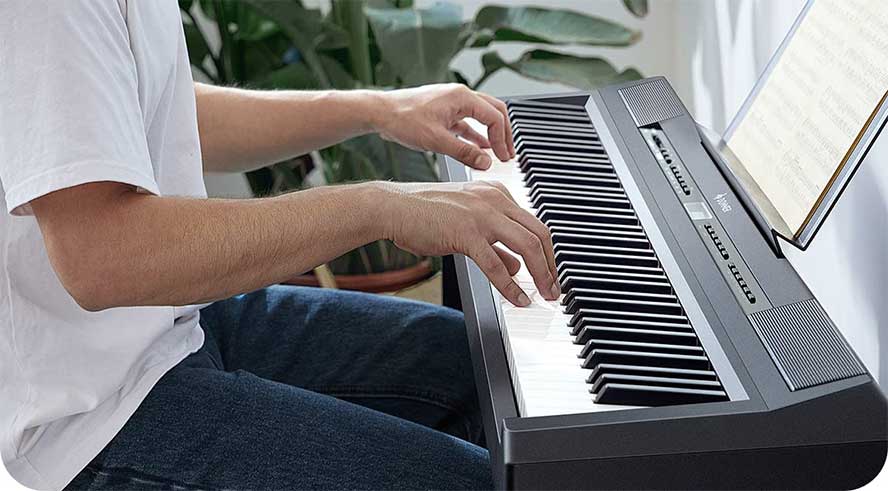 Aside from a couple of design quirks, Donner's DEP-20 is a remarkable instrument that offers an ideal balance of performance, versatility, and portability. Its extensive features and user-friendliness make it a smart buy for anyone looking to start or further develop their piano-playing journey.
What we liked:
Adjustable touch response
Portable and sleek design
Rich sound with 25W amplifiers
Versatile multimedia settings
What we didn't like:
Front spacing under keys is too thick
Stand not adjustable
Alesis Recital Pro 88 Key Weighted Keyboard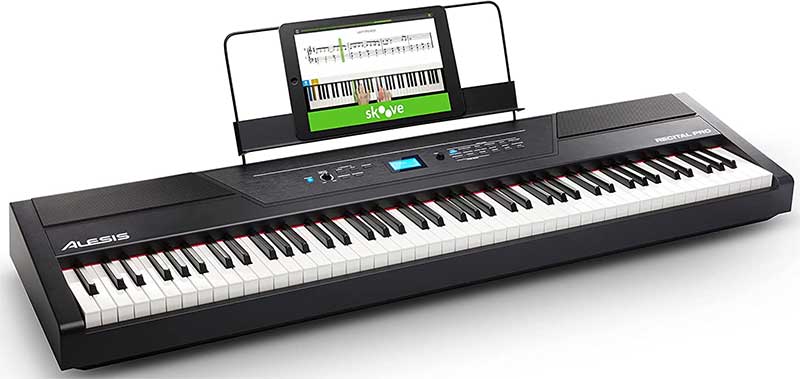 Key features:
88 weighted hammer action keys
Adjustable touch response
12 premium voices and built-in FX
Powerful educational modes
Last on our list is the Alesis Recital Pro. It boasts a sleek black design and weighs only 26 pounds, making it portable and easy to set up. With dimensions of 5.52 x 51.6 x 13.8 inches, it is an ideal size for home studios or live performances.
The premium weighted keys are full-sized and feature hammer action, which closely mimic the feel of an acoustic piano. You really have to experience the adjustable touch response to understand its nuances. This feature lets you tailor the keyboard to your preferred style of play.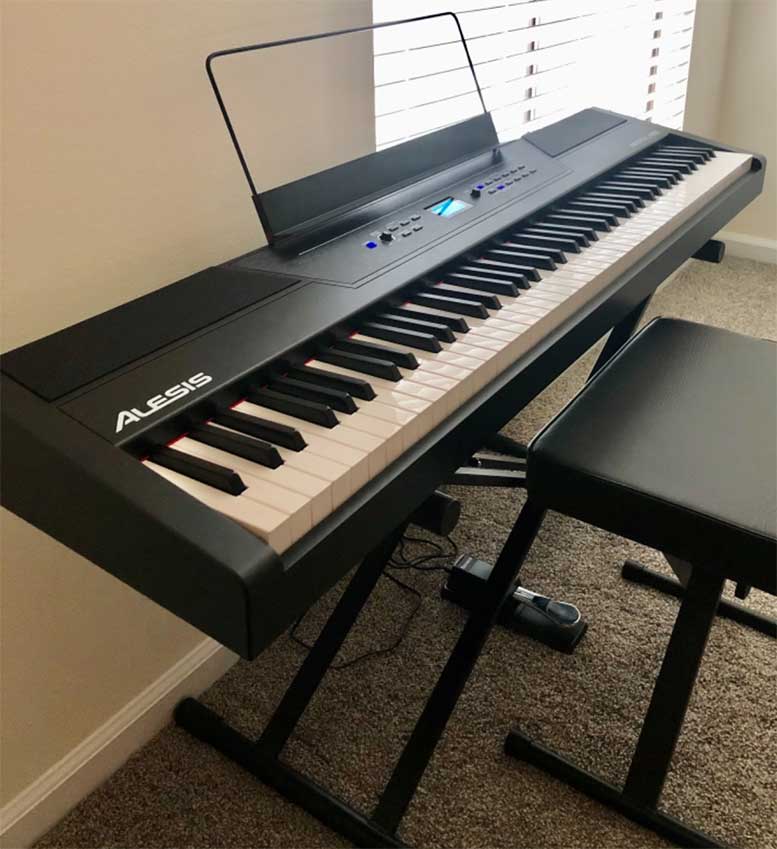 There are 12 high-quality voices on board. These include popular mainstays like acoustic and electric pianos, bass, organ, and synth. We discovered a range of tonal options to suit any musical genre.
Granted, not all instruments sound like their real-world counterparts. But almost all of them range from very good to passable, so there aren't many limitations. You'll also find built-in sound effects like chorus, modulation, and reverb, further enhancing the quality. Unlike a lot of similar keyboards we considered, Alesis opted for built-in 2 x 20-watt speakers. They sound loud, clear, and vibrant for onboard speakers.
In addition, there are several connection options, and that's something we always like seeing. For instance, a ¼-inch port for a sustain pedal is present. An included pedal would have been a nice addition, but it's not a deal-breaker by any means. Also here is a ¼-inch output for stereo headphones. If you need to play without disturbing others in your household, simply plug in your favorite phones. But what if you want more sound than what the built-in speakers offer? Thankfully, there are stereo outputs so you can connect your own speakers and amplifiers.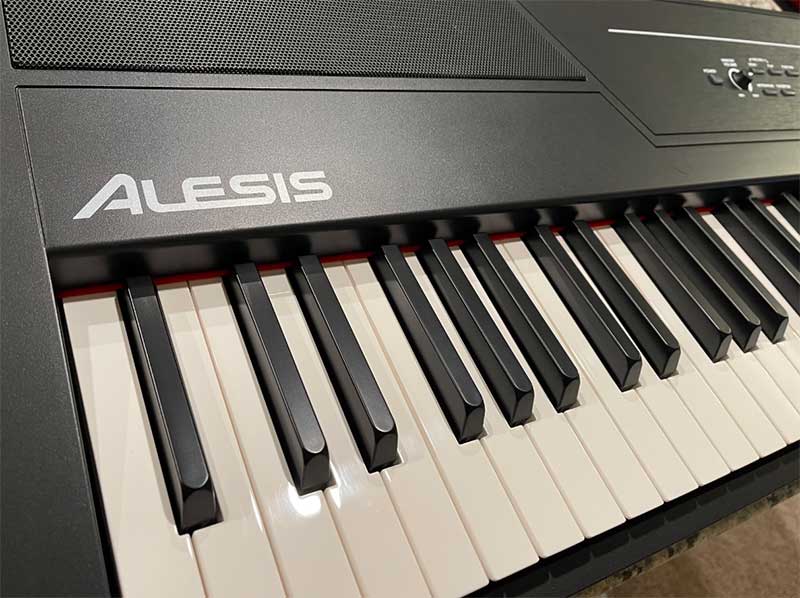 Given its price point, you might be led to wonder if this is a good keyboard for beginners. As it turns out, it's that and more. There's a lot here for all skill levels. And thanks to its powerful educational capabilities, the Recital Pro is a great fit for anyone who wants to learn.
Thanks to its many lesson modes and 128-note polyphony, it caters to both beginners and seasoned players. Also included is a premium 3-month Skoove subscription. Skoove is an online platform for interactive piano lessons. What's more, you get 60 free Melodics virtual lessons, too. These resources really help solidify this keyboard as an excellent starter investment.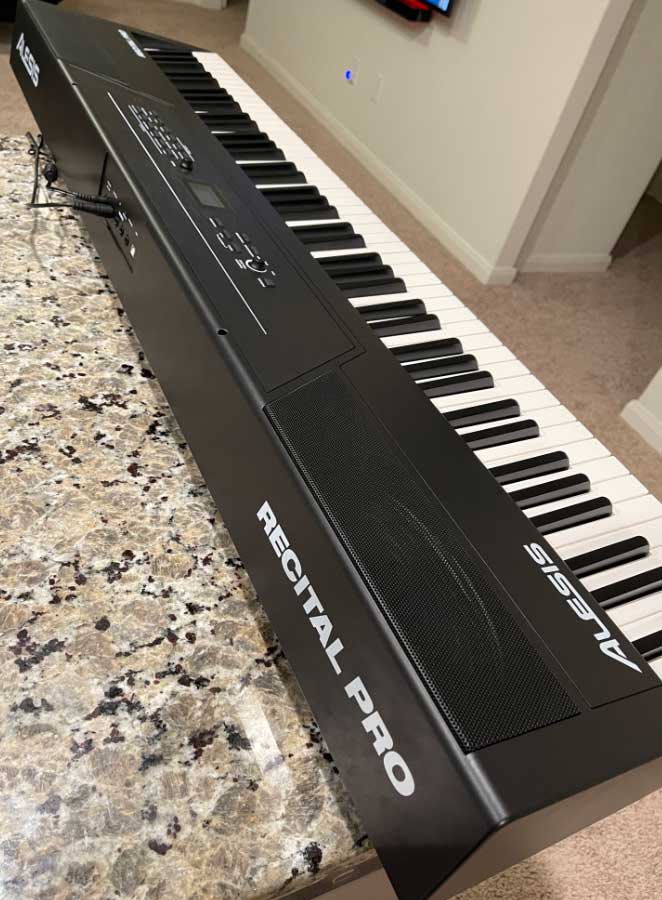 Powering it works by using the included power adapter or 6 D-cell batteries (not included). Combined with its lightweight build, you can perform just about anywhere. In all, the Recital Pro is a feature-packed digital piano that offers impressive sound quality, customization options, and educational resources. It is an excellent choice for musicians of all levels, providing an authentic piano-playing experience without any limitations.
What we liked:
Highly responsive keys
Clear, vibrant sound
Versatile connection options
Included online piano lessons
What we didn't like:
Sustain pedal not included
Not all instruments are perfect
88 Key Weighted Keyboard FAQs
What is the main advantage of an 88-key weighted keyboard over a non-weighted one?
The main advantage is that it offers a more realistic and authentic piano-playing experience, closely mimicking the feel of an acoustic piano. Weighted keys provide better control, dynamics, and expressiveness.
Can I connect my 88-key weighted keyboard to a computer or other devices?
Yes, most offer various connectivity options, such as USB-MIDI, Bluetooth, or auxiliary ports, allowing you to connect your keyboard to a computer, tablet, or smartphone.
Are 88-key weighted keyboards suitable for beginners?
Absolutely! In fact, many music teachers and professionals recommend them for beginners due to their authenticity. With 88 weighted keys, students develop proper technique and finger strength from the start.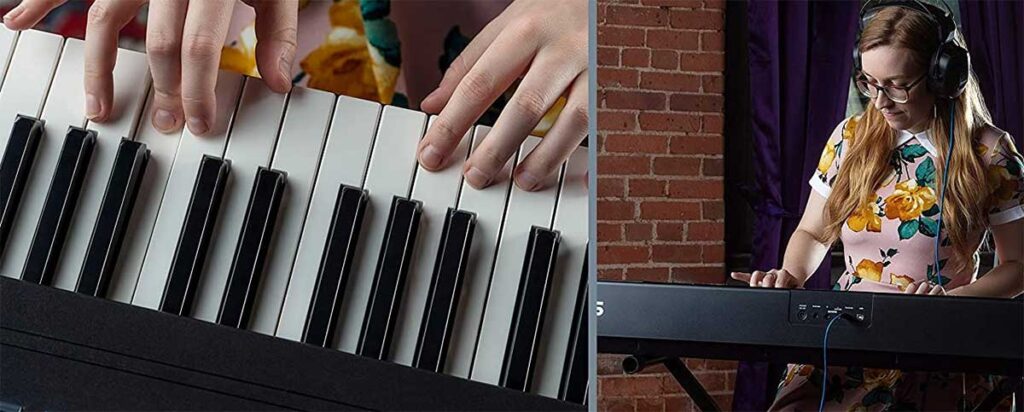 Final Verdict
The top four picks we chose are excellent choices for musicians with varying needs and preferences.
The Yamaha P71 stands out for its authentic acoustic piano feel and compact design, making it perfect for those who value portability and space-saving without sacrificing quality.
The Starfavor SP-20 shines with its realistic piano playing experience and support for wireless audio play, catering to those who seek a truly immersive and convenient music-making experience.
The Donner DEP-20 is an ideal choice for beginners and those looking for a versatile multimedia instrument, thanks to its adjustable touch response and numerous features designed to enhance the playing experience.
Lastly, the Alesis Recital Pro offers highly responsive keys and powerful educational modes, making it an excellent choice for musicians of all levels, from beginners to experienced players.
Ultimately, the best 88-key weighted keyboard for you will depend on your personal preferences, playing style, and desired features. With the information provided in this article, we hope that you can make a well-informed decision and find the perfect digital piano to elevate your music-making journey.
Meet Derek, "TechGuru," a 34-year-old technology enthusiast with a deep passion for tech innovations. With extensive experience, he specializes in gaming hardware and software, and has expertise in gadgets, custom PCs, and audio.
Besides writing about tech and reviewing new products, Derek enjoys traveling, hiking, and photography. Committed to keeping up with the latest industry trends, he aims to guide readers in making informed tech decisions.