Have you ever had a party at your house and wished you could have added a unique touch to it? Adding black light floodlights is a great option! Whether you're decorating for Halloween, or having a rave full of body paint, you'll want these lights outside to help make everything glow.
What did we take into consideration?
Size and durability: Whether you have a large area to light up or just a small wall, you need size options for these lights. You'll also want to make sure they're made of quality materials that can withstand being outdoors for long periods of time.
Brightness and Light Angle: Perhaps the most important aspect of the floodlights is how bright they are. Making sure you will be able to light up as much area as possible with each flood light is important. Factors such as wattage and light angles play an important role in this.
Weatherproofing: One very specific aspect we have to consider is how waterproof they are. If you plan to leave them out all year, you'll want them to stand up to the rain. If you're only putting them out for one night for a party, you still may want to protect them from unexpected drink spellings or random rain clouds rolling through.
Ease of Use: Setting them up shouldn't take an engineering degree. We wanted options that were simple to plug in and place where you want them, while also being versatile enough to give you choices.
Onforu 30W LED Black Lights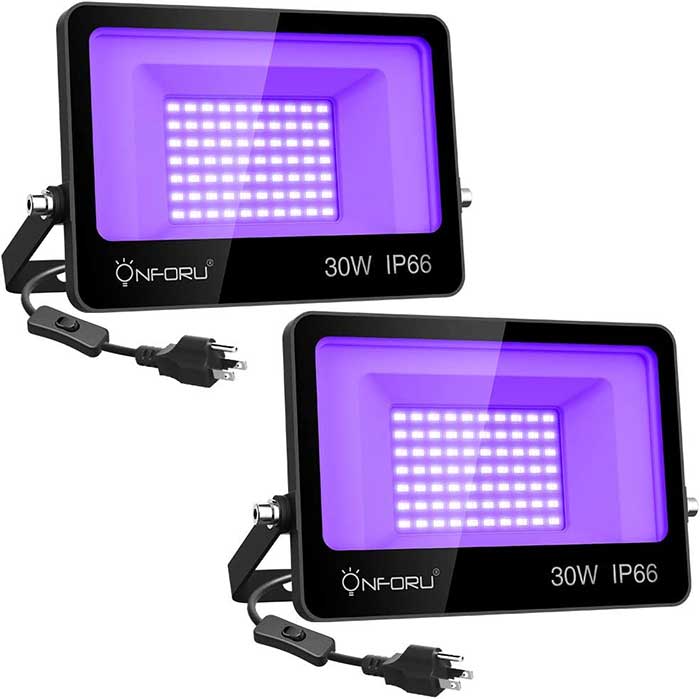 Key Features:
2-pack
Aluminum and plastic construction
5-foot power cord
The Onforu 30W has a small rectangular body made out of aluminum and plastic. Better yet, the front panel is heavy-duty as well. This will ensure that it can hold up to the elements. Even with the possibility of getting wet, the waterproofing has you covered.
With a rating of IP66, you won't have to worry about it getting ruined. The external temperatures shouldn't be an issue, as it can operate at -13 to 104 degrees Fahrenheit. The back of the light has specially designed heat sink fins to help keep them cool too.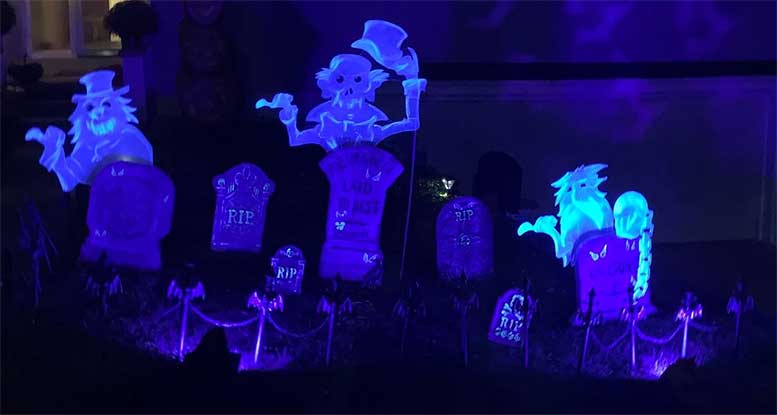 The lighting capabilities make it a great entry-level choice. It produces light with 30 watts of power. This makes it the lowest brightness on the list. However, it will also use the least amount of power, making it very efficient. Each light has 50 LEDs that will last for over 50,000 hours. The wavelength produced is 385-400 nm. Even with its lower wattage, it can still throw a good amount of light. The light beam has an angle of 120 degrees and can cover an area of 20 x 20 feet.
The compact size and overall design of the Onforu 30W make it easy to use. The back of the light has a metal stand that can be adjusted. This allows you to pivot it 180 degrees. Additionally, this stand doubles as a mounting bracket. It has holes in the back that let you screw it into walls. This lets you elevate and position it to wherever you need a black light. The power cord for each light is 5 feet long and has a built-in power switch.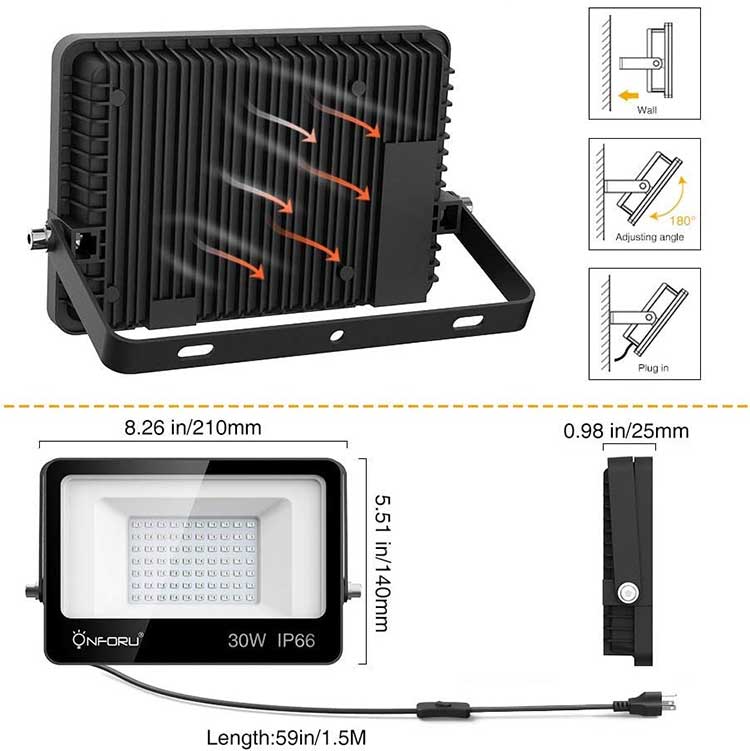 In our opinion, the Onforu 30W is a great place to start with outdoor black-light flood lights. They are affordable and compact. While they lack some of the brightness other options have, they will still get the job done.
Pros:
Mounting bracket
50,000 hours of operational use
Waterproof rating of IP66
Cons:
Lowest wattage on our list
Waygor 200W LED Black Light Flood Lights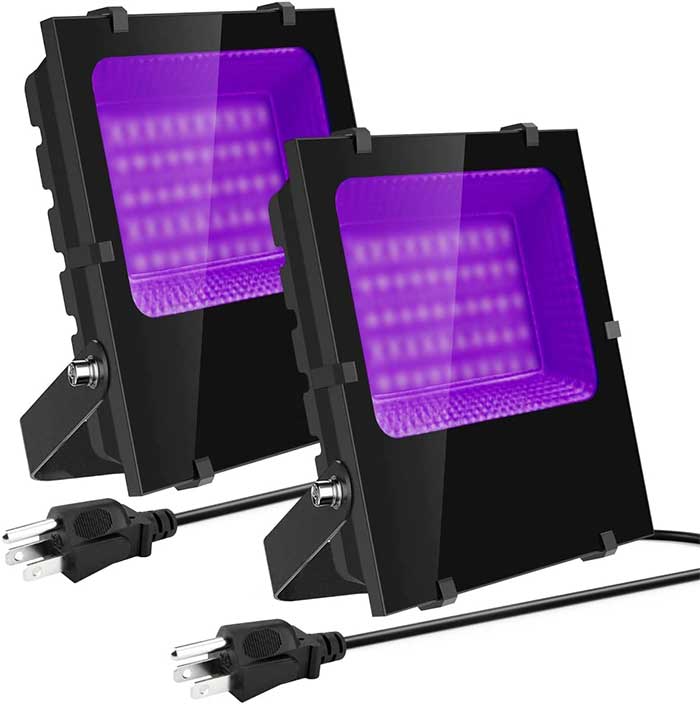 Key Features:
200-watt brightness
Dual pack
Aluminum body
The Waygor 200W has a body made entirely of aluminum. This makes it heavy-duty and lightweight. The front also has a sturdy glass panel. As for waterproofing, it won't have any issues. Just like the Onforu 30W it's IP66 rated. The design also features a heat sink fan backing to help keep the light cool while in use.
Coming in at 200 watts of brightness, this is the brightest per-led model on the list. This wattage will also make it consume more power than the Onforu does, but LEDs are still very efficient. Additionally, it has a rating of over 50,000 hours of use. Each light has 50 LEDs included. The beam of light created can reach an angle of 160 degrees of coverage. As for the wavelength, it is around 390 nm.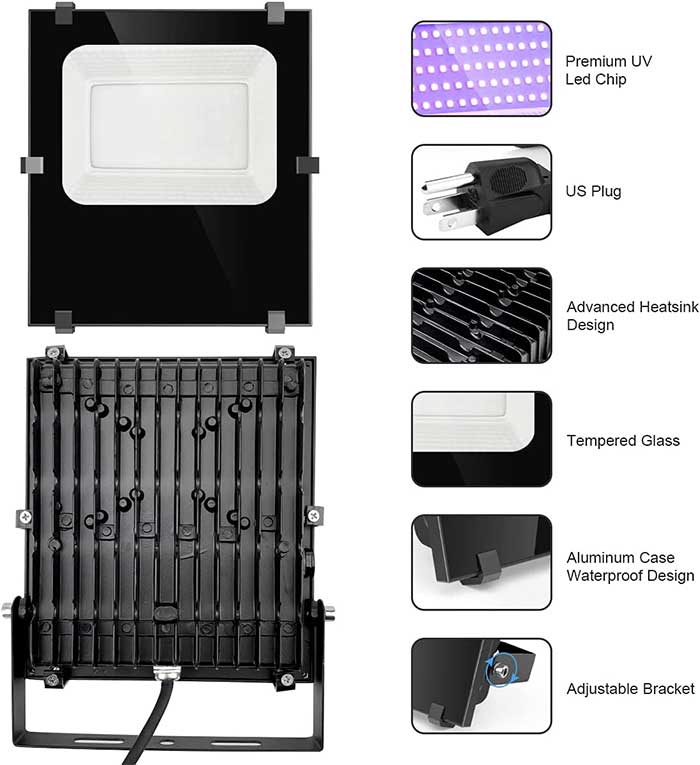 The overall design makes the Waygor 200W quick and easy to set up and use. There is a small black metal stand on the back that stands it up. The stand can also be used as a mounting bracket like the Onforu has. The light can swivel 180 degrees on the stand. The included power cord is rather short, coming in at only 3 feet. You'll have to keep it close to a plugin or run extension cords to it.
All in all, this is a great choice to really light up an area even with its small size. It has a minimal design that will help it blend in. They're durable and will be a great choice for your next outdoor party.
Pros:
Highest wattage on the list
Very minimal design to keep it hidden
160-degree light angle
Cons:
Onforu 72W Black Light Bars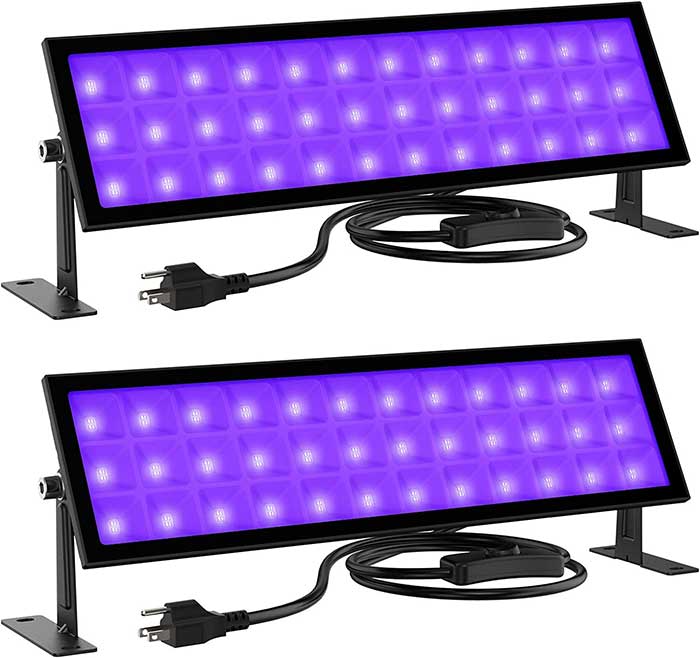 Key Features:
72 watts of brightness
72 LEDs per light
2 Pack
The Onforu 72W is the longest option featured on our list. The length is just under 17 inches. The body is made out of die-cast aluminum and the front panel is a heavy-duty material. The back has a heat sink design to help dissipate heat. When it comes to waterproofing, it's very comparable to the Onforu 30W and the Waygor. This is due to the IP66 waterproofing rating it has.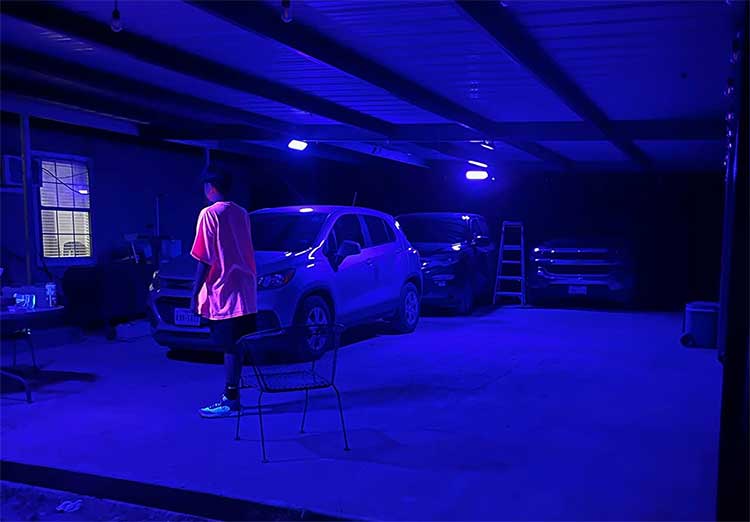 Lighting up a huge area won't be an issue with the Onforu 72W. The brightness of 72 watts is achieved through its 72 individual LEDs. The beam angle is 120 degrees. This brightness paired with the length of the light allows it to light up an area of 1156 square feet. The wavelength used is between 385 and 400 nm. This makes it work well with most reactive pigments, dyes, and paints.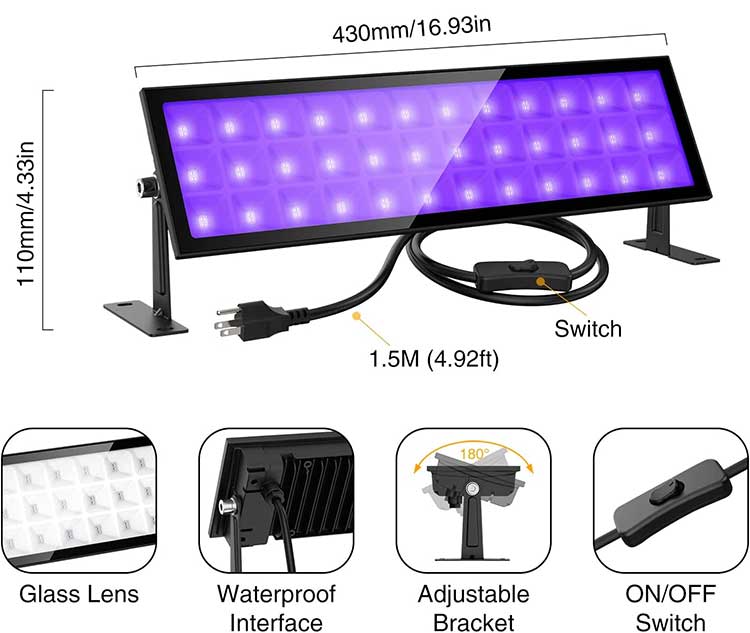 Even being the largest light on this list, setting it up and using it isn't difficult. It has metal feet on each end of it. Both feet have holes in them to help you mount the light easily to walls, fences, and more. The power cord is 5 feet long and has a built-in on/off switch. Similar to the other options so far on the list, it can swivel 180 degrees.
If you're looking for a large black light that can cover a large area then this is a perfect choice for you. You'll get two in the pack, so make sure you plan out where you're going to put them both.
Pros:
Die-cast aluminum housing
1156 square feet of coverage
Heavy-duty glass front
Cons:
Won't fit in compact spaces
Everbeam 100W UV LED Black Light Flood Light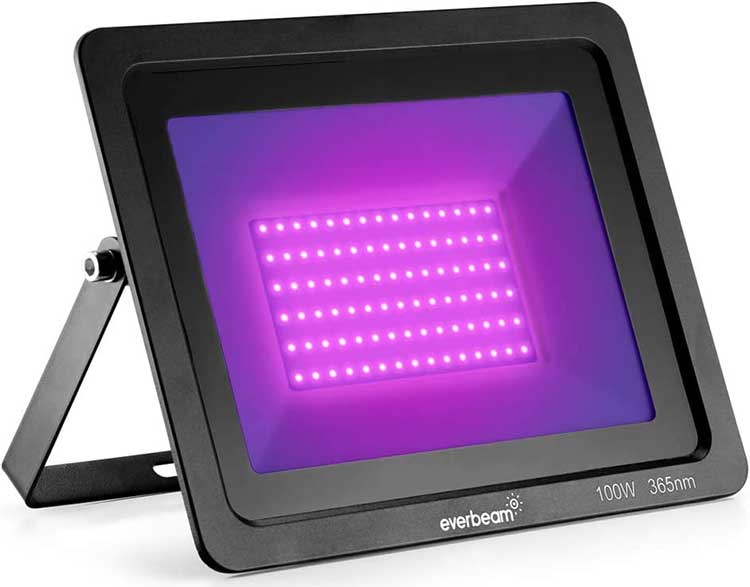 Key Features:
100 watts of brightness
Aluminum alloy body
Single pack
The Everbeam 100W is a durable black light flood light. Its body is made from aluminum alloy. The front is made from shatter-proof tempered glass. It can operate in temperatures ranging from 0 to 100 degrees Fahrenheit. To help it stay cool it has a full-body heat sink included. Additionally, it's waterproof and humidity-proof between 45 to 95%.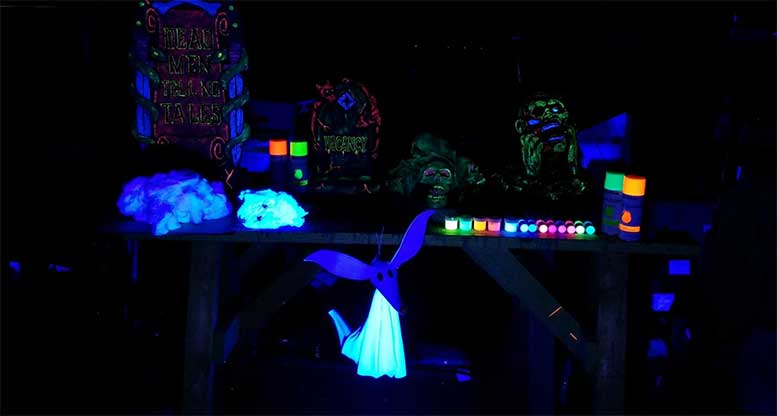 Being 100W gives the Everbeam the capability to throw a lot of light. The beam it produces spans 120 degrees. When it comes to coverage, you can light up an area of 1220 square feet. This gives it the largest coverage of any option on the list. As for wavelength, it produces light at 365 to 395 nm. The operating lifespan of the light is 50,000 hours.
The Everbeam comes with an attachable metal stand. It looks and functions just like the options from Onforu and Waygor in the same size range. You can mount it on the wall or stand it up on the ground. No matter where you put it, you can swivel the light up to 180 degrees. The included power cord is 5 feet long as well.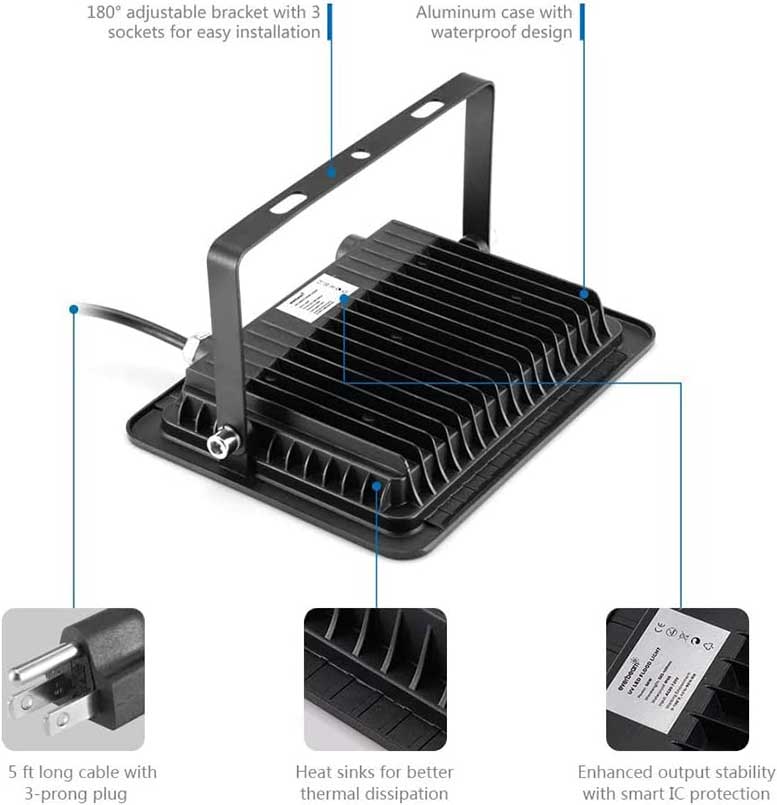 In our opinion, this is a great flood light if you need to light up a huge area. It emits the most light of any option on the list. The only negative thing to consider is that this is a single pack, so you only get one light per purchase.
Pros:
Highest light coverage
Tempered glass panel
50,000-hour lifespan
Cons:
ZHMA 60W LED Black Light Flood Lights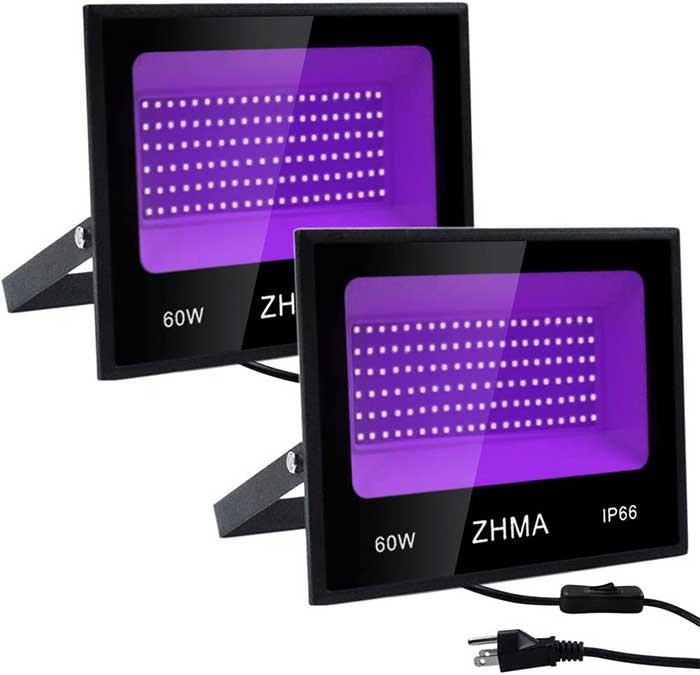 Key Features:
60 watts of brightness
Aluminum body
126 LEDs per light
The ZHMA 60W is a compact light with great functionality. The body is made from aluminum to ensure durability. The back of the light features a heat sink to help keep it cool while in use. As for waterproofing, it's IP66 rated. Additionally, it's built in a way that keeps it completely dustproof.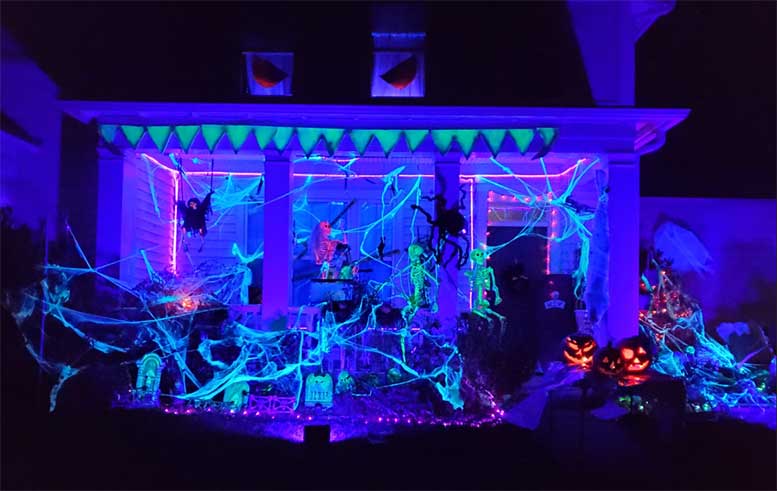 The ZHMA has the second lowest wattage on the list at 60 watts. The black light is produced by 126 individual LEDs in each unit. The beam created covers 120 to 180 degrees, the largest on this list. Each package includes two individual lights, so you have double the coverage for your outdoor area.
The overall ease of use is similar to the other compact options on this list. The overall size allows it to easily blend into its surroundings in your backyard. There is an attached stand that swivels 180 degrees to help position the light where you need it. This stand can be mounted to walls, fences, and more to elevate the light beam. The included cord is 4 feet long and has an on/off switch attached.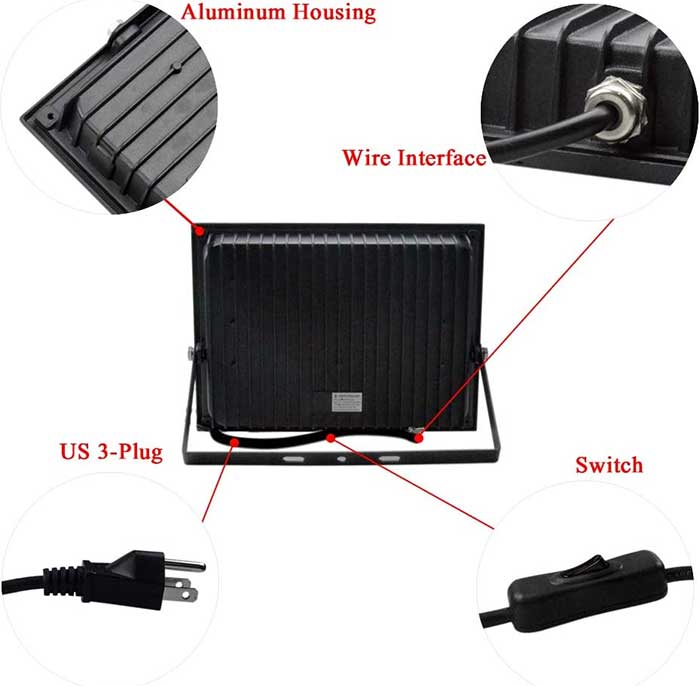 Clearly, this is a fantastic option to get started with. It's the most affordable option on the list and comes with two very bright lights. Best of all, it has a 12-month warranty so you can feel good about your purchase.
Pros:
Lowest cost on the list
12-month warranty
Highest light beam angle range
Cons:
Isn't as bright of a light as other options available