Your Mom deserves an endless amount of appreciation and gratitude for always being there for you, and helping you grow into who you are today. Mothers always put their families first, helping everyone.
With Mother's Day right around the corner, it's time to show your Mom just how much she means to you. There's no better way to do so than with BLUETTI's amazing power stations!
Best of all, their Mother's Day Sale is now live from May 6th to May 18th. Not sure which to choose? Then keep reading below to see our favorite deals and recommendations that are sure to make your Mom happy.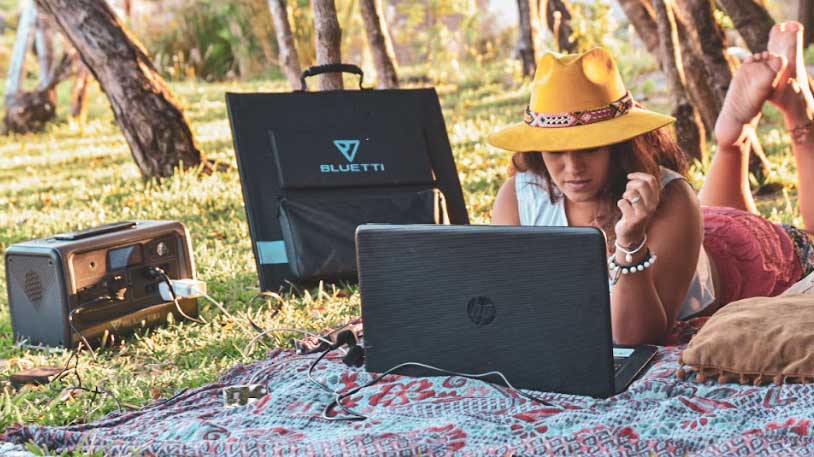 Have a Fun Day Trip With Your Mom, Without Worrying About Power
There's no better place to spend time with your Mom than somewhere outdoors, experiencing the beauty of nature on a quick day trip. However, when you're on a trip like this, chances are you'll still need a way to power your devices.
The portable power stations from BLUETTI, like the EB3A and the EB70S, are both great options. They're easy to carry with you and pack tons of power. Ranging in power capacity from 268Wh and 716Wh, you'll have hours of power for your phones, fans, coffee makers, and more. Each can be recharged using solar power and can output power in 9-12 different ways.
Spend your time together enjoying nature, not worrying about how to keep your phones, cameras, and more charged. These portable battery packs will help you keep some comforts of home possible while getting out into the wilderness and having a great trip with your Mom.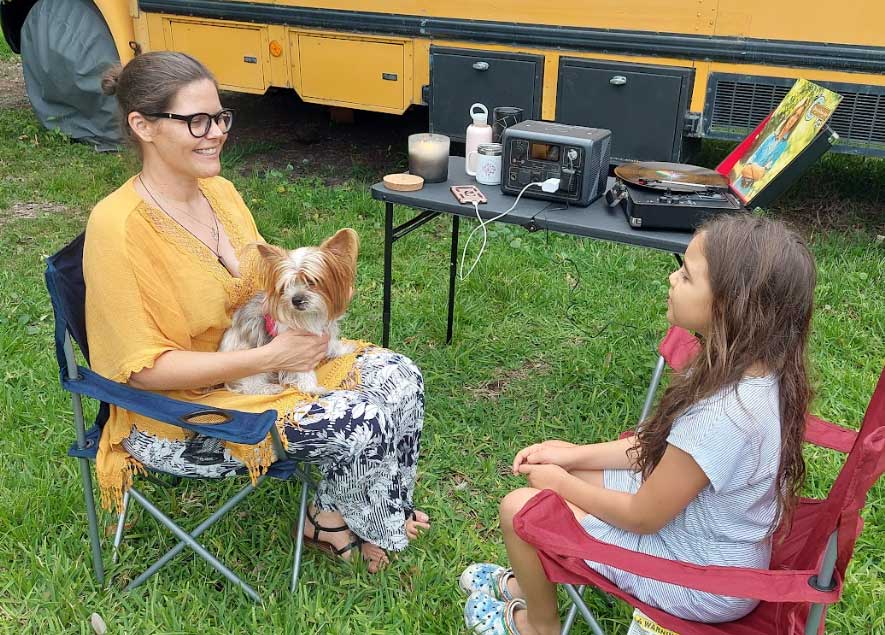 Power For Longer Adventures
If you're able to, taking a trip for a few days is an even better way to spend time with your Mother. Hitting the road and stopping at every overlook, tourist trap, and more is a fantastic way to show your Mom you really care about her.
On trips like these, you're going to need a power station that will easily last for a long time. That's why we love the AC200P. This portable power station is perfect for providing power while you're off the grid. It has a 2000W AC inverter and a 2,000Wh capacity. There are 7 different ways to recharge this power station back up to its full capacity.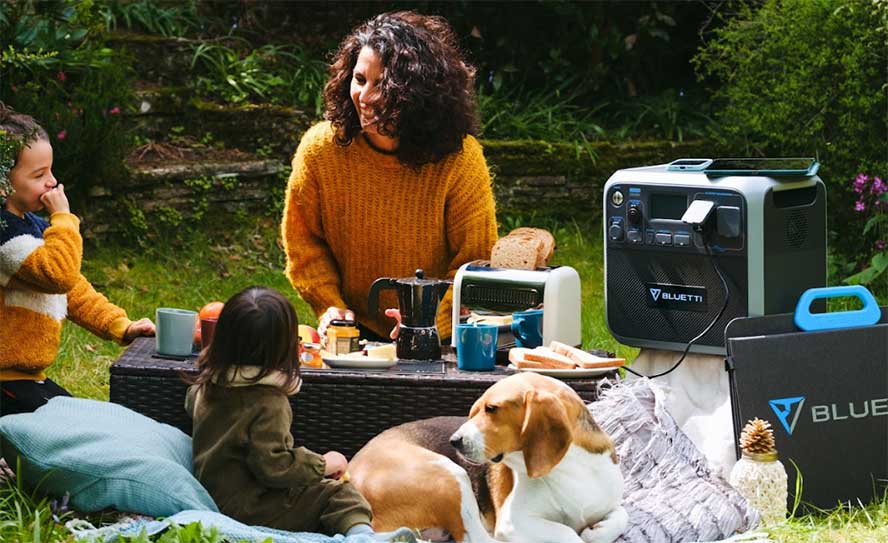 At a maximum recharge rate of 1100W, it can be back to full power after use in no time. When it comes to the various ways to output power, the AC200P has a wide variety of 17 different options. It has a mix of DC, AC, USB-A, USB-C, and wireless chargers to help power any device you need it to.
Providing power to things like hair dryers, refrigerators, heaters, and more is possible with the AC200P. With the peace of mind that you'll have power for your whole trip, you can spend your time focusing on quality time with your Mom.
Multiple Ways to Power Your Mom's Home Sustainably or in an Emergency
We love that Mother's Day is fully dedicated to showing your Mom just how much you love and care about her. It's a great day. But it shouldn't only happen on Mother's Day. Getting her a gift that can be useful and potentially life-saving in some cases is a really nice thing to do.
That's where our favorite Home Battery Backups come in. In an emergency when the power goes off, your Mom won't have a way to turn the lights on, heat her house, keep her fridge or freezer running, and much more. This can be incredibly detrimental and dangerous. However, with a home battery backup, this problem is easily solved.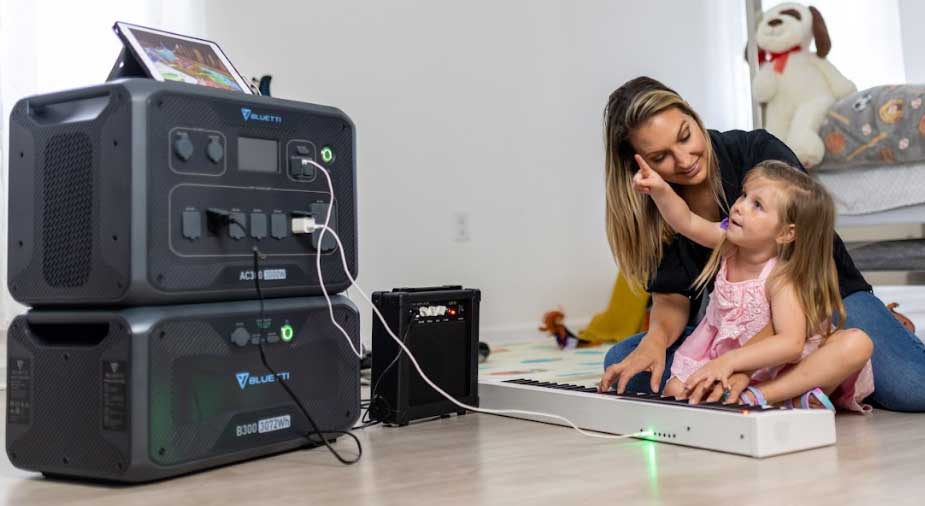 Our favorite options from BLUETTI are the AC300 and the AC500. These systems have a high power capacity (3,072 – 36,800Wh depending on options).
Additionally, they both have a built-in system that automatically triggers and powers the home within 20 milliseconds of a power outage. Each home battery backup can be paired with multiple batteries, to expand their maximum power supply.
The AC300 can be paired with up to 4 B300 battery packs to increase its power capacity to 12,288Wh. The AC500 can be paired with up to 4 B300S battery packs to increase its power capacity to 36,800Wh.
Depending on what you decide to get your Mom, she can power her home in an emergency for up to a few days. Devices like fridges, electric ovens, coffee makers, and more are all able to be powered easily using either the AC300 or the AC500. Best of all, the options we have suggested both come with an extra battery pack to automatically expand their power capacities.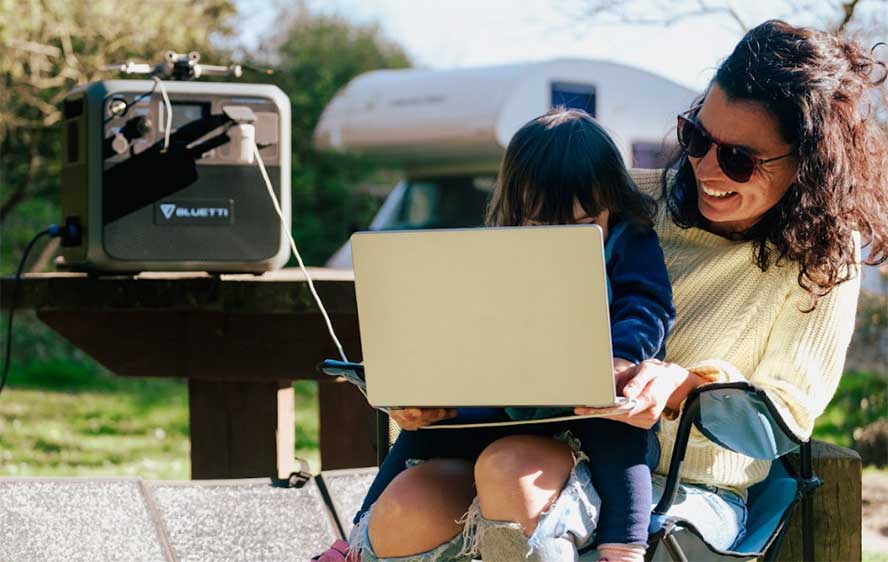 Is your Mom someone who would love a sustainable way to create her own power? Maybe she wants to do this consistently, or maybe it's just for long-lasting emergencies. Either way, our favorite choice from BLUETTI is the EP500. This solar power station is perfect for storing and supplying power off the grid or in an emergency.
It will function very similarly to the AC300 and AC500 in the case of an emergency. It's also specially designed to be recharged using solar panels (not included) that help your Mom capture and store clean energy. This power station is capable of storing 5,100Wh of power and is easily movable using its built-in wheels. The EP500 has multiple power outputs for wireless charging, USB-A, and USB-C ports, as well as regular AC plugins. This gives your Mom a wide array of options to provide power.
BLUETTI's Mother's Day Sale
BLUETTI is putting many of their amazing power stations and battery backups on sale this Mother's Day. These make great gifts for any Mom, and some deals are reaching up to $700 off! When you hit certain spending thresholds you can receive some awesome free prizes. These include a fridge magnet, a button/pin/sticker package, a hoodie, and a handheld vacuum depending on the amount you spend.
Additionally, you can refer friends to get rewards, earning one BLUETTI buck for every dollar they spend. They will also get 5% off their purchase. Click here to learn more: https://www.bluettipower.com/pages/refer-a-friend
Whether your Mom needs to have power on the go, at home, or in an emergency, you can get her the perfect option from BLUETTI and be her favorite kid this year!
About BLUETTI
Since the beginning, BLUETTI has promoted sustainability and green energy solutions with their company and products. They offer products and power storage solutions that help put eco-friendly options on the market. They aim to give you the best products for your home and lifestyle while creating a sustainable future for everyone. This drive towards sustainability has led them to over 70 countries and millions of customers who love their products and help save the planet by using them.
Meet Derek, "TechGuru," a 34-year-old technology enthusiast with a deep passion for tech innovations. With extensive experience, he specializes in gaming hardware and software, and has expertise in gadgets, custom PCs, and audio.
Besides writing about tech and reviewing new products, Derek enjoys traveling, hiking, and photography. Committed to keeping up with the latest industry trends, he aims to guide readers in making informed tech decisions.