One of the most common types of electronic cables in the tech world today is the USB-C to USB-C cable. USB-C offers superior connectivity and speed, while also being extremely easy to plug into your devices.
Some of the fastest charging capabilities happen with USB-C, and more devices are moving towards it being the main connection port for power and data transfer each day.
With a wide variety of options on the market, you'll want to choose a cable that is durable, fast charging, fast at data transfer, and has a durable design. Ugreen has put out one of the best options for a USB-C to USB-C cable with these factors in mind. To learn all about it, you may want to keep reading below.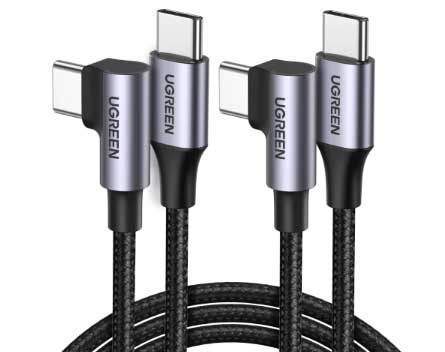 Extremely Fast Charging Capabilities
The Ugreen 2023 USB-C to USB-C cable utilizes modern technology to offer extremely fast charging speeds for your devices. It has 3A fast charging tech built in, and 60W of power delivery. This amount of power allows it to charge a standard smartphone from 0% to 70% in only 30 minutes.
For comparison, other cords in the 18W range can only charge 34% in the same amount of time. This makes it a perfect power cord or charging cord for your phone, tablet, laptop, or game console. If you haven't tried charging your modern devices using fast-charging tech, you're missing out.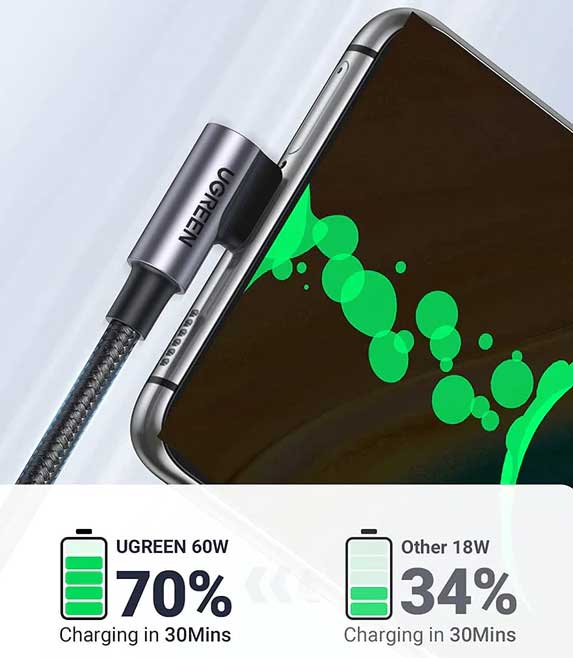 Gone are the days of plugging in your phone at night and hoping it's fully charged when you wake up in the morning. Using cables that can support 60W like these can will be an absolute game changer for your lifestyle to keep you powered up and connected through your devices.
Lightning Quick Data Transfer Speeds
Another great use for a USB-C to USB-C cable is to transfer data between devices. Files such as documents, pictures, and songs take up a lot of room on your smaller storage-type devices like smartphones.
You can easily utilize Ugreen's cable to move those files from your phone to your computer (or vice-versa) at a lightning-fast speed of 480 Mbps. This beats other types of cables such as standard USB-A models, giving you one of the best options available.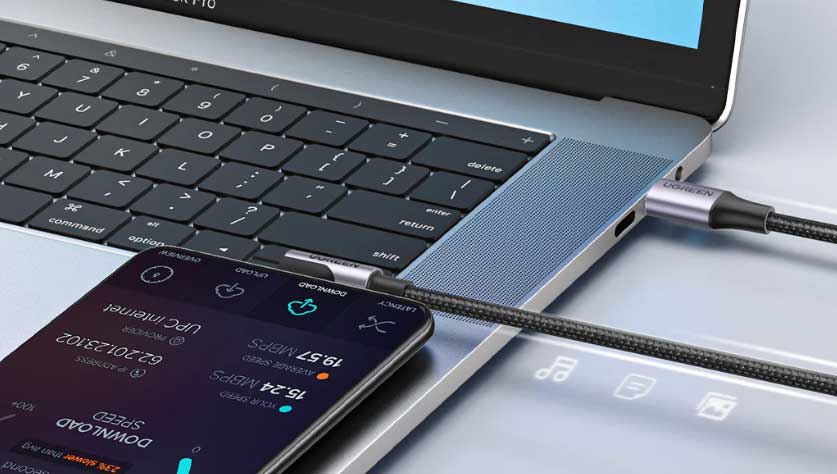 Imagine being able to take the thousands of pictures you have on your phone, and easily moving them to your computer in just a few minutes. Sounds pretty awesome, right? Please note, however, this cable cannot be used as a video output cable, only for transferring stored data.
Smart Design with Durable Construction
As for the durability and design of these cables, you won't have to worry about them breaking. The cord itself is built using a 4 layer shielding material. This provides 4 levels of protection surrounding the critical cable components that allow it to work as intended.
The outer layer is made using a nylon material. This nylon is flexible and braided to increase its strength. The design allows you to easily wrap the cable up while not in use and store it out of the way without risk of damage.
Another great feature is the plugin design. Each end has a standard USB-C plugin. However, on one end it has a straight design, and on the other, it's rotated 90 degrees. The 90-degree end is perfect for plugging into your devices while taking up less space. A great use case is for plugging into your phone while gaming or watching a movie in landscape mode to eliminate the bulkiness of the plug.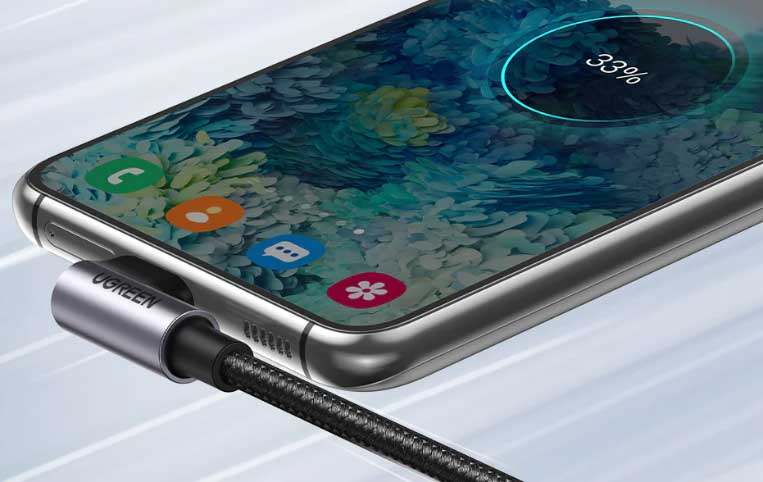 Ugreen has also included a few things to give you peace of mind about the cords and their durability. The first is a two-year warranty. This warranty covers all manufacturer defects for two years from your time of purchase.
Additionally, they offer a 30-day risk-free trial with the product. If you purchase it and in 30 days you don't love it, simply send it back to receive your money back. Both of these added bonuses help you to further trust Ugreen and try out a great product.
Limited Time Deal
As for pricing, there are quite a few deals happening right now to make it even easier to get your hands on one of these USB-C cables.
Starting with the 3.3FT version of the cord, you have 4 options:
1 cord for 10.50 (regular price 17.99)
5 cords for $49.88 ($9.97 per cord, regular price $52.50 total)
8 cords for $77.28 ($9.66 per cord, regular price $84.00 total)
10 cords for $94.50 ($9.45 per cord, regular price $105.00 total)
As for the 6.6FT version of the cord, you also have 4 options:
1 cord for $9.09 (regular price $19.99)
5 cords for $49.88 ($9.97 per cord, regular price $52.50 total)
8 cords for $77.28 ($9.66 per cord, regular price $84.00 total)
10 cords for $94.50 ($9.45 per cord, regular price $105.00 total)
These are great deals no matter how many cords you need or what length you choose. However, this is a particularly good deal on the 6-foot versions of the cord, with savings on one single cord at 55% off.
Best of all, Ugreen offers multiple ways to pay via credit card, PayPal, ShopPay, split payments via Klarna, and more. This helps you even further to get the cables you need at a reasonable price in an easy way.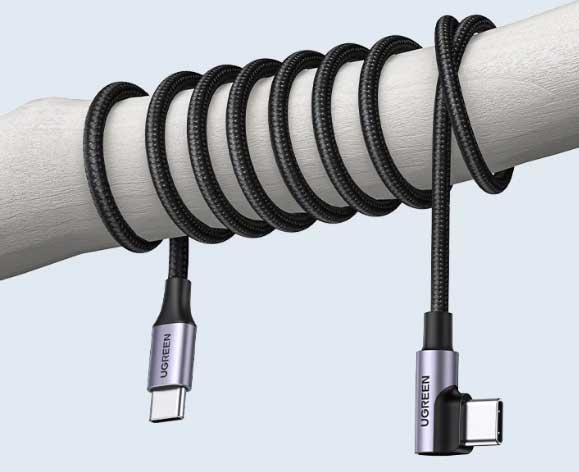 They're priced at a great spot and are a high-quality product. They make a perfect gift, especially for someone who always asks to borrow your charger. They're great for you if you want to experience fast charging for the first time, or if you want to back up your phone to your computer in a short amount of time.
They'll likely last a long time with their durable construction, and Ugreen backs them with their guarantee and two-year warranty. In our opinion, you really can't go wrong with these cords, especially with the deal they're running on them right now.
Also, be sure to checkout more great deals from Ugreen. Everything from charging cables to hard drive enclosures are now steeply discounted.