If you're like a lot of people, you might have some old mini DV or VHS tapes laying around. That's only natural. VHS was the standard video format for a long time, and many VHS tapes still exist. But they're not actually all that convenient to use.
Unless you're a serious movie aficionado, you probably don't have a VCR ready to go. Most people's VCRs, if they even have one, are sitting in a closet somewhere. In other words, you're not getting much use out of those tapes. This can even leave you missing out on old home movies and other treasured videos.
VHS tapes aren't the only old format you might have to deal with. Not that long ago, many models of camcorder still used old-school mini DV video tapes. Even DVDs are outdated. Most modern PCs don't even ship with an optical drive. And with streaming services serving up so much content, fewer people are investing in physical discs. When they are, they're buying Blu-Ray discs in order to get truly premium video quality.
All of this has conspired to put old-school RCA jacks on the chopping block. Most modern TVs don't even have any. So if you have a VCR, mini DV camcorder, or DVD player, you end up needing to use a clunky adapter.
This can leave you with all kinds of artifacts and other unwanted video quirks. So why not ditch the old hardware altogether? With a video converter, you can transfer your old recordings to a modern digital format.
Best Mini DV to Digital Converter
Today, we're going to review three of the best mini DV to digital converters available. These little converters are designed to take your old VHS and mini DV tapes and and record them as convenient MP4 files.
To evaluate them, we'll look at a number of features. We'll look at what kinds of inputs they have, and how you can output your files. We'll also look at the controls, and how you interface with the device. If there are any extra features or functions, we'll also discuss them. After we've given these adapters a thorough evaluation, we'll be able to make an accurate comparison. Let's get started, and see what we find!
How Long Do VHS & Mini DV Tapes Last?
VHS and mini DV tapes aren't just obsolete; they also have a limited lifespan. After 20 years, you can expect about 20% degradation. This means that 20% of the data stored on the tapes will be lost. The result is a slow deterioration in video quality, which eventually renders the video unwatchable.
This happens primarily because VHS and mini DV tapes are magnetic, and magnetic storage degrades over time. On a magnetic tape, the magnetic particles are held in place by a binder layer. This layer loses its strength over time, and the particles slowly fall away. Magnetic particles can also get moved around by nearby magnetics sources like speakers.
Further damage can happen to tapes just from regular use. Each time a tape goes through a VCR or camcorder, the physical tape medium is put under stress. The more it gets played, the more chance there is that parts of the tape will get stretched or creased. This can cause the video to stutter or become unwatchable for certain segments.
Humidity, heat, and other environmental factors can further damage your VHS or mini DV tapes. Point being, even if you're happy with your VCR, you won't be able to use it forever. And the sooner you convert your VHS or mini DV video, the less it will have degraded in the mean time.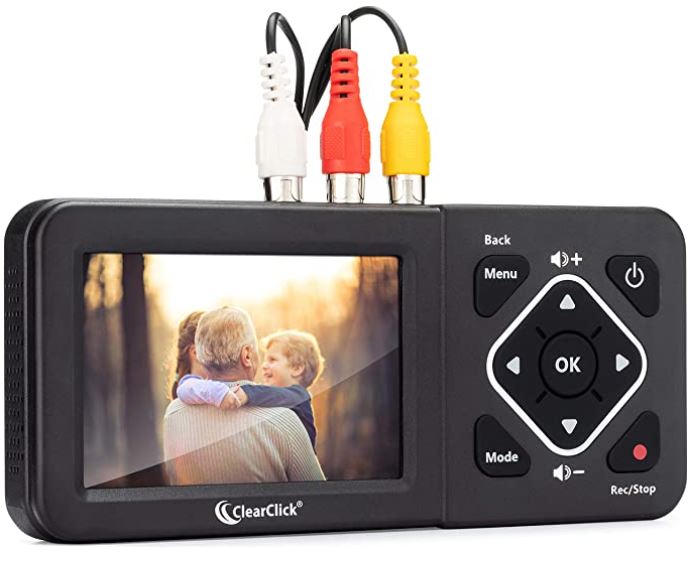 Best Overall: ClearClick Video to Digital Converter
The ClearClick Video to Digital Converter is a black rectangular device about the size of a small smartphone. It's constructed from a matte plastic, which stays clean and doesn't collect fingerprints. The left portion of the face plate is occupied by a 3.5-inch LCD display. This is used to preview whatever you're recording, in case you don't want to use an external display.

The controls are located to the right, and consist of an array of fat, rubber buttons. In addition to the power button, there's a record button to start and stop recording. There's a menu button, and a cluster of buttons to navigate that menu. There's also a mode button to choose between different video capture modes.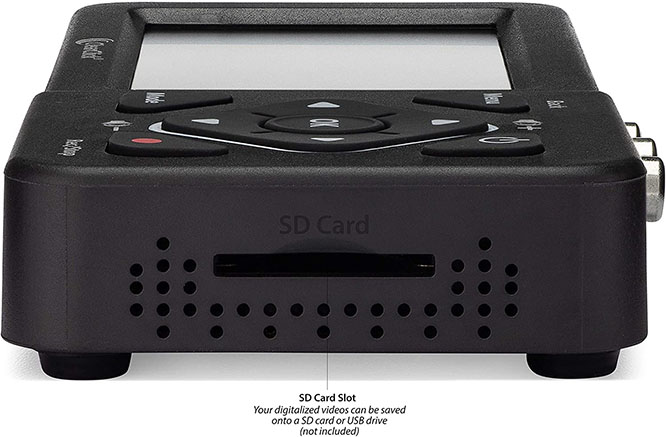 The inputs and outputs are mostly located on the top of the housing. At the top right corner, there's a Micro USB port, which serves as a power input. Next to that, there's an S-Video input, and the three jacks for an RCA input. To the right of the RCA, there's an HDMI output. At the far right, there's a USB port. This can be used for recording your video to a thumb drive or external hard drive. In the left side of the housing, there's an SD card slot, which serves a similar purpose. For those recording options, you don't need to use a PC or any other software.
As for the HDMI port, it can be used in two ways. First, it can be used to send your video to an external display like a TV or monitor. In this sense, it works a lot like an in-line RCA to HDMI adapter. However, you can also send your video to a capture card or similar device. This would allow you to save a digital file directly to your hard drive.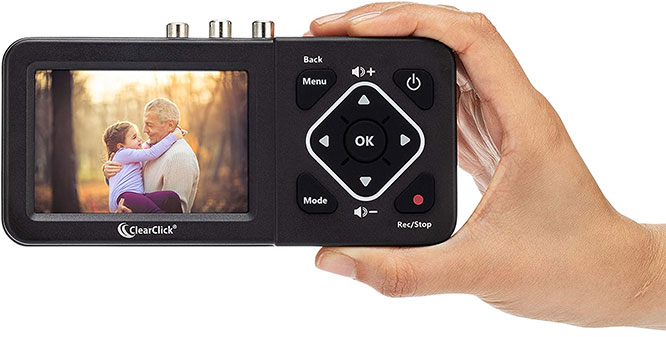 Keep in mind that we're only looking at converters here. You'll have a digital copy of your video, but the copy will be raw. If you want to edit your video, you'll need an editing suite, such as the VideoProc Converter Video Editing Software.
Video Quality
The ClearClick converter is designed to record your video in standard definition resolution. That's 720 x 480p, which is better than VHS quality. As a matter of fact, 480p was the standard for DVD video, so you'll be able to capture DVDs, as well. You won't be able to capture HD video, though. Videos are saved in the MP4 format, which is compatible with almost any modern device. You can watch them on PC, Mac, or on most video players and projectors.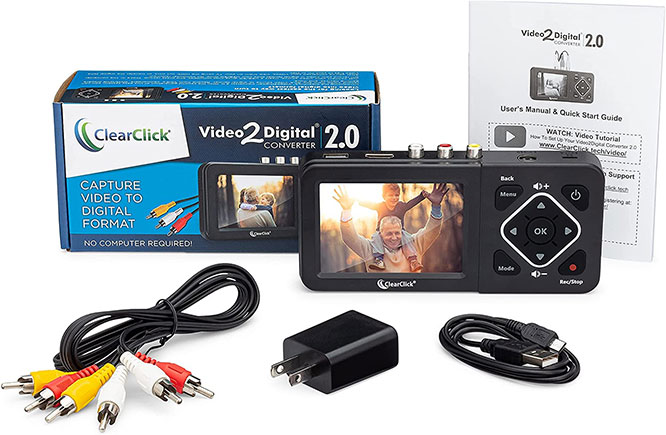 One drawback of converting VHS or mini DV to digital is that there's no shortcut. You have to manually play the video from start to finish for the converter to do its magic. Thankfully, this converter makes the process as painless as possible. It has a nifty auto-stop feature that can be set for 60, 90, 120, or 150 minutes. You can start your VHS or mini DV playing, set the auto-stop timer, and walk away. Other converters will keep on recording the blank video stream until you manually stop recording.
Along with the converter unit, ClearClick includes everything you need to get started. There's a Micro USB cable and AC adapter for power. There's also an RCA cable for connecting your VCR or other old-school device. This is all covered by a 12-month warranty, so if there's a factory defect, you'll be protected.
Pros
Built-in 3.5-inch preview screen.
Equipped with audio/video sync protection.
Backed by a 1 year warranty.
Records up to 720 x 480p resolution.
Suitable for DVD conversion.
No software required for use.
Able to save directly onto a flash drive or SD card.
Cons
Most expensive option.
No memory card or extras included.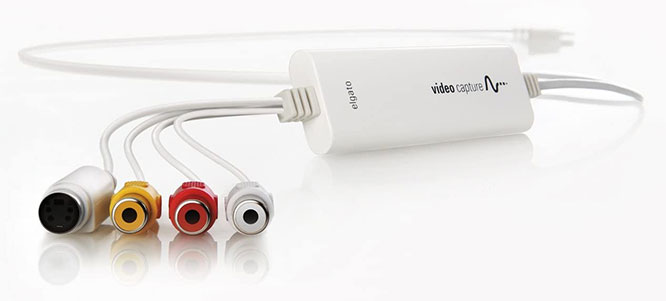 Best Runner-Up: Elgato Video Capture
Elgato is a manufacturer that produces a variety of audio/video equipment. Not long ago, we reviewed the Elgato Cam Link. This is a powerful capture device for recording live HD video from an HDMI source. Considering how similar that is to RCA video capture, it only made sense to see what Elgato had to offer.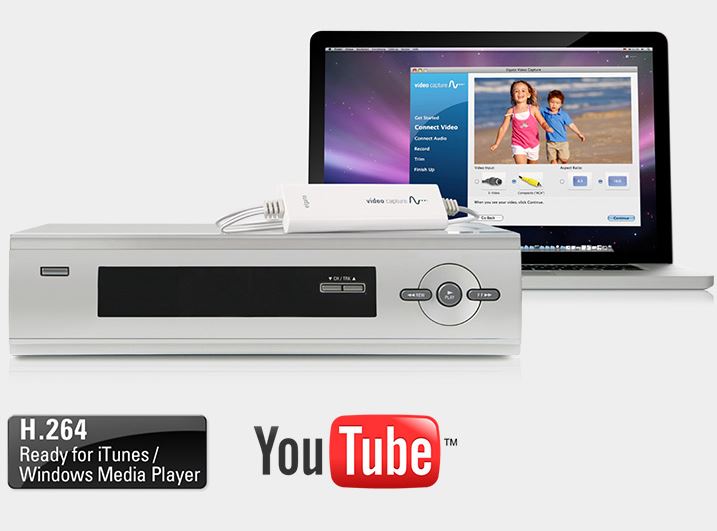 The Elgato Video Capture has an all-in-one design. Instead of a separate converter with multiple inputs and outputs, this is a long, white cable with an in-line dongle. At one end of the cable, there's a split input, with an S-video input as well as your three RCA plugs. The other end of the cable terminates in a single USB output, for recording to your PC. It's not exactly complicated, but it's simple, straightforward, and easy to set up.

Video Quality
This capture device can capture video in two different aspect ratios. By default, it will capture in 640 x 480 resolution, which has a 4:3 aspect ratio. This is more than good enough for VHS or mini DV, with twice the number of vertical pixels. It's also great for many camcorders. However, it's not the same 16:9 aspect ratio you need for DVD video. If you need to do a 16:9 capture, the resolution will then be 640 x 360 pixels. This means you won't be able to get full quality from DVD videos. You'll still be able to work with many 16:9 camcorders, though.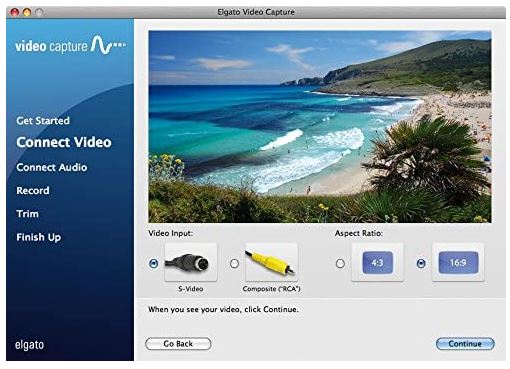 There are no physical controls on the Elgato Video Capture. Instead, all of your controls are performed through the companion software. This software is included, and takes just a few minutes to install on your PC or Mac. Within the software, you can choose either the S-Video or the RCA inputs. You can choose where to save your recording, as well as your aspect ratio. It's easy to understand, and you'll have no trouble capturing your videos right from the get-go.
Pros
Least expensive option.
All-in-one, very simple design that's easy to setup.
Software is included.
Records up to 640×480 at a 4:3 aspect ratio.
Captures video in H.264 digital format; perfect for small file sizes.
Comes included with a Composite-to-Scart adapter.
Cons
16:9 capture defaults to 640 x 360 pixels.
No built-in screen.
Not very suitable for DVD conversion.
Very minimal extra features.
No physical controls.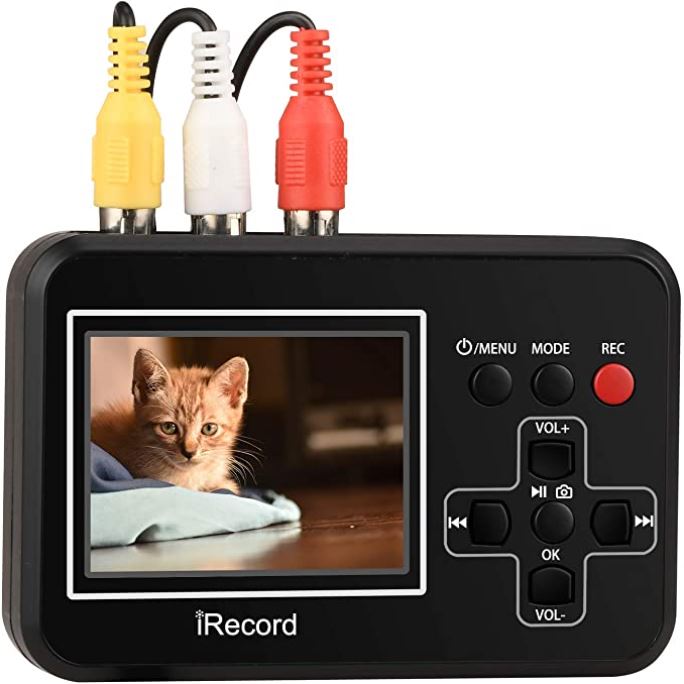 Best Alternative: DIGITNOW Digital Converter
DIGITNOW is another company that has experience with video conversion. We recently reviewed their Film Scanner Converter. It's designed for converting even Super 8 to digital video. That's a much older format, so VHS or mini DV should be a no-brainer for them.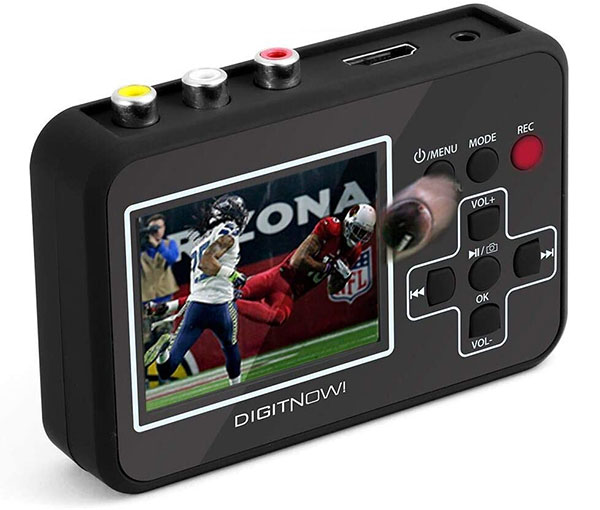 The DIGITNOW Digital Converter is superficially similar to the ClearClick converter in several respects. It's black and rectangular, with a matte plastic housing. It has a similar display on the left half of the front panel, with controls off to the right. The controls are a bit different, with a hard plastic finish instead of a rubbery one. Even so, they do most of the same functions. You can turn the converter on and off, navigate the menu, and change your recording mode. A record button allows you to start and stop the recording process.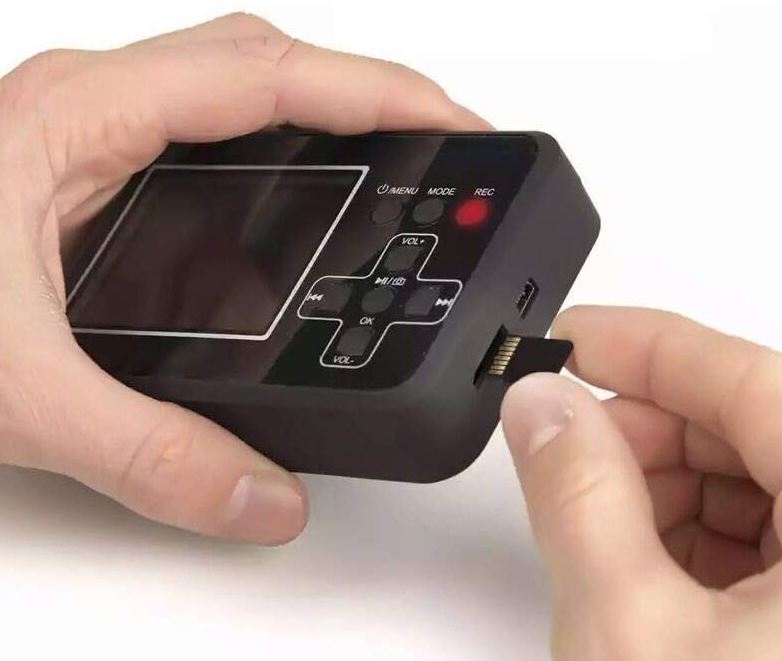 On the top edge of the housing, the RCA inputs are located to the left. To their right, you'll find the HDMI video output, as well as a 3.5mm all-in-one video out. These can be used to play back your video live, or to send it to an external source later. If you want to record your VHS or mini DV tapes directly, you can save them to a Micro SD card. There's a slot in the right hand side of the housing, alongside a USB charging port. The DIGITNOW converter is battery powered, with enough juice to last for several hours of use. Or, you can leave it plugged into an AC adapter while it's in operation.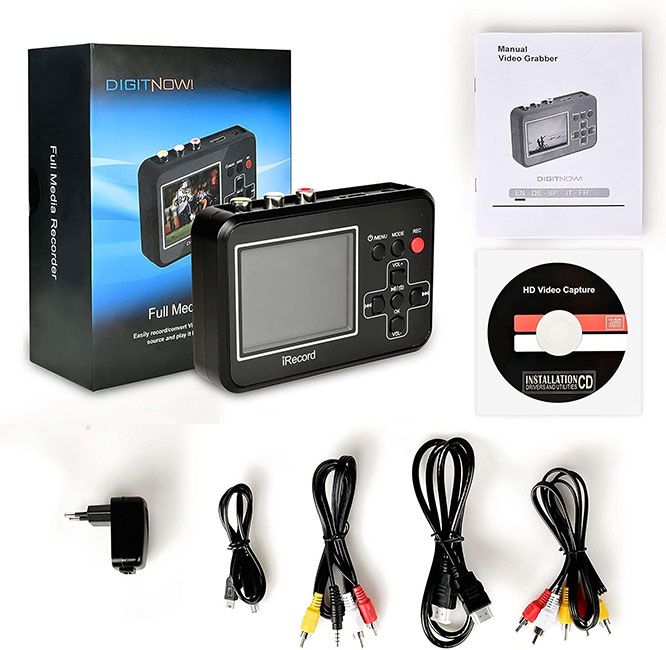 Video Quality
There are two different video resolution options for your recordings. You can record either in 640 x 480 pixels, or 320 x 240 pixels. It's not quite suitable for DVDs, but it's just fine for any VHS or mini DV tape, as well as most tape-operated camcorders.
The kit includes Arcsoft ShowBiz 3.5 software for your PC and Mac. This can be used to transfer video directly to your computer. And if you're saving it to an SD card, you don't have to provide your own. DIGITNOW includes a 4GB Micro SD card that's formatted and ready to go.
Pros
Built-in 2.4-inch preview screen.
Comes included with Arcsoft ShowBiz 3.5 software (not required for use).
Able to record up to 640 x 480 pixels.
Comes included with a 4GB micro SD card.
A bit smaller physical size than the ClearClick.
Backed by an impressive 3-year warranty.
Cons
Not very suitable for DVD conversion.
Interface is a little more "crammed" than the ClearClick.
Cut-out for SD card slot is a little oversized. Card can sometimes get stuck.
Mini DV to Digital Converters – Which is the Best?
All three of these mini DV to digital converters have a lot to offer. But which one is the best fit for you? Let's recap what we've discussed. We started off with the ClearClick Video to Digital Converter. Thanks to the 480p capture resolution, this is really the only choice if you're trying to convert old DVDs. It's also easy to use, with straightforward controls and plenty of ways to record your videos.
The Elgato Video Capture doesn't have as many capabilities as the other devices. But what it lacks in versatility, it makes up for in ease of use. It's an all-in-one device, so you don't need any extraneous cables. The software is straightforward, with virtually zero learning curve. As long as you don't mind recording directly to your computer, it's the simplest option.
The DIGITNOW Digital Converter isn't just a converter. It can also be used to play back videos that you've saved to an SD card. It can output via HDMI, or even via a 3.5mm all-in-one port to an RCA-capable TV. Additionally, it even comes with software that makes it easy to save videos to your PC. All in all, it's a highly-capable device.