Before digital video, before camcorders and cassette tapes, people still took home videos. But as was necessary for the times, they used 8mm film. These old-school cameras were very popular in the 1950s and 60s. However, as video camcorders became more affordable, they fell out of favor. But the cameras themselves, particularly the Kodak Super 8, were very well-engineered. They went on to be used by independent filmmakers throughout the 70s and 80s, and the style became iconic. In fact, it's so iconic that Kodak even announced a Super 8 re-release earlier this year. This new camera will be priced for student and independent filmmakers, so most people will never use it.
That said, many people still have old Super 8 recordings laying around. These old home videos can be priceless in terms of sentimental value, but they're a pain to watch. You have to set up an 8mm projector and a screen, darken the room, and deal with clunky reels. This is way more complicated than playing back digital video. But what if you could take those film recordings and transfer them to a digital format? With a digital converter, you can. A digital converter scans your film, and converts each frame into a frame in a digital video. This video can then be edited and played back on other electronic devices.
Today, we'll be reviewing three of the best digital converters for Super 8 and 8mm film. We'll start out with the Wolverine 8mm and Super 8 Film Reel Converter. This converter accepts 3″, 5″, 7″, and 9″ reels, and outputs 720p video at 30 frames per second. Next, we'll check out the DIGITNOW Film Scanner Converter. This is a complete kit that includes five and three-inch reels and a 32GB SD card, with 1080p output. Third, we'll review the Magnasonic Super 8/8mm Film Scanner. This is another 1080p converter, and it accepts up to seven-inch reels, but none are included. After we've looked at all three, we'll wrap up by delivering our judgement.
One final thing we should not before we begin is that all three of these converters are designed for video only. That's all most home Super 8 users were capable of recording. That said, if you have the more advanced Super 8 film with an audio track, the audio will be lost. Unless you inherited an independent film collection, that's unlikely to be the case.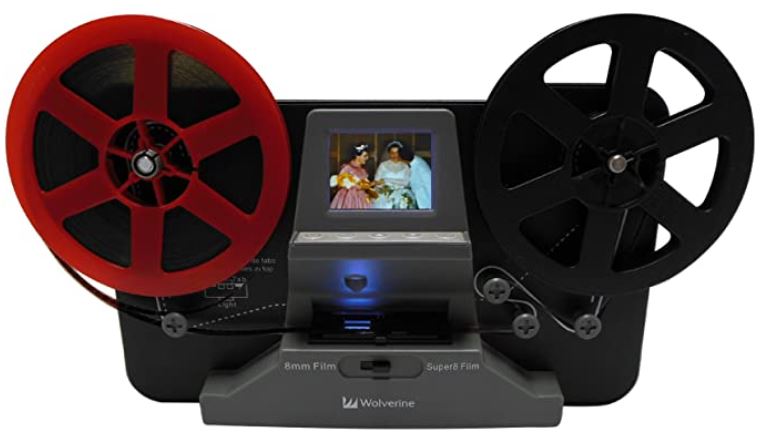 Wolverine 8mm and Super 8 Film Reel Converter
At first glance, the Wolverine 8mm and Super 8 Film Reel Converter looks a lot like a projector. There are a pair of reel mounts, with a routing system between them for the film. There are no film reels included in the package, so you'll need to use your own. That said, the system accepts both five and three-inch reels, which covers most reel types. The housing is constructed from charcoal-colored matte plastic, with a selector switch on the bottom front. This switch is used to toggle between Super 8 and standard 8mm film. The two formats are very similar, but they're different enough that the converter needs to know which type you're using.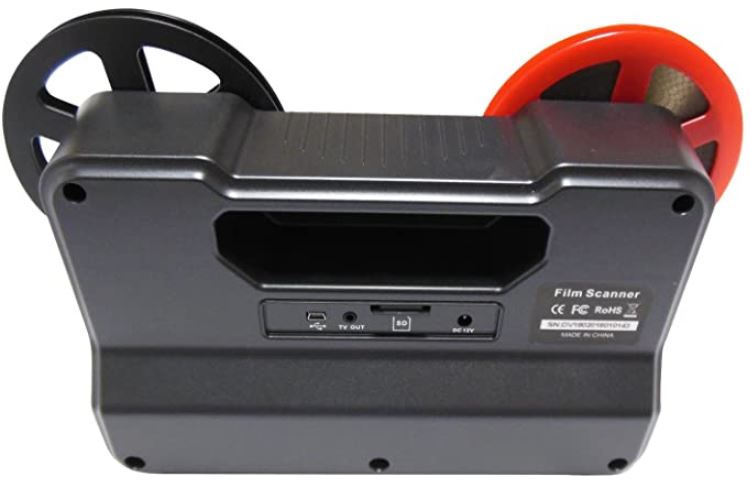 The reel setup is where the similarities to a projector end. Unlike a projector, there's no lens housing built into one end. Instead, you can monitor your video on a small, 2.4-inch LCD display located between the reels. This is a fine display for previews, which is its primary purpose. To control playback, recording, and other functions, there's a row of soft buttons underneath the display. The film passes through just underneath this, and you'll see a soft blue glow from the scanner. With all of that being said, it's still technically possible to use the Wolverine converter for watching videos. Using the RCA out jack, you can connect to most TVs and watch your recordings there.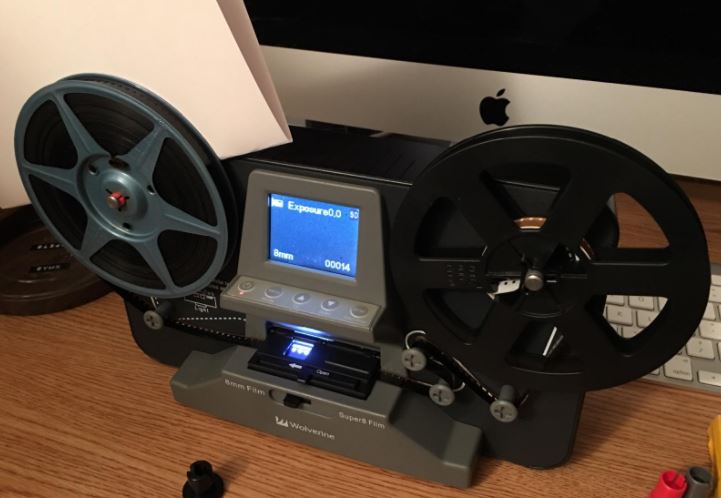 In the back side of the housing, next to the RCA port and power port, there's an SD card slot. This slot accepts up to a 32GB card, which is used for recording your videos. Keep in mind that there's no card included in the kit. In order to actually capture any video, you'll have to purchase and format your own card.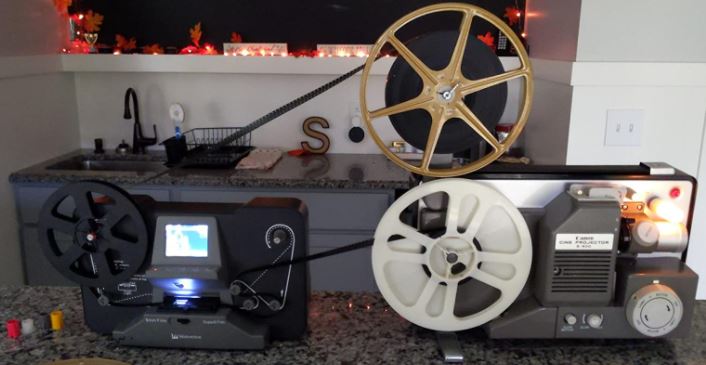 In terms of scanning performance, you'll get a scan speed of two frames per second. Let's assume a standard (for the time) frame rate of 18 or 24 FPS. In that case, it will take nine to twelve minutes to convert one minute of film. That's not too shabby, considering that you're converting film to high-quality digital. The output is recorded in MP4 format, with a resolution of 720p. However, it plays back at 30 frames per second, which is a bit fast. This can lead to unnatural looking videos, unless you edit your footage to reduce the frame rate.
If you don't have any editing software, you're probably going to want some. Otherwise, you'll only have raw video footage to deal with. One of the better editing packages out there is Wondershare Filmora X. It's great for converting your video to different formats, so you can share it on social media or email it to family.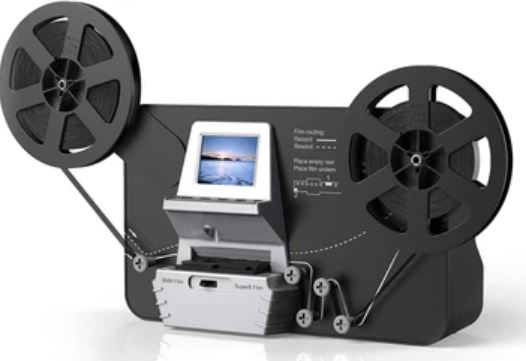 DIGITNOW Film Scanner Converter
DIGITNOW is a well-known electronics manufacturer in the media conversion space. In the past, we've reviewed their vinyl to MP3 converter, and it worked as well as we hoped. The DIGITNOW Film Scanner Converter is much like the Wolverine in general layout. The most notable difference is that one of the reels is higher and far to the left. This makes the converter look even more like a projector, even though it's not one. The housing is manufactured from satin black plastic, with an easy-to-clean finish that looks almost metallic. Even the film routing rollers are industrial-looking. They're made to look like giant screws, which is a neat visual touch.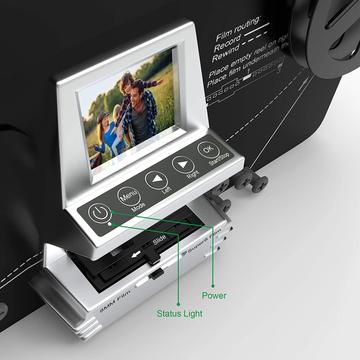 Like the Wolverine converter, the DIGITNOW has a built-in 2.4-inch LCD display. It looks good enough for previews, and is similar in quality to a cheap smartphone screen. But once again, you do get an alternative option for live playback. There's an RCA out jack in the back of the housing, so you can plug directly into your TV. So if you want to watch old videos without making a digital copy, you can. The video will be saved to a 32GB SD card, which is included with the kit. That said, if you need more storage, you can always purchase more SD cards to use for archiving.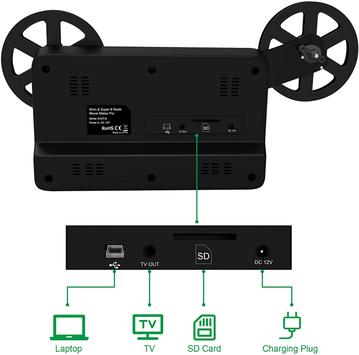 The included SD card is a great touch, but it actually gets better than that. The package includes both three, five, seven and nine-inch reels, so you don't need to own your own. If you have any loose film, you'll still be able to transfer it easily without any issues.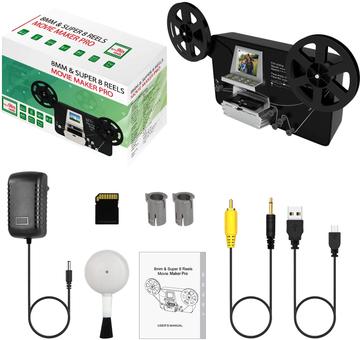 The main controls are located just under the display, and consist of five buttons. From left to right, there's a power button, followed by a mode button to switch between recording and playback. Next, there are left and right tracking buttons for centering your film, with a play/pause button at the end. There's also a toggle switch further down, which allows you to switch between 8mm and Super 8 film.
The scanning speed is two frames per second, the same as the Wolverine converter. However, the video output will be at 20 FPS instead of 30 FPS. This falls just between the two normal standards of 18 and 24 FPS, so most videos will feel natural. As before, if you want to change the frame rate, you'll need editing software to do it. The video format is MP4, and the resolution is 1080p Full HD. That's very good quality for an 8mm film converter.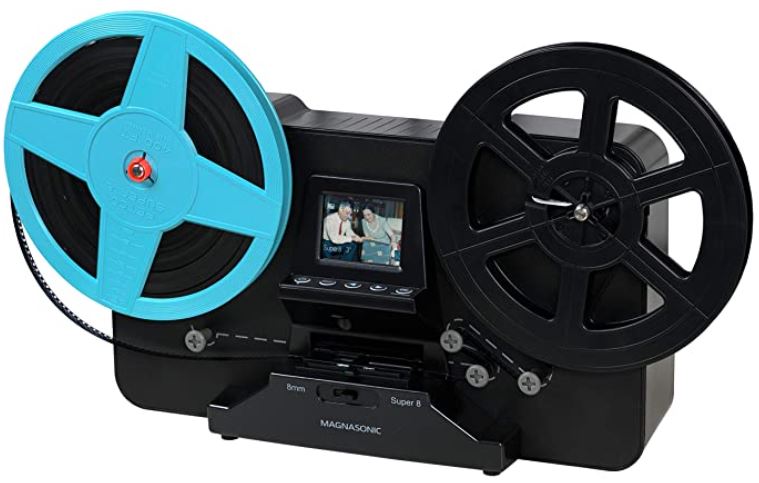 Magnasonic Super 8/8mm Film Scanner
The Magnasonic Super 8/8mm Film Scanner is another reel-to-reel converter with a small LCD screen. In fact, the screen is a hair smaller than the others, at 2.3 inches. Then again, it's only for reviewing your videos, not for actually watching them. And just like with the other converters, you can always use the RCA cable, which is included in the kit. That way, you can simply watch your old home movies on your TV. The housing is a satin black plastic, and the five control buttons are located under the display. In fact, the buttons are remarkably similar to the DIGITNOW converter, and work identically.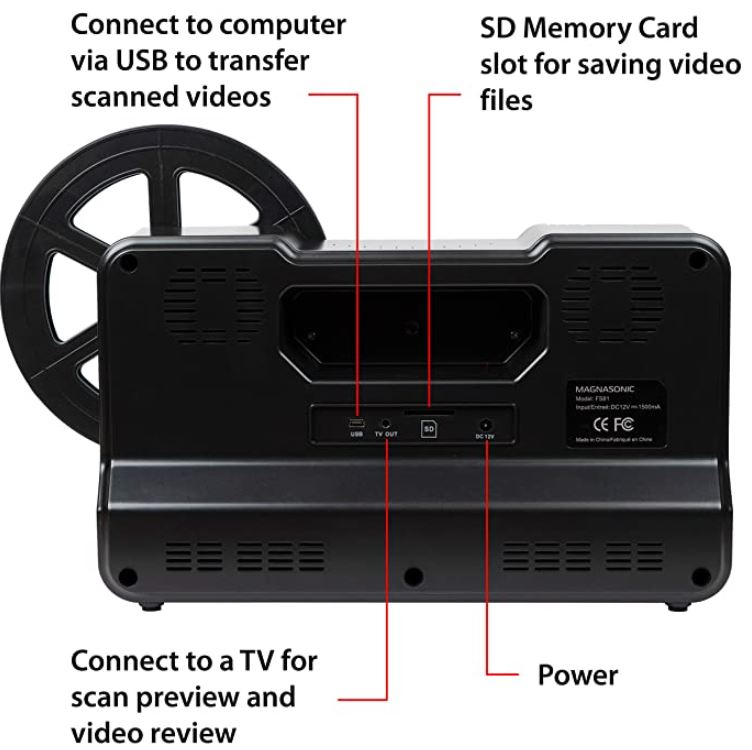 The same is true for the quality of the video recordings, which is identical. The recordings are in 1080p, at 20 frames per second, and are saved in MP4 format. The scan speed is also the same, at two frames per second. Video gets stored on an SD card. While no card is included in the kit, the converter will support cards as large as 32GB.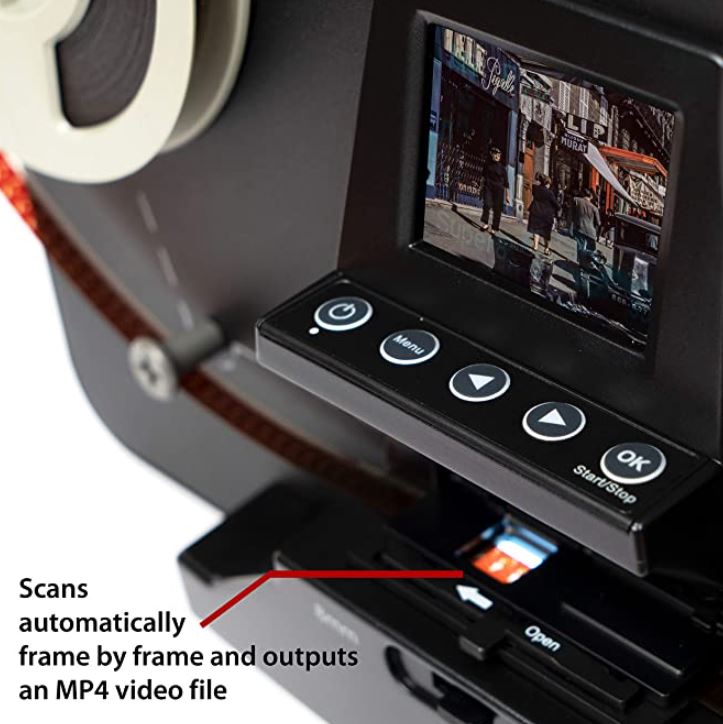 The one thing that makes the Magnasonic converter stand out is the fact that it supports more reels. In addition to three- and five-inch reels, it also accepts 7-inch reels. To be fair, these larger reels aren't as popular for home use. But if you've got a bunch of seven-inch reels, you'll be able to transfer them to digital.
Final Verdict
So, which one of these digital Super 8 converters is going to be the right choice for you? Let's start with the Wolverine 8mm and Super 8 Film Reel Converter, the first option we looked at. The Wolverine is a fine converter, and is probably the most solidly-constructed of the three. That said, it only transfers your video in 720p. This will be a major drop in resolution from the original, high-quality film image.
The DIGITNOW Film Scanner Converter is a more complete package. It comes with a 32GB SD card, as well as two sets of reels. Not only that but it captures video in Full HD, so you're not sacrificing as much quality by going digital. Then again, it doesn't seem to be quite as sturdy as the Wolverine.
The Magnasonic Super 8/8mm Film Scanner performs more or less the same as the DIGITNOW converter. However, it also accepts seven-inch film reels, making it more versatile. If you need to work with seven-inch reels, get the Magnasonic. If you're only using three- and five-inch reels, the DIGITNOW will be a better value.