These days, the average person has more options for home security than ever before. A great example of this is security cameras. In years past, they were big and bulky, not to mention expensive. They also needed to be hardwired, which required professional installation. Not only that, but you needed some way to monitor them. A CRT TV was necessary at a bare minimum. And you couldn't monitor remotely. The best you could do was save recordings for later reference. This, in turn, required a VCR, and you had to constantly change the tapes. For the average person, it wasn't worth it.
Nowadays, digital technology has allowed the general public to use high-quality security cameras. And with the size of cameras getting smaller and smaller, they're being put into more and more products. For example, doorbell cameras have become exceedingly popular in recent years. They allow you to see who's at your door, even when you're not at home. You can also monitor packages, and even take advantage of two-way voice communication.
That said, there's one small problem; how do you keep your doorbell camera from being stolen? Some people have come up with creative solutions. For example, the 360 Video Doorbell X3 installs with a proprietary secure pin. But that's not going to stop someone who has a crowbar or a baseball bat. It also won't help if you're a renter or a student. For those reasons, a dedicated doorbell mount can be an excellent choice for many people.
Today, we're going to review three of the best anti-theft video doorbell door mounts on the web. To begin with, we'll look at the Doorbell Boa. This is a sturdy metal door mount that's as tough and as rugged as they come. Next, we'll examine the PATEKESA Anti-Theft Video Doorbell Mount. This is a molded plastic mount, but it's easier to install, and it's a bit more attractive. Last, we'll check out the DG-Direct Anti-Theft Video Doorbell Door Mount. This is another mostly-plastic option, but with an ambidextrous design and a beefier clamp. Which choice is going to be right for you? Let's take a closer look at each of these mounts, and see how they compare.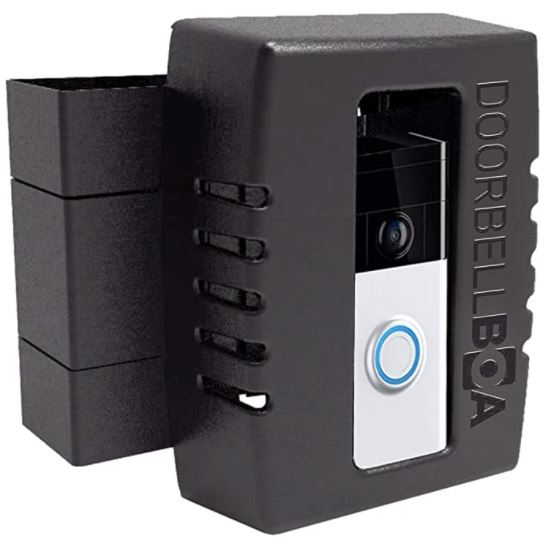 Doorbell Boa
The Doorbell Boa is a tough, rugged doorbell mount that's designed to clamp onto your door. The idea behind this is twofold. First, the clamping mechanism is inaccessible from the outside, so the camera is tough to remove. Secondly, the installation is non-permanent. You can use it on an apartment, dormitory, rental house, and so forth, without damaging the property. The Doorbell Boa manufacturers – and all the manufacturers we're reviewing today – make a big deal out of this. In practice, tool-free installation is standard for a doorbell door mount.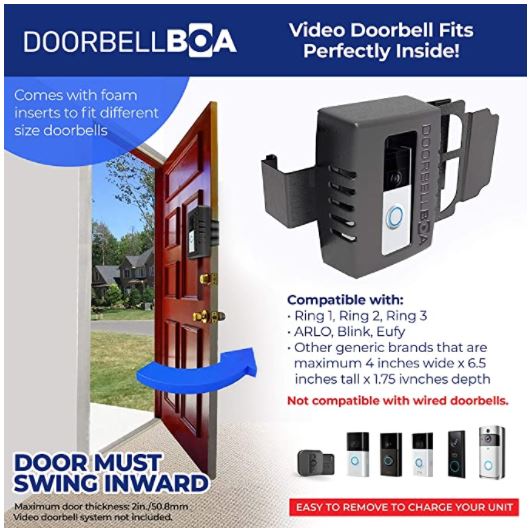 The case is constructed from durable steel, as is the clamp. This makes it exceptionally durable, and virtually impossible to steal. You'd need a hacksaw to actually take it off without opening the door. That said, you need to be careful when installing it. The clamp is literally a tension clamp that squeezes your door to stay in place. It grips very securely, but this also means you have to use a lot of effort to hold it open. If you try to slide it onto the door or force it, you can easily ruin the door's finish. Make sure to hold the clamp wide open while you maneuver it into position.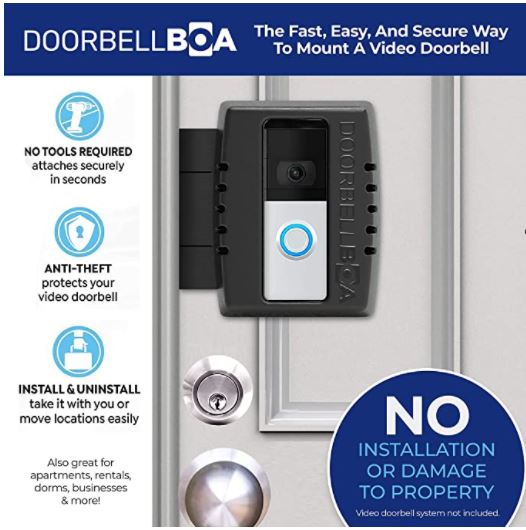 That being said, the clamp is highly versatile, and fits doors up to 2 inches in thickness. This includes pretty much every residential door in use. If your door is thicker than that, it's a custom job, and it's noticeably very thick. It can also be positioned on either side of your door. Since it's completely reversible, you can use it on doors that are left- or right-hand hinged. When you move to a new house or apartment, you don't have to worry about the door being different. The only real limitation is that there needs to be a 1/8-inch gap between your door and the frame. This is necessary to accommodate the thickness of the clamp, and it's an almost-universal limitation with doorbell mounts.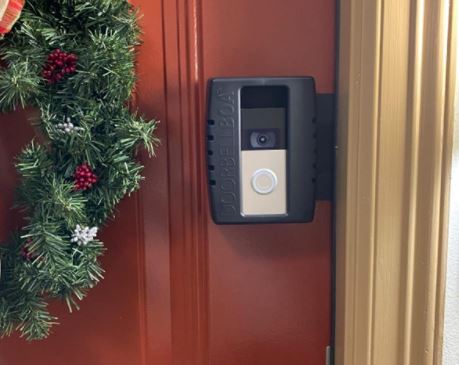 The inside dimensions of the case are 4 inches wide, 6.5 inches tall, and 1.5 inches deep. It will theoretically work with any camera that fits inside. These include a wide range of devices. It works with all versions of the Ring, the Amazon Blink Cam, Blurams, Eufy, and many others. That said, keep in mind that the middle slot is only about an inch and a half wide. Some cameras have some of their components off to the side. For example, your infrared LED, siren or other component might be blocked. Make sure to check any doorbell mount with your camera immediately upon receipt. That way, you'll be well within the return window if there are any compatibility issues.
The Doorbell Boa kit comes with a set of foam strips that you use to pack your camera into place. This gives you a little flexibility as to how it's positioned inside the case. You first pack them in around the sides, top, and bottom, until your happy with the orientation. Then, if there's a gap behind the camera, fill that area too. This will keep your camera from floating around inside the housing, and getting knocked out of alignment.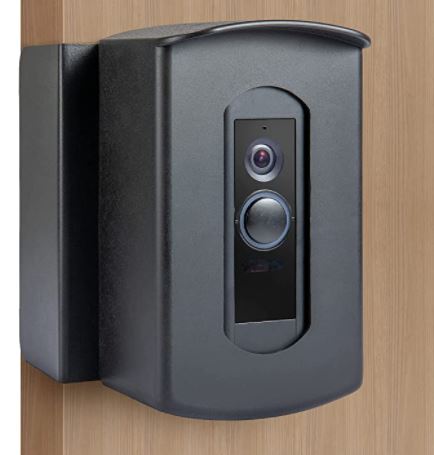 PATEKESA Anti-Theft Video Doorbell Mount
Next up on our list is the PATEKESA Anti-Theft Video Doorbell Mount. Unlike the Doorbell Boa, the main housing is made from plastic, not steel. This makes it a little more attractive, since it's nicely molded. It's even built with a little eave over the front for decoration. The advertising says this is for waterproofing, which is a bit silly. The camera is still exposed, and any doorbell camera will already be waterproof. It's mostly an aesthetic feature, although the little eave can legitimately reduce glare from the sun.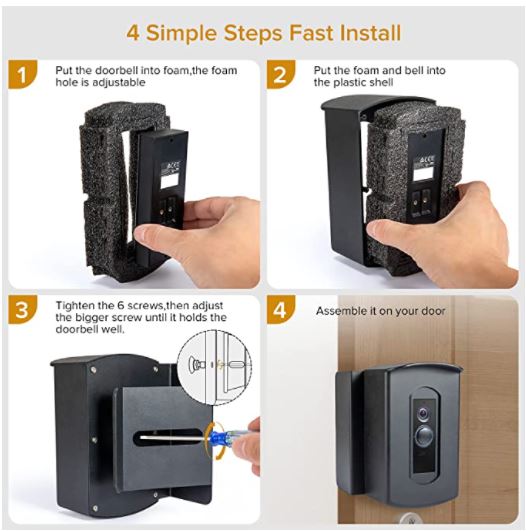 That said, a plastic housing is inherently less secure than metal. It would still take some determination to get inside the case, and most people wouldn't bother. But with a rock and enough effort, anyone could break in. The little eave also means that the case has a definite top and bottom. The standard version only fits left hand inswing doors. For a right hand inswing door, you'd need to order the right-handed version. This is no big deal if you don't plan on moving with your mount. But if you do, keep in mind that there's a 50/50 chance that it won't work at your new home.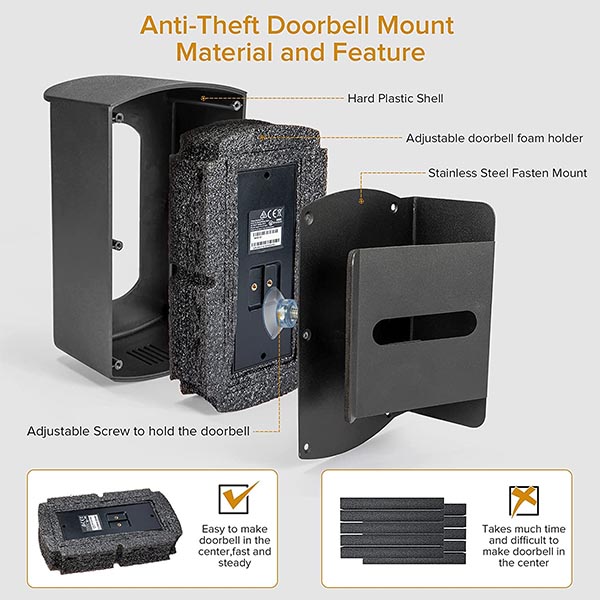 The clamp, like the Doorbell Boa's, relies on tension. Once again, you'll need to apply some significant elbow grease to hold it open. On the plus side, there's an angle at the back that makes it easier to hold open. You won't have as much trouble getting it onto your door without causing damage. You can also fit this mount on larger doors; it can accommodate a thickness of 1.18 to 2.24 inches. It will require a 1/8-inch gap, though, just like the other mounts we've listed.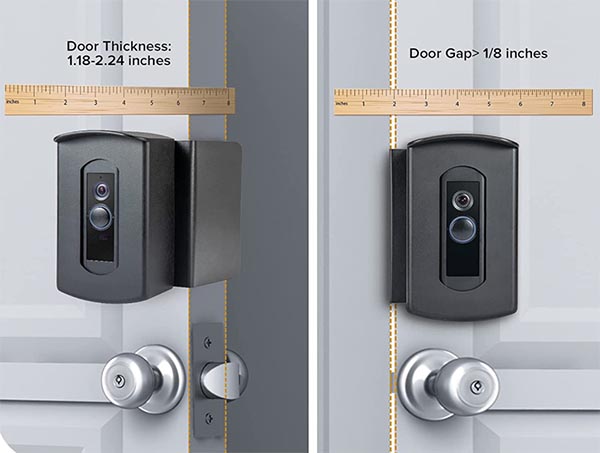 The inside dimensions of the housing are 6.3 inches high and 3.7 inches wide. At this size, it can accommodate most of the same cameras as the Doorbell Boa. Once again, make sure to check yours right away to be sure. Fitment, on the other hand, is a bit more simple. There's a single piece of foam, with a series of smaller concentric cutouts inside. Simply remove the smaller cutouts until you get an opening that fits your doorbell camera. Then, when you close the case, turn the screw on the back. This will push a rubber plunger forward and hold the camera to the front. You don't want to overtighten it, but make sure it's nice and secure.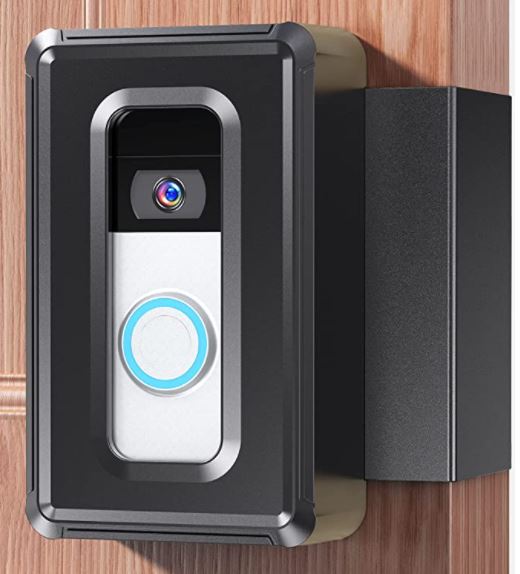 DG-Direct Anti-Theft Video Doorbell Door Mount
The DG-Direct Anti-Theft Video Doorbell Door Mount has a similar, plastic and metal construction. That said, there are a couple of unique features that make it stand out. To begin with, the outer plastic shell is available in either black or white. This gives you a little more flexibility in terms of what it can be matched to.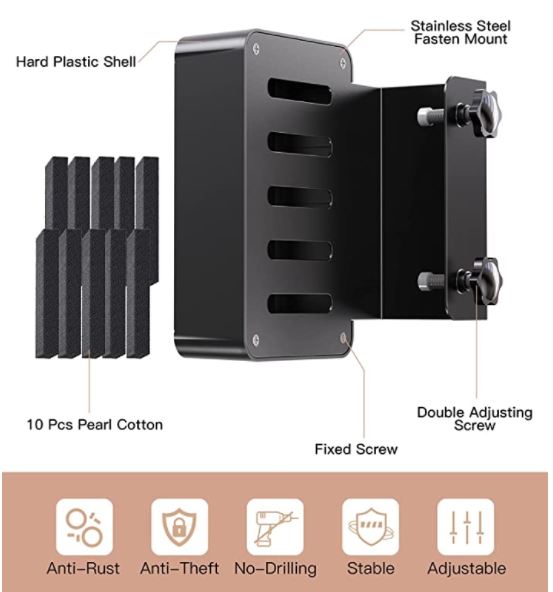 The clamp is the easiest to install of any of our options. Instead of being under constant tension, it's loose, but it has a pair of plastic-tipped screws in the back. When you put the clamp over your door, you tighten the two thumb screws until they're nice and tight. As a result of this design, it's not easy to damage your door during installation. On the other hand, the screws can get in the way of the trim on an outward-swinging door. This mount is for inswing doors only. In terms of thickness, it can accommodate between 1.2 and 2.2 inches. It also requires a 1/8-inch gap.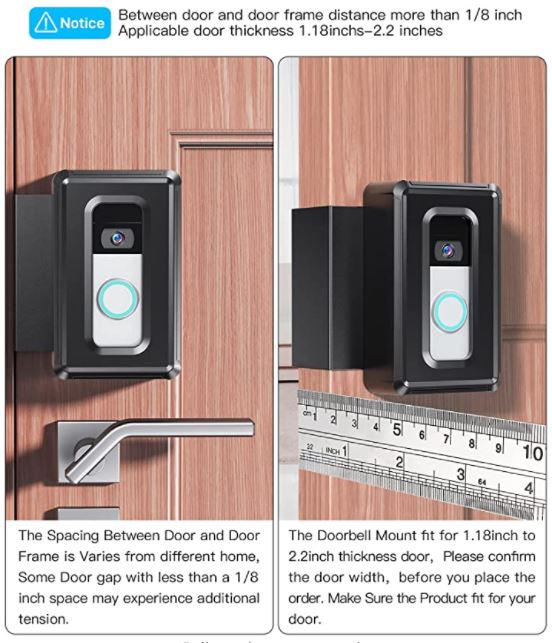 The inside of the housing has a capacity of 3.7 inches wide, 6.2 inches high, and 1.8 inches deep. It ships with 10 foam strips, which can be used for packing your camera into place. In this regard, it's much like the Doorbell Boa. It also comes with a lifetime manufacturer's warranty.
Final Verdict
So, which one of these anti-theft video doorbell door mounts is going to be best for you? The Doorbell Boa provides the most reliable security. With its all-steel construction, it can handle abuse the other mounts can't. This alone makes it well worth considering. It's also reversible, so you can use it on almost any door. The only major downside is that you can damage your door if you're not careful.
The PATEKESA Anti-Theft Video Doorbell Mount is easier to install, with less tension on the clamp. It's also more attractive, with a molded plastic design. Then again, it's not reversible, and it's not as tough as an all-metal mount.
With its convenient thumb screws, the DG-Direct Anti-Theft Video Doorbell Door Mount is the easiest of all to install. It's also available in black or white, so it can match a variety of décor. On the downside, it's largely made of plastic, so it's not as durable. But with a lifetime manufacturer's warranty, that's less of a concern than it might otherwise be.