360 Video Doorbell X3
Pros
Better than 2K video quality.
AI facial recognition, package detection, and theft detection features.
Dual-band wireless connection.
Supports battery-operated or hardwired operation.
Cons
Not yet in full production.
Improvements in WiFi and battery technology have brought us a host of benefits. For one thing, we have these advances to thank for modern smartphones. Now, we can stream our favorite shows and video chat with our friends wherever we go. But this same technology has also allowed us to keep our homes safer. For example, WiFi security cameras can be accessed from anywhere in the world, and send push alerts to your phone.
Another important security advancement is the invention of the wireless video doorbell. With a video doorbell, you can see who's at your door before you open it up. You can also view guests remotely, and even watch for deliveries. Best of all, you'll be able to record all of these activities. This means you'll have evidence in the event of a burglary or a package theft.
We're about to review a cutting edge doorbell, the 360 Video Doorbell X3. Although not quite available to the general public, it will be launched, available and shipping in early August.
That said, if you can wait a few more weeks, those smart features make the X3 a tempting proposition. In addition to facial recognition, it also provides package detection, and it has an anti-theft alarm. It also sports a dual-band wireless hub, so you can connect to a wider array of WiFi networks. But is it the right camera for you? To find out, we'll have to take a closer look at all of its benefits, drawbacks, and features. After we've done that, we'll know everything we need to know to render our verdict. Let's get started!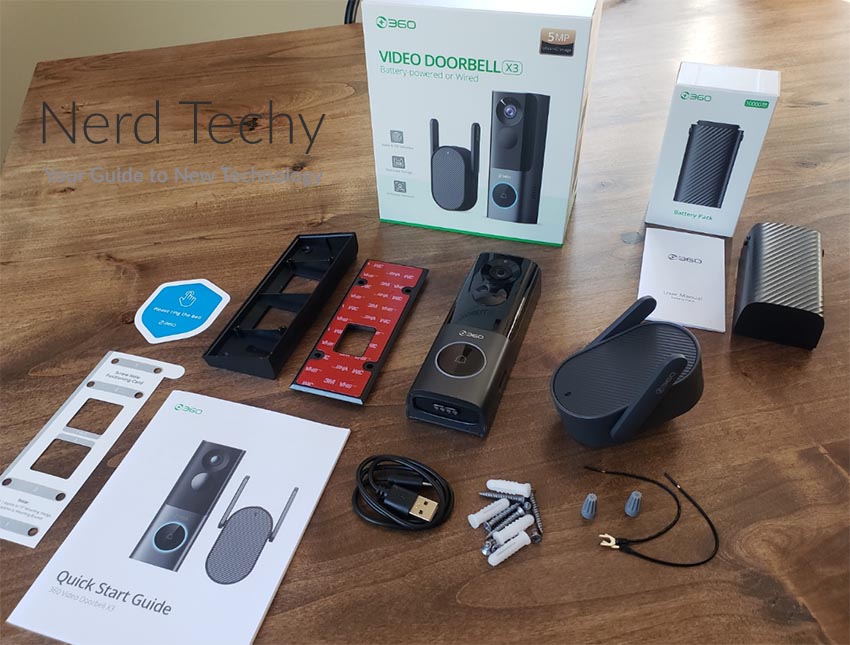 Overall Design
The 360 Video Doorbell X3 is a large, rectangular device with rounded edges. It has an easy-to-clean matte black plastic housing, with a large, gloss black doorbell button near the bottom. The top half of the housing is semi-transparent, and contains the camera lens and the motion detector. Other than that, the only notable feature is a discreet "360" logo just above the doorbell button.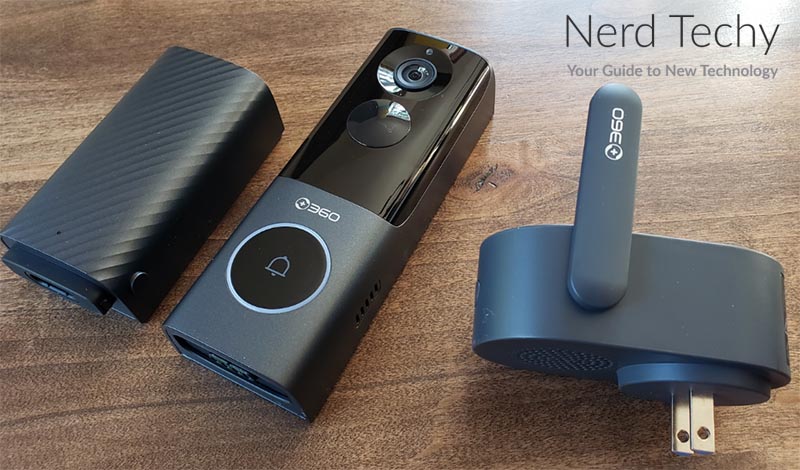 The main unit is easy to mount outside your door, and includes a bracket and hardware. Depending on your preferences, you can use either screws or an adhesive pad, both of which are included. Screws are obviously the better choice for security. However, if the house is a rental or you're installing on vinyl, an adhesive can be a better choice. Once the bracket has been mounted, the X3 simply snaps into place. However, it cannot be removed without the use of a special pin, which comes with the kit. With the pin, removal takes only seconds. Without it, an alarm will sound, and the camera will start recording. If someone tries to steal your doorbell, you'll soon see a video of their surprised face.
The other half of the package is the interior hub unit. This unit serves two purposes. First, it functions as the doorbell chime. As a result, you'll want to put it somewhere where it can be heard throughout the house. It's matte black in color, and plugs into a standard power outlet. Because of its size, it's best not to use it in a power strip, unless you want to block additional outlets. The other function of the hub is as a wireless bridge. The doorbell connects to the hub, which in turn connects to your home's wireless network. As a result, it needs to be in range of both the door and your router.
The X3 doorbell, hub, and mounting hardware are all covered by a 12-month manufacturer's warranty. If there are any defects in materials or workmanship, you'll receive a full refund or a replacement.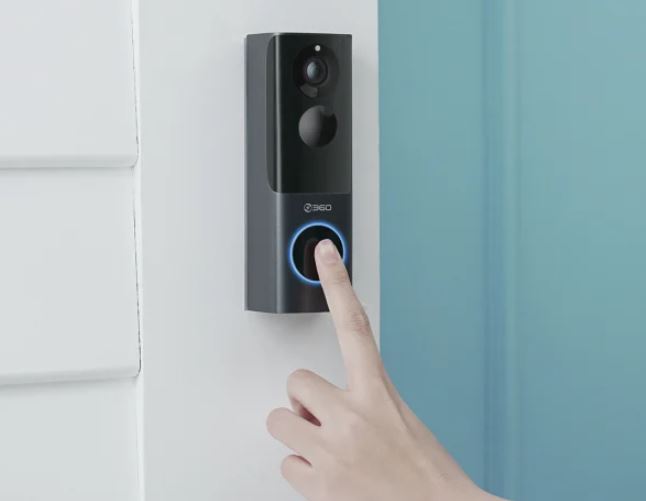 Video Quality
The X3's built-in camera records in a resolution of 2,496 x 1,920 pixels. That's roughly equivalent to 2K, but there's no one-to-one equivalence. The aspect ratio is close to 4:3, rather than the 16:9 ratio of a standard 2K image. Put another way, the camera records in 5 megapixels. Either way, you're looking at a detailed image that doesn't leave a whole lot to the imagination. 360 makes a big deal about their wide dynamic range (WDR) technology. Basically, what this means is that the focus and contrast adjust properly as a subject changes distance. We had no complaints.
For a different look altogether, consider the MECO WiFi Smart Home Video Doorbell. This camera has a wide, 166-degree field of view that can cover a large area. That said, the resolution is only 1080p, so you get less detail than you do with the X3.
As for night vision, the X3 performs very well. You can see the same amount of detail as with daytime recordings. There's none of the graininess or blurriness you'll often see with some other night vision systems. It's also black and white, rather than green. This doesn't show quite as much detail as some modern color night vision systems. However, those systems only operate at a very close range. The X3 uses passive infrared night vision, which can see much further.
When the motion detection system activates, the X3 camera will immediately start recording. By default, it will capture a 15 second clip, although this can be adjusted between 10 and 30 seconds. You'll be able to view these immediately on your smartphone, or view them later. You can also download them to your phone if you need a copy of the video for evidence.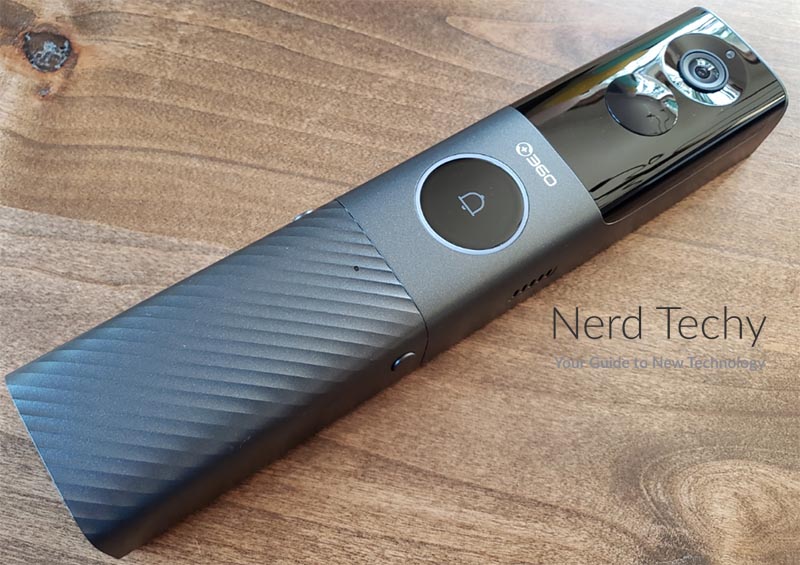 Storage and Power
When your videos are captured, they are stored on the X3 hub unit's local storage. There's 8GB of space, which is sufficient for five hours of storage. When the storage is full, the camera will simply begin overwriting old data. 360 advertises 120 days of use, which is based on recording 10, 15-second clips per day. That said, how long the storage lasts in real time will depend on your settings and on how often the camera triggers.
The X3 also provides a cloud storage option. You have the option to record and store your content via Cloud services hosted by a secure AWS server.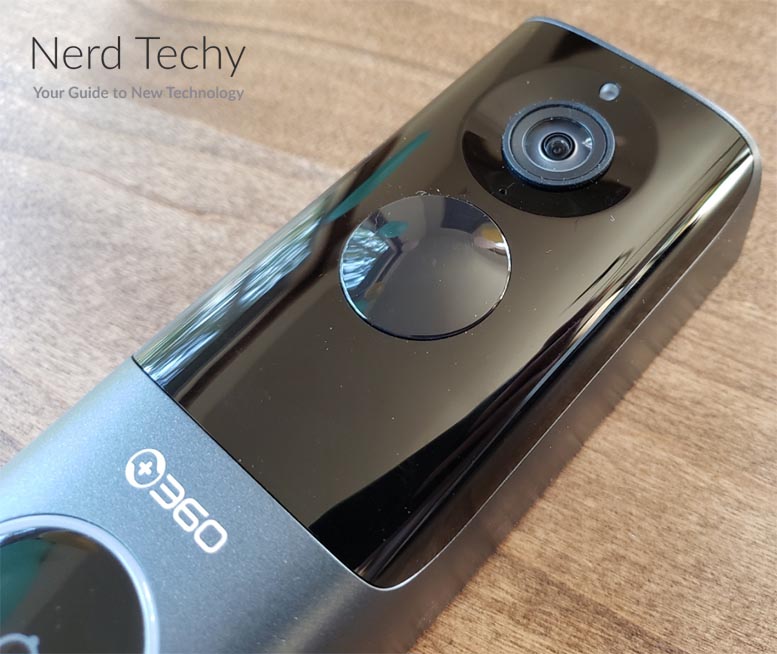 The X3 doorbell and camera unit is powered by a 5,000mAh internal battery life. How long that battery will last depends on weather and other factors. Prototype models had some issues with cold weather performance, but 360 says those have been fixed. Assuming that's the case, your battery life will mostly depend on how much recording you're doing. 360 advertises around six months of use, which assumes 20 recordings per day. Charging can easily be done overnight via USB Type-C.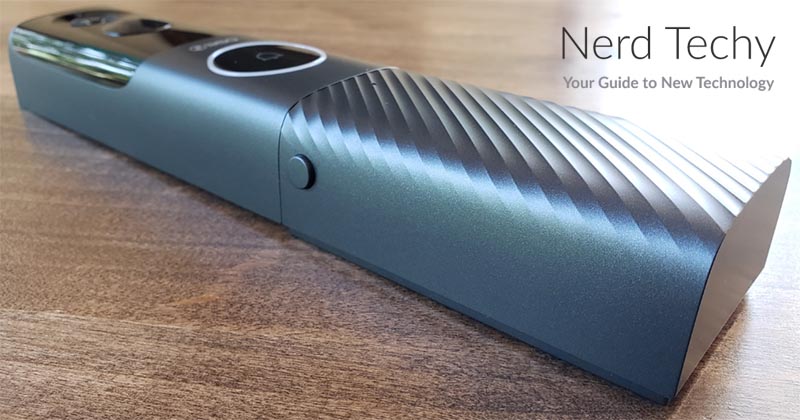 Alternatively, you can use the add-on battery pack, which is ordered separately. This pack has a capacity of 10,000mAh, and attaches to the bottom of the doorbell housing. When attached, it effectively triples the battery life. Or, you can simply use it to recharge the internal battery whenever you need to.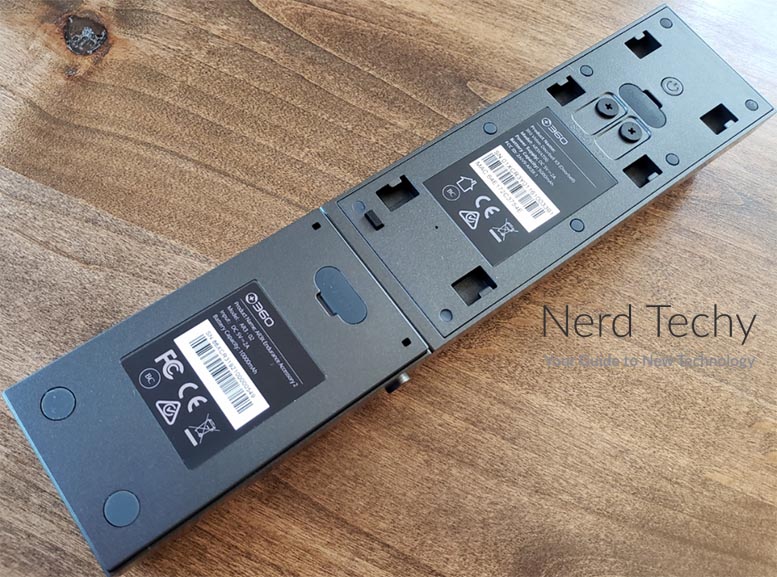 Finally, the X3 can be powered by existing doorbell hardwiring. This way, you'll never have to charge a battery again. That said, you'll want to test your wires first. In order for the doorbell to work properly, it needs to be receiving between 8 and 24 volts.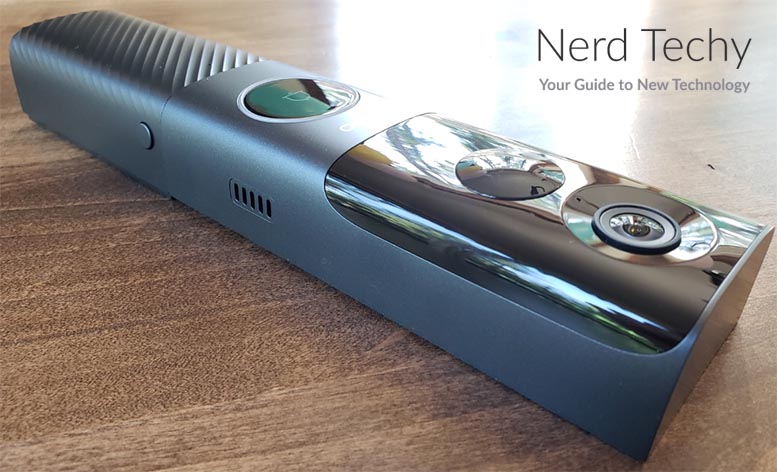 Connectivity and Online Features
One of the X3's best features is the dual-band WiFi hub. This means that it will work on both 5GHz and 2.4GHz WiFi bands. When possible, it will connect to the shorter-range 5GHz band for higher speeds. When necessary, it will drop to the lower-capacity, longer-range 2.4GHz channel. As a result, you can use the hub with virtually any home WiFi network. Regardless of whether or not you have a dual-band router, you'll have some way of connecting. And on the 2.4GHz channel, you'll have a maximum range of nearly a thousand feet.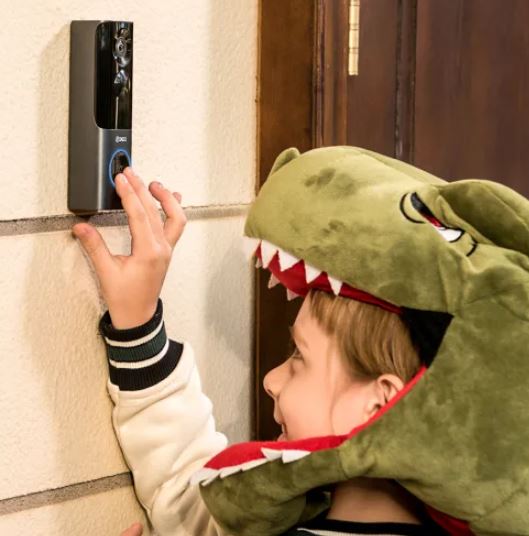 Via the smartphone app, you'll be able to view videos and change your settings. To begin with, you can change your recording duration, or turn the automatic warning siren on or off. You can also set the detection zone for the motion sensor feature. This allows you to exclude areas like roads and sidewalks that may be within the frame. You probably don't need a recording of every pedestrian who walks past your property.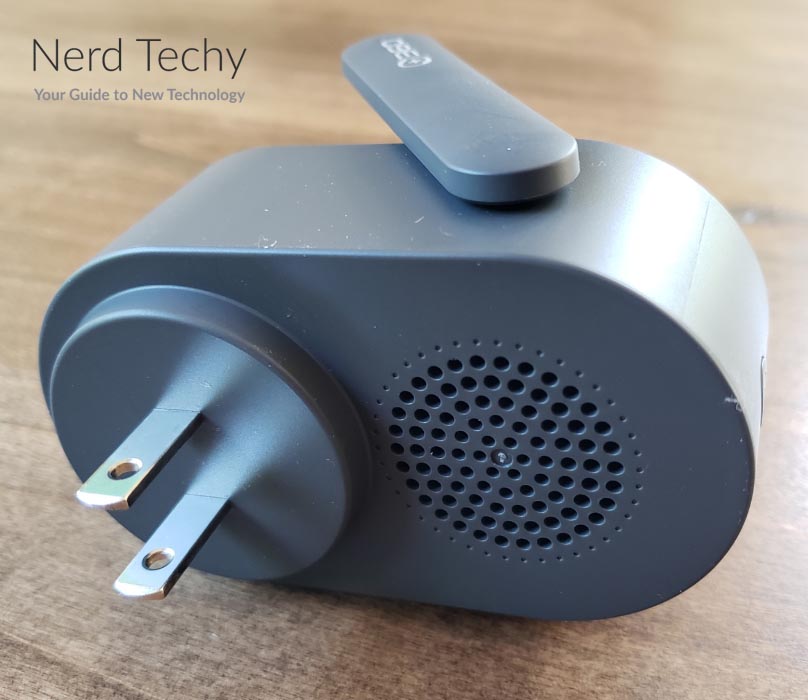 To further reduce false positives, the motion detection system uses AI to distinguish humans from animals and objects. You don't have to worry about getting a push notification whenever a squirrel runs by. It can also distinguish between people who are approaching and people who are simply passing by.
When the camera detects a human being, its facial recognition technology goes to work. You can program it to recognize family members, and others who have authorized access to your property. You can set special alerts for these individuals, and even deactivate alerts altogether. You can also get special alerts for packages. The camera will even warn you when a package is removed from your porch. This feature works well for most boxes. If your package is in a tube or envelope or is very small, it probably won't get detected. Still, just the ability to detect a box is pretty cool.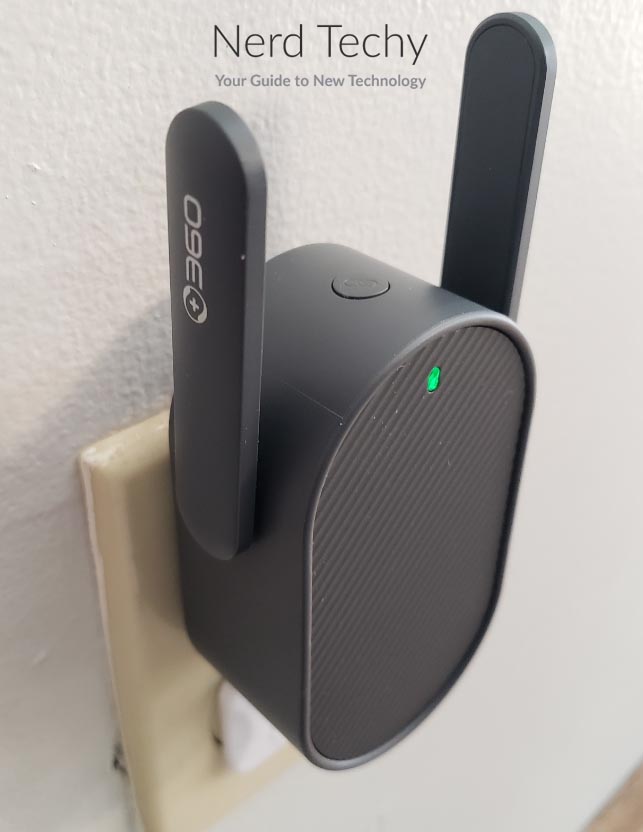 Final Verdict
The 360 Video Doorbell X3 is one of the most advanced doorbell cameras on the market. It's got everything we're looking for, from a long-lasting battery to crisp video. It also provides some smart features we've never seen before. If you're in need of an easy to use, well-featured video doorbell, the X3 is an excellent choice.