The Nintendo DS Lite is part of the DS family of handheld consoles. Taken as a whole the DS family is the second-best selling console of all time, behind only the PlayStation 2. More people own a DS than own any other Nintendo system, or any Xbox console. Out of over 154 million units sold, over 93 million were of the DS Lite variety. Even if you counted it as a standalone console, the DS Lite alone would be the 7th-best selling console ever. Why was it so popular?
To begin with, Nintendo has consistently dominated the handheld gaming market since the 1980s. With the exception of the PSP, no non-Nintendo handheld console has sold more than 15 million units. But the DS Lite was also popular because it's innovative. The original DS was the first dual-screen console, which allowed for all kinds of interactive controls. In role-playing games, for example, the inventory screen could appear on the secondary screen. You could even play with a stylus as well as using the buttons. All of this set the DS up well for success.
But the first DS that launched in 2004 received some criticism for its large size. It was still successful, with over 18 million units sold. But in 2006, Nintendo built a slimmed-down version and dubbed it the "DS Lite." Functionally identical to the original but easier to manage, the DS Lite quickly became the preferred version. Sales of the original plummeted, and retailers continued to sell the DS Lite until 2014.
Unfortunately, parts wear out over time, and often need to be replaced. If you own a DS Lite, chances are that your stylus is starting to show its age. And if you just hauled one out of storage, there's a good chance you need both a stylus and a charger. The charger is technically just a Micro USB, but it uses an unusual power level: 4.6 volts at 900mA. That's 4.14 watts, something you don't see every day. As for styluses, we've reviewed several in the past. The only difference with a DS Lite stylus is that it needs to fit in the system's storage slot.
Today, we'll be looking at four different stylus kits, two of which come with replacement chargers. First, we'll examine the Xahpower AC Power Adapter and Stylus Pen. This is a replacement charger that's similar to the original, and includes four styluses. Next, we'll review the BATSOEASY DS Lite Charger Cable 2-pack w/ Stylus. This kit includes a pair of DS Lite-compatible USB cables, as well as two styluses. Third up are the FNGWANGLI Plastic Styluses. This is a very affordable kit that doesn't have any charger, just 15 multicolored styluses. Last, we'll check out the Tomee Stylus Pen Set. This is a basic set of four black soft-tip styluses.
Which set is going to be the best choice for your needs? To find out, we'll need to look a little bit closer. We need to look at the quality of the material and the construction. We'll also need to discuss the charging performance, if applicable. Once we've thoroughly evaluated what each kit brings to the table, we'll be able to render our verdict. Let's dig in!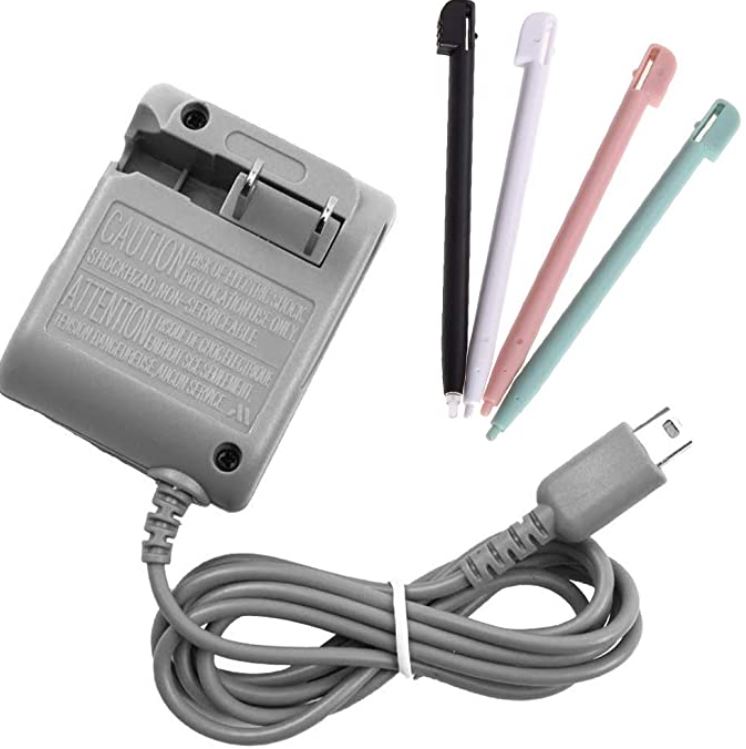 Xahpower AC Power Adapter Charger and Stylus Pen
The first thing you'll notice about the Xahpower AC Power Adapter is that it looks just like the original. Xahpower did a decent job of replicating the look and feel, right down to the grey rectangular housing. It's attractive and lightweight, with prongs that collapse to the side. As a result, it's easy to pack up and carry, since you don't have to worry about the prongs getting snagged. The cable itself measures 45 inches in length, just a hair under four feet. It's well-designed, with a durable rubber sleeve that doesn't tangle or scuff easily. Both ends are reinforced with extra material, so the cable isn't likely to get damaged by tugging or twisting. All in all, we were very pleased with the charger's design and durability.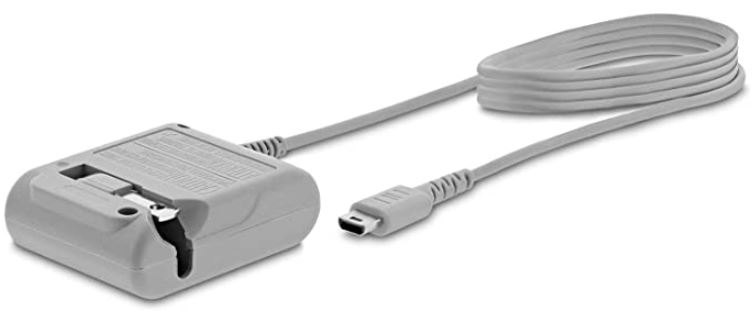 That said, the power output bears a little more scrutiny. It provides 5.2 volts at a rate of 450mA, or a total of 2.34 watts. That's just slightly more than half the power provided by the original charger, and it's an odd choice. To be fair, it's still plenty of power to charge your DS. But your system won't charge as quickly as it's capable of charging. And depending on your screen brightness, your DS Lite may actually lose power if you're playing while plugged in. On the upside, the power system is properly regulated. It delivers full power when your battery is actively charging. Once your battery is full, the charger will automatically change to a trickle charger.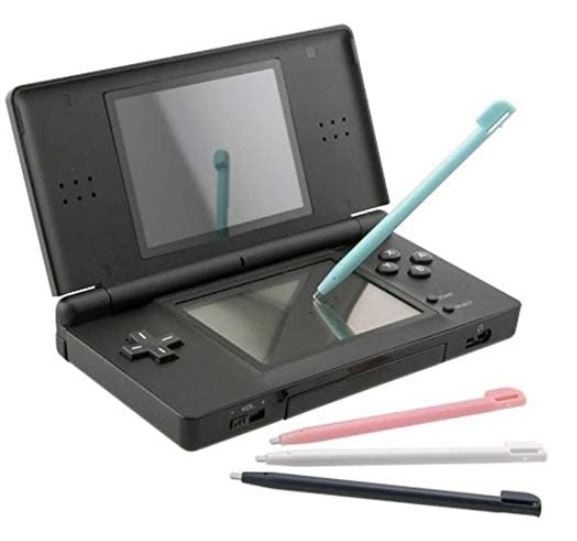 Along with the charger itself, you also get a set of four styluses. These are black, white, light blue, and baby pink, to correspond to the standard DS Lite colors. Unless you're using a custom skin or a special edition, you'll have a stylus that matches your system. The styluses themselves are nothing particularly special, but they're well-manufactured. They have the same form factor as the originals, which means they fit properly in the storage slot. More importantly, the tips seem to be molded as a single piece. This means there's no seam, so you don't have to worry about these styluses scratching your screen.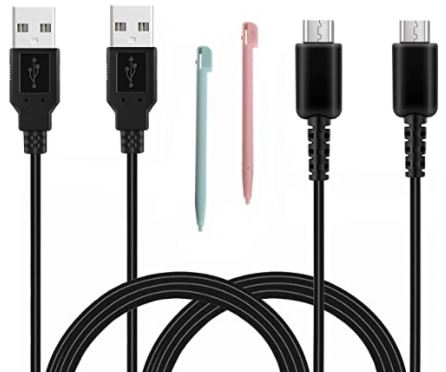 BATSOEASY DS Lite Charger Cable 2-pack w/ Stylus
The BATSOEASY DS Lite Charger Cable 2-pack w/ Stylus is a little bit different. On the one hand, it's not technically a complete charger. Each "charger" is actually a Micro USB cable designed for use with the DS Lite. You still need to provide your own AC adapter, or plug into a USB port. On the plus side, you don't have to worry about wattage. Your Switch will charge at the maximum rate supported by the console or the charger, whichever is higher. You also aren't tied into charging via ordinary AC power. You can plug these cables into a vehicle USB port, a computer, or any other USB power source.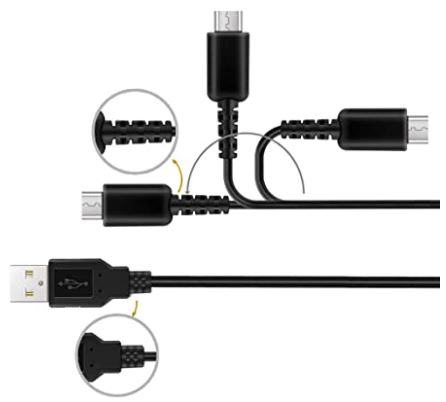 Each cable is just under four feet in length, and has a smooth, black rubber sleeve. They don't tangle easily, and the ends are exceptionally well engineered. Most charging cables are rated for 5,000 bends, or 10,000 bends if they're very durable. These are rated for 20,000 bends, making them some of the toughest USB cables we've seen for any application, period. BATSOEASY backs this up with a 12-month manufacturer's warranty. If there are any issues, you'll be covered.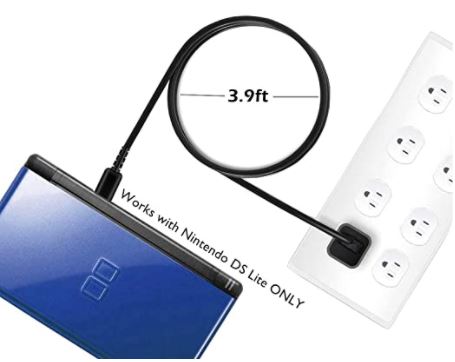 The package includes a pair of styluses along with the cables. They're pink and blue, matching the two most popular DS Lite colors. They fit perfectly into the slot, and are indistinguishable from the original styluses. This includes single-piece molded tips that won't scratch your screen.
One thing we liked about this kit is that it includes two of both the cord and the stylus. With the BATSOEASY kit, you can outfit two DS Lites, and take advantage of multiplayer features. This fits well with the social aspect of many popular DS Lite games. The various Pokemon titles, for example, are far more rewarding when you play with a friend.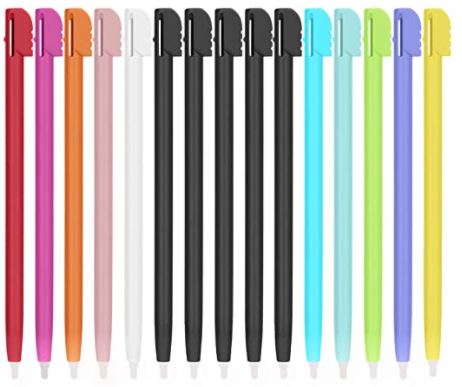 FNGWANGLI Plastic Styluses
The FNGWANGLI Plastic Styluses are a set of 15 plastic styluses for the Nintendo DS Lite. It's the most affordable kit per stylus, which means it's a great value no matter how you cut it. They're reasonably well-designed, and fit securely in the DS Lite's stylus storage slot. They also have rounded tips like the last ones we looked at, and won't scratch your screen.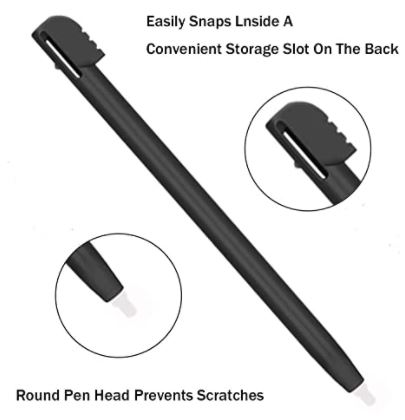 The color breakdown of the FNGWANGLI styluses is as follows. Of the 15 in the pack, five are black. One is white, and there are three different shades of blue. There are additional single styluses in yellow, green, orange, red, purple, and clay. This provides a full selection of colors to match some of the more unusual DS Lite colors. They're fun to use, but cheap. The tips snap off easily if you're tapping a lot. Then again, considering the low price, you're still getting a deal.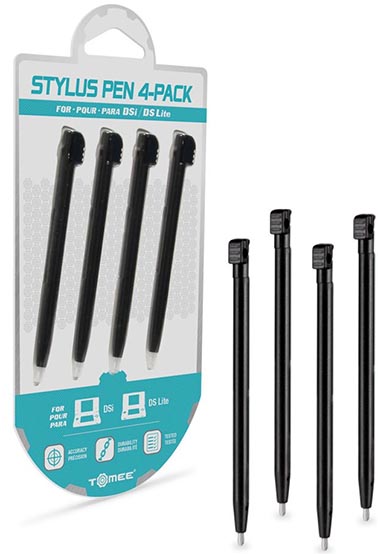 Tomee Stylus Pen Set
The Tomee Stylus Pen Set is a set of four plain black DS Lite styluses. They fit perfectly in the DS Lite's storage slot, but will also work with the DSi. They even fit in a modern 3DS, although the top will stick out a few millimeters. The tips on these styluses are very well engineered, and feel soft to the touch. If you tend to be rough with your screens, the Tomee styluses will help prevent damage.
Final Verdict
So, which one of these charger and stylus pens is the right choice for you? To begin with, the most important question is whether or not you need a charger. If all you need is a stylus, there's no sense in buying a charger. That said, the Xahpower AC Power Adapter Charger and Stylus Pen is the closest to the original. With the charger and the stylus in the same package, you get all the accessories that come with a DS Lite. We were slightly disappointed in the power of the charger itself. But it works well, and the styluses are also well-designed.
The BATSOEASY DS Lite Charger Cable 2-pack w/ Stylus is the best choice in terms of raw charging power. The cables will support higher wattages, so you can charge faster. You can also plug into USB ports in cars or on a powerbank. The downside is that there's no actual AC adapter. The styluses are more or less the same as the Xahpower's. They're well worth using, but not worth the money unless you're going to use the cables.
The FNGWANGLI Plastic Styluses are a bit of a mixed bag. On the one hand, they come in a ton of colors, and they're fun to use. On the other hand, they're a bit cheap. But with 15 to a package, you'll have plenty of backups. The Tomee Stylus Pen Set is a better choice if you want the highest-quality styluses. That said, the plain black color might be boring for some.
Meet Derek, "TechGuru," a 34-year-old technology enthusiast with a deep passion for tech innovations. With extensive experience, he specializes in gaming hardware and software, and has expertise in gadgets, custom PCs, and audio.
Besides writing about tech and reviewing new products, Derek enjoys traveling, hiking, and photography. Committed to keeping up with the latest industry trends, he aims to guide readers in making informed tech decisions.