Finding the right pair of earbuds can be a challenge. There are any number of options available, and you can easily find yourself sorting through thousands of options. With that many choices on the table, it's easy to freeze up. Unless you're already an earbud expert, it can be tough to find the right choice for your needs. That said, it can sometimes be easy to limit your options. For example, you can look for a specific type of earbud for a specific purpose. That's what we're going to be doing today.
We'll be looking at two different earbuds, both of which have a lot in common. These are workout buds, with sweat resistance and reasonably powerful bass. They're also reasonably priced, so if you lose one on your run, it won't be a personal tragedy. We'll start by reviewing the Lanteso Wireless Earbuds. These are AirPod Pro-style buds, with a vertical design and silicone ear tips. We'll follow up with the Hntmao Wireless Earbuds. These also have a vertical design, with solid tips similar to the original AirPods.
Of course, the form factor is just one of several notable differences between these two pairs of buds. To find out which is right for you, we'll need to look a little bit deeper. We'll talk about the battery performance and the wireless connection. We'll talk about the ergonomics and water-resistance. And of course, we'll have to listen to the audio quality on both pairs. After that, we'll know everything we need to render a fair verdict. Let's get going!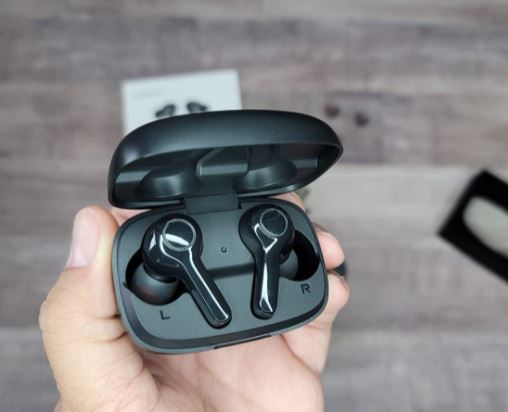 Lanteso Wireless Earbuds
The Lanteso Wireless Earbuds are built with a vertical design. The earbud shells themselves are small, and sit inside your ears, while battery studs hang straight down. This design keeps the earbuds bottom-heavy, so they won't flop around easily and fall out. As a result, you get a reasonably secure fit, which is essential for a pair of workout bugs. The package also includes three extra sets of silicone tips, in three different sizes. As a result, the buds should form a good seal whether your ear canals are large or small.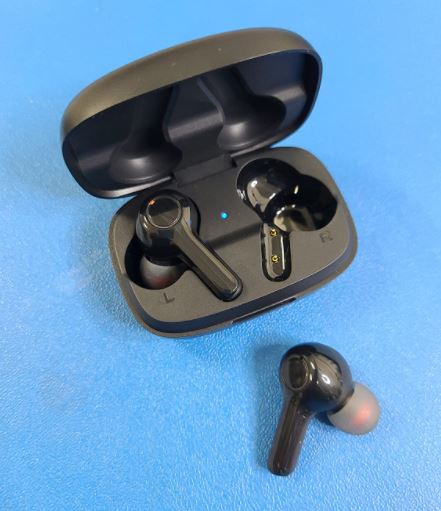 The earbud shells are black in color, with a small inner housing and a circular outer housing. They're IPX5-rated for water-resistance, which means they can withstand a light stream of water. In practice, they can be worn in the rain, or you can wipe them with a damp cloth when they're dirty. You wouldn't want to wear them in the shower or anything like that. The circular backs function as touch controls. Using these buttons, you can quickly adjust the volume and answer or end phone calls. You can also access your phone's voice assistant to use voice commands.
The Lanteso earbuds come with a charging case, which is constructed from a similar matte black material. It has a flat design, with an oblong profile and a spring-loaded clamshell-style lid. This lid stays shut easily in your pocket, but still opens easily with your thumb or forefinger. Inside, your earbuds sit inside individual wells for charging. Because the wells are molded differently for left and right, you won't have any issues with getting them mixed up. There are also a pair of blue LEDs between the earbuds. These light up when the corresponding earbud is being charge. A USB charging cable is included into the package, and plugs directly into the back of the charger.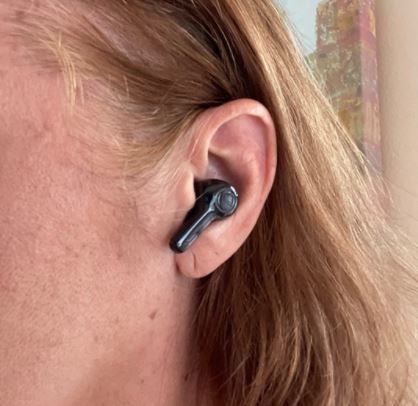 Battery & Connectivity
The Lanesto earbud batteries will last for about four hours per charge, but this is a manufacturer rating. At full volume, 3 ½ hours is more realistic, although you'll legitimately get four hours or more at half volume. This is still less than we expect from modern earbuds, and is a bit disappointing. That said, the case carries enough juice to recharge your earbuds five full times. This extends your maximum battery life to around 24 hours if you're not maxing out your volume.
These earbuds charge in about an hour, which is one upside of their small size. You can also give them a 15-minute quick charge to get up to two hours of use. That's not half bad, and the case is equally easy to recharge. Assuming it's totally dead, you can fully charge it in about 90 minutes via USB Type-C.
The Lanesto buds connect to your phone or MP3 player via the Bluetooth 5.0 protocol. This is the current standard, and is compatible with most modern devices. It has a few advantages over the older 4.2 protocol, which are worth noting. To begin with, it provides lower latency. This means that the audio won't lag behind video, so you can watch movies and play games. Secondly, it has a higher bandwidth. This means you can play high-definition audio and other high-bitrate files. Finally, it's more stable, so you won't have as many dropped calls or songs cutting in and out.
Of course, it's always possible to get even less latency. If gaming and movies are your number one objective, consider the iWALK Crazy Duo Battle. These are specifically designed for gaming, with ultra low-latency technology.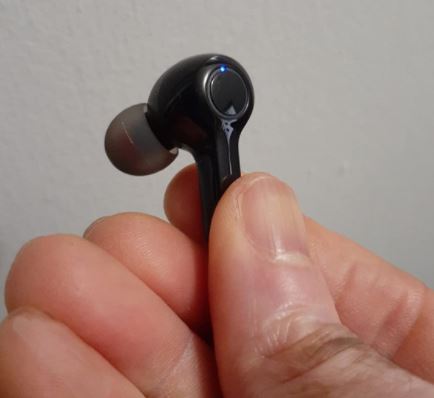 Audio Quality
The Lanesto Wireless Earbuds contain dual 6mm drivers. On the one hand, the 6mm diameter is somewhat small, so they can't move a ton of air. On the other hand, the fact that these are dual drivers provides double the texture of a single driver. As a result, you get surprisingly good audio for the price. The highs, mids, and bass are all clear, with an even EQ that doesn't overemphasize any frequency band. You also get a reasonably wide soundstage, which is again surprising given the price. Chalk it up to the dual drivers, which pull far more than their own weight.
These buds also come with CVC 8.0 noise isolation for phone calls. In theory, this should reduce background noise to a minimum so it's easier for the other person to hear you. In practice, it doesn't do much on the Lanesto buds, probably because they have single mics instead of dual mics. Regardless, these aren't a great choice if you do a lot of hands-free calling. In that case, you'd be better off with something like the Cirtek EA05. These provide excellent voice isolation, as well as active noise cancellation (ANC). They even come with an attractive LCD display case, although they cost more than the Lanestos.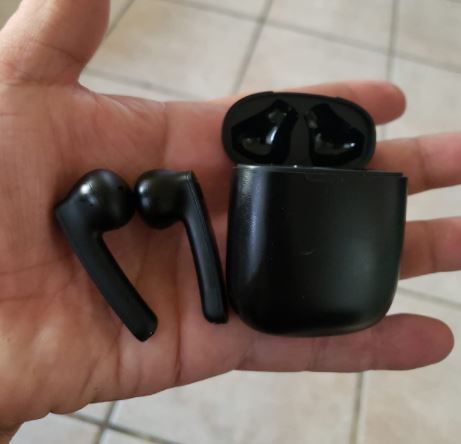 Hntmao Wireless Earbuds
The Hntmao Wireless Earbuds have a similar vertical design to the Lanteso buds. That said, there's one important difference. Instead of molded silicone tips, they have solid plastic tips. This makes for a looser fit, which isn't quite as secure. On the other hand, some people with sensitive ears may find them more comfortable. As another alternative, the Mpow Flame Solo earbuds have an ear hook design that clips over your ear. They're highly water resistant, and offer similar audio quality.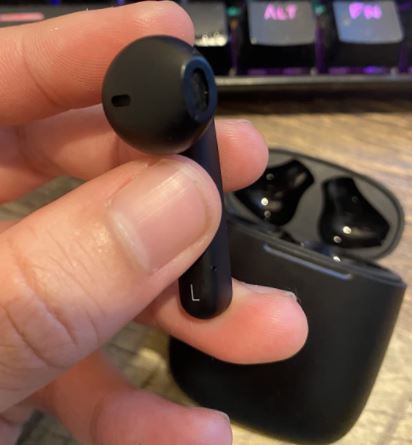 Speaking of water-resistance, the Hntmao earbuds have a rating of IPX7. This means they can withstand full submersion, so you can take them in the shower if you need to. They also have button controls on the back. This provides tactile feedback, which you don't get from soft touch controls.
The buds drop into a vertical charging case, which has a clamshell-style lid. It's only about an inch thick, so it's easy to carry in your pocket if you need to. And like the Lanteso charging case, it also comes with a USB Type-C charging cable.
Battery & Connectivity
In terms of battery power and Bluetooth connectivity, both sets of earbuds are mostly similar. Just like the Lanteso earbuds, the Hntmao buds get up to four hours per charge, with less at top volume. You also get five full recharges from the case, for a total of 24 volumes at medium volume. Similarly, they connect to your phone via Bluetooth 5.0. As a result, you get reasonably low latency, high bandwidth, and a stable signal.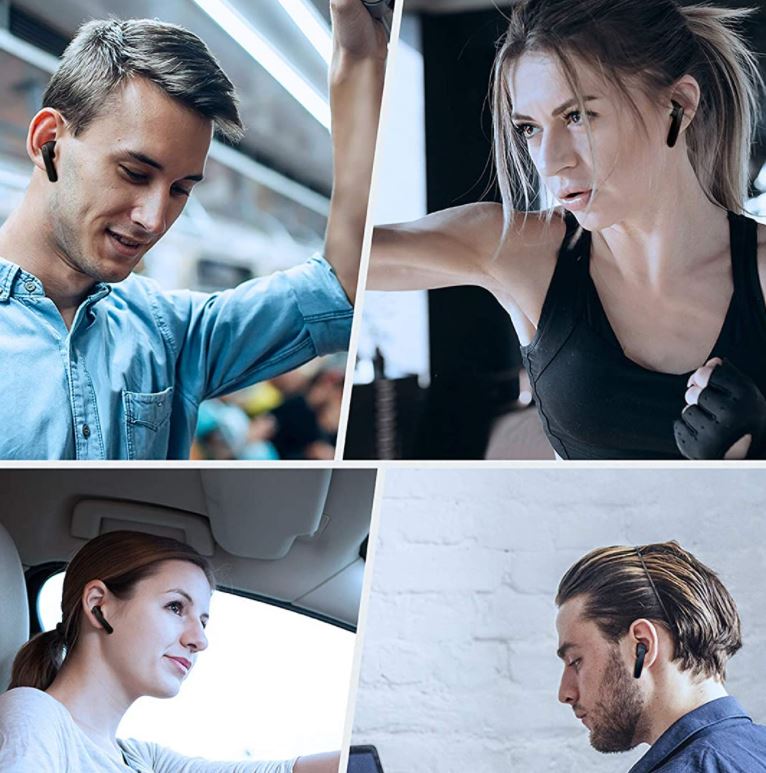 That said, the Hntmao buds have one additional feature the Lanteso earbuds don't. They can be paired in stereo or mono mode. For most entertainment purposes, you're going to want a stereo connection. However, using a single standalone earbud has its own advantages. For one thing, you can use a single earbud for hands-free calling while you're driving. You can also keep an ear free when you're waiting for a flight, or walking in a busy city. As an added bonus, since you're using the earbuds independently, you get twice as much battery life in mono mode.
Audio Quality
The Hntmao Wireless Earbuds utilize a single 13mm driver instead of 6mm dual drivers. This gives you significantly more surface area, so you can produce a louder volume without distortion. That said, volume isn't everything. With only a single, inexpensive driver, you're not getting the rich audio you get from the Lanteso buds. You're still getting good value for the price though. There's an even EQ setting, a reasonably wide soundstage, and minimal interference between instruments.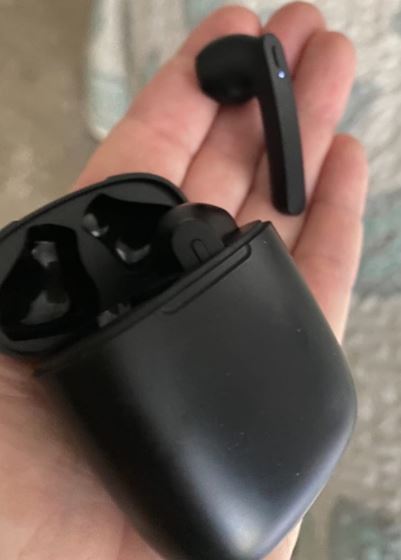 Call quality on these earbuds is acceptable. It's not as good as you'll get from some earbuds with advanced noise cancellation technology. However, the mics are of reasonable quality, and your voice comes through with plenty of clarity. We're not sure what else you can ask for from affordable buds. For hands-free calling, you're getting more than what you paid for.
Final Verdict
So, which of these affordable workout buds are your best choice? In terms of comfort and overall audio quality, the Lanteso Wireless Earbuds are the clear favorite. The soft tips are going to be better than solid tips for the vast majority of people. We were less pleased with the battery life, but that was the same on both pairs. You've got to make some sacrifices when you're buying at this price point.
The Hntmao Wireless Earbuds have their own separate advantages. Here, we were more impressed with the water-resistance, since you can wear them in the shower. We also liked the button controls, and the ability to use the buds in solo mode. Not only that, but they sound better on phone calls.