When you're looking for a new pair of earbuds, it can be tough to sort through all the options. A quick internet search returns thousands of choices. With so many alternatives, how do you even know where to start? There are a few ways to go about it. If you're looking for generic buds, it can oftentimes be easiest to stick with a familiar manufacturer. It's tough to go wrong with a flagship brand like Sony or Bose, or even with a mainstay like Mpow. But you're not always looking for a generic pair of buds. Sometimes, you want a pair of special earbuds that can be used for a variety of purposes.
For example, many wireless earbuds are poorly-suited for gaming. Because of the unique requirements of gaming earbuds, this can be true even for high-quality brands. Just because a pair of buds performs well for music and hands-free calling doesn't mean it's good for gaming. For this type of application, you'll want to look for earbuds that have the right set of features.
Today, we'll be looking at two sets of gaming earbuds from newish manufacturers. Both offer very low latency, which means the audio and video remain in sync. You don't have to worry about hearing sounds after they happened in-game. This is a contrast to many other earbuds, which oftentimes don't prioritize latency. After all, who cares if there's 200 milliseconds of latency when you're listening to an audio file?
We'll begin by reviewing the Monster Mission V1. These earbuds have an angular design, along with attractive LED highlights that emphasize the gaming aesthetic. We'll follow up with the XROUND AERO earbuds. These have a more ordinary, staid design. But they include a companion app where you can customize the EQ and other settings. Here's everything we've learned about both of these pairs of earbuds.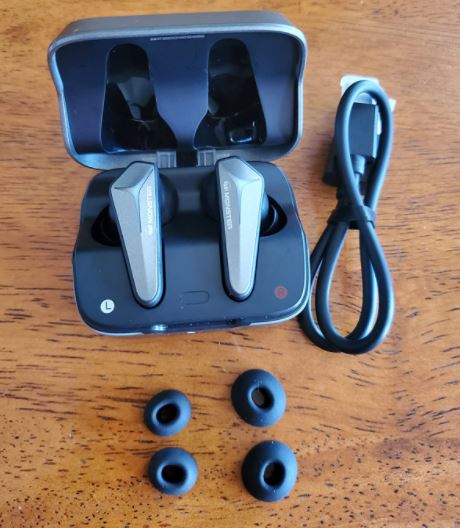 Monster Mission V1
In terms of sheer aesthetics, the Monster Mission V1 earbuds are as close as it gets to being truly unique. Earbuds take all kinds of shapes. They can be small shells or vertical, or even large, ear-hook style buds with large touch panels. But the V1 buds have a look that's all their own. Yes, the design is more or less vertical, with protruding studs. But the vertical studs aren't cylindrical or flat like most options. They're angular, almost like an arrow head. And on the backs, there's a set of three-pointed LED lights. The lights can be turned to red or blue, with blue representing music mode and red representing gaming mode. We'll talk more in a second about the control modes.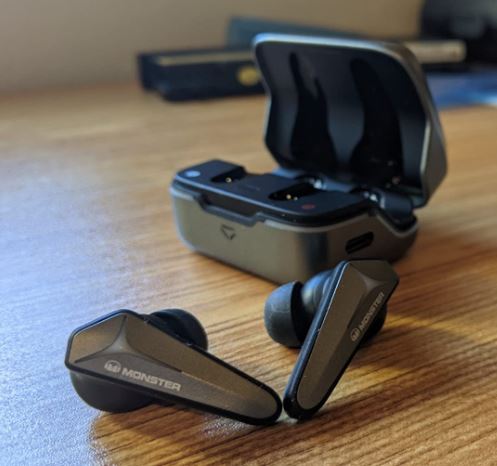 The housing is otherwise grey or black, and sports a set of touch controls on the backs. These are used to adjust the volume, change tracks, and perform other basic functions. The buds are also IPX5-rated for water-resistance. They're not quite well-sealed enough to wear in the shower. But they'll stand up through a workout, or even if you're wearing them outside on a rainy day. If you need more water-resistance, consider the Tozo T5 Earbuds. They're affordable as well as submersion-proof, but the audio isn't as good as the Mission V1.
Along with the buds themselves, you also get a charging case that shares the same unique aesthetic. It has a rectangular shape, with a sloped lid and multiple LED highlights. There's also a set of four visible bolts in the top, which gives it a little bit of a steampunk vibe. The earbuds lay neatly inside for charging, and the lid is easy to open and close. The seam between the top and bottom is highly visible. Monster even accentuates it by locating it in a decorative groove. All in all, we really liked the look of the case, and it's still small enough to carry in your pocket.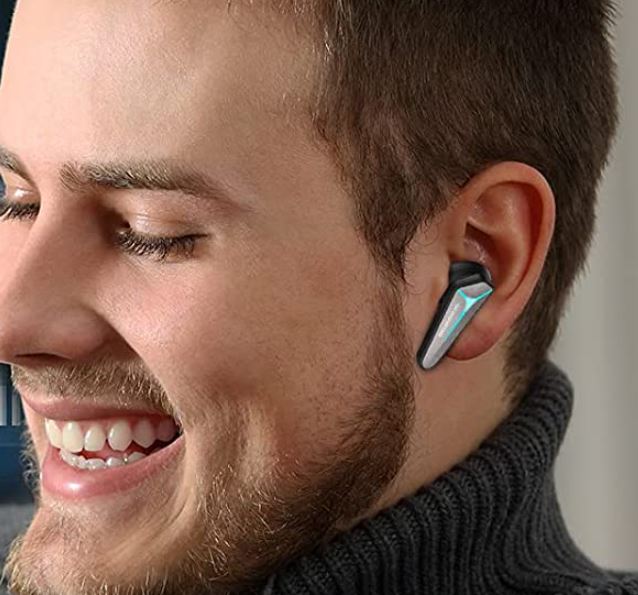 Battery & Connectivity
The Mission V1 battery will last for around five hours on a single charge. However, keep in mind that this is a manufacturer rating, which assumes medium-volume playback. If you're listening at full volume, somewhere around 4 ½ hours is more realistic. This is a bit low, but it's honestly not surprising for a set of low-latency buds which also has LED lights. In addition, the case provides four full recharges, for a total of around 22 ½ to 25 hours. That's more than enough for most gamers, since presumably you need to go to bed at some time. However, if you travel a lot, you might want earbuds with a more powerful battery.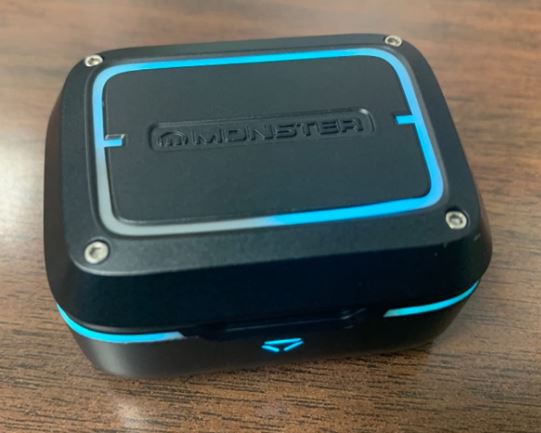 The earbuds charge in about 90 minutes, and can also be quick charged. With only five minutes in the case, they'll get enough power for a full hour of playtime. The case itself also charges in about 90 minutes via USB Type-C. It can also be charged on a wireless charging pad, although that will tend to take longer.
The Mission V1 earbuds connect via the Bluetooth 5.0 protocol. This version of Bluetooth is more stable and offers more bandwidth than the older Bluetooth 4.2 protocol. It also offers significantly reduced latency, which limits the gap between video and corresponding audio. As a result, while Bluetooth 4.2 earbuds were not ideal for gaming, Bluetooth 5.0 buds will usually work quite well. We didn't have any issues with latency, even with more demanding games. That said, it's always possible to do better. The TaoTronics SoundLiberty Pro P10 earbuds utilize the even lower-latency Bluetooth 5.2 variant. However, most devices aren't compatible with 5.2, which makes it a moot point. The P10 buds also have weaker high-end audio.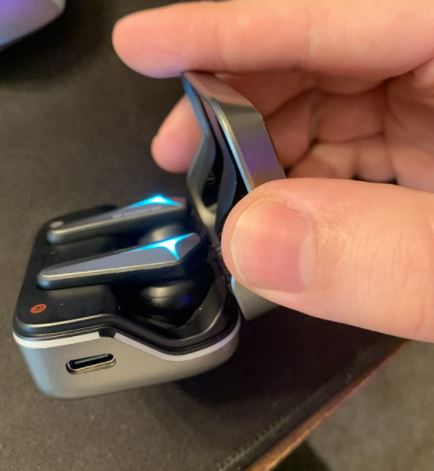 Audio Quality
The Monster Mission V1 earbuds offer good audio quality, with a flat EQ. This means they won't be ideal if you're looking for a set of "bass boost" buds. However, they're no slackers on the low end, either. They just maintain a nice even balance without too much emphasis in any given frequency range.
The buds can also be swapped between music and gaming mode. In music mode, the hardware will prioritize quality at the expense of latency. In gaming mode, eliminating latency is the main goal, even at the expense of brief drops in quality. This is a neat idea in theory. But in practice, we really couldn't tell the difference between the two modes.
There are two mics on each earbud, for a total of four. Two are designed to pick up your voice, while the other two are for detecting background noise. An internal chipset then removes the background noise from the audio, virtually eliminating it. The result is a set of earbuds that can be used for multiplayer gaming as well as for on-the-go hands-free calling.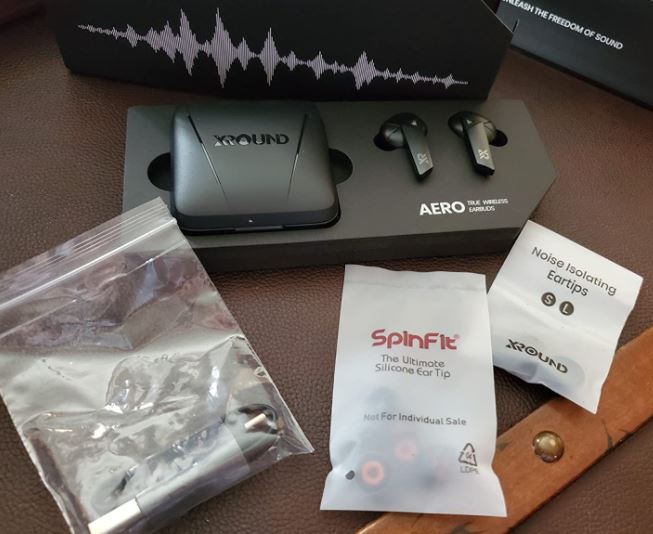 XROUND AERO
The XROUND AERO are a pair of black wireless earbuds with compact upper shells. The outer battery studs are slightly curved rectangles, and the matte finish is easy to keep clean. The package actually includes six complete sets of tips rather than three. Half of the pairs have a curved, gentler profile, while the other half have a flatter profile with a better seal. Whether you want to prioritize comfort or noise isolation is a matter of preference. The buds are also IP54 rated for water and dust-resistance. Basically, they're splash-resistant.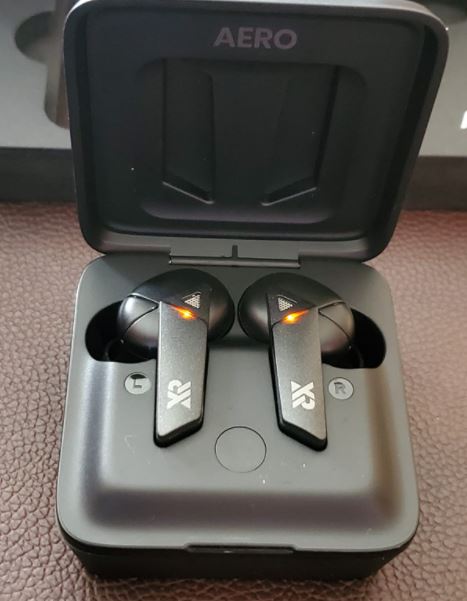 The charging case is flat and rectangular, with four LEDs on the front. These indicate the current battery status, and illuminate when the case is opened or plugged in. Our only major complaint is that the clamshell-style lid is relatively flimsy. It's not a major issue, but it could get cracked if you need it to take a lot of abuse. On the upside, the case's profile is slimmer as a result, which is always a good thing.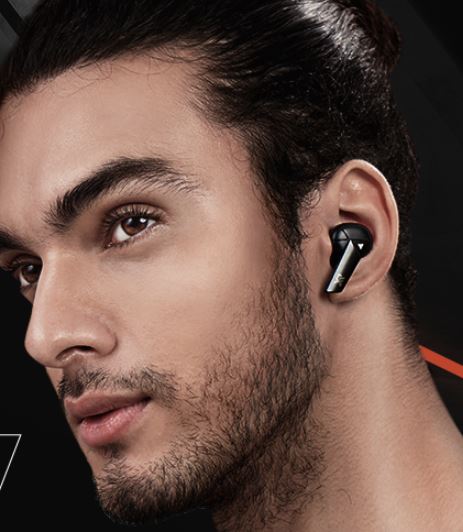 Battery & Connectivity
The XROUND AERO batteries have about the same amount of total life as the Monster buds. However, the earbuds have larger batteries while the case battery is smaller. The XROUND earbuds themselves have a rating of six hours per charge, with 24 hours when you include the case. Charging is easy via USB Type-C, and takes less than two hours. On the downside, there's no wireless charging, so you'll actually need to plug in.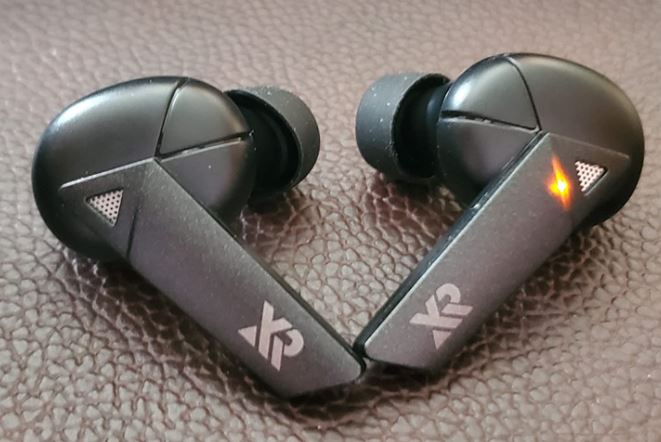 The Bluetooth 5.0 connection is similar to the Mission V1's. It's not quite as fast as Bluetooth 5.2, but it's more widely compatible. The circuitry is also designed specifically for gaming, so these are faster than your typical buds to begin with. There's also an optional smartphone app that you'll probably want to install. It allows you to adjust the EQ, switch between music and game mode, and turn on simulated surround sound. This gives you far more customization than most wireless earbuds, which is perfect for power users.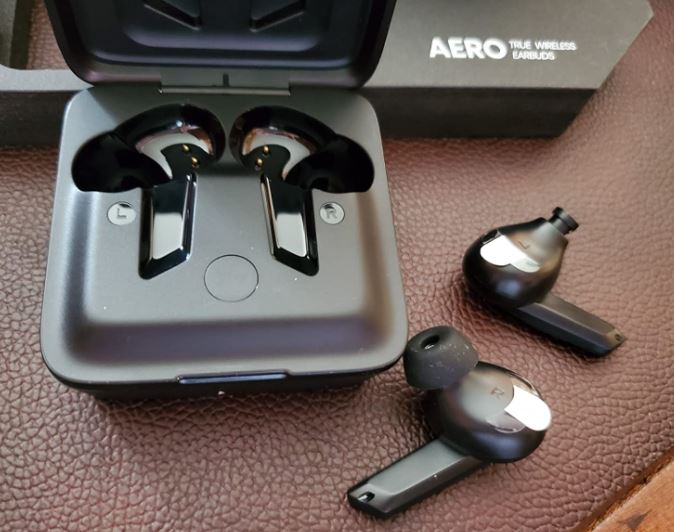 Audio Quality
The audio is clear at all frequencies, without any weak spots. Not only that, but thanks to the app, you can make plenty of changes. You can crank up the bass for workouts or roll it back for country music. On the downside, the audio isn't quite as rich as the Mission V1 buds. One thing neither pair does is provide active noise cancellation (ANC). If you deal with a lot of background noise, you might want to use the Enacire A9. They're powerful ANC buds with a slick LED case, but with shorter battery life.
On the upside, the XROUND AERO earbuds come with noise-isolating mics. So while they won't limit background noise you hear, they'll keep your end of the voice chat clear.
Final Verdict
The difference between the Monster Mission V1 and the XROUND AERO comes down to two main factors. The first is the overall appearance. The Monster earbuds are built with an angular design, and feature bright LED lighting. The XROUND buds, on the other hand, have a more traditional look, like a standard set of earbuds.
The other difference is the nature of the audio. The Mission V1 earbuds have an even EQ with relatively rich sound for the price. However, there's no ability to customize the audio. The AERO earbuds come with a smartphone app for making adjustments, but the audio isn't as rich.