Enacfire A9
Pros
Well-rounded audio with reasonable bass.
Comfortable, ergonomic fit.
Shower-proof water-resistance rating.
Transparency mode and voice isolation for easy conversations.
Cons
Mediocre battery life.
ANC is not as effective as it could be.
These days, it's harder than ever before to find a good pair of wireless earbuds. At first blush, this might be counterintuitive. Aren't wireless buds getting cheaper and more widely available? Yes, but that's part of the problem. The issue, if anything, is that there are too many brands and too many offerings. If we reviewed a new model of earbuds every single day, we would never finish. We wouldn't even be able to keep up with the rate of production, and we do this for a living! For the average customer, it's virtually impossible to keep track of all the new offerings.
The reason for this is that there's currently a rush to manufacture wireless earbuds. Before Apple took a leap of faith with the iPhone 7 and the AirPods, nobody knew if TWS buds would take off. When the AirPods became a hit, it was like the first miner striking gold in San Francisco. The rush was on. Now, the internet is a veritable boom town of earbud manufacturers hocking their wares. Thankfully, some of these producers have started to make a name for themselves. One of those manufacturers is Enacfire. We've reviewed their E90 and Geek earbuds, among others, and have usually been impressed.
Today, we'll be reviewing the Enacfire A9 Hybrid ANC Wireless Earbuds. These are vertical, AirPod-style buds that incorporate a lot of the latest features. But how well do they perform in practice, as opposed to theory? To find out, we'll need to dig deep into the A9 earbuds' features, benefits, and drawbacks. We'll talk about the design, the battery, and how good the sound is. Along the way, we'll touch on ergonomics and the quality of the connection. At the end, we'll sum up what we've learned, and give you our verdict. Let's see how these buds sound!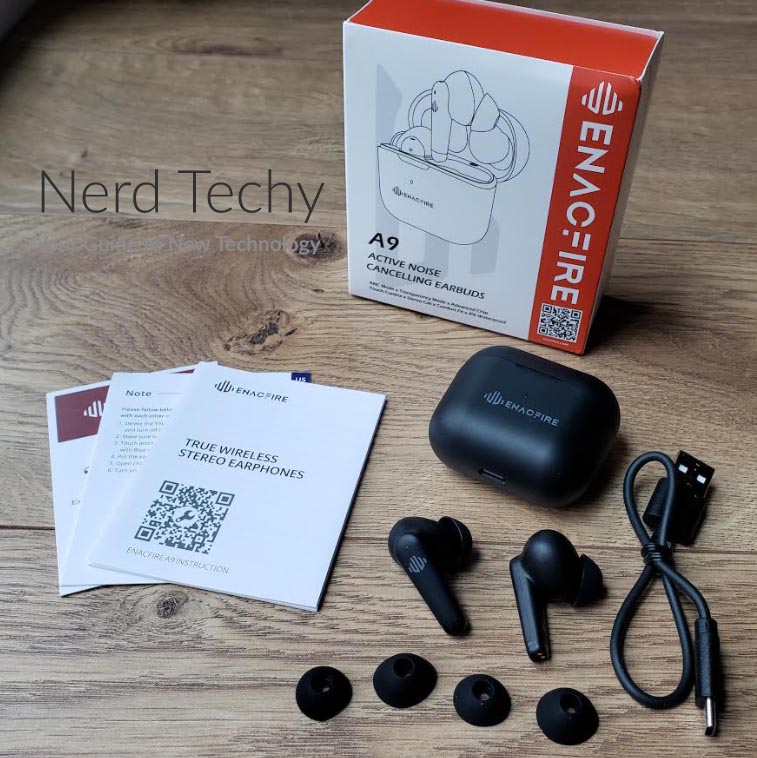 Overall Design
The Enacfire A9 Hybrid ANC Wireless Earbuds have a lot of design features in common with the AirPods Pro. To begin with, they have a vertical design, with batteries that protrude down from the buds themselves. This bottom-heavy design ensures that the earbuds will stay in place. The buds also have silicone tips, which makes them more secure than simple hard plastic tips. The tips also provide a better seal against outside noise. For this reason, it's important to make sure you get a good fit. Too tight, and the buds won't be comfortable. Too loose, and they won't block out much noise. Worse, they're liable to fall out of your ears. Make sure to take your time and get the right fit; use one of the alternative tips if you have to.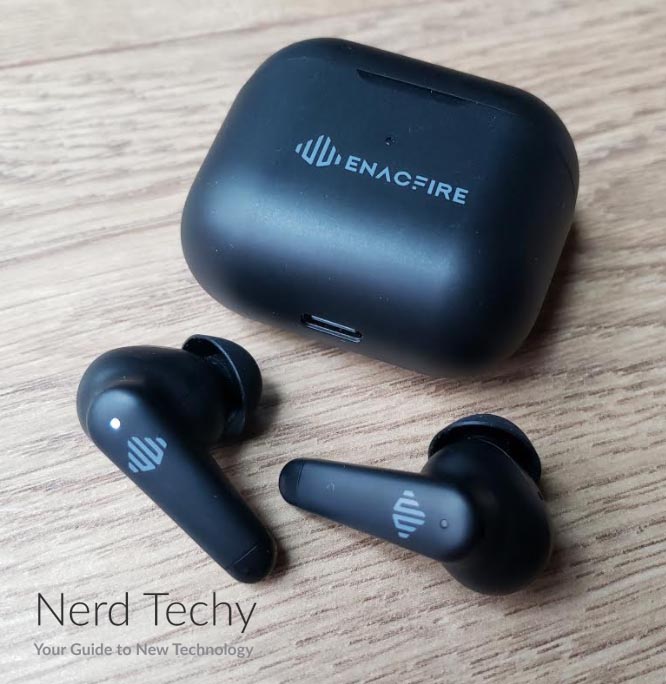 The earbud shells are black, with a matte finish that won't show fingerprints. There are a pair of LEDs on the back, which let you know the buds are on and connected. Beneath the LEDs, you'll see a set of Enacfire logos printed in dull grey. These mark the soft touch controls, which can be activated with a light touch. These controls can adjust the volume, skip tracks, and answer or end phone calls. Different functions require presses, taps, and double-taps. A triple-tap brings up your phone's voice assistant, so you can perform any hands-free controls you want to.
The A9 earbuds are IPX7-rated for water-resistance. This means they're capable of withstanding full submersion, not just a little moisture. Sweat and rain are no obstacle whatsoever. You can even wear your earbuds during your post-workout shower without damaging them. We'd say you can take them swimming, but it's probably not smart to tempt fate to that extent. Regardless, you're looking at some of the best water-resistance that money can buy.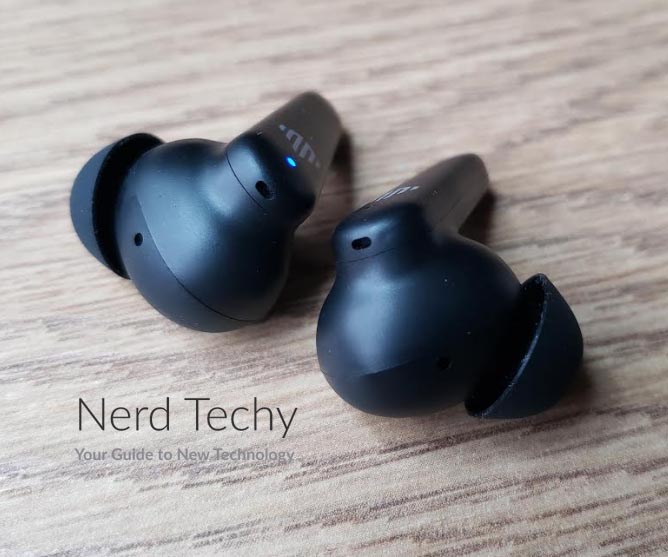 The earbud case has a black finish, the same as the buds themselves. It's also similarly dull, with very little decoration. The only exception is the grey Enacfire logo on the front, which matches the ones on the buds. There's also a single white LED, again forming a nice match to the earbuds. This light illuminates when the case is plugged in and charging. It would have been nice to see three or four lights to get a read on the battery level, but that's a minor quibble.
The case's form factor is soft and rounded, so it's comfortable to carry in your pocket. It's also small enough to toss in the side pocket of a backpack or laptop bag. Regardless of how you want to carry it, transport is easy. The spring-loaded lid is easy to open, and stays shut when you need it to. Inside, you'll see a pair of molded wells that the earbuds drop into vertically. This design ensures that you can't get them crossed and leave the contacts out of touch.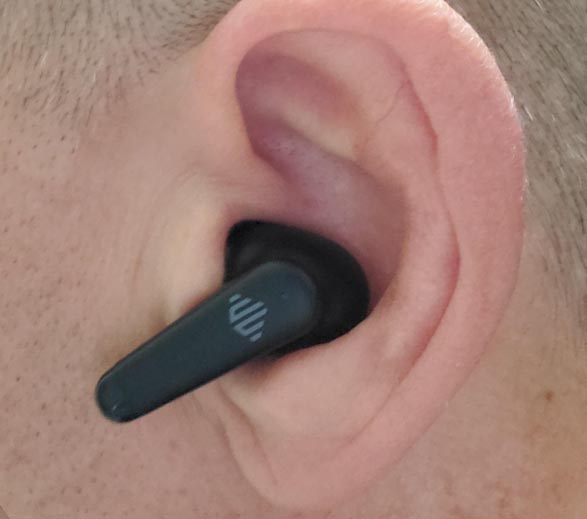 Battery & Connectivity
Each A9 earbud has enough charge to operate for about six hours per charge. In and of itself, this is acceptable, if not impressive. However, when ANC mode is activated, this drops to a rated average of 4.5 hours. Note that we said "rated" average. This means that manufacturer-tested earbuds at half volume lasted for 4 ½ hours in ANC mode. If you crank the volume up all the way, you can expect considerably less. That's less than most modern earbuds will offer, and it's disappointing. That said, ANC buds tend to drain their batteries faster, so perhaps we shouldn't be too surprised.
Moreover, as with most wireless earbuds, the charging case extends your rated life considerably. It can charge your earbuds four times, plus a little extra. In total, the rated life can be as long as 32 hours, or 24 hours in ANC mode. That's plenty of battery life to see most people through several days of listening. Unless you spend a ton of time on the road, you'll never need more.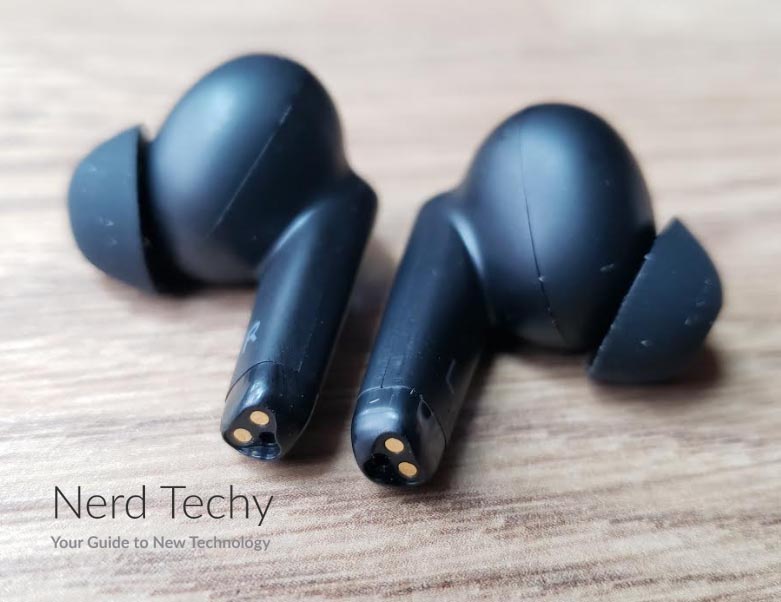 If battery life is a major concern, consider the Enacfire F1. These buds offer up to eight hours per charge, so you can literally listen through your entire work day. On the other hand, the audio quality tends to drop off at high volume. Depending on your listening habits, this may or may not be a deal-breaker.
Charging the A9 earbuds is quick and easy. With the included USB Type-C cable, you can top the case off in less than two hours. The earbuds themselves will charge in about 90 minutes inside the case. Pop them in whenever you're not listening, and you'll probably never run out of juice.
These earbuds utilize the Bluetooth 5.0 protocol to connect to your phone, tablet, or MP3 player. This is the current wireless standard, used by most modern phones and earbuds. It provides a more stable signal than the older Bluetooth 4.2 standard, resulting in fewer dropped calls. It also allows for higher-bitrate audio, which means better listening quality. Finally, you get lower latency. Unlike older wireless earbuds, these can be used for watching movies or gaming. The audio won't be out of sync the way it used to be.
Audio Quality
The Enacfire A9 earbuds contain 10mm drivers, almost 50 percent larger than your average earbud drivers. This allows them to move more air, resulting in more powerful audio. It's particularly noticeable on the low end, where smaller drivers can be flat-out incapable of producing much volume. You'll hear a lot of bass, which is great if you're a fan of dance music. It's also good if you like heavy bass for your workouts.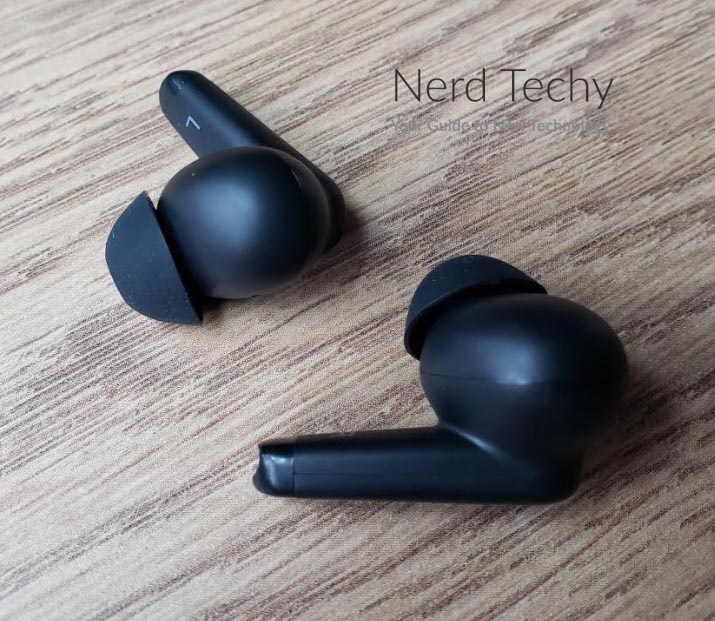 The rest of the audio is also clear, with no interference between the mids and the highs. The soundstage is nice and wide, which means there's good separation between instruments. Cheaper earbuds can sound "squished," but that's not an issue here. The A9 buds make you feel like you're listening to a live band, at least in terms of sense of space.
If you want a more well-rounded EQ, the Enacfire Future Plus are a good choice. The EQ is flat, so the mids and the highs will be more prominent. Conversely, you'll have less bass. Whether or not this is a worthwhile trade is a matter of personal preference.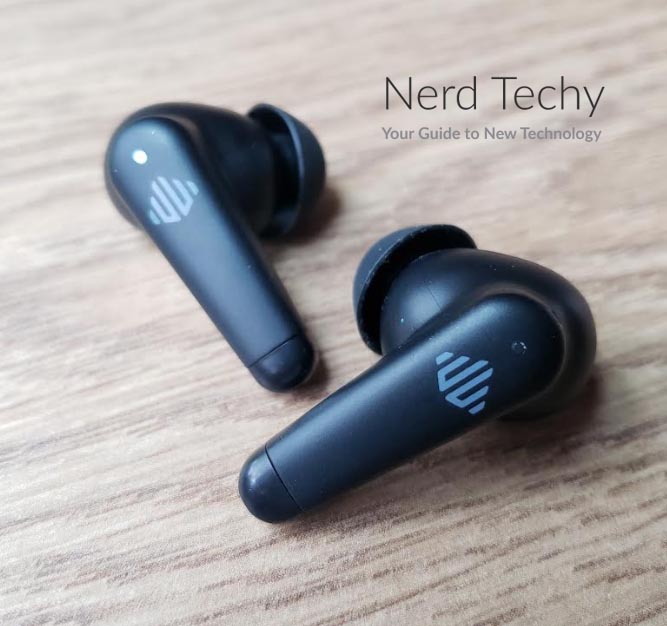 The hybrid ANC technology uses both inner and outer microphones to block out unwanted noise. The outer mics pick up noise and help generate anti-noise to cancel it out. The inner mics monitor the performance, so the system can fine-tune itself on the fly. This makes for an effective system that works well across all frequencies, and won't interfere with your music. It's rated to reduce 28dB of sound, but we didn't hear it. It certainly does something, but it's only effective for quiet to moderate background noise. If you're seated right behind a plane's engines, they're still going to be loud.
One feature the A9 buds do well is transparency mode. This mode uses the ANC mics to specifically let outside noise in. It's useful for quick social interactions, where pulling out your earbuds would be a pain. It's also helpful when you need to be aware of your surroundings. You won't have to worry about missing an airline announcement because you were busy rocking out.
Hands-free calling uses a set of four external microphones. These focus on your voice, and help block out background noise. This function is actually highly effective, and makes it very easy for the other person to understand you. How well you hear them will depend mostly on the quality of their own device.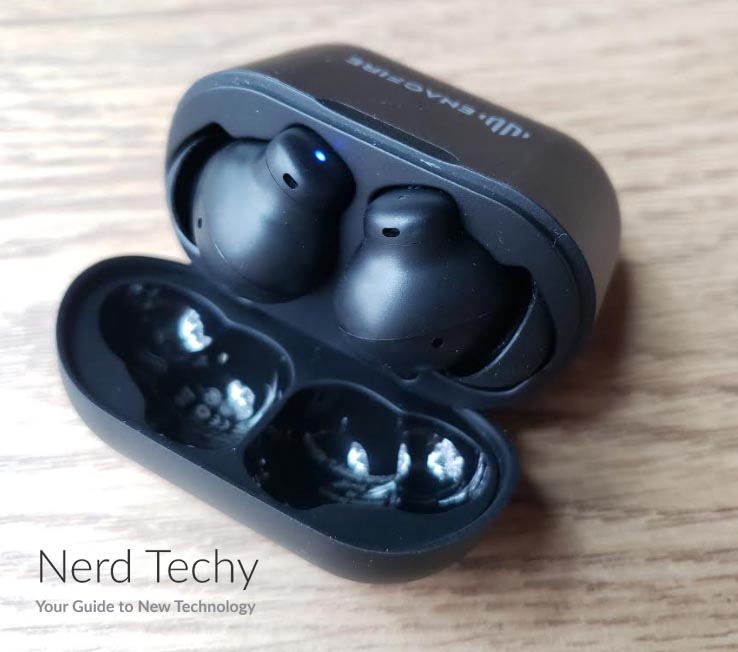 Final Verdict
As you can see, the Enacfire A9 have a lot to offer. To be fair, they're not perfect. We would have liked a longer battery and better ANC. But the good audio quality, comfortable fit, and superior design provide a lot of value. Not only that, but the Bluetooth signal is very stable and hands-free calling is excellent. Considering the price, even a mediocre ANC function is well worth what you're paying.