Quick Analysis
Pros
Good high and mid tones.
Outstanding charging case battery life.
Fully submersible in water - very durable.
Generous warranty period of 18 months.
Cons
Low tones may distort at maximum volume.
Only available in one color scheme.
Whether you're an avid or casual music-listener, I think we can all agree, owning a pair of wireless earbuds is essential. They've become the norm for most individuals looking for a discreet and compact way to enjoy music on the go. But the truth is, it can be incredibly complicated to select the right pair for yourself.
Taking one look on Amazon, you'll notice thousands of options to choose from. Furthermore, it seems there are new releases every single week. To put it bluntly, it can be somewhat overwhelming to narrow down your options and invest in the right pair.
If you've come across the brand ENACFIRE, you're in luck. They're known for creating some of the most affordable, feature-rich earbuds on the market in 2020. Take the new "Future Plus" model for example. As one of Amazon's most popular sellers, they seem to provide a nice blend of value and quality. But are they as good as the reviews make them out to be? Today we're here to find out. We're going to look at all of their features, test them out, and ultimately determine if they're worth purchasing.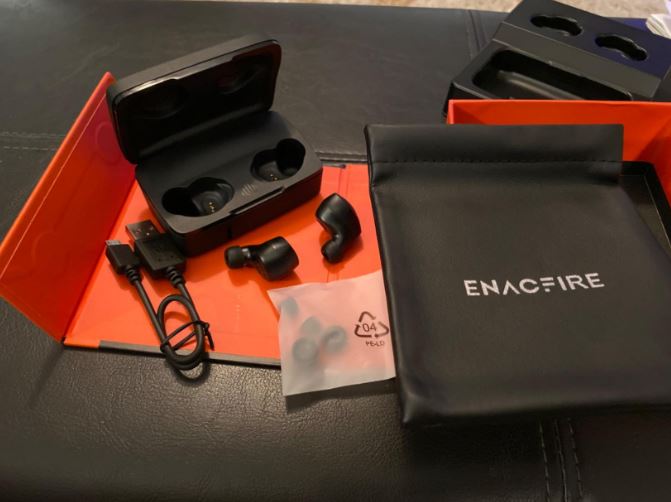 First Look
When you first see the ENACFIRE Future Plus Wireless Earbuds, you might think they look familiar. You wouldn't be alone in that thought. They come securely enclosed in the charging case with a standard clamshell design. Open up the case and you'll see the earbuds nested, each within their own charging port. Taking them out of the case, they're about the diameter of a modern US quarter – the perfect size to fit snugly in your ear canal.
The moment you remove them from the case, they'll go into "pairing mode". At this time, search your smartphone's Bluetooth settings for available nearby connections. Look for "ENACFIRE" on the list, double-click and let them pair. Within a matter of seconds, they'll be paired to your device and ready for hours of continuous listening. But before you do that, you'll want to get the fit perfected.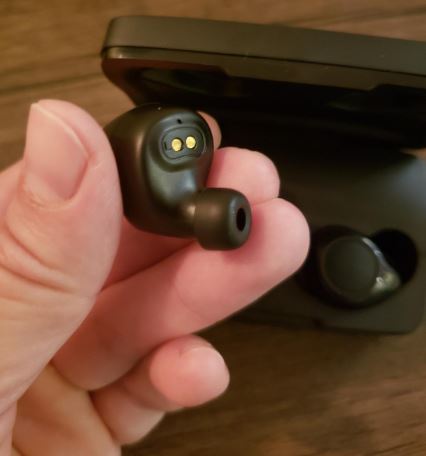 Comfort
As we previously stated, the Future Plus Earbuds are roughly the size of a quarter. The diameter, that is. As far as thickness goes, we'd say they're about as thick as a modern US dime is in diameter. While they don't fit invisibly in your ear, they are definitely more compact than many other options.
In the packaging, you'll notice two extra sets of foam ear tips. It's a good idea to swap these out and try-on different sizes before proceeding. To truly enjoy them, you'll want to acquire a snug and secure fit when wearing them in your ear canal. The tips that come pre-installed are "medium" sized so you're given the option to either downsize or upsize right from the get-go. However, most individuals find the default tips to fit just fine. But obviously, we're all a little different so take a minute to confirm which ones provide a nug fit without any annoying pressure points.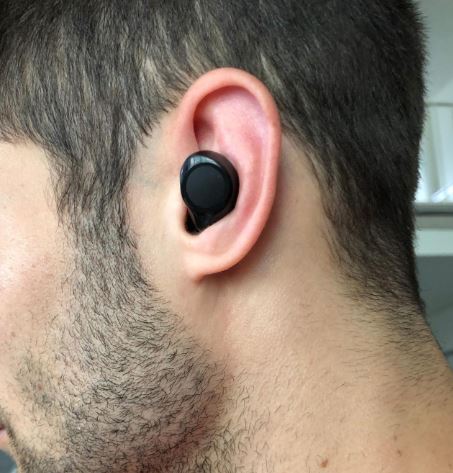 Take not on which bud is for your right ear and which bud is for your left ear. You'll find this out by looking for a tiny "L" or "R" on the backside of each one. When properly placed in your ears, you'll want the "point" of the "circle" to be at the front. That is, with the tiny LED upward/towards the back. This way, they aren't oriented in a manner that they're not designed for.
We think the comfort is great. They seem to hold snug and do not come loose with a wiggle or bounce of the head – ideal for vigorous workouts. While there's no hook-design or tether keeping them in place, the way they are molded seems to be adequate in making sure they're both comfortable and functional.
Sound Quality
Now that we've figured out exactly how they should be worn, it's time to test out what really matters – sound quality. Utilizing the latest Bluetooth 5.0 technology in conjunction with 6mm drivers, they're fully capable of producing fantastic sound.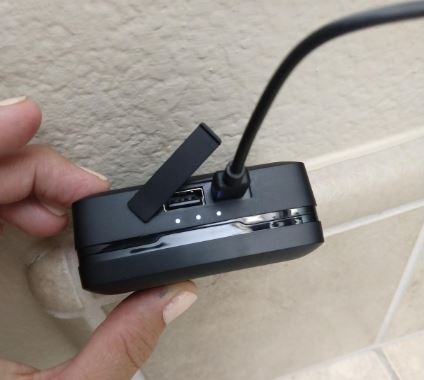 Right from the start, after they were paired and in our ears, we turned on a wide range of music. Anything from classical orchestra to modern day hip hop – we opened up Spotify and played just about any genre you could think of.
The highs, mids and lows all seemed to be on-point and wonderful sounding. To our surprise, it was initially quite difficult to expose their weakness. Throughout our first 3 hours of music-listening, we didn't find a whole lot to complain about. However, we started by keeping the volume within a reasonable limit – 80% of the maximum or lower. We found this to be the "sweet spot" where music sounded wonderful.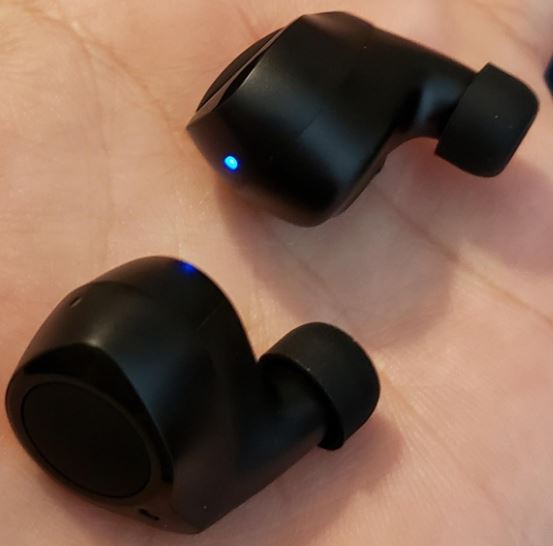 After our first time using them, we started our next listening session with bass-heavy EDM at the maximum volume level. It was the low, deep bass and cranked-up volume that showed the weakness of the Future Plus Earbuds. That said, we were slightly put-off by the distortion and undesirable clarity that seemed to show through. Now, it wasn't terrible, but definitely noticeable. The deep bass tried to shine through but since the volume was turned up to 100%, it didn't really work-out all that well. However, once we turned the music down below 80%, the tunes seemed much more clear and audible.
While these earbuds are fully capable of sounding excellent, you'll want to make sure that you don't crank the volume too high. It'll definitely show their weakness. But truth be told, we don't think most individuals would even considering listening to them that loudly. Maybe only in a rare situation where you're in a very loud environment.
Battery Life
How long the ENACFIRE Future Plus Wireless Earbuds can last is another trait that we wanted to determine. After all, the battery life and amount of playtime you get off of a single charge should really be taken into consideration. While ENACFIRE advertises "104 hours of playtime", you need to know that this is simply the sum of all charges that the charging case can provide. In other words, the earbuds themselves are advertised as 4 hours per charge, but with the case, you can charge them up ~25 times.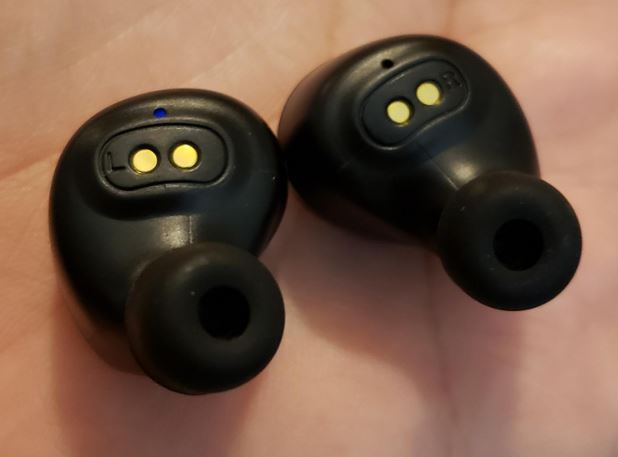 We placed the earbuds in their case and waited for them to finish charging, as indicated by the small blinking LEDs. When the LEDs stop emitting light, you'll know they're fully charged-up and ready for listening. We set them to our preferred volume of around 80% and let them play continuously until they died.
After about 3 hours and 40 minutes, we encountered a "low battery" warning. 10 minutes later, they were dead. While 3 hours and 50 minutes is almost dead-on the advertised 4 hour battery life estimate, we feel confident that they could last over 4 hours if you keep the volume a bit lower. Even so, 3 hours and 50 minutes is pretty generous for a single charge that only take about 30 minutes to complete.
We haven't had the time to fully test the "25 recharges", but after just 15 recharges, the case is still at about half battery life. Pretty impressive if you ask us. And best of all, we praise ENACFIRE for not making outrageous, unrealistic claims about the battery life.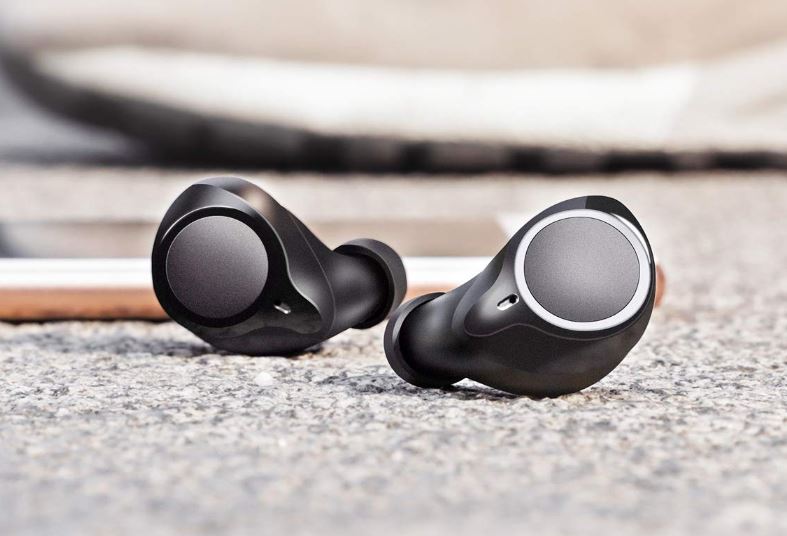 Wireless Range
Wireless range simply refers to the distance you can achieve between your paired device (smartphone, laptop, TV, etc.) and the earbuds themselves. While 33 feet is pretty standard in today's market, ENACFIRE claims up to 66 feet.
We paired them up and left our smartphone inside the house. Walking into the backyard, we noticed the transmission of music becoming a bit laggy at around 35 feet. Once we were 45 feet away, the connection fully dropped and didn't pick back up until we were closer. This was our test with a couple walls and other obstructions in the way. However, when we tested them with perfect line-of-sight between the earbuds and the paired device, they worked great up until about 60 feet.
The wireless range is acceptable, and actually better than a lot of other earbuds in the same price-range. Keep in mind that you'll get better clarity if you keep the distance less than the maximum. However, it's good to know that they're actually capable of keeping the transmission clear and viable within a reasonable range.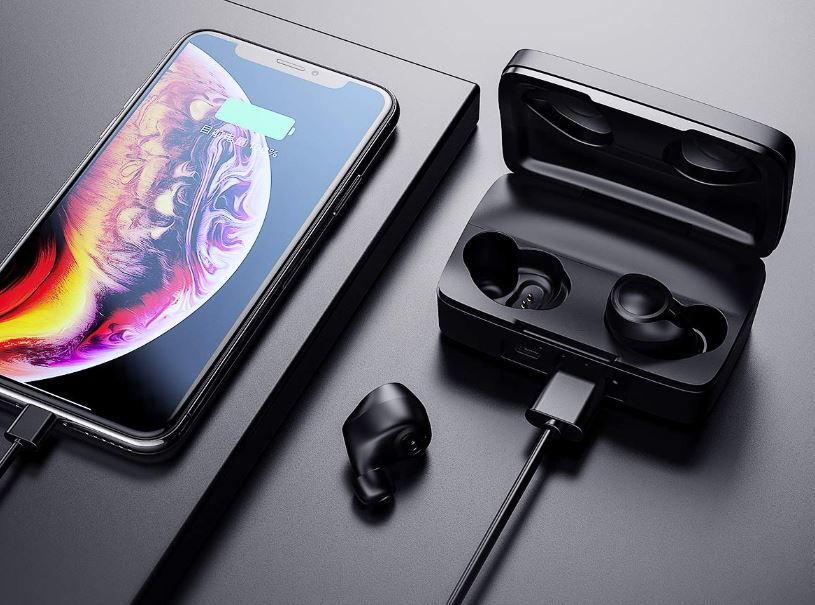 Durability
One of the favorite features of the ENACFIRE Future Plus Earbuds is that they're fully IPX8 waterproof. What exactly does this mean? IPX8 is one of the better, more-impressive ratings that electronics can have. It means they are fully sealed and rated for submersion in water. In other words, you can take them underwater. How deep? Well, that's not specified by ENACFIRE, but we can assure you that they're at least suitable for up to 3 feet (1 meter) of depth. We used them in a swimming pool and found that they worked just as well in the water as they did out of the water.
While we didn't test the actual depth where they'll take-on water, we love knowing that they're sealed-up from any sort of ingress of water, dust or grime. It's pretty impressive if you ask us. Having the ability to take them swimming or in the bath tub is pretty awesome, and not the norm for earbuds in this sort of price range.
Final Thoughts
We've reviewed hundreds of different pairs of headphones and earbuds on NerdTechy before. Some are obviously more impressive than others, including the ENACFIRE Future Plus Wireless Earbuds. They've got every feature we could realistically ask for, and they don't seem to make overzealous claims about what they're actually capable of.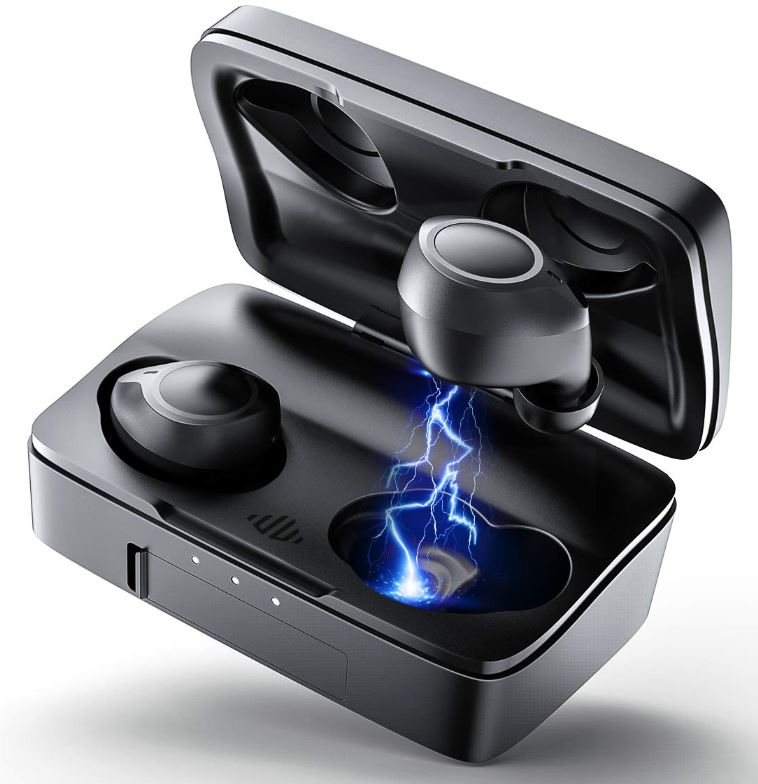 Yes, we found some limitations in audio quality – particularly bass at high volumes, but this is typical of most any earbud on the market. Earbuds are well-known to provide many benefits, especially as far as portability goes, but they're not always capable of studio-quality sound. The Future Plus boast clear and rich audio in most scenarios, and excel when it comes to working out or on the go listening.
Their durability is impressive, the sound is nice, and the battery life (with the charging case) is superb. Needless to say, we really fell in love with them and wouldn't hesitate to recommend them to anyone.
Best of all, ENACFIRE offers a 90 day money back refund without having to give them a reason for your return. Additionally, they're covered by an 18 month warranty in case they fail because of manufacturer defects. That's a pretty good guarantee.