Scratches are ugly. But sometimes, ugly scratches can be a best case scenario. That's because people drop things, and hand-held devices like the Nintendo Switch are certainly no exception. Whether it's you, your friend, or the neighbor's kid, sooner or later your Switch will take a spill to the ground. What happens then?
If it lands face-down, light scratching is almost inevitable. But the total destruction of the screen is another possibility. It's not that difficult for a fall to permanently damage your devices, which is why it generally makes sense to pick up a screen protector to protect your investment. Whether it's your smartphone, camera, or your Switch, you don't want scratches ruining your screen.
Note: At no extra cost to you, we may earn a commission for purchases using our links. Learn more.
Choosing a Screen Protector
Protecting a Nintendo Switch is actually quite a bit like protecting a smartphone. You want a screen protector that uses an almost edgeless design. Because of how often fingers make contact with the screen, you'll want to think about oil protection and fingerprint-proof designs.
Installation will be a concern, especially bubble-free installation. You'll want to make sure the protection you have is adequate in case the worst were to happen to your screen. And finally, it's worth a quick look whether or not the protector fits aesthetically or not.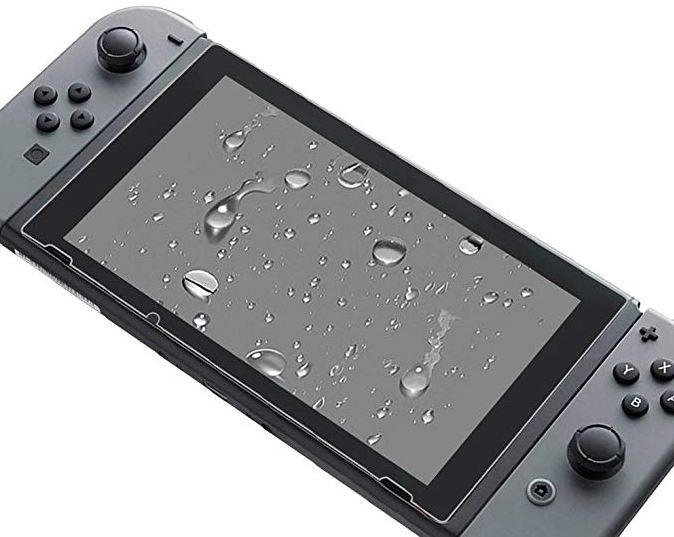 Nintendo Switch Screen Protection
Traditionally speaking, screen protectors are broken into two categories. The first type is plastic. One thing plastic screen protectors have going for them is they're cheap and virtually weightless. And as they get dirty, you can swap them off without having to wipe them down. But plastic protectors are also ineffective at protecting against anything except minor scratches. In the face of sharp objects, the paws of your pets, and short-drops, those protectors do virtually nothing.
Glass protectors are slightly heavier, and marginally more expensive. But glass protection is nevertheless widely preferred by people because its ability to take an impact. Any decent piece of tempered glass should be sturdy enough to survive dropping a hammer onto the glass. A strike from a hammer would likely break the glass, but tempered glass is constructed so that, if it does happen to break, the broken pieces aren't likely to be dangerous.
Tempered glass screen protectors will provide a good line of defense against the kind of everyday scratches that your Nintendo Switch might suffer. Someone places the controller screen-down on a hardwood floor? You're protected. It will even provide protection against screen-down impacts on the floor. But these protectors don't make your Switch invulnerable, and there are some other things you'll need to think about.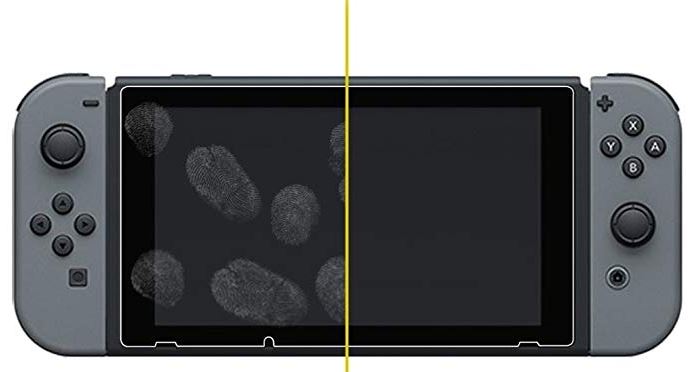 Sensitivity and Compatibility Issues
One problem that plagues smartphone screen protectors is a variety of knock-off protectors being sold for phones they're not made to fit on. Fortunately, that isn't nearly as much of a concern for Nintendo Switch tempered glass screen protectors because there aren't hundreds of different sizes of Switch.
One Switch-specific concern to be aware of. Some brands claim they're glass, but are actually a hardened plastic. The general toughness of plastic, even thick plastic, pales in comparison to glass. Moreover, plastics will have worse light transmission out of the box, which will get even worse as scratches begin to accumulate.
The Switch is half controller, half display. You don't want your screen to be less visible just because it's protected. Maximizing light transmission between the display and the glass is how you achieve that. For the switch, light transmission should be at 99% or above. That will guarantee the most accurate color transmission, and keep brightness where it currently is.
Other Concerns
There are a handful of other common sense concerns. Does the screen protector interfere with docking the Switch? Protectors which aren't made specifically for the Nintendo Switch are prone to making this kind of error, like when users try to apply a protector they had left-over from their smartphone. Protectors which aren't made for the Switch, or are poorly installed, can easily run into these kind of problems.
Does the protector cause the Switch to gradually heat-up? Adding a thick layer of material to the topside of your devices is going to have the potential of keeping-in a lot of heat. This is especially true of certain plastics which do not transmit thermal energy very well. But thermal build-up can actually be affected by the adhesives used to affix the glass, and even the thickness of the glass. It's something that has to be examined on a case by case basis.
Finally, does it have a matte finish? Alternatively, look for some other indication that the Nintendo Switch tempered glass screen protector is glare-free. Attaching glossy protectors to your controllers is a bad idea. They often look great from afar, but the moment any natural lighting enters your environment, horrible glare is all but unavoidable.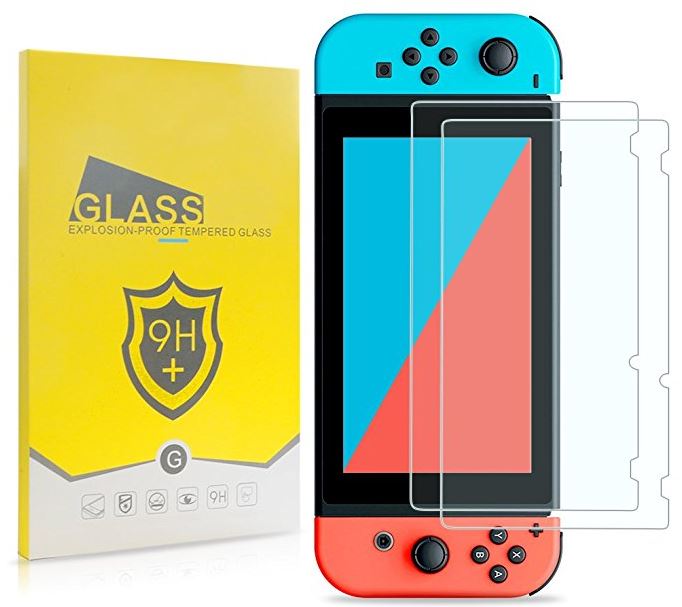 TJS Nintendo Switch Screen Protector
The TJS Nintendo Switch protector is another 2-pack of Nintendo Switch tempered glass screen protectors. Like others, this protector uses a shatterproof, anti-fingerprint, and anti-scratch design. The resulting wide protection for your Switch is pretty tough to emulate at this price.
But some of the most compelling difference with the TJS protector are hard to articulate without use. For example, the slightly different aesthetic orientation of the glass, relative to the ivoler protector (see below). These kind of minor aesthetic differences can truly matter for people who spend hours using their Switch.
Protection and Installation
Each of the TJS Nintendo Switch Screen Protectors are composed of 0.3mm thick tempered glass. And each uses the same bubble-free sticky adhesive, and provides protection that's been rated at 9H. It also uses the anti-fingerprint design you want from finger-contacting screen protectors, which is the result of an oil-resistant spray applied to the surface of the glass.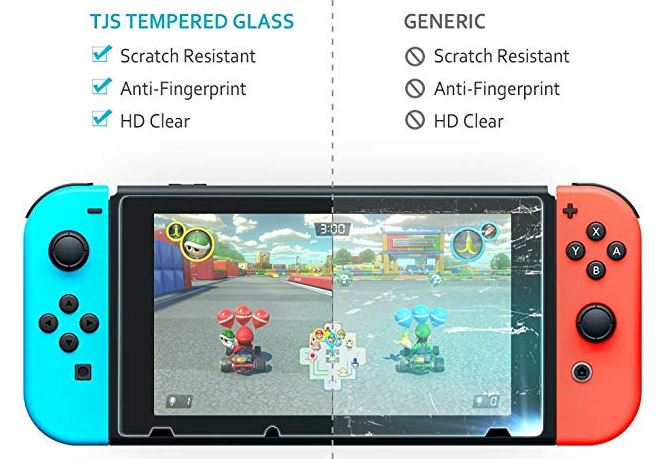 Installation is actually rather easy because this protector was built to fit precisely over the viewing screen on the Nintendo Switch. Installation for these kinds of things can often be frustrating and frankly difficult. But the TJS Nintendo Switch screen protector is fairly simple to align along the top and base of the Switch.
Much of the simplicity is due to factors shared by all glass screen protectors, like the rigidity of the glass as you're lowering it in place. But some this simplicity is unique to the TJS Nintendo Switch Protector, as the design of their glass clearly implies the way which it should be rested on the Switch, leaving little room for misinterpretation or mistakes.
Other Considerations
Apart from two Nintendo Switch screen protectors, TJS includes a pair of alcohol cleaning pads, microfiber cleaning cloths, and dust removal stickers. That's everything you need to make a bubble-free and seamless installation. Once it's in place it takes essentially no time to adjust to, the protector blends in so effortlessly it almost seems like there's no visual difference on the Switch.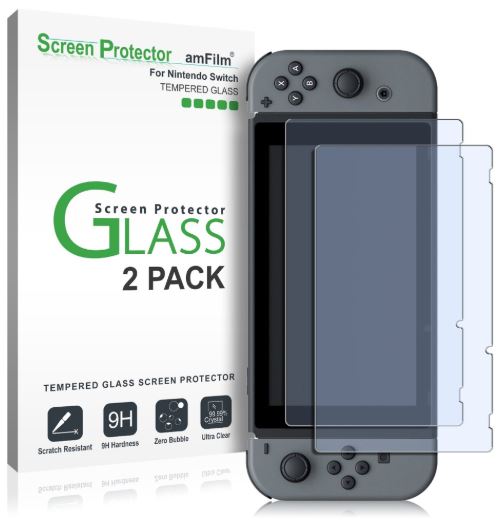 amFilm Tempered Glass Screen Protector for Nintendo Switch
There actually aren't that many screen protectors made specifically for the Nintendo Switch, and certainly few worth using. But the amFilm Tempered Glass Screen Protector is certainly worth a look. As with the other two members of this list, this protector provides the same high transmission of light for clear visual presentation, and all the necessities for a clean installation. But it also provides a slightly thicker option for protection, useful for those who want as much protection as they can get.
Protection and Installation
The amFilm Tempered Glass Screen Protector is constructed from thick tempered glass, laser cut to 0.33mm. It's made to provide 99.9% transparent viewing, allowing you to maintain the natural view of the Switch without marring the presentation of colors or brightness. And it's 9H hardness is further marked with oleophobic coating on the glass to make fingerprints easier to manage.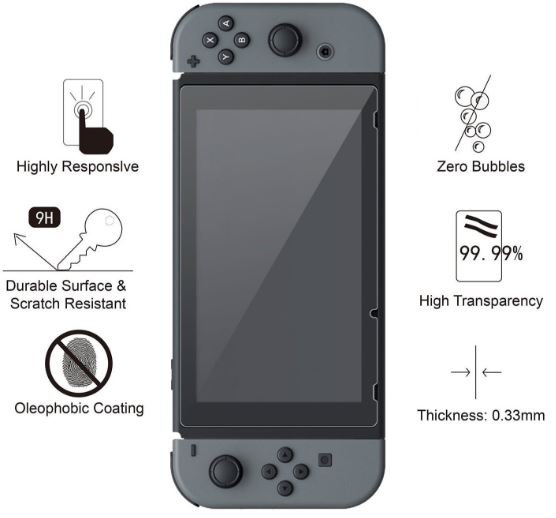 The slightly extra thickness makes for a highly durable protector that's heavily resistant to scratches. And that thickness does make the amFilm protector easier to hold steady in your hands. But you don't need to rely on having exceptionally steady hands to make your installation. The amFilm protector includes hinge stickers, a use guide, and a squeeze card. Those hinge stickers can work as installation handles on either side of the protector, which allow you to easily line-up and lower the protector onto the Switch.
Other Considerations
The amFilm kit includes a pair of two screen protectors, wet wipes, and micro-fiber cleaning cloths. That's everything you need to clean, prepare, and install, and maintain a protector on two separate Nintendo Switch screens. The extra thickness of the glass is small enough to not make an aesthetic impact on the amFilm screen protector, but it may be worth noting it does feel marginally heavier.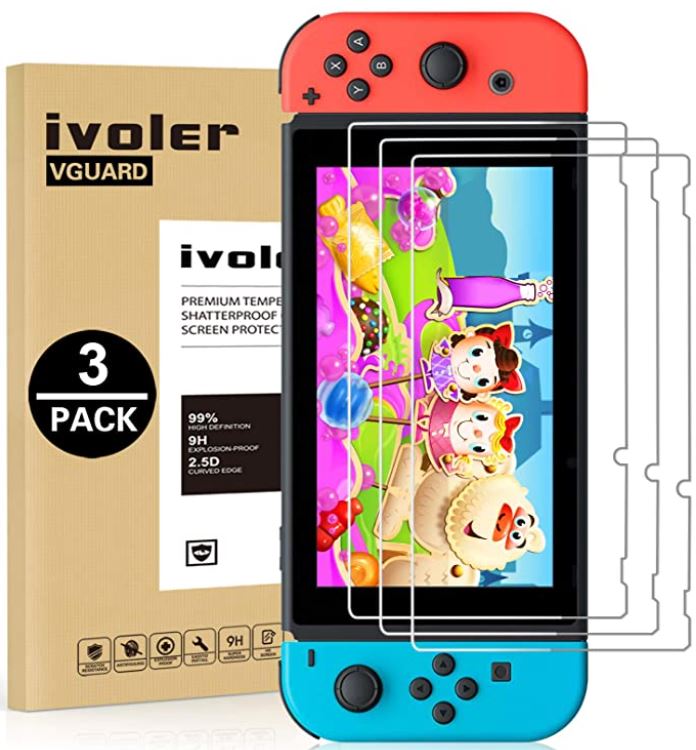 ivoler Tempered Glass Screen Protector for Nintendo Switch
The ivoler Nintendo Switch protector has several things going for it. Most importantly, it was made specifically for the Nintendo switch. The protector is composed of tempered glass, which is laser-cut for the kind of precise fit and protection needed by vulnerable devices. And this is a 2-pack, offering protection for two screens, or one backup.
Protection and Installation
This protector measures 0.3mm thick. That's about 15% thicker than the kind of screen protectors typically used on smartphones. Much like smartphone protectors, this Nintendo Switch protector makes use of 9H hardness glass. It's enough to hold up under the typical amounts of strain and stress you'd expose your touchable electronics to, and survives unscathed from fairly steep falls.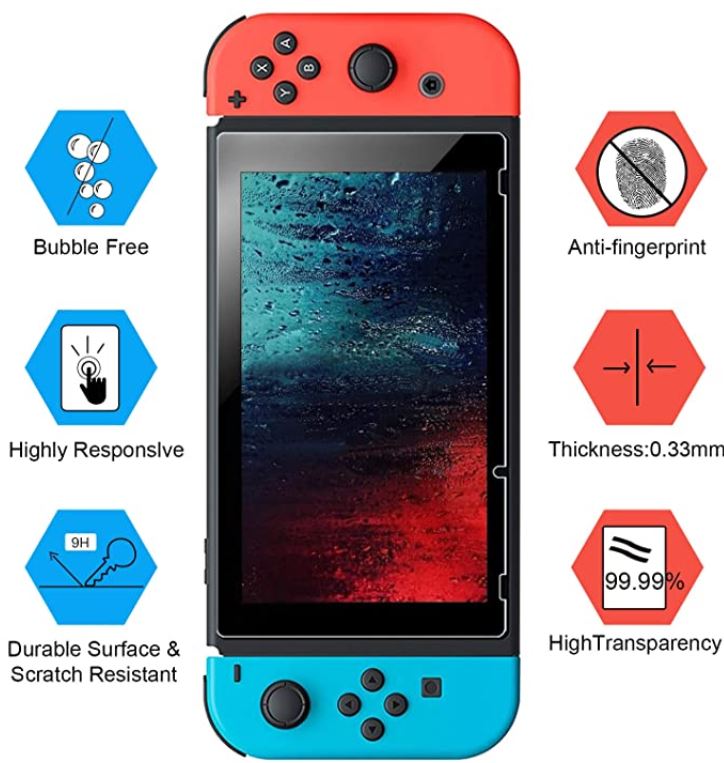 Installation of the ivoler protector is actually rather simple. You just peel off the backing of the protector, line it up with the Switch, and then press it down firmly. What smooths out the process is the thickness of the protector ensures it doesn't bend or flex beneath your grip.
Once the glass in installed, the touchscreen maintains accuracy, and sensitivity within response. The glass allows 99.9% transmission to maintain the HD clarity of the Nintendo Switch. And the scratch-resistant design allows for that clarity to stay crystal clear for as long as the protector is in place. The 100% bubble-free adhesive is easy to install and remove, though it does take some cleaning to get off the face of your Switch.
Other Considerations
The ivoler Tempered Glass Screen Protector is covered with an anti-oil spray which allows you to wipe away oil, sweat, fingerprints without leaving streaks behind. It also includes a microfiber cloth, alcohol wipes, and instructions. And ivoler offers a lifetime warranty along with their screen protector.
Choosing Between 3 Nintendo Switch Tempered Glass Screen Protectors
The ivoler Tempered Glass Screen Protector is your best budget oriented option. It's one of the cheapest Nintendo Switch screen protectors that's actually made of tempered glass. While they don't mention it in their advertising, this kit does include all the installation materials necessary for a clean install. It's got more value than you'd expect.
By a small margin, the amFilm Tempered Glass Screen Protector provides the most protection of any screen protector in this list. The slightly thicker glass comes with everything else a screen protector needs, from resistance to fingerprints to accurate color transmission. It's a good choice for just about anyone looking for protection on their Switch.
And the TJS Nintendo Switch Screen Protector is a good choice for people who are nervous about making a clean installation. The hinge stickers make it almost error-proof, and the adhesive is willing to give you a couple of tries. They've also provided a wealth of alcohol wipes, cleaning cloths, and everything else you need to get started.
Please consider sharing:
Note: At no extra cost to you, we may earn a commission for purchases using our links. Learn more.