The past few years have brought a revolution in earbud technology. Not too long ago, all good earbuds were wired. The reason for this was that older Bluetooth technology only allowed for a low-bitrate, mono signal. When Apple CEO Tim Cook announced that the iPhone 7, many technology writers scoffed. At the time, using wireless earbuds with an iPhone was like putting cheap house paint on a Ferrari. But Apple wasn't whistling in the breeze. They were taking advantage of a new technology, true wireless stereo (TWS). With TWS, wireless earbuds were now capable of quality, stereo sound.
Fast forward a few years, and wireless earbuds are nearly ubiquitous. Most manufacturers have even stopped making high-quality wired earbuds, and the market has totally reversed. If you want to buy a good set of earbuds, wireless is the only way to go. But not all wireless earbuds are well-engineered. A lot of them are cheap knockoffs that we wouldn't inflict on our worst enemies.
Today, we'll be looking at one of the better pairs, the Aukey Key Series T18NC True Wireless Earbuds. Aukey is a brand that's well-known for manufacturing high-quality electronics, so our expectations are high. We'll take a look at all the various features, from the construction to the battery life to the sound quality. Along the way, we'll tell you everything you need to know about these hot new buds.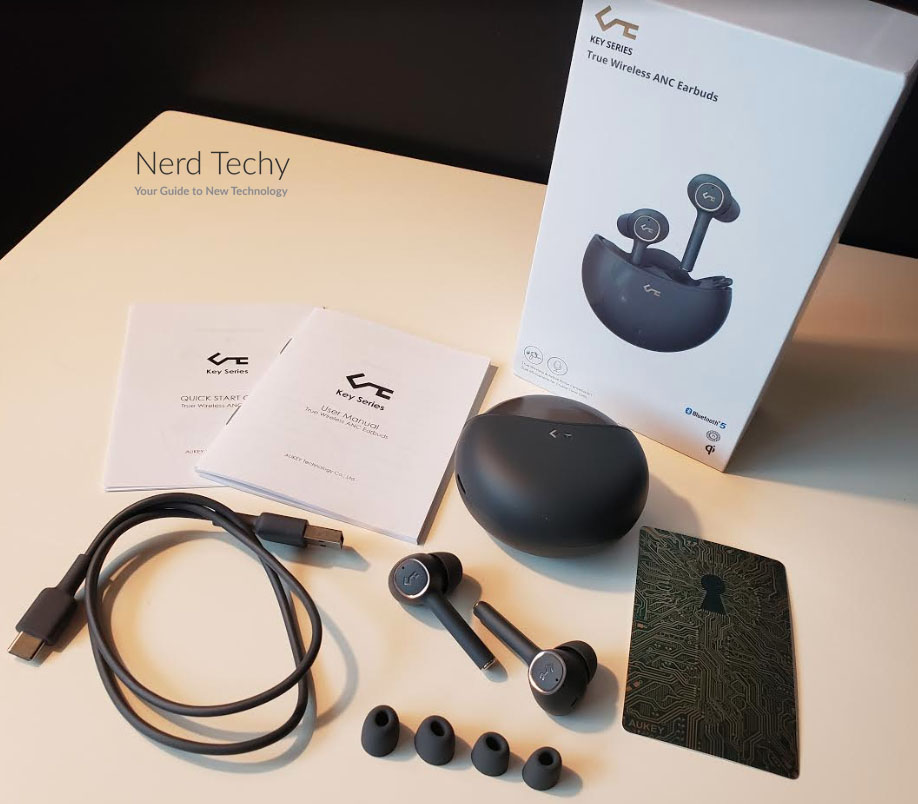 Design & Construction
The Aukey Key Series T18NC True Wireless Earbuds have a design that's very similar to Apple Airpods. They have an oval-shaped driver with extended ear tips that are designed to seat firmly in your ear canals. The batteries extend about ¾ of an inch down from your ears, with aluminum bottom caps. The rest of the construction is matte black ABS plastic, with a gold Aukey logo on the back of each bud. The logos double as soft-touch buttons, which allow for comfortable control because you won't have to press hard. The buttons can be used to play and pause music, answer or end calls, and skip tracks with a double-tap. The functionality is relatively limited, but it means you can use either earbud to perform any control action.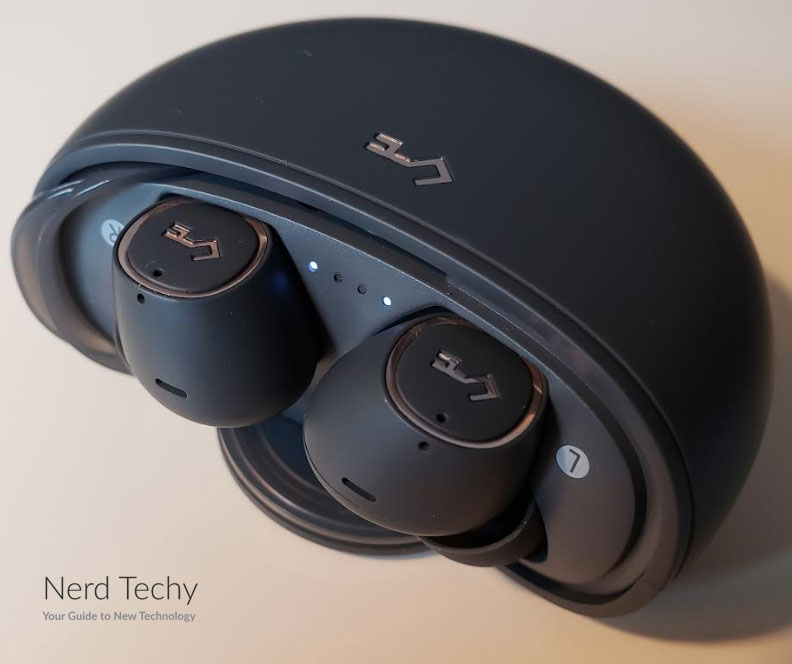 The T18NC earbuds are IPX-6-rated for water-resistance, which means they can stand up to rain and sweat. Wear them on your workout or take them for a run in the rain and you'll be just fine. You can even wear them in the shower if you so desire. They include 3 sets of silicone ear tips, so it's easy to find a secure fit. This is probably the first thing you should do, since a good fit provides better noise cancellation. It also ensures that your earbuds won't drop out during physical activity. If you want an even better fit, consider the Aukey Key Series EP-B80 earbuds. They ship with 6 sets of ear tips, including memory foam tips. The balance armature drivers are a bit quirky, though, and not everyone will like the sound.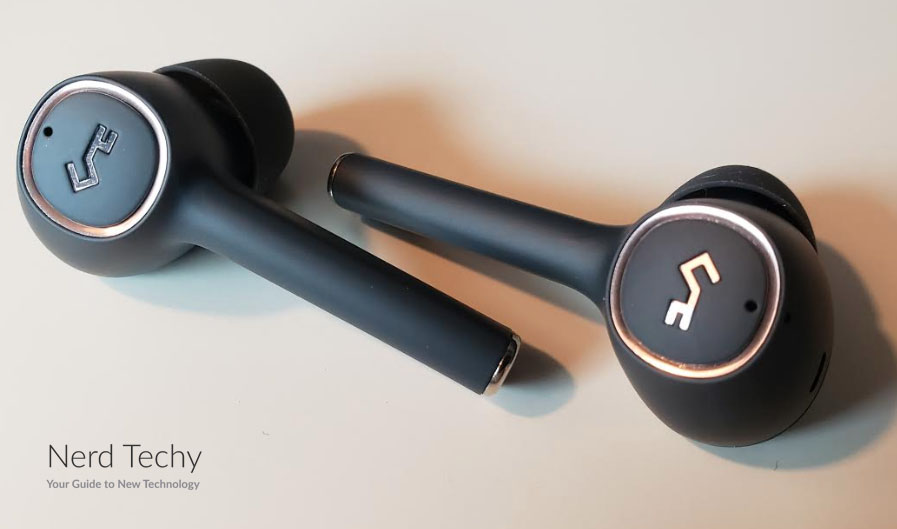 The ABS plastic case has a matte black finish that perfectly matches the earbuds, right down to the Aukey logo. It's shaped like a hockey puck, 2.8 inches in diameter and 1.4 inches thick. The earbuds drop into deep wells, with the battery contacts pointing downwards. The top of the case has an innovative design, with a rotating, semi-transparent lid that opens easily with one hand.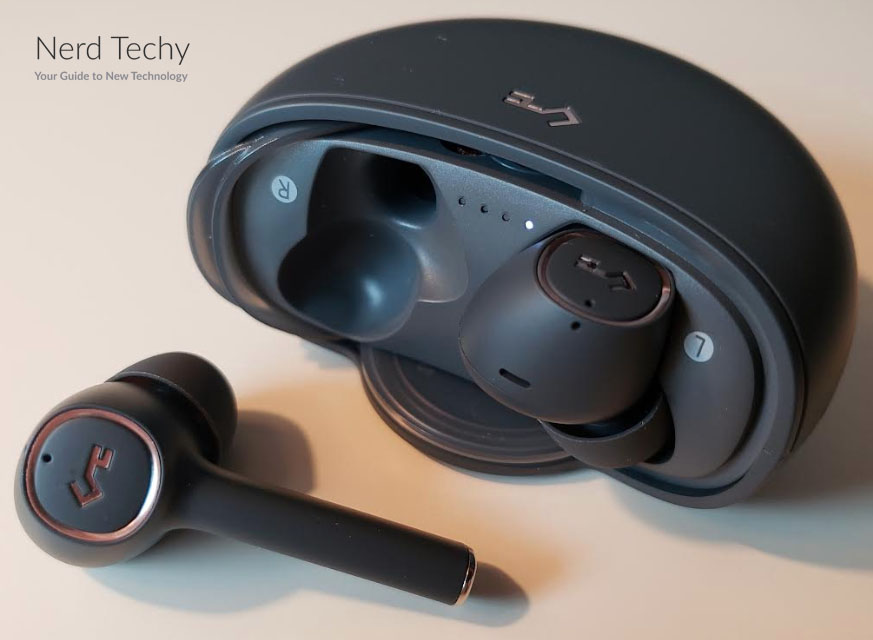 Between the charging wells, there's a row of 4 LED lights that indicate the charge level. The overall weight is 9.6 ounces, which is about what you'd expect for a well-engineered case. In addition to the case and the earbuds, you also get a 2-foot USB Type-C charging cable. The T18NC earbuds come with a 24-month warranty, one of the best in the earbud industry.
The one disadvantage of wireless earbuds is that they're easy to lose. For some people, this isn't a problem. But if you have a tendency to lose small objects, you might want something that's easier to keep track of. In that case, consider the Aukey Key Series B60. These earbuds have a neck strap design, so they're connected and harder to lose. That said, the drivers are only 6mm in diameter, so the sound quality isn't that great.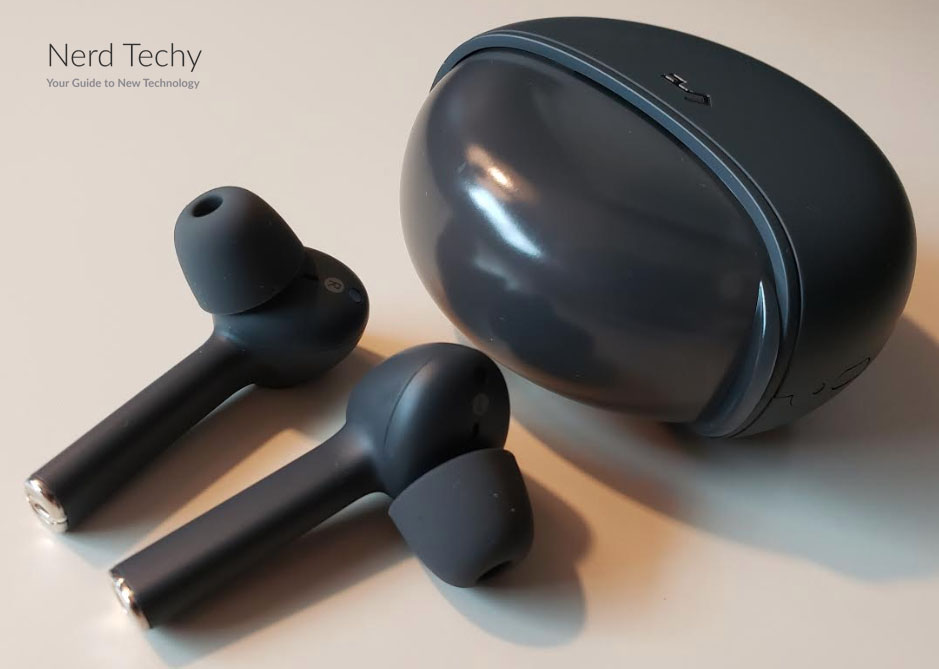 Charging & Connectivity
Even the best earbuds won't do you much good if they have a paltry battery life. With the T18NC, you won't experience any of these issues. They offer an impressive 7 hours of battery life from a single charge. This allows you to wear them all day without topping them off. Take them on your morning run, wear them on your commute, and they'll still be pumping when you get home. This is better performance than you'll get from the majority of wireless earbuds on the market. We should point out that this is a manufacturer rating, based on testing at half or three-quarters volume. At full volume, you should depend on getting 5 or 6 hours, depending on conditions.
The charging case holds enough juice to provide an additional 17 hours of listening time. This extends your total battery life to 24 hours. In total, charging the earbuds takes about an hour. However, you can get 2 hours worth of playtime on a 10 minute quick charge. This is a great additional feature if you forgot to charge your batteries overnight. Throw them in the charger while you make your coffee, and you'll be ready for your morning run. The charging case itself will charge in about 2 hours via USB Type-C. You can also charge the case wirelessly with a Qi charger, although this will take a bit longer.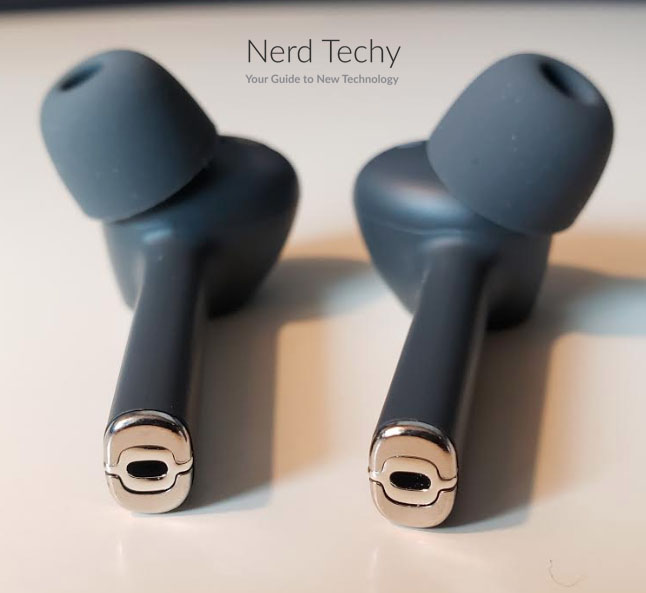 If you like the T18NC's battery life, but you want a smaller form factor, there are other options. For a quality choice, read our review of the Aukey T10. It has similar battery life with a smaller size, but the drivers are correspondingly smaller.
The T18NC connects to your devices via the latest Bluetooth 5.0 protocol. This is an upgrade from the older 4.2 protocol that connected many older wireless earbuds. It allows for higher bitrate audio, as well as more stability than the older protocol. This results in fewer dropped calls, as well as better sound quality. The only downside is that the range is limited to 33 feet, compared to 66 feet for Bluetooth 4.2. That said, 33 feet should be more than enough for most people. It's sufficient to leave your phone on your desk and walk into the next room. That's all you really need under most circumstances.
The T18NC earbuds can also connect individually, as well as in a pair. A single earbud still allows you full control, while providing much better situational awareness. Obviously, you won't get great music quality, since you'll only have one channel. But audiobooks, podcasts, and phone calls will come through just fine. If you spend a lot of time walking in public places, you'll appreciate this feature. It also lets you use your earbud for hands-free calling while you're driving.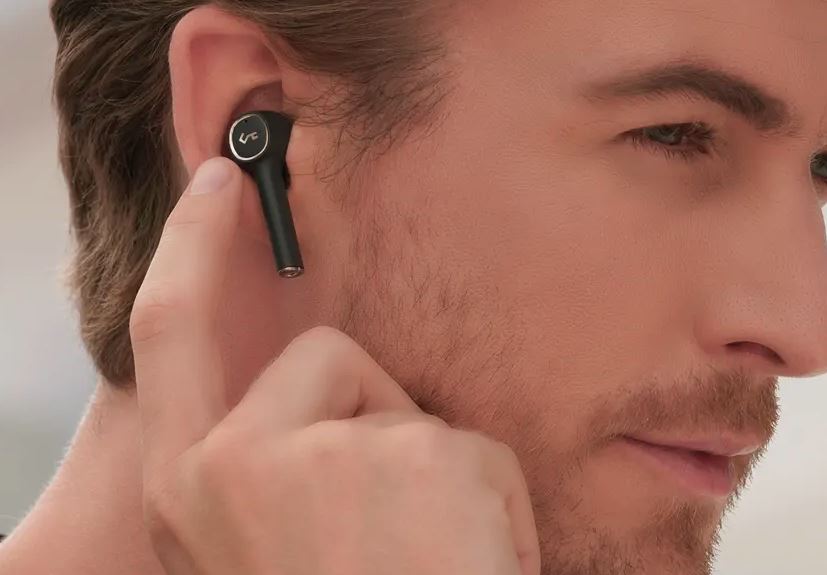 Sound Quality
The T18NC's drivers measure an impressive 13mm in diameter. This is significantly larger than your average wireless earbud driver, which typically measure about 7mm in diameter. In addition to being large, the diaphragms are also coated with titanium. This combination provides for excellent sound quality across the entire spectrum. Highs are crisp and clean, with plenty of shimmer. Cymbals, strings, and other high-pitched instruments will come through very clearly. The mids have plenty of separation, so you won't hear any distortion on the vocals.
So far, so good. But the T18NC is a premium pair of earbuds, and even low-quality buds can provide decent highs and mids. Where these earbuds really stand out is the quality of the bass. Deep drums, synths, and bass come through with plenty of punch. If you're an audiophile or dance music enthusiast, you're going to love these earbuds.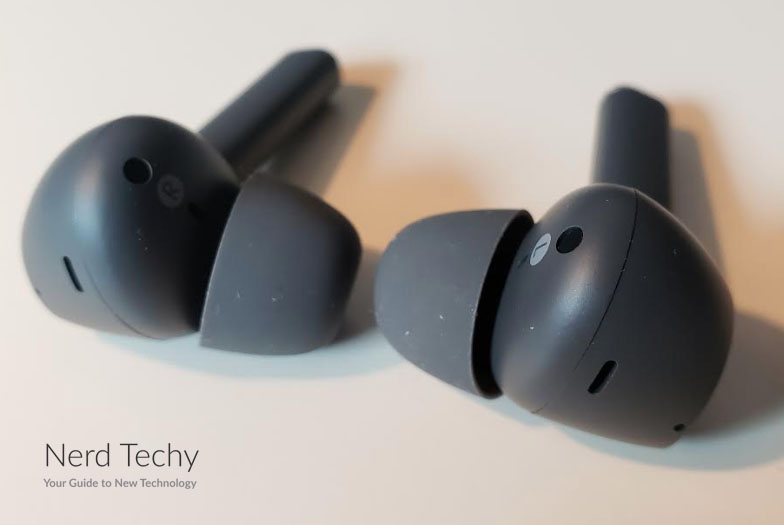 In addition to the excellent sound quality, T18NC buds come with active noise cancelling technology. This option is activated by default, and without it, you'll hear a lot of background noise. Also, keep in mind that you need a good seal for the ANC to work correctly. This is another important reason to get the correct fit when you first receive your earbuds.
When it comes to call quality, the T18NC also performs very well. You'll hear the other person very clearly, depending on their microphone quality. On their end, they'll hear you very clearly. The T18NC features dual-mic active noise reduction to limit background noise. As its name implies, this technology largely relies on getting 2 signals from the pair of earbuds. As a result, the mic quality will drop significantly if you're only using a single earbud.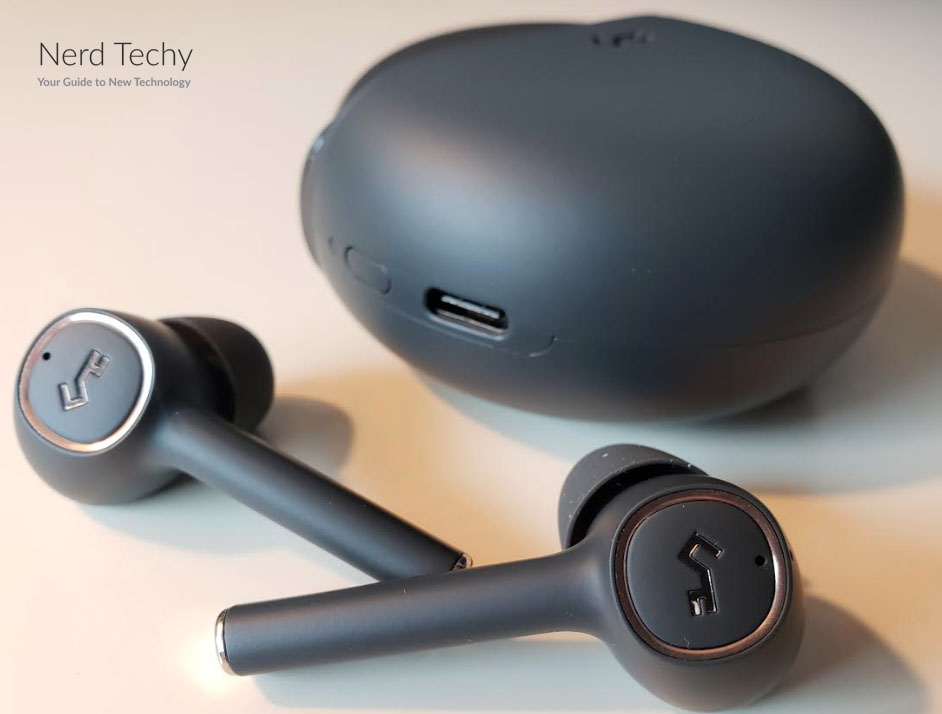 Final Verdict
So, how do the T18NC earbuds compare? In the end analysis, they're an excellent, premium pair of earbuds. The price point reflects that, but if you're a serious audiophile, the price is well worth the investment. The most obvious reason for this is the bass quality. The 13mm titanium-coated drivers provide better bass than you're going to get from most other buds. If you want punchy, high-quality bass, the Aukey T18NC True Wireless Earbuds are a fantastic choice.
The rest of the sound quality is excellent as well. Highs, mids, and phone calls all come through with plenty of clarity and vibrancy. The battery life is also good. To be sure, there are some longer-lasting earbuds on the market. But for just about any purposes, 7 hours is plenty of battery life for a single charge. The ear tips are comfortable, and make a secure seal when they're properly fitted. The construction is well-engineered enough to take a beating, and is also water-resistant. The case is also innovative, with a portable design that we really liked.