The wrong pair of earbuds can be really good at wasting your time. Making you untangle cords, having you struggle to skip around tracks or raise the volume, or otherwise force you to micromanage the battery. You might encounter issues with sync between the earbuds and a video you're watching. There's about a million places where something can go wrong.
But getting the right pair of earbuds isn't actually that tough. Provided only that you have a decent idea of how you intend to spend the bulk of your listening time. In other words, are you actually going to use your earbuds for athletics? Or are you mostly going to be sitting on planes or standing in line?
AUKEY Key Series B60 Wireless Earbuds
Cutting right to the chase, the AUKEY Key Series B60 Wireless Earbuds were made with an athletic design. Every pair of earbuds has to undergo some kind of tradeoff in features, especially if you're not willing to spend up around $300. These earbuds actually sacrifice a great deal of versatility in order to push their athletic orientation as far as possible.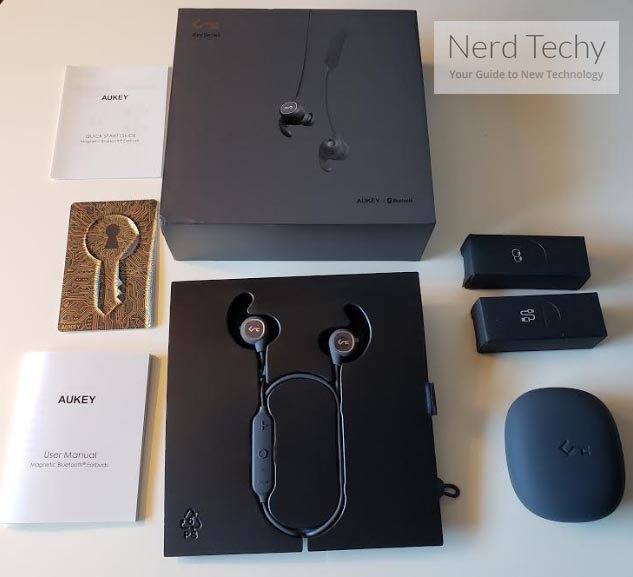 Their wireless connectivity is modernized, their comfort options are about average, and their general design is pretty solid. Often times in a literal sense, given how sturdy these earbuds were made. However, there are a number of places where they might be improved. It's somewhat confusing why they didn't use tangle-free cabling, for instance.
With that said, the B60 are certainly not the right earbuds for everyone. But they do certainly have a large niche, and if you can forgive their faults, they do have some unique stuff to offer as well. At least, unique relative to similar wireless earbuds.
Design of the Earbuds
The B60 Earbuds make use of a button-free on/off switch. That's possible because like many athletic earbuds, these earbuds are built with a tiny magnet on the outside of each bud. The magnet helps those earbuds clasp together while not in use, making them far easier to carry and manage.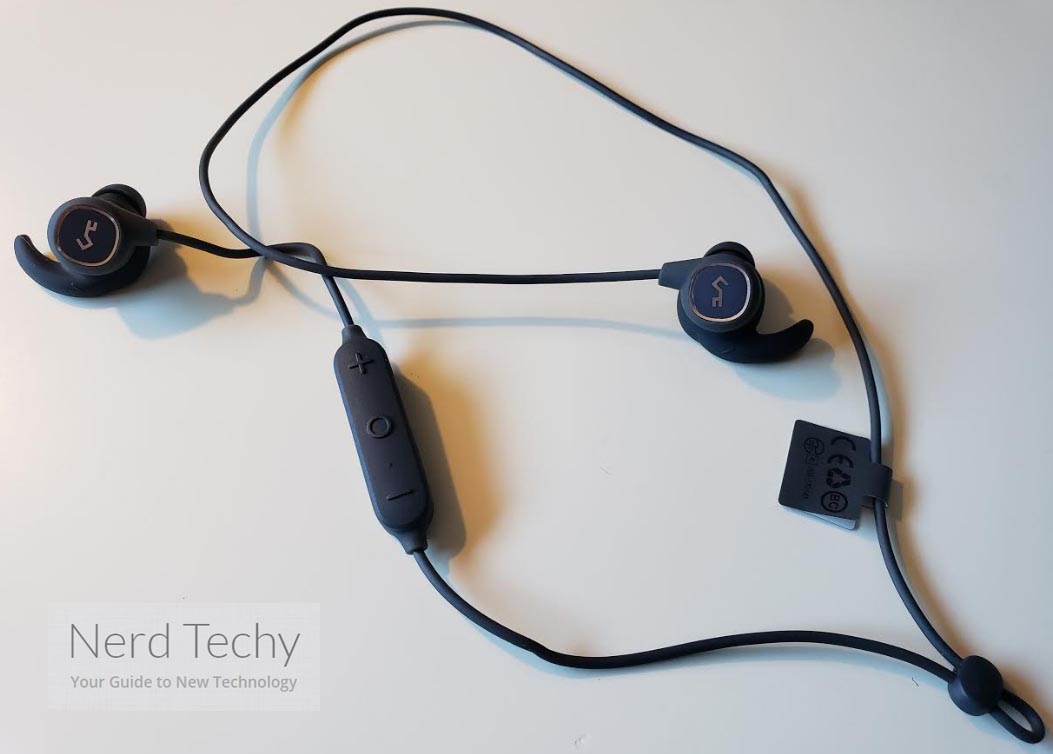 Want to start using your earbuds? Supposing that they're magnetically latched together, you just separate one bud from the other, and they'll turn right on. When you're done listening, clasp them back together, and they'll turn right off. Pretty intuitive, right?
But it does mean you want to watch out for instances where the earbuds accidentally are unclasped or pulled apart. Because it means they'll flip right on and start draining your valuable battery. But if you've ever used similar earbuds before, you'll know that the strength of the magnet here isn't trivial, so those types of scenarios aren't likely to occur without a little carelessness on the part of the user.
Of course, there's more to controlling a pair of earbuds than turning them on and off. You're supposed to manage the rest of the B60 through the in-line control. It would have probably made more sense to combine the touch-free on/off control alongside some voice controls, so you could ditch analogue interfaces entirely. But that sort of thing would've raised the price of these headphones a tad more, and many people prefer having an in-line controller anyway.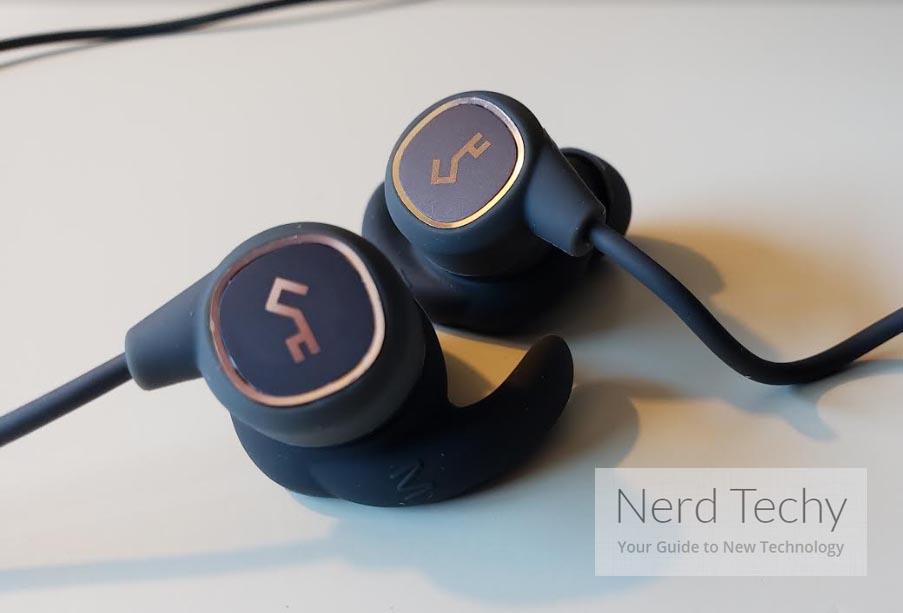 Speaking of, the in-line control is a tad bulky, which makes it a little unwieldy when you start running with it against your body. But the slightly larger size does make it a little easier to operate without looking. On the side of the panel, you can pop-open a hatch to start charging the earbuds with a micro USB cable. And on the face of the panel, you'll find only three buttons and one small LED.
The small LED is there to let you know about the battery status of the B60, it really only comes online when it's time to start recharging your stuff. Similar to many other devices, on either end of the in-line controller, you'll find buttons that allow you to raise or lower the volume, and skip between tracks. With the button in the center of the console, you can manage calls or play/pause music. A fairly intuitive layout. If you're someone who prefers in-line controls, this one will probably meet with your approval.
Resilience & Style
An IPX6 waterproofing certification ensures these earbuds are fairly resilient. That basically means there's a good physical seal standing between your sensitive electronic parts and the ingress of water. Consequently, you don't have to worry about sweat or rain, which makes them quite useful for taking on the go without having to babysit them.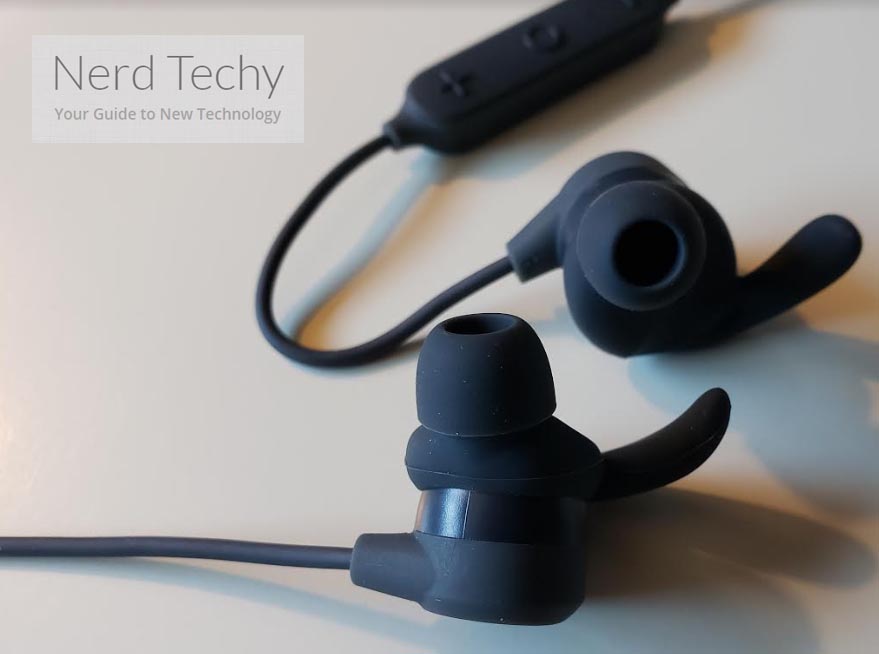 At the same time, the IPX6 certification doesn't mean these earbuds are ready for submersion. You'd want to think twice before showering with them, and certainly wouldn't want to take them into a pool. Should they become dirty or muddy, you'd want to clean them up with a damp cloth rather than putting them under the faucet.
From a style perspective, these earbuds probably aren't going to be turning any heads. They've got a pretty ordinary looking matte exterior, highlighted only by the Aukey golden key logo. That bland professionalism is exactly what a lot of people are looking to find, but if you're someone trying to find headphones that just ooze style, these are not it.
Battery Lifespan
The B60 Wireless Earbuds are able to deliver eight hours of audio playback from a full charge. In more concrete terms, that works out to something like 120 songs, or about ten albums in a row. Pretty lengthy, certainly more than most people will need from a single session.
For someone who finds themselves in a rush, it takes about 10 minutes of charge time to deliver around 80-minutes of playtime from the battery. That's making a few assumptions. Like it's assuming that you're charging from a device that can actually put out enough current to charge your device in that amount of time, and it assumes you're using the included USB cable that can accommodate these quick charge features. But provided you're not trying to recharge from a weak outlet, those are safe assumptions to make.
For getting a full charge, you'll find the process takes closer to 90 minutes. Again, that depends on a bunch of different variables. But the 90-minute estimate is pretty close to accurate. Once you're charged up, these earbuds provide several weeks of standby time. Though if you do plan on going weeks without using them, there are some things you'll want to do to help preserve their battery. You can learn more about that in the user manual.
Audio Quality
It can be tough to get high quality audio from small audio drivers. The Key Series B60 are constructed with tiny 6mm dynamic drivers. And if you're familiar with what 6mm drivers sound like, you'll also understand the B60 are not an exception to the laws of physics. Smaller drivers just can't push out the same kind of sound as larger ones.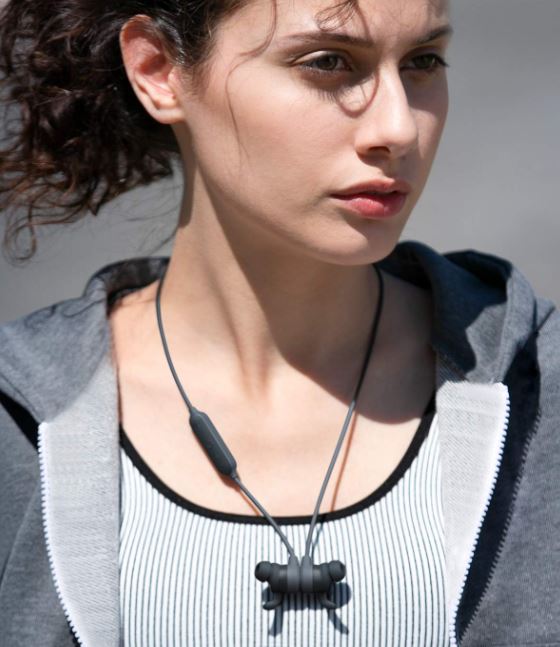 Which isn't to say the B60 sound bad. Far from it, these earbuds work excellently for the kinds of music people tend to listen to while working out. It's just they also sound pretty much like a thousand different pairs of earbuds out there right now. Their audio quality isn't distinct to the AUKEY brand whatsoever.
From an experiential perspective, the Key Series B60 Wireless Earbuds have their sound largely defined by deeply enhanced bass. Rather attempting to achieve a balanced sound, they've worked to push the bass to its limits. Even though those limits aren't very high, given the 6mm nature of these earbuds, they do end up doing a very good job of making an athletic-friendly soundscape.
But suppose you're not listening to the kind of upbeat and energetic music people tend to listen to while working out. That's when these earbuds start to sound extremely average, and totally indistinct from about a hundred other pairs.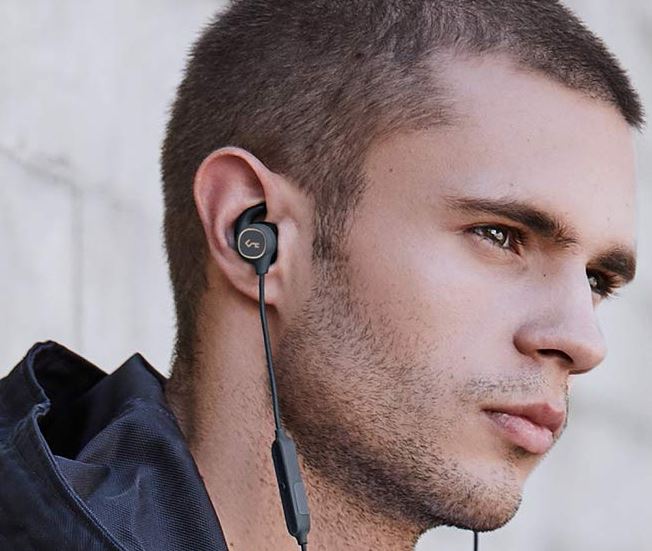 Comfort Considerations
People who are concerned about having their earbuds pop-out during exercise are often forced to turn towards over-ear hook headphones or similar variants. But the B60 do a marvelous job of staying in position without much additional help. They do that by making use of in-ear hooks, which press against the inside of your ear bowl. It's a non-invasive alternative, and it is equal parts comfortable and secure.
One room for complaint is that the Aukey B60 includes only two pairs of ear tips. That's not much of a problem because it still means about 95/100 people should be able to get the right fit. And it is only people who've had issues finding good fits before who will really struggle here. Assuming you're among the 95% who can typically find a good fit from just two pairs, you'll appreciate the B60 earbuds also include a pair of two in-ear hooks you can choose between.
Again, these hooks don't actually wrap around and over the ear, rather than push gently against the inside of the inner ear. So taking the time to choose the right size can actually make a big difference, and it's a difference that many types of similar earbuds don't let you explore because usually you only get one set of tips. The B60 gives you a little bit of wiggle room, and that's great.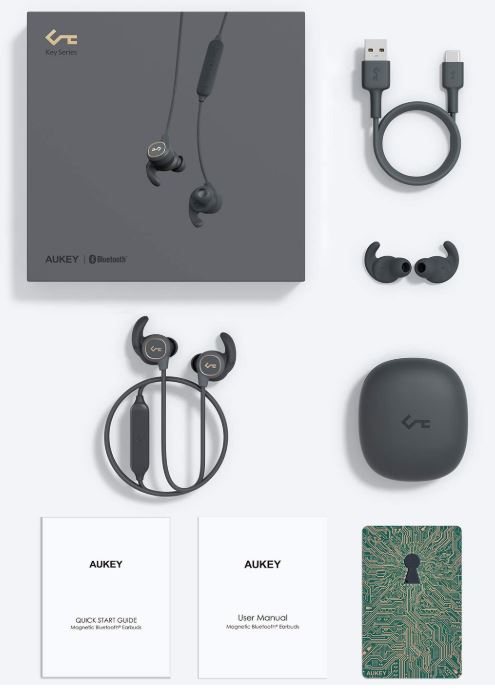 Wireless Connectivity
AUKEY Key Series B60 Wireless Earbuds make use of Bluetooth 5 for their wireless connectivity. Many of Bluetooth 5's best features are aimed more towards true wireless earbuds than semi-wired earbuds like the B60, but nevertheless you can appreciate the extra boost in signal strength. You can also appreciate some minor improvements in battery performance on account of Bluetooth 5.
However, you won't find much in the way of expanded transmission distance. You're still chained to the roughly 30-feet of connectivity that previous iterations of Bluetooth provided, which is something that's probably for the best unless you actually need to exceed 30ft with your signal.
Other Considerations
These earbuds include the EP-B60 Earbuds, a USB-A to USB-C cable, two pairs of ear tips and ear-hooks, a carrying pouch, user guide, and a two-year warranty.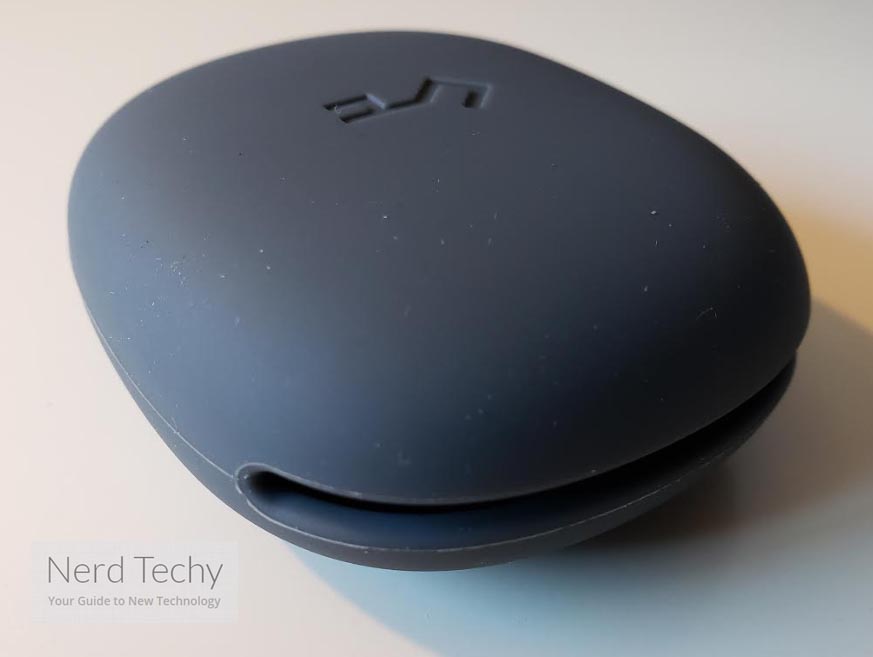 The carrying pouch is slightly more than you might expect. Often times, these types of earbuds just give you some kind of fabric bag. In this case, the carrying pouch is a small soft-shelled case, similar to the kind of thing you might use to store contact lenses. Though it's not a charging case, it does provide enough space to store the B60 and all its extras.
Who Should Choose AUKEY Key Series B60 Wireless Earbuds?
The Aukey Key Series B60 Wireless Earbuds were made for people who plan on being athletic with their audio equipment. These earbuds don't really look very special or distinct, but they're packed with smart design, from top to bottom. And the magnetic power switch is very cool.
Some people will consider this a good thing, some people will consider it a bad thing. But the cable connecting these earbuds is pretty long. It can be managed with a built-in cord clip that helps you effectively shorten the length of the wire. But for people who are hyper-sensitive to this sort of thing, the cable might still feel a little floppy while in motion.
With USB-C charging as a native feature, an above average water resistance rating, an auto-connect feature, and an above average battery capacity, there are plenty of things to like about the B60 Wireless Earbuds. But whether or not you should pick them up really depends on if you're going to use them for athletics or not. If you're going to be a couch potato, or you only listen to slow romantic music while working out, then you would be better off with some different earbuds.