Picking the most appropriate security camera for your own unique circumstances is often much harder than it sounds. You've got to think about how the camera will be getting its power, how it will be saving data, and how you can access your recordings. You've got to think about recording modes, the kind of circumstances under which the camera will trigger recording, and the ease of installation. It can get tricky fast.
Heimvision HM205 1080P Security Camera
Interestingly enough, the Heimvision HM205 is a tad unique when compared to similarly designed security cameras. Because this device is only half-oriented towards security. The other half of its orientation was made to serve as something resembling a household communication device; a sort of fancy webcam that you might use for checking up on pets or kids.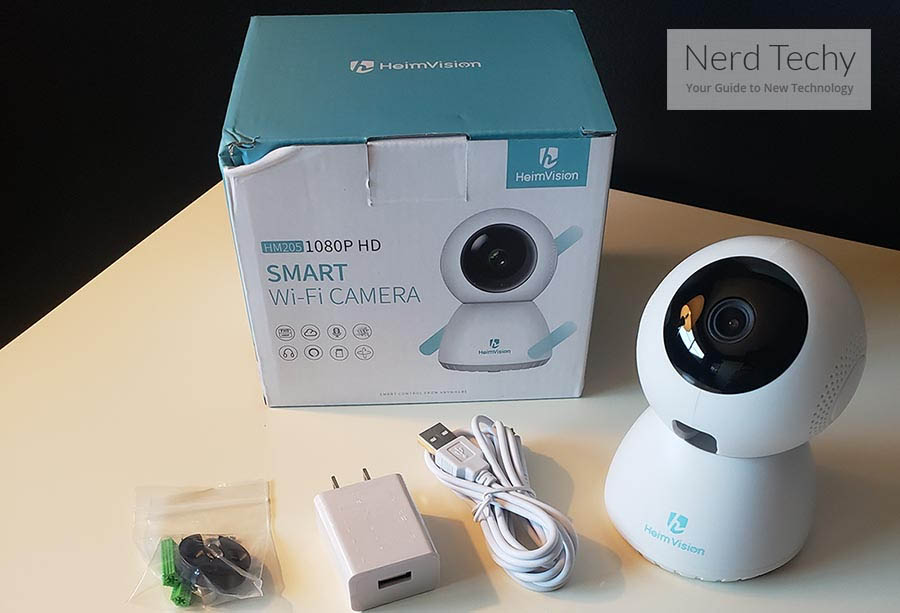 Nevertheless, the HM205 delivers on a number of common sense security features. That includes things like motion sensitivity settings, and the ability to help control those settings in granular detail. It also includes a wide viewing lens. But whether or not these sort of features will work for you really depends a great deal on what you're trying to find from a security camera.
Design & Layout
From a physical standpoint, the HM205 measures roughly 3 x 3 x 4.5 inches. Between the circular head and cylindrical base, it actually comes quite close to resembling a large webcam. And it's not much more difficult to install or positon than a webcam, though this device doesn't provide quite as many options for permanent installation as one might want.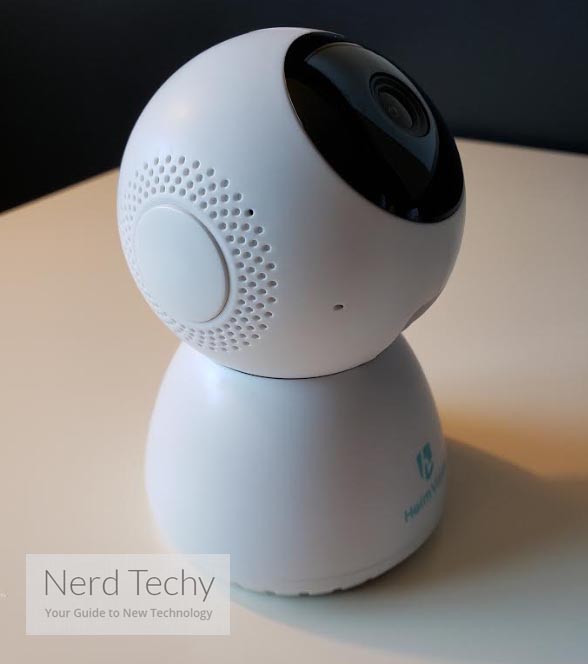 In any case, the HM205 only weighs about five ounces. Even though you're not given a bunch of spare mounting hardware, the lightweight design ensures it's rather easy to get fixed into basically any position where you might want to keep the camera.
One more thing you'll probably want to notice about the exterior of the camera is the bright white chassis. It's certainly not trying to intimidate anyone, like some security cameras try and do. Rather, it looks friendly and approachable, similar to a webcam. And because the lens portion of the device is black, a person can always tell if the HM205 happens to be looking in their direction.
Video Recording
There are things to like about how the HM205 was designed. But sadly, there are also a couple of things to dislike. For starters, the HM205 captures content in 1080p. That's a good start because even though 720p content tends to be passable for security cameras, people are so used to the clarity of 1080p that it's hard for many of us to go back. The HM205 operates with a 2MP camera, which is capable of delivering not only 1080p video recording, but 1080p image shots.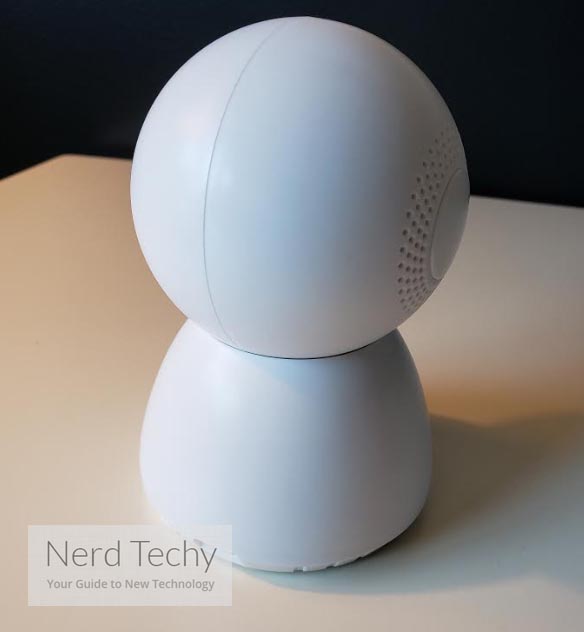 The downside is that your content is captured at a total of 15 frames per second. That's about ten frames per second lower than broadcast television, so the resulting capture looks a bit like a slightly jittery webcam. For most people in most recording circumstances, 15fps shouldn't be a serious barrier. Especially if you expect to record people walking and speaking, instead of vehicles racing by you. That being the case, you're not really going to find fault with 15fps.
Better still, there are advantages to recording at 15fps. Compared to 30fps, the files you save will literally be half as large. That means you can fit twice as much content in your storage drives. Not a bad tradeoff for people who could care less about framerate.
Lens & Angles
Content is captured in a near panoramic view, spanning about 120° around the lens. If setup in the corner of a room, that allows this camera to be able to see essentially every portion of the room from a single shot. In addition to running at 1080p, the HM205 was built to provide a 4X digital zoom. Clearly, that kind of thing isn't intended to help you see things at a great distance. But within a range of 25ft of the camera, it should be more than sufficient.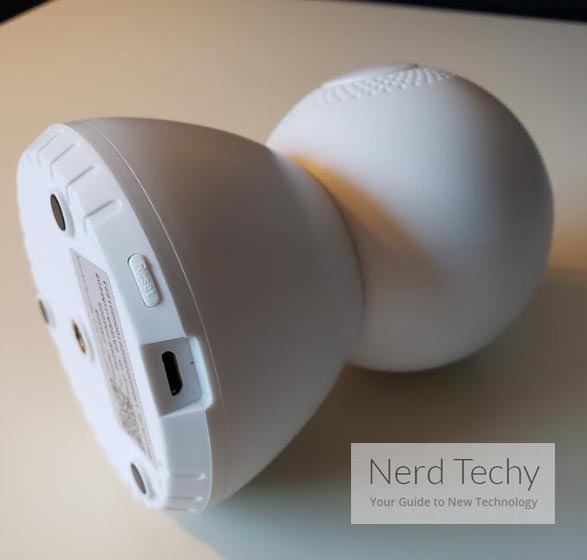 The lens was made to record a nearly complete range of vision around the base, which is why it can pan around 355°. That's basically owl-like vision, where you can turn the camera to essentially any angle to get a better view of what you want to see. The only real restriction here is that you've got the tilt limited to 55°. That means you can't exactly look straight up at the sky.
Night Vision
The night vision is based on RGB-IR, an upgraded design that's supposed to smooth out the transition between day shots and night shots. The resulting night vision looks more like a black and white shot than the bright yellow-green that so many night vision cameras produce. Additionally, the night vision range reaches out to about 32 feet in ideal conditions. If you're peering out into fog or the like, then you may find performance is somewhat worse. But within the 32ft range and given reasonably clear conditions, this night vision performs phenomenally well.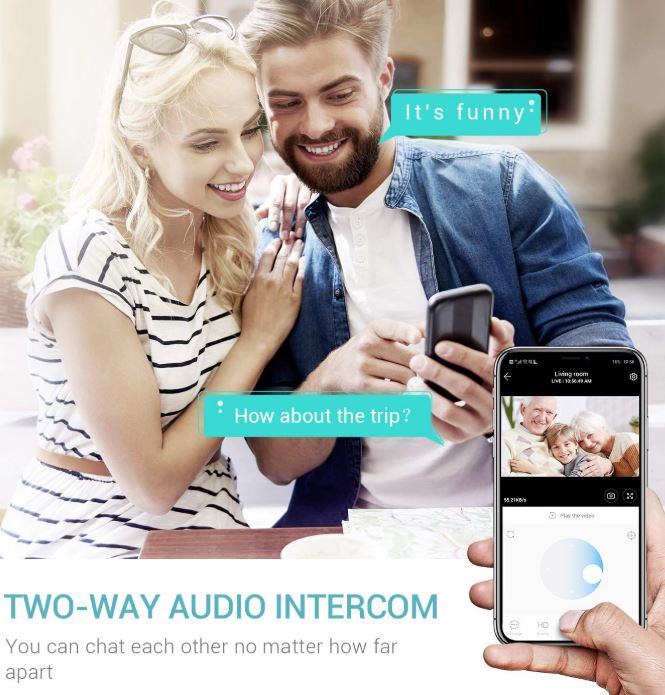 Shooting Features
Similar to other cameras, the HM205 captures motion with a PIR motion sensor. What happens next is totally up to you. If you don't want a notification, then you can go without, turn them off, and check out the camera whenever it happens to work best for you.
In addition to motion sensitivity settings, it can also be used to detect humanoids specifically. That way, you don't have to worry about your cat accidentally setting off a bunch of notifications or video recording. Unless that's precisely what you want – then you just have to increase the sensitivity of the HM205 and then wait for your pets to do something interesting.
And you can create preset positions for the camera to monitor, and then move between those presets with one button. In order to facilitate that feature working in the smoothest possible fashion, the Heimvision HM205 was also made to provide auto-tracking for the camera. Quite exceptional for ensuring you can maintain visibility over a complete area.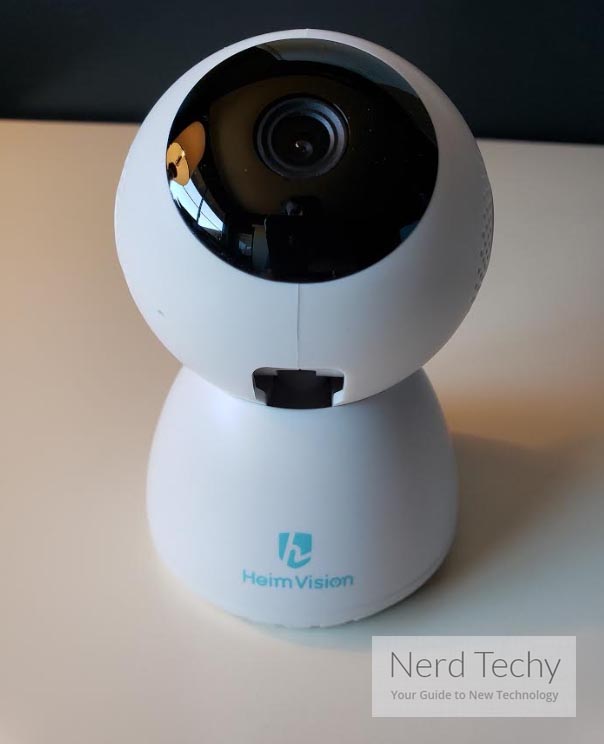 Microphone & Audio
The built-in microphone speaker combination allows two-way communication between yourself and whatever the camera happens to be looking at. And the quality of the microphone is basically just as good as the quality of the lens. The only problem with the microphone is that it wasn't constructed to provide any special noise cancelling features. If you place this security camera into an environment that's got plenty of noise, that noise will be coming through the microphone loud and clear.
Of course, that actually makes it good for a lot of different environments. For instance, that design makes it a fantastic baby monitor, and makes it pretty good for keeping track of kids. Moreover, the HM205 was designed to work alongside Alexa. Once you've got it integrated into your smart home, it's possible to ask Alexa to show you what's going on inside your living room and get an answer in real time.
App Support
As you can tell, the HM205 was constructed to provide wireless support across the 2.4 GHz wireless band. The lack of 5 GHz support is slightly disappointing, but unlikely to be a problem for many people. Once you've connected the camera to a wireless network, you can access it using basically any mobile device that you own. That's possible by connecting the camera with their mobile app, PixPlus, which enjoys support on both iOS and Android platforms.
The app actually makes it much quicker and easier to setup the camera. After the setup process is over, the app helps you in control. That includes the ability to customize sensitivity detection levels, and it enables camera sharing configuration, to let other people use or view the cameras. You can configure notifications for motion detection, auto tracking, and so forth.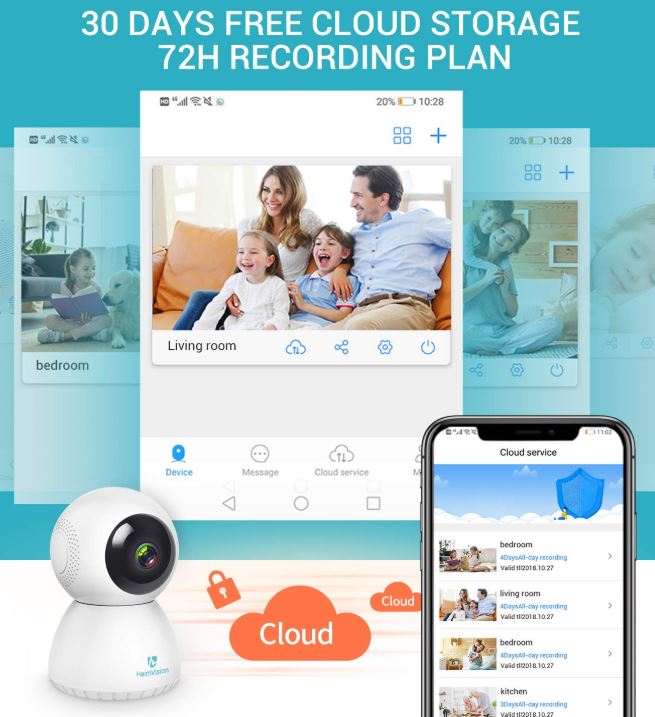 Storage Options
The HM205 includes a one-month trial of the AWS cloud service. Once you're enrolled, that service provides 72-hours of automatically saved cloud video storage, free of charge. Without cloud storage, recorded video can be written on a 128GB microSD card. Unfortunately, no SD card is included, so you'll have to provide your own hard storage options if you don't opt to use the cloud. The lack of an inherent storage capacity is actually a small part of why this camera is so affordable.
For people who already have an SD card laying around that they can shove inside of the HM205, that's a great way to save a couple of bucks. For people who don't have an SD card they can use, and don't plan on using the cloud storage, the HM205 is actually going to be more expensive than it looks because you'll need to end up getting that card as well.
Other Considerations
The HM205 doesn't have everything you might expect from a security camera of this type. For instance, the HM205 doesn't deliver on any sound detection features. Those tend to be features that are more useful for spy-based security cameras, but it would've been nice to have them on board. Likewise, the HM205 doesn't deliver on any facial recognition features. Under normal circumstances that wouldn't be worth pointing out, but given that half of this device is oriented towards communication-features, it would've been a nice extra to have onboard.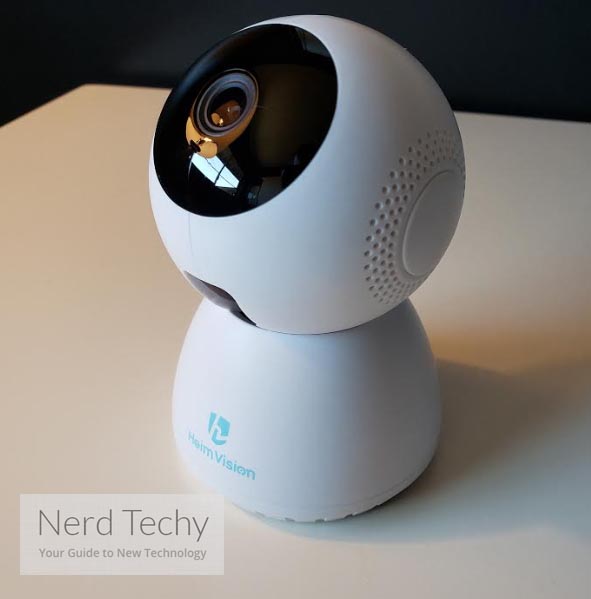 Heimvision HM205 1080P Security Camera
Clearly, the Heimvision HM205 1080P Security Camera isn't the right choice for everyone. But it does bring a lot of different things to the table. As far as security features go, this camera takes care of the features that most people care about. It is missing a couple of things that can make cameras even better at security, but this camera is only half of a security device, anyway.
Much of its design is really focused more on communication. For people who are interested in using 2-way communication, the HM205 is probably going to be an excellent choice. Likewise, it's probably a pretty good choice for someone who can take advantage of the Alexa connectivity. The various shooting modes and motion sensor features aren't exactly revolutionary, but they're all very approachable and adjustable. And that's really all you can expect from a security camera in this price range, isn't it?
Meet Derek, "TechGuru," a 34-year-old technology enthusiast with a deep passion for tech innovations. With extensive experience, he specializes in gaming hardware and software, and has expertise in gadgets, custom PCs, and audio.
Besides writing about tech and reviewing new products, Derek enjoys traveling, hiking, and photography. Committed to keeping up with the latest industry trends, he aims to guide readers in making informed tech decisions.