Choosing the right printer for your own unique needs can be tough. There are about two dozen different features you might be looking to find, which are available in a variety of different combinations as you move from one brand to the next. But there are some things you can do to help guide your search in the right direction.
Mostly that involves having a great idea of what sort of things you expect your printer to do for you. Are you looking for high quality photo prints? Wireless connectivity options, or hard-wired internet connectivity options? How about your total throughput? These sort of things will ultimately determine how well any given printer will match your needs.
HP OfficeJet Pro 8020 All-in-One Printer
With respect to its features, the HP OfficeJet Pro 8020s pretty close to the same as a 9020, except with a far more reasonable price to performance ratio. That actually the 8020 fairly close to a high-end office printer, despite apparently having more of a mid-range price.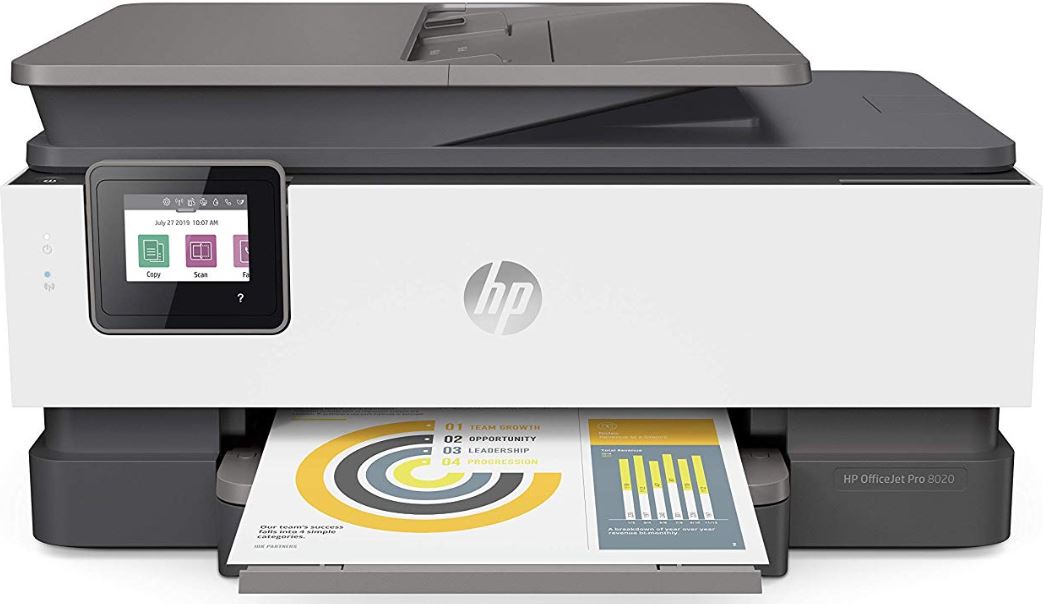 And like you would expect from basically any similar all-in-one printer, the Pro 8020 provides a number of essential features. That includes things like the ability to send faxes, scan documents, print, and so forth. It also provides a number of features that have become essential to printers in recent years, like the addition of dual band wireless connectivity, and smooth integration with the cloud.
But HP has continued to innovate over the past couple of years, and they're now focused on adding AI-based features into printers like the Pro 8020. Whether or not you'll be able to appreciate these features really depends on how many different repetitive tasks you find yourself doing with your printer. For someone who's doing their fair share of interaction with the device, being able to macro several commands into a single hotkey can be incredibly useful.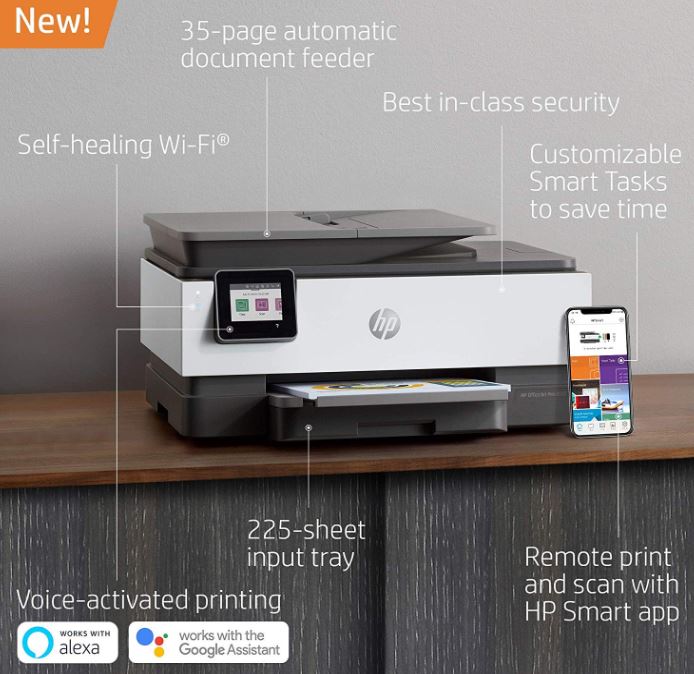 Design & Layout
One area where you won't really find improvements is in size. The OfficeJet Pro 8020 was constructed in a form factor that's pretty average for similar all-in-one printers. It measures roughly 19.9 x 16.1 x 11.7 inches. That's actually slightly bigger than many people are used to seeing for compact at-home printers. But it's still pretty small if you start to think about how many different devices are packed into the Pro 8020.
The 8020 is fairly lightweight, measuring about 27lbs. At least, before you start putting paper inside. Once this device has been loaded up with paper, it could easily double in weight, at which point it would be a little too heavy for some of the flimsier printer stands on the market. But it wouldn't pose much of a challenge to a properly sturdy desk or counter.
Part of the reason why you can basically double the weight of the printer with paper is because it has fairly generous tray space. For instance, the output tray can accommodate about 100 sheets. while the input tray can accommodate about 250 sheets. Add on a few more sheets in the document loader, and you can see how the weight adds up quickly.
It's worth noting the OfficeJet Pro 8020 is built with a 2.65" touchscreen color graphic display. A number of all-in-one printers have reasonably good displays, but the full color design is surprisingly much easier to use than the monochrome display you'll find on similar devices. The high contrast between colors really help you move through the various options, and makes the display far more readable with poor vision.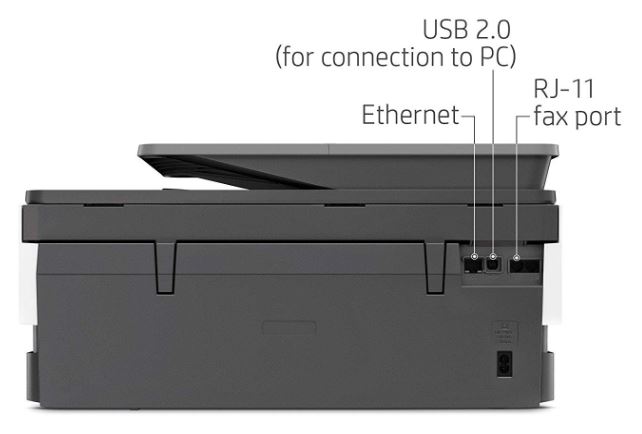 Newer Features
As mentioned earlier, many of HPs latest printers have been working to implement smart task shortcuts into their core feature set. The general idea is to allows you to undertake repetitive printing tasks in much less time. And the OfficeJet Pro 8020 manages to deliver on these features in a surprisingly simple way.
Suppose you're trying to print out some flyers. You want the print to be two sided, and you're doing it on a special type of paper that needs further customization options selected. You can punch all of those things into one macro, and then the next time you're making a set of flyers, you just hit the macro button and all your settings will be properly configured for your task.
Even if you're only saving yourself one or two steps, this kind of thing can be an enormous time saver. It's quite good at getting rid of the kind of repetitive tasks you might find yourself doing when you need to complete larger print jobs, or the same kind of print jobs on a regular basis.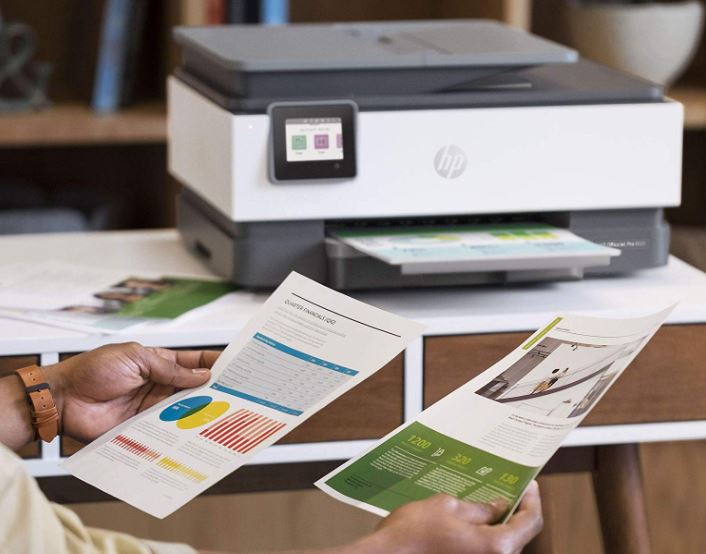 Scanning, Copying, & Connectivity
Duplex printing has been a pretty standard feature for all-in-one style printers for a while now. But it's worth noting that the 8020 does indeed support both duplex printing and duplex scanning. And these features are about as well developed as the print features, from your ability to customize inputs to the ability to customize data entry.
For instance, it's possible to start scanning or printing documents right from your phone. Because the OfficeJet Pro 8020 can actually connect with both the 2.4G and 5G band, providing reasonably advanced Wi-Fi support. The only limitation here is that you're not going to be able to make Bluetooth connections. But if you can move past that, you'll find cloud support is virtually limitless. You won't have issue connecting with Dropbox, Google Drive, Apple AirPrint, Mopria, and so forth.
While wireless connectivity is clearly quite good, physical connectivity is comparably a little more limited. You're looking at a single USB 2.0 port, a host USB port, an Ethernet port, and a wireless 802.11 connection which can be used for a pair of RJ-11 modem ports. That's enough to have some options at your disposal, but clearly it's not without a few limits.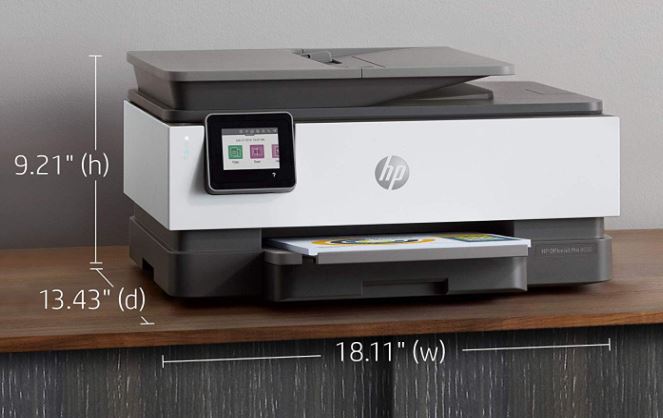 Print Capabilities
The OfficeJet Pro 8020 supports borderless printing, but only on photo paper or brochure paper. But that's actually one of the few paper limits this printer will put in your path. Because it actually has great support for a wide range of different media. That includes executive paper, legal paper, and basically every envelope that will fit inside the machine.
Your pages are printed at around 24 pages per minute, unless you're doing color prints. Those run out at a slightly slower 20ppm. But you can squeeze out draft shots of different photo prints in about 39 seconds, which is quite speedy for an inkjet like this. In either case, those speeds are great unless you're really expecting to handle enormous throughput.
Speaking of throughput, the duty cycle for this machine is about 30,000 pages per month. That's the absolute maximum you would want to consider using this device without totally destroying it in the process. The recommended monthly page volume is actually closer to 2,000 pages. That works out to about 60 pages per day. That's really where this machine would be most comfortable working.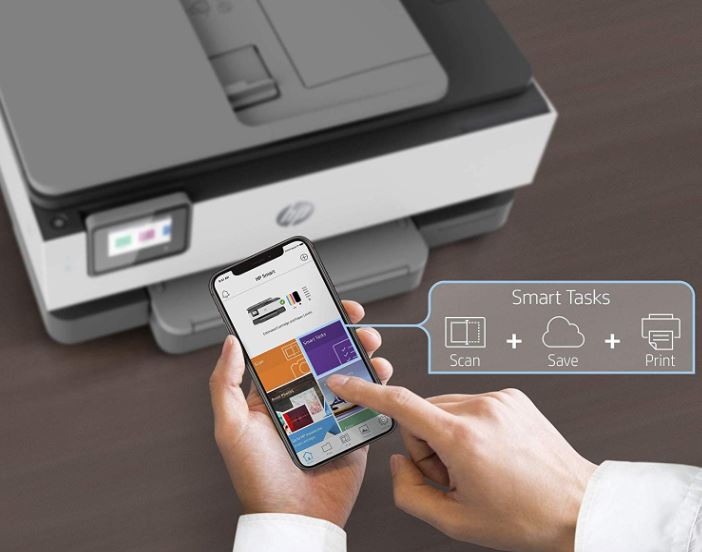 Color and Cartridges
Using HP Thermal Inkjet technology, prints come out looking pretty great. That's something you can say of most of this generation of printers, though. There's a reason people so rarely bother with using professional printers to make photo prints for them. The kind of prints you can make at home these days are nearly just as good.
Part of the reason why is because this printer makes use of four separate print cartridges to help make balanced color prints. That includes one black cartridge one cyan, one magenta, and one yellow. Those colors can then be mixed up to form all the others that you might want.
Each cartridge is rated to last through roughly 800 pages of prints. If you get some of the larger high-capacity cartridges, it's possible to end up getting close to 2,000 pages from one. But high yield cartridges are not included with this printer, they're merely supported.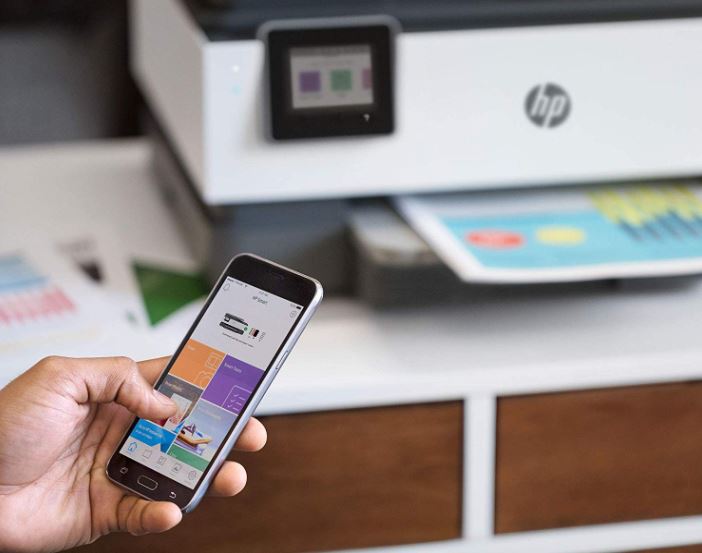 Other Considerations
When you first order a print, the 8020 needs a moment to wake up and ready itself. From the moment you request the print, to the moment the printer is handing you a sheet of warm paper, it takes about 9 seconds. That's not bad, and certainly worth the tradeoff in all the power it saves while it sleeps.
Basically any modern Windows operating system will work with the OfficeJet Pro 8020. That includes Windows 10, 8, and 7. You won't find support if you start going back more than a couple of decades. But you will find support for basically all of the business-facing versions of Windows, including Windows Server OS. For Apple systems, there's native support for OS X and beyond.
Though not much in the way of extras are included with this printer, HP does include a one-year warranty with the OfficeJet Pro 8020. This printer is also capable of being enrolled in their Instant Ink program. If you're someone who goes through tons of ink, their program can help you save a couple of bucks, and not have to worry about running out of ink at the wrong time.
Who Should Choose HP OfficeJet Pro 8020 All-in-One Printer?
The HP OfficeJet Pro 8020 All-in-One Printer is a good choice for a number of different situations. People who need both hardwired and wireless Internet connectivity have their options open, which isn't something you can say for every device in the OfficeJet series.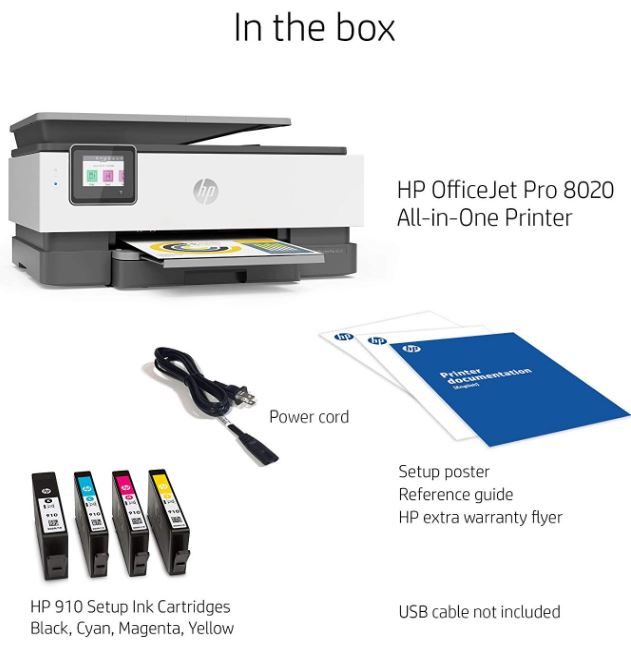 The color touchscreen makes it easy to use while you're standing in front of the machine. The app makes it easy to use when you're not. And people who are looking to save time will find plenty of options for doing so.
Just about the things that this printer cannot do are almost too obvious to point out. This isn't the right printer if you're someone who's trying to get 15 people to print on the same device. You probably wouldn't want to set it up in a public library. But for a home or small office, the OfficeJet Pro 8020 is probably a pretty well balanced choice for a variety of different tasks.
Meet Derek, "TechGuru," a 34-year-old technology enthusiast with a deep passion for tech innovations. With extensive experience, he specializes in gaming hardware and software, and has expertise in gadgets, custom PCs, and audio.
Besides writing about tech and reviewing new products, Derek enjoys traveling, hiking, and photography. Committed to keeping up with the latest industry trends, he aims to guide readers in making informed tech decisions.