Different types of printers are made for different purposes. Sometimes you need a bigger printer capable of handling intense throughput. Sometimes you just need a smaller machine that's able to deliver a handful of pages each month. Perhaps you do a lot of copying, and need great copying features. Perhaps you never do copying, and could care less about those features.
Wherever on that spectrum that you happen to find yourself, there's almost certainly a printer aimed towards your general needs. And these types of small differences won't just end up saving you a couple of bucks while picking a printer, they can end up saving you a lot of time in the long run. Especially if you use your printer more than occasionally.
HP OfficeJet Pro 9015 All-in-One Wireless Printer
True to its name, the HP OfficeJet Pro 9015 is an all-in-one machine. That means it can copy, scan, fax, and of course print documents for you. But HP hasn't been twiddling their thumbs over the past five years, the 9015 has been built with a number of performance tweaks to make all of those essential features just a little bit stronger.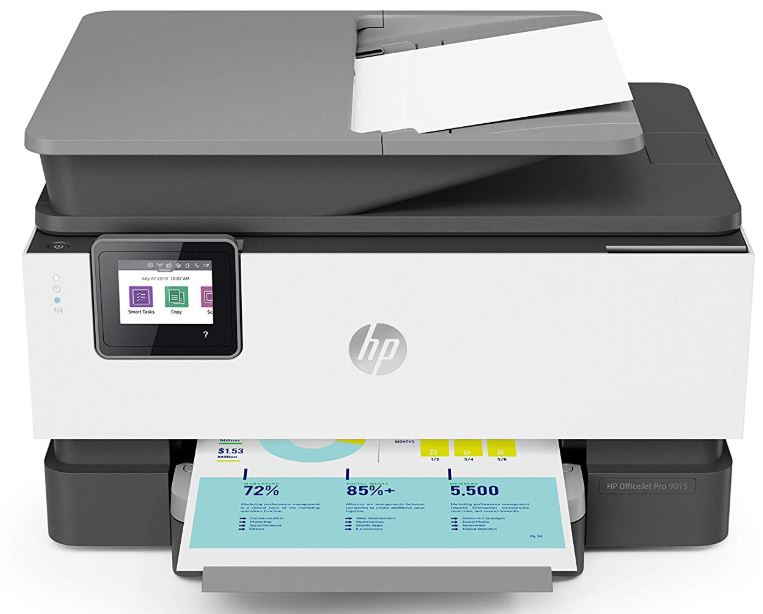 A small part of their development has been focused on improving how the OfficeJet Pro 9015 can deliver with respect to its support for mobile printing. They've also been advancing what is arguably best in class security features when compared to similar print devices. For people who are interested in protecting their data, or protecting their customer's data, those kinds of features can be a big deal.
And not all of these features are business-facing. A self-healing Wi-Fi network can actually be easy to appreciate for almost anyone. Because these types of features can help you save time. And that's really what the Pro 9015 does best, especially when you start to look at how it lets you implement smart task shortcuts. But there's a lot of ground to cover before diving into those kind of features.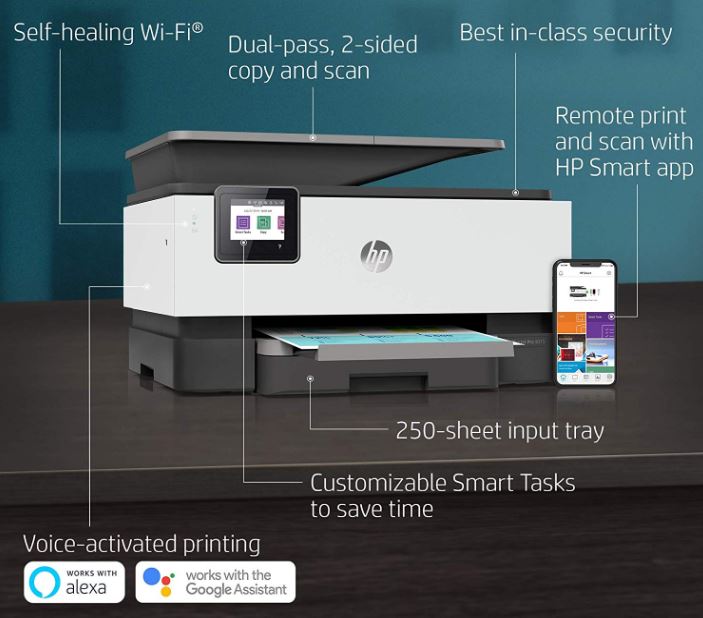 Design & Layout
The OfficeJet Pro 9015 measures 17.28 x 13.46 x 10.94 inches. That's actually pretty compact compared to similarly powerful machines. However, when you fully extend the tray, the 9015 extends out to a total of 17.3 x 20.46 x 10.94 inches. That's still small enough for it to generally fit in the sort of places where people want to put a printer.
It weighs just shy of 20lbs, and that's before you start stuffing paper inside of it. Once it's been fully loaded, the end result is pretty bottom-heavy device. But it's not so heavy that it would be a problem to place on top of your typical office printer stand.
Exactly how much paper can the 9015 hold? The HP OfficeJet Pro has a 250 sheet input tray capacity. Additionally, the paper handling output adds another 100 sheets, and that's before you start looking at the 35-page auto document feeder. You can see how this printer easily creeps its way towards the 50lb mark once it's loaded up.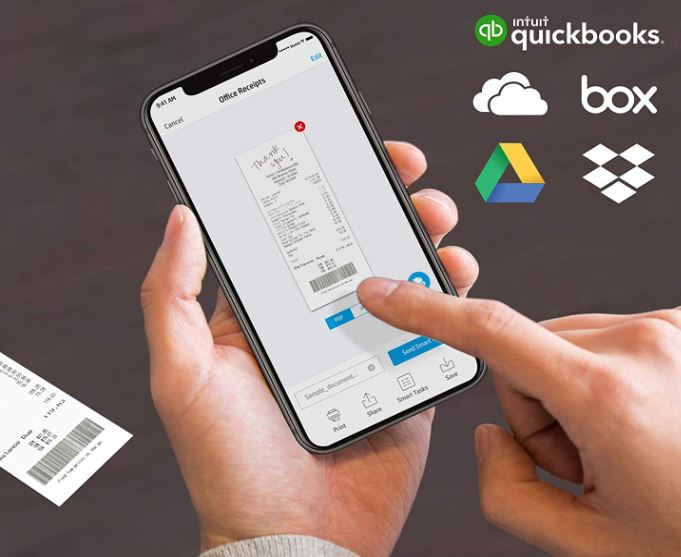 As is the case with many similar all-in-one printers, the Pro 9015 was built with a full color touchscreen. It's a 2.65" display, which is both bright and generally intuitive. If you've used one of these displays on a similar printer in the past few years, then you probably already know what to expect here. There's nothing wonderfully new here, but it's nice to have your core options be highly accessible.
Likewise, if you start looking at the internal hardware behind this equipment, you'll find that much of it is actually the same as you would find in much older printers. For instance, the memory capacity is 512MB. That's enough to hold hundreds of sheets in memory, even sheets with rich color images. But it's also pretty much the same you'd find in printers about a decade ago. The same is true of the processor and many other central components, so they're not worth investigating too closely.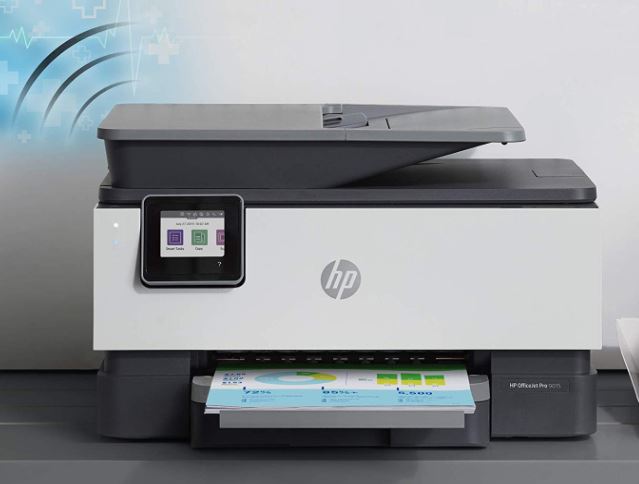 Scanning, Copying, and Faxing
The Pro 9015 was made with a pretty robust set of scanning and copying features. But again, nothing that you wouldn't expect if you were already acquainted with this particular series of OfficeJet Pro printers. For instance, the OfficeJet Pro 9015 includes automatic two sided scanning, which is quite helpful for saving time on repetitive scanning tasks.
Moreover, scanned files come out in common formats like JPG, PNG, PDF, and TIFF. Pretty intuitive, pretty easy to use, and no unexpected roadblocks come up while you're trying to work. And there's equally compelling duplex copying features. Need to get both sides of a flyer in one pass? Duplex copying can save you a lot of time. But the real depth of these features is something you can really only begin to explore once you've cracked open HP's app.
The fax memory caps out around 100 pages, and transmission speed works out to be 4 pages per second. That's pretty rapid, though the resolution is still 300 x 300 dpi, pretty much the same resolution people were working with two decades ago. In other words, the fax features haven't really improved, but they're still as solid as you would expect from a similar all-in-one style printer.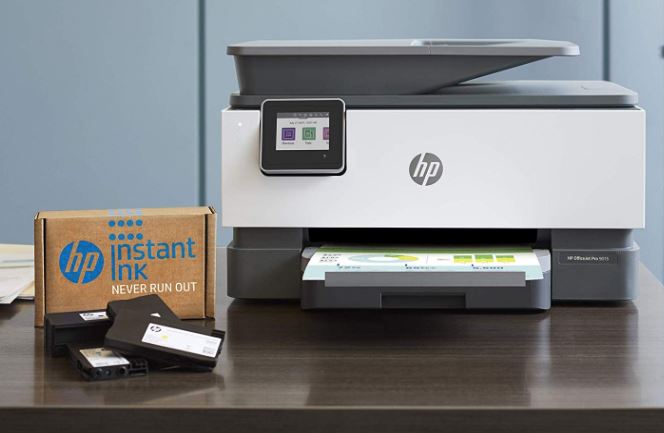 Print Capacity
While you're printing documents from the OfficeJet Pro 9015, you'll find the print speed runs around 22 pages per minute for black and white sheets. That's high-average when compared to similarly compact office printers. What's a little less average is the 18 sheet per minute speed for color sheets. Having pretty similar speeds between the two is actually a bit impressive, color typically lags far behind other types of documents.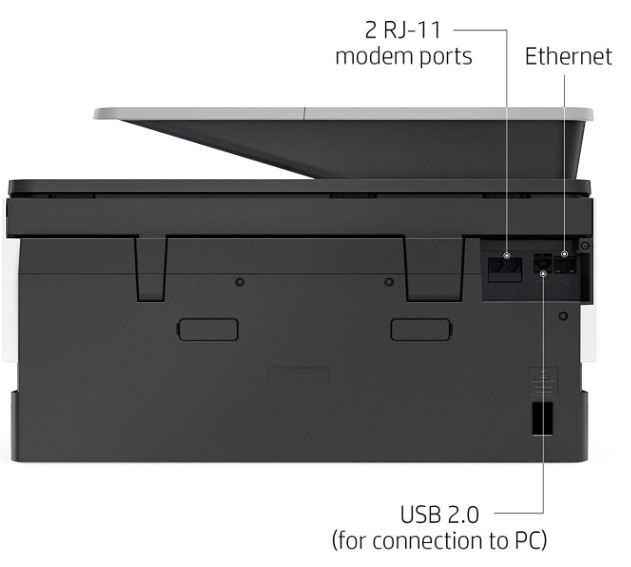 In addition to the duplex scanning and copying that we discussed earlier, the Pro 9015 delivers duplex printing. Again, that's pretty handy for speeding up your prints, especially when you want to use both sides of a page. In terms of quality, you'll notice when printing in black and white, everything comes out in 1200 x 1200 resolution. Swapping over to color prints, you can get a 4800 x 1200 dpi. About par for the course when compared to similar inkjet printers.
One thing to keep in mind is that the monthly duty cycle for this machine is about 25,000 pages. If you were going to exceed that number, then you'd want to move on towards a printer designed for higher levels of throughout. However, that's not really how HP expects people to use this device. This printer was made for people expecting to print around 1,500 sheets monthly. If you were doing more than that, there are a number of throughput-facing features that would be able to help serve you better than the Pro 9015 can.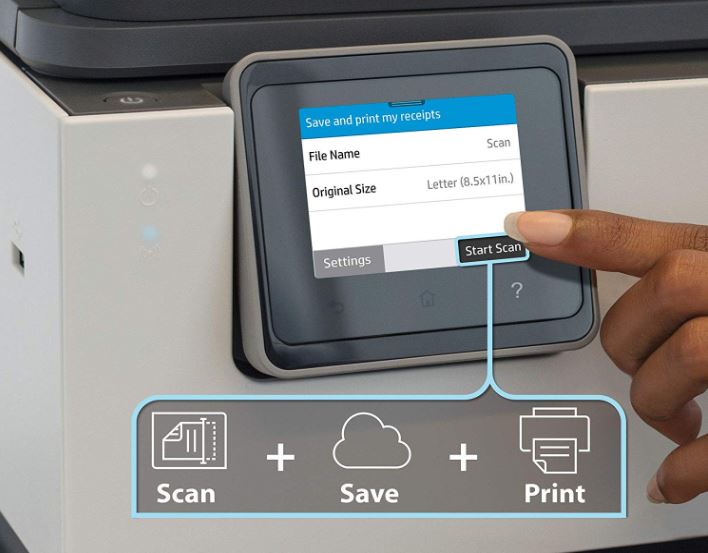 App Support
As you may know, modern HP printers are supported by HP's Print app. Using their app, it's possible to start scanning, printing, or otherwise making full use the Pro 9015 Wireless Printer in a totally wireless fashion. That includes printing stuff through social media, and of course printing stuff straight from the cloud. That includes services like Google Drive, Dropbox, and so forth.
The app is fairly intuitive. If you're trying to do something a bit more advanced, it does take some digging to go through all the various configuration windows and setup your print job just how you'd like. But HP can help you speed that along, too, with the inclusion of what they're calling smart task shortcuts.
They work by combining several different settings into a single macro button. For example, suppose you find yourself trying to print envelopes of an awkward size on a regular basis, and it takes a lot of configuration in order to get them to print properly. With the right setting, it would be possible to process your next set of envelopes with just one button.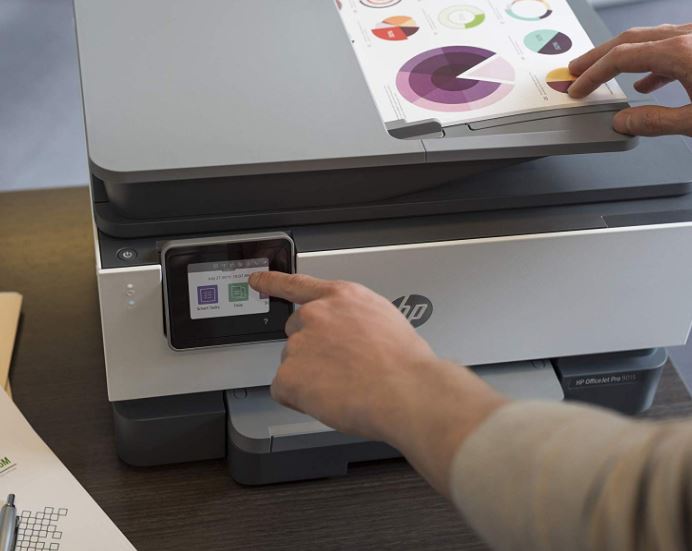 Other Considerations
The OfficeJet Pro 9015 supports regular paper, matte broche paper, photo paper, glossy paper, inkjet paper, thick paper, and so forth. Basically any sort of media you would expect to be able to use in such a printer, you can fit without an issue.
Many people will appreciate this printer was constructed with a self-healing Wi-Fi feature. It basically works to resolve problems before you start to experience them by remaining vigilant about looking for issues within your network connectivity. It's great for keeping yourself connected to a network and working without hitting any speed bumps.
The OfficeJet Pro 9015 includes some starter cartridges, a user manual, power cord, and some information about their Instant Ink program. As you might expect from the fact it includes a flyer about the program, this printer is eligible for HP's Instant Ink program. It was also built to accept their Instant Ink cartridges, and you can also use high yield ink cartridges if necessary.
Additionally, it also includes a one-year warranty from HP. If you end up needing tech support, HP provides 24/7 support online and over the phone. Not too shabby.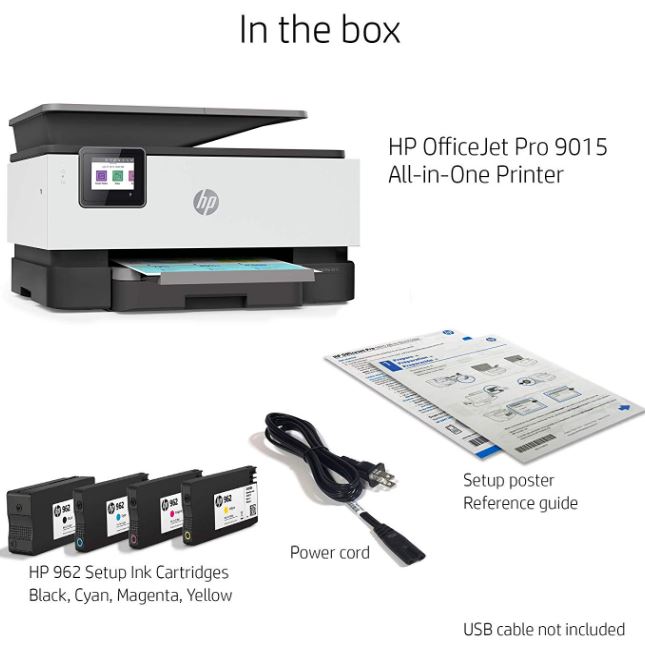 Who Should Choose the HP OfficeJet Pro 9015 All-in-One Wireless Printer?
The HP OfficeJet Pro 9015 is a well-rounded machine. It was clearly made for a variety of different home office settings and small business environments. Even if you're printing 100 sheets a day, every other day, the 9015 is capable of keeping up. Even if you're trying to do some non-traditional prints, like borderless printing, the 9015 delivers your documents in style.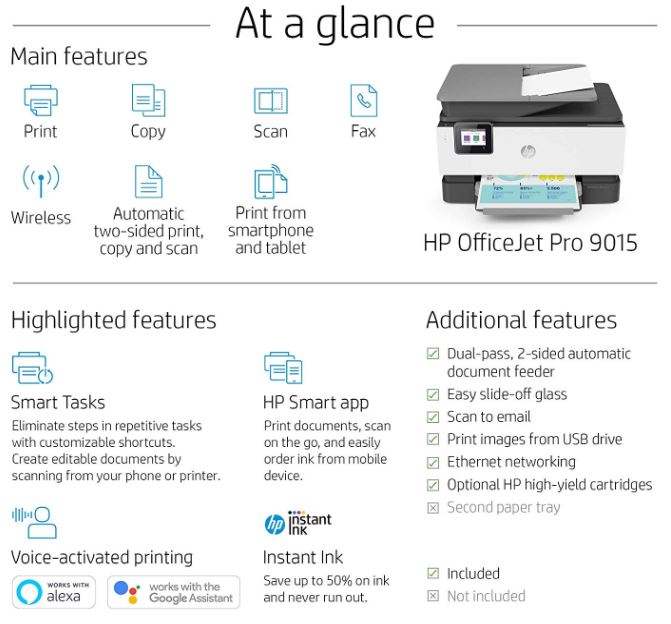 When it comes to wireless connectivity, the OfficeJet Pro 9015 performs about a well as any modern HP printer. Having dual band wireless access alongside their reasonably intuitive app really opens the way to a lot of mobile use. Alongside all of its duplex features, the 9015 has a number of different ways of saving you time.
If you're looking for something cheap and simple, the Pro 9015 is not it. This machine is built to the slightly higher standards of small business owners. However, if you're looking to find a printer that's capable of delivering a bit more time-saving and reliability than an entry-level device can provide, the 9015 has plenty to offer.
Meet Derek, "TechGuru," a 34-year-old technology enthusiast with a deep passion for tech innovations. With extensive experience, he specializes in gaming hardware and software, and has expertise in gadgets, custom PCs, and audio.
Besides writing about tech and reviewing new products, Derek enjoys traveling, hiking, and photography. Committed to keeping up with the latest industry trends, he aims to guide readers in making informed tech decisions.