It can be a nightmare to try and pick the right AV receiver. Because you've got to balance a lot of different issues. Not only do you want to think about the kinds of connections you need for your current system, but the sort of connections you might want to add over the next couple of years. Because a good AV receiver should be able to last you for a decade or more.
Are you going to be running two separate zones of speakers? Do you need both coaxial and optical inputs? Would you like the option of running separate speaker zones in the future? Getting the right AV receiver is really about answering these kinds of questions to the best of your ability.
Pioneer VSX-834 7.2-Channel AV Receiver
In a lot of ways, the Pioneer VSX-834 AV receiver looks like any classic receiver of the past. From a physical standpoint, this device could easily be confused with a receiver which was constructed thirty years ago. But the classic design doesn't tell you anything about what's actually inside of the receiver. Within you'll find a number of ways to help adapt your AV equipment with the latest audio and video standards so you can start enjoying them at home.

Sometimes the VSX-834 helps in ways that require hands-on configuration. Other times, it boosts your experience with hands-off technologies. For instance, the VSX-834 is supposed to help you create an optimized acoustic environment. And a large part of the way it goes about doing that is with a multi-channel acoustic calibration system, or MCACC for short.
Pioneer's MCACC is easily one of the best in the industry, in large part because it was designed to help you customize your receiver in countless different ways. It can allow your system to automatically compensate in response to using larger or smaller speakers, and then adjust the level and distance of the sound produced to create a more equalized audio response.
The VSX-834 has a number of advanced customization options, but it also has features you can enjoy without having to be an AV expert. Whether or not this kind of receiver is suitable for your purposes really depends on you, but the VSX-834 should definitely appeal to a large target audience.
Design & Layout
The Pioneer VSX-834 AV Receiver measures 17.1 x 12.6 x 6.8 inches. That makes it roughly 15% slimmer than the previous version of this machine. There's no denying that it's still quite large, but that large size doesn't get in the way of the Pioneer VSX-834 being generally quite approachable. The bottom side of the device has four feet which help lift it up. The feet are optional, but you'll want to use them because this bit of lift provides some extra airflow under the chassis.
The chassis was made with the standard metallic sheen and professional matte finish that's become a signature of most models in this series. Using a pretty standardized design, on one side of the device, you'll find an input selector knob. On the other, you'll find a master volume knob. And towards the center of the receiver, there's a color display that can be used to help you check your current presets or otherwise go about configuring your stereo settings.
It may be worth noting this isn't a touchscreen display, it's a classic LED screen. Though touchscreens have become increasingly common, and some people might wonder why this display was not made as a touchscreen, it's actually easy to understand. The relatively low importance of this screen means it's probably not worth using as a touchscreen. With any luck, you'll almost never have to look at the screen at all.
Ports & Connections
After you've got everything setup, you probably won't have to break out the user manual in order to start operating things. But for novices, you will find the setup process can take some doing. The backside of your typical AV receiver will almost invariably look like a complicated nightmare. Because the designer needs to pack about two dozen different ports back there, so it can be a bit confusing to work around. That's true even when the ports are placed in some kind of organized, orderly, and rational way.

To the extent that ordering this many ports is possible, the VSX-834 does have a reasonably well ordered backside. That's mostly because of grossly redundant labeling alongside each of the ports. For example, along the top of the HDMI inputs you'll find each one labeled with the specific type of media, like "game" or "DVD". You won't find much color coding, in fact only the speaker connections really take advantage of using color-coding at all.
But like you'd probably expect, the backside lets you connect up subwoofers, optical digital connections, coaxial connections, and support for both 7.1 channel and 5.1.2 channel surround sound. You can also rig up two separate zones of speakers, as necessary. Pretty handy for people who are interested in expanding their audio beyond a single room.
Audio & Video Presentation
If you want to change your presets, the preset button on the front of the panel needs to be held down for about three seconds. Not very intuitive, but something that's not tough to remember. After you've spent some time building audio presets, it's possible to access those settings from one of three preset buttons on the front panel. Alternatively, they can be accessed by the remote control.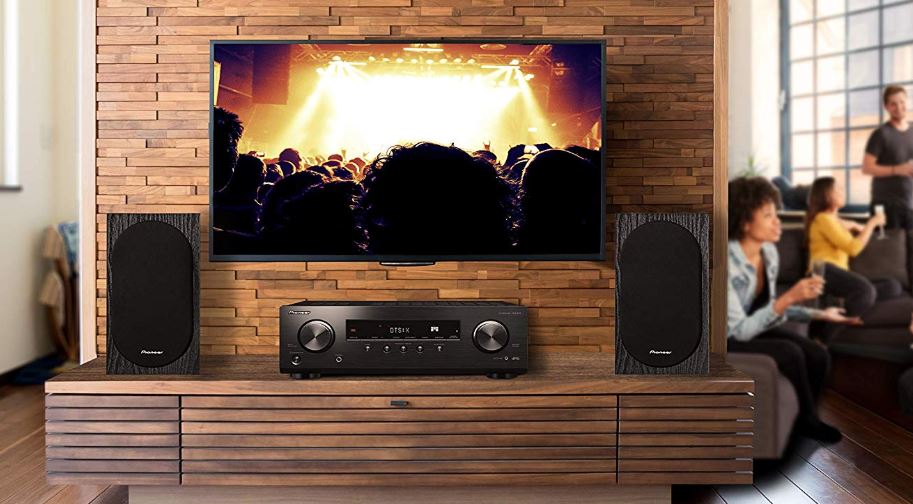 As mentioned earlier, the VSX-834 was made with zone B audio output ports, allowing you to greatly extend the primary sound zone with the addition of a wireless headphone dock. From there, it's also possible to listen to the sound you're playing in a living room while using wireless headset in another room. Pretty much limitless expansion possibilities.
At least, within the confines of common sense. For example, you can stream songs from Bluetooth compatible devices because the VSX-834 supports Bluetooth 4.2 and LE. Just press the Bluetooth button on the front of the AV receiver, you'll launch the Bluetooth mode and start detecting nearby devices. But you are still limited to the typical sort of broadcasting distances you'd expect from Bluetooth technologies, and by the presence of physical barriers like walls.
On the video side of the equation, the VSX-834 provides pass-through support for HDR10.
It supports hybrid log-gamma and Dolby Vision signals, and each of the HDMI terminals are capable of supporting 4K content run at 60Hz. Fairly impressive and modern. That includes 24-bit color thanks to the VSX-834 Receiver also having support for an extra wide color gamut.
Furthermore, those HDMI ports are compatible with HDCP 2.2, allowing you to stream content that's been given digital copyright protections. For instance, content from Blu-Ray discs or streaming sites like Netflix have no issue being streamed through this receiver. As a result, the kind of content you play is basically without limit.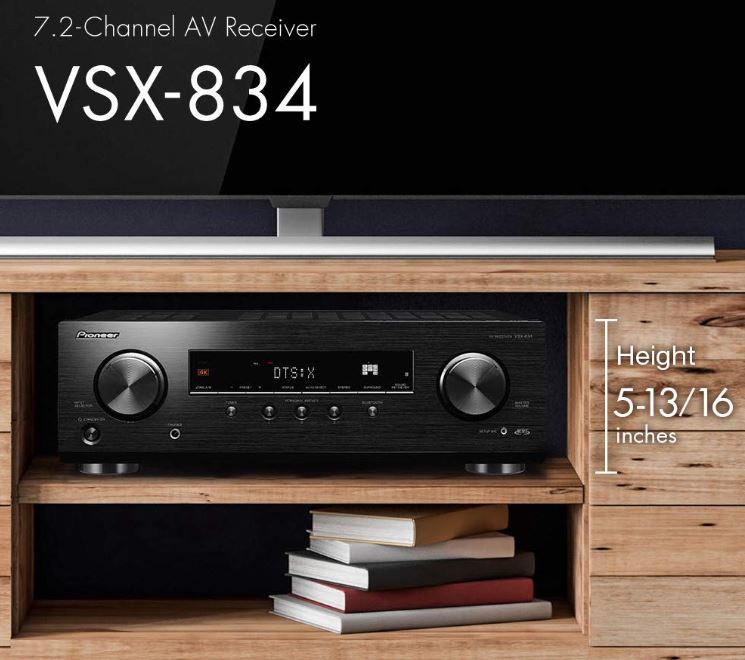 The Remote
Sometimes you want your AV equipment to have a minimalistic remote. Many people like that kind of remote. Because when you're only dealing with five or six buttons that you use on a regular basis, you can punch away at them without so much as having to look at the remote.
Other times, you want your AV equipment to have the kind of remote that will require you to bust out a user manual for using. Because complexity also means greater depth when it comes to your customization options. And it should be little surprise that the Pioneer VSX-834 was constructed with that type of remote.
Along the topside, you'll find a power button, A/B zone button, and a sleep button. Nice positioning for some of the most important settings you might want to access. Just below that, you'll find a row of preset buttons, which let you toggle between the presets you've created for yourself.

Beneath that, there's a nine button grid that lets you configure the source to which the AV receiver is connected. You can move between connection to a CD player, TV, DVD player, Bluetooth connection, and so forth. Oddly enough, the media control buttons quite small. They're about a quarter of the size of the other buttons, which can make it a little more difficult to use them for playing, pausing, or leaping through tracks.
Finally, the center of the remote is dominated by arrow keys, positioned to help you navigate through settings menus. And the lower half of the remote is filled with extra-large volume and channel buttons. It's only at the very bottom that you come across some more advanced stereo tuning features, like the ability to swap between different sound modes. It takes a while to learn this remote, but once you know your way around it, it's perfect for the VSX-834.

Who Should Choose the Pioneer VSX-834 7.2-Channel AV Receiver?
Some people don't need the ability to connect multiple zones of independent audio channels. Some people don't need Bluetooth connectivity. If you're someone who can do without one of the major features this AV receiver brings to the table, then you'll unquestionably be able to save a couple of bucks by getting a slightly weaker unit.
But the VSX-834 provides a lot of room for growth. It's got a forward looking design partially because of its support for forward like HDR10 and Dolby Vision, and partly because the I/O allows you to connect up with basically anything. When it comes to ease of use, AV receivers like the VSX-834 can be tricky. Especially when they allow you to get into deep customization options.
But the Pioneer VSX-834 does a reasonably good job of keeping this equipment approachable to novices. The software end of things is tight, the hardware end is well constructed, and the Pioneer VSX-834 includes a one-year warranty. Provided you're willing to take a couple of extra minutes to setup your system, the VSX-834 is going to be a good choice for people who want to take advantage of some of the most advanced AV support you can get through this type of receiver right now.