If you're doing any type of electrical work, a non-contact voltage tester is an essential tool to have in your arsenal. Having one could literally be the difference between life and death. What these handy little tools do is use magnetic sensors to determine if a cable is currently conducting voltage. Simply place one against your wire, push the button, and it will light up if the wire is live. This is the best way to make sure that your equipment is de-energized before you start work.
Whether you're doing some basic household electrical work, or you're an electrician using it in a professional environment, this is one of the things that could save your life. For that reason, it's important to buy the right one. There's no reason it should be an expensive purchase. As long as you get the right model, you'll be good to go.
What, exactly, should you look for in a non-contact voltage tester? We've taken care of the research for you, so you don't have to. We'll take a look at the three best voltage testers on the market. Then, we'll help you find the one that's right for you.
Fluke VoltAlert Non-Contact Voltage Tester
If you work with electricity regularly, then you're already familiar with Fluke. They're the premier supplier of electrical equipment, and they're popular for a reason. Everything in their inventory is high quality, reliable, and top of the line. For this reason, any Fluke product would be our first choice.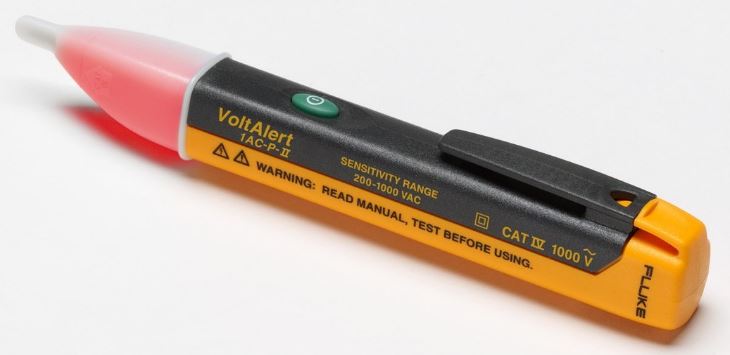 Design
The Fluke VoltAlert Non-Contact Voltage Tester has the same gray and yellow design as most of their products. It's made from a thick, durable plastic that's designed to stand from the other tools in your case – you're unlikely to lose it. The tip is made from a somewhat translucent plastic. There are a pair of LED's inside that light up, to let you know whether there is voltage present or not. To keep it on hand at all times, a durable clip is attached to the front, so you can clip it to your front pocket. It's quite tight, so the chances of you dropping it are very slim.
Functionality
Upon pressing the green power button, the unit comes to life. It does a periodic self-test, indicated by a quick flash of the light. This tells you that the battery is charged, and all components are working fine. To use it, all you have to do is press the tip against anything that carries current. You can place it next to a wire, or slip the end into an outlet. If there's electricity present, the tip will glow red and a warning beep will sound. The beep is quite loud, so there really is no question about whether electricity is present or not. This is one of the most fool-proof systems on the market, and we recommend it for anyone from professionals to beginners.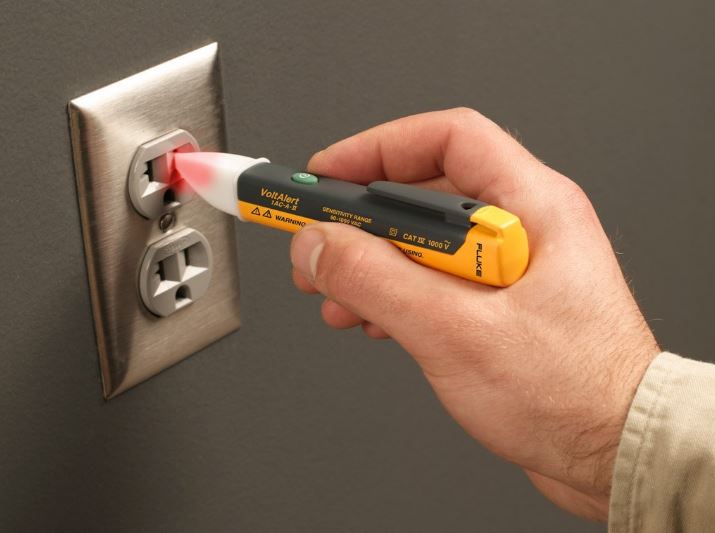 Compatibility
The primary model is designed to work with AC electricity from 90V to 1000V. Almost all users will be using this in their home, so 120V is really all you need. If you're out of the country, you may need 240V, which will work just as well. While power ranges above this are supported, we highly recommend that you do not work on high voltage equipment unless you're trained.
If you're working in maintenance, you might have to deal with low voltage control equipment. In that case, you might be interested in the 1LAC-AII, which is rated for 20 to 90V. Remember, even low current AC can be dangerous, so it's always worth having on hand.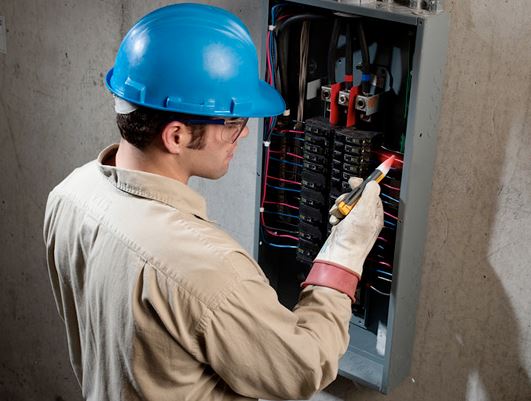 Longevity
The Fluke VoltAlert Non-Contact Voltage Tester can last you for quite a long time. It's powered by two AAA batteries, which is not rechargeable, but is easily replaceable. It's rated to have a standby time of over a year. Even if you're using it every day, it's unlikely you'll run the battery down this quick.
Klein Tools NCVT-2 Non-Contact Voltage Tester
Kiein is another company that's earned itself a lot of respect with professional tool users. While electrical tools aren't their number one product, it's such an essential item that we're not surprised they make one. If this voltage tester lives up to the high standards they've set for themselves, this is a great opportunity to save yourself a few dollars.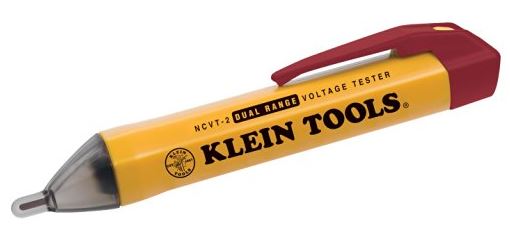 Design
The Klein Tools NCVT-2 Non-Contact Voltage Tester is similar in design to other models, with a few unique twists. It's a little larger than some, making it easier to hold in the hand. The LED lights are very bright, making it easier to see in bright environments. The bright red clip certainly stands out, and isn't quite as tight as the Fluke model. Unless you're working in a rough industrial environment, you really won't miss it. In fact, clipping it to your belt, pocket, or tool back feels a little more natural and easier that the tough clip on the fluke.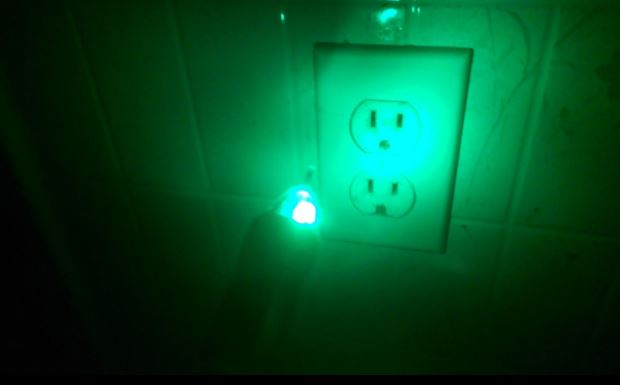 Functionality
Operation is very similar to the Fluke model. You can turn it on by pressing the large red button on top. In a few seconds, you'll hear a beep and see the tip flash to confirm that it's turned on. You can then place the tip anywhere electricity might be present to take a reading. The tip is a little longer and flatter than the fluke, making it easier to fully insert into outlets. If voltage is detected, you'll hear one of two tones. A solid red light indicates that high voltage is present (48V and up) and is accompanied by high speed beeping. It's almost impossible to miss, so there will be no question as to whether a piece of equipment is energized or not.
Compatibility
One of the unique features about this voltage tester is the fact that it can handle two ranges of voltage at once. It can measure everything from 12 to 1000V, or 48 to 1000V. You might be asking why both voltages cover the upper range. Wouldn't it make more sense to have 12V to 48V, then 48 to 1000V? It all boils down to sensitivity. When it's looking for 12V signals, it could easily be triggered by the presence of high voltage signals. You might touch it to a wire and receive indication that there is low voltage present. In reality, this could just be spillover from a nearby 600V source. In order to properly work around this type of equipment, there needs to be a way to isolate it.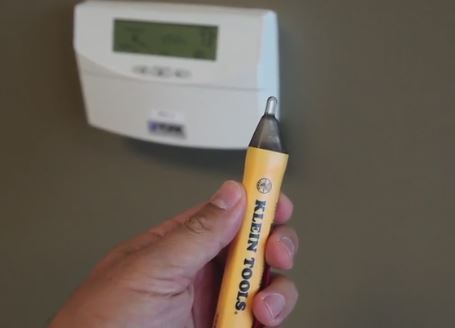 The main benefit of this system is the fact that it's an all-in-one unit. There are a lot of low voltage equipment that you might encounter. Alarm systems, the telephone network, sound and lighting systems, and other control systems all operate on low voltage service. Often, these systems are powered by batteries, and are isolated from the power grid. For that reason, it's handy to have a dual range tester in your inventory.
Longevity
If you're not using the Klein Tools NCVT-2 all the time, a replaceable battery is important. You wouldn't want to buy an internal battery, and have your tester be nonfunctional after a few years when you barely even used it. This unit takes standard AA's. You might have to change them every few months with regular use, but as a whole it should last you much longer.
Dr. Meter VD-1 Non-Contact Voltage Tester
Dr. Meter has a large range of electrical meters suitable for almost any purpose. From lab gear to consumer goods, they've got it all. Generally, they offer affordable solutions to casual users. As long as it tests well, this should be an excellent choice for consumers who just want to have one on hand.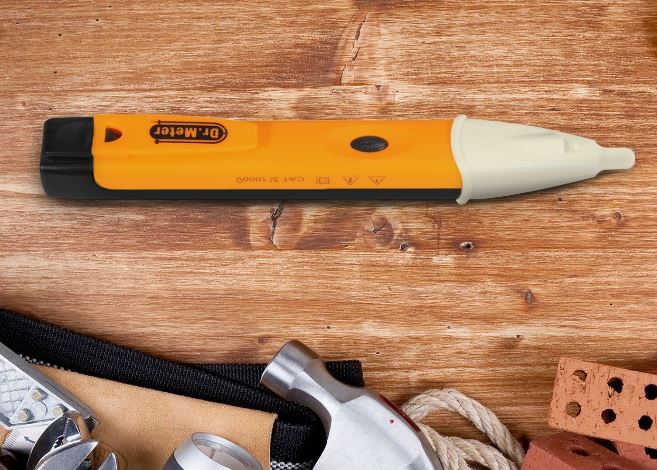 Design
The Dr. Meter VD-1 the most lightweight voltage tester on our list. While it looks quite similar to the other models, you can tell it's constructed to a different standard. It's lightweight build quality makes it suitable for casual use, but it is still just as functional.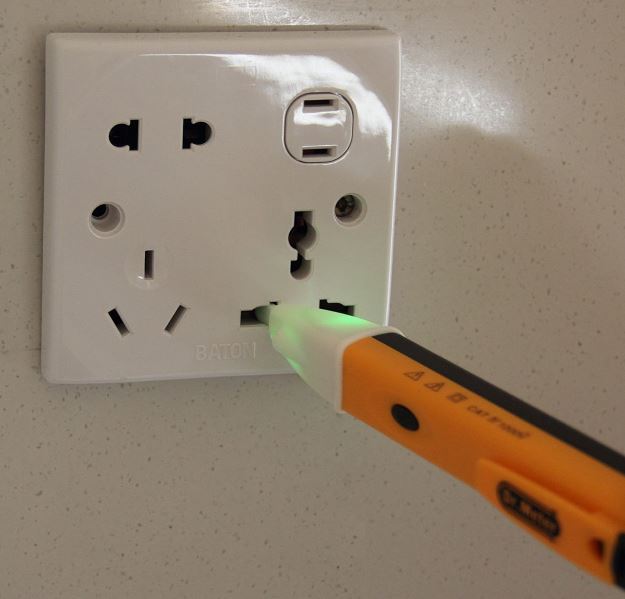 Functionality
If you've been with us through the whole document, you probably already know how to use this voltage tester. Pushing the power button provides you with a quick flash of the tip to inform you that it's operational, then you're ready to test. This model provides you with both the beep and the flashing green LED as a notification, and also includes a handy LED flashlight for working in dark environments.
Compatibility
This voltage tester can detect ranges from 90V to 1000V. At this price range, our concern was that the meter wouldn't be capable of handling it's advertised range, but this one is CATIV certified. This is a clear indication that they use high quality components, something that is very important with a tool like this.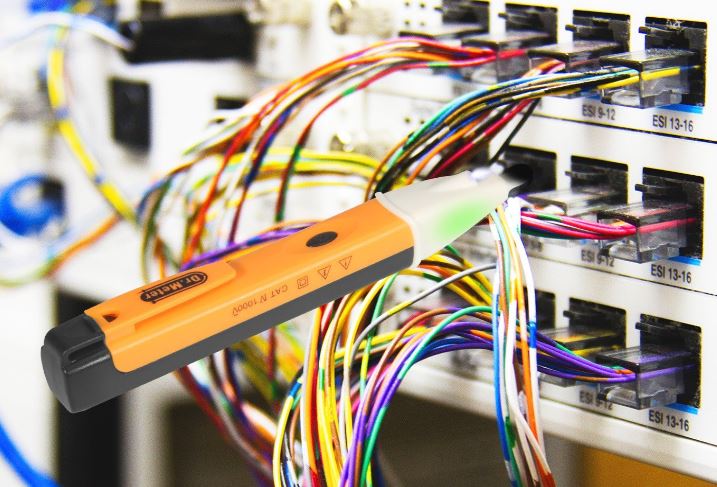 Longevity
This voltage tester uses two standard AA batteries, so you can easily change them out as needed. If you're using it all the time, it's a little harder on batteries than some. But it has an auto-shutoff feature that shuts itself down after 5 minutes of inactivity. But for users who need this device infrequently, this will save you time and money in the long run, since AA batteries are cheaper to replace than the entire unit.
Which Non-Contact Voltage Tester is Right for Me?
While all of these non-contact voltage testers might look similar on paper, there are a few key differences that set them apart. No matter what your uses are, we're confident that one of these will suit your needs.
For professionals, we recommend the Fluke VoltAlert. Fluke has always been the top brand for electricians, and there's good reason for it. They're the most durable and reliable brand on the market, suitable for almost any environment. The replaceable AAA batteries are good for an entire year, and we're sure you'll get your use out of it by then.
If you're not going to be using it every day, the Klein Tools NCVT-2 is a great choice. It can test both high and low voltage equipment, making it perfect for technicians in the residential or commercial market, or home users who might need to diagnose their home security system.
If you're not going to be using your voltage tester regularly, you should still pick up a Dr. Meter VD-1. It's got all the basic functionality you need, and is something that everyone should have in their toolbox.
If you're going to be performing any work electrical devices, you should definitely consider getting a digital multimeter. This device will tell you if electricity is present, but a multimeter can tell you how much. It's an essential component to performing any electrical work.
No matter what option you choose, make sure that you are careful. AC electricity can be potentially lethal. Even experienced professionals know that it's important to take your time, have the right tools, and don't do anything you're unsure of. As long as you follow those simple steps, you can take care of most minor electrical issues in your own home.