A digital multimeter is one of those tools that everyone should have around the house. These aren't just tools reserved for electricians. If you live in a home and drive a car, then you've already got reason enough to have one. Digital multimeters are capable of diagnosing and even treating almost all basic electrical issues. When you know what you're doing, they can handle even the advanced ones with ease.
Car won't start? Phone won't charge? Both of these problems are easy to diagnose. The key is having the right digital multimeter. Many of the models sold online are poorly made, and don't actually benefit the user. We've gone through and picked the three best digital multimeters for any use. Let's take a look at what exactly goes into a good multimeter. After, we'll help you find the one that's right for you.
Fluke 115 Compact True-RMS Digital Multimeter
When it comes to multi-maters, Fluke is the most respected and trusted brand. In fact, many construction sites require that fluke meters are used for the final testing of all installed material. This should say everything you need to know about their meters. Not only are they an industry leader, but they set the standard. This is one of their more basic models.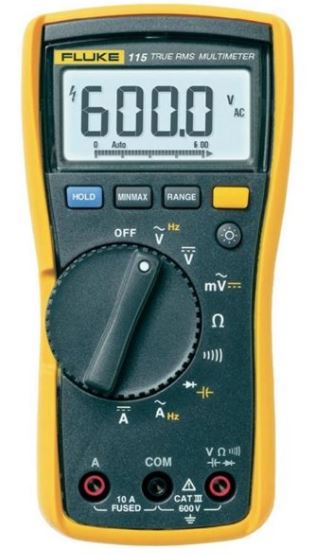 First Look
Fluke keeps a pretty consistent design with their meters, and the 115 Compact True-RMS Digital Multimeter is no different. The durable, yellow case is the obvious identifier of its brand, but a well-constructed shell that gives this meter a healthy dose of durability. It's got a large, easy to read LCD screen, some function buttons below it, and a large dial that allows you to choose your setting. On the back, there is a plastic stand that easily flips out, making it easy to take hands free readings. It includes everything you need to get started, a guide and a set of leads. Let's see how it performs.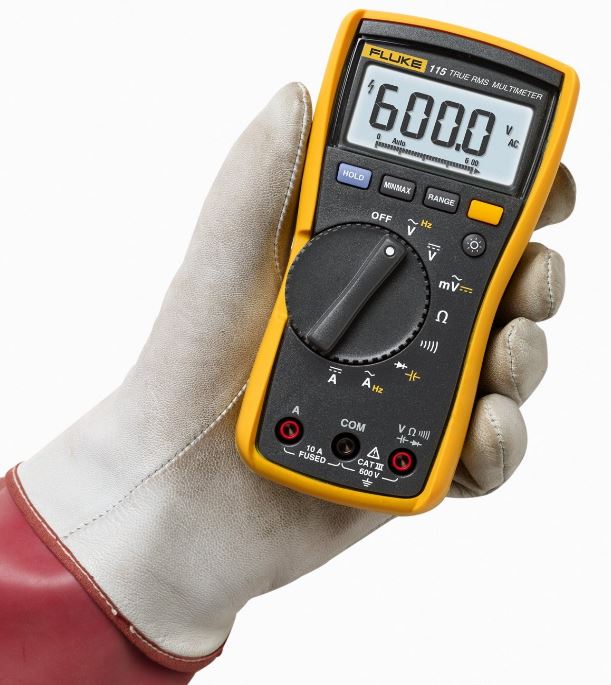 Capability
The Fluke 115 can measure voltage, resistance, capacitance, and current. It's capable of working with both AC and DC circuits. In the even you're testing AC, taking a voltage reading will also display the frequency of the power, not something we often see. For current, it can take measurements as low as 200mA, and as high as 10 A. Because this is a professional grade device, these measurements are guaranteed. In fact, the meter can handle up to 20 amps for almost 30 seconds. Considering that 20 amps is enough to trip some household breakers, that's a pretty impressive value.
It's CAT III certified to work with loads up to 600V. If you use a multimeter professionally, you'll know that CAT III certification is essential to safely work with high loads. If you're not professionally trained, we'd advice staying away from any 600V power source, no matter what your meter can have.
For consumers, the important thing is that this meter is built to a professional standard. It's been factory calibrated, so you can trust the measurements to be accurate. This is, surprisingly, not something we can say about most electrical meters.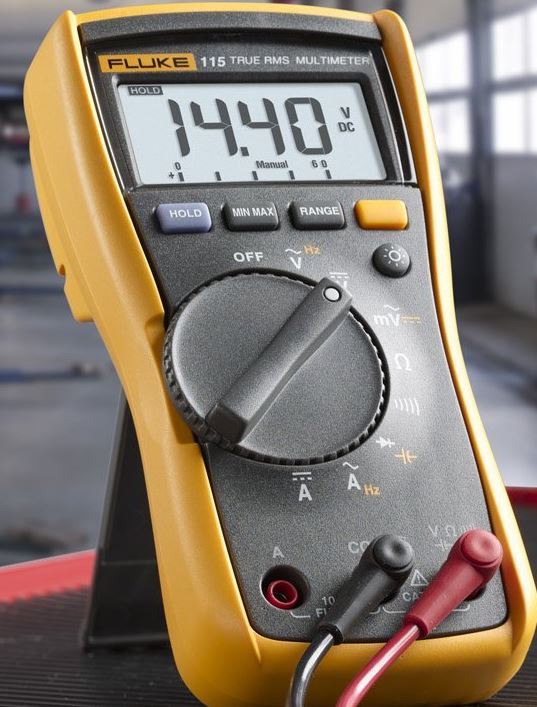 Features
For usability, there are a few key features we like. The kickstand and backlit LCD display make the meter very easy to use. The light can be turned on or off with the touch of a button, located just below the LCD. When it comes to testing, there are a few different features that you'll love.
For most consumers, the most important feature will be the continuity test. Want to make sure two wires are hooked up? Just switch it to continuity mode, it's the one that looks like sound waves on the dial. Touch the leads to a circuit, and it will beep if the circuit is functioning correctly. No beep means that it's shorted. You only need very basic electrical knowledge to use this feature, and you can keep your eyes on the task instead of the meter.
Another great feature is the Min / Max setting. Often, you're measuring something with an inconsistent load, like a speaker for example. Using the min/max button, you can hold the leads in place for a few moments and get the highest and lowest measured values. Push the button again, and you'll get the average. Diagnostics that would have required some math and an expensive logging meter now only require a single button!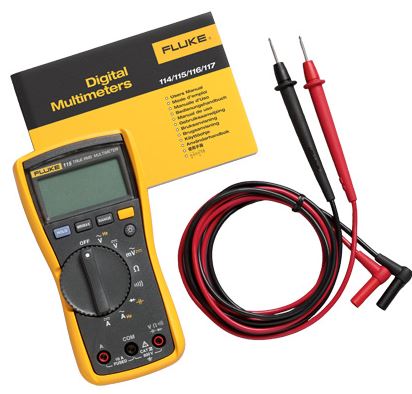 Accuracy
With UL, CSA, TUV, and VDE certifications, you know that this meter is accurate. If it says 124.43V, then you know that's the exact value. It actually measures with greater accuracy than it displays, but the numbers are just rounded to the most accurate setting.
It's also capable of measuring true RMS voltage. When you're dealing with a load that can vary over time, many meters are not capable of accurate extrapolating the true voltage. Because this one is reading the actual RMS voltage, it's capable of being used with alternating current. Other meters advertise AC compatibility, but the measurements are more of an estimation than anything.
Innova 3320 Auto-Ranging Digital Multimeter
Innova is a company that has been putting together affordable, reliable electronics for quite some time. While this digital multimeter is priced like an entry level unit, it's got a few features that put it ahead of the crowd.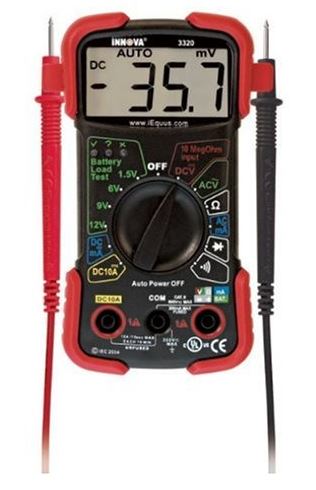 First Look
The first thing you'll notice about the Innova 3320 Auto-Ranging Digital Multimeter is that it's incredibly compact. It's very easy to hold in your hand, and includes some clips so you can keep your leads handy. Despite its small size, the screen is still large enough to read, and some rubber bumpers have been installed on the side to protect it from the occasional bump or scratch.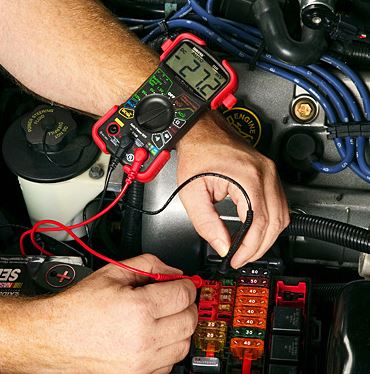 Capability
This compact digital multimeter is perfect for testing small, efficient electronics or minor household appliances. It can measure voltage, resistance, current, and continuity. It's auto ranging, so you don't have to set it to the appropriate level. Just choose what you want to measure, connect the leads, and it will automatically scale between volts, millivolts, or any other metric.
One thing they've done to make this meter easy to use is add a battery check function. Let's say, for example, you wanted to test a 1.5V AA battery. You connect the leads and it reads 1.3V. It's almost full, right? Surprisingly, it's not. Batteries can range in charge from 30% above their rating to 10% below. What is considered acceptable depends on the type of battery. But this meter can tell you at a glance. Just select the voltage, and you'll get one of three readings. Good, bad, or unknown.
According to the specs, this meter is rated for 10A. However, it is only CAT II. This means that it's not certified for that amount of current, and we'd highly recommend sticking to low current applications. Any 120V appliance should be fine, as long as you stay away from the large 240V models or anything that is breaker level or above.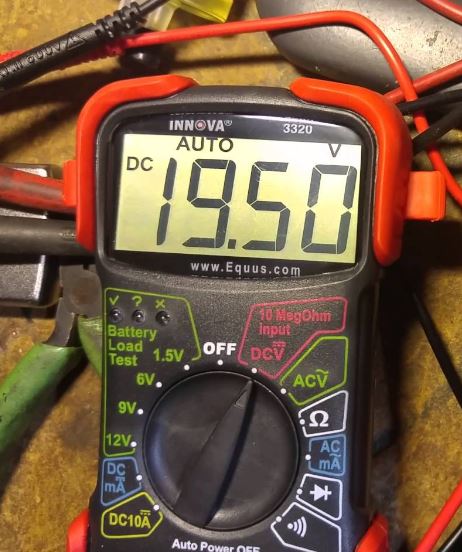 Features
The INNOVA 3320 is designed to be quite handy. For example, testing current in a low volume application is a little different than a high power draw application. To make this easier for the consumers, they've split the reading up so you can take measurements from 0 to 200mA, or another switch for 200mA and up.
Other examples are the continuity testing, which is similar to flukes audible feature, except it will display 0 for open (no connection) or 1 for short (active connection.)
This meter takes standard AA batteries, and will shut itself off automatically to save them.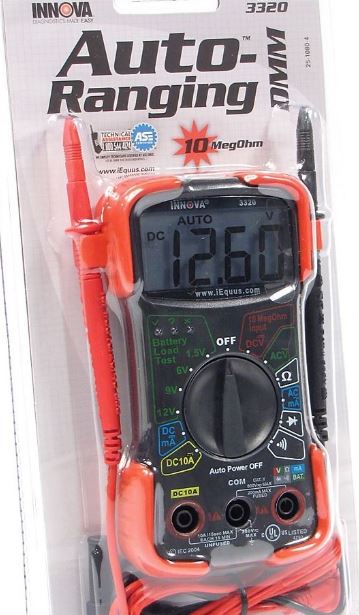 Accuracy
For the price, this meter is reasonably accurate. For most measurements, it's with 5 percent in either direction. For most uses, this is more than adequate. The only disadvantage is that it's a little slower. If you're measuring resistance, for example, it will take a second or two for the value to come up. Many people would take delay over error anyday, so it's a worthwhile trade off to make.
Craftsman 23-82141 Digital Multimeter
Craftsman has been making affordable tools for many years. If you don't have an immediate need for any one tool, Craftsman is the brand you turn to just to have it on hand. They're all functional and reasonably reliable, but among the most affordable on the market.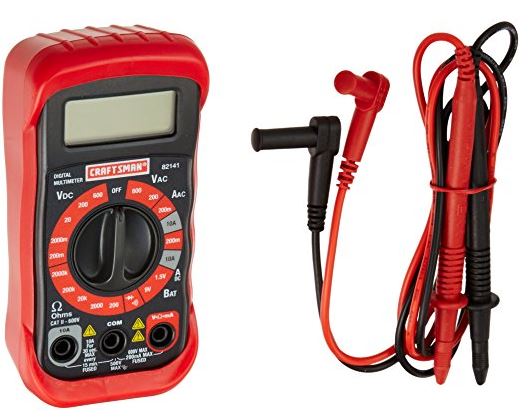 First Look
Although the Craftsman 23-82141 Digital Multimeter is the smallest on our list, it's design is the most akin to the Fluke. The large rubber frame is protective and, for a tool, pleasing to the eye. All of the ports and features are clearly labelled, and you can select your function from the large dial on the face.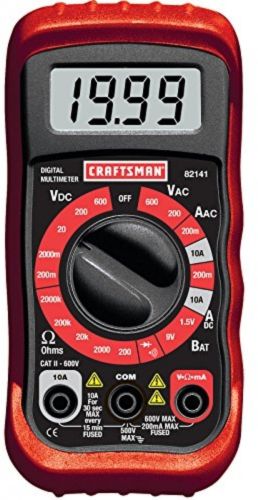 Capability
The Craftsman 23-82141 is capable of reading resistance, current, and voltage. It is capable of working with both DC and AC, and there is even a separate function for testing 9V or 1.5V batteries. It claims to be able to read up to 600V (both ac and dc) at up to 10 amps, although it's not certified for these levels. Generally, any 600V circuit you come across is going to have more than 10A on it, so it's not clear what the true limitations are. In our opinion, this meter is perfect for testing basic household goods or vehicle issues.
Features
Impressively, this meter has one of our favorite features – the continuity beep. Just set it to resistance, and it will automatically beep anytime there is a resistance below 30 ohms. For checking basic continuity, 30 ohms is an acceptable range. You just need to remember that even though it shows continuity, there may still be a minor problem on the circuit. This is just an indicator that the wires are connected.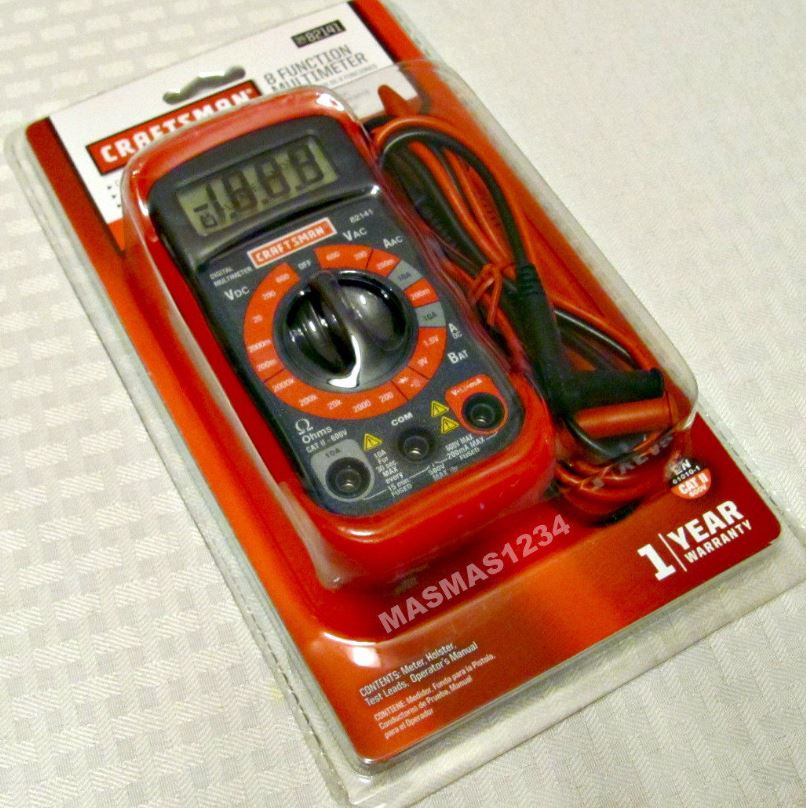 Accuracy
There's no published accuracy data on this meter, but in our tests, it actually seemed alright. It's capable of serving most basic application. Generally, inaccuracies in these meters are in the upper or lower areas of range, where you won't commonly be operating. 12V is among the easiest to measure, making this meter perfect for automotive use.
Which Digital Multimeter is Right for Me?
Now that you know which of these meters are the best on the market, it's time to find out which one is best for you. Fortunately, this is an easy choice, as there are clear differences between each model.
Everyone should have a multimeter on hand, just in case. Car won't start? In 30 seconds, a multimeter will tell you whether you should take a cab to work, or flag somebody down for a boost. If you have no immediate need for a multimeter, pick up the Craftsman 23-82141 Digital Multimeter. We guarantee that in its lifetime, it'll save you much more in time and money than its purchase price.
Is a multimeter something you think you might be using regularly? If you wanted to test your phone charger to see if it was working, the craftsman would work. But if you want to find out why it's not working, you need something a little more accurate. In this case, pick up an Innova 3320. This unit is much more accurate and reliable than the craftsman, perfect for diagnosing even complex DC circuits.
Do you want to be able to address problems with your homes AC circuits? Do you want to measure DC and know that your measurements are reliable? If you understand the relationship between voltage, current, and resistance, then you're definitely going to want the Fluke 115. This is the only meter on our list that's accurate enough for you to extrapolate information about a circuit from its measurements. It's also the only meter that is certified and approved to be used in high voltage applications. Although it's a little more expensive than the other two models, most professional grade meters would cost you several times the price of this. For that reason, we highly recommend it.
Before you buy, there's one important thing you should know:
AC current can be extremely dangerous. Unless you are properly trained, we do not recommend you use these meters to test any AC appliances. If you want to know how much power your devices are drawing from the wall, you should instead consider the much-safer option of an electricity usage meter. They do not require any training, and using them is as simple as plugging them in.