Whether you're running a factory or charging a smartphone, everyone needs electrical power these days. As a result, it's critical that your wiring remain in good working order. Maintaining your wiring is also important for safety reasons. If you're drawing too much on a circuit, for example, you could start a fire. All of this to say that everyone needs a few basic electrical tools, among them a multimeter.
A multimeter is a handheld device that measures various aspects of an electrical current. Depending on the design, they can detect voltage, wattage, amperage, resistance, and other metrics. Typically, the design will consist of a compact detection device with a display screen, connected to two probes. You then insert the probes in a power outlet, or across two wires, to test the current.
But there are significant differences between different types of multimeter. Some are heavy-duty industrial-grade devices with tons of built-in shielding. Others are lighter-duty, meant for residential and light commercial use. Some are made to fit in your pocket, while others are bigger, with more batteries and longer life. Some multimeters are extremely sensitive, enough to work with low-voltage circuitry. Others are designed only for residential or automotive levels of voltage. The point being, you don't want to get stuck with the wrong multimeter. It's important to do your research, and find one that's right for your tasks.
Now, we're going to review three of the best digital multimeters on the market. We'll begin by looking at the KAIWEETS KM601. This is a smartphone-style multimeter that fits in your pocket. Next, we'll check out the Fluke 115 Compact True-RMS Digital Multimeter. This is a durable, high-accuracy multimeter from a manufacturer who has become the industry standard. Last, we'll examine the Klein Tools Digital Multimeter. This is a more affordable multimeter that's still durable enough to take a beating. We'll take a deep dive into all of these multimeters' features and benefits. Once we've given them a thorough evaluation, we'll deliver our verdict. Let's get started!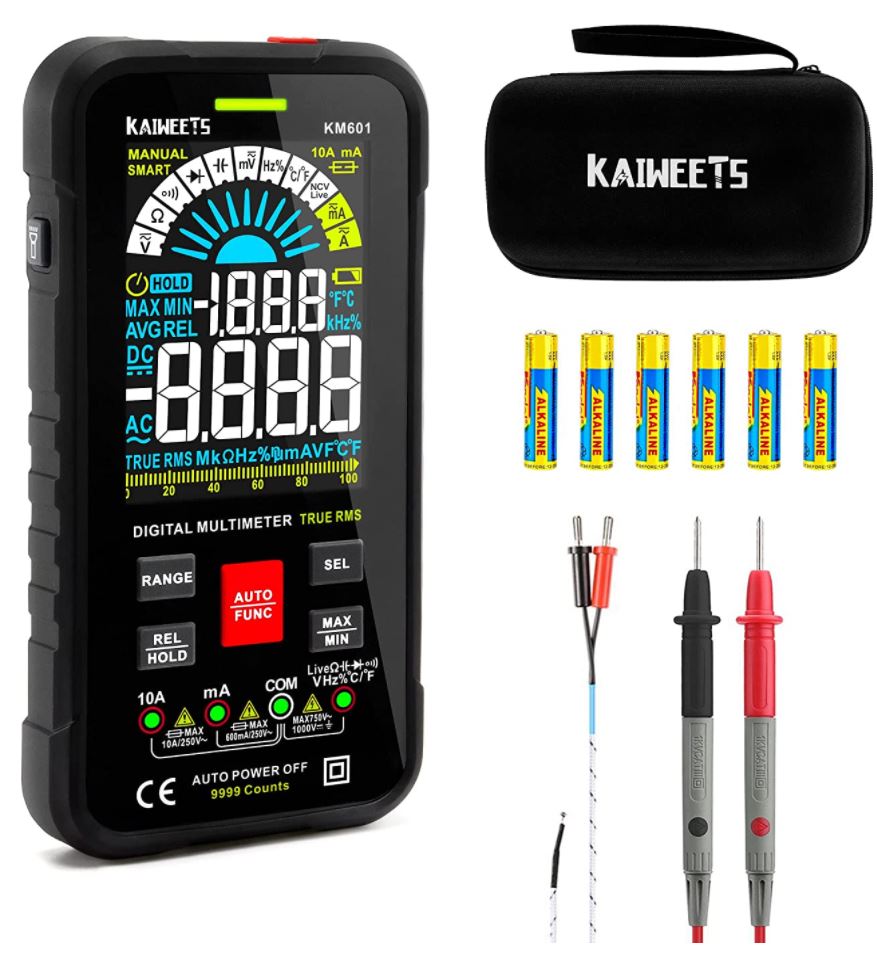 Best Overall: KAIWEETS KM601
KAIWEETS is a well-known manufacturer of home improvement tools. Among their other offerings, they make a cross-line laser level that impressed us with its capabilities. The KAIWEETS KM601 is equally impressive, starting with its unique look and feel. Traditional multimeters are fairly beefy, which is great if you're on a jobsite. But for an at-home tool, or one that you use only occasionally, smaller is better. The KM601's housing measures only 0.98-inch thick, with a width of 3.35 inches and a height of 6.5. That's about the size of an average smartphone, albeit a tad thicker. But even so, it's slim enough to slip into your back pocket.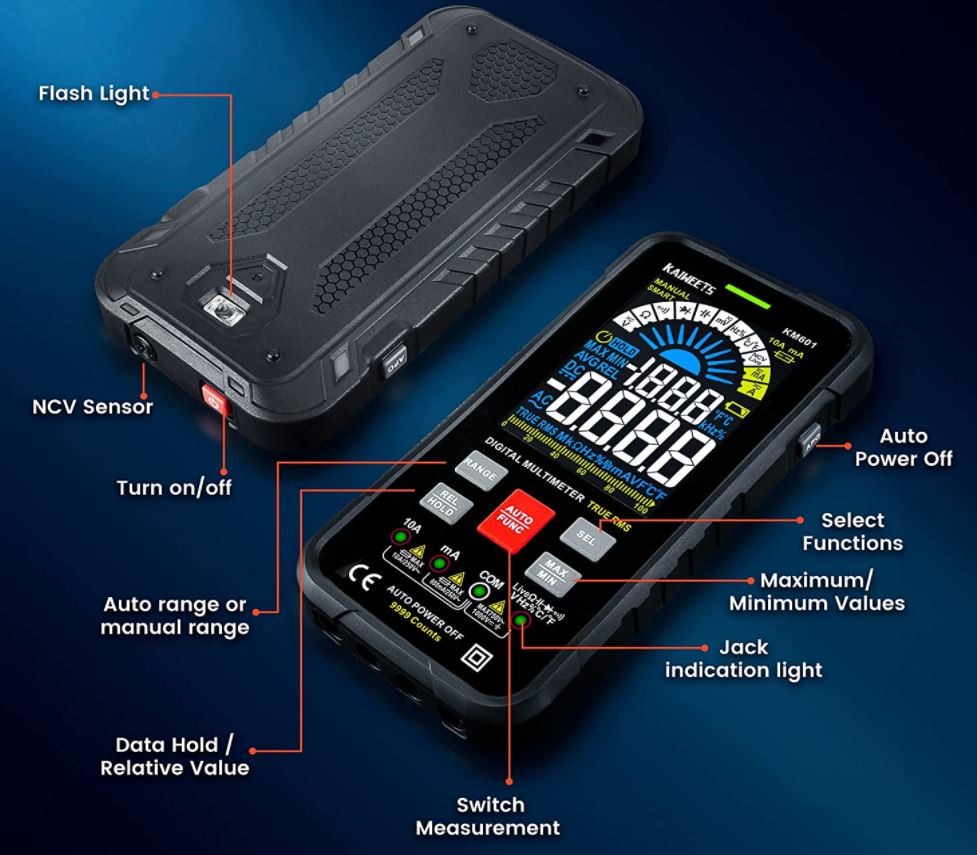 The housing is reasonably sturdy, and can withstand everyday bumps, dings, and drops. It also comes with a silicone cover, which provides effective protection for the screen. The screen itself occupies the top half of the front face, with different elements in black, white, blue, and yellow. This display includes a function indicator, which is designed as a dial on most multimeters. In this case, you would use the Auto/Func button to change between modes. Alternatively, you can simply leave the multimeter in "SMART" mode. In that mode, it will try to determine what you're measuring automatically. It can switch freely between DC voltage, AC voltage, continuity, and resistance. This feature is neat in theory, but in practice, you'll still need to manually select modes some of the time.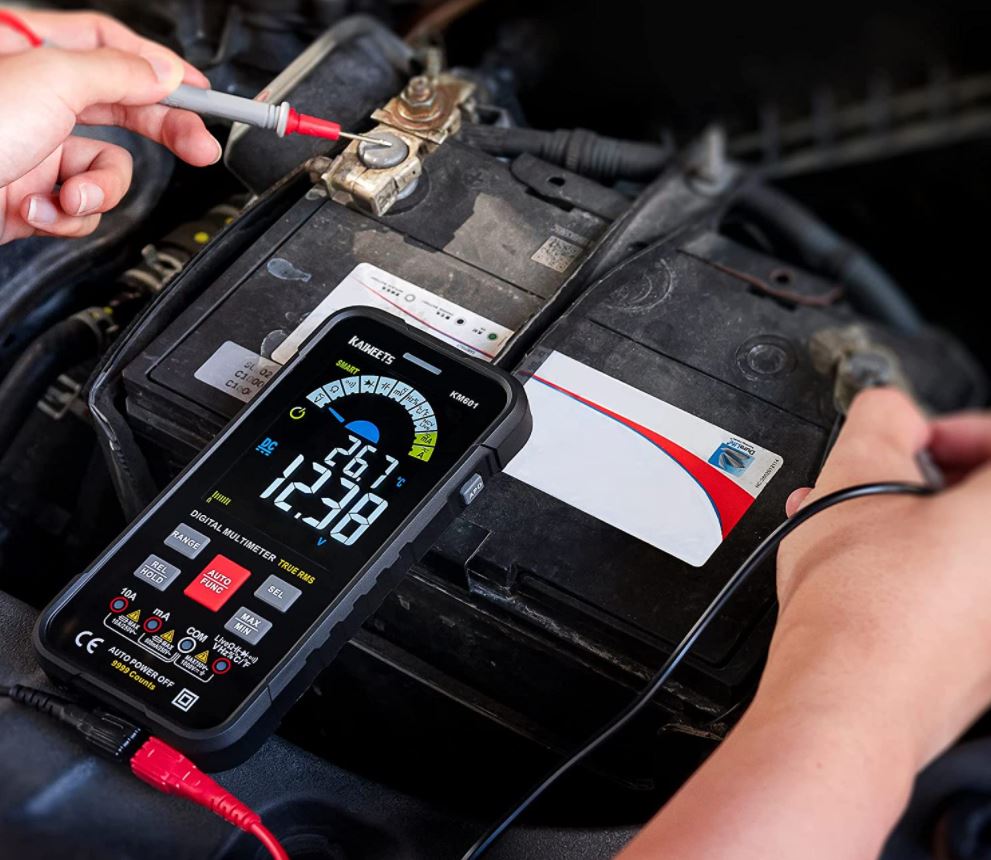 If you prefer a manual control scheme, you still have a set of buttons for performing various functions. You can set the minimum or maximum voltage, set a range, or reset to the factory default. You can measure AC and DC voltage, continuity, and resistance, just like in SMART mode. But you also get additional options. You can measure capacitance, frequency, diodes, AC and DC current, or check for live wires. As an added bonus, you can estimate a battery's duty cycle, or even check the temperature. There's an on/off switch at the top of the housing, but this isn't strictly required. After 15 minutes of inactivity, the KM601 will automatically shut down to save battery life.
Use code "NT10" for 10% off the KAIWEETS KM601 when you purchase directly from the KAIWEETS Official Website
Along with the multimeter itself, you get a few extras to help you get started. First off, there are a pair of cable leads with contacts, as you'll find with any multimeter. These plug into the bottom of the housing, as does the optional thermometer attachment. Everything fits in a stiff nylon carrying case, which zips shut easily for storage. You even get six AAA batteries, so you don't have to provide your own the first time around.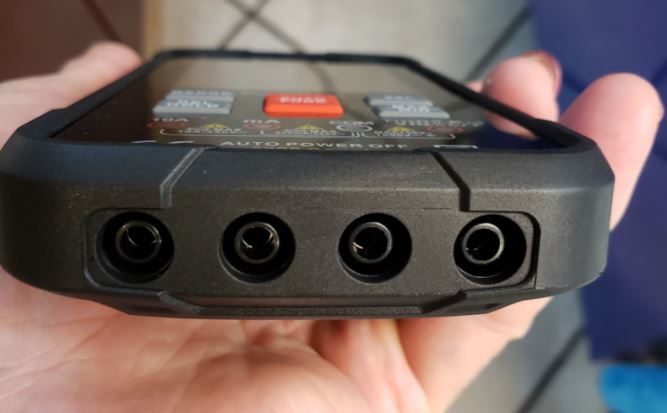 Features & Accuracy
In addition to functioning as a multimeter, the KM601 has a flashlight built into the back of the housing. This is very similar to a smartphone flashlight, and you can expect similar performance. It's great for finding wires in a crawl space, or lighting up the inside of a breaker box. But it will also drain your batteries, so you'll want a full-sized flashlight for continuous use.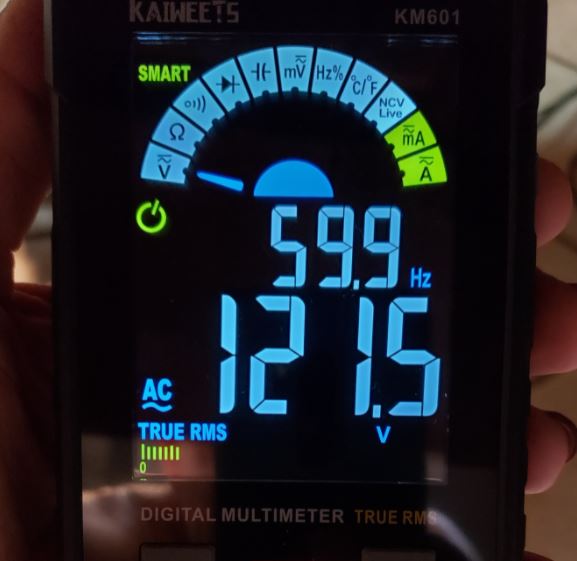 The internal circuitry has not just one, but two fuses. This provides additional protection from power surges and overvoltage. If the multimeter receives too much power, you won't have to replace the whole thing. Just pop in a new pair of fuses and you'll be good to go. If you run into any issues, KAIWEETS provides a full three years of after-sale service and technical support.
Aside from being a multimeter, the KM601 has a couple of additional tricks up its sleeve. To begin with, there's a sensor at the top for testing AC outlets. You can do this wirelessly, and you'll get a visual readout along with an audible beep. This makes it quick and easy to check for live outlets without using the cable leads. The thermometer, meanwhile, is useful when you're working with batteries. It's sensitive from -40 to 1832 degrees Fahrenheit, which is far outside anything you'll ever need.
Meanwhile, the multimeter functions themselves are highly sensitive. The sensors are rated for 0.001 volt, 0.01mV, 0.001mA, and 0.001A. Even if you're working with very sensitive equipment, you'll get a precise, accurate reading.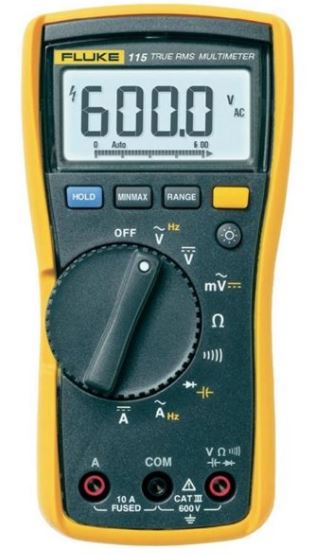 Best High-End: Fluke 115 Compact True-RMS Digital Multimeter
Fluke manufactures a wide array of professional electronic tools, such as high-quality megohmmeters. The Fluke 115 Compact True-RMS Digital Multimeter is a continuation of that tradition. It's also a great choice for professionals, since many jobsites require the use of Fluke meters. If you've already got the right brand name, you won't have to buy a second multimeter.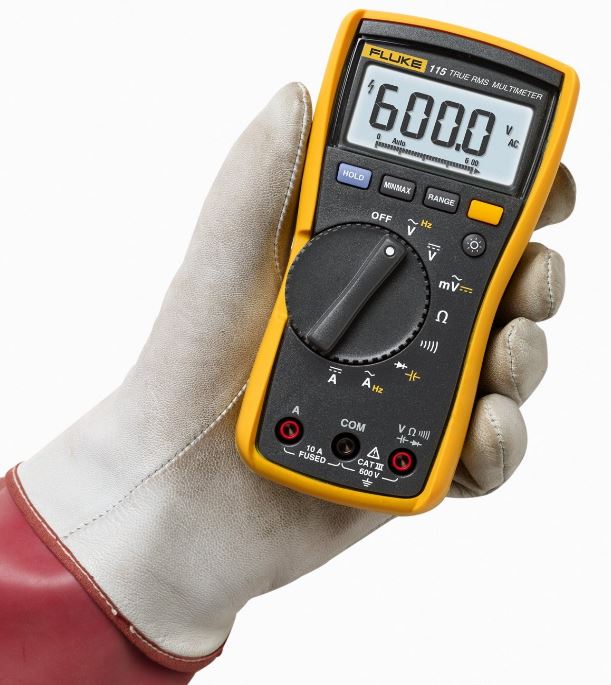 The housing is a bright yellow rubber, with a shock-resistant design that can absorb significant amounts of damage. The LCD screen at the top is Spartan, but functional, with all the information you need to know. Beneath that, you'll find a set of function buttons. These allow you to hold, set maximum and minimum current, and define a sensitivity range. There's also a backlight button for illuminating the display. The dial is located to the left, so it's easy to use while holding the device in your right hand.
Using the selector dial, you can choose to measure a variety of things. You can test AC and DC voltage, resistance, capacitance, and current. When you take a voltage reading, you'll also see the frequency at the same time. And since you can work with up to 600 volts, you're looking at a highly durable device. The kit includes a set of wire leads, as well as a pre-installed 9-volt battery.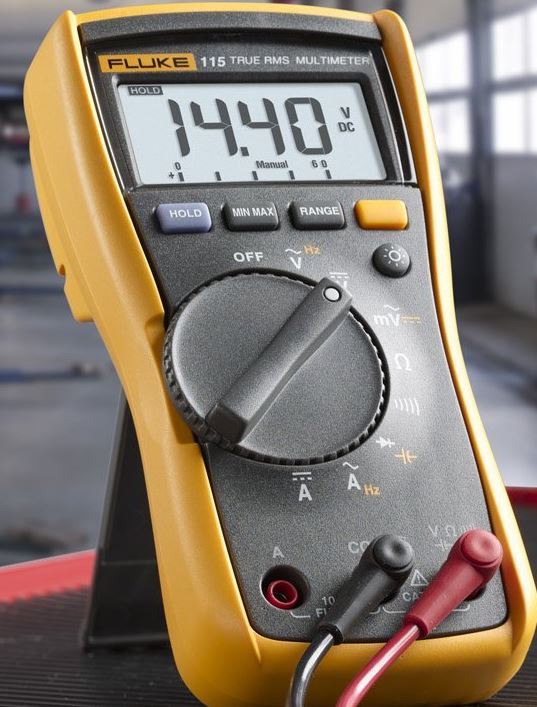 Features & Accuracy
The 115 is one of Fluke's smaller models, but it still has some useful features. For one thing, there's a plastic kickstand in the back. Combined with the display backlight, this makes the 115 perfect for tabletop use. You can set it down and work with your hands, and read the numbers as they appear.
As for accuracy, you're looking at one of the most accurate multimeters on the planet. It's certified by UL, CSA, TUV, and VDE. Without going too far off into the weeds, let's just say that it's exceptionally reliable. In fact, the accuracy is better than the display even allows for. So even the precise numbers you're seeing are slightly rounded. Another professional-grade improvement is that it can measure true RMS voltage. This can be problematic for many multimeters, which don't always accurately measure fluctuating voltage. The 115, on the other hand, will get you an accurate number for the true voltage.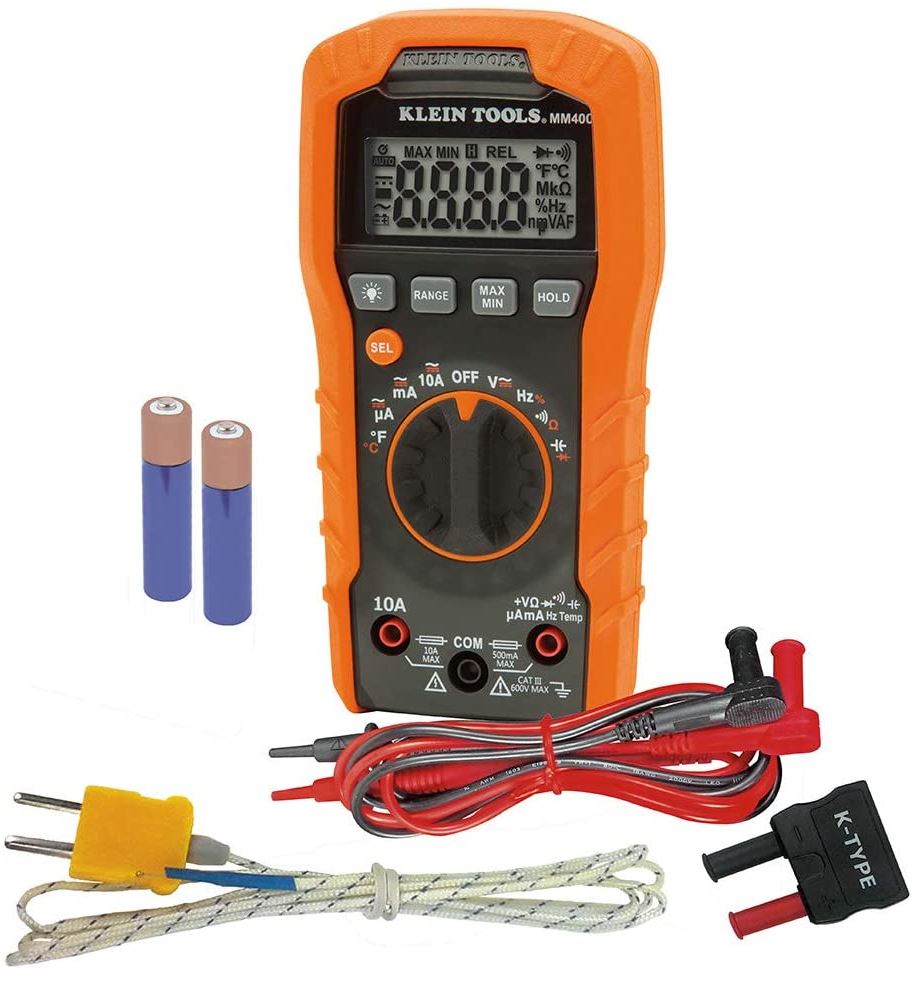 Best Alternative: Klein Tools Digital Multimeter
Klein Tools is yet another manufacturer that needs no introduction. They specialize in household tools like their USB power tester, which we very much approved of. So it only made sense to review the Klein Tools Digital Multimeter. This multimeter looks similar to the Fluke in many ways, with its beefy design and its rubbery orange housing. It's even similarly shock-resistant, and rated for a drop of 3.3 feet. Even if it's your daily driver, you shouldn't have any issues with durability.
One thing we didn't like was the location of the selection dial. Because it's smack in the middle of the housing, it's not open on the side. This makes it slightly harder to operate than the Fluke's dial, but it's not a huge concern. Above the dial are five buttons, where you can select the minimum or maximum voltage, or set a range. You can also turn on the backlight for the LED display, which is located at the top. This is a simple black and grey display, without a ton of extra features. But you still see all the information you need to know, such as your voltage and amperage.
Using the dial, you can select between several different measurement settings. You can test AC and DC current, capacitance, frequency, and duty-cycle. You can even measure the temperature, or test diodes for connectivity.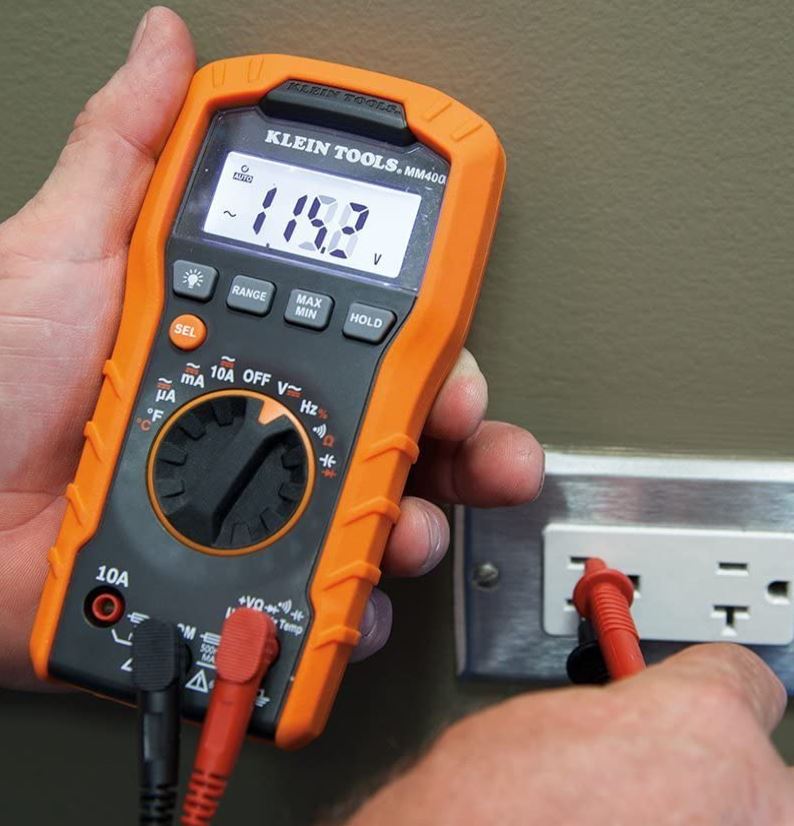 The kit includes everything you need to get started. There are a pair of test leads, which plug into ports beneath the selection dial. There's a thermocouple, which can also plug into the bottom of the multimeter. Finally, you get a pair of AAA batteries. Given the size of the unit, we would have liked to see four or six for longer performance. Even so, you've got plenty of capacity for a household tool.
Features & Accuracy
Like the Fluke multimeter, the Klein Tools multimeter has a kickstand on the back. This provides all the same benefits, such as making it suitable for tabletop use. It also has a surprising maximum voltage capacity, up to 600 volts. That's a ton of power, five times the voltage you get from a residential outlet.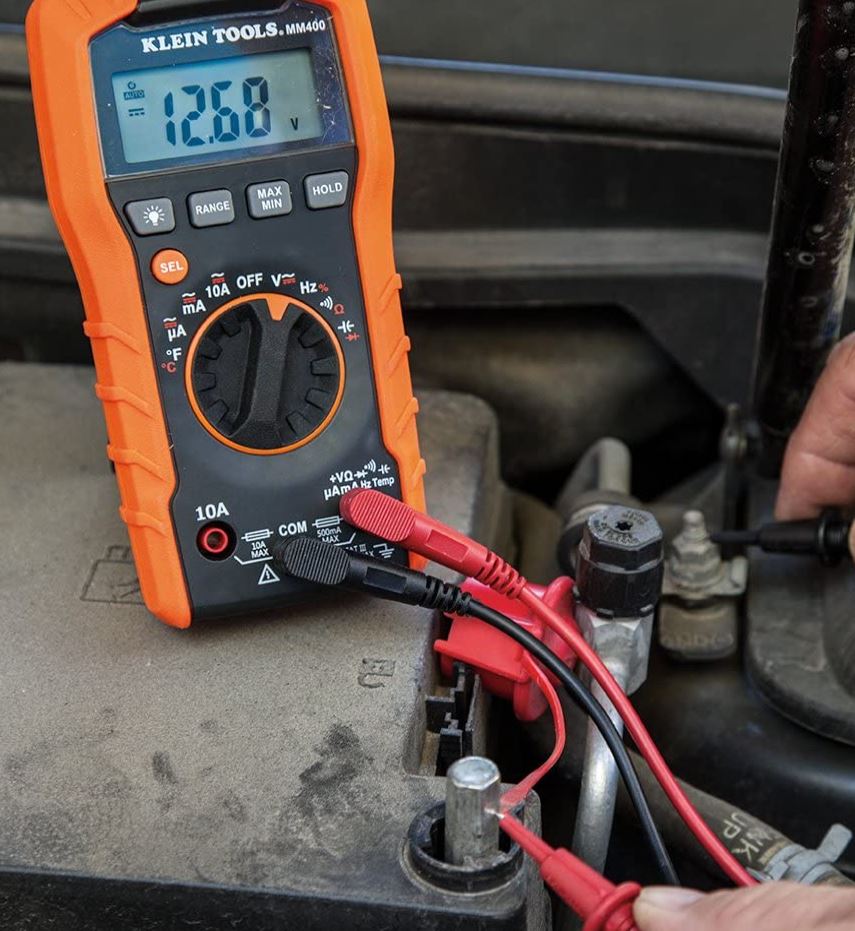 This multimeter is reasonably accurate under residential and light commercial conditions. That said, it's not as well-shielded as a professional-grade tool. If you're working in an environment like a factory with tons of interference, you'll get less accuracy. But for everyday household use, you're going to have more than enough precision.
What is the Best Digital Multimeter?
So, where does this leave us? Which of these digital multimeters is the best of the bunch? We started out by reviewing the KAIWEETS KM601. With its smartphone-style design, this multimeter is engineered for homeowners or for light commercial use. It's easy to carry and use, with a highly functional display. And while the "SMART" mode isn't perfect, it's a great touch. Don't forget to use code "NT10" for 10% off the KAIWEETS KM601 when you purchase directly from the KAIWEETS Official Website
The Fluke 115 Compact True-RMS Digital Multimeter is a professional-grade multimeter with extreme accuracy. It's very well shielded, so it can work even in environments with a lot of interference. It's also nice and rugged, and can last through years of regular use. For an average homeowner, it might be a bit pricey. But if you're a professional who needs an everyday tool, accept nothing less.
The Klein Tools Digital Multimeter is a traditional multimeter made for household use. The rear kickstand makes it suitable for tabletop use, and operation is fairly straightforward. It can also detect a current up to 600 volts, which isn't half bad for a consumer-grade multimeter.