Overall Design -

8/10

Print Quality -

9/10

Ease of Use -

8.5/10

Versatility -

7.5/10
Summary
TIN's TP-4002 Thermal Label Printer is an excellent choice for businesses looking for a sturdy, efficient, and cost-effective label printer. True, the lack of mobile compatibility and the necessity to purchase a separate label holder are slight drawbacks. But its easy setup, impressive performance, and high-quality output make it a worthy investment.
Pros
Clear, high-speed printing
Supports multiple label formats
Automatic label identification
Compact, sturdy design
Cons
No mobile compatibility
Label holder not included
In the contemporary landscape of small businesses and e-commerce, one crucial component that aids in the efficiency of operations is a competent, easy-to-use label printer. A label printer can make all the difference in swiftly managing shipping orders, organizing warehouse inventory, and even creating DIY labels for personalized projects. TIN, a company known for its commitment to high-tech printing solutions, has introduced a thermal label printer geared specifically for these diverse needs.
Unboxing the Printer
Upon unboxing, you'll find the TIN Thermal Label Printer, along with a USB stick, which houses the necessary driver for the device. You also get connection options with a USB-C for Mac users as well as a traditional USB cable for other platforms.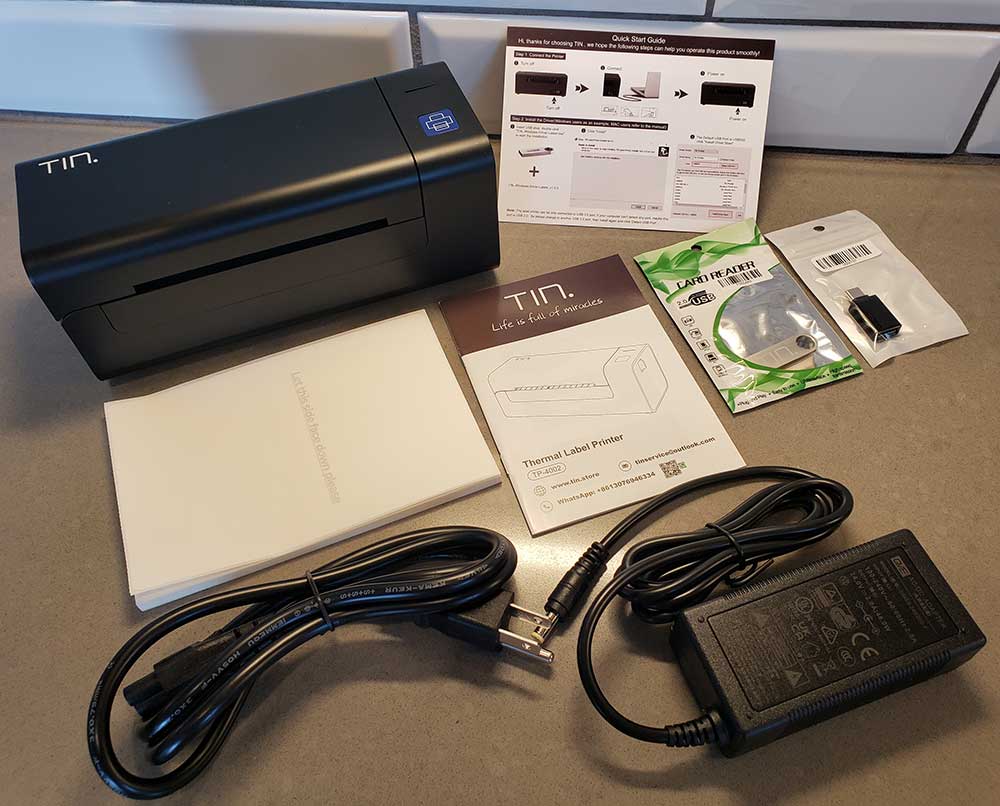 Included, too, are the power cable and a starter roll of 30 labels measuring 4 x 6 inches each. It's always satisfying to have everything you need to get started right at your fingertips, a mark of good customer service.
First Impressions
The TP-4002 comes in an understated yet sleek black color, reflecting a professional aesthetic fitting for an office or home workspace. The first thing that catches your attention is the compact design of the printer. With dimensions of 3.15 x 7.9 x 3.6 inches, it comfortably fits on most work desks without taking up much space. The small footprint is sure to be a welcome feature for many business owners. What's more, it weighs around 3.47 pounds, which adds to its portable size.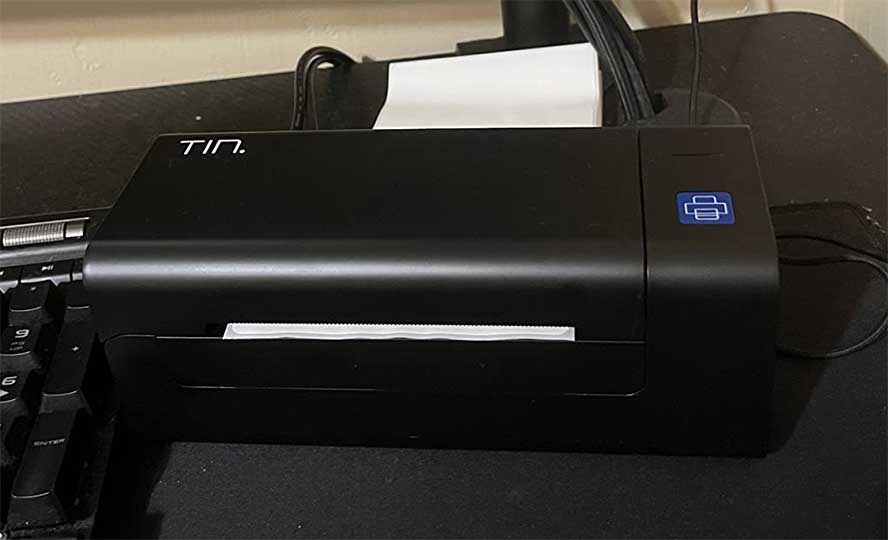 Small as it is, it's sturdy enough to handle the rigors of daily use. It has a strong, well-built quality to it, with no loose or wobbly parts. The printer is designed for ease of use, with a straightforward paper feed mechanism visible from the top. It gives the impression of a well-thought-out piece of technology that prioritizes user convenience. A notable feature is the absence of any ink or toner parts, which is characteristic of thermal printers, suggesting a clean and economical printing process ahead.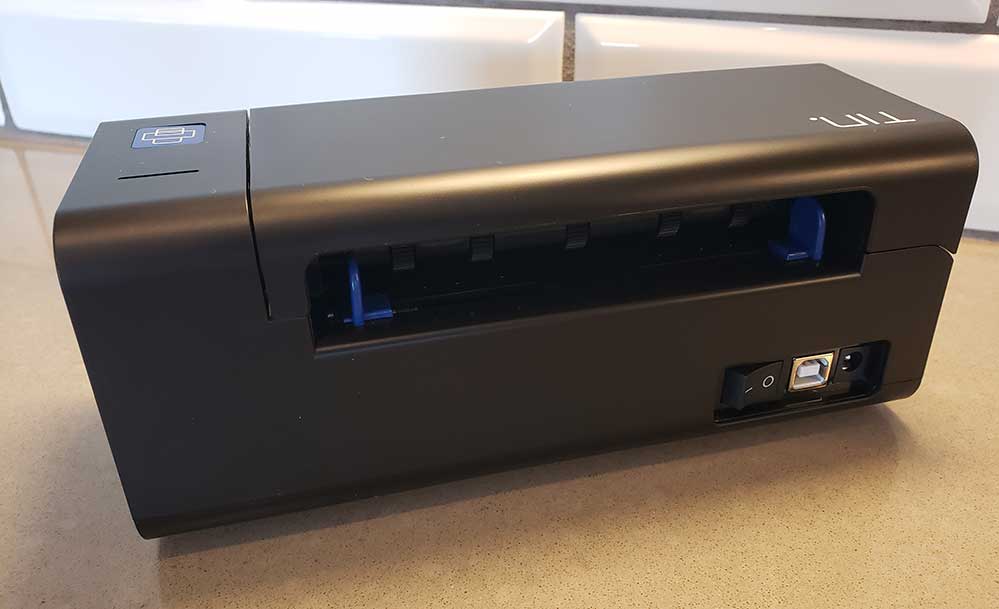 The simplicity of the unit's design speaks volumes about its function – to provide fuss-free, efficient label printing. If you're a business owner, you know how quickly printer ink can add to your expense budget. The beauty of this type of printer is that it not only eliminates a considerable portion of that budget but it also helps improve efficiency. With that in mind, let's switch gears and examine its performance to ensure it can keep up with the demands of your business needs.
Performance and Operations
Building on our previous experience with the printer, its performance continues to impress. It boasts dependable operation that's evident across various use cases, reflecting its versatility as a thermal printer for businesses of all sizes. One aspect that became more apparent in extended usage was its durability. Despite heavy use across multiple sessions, the printer remained sturdy and reliable. This is a crucial characteristic for users such as entrepreneurs and business owners who frequently need to print and ship numerous products across the globe.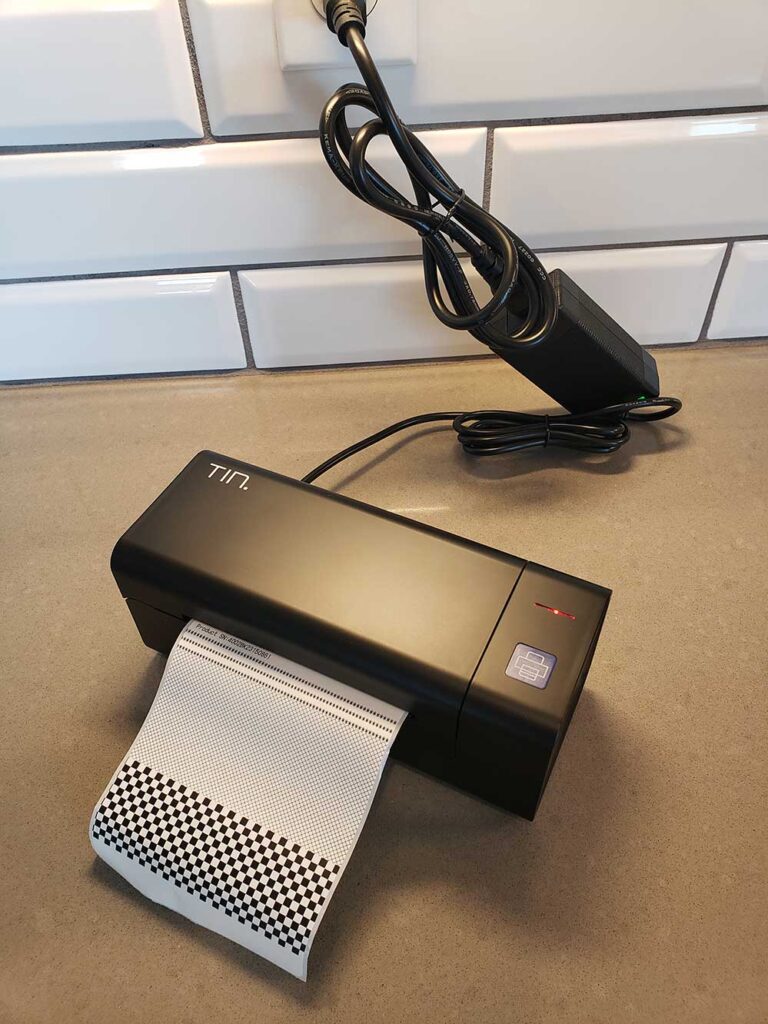 The consistent performance is evidence of the device's robust construction, underpinning its ability to keep up with heavy workloads. We also noticed that its speed made a noticeable difference in the flow of operations. The ability to produce 60 labels per minute speeds up shipping procedures significantly, giving businesses an advantage in fulfilling orders quickly and efficiently. For home users, this rapid output is equally beneficial, allowing them to complete their labeling tasks swiftly and move on to other activities.
While the setup did require the installation of a driver, which may be considered a slight inconvenience, the subsequent ease and efficiency of operations outweigh this minor drawback. Loading the printer, as we've previously mentioned, is straightforward and easy, with it adeptly handling labels of different sizes. We'll dive deeper into that aspect in the following section.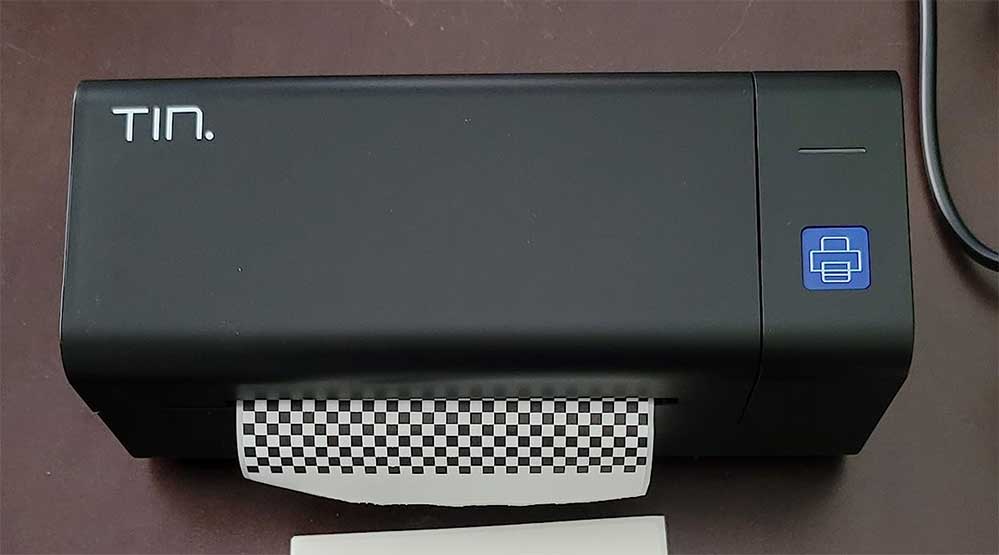 Another commendable aspect was the noise level. Despite its speed, it operates quietly, contributing to a peaceful working environment. This feature is a significant advantage for home offices or shared workspaces where noise can be disruptive. Overall, the TP-4002 continues to prove itself as a high-performance printer, providing reliable and efficient operations that cater to a range of user needs.
The thermal printing technology delivers high-quality prints that enhance the professional appearance of packages, adding a polished touch to your shipments. And its compatibility with various operating systems and label sizes makes it an adaptable tool that can cater to a diverse set of requirements. On that note, we should mention that this printer is strictly designed for computer compatibility. You can't use it in conjunction with your smartphone or tablet. So if you rely on mobile software for your e-commerce needs, you'll need to consider a PC- or Mac-compatible solution.
This does detract from the printer's versatility, and it leaves out those who use mobile devices only for their business operations. Granted, that's likely a small sect in the overall business realm, but it's worth mentioning nonetheless. If you're part of that market of business owners, you'll want to look elsewhere for your label-printing needs.
Label Support
While there is some limitation to running the printer's software, it compensates by providing comprehensive label support. Here, both fan-fold and roll labels are accommodated. This ability to work seamlessly with various types of labels is a nice bonus, offering users the flexibility to choose the format that best suits their unique requirements.
Fan-fold labels, which are stacked and folded back and forth in a zigzag pattern, offer advantages such as easy storage and large batch printing. On the other hand, roll labels, which come wound around a core, are often favored for their smooth, continuous feed and compatibility with label dispensers. The TIN Thermal Label Printer performs well with both types, demonstrating reliable label grabbing without any occurrences of jamming during our tests.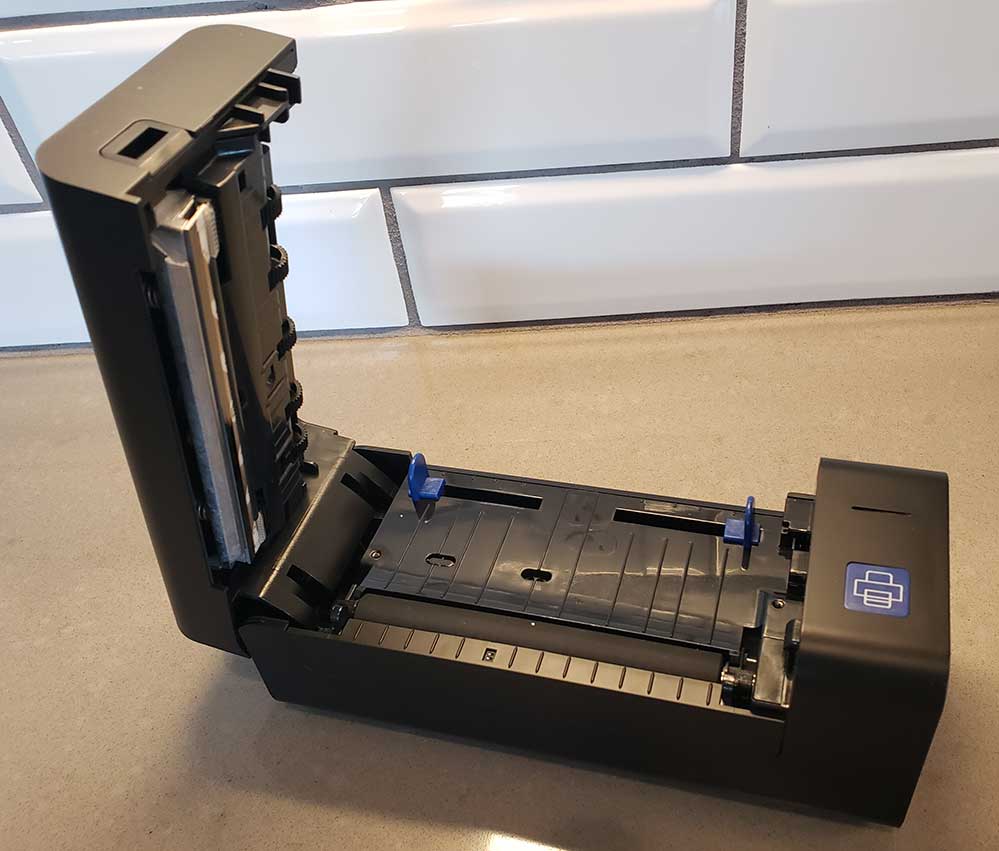 That in itself is a very welcome quality. And as a result, users can select the format that best aligns with their workflow, whether they're shipping products, managing inventory, or creating labels for personal use. Do note, however, that while it does support these two types of labels, the label holder is not part of the printer package. The holder sits behind the printer and feeds labels through. It's worth mentioning that it is possible to arrange your own method of securing the labels for printing.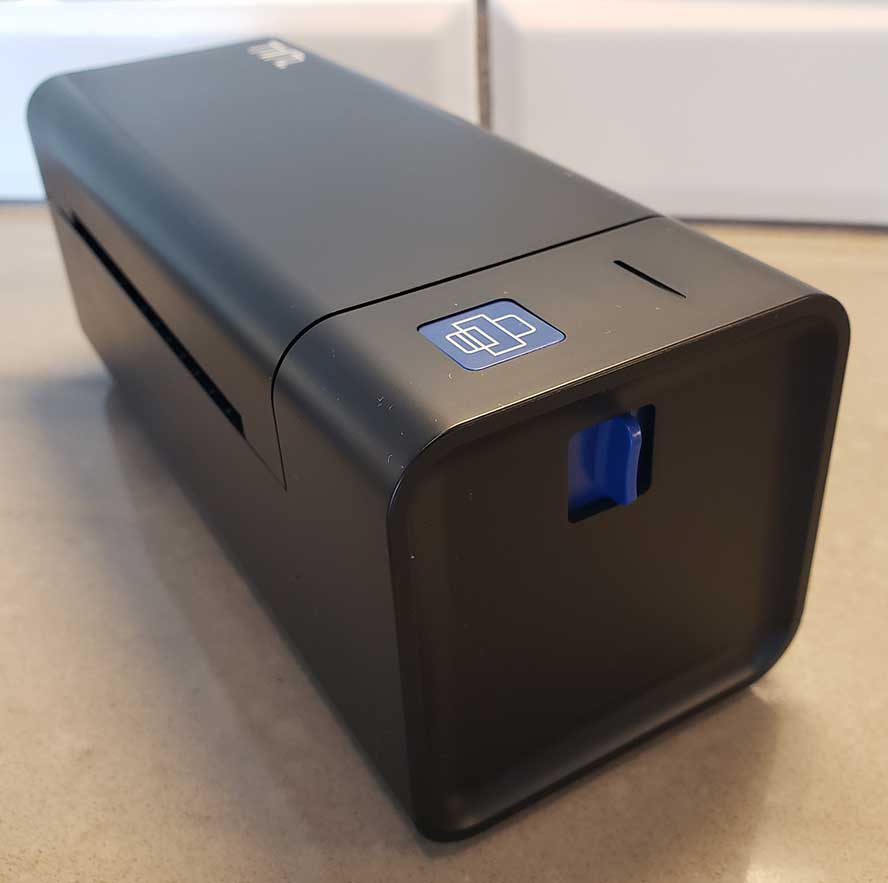 But if you want a clean, professional aesthetic, it's worth investing in a holder. You can nab a universal one online for less than $10, so it's not a major expense. And as a universal holder, it supports both label formats supported by the TP-4002. In any event, despite not coming with its own holder, the printer's compatibility with different label formats still provides an attractive degree of flexibility that will meet the needs of a diverse range of users.
Print Quality
One of the most crucial aspects of a label printer is undoubtedly the print quality it offers, and the TIN TP-4002 certainly excels in this area. Equipped with a 203 DPI (Dots Per Inch) resolution, the printer provides highly legible and sharp prints, crucial for barcodes, QR codes, or any text that needs to be easily scanned or read. This level of DPI might not seem impressive compared to photo printers, but for label printing, it's more than sufficient. The higher the DPI, the more detail a printer can provide. However, for labels that typically consist of simple graphics, barcodes, or text, 203 DPI delivers crisp, clear results.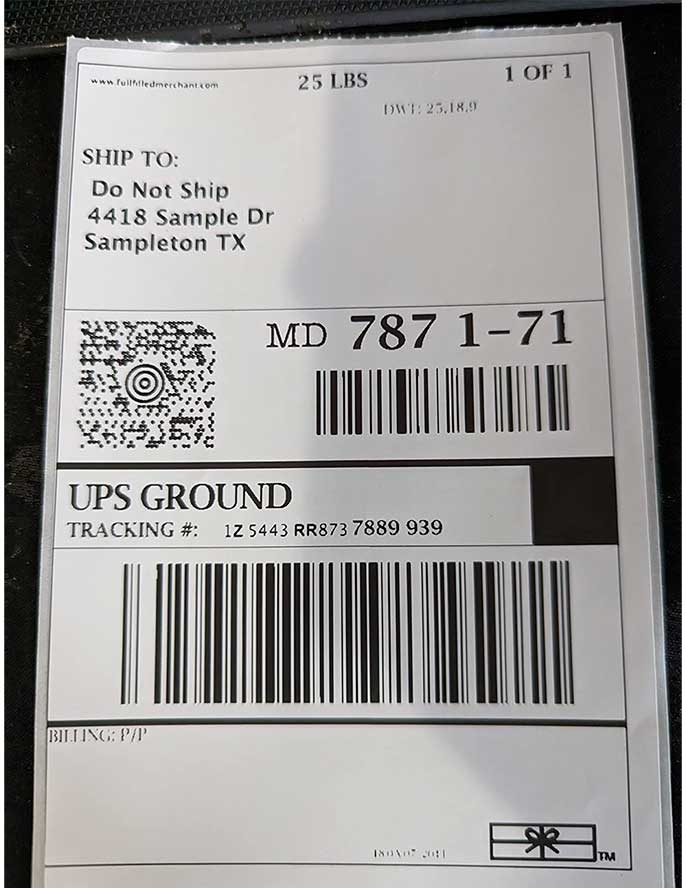 In our tests, it produced sharp, clean lines and well-defined text every time – even at smaller font sizes. Whether we printed shipping labels, warehouse labels, food nutrition facts, or DIY labels, every output was clear and easily readable. We also did not encounter any faded or blotchy prints, which speaks volumes about the printer's consistent performance.
Notably, the printer's thermal technology contributed significantly to the superior print quality. Rather than ink or toner, it applies heat to the special thermal paper, creating a reaction that forms the desired images or text. This results in precise, smudge-free prints that are resistant to factors like heat, light, and humidity. It increases the longevity of your labels while giving you confidence that your packages will get to their assigned destinations.
User Interface
The simplicity of the user interface is noteworthy. It becomes clear upon unboxing that this device was designed with a plug-and-play mentality in mind. While it is common to encounter challenges when setting up new technology, our experience was notably hassle-free. The thoughtful inclusion of a USB stick with the necessary drivers streamlined the process, making the installation quick and intuitive. This is sure to appeal to non-tech-savvy users.
The physical design complements its software interface, boasting an intuitive rear-loading mechanism for feeding labels. The thoughtful design allows users to simply insert their chosen labels into the back of the unit, at which point the Automatic Identification feature takes control. This combination of physical and digital user interfaces makes the printing process easy, even for first-time users. What's more, the lack of buttons and dials further cements its user-friendliness.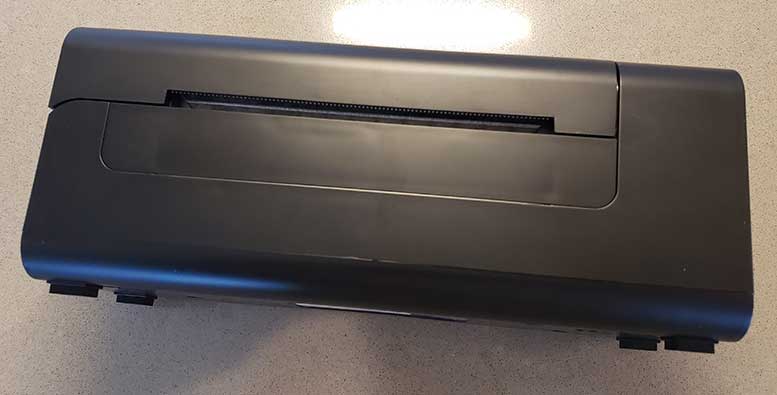 Features and Benefits
As simple as it is in execution, the printer boasts some essential features that enhance its usability and performance significantly. A standout is its Intelligent Auto Label Identification function. By automatically aligning and feeding labels into the printer, this feature saves users valuable time and resources, especially during high-volume printing sessions. By reducing label waste, it also contributes to more sustainable operation practices, a feature appreciated by environmentally-conscious users.
While it doesn't offer WiFi or Bluetooth capabilities, its USB connection ensures secure data transfer and an uncomplicated setup process. This aspect highlights the printer's focus on simplicity and ease of use, offering a straightforward yet reliable connection method. Whether you need to ship products for a small business, organize a warehouse, or simply create custom labels for a personal project, the TP-4002 is a capable, reliable, and cost-effective choice.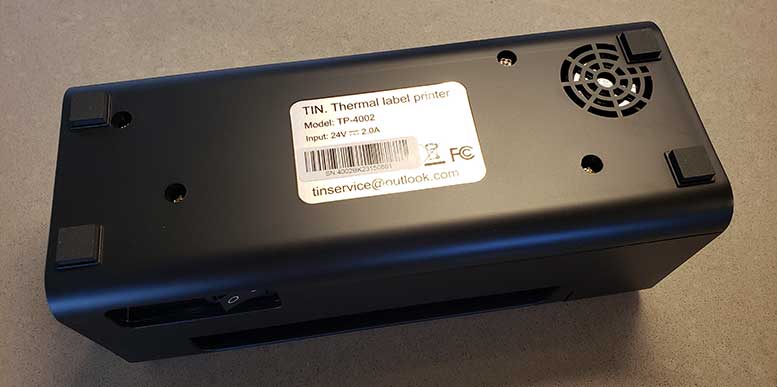 Final Verdict
TIN's TP-4002 Thermal Label Printer is an excellent choice for businesses looking for a sturdy, efficient, and cost-effective label printer. True, the lack of mobile compatibility and the necessity to purchase a separate label holder are slight drawbacks. But its easy setup, impressive performance, and high-quality output make it a worthy investment.