Traveling to different countries is one of the greatest experiences you can have in your entire life. Going to new and exciting places, meeting awesome people, and getting immersed in diverse cultures is fantastic.
Are there barriers to traveling like this? Sure. Time, money, kids, pets, and more can all make it more difficult. However, there is one barrier that can be even more daunting to overcome.
That barrier is not knowing how to speak the local language. Unless you have someone with you who can speak with the locals, or spend countless hours learning yourself, you have to just go and hope you find someone who can speak your language. Alternatively, modern technology has provided a better solution. That solution is a handheld translator device.
What is a Handheld Translator Device?
A handheld translator is perfect for communicating with hundreds of people all around the world. They listen to you and the person you're trying to talk to, hearing everything that is said. Then, it takes that information and translates it into the correct language for the other person, enabling you to easily communicate with each other.
How Many Languages Can a Handheld Translator Translate?
This is going to vary from device to device. Typically, they are going to be able to take your language and convert it into somewhere between 25-150 languages. This gives you plenty of options to feel comfortable traveling the world.
Do I Have to Have Internet Connection to use a Handheld Translator?
Another short answer of it depends. Some translator devices do require either a WiFi or cellular internet connection. However, others have memory built-in with common languages stored right on the device. This enables them to translate without having internet. You may experience slower translation and fewer features when offline, but it's still a great feature to help you out.
Does a Handheld Language Translator Take Up A Lot of Space While Traveling?
Not at all! These days we're used to having cell phones and small devices right in our pockets. These language translators are no different. They are actually smaller than some common cell phones, making them simple to bring with you no matter where you go in the world. They will be much simpler to take with you than a translation book, and even easier to find than your own personal local translator.
1. Fluentalk T1 Handheld Language Translator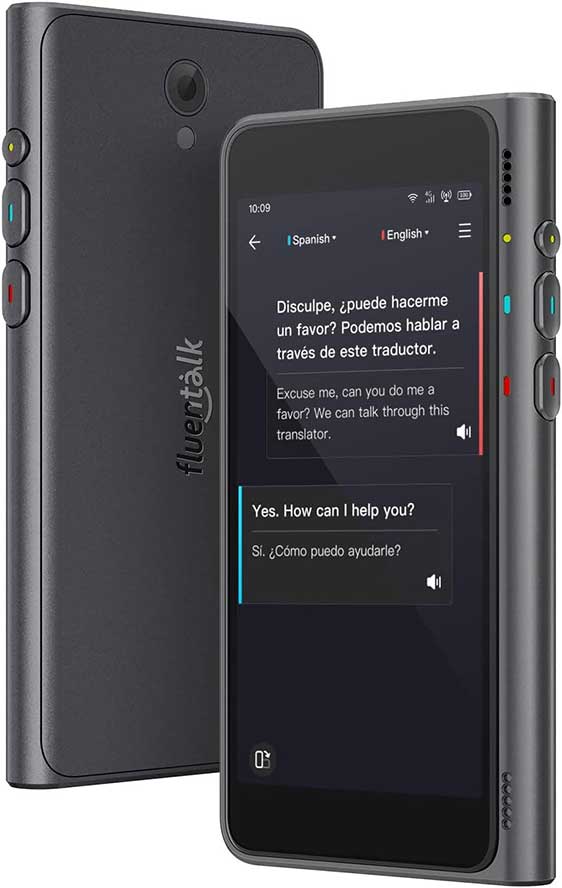 Key Features:
Translates 40 languages
Translates in .2 seconds
Offline translation available for 8 languages
The Fluentalk T1 is a great handheld translator with robust features. It's a compact device, coming in at 2.3 x 4.6 inches and only weighing 4 ounces. The front of the device is a 4-inch HD touchscreen. This allows you to easily control different features and see the translations on screen. There are additional buttons on the side to allow you to easily control various translate features.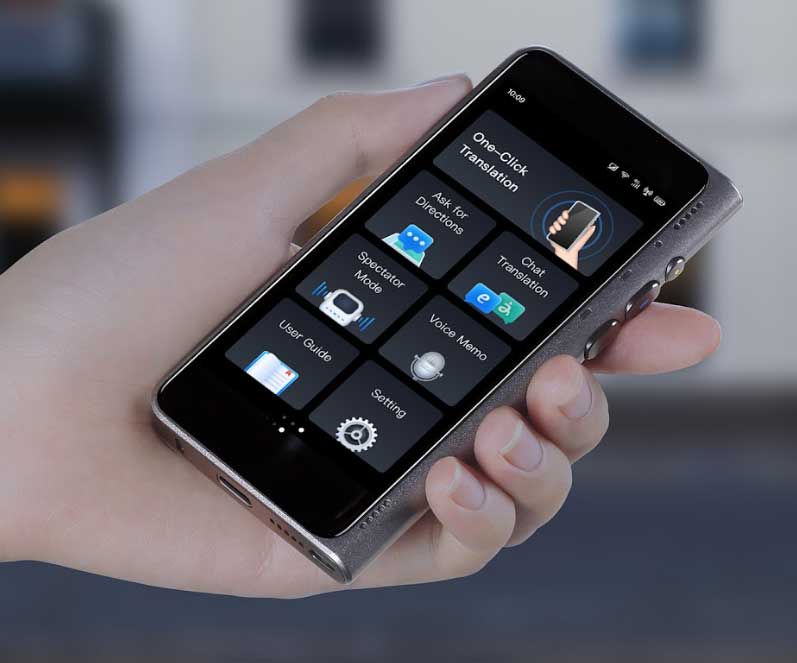 The Fluentalk T1 can translate 40 different languages. This is possible due to a free 2-year mobile plan and sim card that comes with the device. There are four different modes to choose from as well. One-click translation, listen mode, chat conversation mode, and even photo mode. Whether you need a quick translation or need to carry a longer conversation, this device can do it.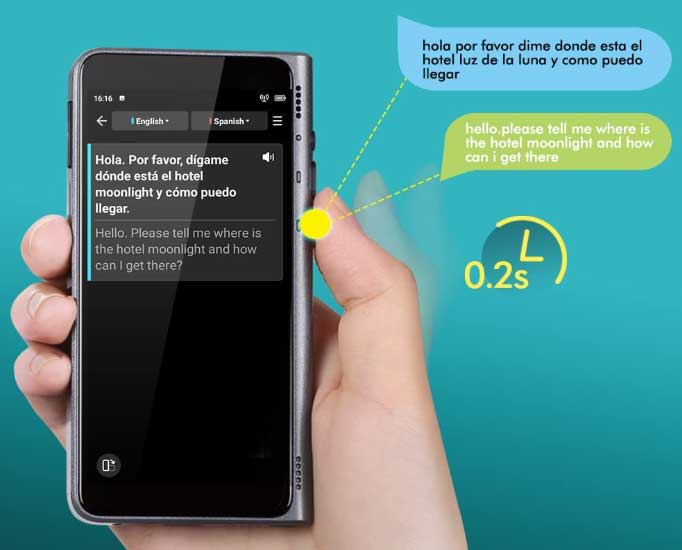 One of the coolest features is its offline mode. This allows it to translate no matter where you are in the world. While in this mode, it will only be able to translate 13 different language pairings of 8 different languages. While this is limiting, it still covers some of the most common languages in the world.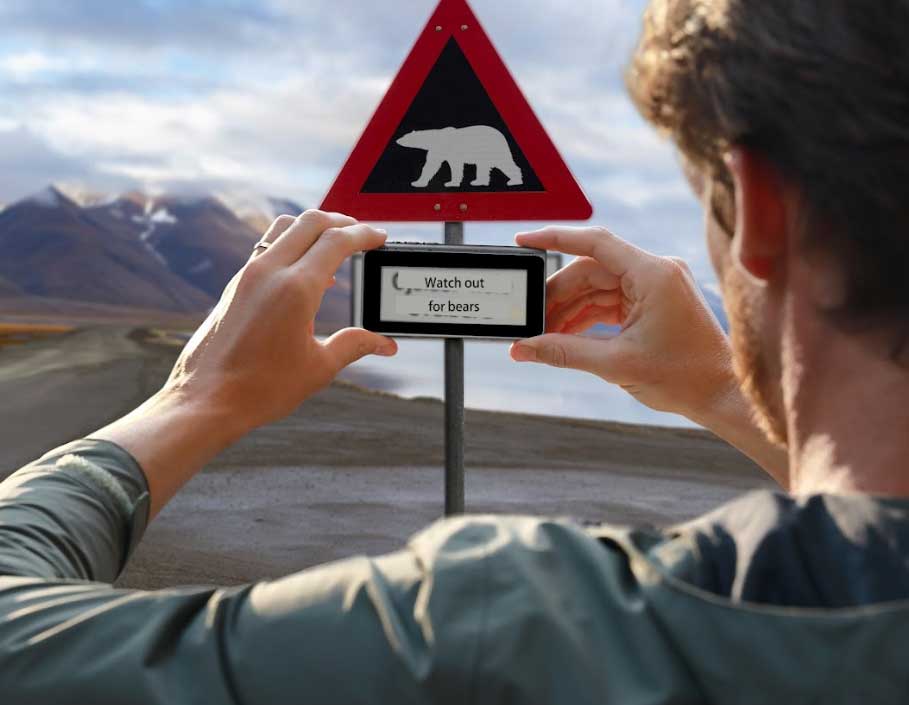 The screen allows this to perform functions beyond just translating. The Fluentalk T1 also comes equipped with a world clock and currency converters. For example, if you're traveling in Japan you'll be able to translate the language, tell exactly what time it is, and know how much something costs in your own money all from one screen. These bonus features help you get peace of mind while traveling in new places.
Pros:
Offline mode
World clock and currency converter
Four translation modes
Cons:
2. Wooask W12 Language Translator Device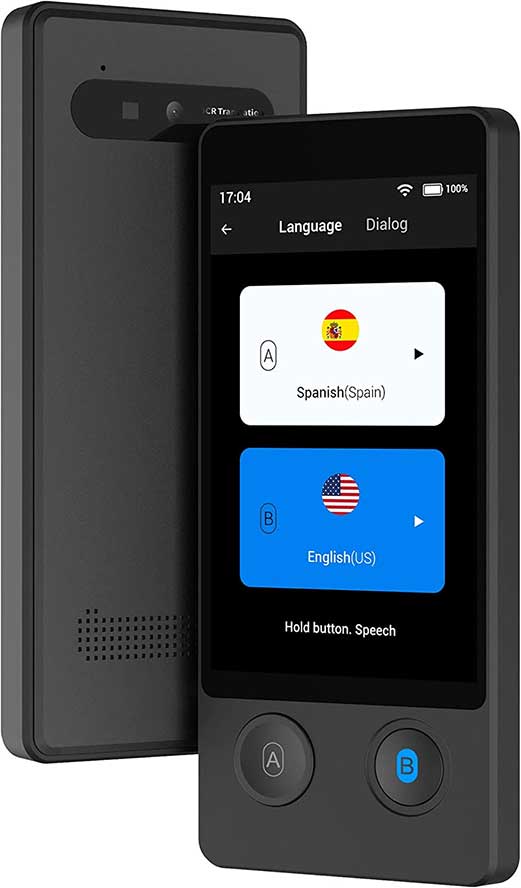 Key Features:
144 different languages and accents
Translates in .5 seconds
Offline translation for 10 languages
The Wooask W12 is a sleek-looking device with great features. The dimensions come in at 6.57 x 3.74 x 1.65 inches and weighs 9.9 ounces. This makes it slightly larger than the Fluentalk T1. The front has a 3.7-inch Ultra-HD touch screen and two additional buttons. The design allows you to easily control all the various functions of this translator.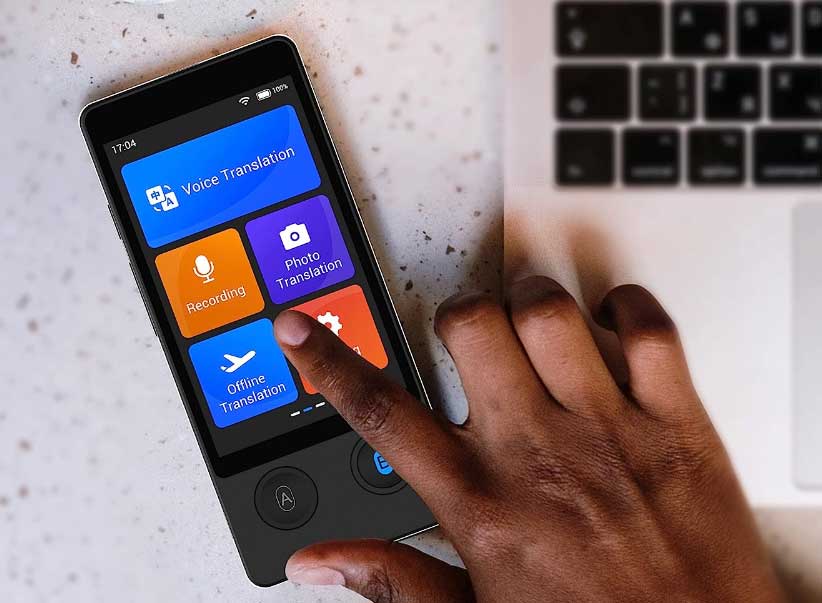 As for translation ability, the Wooask is extremely capable. It can translate 74 different languages and 70 accents within them. This gives it a ton of options for various regions within the countries you plan to travel to. There are also plans to further increase the number of languages supported. Once it hears speaking, it will translate in .5 seconds.
Similar to the Fluentalk, the Wooask can translate in offline mode. It does this with a few more languages too, translating into 10 different languages. Best of all, these languages can all translate into each other. Some devices only allow one of their languages to be translated into others while offline. The Wooask lets you translate each one into each other one, giving you over 100 combinations without needing an internet connection.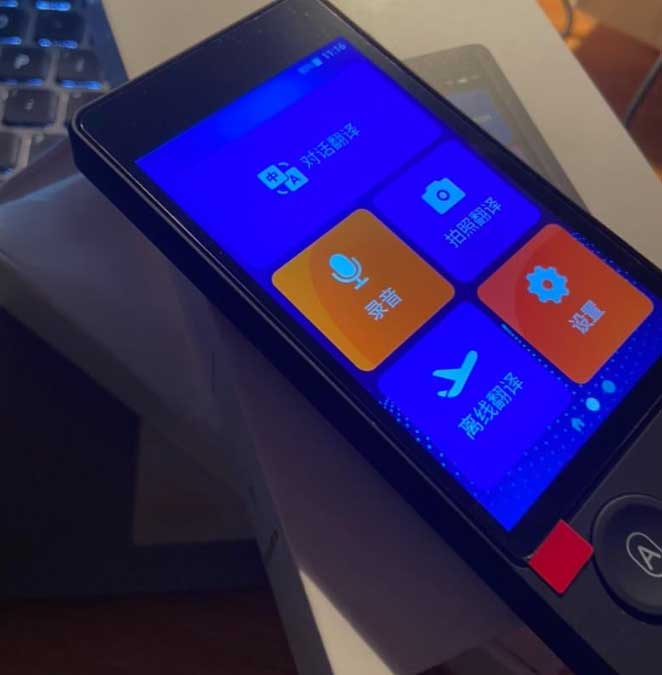 Another cool feature of the Wooask W12 is its ability to change the voice sounds. It can switch between male and female voice output. This allows further customization and more natural interaction with people you communicate with across the globe.
Pros:
10 different languages are available offline
144 different languages and accents
Multiple voice modes
Cons:
Some reviewers note there is difficulty in charging
3. Langogo Genesis Portable Language Translator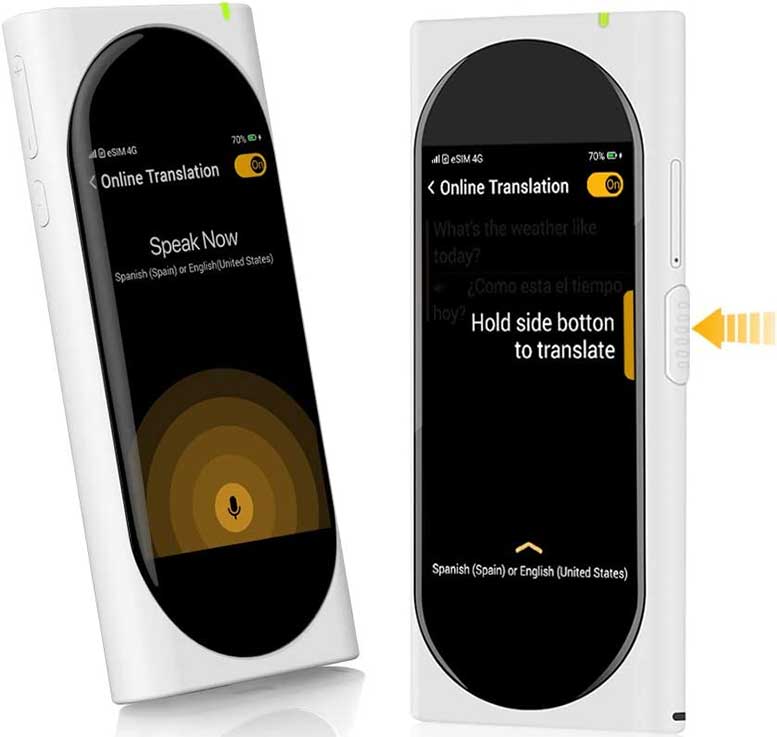 Key Features:
Translates 104 languages
1-second translation speed
Doubles as a mobile hotspot
The Langogo Genesis has a unique look and design that is easy to travel with. It's 4.78 x 2.14 inches and weighs 4.5 ounces. The screen is oval in shape and is 3.1 inches. As for color choices, it's only available in white.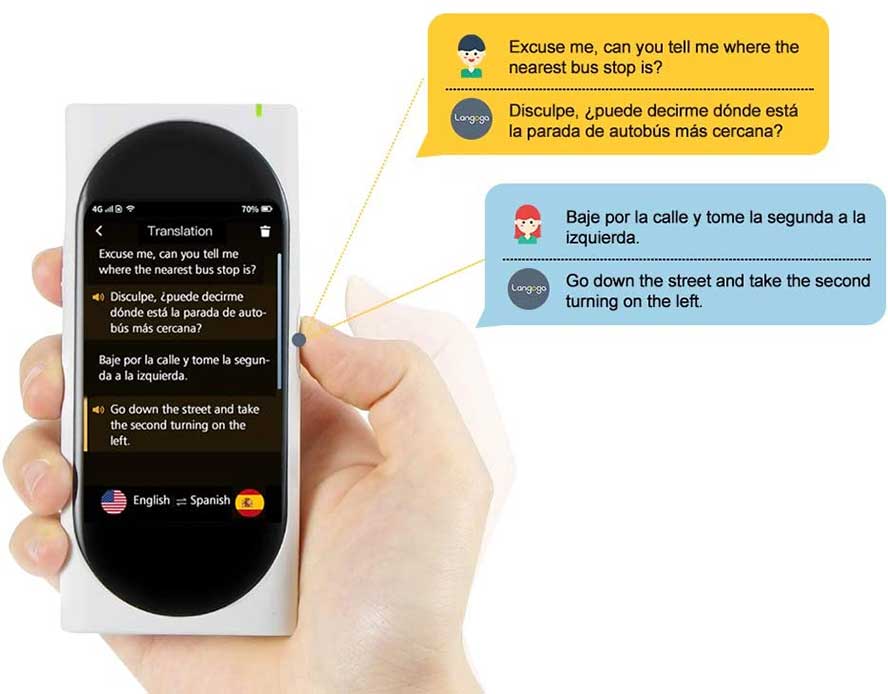 When it comes to translation capabilities, this is a robust choice. It can translate 104 different languages using two-way AI translation to convert the languages in one second. There are two different modes to either translate quickly with one button, or long conversations with interpreter mode. Additionally, it operates as an audio transcriber to show you on the screen what is being said.
Similar to the Fluentalk and the Wooask, the Langogo can operate offline. While it can do it, it's significantly less capable than the other two listed. It can only translate four different languages offline. They are Chinese, English, Japanese, and Korean. While we are happy to see offline mode, a more robust library would be nice.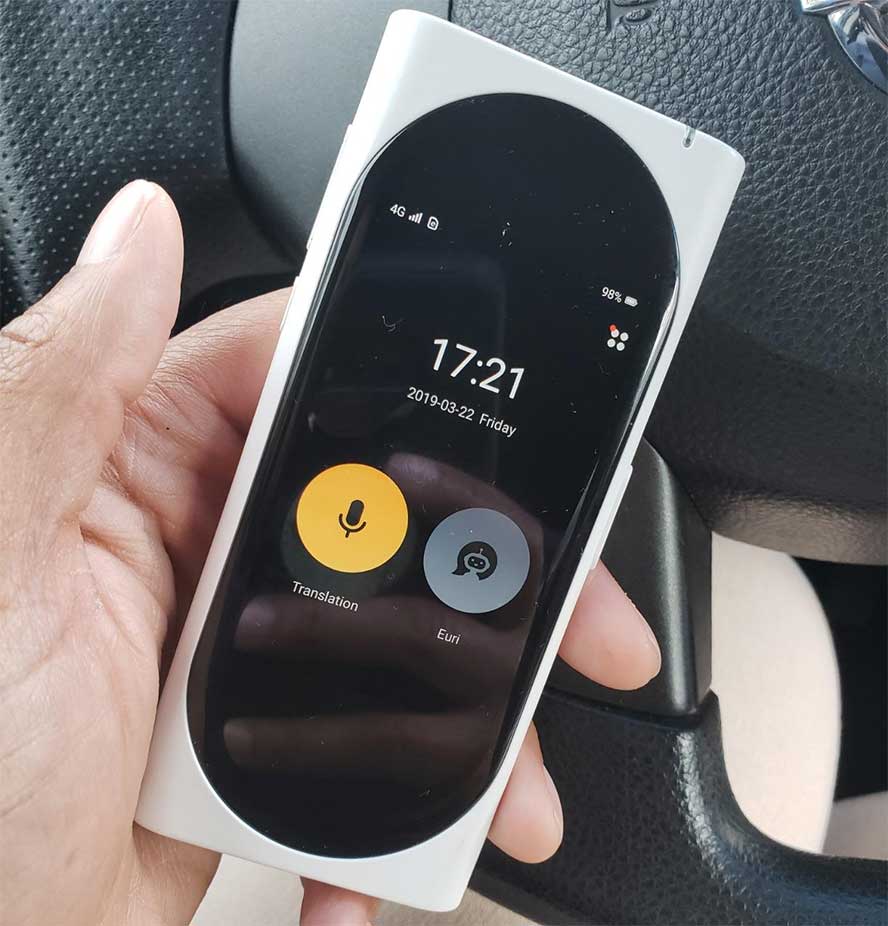 Another cool feature of the Langogo is its ability to function as a WiFi hotspot. Once connected to the internet, you can go onto the device and purchase the ability to use it as a hotspot. Once activated, it can provide internet for up to 5 different devices at once. This is a very unique feature that has tons of potential to make your traveling experience significantly better.
Pros:
Hotspot function
Offline mode for 4 languages
Translates 104 different languages
Cons:
One-second translation time
4. iFLYTEK Translator 3.0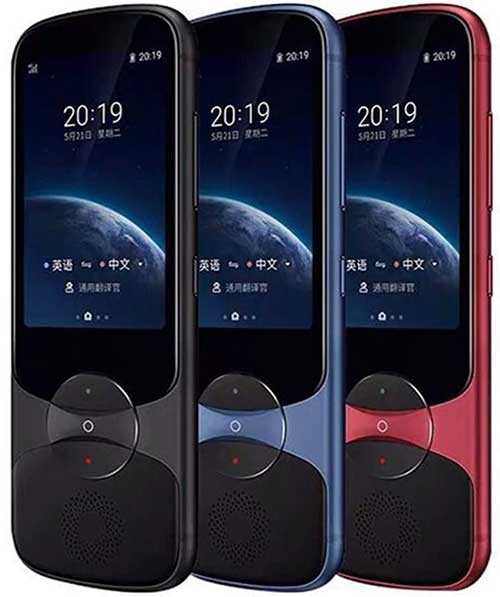 Key Features:
Translates between Chinese and 60 different languages
Less than .5 seconds translation speed
Primary focus on Chinese translation
The iFLYTEK Translator 3.0 is a translating device that is great (and ideal) for Chinese travel. As for size, it's 7.6 x 6.89 x 2.09 inches and weighs 1.25 pounds. It's available in 3 different color options, blue, black, and red. The front of the translator has a 3.1-inch screen along with multiple buttons to control it.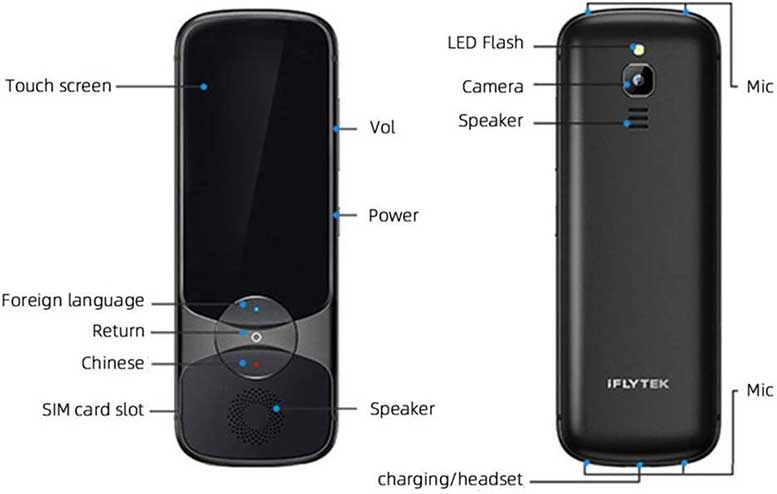 The iFLYTEK is designed for translating between Chinese and other languages. This translator has a decent library of languages, with up to 60 to choose from. However, these are all only able to be translated into Chinese. If you're planning on traveling to a Chinese-speaking country this is a great choice. If not, you may want to consider other options.
The iFLYTEK follows suit with some of the other translators we've covered and offers an offline mode. While offline, it can cover 5 different languages. Similar to its online mode, these can only be translated into Chinese and not amongst themselves. While offline it can also photo translate between Chinese and English.

Another cool feature of the iFLYTEK is the various ways it can connect to different networks. It can connect to 5 different types including WiFi, mobile hotspots, Bluetooth, eSIM, and SIM cards. These are in addition to their offline mode capabilities. These various connections allow it to translate in less than .5 seconds.
Pros:
Great for Chinese language translation
5 connection types
Offline translation mode
Cons:
5. Vasco V4 Language Translator Device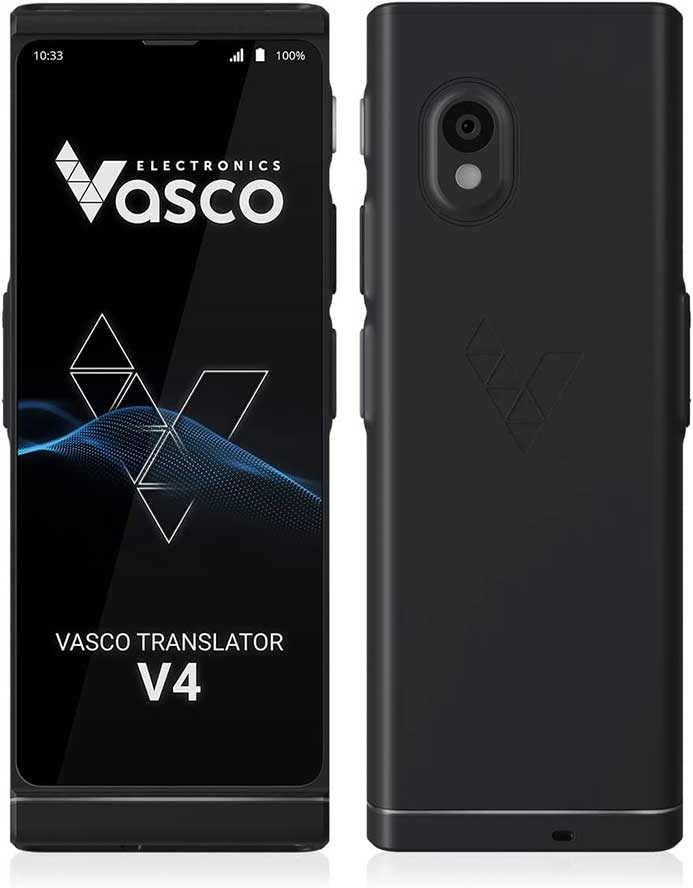 Key Features:
Translates 108 languages
Translates within a few seconds
Free lifetime internet capabilities
The Vasco V4 is another solid choice for your translating needs while traveling across the world. It's large but not too big to carry with you wherever you want to take it. The dimensions are 5.9 x 2.2 inches and has a 5-inch screen across the front. The screen allows you to see everything easily and operate the device and its settings. Additionally, it's available in Black, Blue, White, Red, and Gray.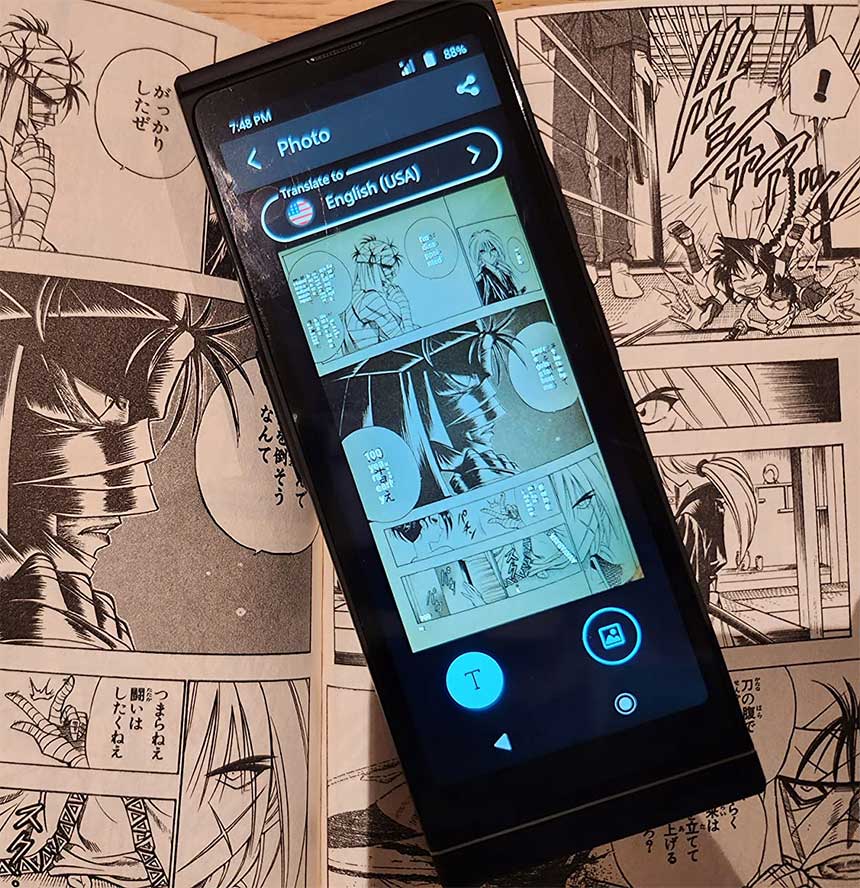 The Vasco V4 has a lot of options when it comes to translation capabilities. It's capable of translating as many as 108 languages. When spoken it can do 76 languages. With the text input translating it can do 90 languages. Full functionality of 108 languages is only possible from pictures. Additionally, it's capable of translating with 96% accuracy in a few seconds after inputting the language.
One of the best features of the Vasco is its included free lifetime internet. Where others require additional costs to access the internet via SIM card and cellular services, the Vasco does it all for free. This allows it to operate over the internet in nearly 200 different countries without any issues. While it has this feature, it does lack the ability to work offline, so you'll always need the internet to use it.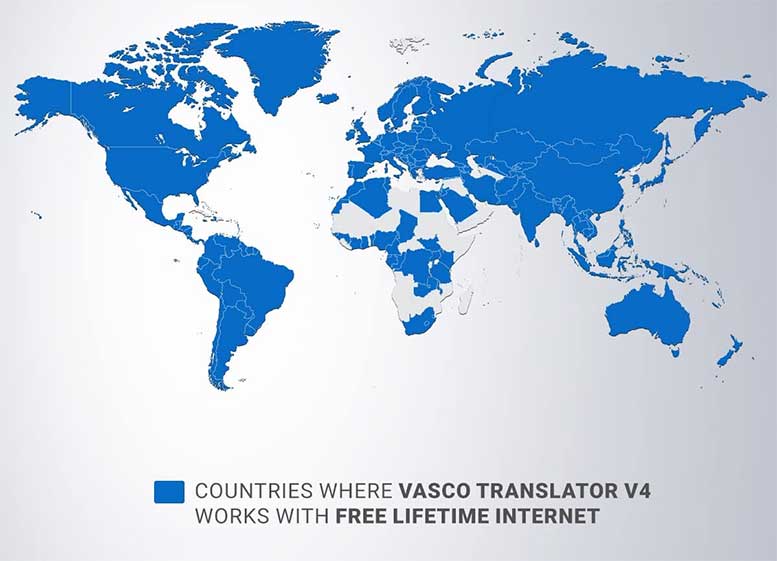 The V4 translator from Vasco is also very durable. It's splash-proof, dust-proof, and shock resistant. This helps give you peace of mind to make sure it won't break while traveling. Whether you drop it a short distance, hit it against something on accident, or get caught in the rain it should be perfectly fine. Just don't drop it underwater or hit it too hard.
Pros:
Free internet service
5 color options
108 languages
Cons: