In today's age of advanced technology, digital interfaces are a critical part of our vehicles. With the three elegant screens in Rivian's cutting-edge R1T and R1S vehicles, it's important to consider investing in quality screen protectors.
Doing so helps to safeguard your screens from scratches, fingerprints, and glare. Therefore, we've compiled a list of the best screen protectors tailored specifically for the Rivian R1T and R1S. Here's a quick overview of our top picks:
With these top-tier protectors, you can ensure that your Rivian's screens remain in top condition, protected from daily wear and tear. Read on to explore more in-depth reviews of each protector and discover which one is the perfect fit for your Rivian.
TWRAPS Rivian Screen Protectors

Key features:
Covers all 3 Rivian screens
Oleophobic matte finish
Bubble-free easy installation
9H surface hardness
These Rivian Screen Protectors from TWRAPS offer robust protection and an easy installation process that enhances your vehicle's screen longevity. We like that they're made of PET (Polyethylene Terephthalate), which is a durable material known for resisting scuffs and scratches. So right out of the gate, these protectors prove themselves as a significant investment for your Rivian vehicle screens. We also appreciate that this kit covers all three screens: Main, Navigation, and Back.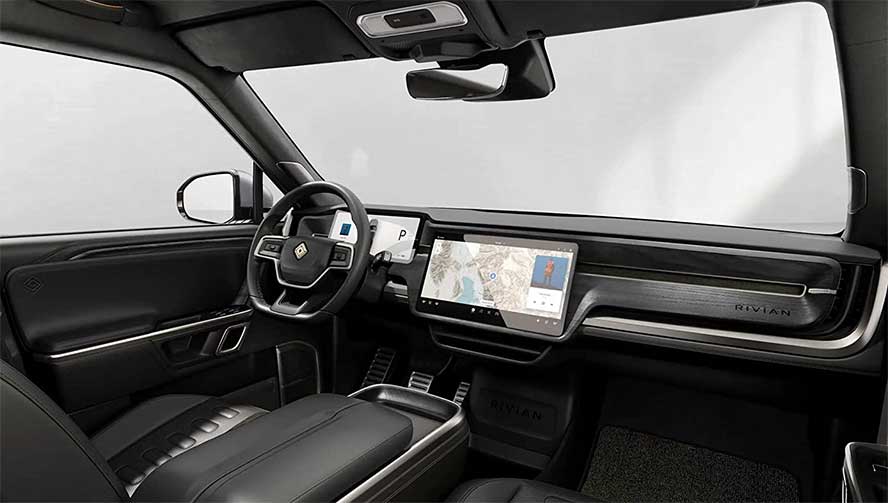 What's more, they blend seamlessly with no uncovered edges, giving your screens a clean, factory-installed look. The matte finish adds an oleophobic coating that helps reduce fingerprints and glare. It's a feature that's certain to come in handy during daytime drives with strong sunlight. There's even a silver-ion coating that serves as an antimicrobial layer of protection.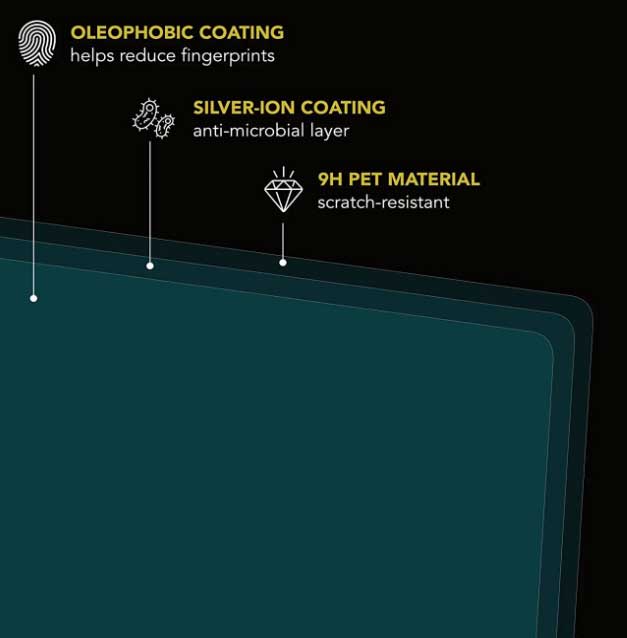 Each protector is cut to fit the exact measurements of each screen. And the back protector even features cutouts for the two USB-C ports. Thanks to the precise fitment, you can expect easy, bubble-free installation. The unit's 9H surface hardness provides robust protection against even the harshest scratches, and yet it doesn't reduce touch sensitivity, preserving the natural interactive experience of the vehicle's interface. The installation process was a breeze, thanks to the included cleaning kits and the squeegee.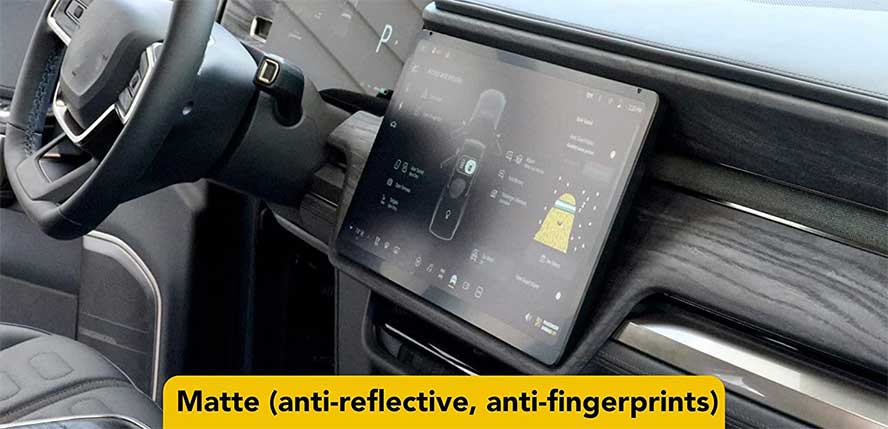 In addition, TWRAPS provides video instructions, which we found to be comprehensive and easy to follow. We put this device through some rigorous testing, and we are happy to report that it held up exceptionally well on each screen. That said, we should mention that you'll want to consider the effect of sunlight at specific angles.
We found that it can necessitate adjusting the screen brightness. Also, a larger number of cleaning wipes would be welcome for a more comprehensive cleaning before installation. But overall, these minor issues do not detract from the overall quality and utility of the product.
What we liked:
Protects against scuffs
Reduces fingerprints and glare
Precise fit, no uncovered edges
Preserves touch sensitivity
What we didn't like:
Sunlight may affect visibility
Could use more cleaning wipes
Spigen Tempered Glass 15.6" Rivian Screen Protector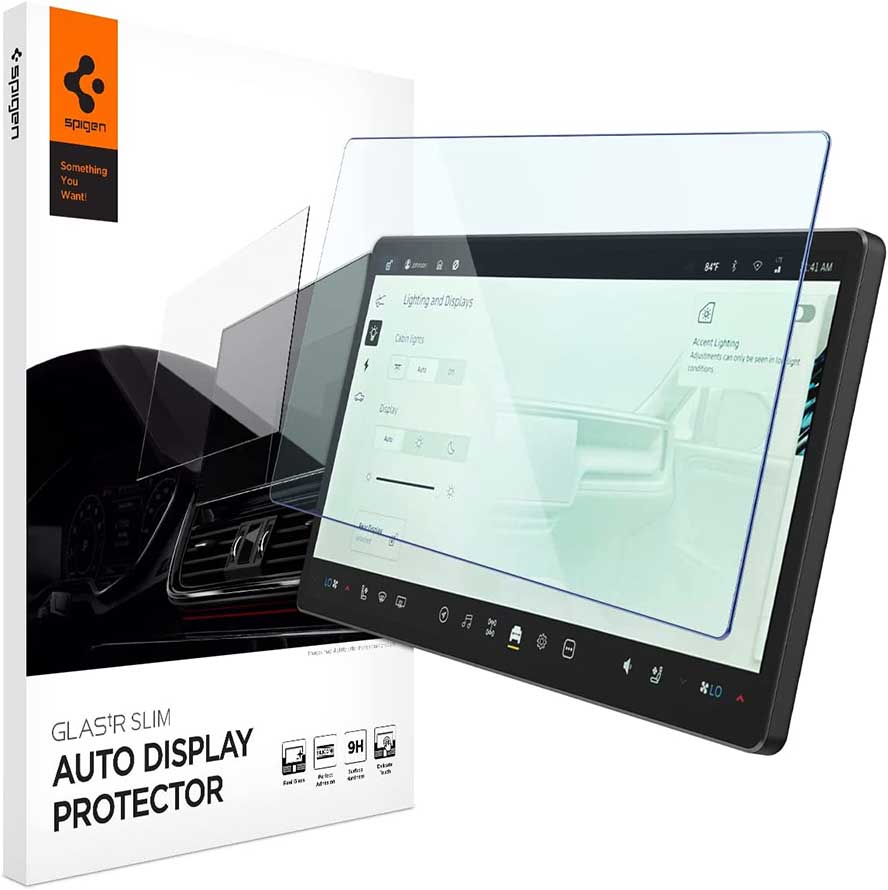 Key features:
Tempered glass with 9H hardness
Matte finish for reduced glare
Oleophobic coating for fingerprint resistance
Water-resistant
The Spigen Tempered Glass 15.6" Screen Protector is designed for Rivian R1T and R1S. It's an impressive piece of technology made from real tempered glass, featuring a hardness rating of 9H. As such, it serves to safeguard your 15.6-inch dashboard touchscreen from the wear and tear of daily usage. During our test, we marveled at the unit's extreme clarity. It preserved the original screen brightness without compromising visibility. The touch-responsiveness was also excellent, offering hassle-free access with no delay.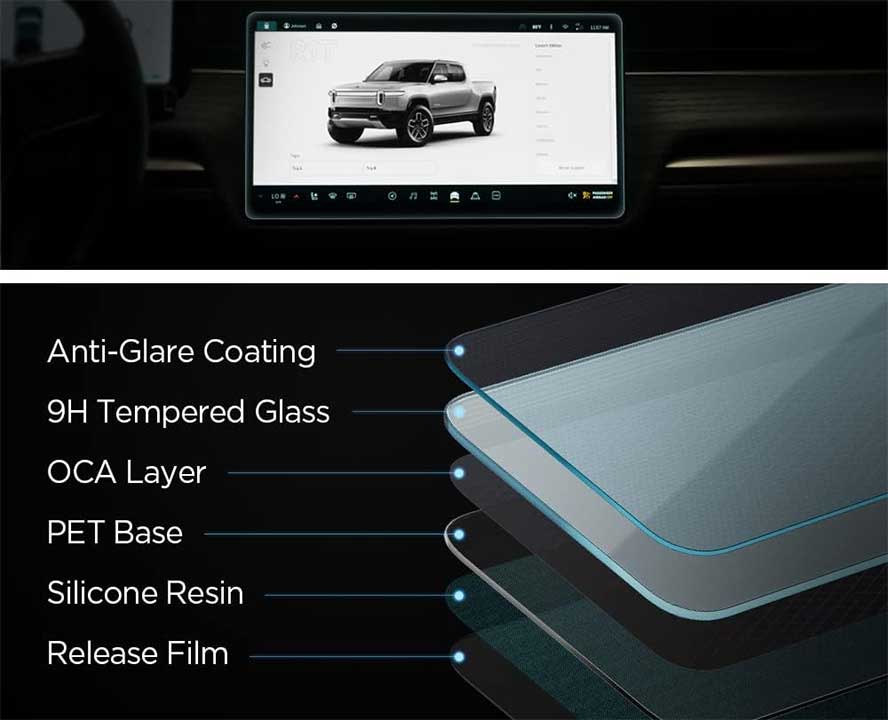 The device has an oleophobic coating, a practical feature that ensures glare and fingerprint resistance. We found this to be particularly effective during testing. Even with multiple users interacting with the screen, fingerprints were minimal, and cleaning was a breeze. The screen protector boasts dimensions of 14.72 x 8.05 inches and weighs 3.8 ounces, so it's lightweight yet sturdy. It fits well on the dashboard touchscreen, although we noted a minor issue – the absence of an alignment template, which made perfect alignment a tad tricky.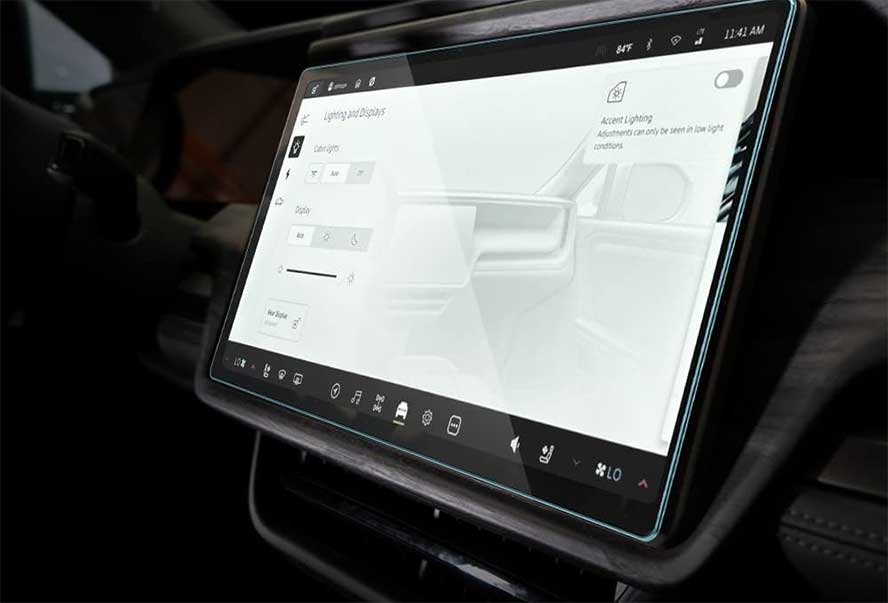 Its matte finish also goes a long way in minimizing glare. However, like all matte finishes, it can cause some difficulty in seeing the screen when the light reflects off it at certain angles. But we do appreciate it water resistance, as it adds an extra layer of protection and peace of mind. So while there are some minor complaints, the overall performance is solid, serving as another fine choice for Rivian screen protection.
What we liked:
Maintains original screen brightness
Retains optimal touch sensitivity
Lightweight and sturdy
Effective in reducing fingerprints
What we didn't like:
Can obscure visibility in direct sunlight
Lack of alignment template for installation
Electruck4x4 Glass Rivian Screen Protectors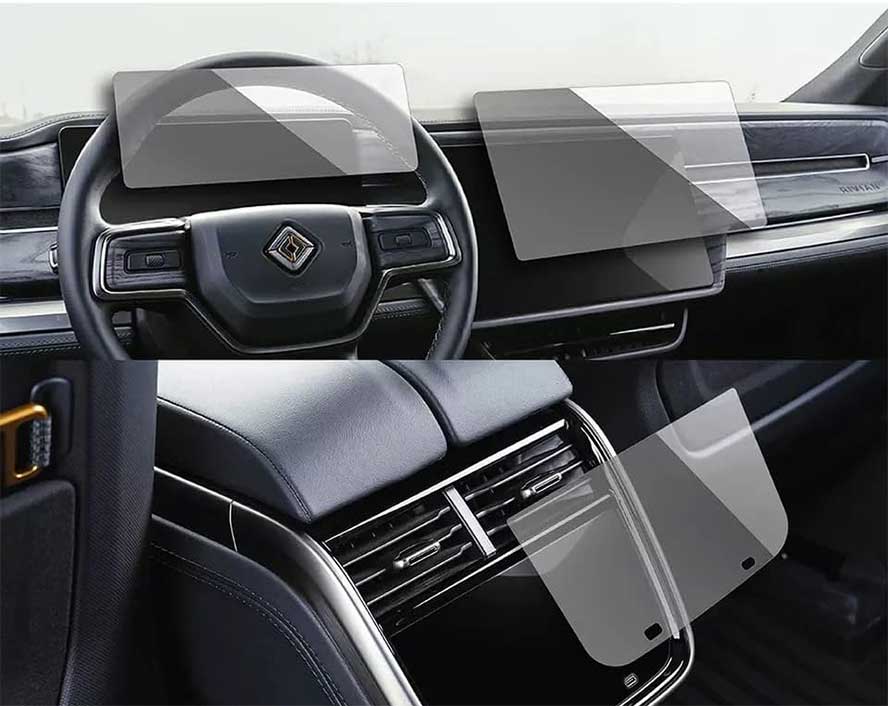 Key features:
Anti-glare matte finish
Japanese Asahi tempered glass
Oleophobic, fingerprint-resistant properties
Complete screen protection kit
Electruck4x4's Glass Screen Protectors for Rivian R1T and R1S vehicles serve as a promising addition to the accessories market, offering full coverage for all three screens in the vehicle. This tempered glass protector, made from Japanese Asahi glass, has an impressive hardness of 9H. This surpasses other PET plastic competitors in durability. It promises superior resistance against scratches, dust, and wear, maintaining its pristine condition even after prolonged usage.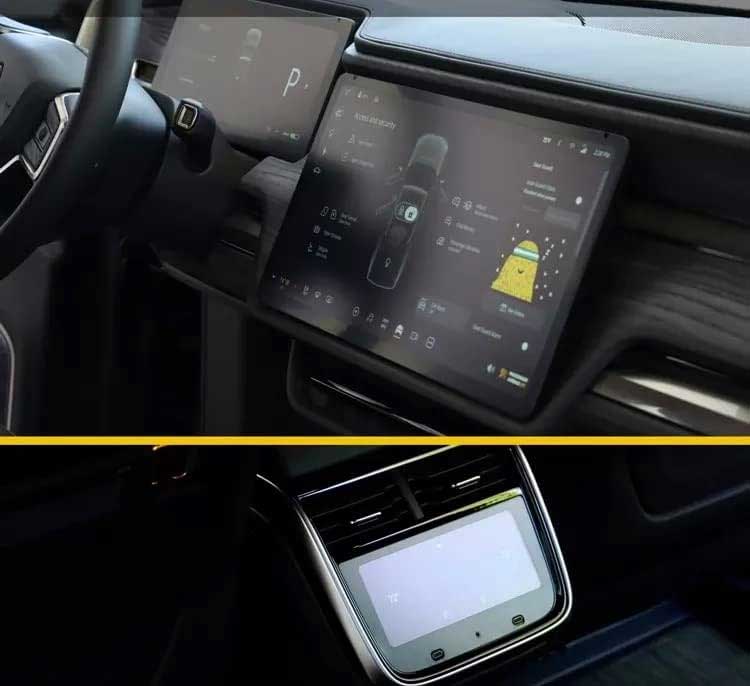 It sports a matte finish, too, which effectively reduces glare to enhance visual clarity. The screen protector's anti-glare capabilities are not just an aesthetic feature but a safety measure, as well. They help eliminate potentially hazardous driving conditions arising from poor visibility due to screen glare. The prefabricated dimensions ensure a perfect fit for Rivian R1T and R1S screens. Further enhancing the functionality, it features oleophobic properties, a clear advantage in maintaining cleanliness.
By effectively repelling oil from hands, fingerprints are significantly reduced, keeping the screens clean and clear. What's more, the installation process is straightforward, thanks to the included accessory kit complete with screen cleaning wipes and applicators. These provide users with all the essentials they need to get their protectors installed in no time. Additionally, the unit is water-repellent, adding an extra layer of protection against potential damage.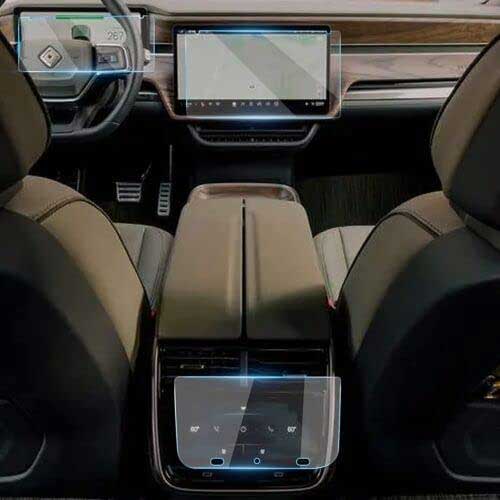 Although some users might find the matte finish slightly too pronounced, the overall convenience and high-grade protection this screen protector offers outshine any minor aesthetic concern. This product is a valuable investment for all Rivian R1T and R1S owners seeking to ensure optimal screen protection and enhanced driving safety.
What we liked:
Highly durable and scratch-resistant
Reduces glare, enhancing visibility
Keeps screens clean, repels oil
Easy installation process
What we didn't like:
Matte finish might be too pronounced
No additional color options
Voltage Accessories Tempered Glass Matte Rivian Screen Protector Bundle

Key features:
9H hardness tempered glass
Matte finish for reduced glare and fingerprints
Easy installation with included kit
Designed specifically for Rivian R1T and R1S
This 3-Piece Tempered Glass Matte Screen Protector Bundle from Voltage Accessories is aimed at Rivian R1T and R1S users, providing both style and protection. These aren't your average thin PET films. Made from 9H hardness tempered glass, this set provides superior durability that can withstand the rigors of daily use. With dimensions specifically fabricated to Rivian R1T and R1S models, the screen protectors offer an extremely precise fit.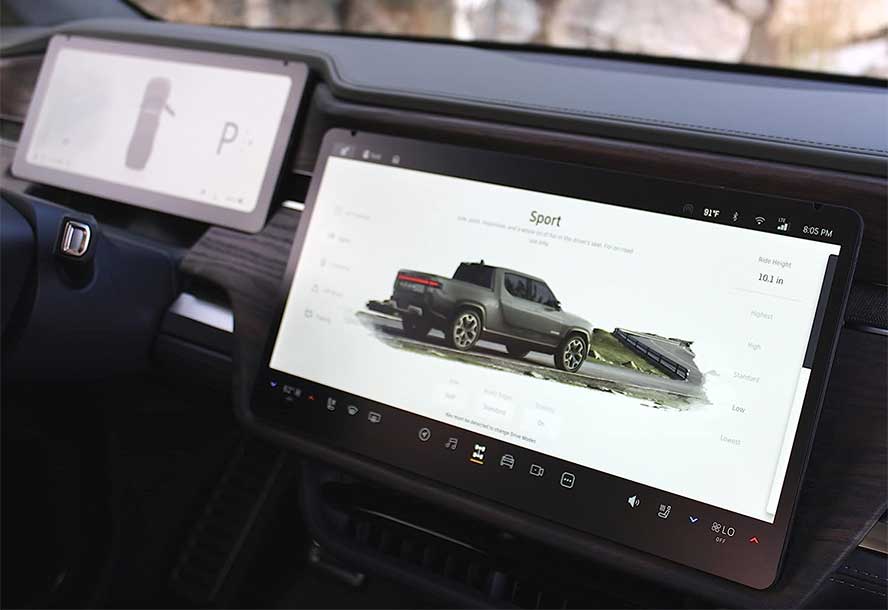 The result is a seamless look that's almost invisible. The matte finish reduces both glare and fingerprints, making the screens easier to view and keeping them looking clean. This finish, however, may be a double-edged sword for some, as it can impart a fuzzy or cheap appearance. In our testing, the installation process was straightforward. The kit includes everything you need to get your screens covered in under 15 minutes. However, it's worth noting that installing without bubbles might pose a challenge for some, especially when it comes to the largest screen.
It seems the brand could benefit from bolstering its quality control measures. But in terms of performance, we found these protectors serve their purpose well. They safeguard your touch and display screens effectively, while the matte finish virtually eliminates all fingerprint smudges and reduces reflections.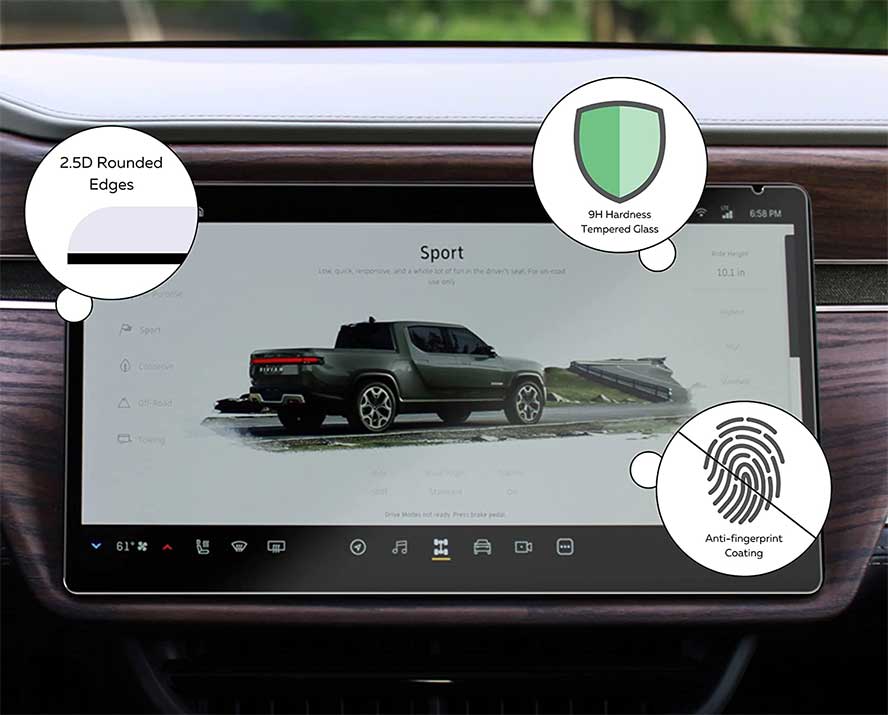 Moreover, the pack contains three protectors, covering all the screens in your vehicle, including the often overlooked back screen where the kids frequently sit. Despite a couple of drawbacks, this bundle from Voltage Accessories is a thoughtful addition to any Rivian, marrying protection and aesthetic appeal.
What we liked:
Durable protection for touch and display screens
Reduces fingerprint smudges significantly
Precise fit provides a seamless look
Covers all three vehicle screens
What we didn't like:
Matte finish can make screens appear fuzzy
Installation may result in bubbles
Rivian R1S and R1T Screen Protector FAQs
How do I install a screen protector on my Rivian R1S or R1T?
To install a screen protector, first, make sure your vehicle's screen is thoroughly cleaned to remove any dust or smudges. Use the cleaning wipes usually provided in the screen protector package. Next, peel off the protective layer from one side of the screen protector and align it with your screen. Use a credit card or a squeegee to smooth out the protector and remove any air bubbles. Make sure to do this slowly and carefully to prevent any bubbles from forming.
Are these screen protectors specifically designed for the Rivian R1S and R1T?
Yes, the screen protectors listed in our review are specifically designed to fit the dimensions of the Rivian R1S and R1T screens. This ensures a precise fit and seamless protection for your vehicle's screens.
Do these screen protectors affect the touch sensitivity of my Rivian's screens?
The high-quality screen protectors featured in our reviews are designed not to affect the touch sensitivity of your screens. They are thin and clear enough to maintain the natural interactive experience of your vehicle's interface.
Final Verdict
When it comes to comprehensive protection for all three Rivian screens, TWRAPS Rivian Screen Protectors stood out due to their robust material, easy installation, and bubble-free design.
Then there's Spigen's Tempered Glass 15.6" Screen Protector. It offered extreme clarity and touch-responsiveness, all while reducing fingerprints effectively.
We chose Electruck4x4 Glass Screen Protectors for their superior durability, glare reduction, and effective oil repulsion.
Finally, Voltage Accessories' three-piece bundle provided the desired protection, reduced fingerprints, and fit perfectly on the screens.
In the end, all the screen protectors we reviewed have their strengths and minor drawbacks. Choosing the right one will depend on your particular needs, usage habits, and personal preferences. No matter which protector you select, rest assured your Rivian's screens will remain safeguarded, retaining their functionality and sleek look.